498 Reviews
Recommended by 100% of couples
Quality of service

5 out of 5 rating

Average response time

5 out of 5 rating

Professionalism

5 out of 5 rating

Value

5 out of 5 rating

Flexibility

5 out of 5 rating
83 User photos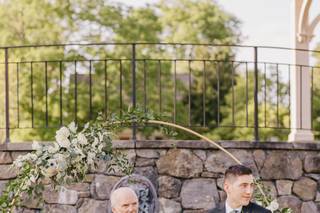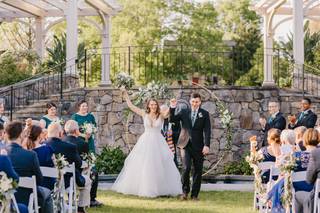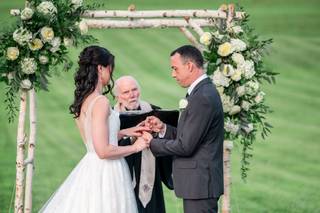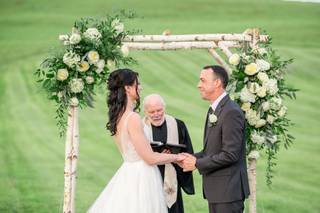 + 79

photos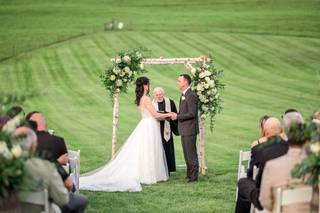 Featured

Susan J.

Married on 10/01/2022

A totally personalized experience leading to a memorable ceremony!

We envisioned a unique and personalized ceremony that we would cherish forever; Stoddard made that happen beyond our expectations! From our first meeting, welcoming us into his home along with his lovely wife and well behaved rescued greyhounds, to the moment of our ceremony, Stoddard evoked a sense of calmness and trust within us. He made an overwhelming process become a true project of love for us with his experience, offerings, direction, and openness, enveloped by a unique warmth and charm that connects to your soul. He took all of the pressure off of us so that we could be present for each other. Our guests were brought to tears and embraced the true love and joy that we hold between us. Thank you Stoddard for our meaningful and intimate ceremony and for becoming a cherished part of our community!

Kaylee R.

Married on 05/26/2023

We love Stoddard!

Picking Stoddard as our officiant was one of the best decisions we made for our wedding ceremony! We met a few months beforehand for Stoddard to meet us and get a sense of who we were as a couple and then he incorporated the personal details we discussed into a beautiful ceremony. All of our guests loved how personal and heartfelt it was and even thought he was a close longtime friend of ours. It was that perfect! 11/10 recommend Stoddard for anyone looking for an officiant!

Elizabeth P.

Married on 05/12/2023

Beautiful Ceremony

Stoddard was great! Right when we met with him for our initial meeting we knew he was the one that we wanted to officiate our wedding. He is so kind and thoughtful in what he does (He even rescues grey hounds, what a guy!). We had many questions- all of which Stoddard answered. We were nervous about the ceremony- Stoddard did a run through and told exactly what to do- this made us both feel at ease. Planning was easy and we were able to put in our input every step of the way. Our ceremony could not have been any better- it was personalized to us, it was sweet, it was funny - in the crowd there were tears, smiles, laughs...it was perfect!

Are you interested?

Send a message

Kellie C.

Married on 01/14/2023

High quality great value

Stoddard made the entire process extremely easy with no lack of quality, personalization, professionalism, or attentiveness. He helped us to have the perfect ceremony and I honestly would not have changed a single thing. He had great recommendations and was one of the sweetest and most caring people I have met. Plus, as fellow dog lovers we loved that rescuing grey hounds was a passion of his.

Bridget

Married on 11/12/2022

Absolutely wonderful

`Stoddard made our ceremony so wonderful. From the initial meeting to the day of, he was so patient and helpful with coordinating and creating our ceremony. He did a remarkable job, and our guests kept commenting on how much they enjoyed him. Thank you Stoddard!! He is the best out there, we cannot recommend him enough.

Elisha E.

Married on 11/10/2022

Thank you, Stoddard, For an Amazing Wedding

As an officiant Stoddard Melhado was nothing short of exceptional. Stoddard graciously welcomed us and our newly born baby into his home for a sit down meet and greet. He took the time to understand who we were as a couple and immediately we felt comfortable and knew we did not need to look any further. We were able to work closely with Stoddard through email and phone calls to curate our ceremony exactly how we wanted it to be. As our wedding day was approaching, the weather did not want to cooperate, and Stoddard was extremely accommodating, and we ended up moving it closer by a couple days! My husband and I chose to elope and tie the knot at our local arboretum which was very meaningful to us. The day of was an exceptionally warm November day and standing under the pergola with my soon to be husband and baby girl looking on from the bench it was... well PERFECT! Thank you very much Stoddard for the work you do with couples and the time and energy devoted towards the care of retired greyhounds. Merry Christmas and a Happy New Year to you and the Melhado Family!

Melissa

Married on 11/04/2022

We couldn't be more happy that we chose Stoddard Melhado to officiate our wedding ceremony. Although I was somewhat overwhelmed with the idea of designing a ceremony, Stoddards guide and ideas for material were so helpful. We were able to create a ceremony that was unique and personal. Also, so many of our guests commented on how wonderful Stoddard's personal words were, and how clear it was that he took the time to understand us as a couple to make our ceremony very special. We would highly recommend Stoddard to anyone looking for an officiant- you will have a beautiful, heartfelt, and personal ceremony that fits your personality as a couple.

Caitlin S.

Married on 10/15/2022

Stoddard made our ceremony extra special

Our entire experience with Stoddard was fantastic! He took the time to meet with us at his home and really get to know us as a couple. He made us feel so comfortable and guided us through the process. He used all of these details in our ceremony and made it personal, emotional, and even funny! He kept all of our guests engaged while making the best memories for my husband and me. All of our guests came up to us after the ceremony and had to know who the Justice of the Peace was because he did such a wonderful job! I can't say enough about what a fantastic experience we had with Stoddard. I highly recommend him if you are searching for someone to officiate who will go above and beyond to make your day special!

Tianlun A.

Married on 10/14/2022

Stoddard is the officiant you want!

Stoddard is very professional and keen on helping couples to customize their weddings. His personal remarks on our love story was well enjoyed by our guests and added a lot of laughters in our wedding. Our ceremony was so much more memorable because of Stoddard. I highly recommend him as your officiant.

Meghan R.

Married on 10/07/2022

Fantastic Officiant that creates memorable and personalized ceremonies

Don't hesitate to book Stoddard as your officiant! He was fantastic from start to finish and created a personalized and memorable ceremony for my husband and I for our October 2022 wedding. His delivery of the ceremony on the wedding day was absolutely perfect and his costs for his services were very affordable for us and our budget. He even came to our rehearsal as well and was on time to everything. Couldn't recommend him more!

Sarah N.

Married on 10/06/2022

The Most Beautiful Ceremony You Could Ever Ask For

Stoddard helped us craft the most beautiful ceremony for our wedding day. His words and passages were so thoughtful, and he was able to weave in so many personal details specific to our relationship. The planning process was seamless and we knew from our first meeting that we had made the best choice in hiring Stoddard. On our wedding day, we smiled, we laughed, we cried - our family and friends are STILL talking about how wonderful the ceremony was. I could not recommend Stoddard highly enough!

Tara

Married on 10/03/2022

Absolutely blown away!

When we set out with plans of a small, intimate, wedding I would never have thought that the words from the ceremony would be a chart topper. Stoddard was so professional and kind. He had us both in tears…he put such thought into this ceremony I'm sure he's performed a thousand times, but it felt tailored to us. He completely exceeded our expectations and I would highly recommend Stoddard!

Lanh D.

Married on 09/25/2022

Personalized and thoughtful

From our first to last interaction with Stoddard, he was an absolute professional and so easy to work with. He really got to know us as a couple and the ceremony ran very smoothly thanks to his guidance. Being from out of state, he also graciously went above and beyond and picked up our marriage certificate for us so we didn't have to add another thing on our to-do list. Highly recommend!

Hannah L.

Married on 09/23/2022

You Will Not Regret Hiring Stoddard!

Stoddard made our wedding ceremony so special. He took the time to get to know us as a couple, and our visit to his home with his wife Ky and greyhounds was one of the highlights of our wedding planning process. He was very professional and made us feel comfortable reciting our vows. Our guests raved about our ceremony and we are so grateful he could help make it so special.

Katlyn

Married on 09/22/2022

Wedding Officiant

Stoddard did an amazing job officiating our wedding. He worked with us to add all of the elements to make our ceremony the most memorable and personable. He offered suggestions and opinions on important pieces of the day and delivered a very kind message to my Husband and I. The ceremony was our favorite part of the day!

Elizabeth D.

Married on 09/16/2022

Stoddard provided us with a beautiful, personalized ceremony!

Stoddard was so lovely to work with and provided us with such a unique and beautiful ceremony! He and his wife took time to meet with my husband and I and hear the story of how we met and fell in love beforehand. His words at our wedding were so lovely and personalized, and he was extremely helpful and responsive leading up to the wedding day. Our guests commented on how well he led the ceremony and how beautiful it was. I highly recommend Stoddard as a JP, he will give you an incredible ceremony!

Sarah H.

Married on 09/10/2022

Justice of the peace-Stoddard

You definitely need to have Stoddard as your JP! He's the absolute best I am thankful we had him as our JP. He did an amazing job and made the crowd laugh. He also made us laugh and made us feel so relaxed! Told everyone our wonderful story of how we met! He's the best! Very organized and structured.

Stacy M.

Married on 09/08/2022

Beautifully Intimate Ceremony

My husband and I cannot recommend Stoddard enough. We had the most amazing ceremony thanks to him. Stoddard met with us, learned who we are and how we met, then wrote the most beautiful ceremony for us. Stoddard helped me include my step daughter with personalized vows to her. The wedding planning process is overwhelming, Stoddard eased all our fears and anxieties allowing us to focus on us. Thank you Stoddard from the bottom of our hearts for your beautiful words to blend our family.

Maria W.

Married on 09/03/2022

Look no further for an experienced JP!!

JP Stoddard was incredibly prepared and respectful. He is clearly a professional and experienced in his work. We loved him as did our guests. We would certainly recommend him as your officiant. The whole experience was wonderful—we met in his home with his amazing wife and stunning greyhounds (the best part!) JP Stoddard was a great listener, and it was evident when he told the story of us during our ceremony. He had many great ideas for the flow of our day with respecting what we wanted. He also came prepared with his own lapel microphone. Thank you so much for marrying us!!!

Shelagh D.

Married on 08/20/2022

Best, most thoughtful officiant!

My husband and I are so grateful to Stoddard for helping us to create such a beautiful, special wedding ceremony that was uniquely ours. From our first meeting (he holds an initial consultation at his home, where we were also about to meet and get to know his wife and adorable dogs), he was warm, inviting and so helpful. He spent time getting to know us both separately and us a couple, which he then used to personalize our ceremony - this was such a nice touch. He provided us with a template for our ceremony, that we then got to make our own; from blessings, readings, vows, order etc. the whole ceremony from start to finish (including marriage advice from Stoddard and his wife of 50+ years) was put together completely by my husband and I. This definitely made the process for intimate and special for the both of us.

My husband and I eloped, with no guests, but having Stoddard and his wife there was the perfect addition to our day. We are so glad that we decided to record our ceremony at the last minute, as we have been watching it on repeat!

Beyond creating such a beautiful ceremony, Stoddard was kind, timely, professional, and was great at following up with us on and walking us through all of the important details (marriage certificate, having copies of our vows, how to hold the rings, etc.).

We would happily recommend him to any couple planning their wedding!

Abigail S.

Married on 08/13/2022

Amazing Experience with Stoddard

Stoddard was amazing from start to finish. He, his wife & their rescue greyhounds are lovely & made the planning experience so easy. Stoddard helped us execute the most beautiful & incredibly touching ceremony - most of our guests admitted to tearing up at one point or another. Stoddard helped make our wedding day extra incredible & we'll be forever grateful.

Nathan E.

Married on 08/06/2022

Truly Amazing

Stoddard was an absolutely amazing Justice of the Peace and I highly recommend him for any wedding. His communication was excellent and timely and he really took the time to get to know us. He provided us with everything we needed to help create a memorable ceremony. 10 out of 10!

Christie

Married on 07/30/2022

Stoddard Melhado: the best of the best!

Mr. Melhado is amazing.
During our initial meeting we sat down with him at his home, and had the pleasure of meeting his wife and dogs, making it feel so personable and comfortable. He took the time to listen to our story, our wishes for our big day, and gave his (well respected) advice from his own marriage of 50+ years.
With a reputable background in guidance, he made sure to check in on our personal well-being, and offered advice throughout the entire planning process. We always felt heard and cared about, and that is truly something special!
Our ceremony was nothing less than perfect. Thanks to Stoddard, it was personable, beautiful, and way more than what we could've imagined.
Mr. Melhado, thank you for making our day as amazing as it was. You really are one of a kind, and anyone who has you making their marriage "official" is very very luck.
Cheers!
Clint and Christie

Jenna M.

Married on 07/22/2022

A wonderful personal ceremony

Stoddard officiated our wedding this past July. We loved his ceremony structure and style in officiating. We were lucky to be able to meet with him in person prior to our wedding and loved his approach to getting to know us as a couple to build our ceremony. He had a wide range of readings, blessings, and options for different parts of the ceremony like introducing our vows and the exchange of rings. Using Stoddard's resources, we were able to build a ceremony that fit us as a couple.

Stoddard ran our rehearsal and was very efficient on a hot day. He worked well with our wedding party, parents, the venue coordinator, and the DJ to make sure everything was running smoothly. Our wedding was on another very hot day and Stoddard kept the ceremony moving, but not rushed, so that we could appreciate the moment but get out of the heat swiftly. We received so many compliments from our guests about the ceremony, and Stoddard specifically.

Our ceremony was a very special part of our wedding and it was Stoddard's style and guidance that helped it to be the best it could be. We highly recommend Stoddard to officiate your wedding!

Emily W.

Married on 07/16/2022

Wonderful Justice of the Peace!

Stoddard officiated our ceremony in July 2022. He was amazing! When we first met Stoddard for our initial meeting, he took the time to get to know my husband and I. He asked us how we met, what is important to us as a couple, and what we like to do together. In our ceremony, he shared those details with our family and friends and it was so special. Stoddard was also very quick to send back our completed marriage license to the town.
We highly recommend Stoddard to be your JP!
Are you interested?
Send a message