115 Reviews
Recommended by 100% of couples
Quality of service

5 out of 5 rating

Average response time

5 out of 5 rating

Professionalism

5 out of 5 rating

Value

5 out of 5 rating

Flexibility

5 out of 5 rating
85 User photos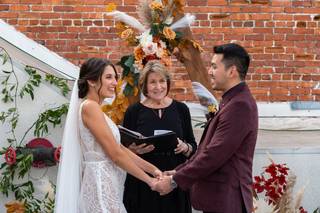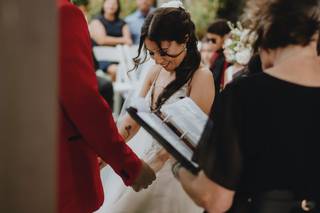 + 81

photos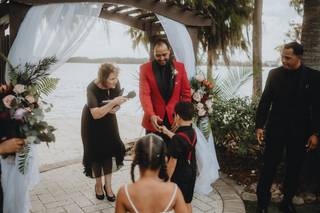 Lisa W.

Married on 01/08/2023

Highly recommend Marry You I Do!

Sandy was absolutely fantastic from our initial conversation all the way to after our marriage.
She helped us with our vows, and she provided an excellent ceremony! Even did our marriage license.
Wonderful communication during the entire process.
She is such a delight to be around and worked well with my dogs… even the feisty little one.
Very professional, highly insightful to the little things you might not be thinking about.

Marry You I Do's reply:

And I helped find aa dog friendly photographer! Hahahhaaaa! Seriously, you two are so inspiring, it was an absolute honor to be able to legally unite you. You have been through so much - and you've done it, laughing and loving all the way. I'm going to be checking in with the 4 of you (especially the pups) from time to time!

Jessica F.

Married on 12/17/2022

Officiant of all officiants

Sandy is beyond words. She is able to take the time to learn about you in your groom. She asked many questions but this is in order to be able to create your own custom story. She created our custom story and beautiful vows which we could have never imagined. She even takes the time afterwards to make sure that you have everything you need in order to get your name changed and walk you through the process. She is the officiant among all officiants.

Marry You I Do's reply:

Jessica, you and Matt have SUCH a unique story! Thanks for always making time to Facetime me - often from the truck - to answer my questions! You two are so adorable! Seriously, it was so inspiring to see how hard y'all have worked together to create such a great life and family.

Alison R.

Married on 11/19/2022

The PERFECT Wedding Officiant!

Sandy did such an amazing job writing and officiating our ceremony! I truly believe it's because she actually took the time to get to know us as a couple, and as individuals. We were so lucky to have her as part of our big day!

Marry You I Do's reply:

Awwww, and the two of you are just such fabulous people! I love that so many parts of your ceremony were also parts of your love story. It was fun to be able to weave those parts together - and I absolutely ADORE both of y'all's families! I'll be watching for an update on y'all and your careers! ;-)

Are you interested?

Send a message

Marissa T.

Married on 11/05/2022

Choose Sandy!!

Without Sandy, we wouldn't be official! Haha
From our first conversation I just knew she was who we needed to officiate our wedding.

I had just gone through a cancellation of our NY wedding due to Covid and we decided to just get married in our new home state here in Florida. It was an emotional rollercoaster! There were still so many changes happening and Sandy was up for the challenge with every single one that came up, from date changes to venue location changes she was so patient.

Sandy took the time to get to know us not just as a couple but on an individual personal level.
When she sent her first draft for our ceremony that was it.. not one change was needed!

When our big day finally came, I received nothing but compliments about her. We were told "wow, it's like your officiant knew you guys forever!" or "Your officiants ceremony was beautiful, her words, everything" & they were absolutely right! She's an amazing human and I'm so glad I'll have one of the most important days of my life to look back on and know she's the one who made it so so special.

Marry You I Do's reply:

You are my hero! Any ONE of the changes / challenges would have made a weaker person want to run off and elope - but you met every single one head on and figured a way around / over / through. Your friends and families are amazing - and they love y'all! Thank you for opening up your life and your incredible love story to me! You inspire me!

Jessica J.

Married on 10/29/2022

Exceptional Officiant

Sandy was absolutely wonderful to work with! Words simply cannot thank her enough. She was always ready to help answer questions, provide suggestions, examples, and was always looking for ways to make the ceremony ours. We had a micro wedding and wanted a non-religious ceremony with humor, rememberance, and handfasting. She didn't deliver a cookie cutter ceremony. Our ceremony was tailored to us in the most beautiful way possible. She worked well with the venue and our vendors as well. Thank you for everything!

Marry You I Do's reply:

You and Johnny have such a unique love story - it was easy to keep it personal! And that dress! Oh that dress!

Patricia V.

Married on 05/28/2022

Officiant for wedding.

She did such a great job delivering exactly what we wanted. It's was a beautiful service and personalized to us. Would recommend!

Marry You I Do's reply:

you and Daniel are so stinkin' perfect for one another! And I love that sooooo many people unexpectedly showed up and out for your ceremony! Y'all are soooo loved and I was honored to be a part!

Amber

Married on 05/24/2022

She was awesome

Me and my husband are from Florida but we moved out of state and come back for our wedding. Most of our planning with Sandy was over the phone and through email and she still managed to make it perfect even with a few things changing last minute. She was totally awesome and we loved her!

Marry You I Do's reply:

I adore you and Randy also! And your families and friends are awesome! You'd better stay in touch, girl!

Katie S.

Married on 05/13/2022

Absolutely Amazing

Sandy was so perfect, and made such a huge impact in our wedding. I had so many people tell me that it was the first time they'd ever genuinely enjoyed a wedding ceremony--all thanks to Sandy! I was woefully ignorant of everything wedding related and needed a lot of help, and Sandy led me through every aspect and worked with us to write the entire script AND vows for us. It was personalized, funny, and captured our personalities so well that the guests thought we had given her a script to follow! Sandy was so responsive that when I once emailed her around 1 AM, she'd responded by 2 AM (seriously!!). Our wedding wouldn't have been the same without her, and I'll be recommending her to every engaged couple for as long as she's still in the business. Thank you, Sandy!!

Marry You I Do's reply:

hahaa! I kinda hate that you just outed me as responding at 2 a.m.! hahaaaa! The first time you told me it was going to be a semi goth wedding - I was onboard! You were THE Best Bride and perfectly blended the country club / goth vibes.

Kristin

Married on 05/06/2022

The BEST Officiant!!!

I found Sandy through wedding wire and was so impressed by her stunning reviews. We set up a video call to discuss our wants and ideas for our ceremony. Sandy was exceptionally prompt in response whether it be via email or text throughout our whole planning process. Half way through our initial video call with her I discretely texted my future husband and said we were going to hire her! Sandy had so much excitement for our big day...and she had just met us!!! I had my doubts about hiring a "stranger" to officiate us on our big day, cause really how well can someone understand our 12 year relationship having just met us? Well I was wrong, Sandy has a gift- she is able to read people's emotions and vibe. Sandy understood us so well that our guests thought she was an old friend. I kindly corrected them and said that she is now a NEW friend! Sandy is a spectacular writer as well. She told our story through the ceremony and used the same type of wit and sentimentality that sums up our relationship. She even made time to meet us for dinner when we were in Florida to talk more about our big day. I truly felt that Sandy was there for us, we were important to her and she made us feel like our day mattered to her. I know she officiates a lot of weddings, but she made us feel like we were her top priority. That meant so much to us!!! Sandy loves what she does and it shows. Thank you for helping to make our day perfect! XoXo Kristin and Chris

Marry You I Do's reply:

Kristin! You are gonna make me cry! Thank you! And yes, we each made a friend. Actually, I made several - Chris' Mom and I got to spend some time chatting and connecting pre-ceremony. And now I want a book club like yours! Seriously, y'all had soooo many guests who came in from across the country - what a testament to how loved you are! (and you had better text me anytime you are planning a trip to the FL beach!)

Krystal G.

Married on 04/30/2022

Excellent!

Sandy was awesome! We had some changes with our plans and she was very easy to work and communicate with. She was interested in who we were as a couple and personalized our ceremony perfectly. Highly recommend!

Marry You I Do's reply:

still counting in writing another, longer and more personal ceremony for y'all - and a larger group of your families and friends ;-) See ya at the beach in a year

Savannah S.

Married on 04/16/2022

Incredible woman!

Our officiant was Sandy Stringfellow and let me just say, she was the perfect fit for our wedding. Sandy is the sweetest most elegant woman, and we truly feel honored that she was at our wedding. I knew that I didn't want a traditional ceremony. I wanted personal touches and even some humor, because that is how my husband and I are. She will listen to you, she will interview you and your fiancé and then include things about your story in your vows! She is just incredible and we are over the moon because of the part she played in our perfect wedding. Thank you so much, Sandy. You're our family now!

Marry You I Do's reply:

Right? We ARE family now! Even the photographers, who know me, asked how long I had known the two of you! Haha! Yeah, first time meeting IRL! You and Nick were so open and allowed me in on your sweet love story. It was an honor - and your wedding STILL is #1 for having the coolest flower Abuela EVER!

Marjorie C.

Married on 04/15/2022

Absolutely perfect!

Wow! Where do I begin? Sandy was absolutely amazing we love her! She made our ceremony one we would never forget it was beautiful! She took the time to get to know us and made the ceremony very personable. My husband and I couldn't stop talking about what an amazing job she did. Sandy is an amazing person and we are so happy we chose her!

Marry You I Do's reply:

I fell head over heels with y'all from the start! And kinda hate that y'all are moving to NY. But post photos of that precious Baby G! (by the way, I'm adopting your Mom and Dad ;-) )

Jessica

Married on 03/12/2022

Marry You I Do Vendor Experience

I found Sandy via a Tampa Wedding Facebook group, and she was a winner from the start. She officiated our March 12th wedding and I appreciated her responsiveness (many times within minutes) and attention to detail. Would 100% recommend her - she made our ceremony one to never forget!

Marry You I Do's reply:

your wedding was soooo lovely - especially your Gram sharing her special message for the two of you. I'm kinda glad but also sad that Barry wasn't able to attend (I seriously might have dognapped him!)

Heather

Married on 03/06/2022

5 Stars Aren't Enough!

Sandy was amazing from our very first conversation. Not only was she quick to reply when we had questions, her in depth interview with us made our ceremony incredibly personable. She really took the time to get to know us, and our family.

Marry You I Do's reply:

So in love with you, Bill - and the kids! You included so many little touches - and my dog friend really appreciated your "doggie bag" favor! (VERY unique!)

Rem B.

Married on 01/03/2022

Sandy is a star!

Sandy is excellent. She has been there for us since the very beginning and even right after we got married. It was very easy to communicate with her, and she was very responsive to whatever question we might have had. She made our wedding ceremony fun & memorable. We are so happy we chose her to marry us. Thank you Sandy!

Marry You I Do's reply:

It was an honor - and super fun - to work with the two of you! Plus, I got to learn just how much simpler it is to do a name change in the U.K.! Once you move over here - and bring Raffi - I'd love to have lunch. I know where all the dog friendly cafes are ;-) Thank you for allowing me to peek behind the curtain and get your love story from the beginning.

Karen H.

Married on 12/29/2021

Sandy is the BEST!

I found Sandy in a Facebook group for wedding planning and she was the best find EVER! She spent a few hours doing a video chat with me and Paul (because Covid) and asked us all the hard questions about why we love each other, why we like each other, how we met, what we want in life and from each other, and so on. We talked about our children at length (second marriage for each of us) and about how to include them in the ceremony. Sandy sent us samples of vows that other people had written so we'd have some inspiration, and gave us feedback on them. The ceremony she wrote for us was perfect. She even asked our 3 teenagers if they'd take us to be their step-parents, and we did a family hug! My friends and family wanted to know how long we'd known Sandy, they thought she was someone we'd known for years! She was incredible, and I'd ask her to remarry us again in an instant.

Marry You I Do's reply:

You two - seriously relationship goals! And the 3 teens - already family! Thank you for allowing me to get to know the two of you and write your love story.

Cara H.

Married on 12/18/2021

Excellent Officiant

Very communicative and easy to work with. She was very professional and we loved what she said at the ceremony. Would definitely recommend.

Marry You I Do's reply:

Your love story gives me SUCH hope and is so inspirational! I hope those boys always always know how special Mom and Dad are - and protect their beautiful sister!

Melissa G.

Married on 12/17/2021

Highly Recommend

Sandy was very professional and delightful. She took the time to get to know us and wrote an amazing customized speech for our special day. We loved having her as a part of our wedding.

Marry You I Do's reply:

I adore the two of you AND your furry babies! Your families are delightful but most of all, I enjoyed getting to know y'all and your love story. You are SUCH inspirations!

Emily A.

Married on 11/21/2021

Sandy is amazing!

Sandy went above and beyond throughout our entire wedding process. She was there to answer questions and curb anxieties, as well as made sure that our ceremony was tailored to US. Several friends and family members asked if she had known us for our whole lives. I cannot recommend her enough!

Marry You I Do's reply:

Oh Emily! You and Joe are so delightful - and I have such respect for your professions! Thank you for honoring me with your love story - and thank your Mom and sister for "adopting me" into the family!

Debbie E.

Married on 11/20/2021

Wonderful to work with

Sandy was wonderful to work with. Very responsive. During our phone interview she asked all the right questions to get to know us. When it came time for us to write our own vows, Sandy was right there for us. The ceremony that she wrote encompassed our relationship beautifully.

Marry You I Do's reply:

oh Debbie, your love story is so sweet - as was the selection of the site - the place you had your first away date. I'm so happy that your mom was able to attend the wedding via FaceTime. That was so special. Wishing you and Hoyt decades of love and laughter!

Vincent M.

Married on 11/13/2021

Sandy is the best!

We are so happy we had Sandy with us on our special day. After talking with Sandy and sharing our story, she exceeded our expectations with her words on our wedding day. Sandy was able to pick up on small details and really capture who we are as a couple. Sandy was available throughout the entire process and we couldn't be more thankful.

Marry You I Do's reply:

You and Ramsey have one of my very favorite love stories! It was so enjoyable getting to know y'all - and the wedding party fashion was AMAZZZZZZZing! Thank you for trusting me with your wedding.

Sara R.

Married on 11/02/2021

Sandy is awesome!

We met with several officiants and I truly felt like Sandy just GOT us. We clicked really well and I am so glad she was there to officiate our marriage. We had a long engagement and even a postponement because of 2020 and she was there with us every step of the way, down to the last minute. She's so helpful when it comes to writing vows and writing the ceremony. I highly recommend her! Thank you Sandy for making our day truly meaningful.

Marry You I Do's reply:

and even through all the changes, you managed to smile! And I loved seeing your friend post the photo of her computer screen as y'all waved to your virtual guests! Such an amazing love story - and another chapter is just beginning!

Jasmine L.

Married on 10/20/2021

She Officiated our Wedding

Sandy made our wedding experience truly magical! She had many virtual meetings with us to learn more about us as a couple which really helped her to develop a personal ceremony for us. All of our guests had nothing but great words to say for her and we couldn't be happier. She even helped us with the marriage license and gave us tips for changing my name. We highly recommend her for your wedding!

Marry You I Do's reply:

You and Logan are sooooo perfect together! And yes - I will magically appear on your silver anniversary to ask if Logan allows handholding! Thank YOU for allowing me behind the curtain of your amazing love story!

Dimitri

Married on 07/03/2021

Beautiful Ceremony!

When planning for our wedding, we had reached out to friends who had gotten married within the last year on where to start. They recommended Sandy to us and said nothing but positive things. We reached out to her and had set up a video call. Within 5 minutes we knew she was the one for us. She was so down to earth and open to any ideas we had. She
asked so many good questions about us and our story. She even offered to help us with our vows! She really helped both of us so much in keeping our vows a good length and on point. For the ceremony she had prepared, we honestly cannot praise Sandy enough for how well written it was. We cannot believe how perfect she got our story from just a single video call. We were both so blown away at how accurate it was. As a matter of fact, everyone at the wedding kept coming up to us after the ceremony and telling us how beautiful it was. They even thought that Sandy was a close personal friend of ours because of how good the speech she had prepared was! All we can say is that if you are looking for someone to marry you, look no further. Your wedding won't be the same without Sandy. Trust us!

Marry You I Do's reply:

Dimitri and Debashree, y'all are THE best! You both were so willing to open up your lives and stories! I just wish Deb's family could have come in from India (stupid covid! ). Thank you for your kind words and for trusting me!

Danny F.

Married on 05/22/2021

Sandy was amazing!

Sandy had about and hour conversation with my wife and I, and was able to come up with service that Kim and I could not have been happier with. She was very easy to talk to, and not pushy at all.

Marry You I Do's reply:

Danny, you two are so perfect together! I was thrilled to get to know you - and hope to run into y'all walking dogs around the lake!
Are you interested?
Send a message