131 Reviews
Recommended by 100% of couples
Quality of service

5 out of 5 rating

Average response time

5 out of 5 rating

Professionalism

5 out of 5 rating

Value

5 out of 5 rating

Flexibility

5 out of 5 rating
1 User photo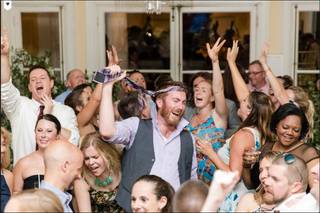 Laura B.

Married on 05/27/2023

Perfect wedding DJ!

Kelton was the DJ for our wedding and we couldn't have asked for anyone better! He met with us beforehand to go over what we wanted and to ensure that we had all the equipment we needed for both our ceremony and reception. Our dance floor was packed the entire night and it was so much fun! Kelton was friendly, professional, and responsive! Highly recommend!!

Colleen M.

Married on 05/13/2023

Best wedding DJ!!!

Kelton was so amazing and fun to work with! Highly recommend Kelton for any event you are planning. He was really easy to work with in the planning stage, and he really acts as a planner and scheduler to help you pull together the timeline for your whole day. On the day of, he was flexible, fun, and enthusiastic which made the experience so great for us. Our families and friends at our wedding love to dance and they had nothing but good things to say about Kelton DJing! Thanks Kelton!!!

Cathy

Married on 11/12/2022

First class service!

From my first conversation with Kelton Higgins, I knew I found the right DJ for my son's wedding. Kelton responded very quickly to my inquiry. He was professional and fun to talk to. We were a bit late to the game of securing the DJ and when Kelton recommended Ty, I knew it was a great fit. Ty kept us on the dance floor right up to the end of the reception. He took requests, helped with the flow of the evening and made it an all around first class experience. If you're looking for a DJ for your event, look no further. Ty is amazing! Call today.

Are you interested?

Send a message

Sammy C.

Married on 10/23/2022

Kelton is a phenomenal DJ

Kelton absolutely crushed it at our wedding. Great transitions, good emcee-ing, incorporated our weird requests, and was flexible. Couldn't ask for more from a DJ!

Sean D.

Married on 10/09/2022

DJ Kelton is Amazing

Made the process super easy, was very communicative and put together an amazing playlist. The dance floor was full all night long. I would highly recommend using him

Tori H.

Married on 08/21/2022

Thank you Kelton for the party of a lifetime!

After our friends' had Kelton at their wedding we knew we had to have him at ours. He was flexible, easy to work with, and man does he deliver. Everyone was on the dance floor all night having the best time! So many of our friends talk about how good the music was and we are so happy we had Kelton! Our family, friends, and we will remember how fun that night was forever. Cannot recommend and thank enough for the party of a lifetime!

Stephanie N.

Married on 08/06/2022

a dance party your friends will rave about

Kelton is an awesome DJ. He was easy to work with--very organized but also flexible. He is a charismatic MC who kept things (and us) running on time. We loved every song he played, and many guests came up to us afterward saying what a great DJ we had. Can't recommend him enough!

Anna F.

Married on 05/15/2022

Trevor, the brilliant maestro

Trevor was a key part of our wedding day. The thoughtful playlist he arranged based on our likes and dislikes (and within a few weeks!) kept guests on the dance floor all night long. His transitions were seamless, both in terms of moving between individual songs (and they all played juuust the right length) as well as through the ceremony, cocktail hour, speeches, and reception. His steady hand at the DJ booth helped everyone else shine. Thank you, Trevor!

Sean W.

Married on 05/07/2022

Trevor Brough the Party

Our dance party was bumping from the moment it opened until close! Trevor did an amazing job of getting everyone moving and keeping them there all night. He was communicative from the beginning and helped us think through the process. We and our friends like some of the non-traditional wedding music: we did a soul cocktail hour, had an indie-slanted dance party (with plenty of '80s and '90s dance tracks), and Trevor made it all work perfectly with some really smooth transitions. We prepared a Spotify playlist of some of our favorite songs and he weaved them in and even found some really cool dance versions that we didn't know of. He can really do it all! We also had a strict "No" list, which he kept to even though some guests kept asking for them. We'd highly recommend, no matter what type of vibe you're looking for!

Anna S.

Married on 10/30/2021

Incredible!

Kelton was such a great choice. He was communicative throughout the entire process (which is not always a given) and really understood the vibe we were going for. It was a small wedding, but he kept people on the dance floor. We had a lot of musically-inclined guests - musicians, musical theater actors, band members, the daughter of a wedding DJ - and everyone adored Kelton and particularly noted his seamless transitions between songs. We gave him playlists with way too many options, but he chose all the best ones to get a good mix of genres and styles. He also brought a photobooth that was a huge hit and provided beautiful uplighting to warm up the space. 100% recommend him!

Kelly T.

Married on 10/24/2021

Incredible!

Kelton is the best! He knows so much about music - it's just at his core! He made our wedding reception absolutely EPIC with his jams! He really listened to what we wanted, and everyone just danced the night away. He was right on time with every point of the ceremony and reception. Was the most fun night we could ever have. Many thanks to Kelton and his incredible DJ skills!

Alexis A.

Married on 10/17/2021

DJ Kelton brought the party!

Going into my wedding planning process, I knew that our crowd would skew older and probably not be too into dancing. This was a bummer for me as I love music and dancing! We also were blending two cultures (Hispanic and Russian) as well as an eclectic taste in music, so I was concerned that a DJ wouldn't be able to smoothly transition between all these "vibes". When I met with Kelton to discuss our wedding and these situations, he was so positive and reassuring that it made me feel a lot better. We stayed in touch over the months between the initial booking and the wedding, and he was always SO helpful and detail-oriented that it even helped other parts of the wedding schedule!
On the big day, he arrived right on time and ready to go. He worked flawlessly with my venue and the officiant to make sure all the cues, announcements, etc were correct and timely. The ceremony went off without a hitch, but the reception was even better! Kelton managed to get EVERYONE - even our 65+ year old crowd - on their feet!! We had a huge variety of music, so there was really something for everyone. It was everything I dreamed of, made possible by Kelton's DJ skills and experience. Can't recommend him enough for your event!

Olivia B.

Married on 10/16/2021

Favorite Wedding Vendor

Kelton was one of our very favorite vendors to work with for our wedding- not only was he responsive and fun in the lead-up (thinking of little things with the spacing and order of events on our timeline that we didn't even think of) but he also went above and beyond for us on the wedding day. Kelton mixed two versions of our first dance song so that we could kick off the dance party with a DJ set of our own, and then kept it going all night long. Would 100% recommend Kelton and Marquee Artists to anyone!

Jennifer

Married on 10/16/2021

Loved our wedding DJ!

We booked Marquee Artists after attending a friend's wedding and we were so happy to have Gemma as our DJ. She was organized, communicative, and excited for our event, which made us even more excited. She was also able to coordinate two musicians on contract for live music during the cocktail hour. Gemma had a really helpful spreadsheet we could use for choosing music for the reception and keeping track of the special moment songs (first dances, ceremony songs, entrance songs, etc). She did a wonderful job incorporating our ideas and specific song requests but we trusted her completely to keep the flow of the evening going with the music. It was also so wonderful to see her fully enjoying her self behind her set up - dancing and even taking some videos of the dance floor she was kind enough to send me later. We got so many compliments from our guests on her behalf, I can't recommend her enough!

Amy C.

Married on 10/02/2021

DJ Kelton was great!

We worked with Kelton through Marquee Artists for our October 2021 wedding. He was super flexible and easy to work with. He had to dig deep to get some of our guests onto the dancefloor, but he got everyone out there. People were dancing that we didn't think knew how. He played a great mix of music, and provided us with great resources in advance so we could point him in the direction we wanted. Honestly, the resources he provided for us helped us create the overall timeline for the day. The photo booth was also a hit! Throughout planning and the event itself, Kelton was friendly, professional, and easy to work with. The bonus was that we feel like we got a great value for the service. The pricing was transparent from the get-go, which helped a lot. We would highly recommend working with Kelton through Marquee Artists for your event!

Mona T.

Married on 09/25/2021

Amazing DJ!

Kelton was the DJ for our wedding at Glen Echo and did an AMAZING job! He was communicative right from the beginning: great at listening to what we wanted, suggesting ideas based on his expertise, and flexible when we needed to change our date. He took detailed notes about our ceremony and reception, and he was on time to everything and willing to adjust small details as needed. On a day with a ton of logistics, we seriously never had to worry about him and he made sure everything went smoothly. And the dance floor was amazing -- he spent time getting to know what we liked and people danced non-stop all night at our wedding. I cannot recommend him enough!

Jessica C.

Married on 09/18/2021

Beyond happy with our DJ!

We originally booked with Kelton from Marquee but when we had to change our date because of COVID, he was unavailable and connected us to his colleague Trevor. Both Kelton and Trevor were incredibly responsive, helpful, and professional. Kelton set us up with a google spreadsheet where we could share all the details of the wedding, the timeline, our song choices, and a Spotify playlist of the type of music we were looking for so when we switched DJs, Trevor jumped right in using the same planning document. Trevor was so friendly in our planning calls, super organized, and clearly very prepared for our wedding. I was never once stressed out about anything related to DJ services, which was extremely reassuring. On the day of the wedding, Trevor was exceptional! He set up early, followed our instructions perfectly, and made it one hell of a party. Our guests LOVED him and kept dancing until the very last song. I can't recommend Marquee artists (and specifically Trevor) enough!

Maura

Married on 09/13/2021

So easy to work with!

Trevor Keen was our DJ for our wedding recently. He was so responsive, reassuring, easy and accommodating to work with. And he really read the crowd... it was such a fun night!! We would highly recommend him for your wedding!

Alex D.

Married on 08/23/2021

Awesome DJ for my wedding!

Kelton has been awesome to work with for my wedding. After seeing him working at a friend's wedding, my fiancée and I knew we wanted to hire him for ours. He did a great job with his music selection, reading the crowd, and coordinating major events like the speeches and cake cutting. He also offers some cool lighting options that are worth checking out!
Kelton is extremely friendly, responsive, and organized. He has always responded to our messages quickly when we have questions. He set up custom shared Google sheets to keep track of music preferences and the event timeline. When our wedding had to be postponed because of coronavirus restrictions, Kelton made it hassle-free to switch to a new date.
My fiancée and I both highly recommend Kelton!

Karena R.

Married on 08/22/2020

Flexible and professional

We hired Kelton to DJ our wedding and gave him the full picture of everything we wanted— hyped introduction, packed dance floor, etc. Then COVID-19 happened and everything changed. We could not longer have the packed dance floor, so Kelton had to adapt his music and he did. He worked with us to create a fun atmosphere that was more focused on hanging out and having fun then a rave style dance party. He did a great job with our ceremony, making sure everyone could hear and all the mics were placed appropriately. And he was great with helping us time introductions and first dances. We highly recommend Kelton at Marquee Artists!

Carolyn C.

Married on 03/28/2020

Super helpful and communicative thus far!

We hired Marquee Artists for our end-of-March wedding, which we just had to postpone due to the coronavirus outbreak. Up to now, we've had a wonderful experience with Kelton Higgins. In planning, Kelton has been super detail-oriented and communicative, and we were confident we were in good hands thanks to the very detailed google spreadsheet he uses to get every last detail about what we want for our cocktail hour and reception! We enjoyed picking the songs we want to play and speaking with Kelton on a planning phone call. When we decided to postpone our reception for health and safety reasons, we reached out to Kelton and he couldn't have been more understanding and helpful. He is working with us to move our deposits to a future date or provide a refund if our schedules don't align, which is much appreciated! In this time of great uncertainty and stress, working with Marquee Artists and Kelton has been one thing we didn't need to worry about, and for that we are eternally grateful!

Christina

Married on 12/15/2019

The BEST of the best!!

"HIRE KELTON. HIRE HIM TODAY." That is exactly what one of my friends said when we realized that the DJ we were considering for our special day (on 12/15/2019) was the same one she and her husband worked with for their wedding! And that's what I now say to any engaged couples looking for someone who is the perfect combination of professional, organized, and fun. I'll even break it down for you:

PROFESSIONAL: With two weeks to go, we unexpectedly had to change our game plan for the ceremony music, due to a logistical snag with some musician friends who gifted us their talent for the cocktail hour. Kelton didn't bat an eye and swooped right in, gathering all the music we needed, which included a 19th century Scottish song not very well known on this side of the pond. He even nailed every single pronunciation of every name, asking to have them sent by voice memo so he could honor everyone accurately. Also, during our Father/Daughter dance, my dad got so emotional that he couldn't go on for much longer, and as soon as I caught Kelton's eye, he knew EXACTLY what that meant and slowly faded down the song to wrap things up. Now THAT is attention to detail! So incredibly thoughtful.

ORGANIZED: Kelton's incredible spreadsheet that outlines everything down to the minute, his constant availability in the months leading up to the wedding, and his immense expertise all made it possible for us to focus on the most important parts of the day: getting married and having fun! His AV setup for the ceremony was also perfect for what we needed on the riser, and something we didn't even think about twice once he and our venue coordinator connected to schedule his walkthrough and setup.

FUN: Kelton was seriously one of the best parts of our wedding day! Not only did we have a blast and got to enjoy our celebration, but MANY of our guests made a point of letting us know just how excellent Kelton was in his song choices, well-timed announcements, and ability to read the crowd. We had a SUNDAY BRUNCH wedding, and yet could not keep people off the dance floor, that's how good Kelton is!!! On top of being an amazing DJ, Kelton is also a really, REALLY great guy. By the end of the night, Kelton even danced with our guests during the final song, which everyone absolutely loved.

So, starting where I began: when it comes to Kelton Higgins, HIRE HIM TODAY. And to Kelton: thank you for building the soundtrack of our love story, and for making our marriage something not only felt and seen, but also heard!

Nik H.

Married on 11/15/2019

Kelton, Kelton, Kelton

I'm not sure what are the appropriate words to properly describe how we feel about Kelton, but one that immediately comes to mind is AMAZING! Everyone had such a great time at our wedding and they are still talking about how good he was, the dance floor was occupied for hours. Kelton blended in quite well with everyone and if you didn't know who he was, you would think he was long time friend. He read the crowd really well and picked music that kept the dance floor busy, we had a really good workout.

Kelton was so responsive and easy going throughout the entire process. We loved that he never judged our music tastes, he was totally about us and what we wanted and made sure that we got what we truly dreamed about.

I cannot recommend Kelton enough and if we ever are in need of a DJ this is the person we would work with without question.

Patrick B.

Married on 10/26/2019

Gemma was fantastic.

My now wife and I hired Gemma to DJ our wedding reception last October. We held it at an historic house with somewhat limited space, but Gemma was able to make the most of the space she had for her equipment and the dance floor.
Working with her before the event was a very smooth experience. We wanted to cut down on the decisions we had to make, so we gave Gemma a few must plays and some general boundaries on the Playlist, but mostly let her do her thing. She did not disappoint one bit and conducted a fantastic experience for the whole night. Many of our guests, from those in their 20s to seniors, commented afterwards on the great music and how much fun they had dancing.

Five stars for all categories. We highly recommend DJ Gemma.

Annie B.

Married on 10/05/2019

Exceptional!

Kelton was beyond helpful and responsiveness in the months prior to our wedding. He immediately put us at ease. We had never met him, nor had he done an event at our venue. Meeting him on our wedding day, we immediately felt like friends! Everything went seamlessly and he exceeded our expectation. He is super outgoing and creates a great fun, welcoming vibe. We hope to work with him again!!
Are you interested?
Send a message