Reviews
5.0 out of 5 rating
Quality of service

5 out of 5 rating

Average response time

5 out of 5 rating

Professionalism

5 out of 5 rating

Value

5 out of 5 rating

Flexibility

5 out of 5 rating
100%
Recommended by couples
76 User photos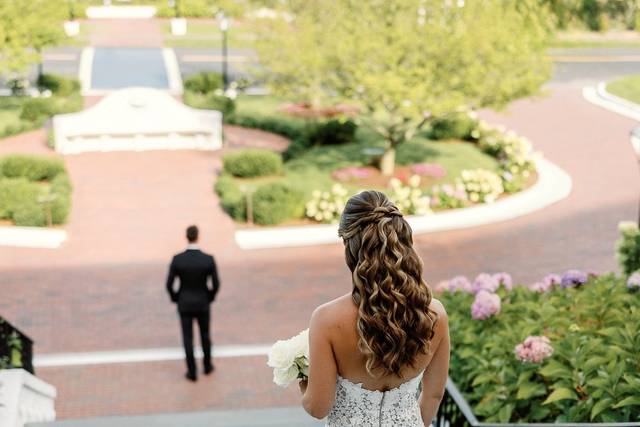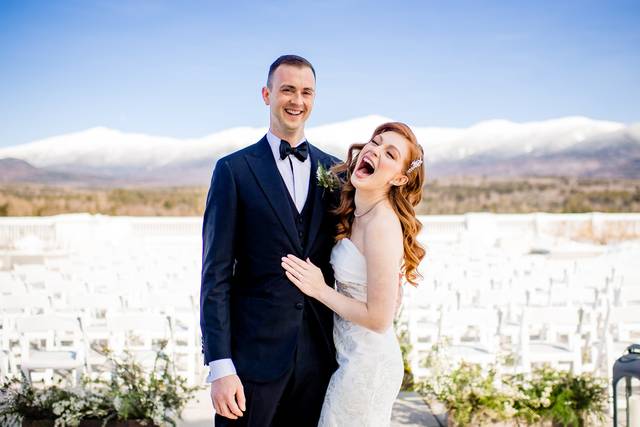 + 72

photos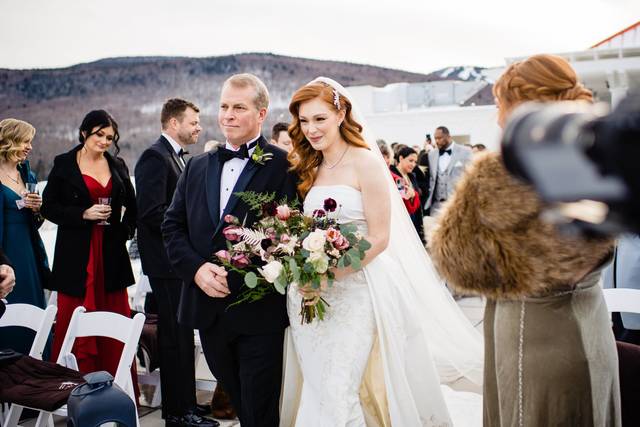 Natalie M.

Married on 10/14/2023

Absolutely include Maricruz in your wedding day!

We hired Maricruz for our wedding in Gloucester in July 2023 and we cannot say enough beautiful things about Maricruz and her talents. I was extremely particular with hiring vendors thanks to the plentiful photos available on social media/reviews. Many hairstylists' final products appeared forced with copious amounts of hairspray and/or "messy." When I came across Maricruz's work, it seemed too good to be true. Her hairstyles were elegant and appeared timeless, clean, and gorgeous. Her services did not disappoint. Our wedding day was hot and humid and every single one of my bridesmaids' hair, my mother's hair, my mother in law's hair, and my hair stayed perfectly intact from our first look on the breezy beach through our last dance and beyond. We all felt *so* beautiful and received many compliments on our hair–many of our guests commented that we all looked so natural versus weddings where the entire bridal party and bride appear caked with hairspray. One of my bridesmaid's kept her style in for several days as she was headed to a bachelorette party from my wedding and her hair remained flawless in appearance. My mom still talks about her wedding day hair in what feels like everyday conversation. Maricruz is magic, she's professional, brings calm energy to your wedding day, and really made me feel special and confident for my wedding day. Thank you, Maricruz!!

Dariush N.

Married on 10/06/2023

Consider yourself fortunate if Maricruz is available on your day!

I am so grateful for the incredible work Maricruz did for my Fall 2023 wedding in Ipswich, MA. Her unwavering poise and professionalism set the tone for a seamless experience from start to finish, and I couldn't have asked for a more talented and calming presence on such a significant day.

Maricruz executed six different hairstyles for my wedding party, including my own sleek low bun with face-framing tendrils. Her ability to effortlessly navigate diverse style preferences and different hair textures and lengths showcased not only her talent, but also her adaptability.

Maricruz's professionalism was apparent in an almost-crisis that occurred halfway through the service. A bridesmaid with recently box-dyed red hair posed an unexpected challenge when the dye transferred to Maricruz's hands while she was working in her hair. With everyone else in a state of panic about potential red dye transfer to their hair, Maricruz remained remarkably calm. She not only crafted a stunning red hair updo but also took the time to thoroughly clean her hands before starting on the next person, ensuring no cross-contamination occurred. This demonstration of composure in a crisis underscored why hiring a professional like Maricruz is crucial for such an important day.

Maricruz is not just a bridal hair stylist; she is a true artist and consummate professional. Her talent, composure, and meticulous approach made her an indispensable part of our wedding day. Consider yourself lucky if Maricruz is available on your wedding day (and book her right away!)


Mary D.

Married on 09/14/2023

Best of the best!

I recently had the pleasure of working with Maricruz for my wedding in September. Maricruz is truly a master at her craft. From the initial consultation to the final hairstyle on my wedding day, every step was executed with meticulous attention to detail, professionalism, and patience. I felt confident and beautiful (and like myself!), and the hairstyle held up perfectly throughout the celebration. My family and I could not stop raving about Maricruz and how good our hair looked and lasted. She truly exceeded my expectations. I highly recommend Maricruz and hope to work with her again in the future. Thank you, Maricruz!!!


Are you interested?

Send a message

Savannah F.

Married on 06/02/2023

Only person I would have for hair on my wedding day!

If you are considering booking Maricruz and her team for your wedding, DO IT!!! Cannot express enough how amazing Maricruz and her team are. From the smoothness and effort at my trial to the amazing work done on my wedding day, Maricruz was there to be a kind, approachable, and seriously knowledgeable hairstylist. I kept calling her a wizard/magician all morning as each person's hair came out AMAZING! Thank you Maricruz for all you do for your brides!!!

Nicole P.

Married on 03/26/2023

Professionalism meets Perfectionism. LOVE Maricruz!!

Maricruz and Nicole did a phenomenal job at my wedding! Maricruz's soft and kind demeanor paired with her sheer ingenuity will leave you feeling calm and confident on your big day! I cannot thank her enough for making me feel like an absolute queen. Go book her right now!!!!

Hope M.

Married on 03/03/2023

A Hair Wizard!

Working with Maricruz and her team was such a joy! From the very beginning she had great communication. My trial went super smoothly and she is such a kind, approachable person that asking for adjustments felt simple and approachable. Her work is fantastic. She styled me with an updo for my rehearsal dinner, a down with curls style for my ceremony and reception, and then stayed later for touch ups and to change my hair to a party ponytail for my afterparty look. She helped advise me to purchase clip in hair extensions to achieve the look I wanted for my wedding day. She and her team were full of positivity and joy, were timely and professional, styled 14 different people the morning of and everyone felt and looked phenomenal. Her vibe is great in your getting ready room and she really was wonderful to work with. She's a magician! I'll be encouraging everyone I know to hire her when they get married!

+ 13

photos

Adriana B.

Married on 12/31/2022

Amazing and would recommend!

Maricruz was truly delightful to work with. From my trial to wedding day Maricruz took so much time and effort to create the hairstyle I loved. Maricruz was so professional and calm and she was so sweet. Her presence in our getting ready room was so relaxing (which is amazing for a bride!). Maricruz had her assistant Nicole helping her out for our day of and she was also so personable, calm and talented. Whatever inspo picture was shown to Maricruz & Nicole they both perfected the look! Everyone was so happy with how their hair came out. I couldn't get over how amazing my own look came out- I usually wear my hair down so when I did an updo I was a little nervous but Maricruz did AMAZING and I felt like a princess. I was so pleased with their work and I would recommend all brides to book with Maricruz! She is absolutely the sweetest & it was a pleasure.

Caroline C.

Married on 11/19/2022

Professional, talented, kind

Maricruz was incredible to work with. She is a phenomenal hairstylist, calm, kind and extremely professional. In the leadup to our wedding day Maricruz was very organized and proactive in coordinating the details / schedule which is greatly appreciated when there is so much to plan. She was truly wonderful to work with, extremely detail oriented, punctual and gave great time and attention every member of our bridal party / family to make sure their hair was how they envisioned it. We were all thrilled with our hair and got many compliments! Our hairstyles (a combination of updos/down) held and looked great for the whole day and night (we had an 1PM ceremony) 12+ hours through being outside in the wind and dancing at the reception. It was truly such a joy to work with Maricruz!

Rachel F.

Married on 10/09/2022

Talented and professional!

Maricruz is an incredibly talented and professional hair stylist - I could not imagine having anyone else style my hair for my wedding. She listened carefully to what hair style I was hoping for and worked with me to get it perfect! She is able to work with all different hair types, and is able to create any style you or your bridesmaids ask for. She is very clear and professional in her communication and brings a warm, calm energy to the wedding day.

Jennifer S.

Married on 09/10/2022

Maricruz is the BEST!!!!

WOW- Maricruz is truly a miracle worker! On our wedding day she did the hair for almost my entire bridal party, and everyone looked outstanding. She is sweet, patient & delivered the exact hairstyles that everyone wanted. I was super picky when choosing a hair stylist for my wedding, and let me tell you- Maricruz is truly the most talented artist out there (I looked at countless vendors, and no one could remotely compare to her work). I received compliments all night & my hair stayed perfectly intact throughout the ceremony & reception! If Maricruz is available for your wedding day- BOOK HER NOW! Trust me, you'll be forever grateful you did! Thank you Maricruz!!

Catherine G.

Married on 08/20/2022

Excellent!

Maricruz was very professional and did a terrific job creating everyone's gorgeous wedding day hair styles.

Before the wedding, Maricruz had clear directions, which helped everyone prepare and arrive ready on wedding day.

Maricruz was on-time, friendly, warm and professional while bringing a positive presence to our wedding day preparations.

Maricruz made everyone look fabulous!

Amber D.

Married on 07/02/2022

The best of the best!

I had the absolute pleasure of working with Maricruz for my wedding day and experiencing her incredible work! My hair was absolutely perfect and even better than I could have imagined. She made me feel so beautiful and special from the day of the trial all the way to her taking a few extra minutes to place my veil perfectly after I put on my dress. She was so helpful throughout the entire process, offering advice and answers to my many questions along the way. She is truly so talented and her kindness and care was felt by every one of my bridesmaids, mother of the bride, mother of the groom, and flower girl. She not only created beautiful and unique hairstyles for each person, but they were impeccably done and stayed through a humid, then rainy, July day and perfectly in place until the end of the night. I can not recommend Maricruz enough and feel so lucky that I had the opportunity to work with her for my wedding!

Andrea L.

Married on 07/02/2022

Maricruz is the BEST!!

I cannot speak highly enough of Maricruz. She is so professional and responsive and her work is absolutely outstanding. She did my hair, my mom, MIL, and 2 bridesmaids and everyone's looked SO stunning. Our hair held all night long and didn't budge. She is so kind hearted and it was such a joy to work with her. From the trial, to the day of the wedding, I knew that I was in great hands. I showed her an inspiration photo for my hair and she exceeded my expectations. Everyone should hire her!!!

+ 2

photos

Maricruz Hairstyles's reply:

Thank you Andrea! You were an absolute pleasure to work with, and it was my honor to be there with you.

Janelle B.

Married on 06/24/2022

The best hairstylist!!

Maricruz is the absolute best for hair!! She is laser focused when she works and she produces the best results for all hair types. I highly recommend hiring her for your bridal party!!

Alexandra J.

Married on 06/19/2022

We LOVE Maricruz!!

I could not be happier that I chose Maricruz to be a part of my wedding day! During my trial, she was so kind and patient and let me see even more hairstyles than I had planned. Before the wedding, she kept in touch via email, answering my questions and making sure I was comfortable and prepared for my wedding day. On my wedding day, my hair was PERFECT. I did a half-up, half-down style with curls and extensions and every curl remained beautifully intact and you couldn't even tell where my hair ended and the extensions began! I received many compliments! And she did many of my bridesmaids' hair and they loved their styles as well and also commented that their hair stayed styled beautifully all night - until 2 AM! (and we had our hair done in the morning!) On wedding day, Maricruz was such a calm presence and so kind. At the last minute, she offered to help with the hair of two of my bridesmaids who originally wanted to do their own hair. When it wasn't going well, Maricruz graciously offered to help. And she saved my mom's day - my mom had wanted to do her own hair but it was just falling flat on the day of. Maricruz swooped in and curled my mom's hair and it looked stunning. I could not be more thankful to Maricruz and would hire her again for any event in a heartbeat! ¡Gracias Maricruz!

Eliza M.

Married on 12/30/2021

Exceptional

I was fortunate enough to work with Maricruz for my wedding in December of 2021. We tried 2 styles during my trial and she took my dress, my style and my feedback into account while offering expertise throughout the process. On the morning of the wedding, she worked through 5 bridesmaid styles and my bridal hair with ease, professionalism, and incredible talent. With just a few photos and quick discussion, Maricruz knew exactly what each girl wanted and delivered that tenfold. We received numerous compliments at the wedding for our hair and we all remarked that it was exactly what we wanted. More than that, however, I have to acknowledge her generosity and graciousness. She stayed beyond our scheduled time to help insert and adjust my veil so it looked perfect with my hairpiece and then on top of that (!) she added a quick braid and ponytail to our flower girl just out of the kindness of her heart. Maricruz, thank you for being such an important part of our wedding day. I would recommend her to anyone getting married without hesitation.

Emma B.

Married on 12/04/2021

Highly Recommend!

I had hired Maricruz for my November 2020 wedding, unfortunately due to COVID-19 we had to postpone until December, 2021. I was very sad to learn that Maricruz was unavailable on our new date, as during my hair trial I was able to see her truly shine. I had presented her with three very different hair styles during my trial, and she completed all of them with ease and each one was stunning. Every correspondence I've had with her has been extremely professional and she's always very responsive. While I'm very sad I won't be able to work with Maricruz on my new wedding date, hopefully I will get to work with her in the future as she is truly so talented and friendly.

Amy S.

Married on 11/21/2021

Maricruz is an amazing artist with hair!

Maricruz was absolutely wonderful. She has an artistic eye and so much talent with hair!

At my hair trial, it felt like I'd met a kindred spirit. She was warm, inviting, and easy to talk to. She styled my hair expertly and took pictures and videos of each style we tried out. She showed me a number of options on my head that were very similar to styles I'd saved on Pinterest. As someone who never does anything with her hair, I can't tell you how reassuring it was to have her explain a little bit about each hairstyle - She really put me at ease, and made sure I knew exactly what I needed to do and when. I left the hair trial feeling beyond beautiful - I truly felt like a new stunning person. I was beyond sad having to wash my hair a few days later - If I could have kept it curly forever, I would have lol. She is beyond talented and was very skilled at giving someone a more "natural" look - meaning I looked like myself, but enhanced.

On my wedding day, she put everyone at ease. She was professional, on time and did an incredible job for my entire wedding party. Everyone loved her! Seriously, my new mother-in-law couldn't stop raving about how wonderful a job she did. My bridesmaids loved her too and we all were saying how amazing our hair looked the entire night! lol It was a magical day and Maricruz was an essential part of the magic.

The last thing and maybe most importantly, she was reasonably priced.

Words can't describe how grateful I am to have met her and to have her on our team that day.

She really was wonderful. If you're debating on hiring her, don't, you won't be disappointed. I absolutely plan to reach out to her about doing my hair again for the next wedding or event that I go to!

+ 2

photos

Maricruz Hairstyles's reply:

Thank you so much Amy! You are so kind.
Please send me pro pics when you get them. Thank you so much ❤️

Kelsey M.

Married on 10/15/2021

Simply the best!

Maricruz is a supremely talented hair stylist and an even nicer person. My husband and I were one of many COVID-delayed weddings, and throughout the entire 1+ year process and postponement, Maricruz was responsive, accommodating and super supportive. At my trial appointment, it became quickly apparent that there is not a single updo that she can't do -- I showed her a couple pictures of styles I found that she herself had done on brides in the past, but also a few that I had found on random brides on Instagram, magazines, etc. -- and Maricruz completed all of them almost exactly as pictured. I expected to be rushed through the trial to keep within the appointment time, or for her to be slightly annoyed if I asked to try an extra style or two, but it was actually at her insistence I try at LEAST four, just to be sure. And I'm so glad she did, as I ended up choosing one that I didn't initially think I preferred. She is so generous with her time -- and that extends to the wedding day as well.

Maricruz showed up exactly on time the day-of, gave each of my bridesmaids and my mom the most beautiful, classy, flawlessly executed hair styles, and was such a calming presence throughout the morning. She even stayed behind for an extra hour after completing the last bridesmaid's hair, just so she could put my veil on to ensure it was secure and placed properly. It should come as no surprise that my updo was not only stunning, it stayed in place the entire afternoon and night. Not a SINGLE hair fell out of place by midnight, which is really saying something... it withstood a rowdy Horah in addition to a whole lot of jumping and dancing! Cannot recommend Maricruz enough.

Taylor

Married on 10/08/2021

Book Her NOW!

Seriously, she books up fast so book her now and read this later, you won't regret it! Maricruz is AMAZING at her craft. The trial went so well I had a hard time choosing as they all looked so good. In the end I chose a formal pony and man was it perfect! There ended up being some wind during the ceremony (we were on top of a hill in Quincy) and the curls didn't budge! Same with all the girls hair! From glamour curls to up-dos they looked beautiful all night long... and the next morning for brunch lol! On top of her artistry, Maricruz is a gem of a human. She is so stylish and above all super sweet. I would give her a million stars if it would let me!

Mary W.

Married on 10/02/2021

Maricruz is incredibly talented and well worth the investment!

Maricruz is incredibly talented. Everyone's hair was absolutely stunning on our wedding day and we received many compliments. We are so appreciative of her professionalism, quality of work and organization to ensure everything went smoothly on a morning that can get very chaotic. She was a very big reason why everything went so smoothly. I HIGHLY recommend Maricruz.

Manuela G.

Married on 09/25/2021

Incredible

Working with Maricruz is easily the best decision I ever made for my wedding experience. She is kind, professional, organized, and a literal hair WIZARD. Her talent speaks for itself and I am truly amazed by it. From the day I booked with her to my awesome hair trial, all the way to the big day all I can say is she is nothing short of AMAZING at what she does. Radiant, patient, and made me feel absolutely beautiful. I knew on wedding day that I was in the best hands with my hair and she confirmed it. I would recommend her to every single bride I know. Thank you Maricruz for making my bridal hair dreams come true!!!

Bea D.

Married on 09/05/2021

Incredible

Maricruz did an incredible job with the whole wedding party. With one look at my inspiration photo, she knew exactly what to do and recreated the hairstyle to perfection. I've never liked my hair so much or felt so beautiful and it was all thanks to her. She is also the sweetest and I really enjoyed chatting to her and getting to know her. I highly recommend you hire her!

Amanda

Married on 08/14/2021

The best of the best!!

There are not enough stars in the universe to accurately rate Maricruz and her incredible talent. She is literally the best of the best! Maricruz is super kind, calm, and professional & gives off all the good vibes throughout the whole getting ready process.

I had initially wanted to wear my hair down on my wedding day, however due to the humidity and heat I had decided to wear it up. I was slightly concerned because I had a vision of how I was going to look on my wedding day, and wearing it up was definitely not it. But let me just say, Maricruz absolutely crushed my look- I was completely blown away! My bridesmaids, mother, and mother-in-law were also so pleased with their hair and their experience. They each simply showed Maricruz their inspo pictures/explained their vision and she completely brought it to life!
She even finished early and was able to do my flower girl's hair- which also came out amazing! Everyone's hair stayed put throughout the humidity, wind, dancing and everything in between! By the end of the night my hair still looked so perfect!

We all felt so confident and beautiful, and it was truly such an exceptional experience working with Maricruz. Having her as your hairstylist for any event is a non-negotiable.

Thank you SO MUCH for everything, Maricruz! It was truly such a pleasure to work with you and have you be apart of my special day! Xo

Maricruz Hairstyles's reply:

Thank you so much for your beautiful words and kindness Amanda. You are stunning, You wear anything you want and will always be breathtaking.
Gratefully
Maricruz

Angela I.

Married on 01/15/2021

Amazing and very professional!

Maricruz had great communication from the start, and made sure to follow through on what I expected, going above and beyond. Her work made my special day so amazing and my fiancé and guests gave me so many compliments! My hair looked beautiful all day and even the next, withstanding even all the squeezes of my little niece! I was so impressed with the professionalism as well as the quality of the studio. Maricruz's service is a must for brides!
Are you interested?
Send a message