104 Reviews
Recommended by 99% of couples
Quality of service

5 out of 5 rating

Average response time

4.9 out of 5 rating

Professionalism

5 out of 5 rating

Value

4.9 out of 5 rating

Flexibility

5 out of 5 rating
2 User photos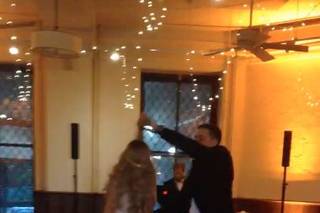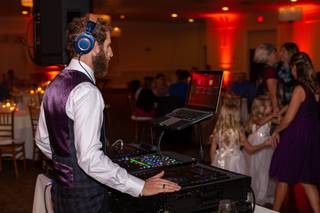 Leila

Married on 03/30/2021

Marc provided the ceremony music and the after party for our wedding AND was a guest! We cannot thank him enough for all he did to make our wedding so special. We had some complex requests with transitions and he handled it all seamlessly! I have worked with him professionally over the years and he is one of the most hands on DJ's who truly cares about the whole event experience. I highly recommend him!

Robin

Married on 08/29/2020

The best wedding DJ!

We hired Marc for our wedding day and he was AWESOME! We've received tons of compliments from our guests about how tentative he was, not just to our needs, but anytime a guest came up to request a song he dropped what he was doing to give them his full attention. Our wedding day was seamless and we have Marc to thank for that. We highly recommend him for your wedding day!!

Meghan

Married on 05/18/2019

Excellent - Danced all night!

Marc DJ'ed my wedding on 5/18/2019 and my husband and I could not recommend him enough! He was easy to reach and communicate with prior to our wedding, and gave my husband and I some excellent tips to calm our nerves and be prepared for the big day. Everything went off without a hitch during the ceremony and announcements, and I don't think the dance floor was every empty! We have had so many people tell us that the music was fantastic and it was one of the best weddings they had been to. Would highly recommend! 10/10!

Are you interested?

Send a message

Laurelle S.

Married on 01/09/2019

Absolute Best DJ!!

We are from Las Vegas, Nevada and love Montreal Canada so much that we decided to get married at the Hotel William Gray. Our beautiful wedding was on the 8th Floor Terrasse William Gray in September 2019. We have 90 people join us for our special wedding weekend.

We knew when we decided to get married that we had to hire the best DJ we could find. We decided that Marc Fisher was the one! We flew him in for an initial meeting with our wedding planner and staff at the hotel. Mark took the lead of making sure that every detail was discussed and met from the early stages of planning to the day of the wedding.

What an absolutely amazing wedding!! So many of our friends and family have told us "that was the BEST WEDDING I have ever been to". This is due to the incredible detail and talent of Marc Fisher. Marc made the experience of planning a wedding out of the country effortless. He was professional and amazing throughout the entire wedding weekend from start to finish. We would highly recommend Marc Fisher Entertainment if you are planning to get married and want to hire the best DJ.

Thank you Marc for make our wedding the most memorable day of our lives.

Laurelle & Greg Simmons

Shannon S.

Married on 11/16/2018

Outstanding DJ!

Marc Fisher is an outstanding DJ. He was the consummate professional from start to finish, which was appreciated because we had to change DJs when the first one we hired went completely unresponsive. Marc played great music throughout our event and had our guests moving their feet ALL night long. We highly recommend Marc Fisher for any event!

Alice

Married on 09/29/2018

Honestly, I could not have found a better DJ than Marc for my wedding. He made my wedding day what it was and enhanced the night. We had about a 140 guest wedding and Marc has a way of making it all personal and intimate while still appealing to the crowd. Its the extras and the way Marc goes above and beyond that really puts him on the next level. I met him climbing in through a window after taking photos- he was there to help me in and hold my bouquet! He had also brought food up from cocktail hour for my bridesmaids and us so we could have a snack. Truly an amazing soul.

As for the music, I sent him a list of songs likes and dislikes to give him an idea of our kind of music and he seamlessly mixed in oldies with country and even with some modern pop. He appealed to everyone in the crowd and I had so many compliments from my guests about him. Marc was the perfect DJ. He was not in the middle of the dance floor getting people up on their feet or yelling through the songs- he was quietly weaving many songs together in the perfect order to make the night unforgettable. Additionally, he brought uplighting with him and it complimented our decor in the reception hall. Could not have been happier. Worth every penny and more.

Leah

Married on 06/30/2018

Marc is awesome! From start to finish, the service was outstanding. Marc made it very easy to plan from the beginning stages to the very end. He was very conscious of the songs that we did not want to hear at our wedding and emphasized on the songs that we did want to hear plus throwing in songs of his own to fit our style. From the beginning, he was in constant and prompt contact with us making the DJ/song planning process a total breeze and giving us one less thing to worry about. The day of our wedding, he took care of every little thing necessary and reassured us that he had everything under control, which he certainly did! We received countless compliments on Marc and his style. We would highly recommend Marc Fisher to anyone planning their wedding as he went above and beyond all of our expectations!

Aubri

Married on 06/23/2018

Marc is AMAZING! We had so many compliments on the music and our guests didn't leave the dance floor the entire night! But more importantly, my husband and I were so happy with Marc's service. I wouldn't say we had a lot of requests, but Marc was excellent at answering questions and providing his professional opinion. We trusted him with creating an excellent flow of first dances, speeches, and all night dancing. His DJ-ing is amazing! We've never been to another wedding where the DJ actually DJ-ed! He mixed songs together to smooth transitions and even used unknown covers of songs we loved that heightened the music (an Italian version of one of Ed Sheeran's love songs was just wonderful). Marc also ran out to the liquor store to grab more whiskey halfway through the night when we ran out - true savior! We can't say enough good things about Marc!

Shannon

Married on 06/02/2018

The perfect soundtrack to our wedding

We decided on Isgro after doing tastings at one other bakery. We had attended another wedding with Isgro cake and remembered it being absolutely delicious. Turns out, it wasn't just the cocktails talking! It also helped that Isgro is less than two blocks away from our house. It truly is a neighborhood bakery, but lives up to its reputation in Philadelphia. The cakes are deliciously moist and flavorful. It was difficult to decide what flavor(s) we wanted to go with. We ended up going with alternating layers of vanilla chocolate chip and raspberry swirl (although lemon was a top contender as well). The wedding cake coordinator at Isgro was easy to work with and clearly knew what she was talking about, giving us recommendations on how much cake we would need given our guest count and other dessert options. They made us feel really special every time we went there, and sent us on our way with complimentary cookies or cannolis. Not only was their cake delicious, but it was also significantly less expensive than the cakes offered at some of the other premium bakeries we had looked into. As an added note, my husband even enjoyed eating the leftover cake on our anniversary after it had been frozen for a year!

Sarah

Married on 05/27/2018

Marc is AMAZING. We loved working with him leading up to the wedding and then of course at the wedding where he was a rock star. All we wanted was to have people dancing the entire time and having the most fun possible and that's exactly what happened - everyone loved the music and Marc knew when to speed things up, slow things down, play music for various groups of people at the wedding, and just how to do all of the right things to make the party the most fun possible. We received amazing feedback from all of our guests too - that Marc was awesome. He also had an amazing form that we completed before the wedding where we added songs we love (and songs we don't) and Marc played pretty much every song said we loved and knew the exact moments to play those songs. We had a few calls leading up to the wedding where Marc was so helpful in thinking through various aspects of the night with us and only had amazing suggestions to help make our night perfect. We could not recommend Marc more highly - if you don't go with him, you're missing out!! He's definitely the best DJ we've ever experienced! Thanks for everything, Marc!!!

Sandi

Married on 03/10/2018

I have known about Marc for a very long time and have always been impressed with his work, but he seriously outdid himself for our daughter's wedding. His attention to detail, the finishing touches, his ability to have everyone around him perform at 100 % , just amazing! He brings an air of elegance, energy and commitment that is only surpassed by the love that is evident in his passion for music! This our our third wedding with Marc and he only gets better with age! Love you Marc!

Tara

Married on 11/25/2017

Start to finish incredible. Emails, calls, etc – no stress, quick to respond, easy as can be. Around 1-2 weeks out – Marc calls to review everything. Which was awesome. He has incredible advice not just for music. So impressed.. and I listened to all his wisdom ☺ !!!! which made my life sooo much better day of. Music wise – I'm not a radio person.. which I thought was going to make this entire thing stressful but it was a not an issue at alllll – Marc played all my indie folk rock weird music during the ceremony & for our dances – Marc encouraged us to give him music we enjoyed for during dinner – which Rob and I LOVEDDDDD!!!!! When it was time for dancing – we gave Marc free range to play the crowd… and OMG BEST DECISION EVER. I never left that dance floor. My friends, family, etc all danced the ENTIREEEEE night. No joke - Not one bad song. He played for all ages & allllll ages loved the entire set. Our wedding ranged from age 92 – 5 year old. Even the five year old bounced around all night loving life - It was beyond what I could of ever dreamed. He was just a breath of fresh air to work with and an expert at what he does. STOP STRESSING OVER THE MUSIC and look no further…. This is who you need in your life. Marc Thank you so much for everything you did on 11.25.17 – Rob and I are so thankful – even Rob who I've been with since 2005 and whoooo never dances – danced!!! I almost died. Hahaha your amazing in so many ways Thank you. Marc even pulled my chair out for me like isn't that the best… Jack of all trades hahaha best choice I ever made. <3 Tara & Rob.

Christopher

Married on 11/03/2017

Marc was great! He was evening willing to go along with our joking introductions for our wedding party, played all the tunes that we asked for, plus some ones we didn't think of that the crowd loved.

Fran

Married on 10/27/2017

Marc is absolutely phenomenal! I got married last Friday and Marc was referred to me through a friend. From the moment I hired Marc, I was happy. I love it when a vendor doesn't just listen to you but recommends to you how things should be. He listened to our style and ideas and then took those ideas and created a plan. He really made an effort to understand what we liked and then on the day of the wedding just completely took over and put on an incredible party. He also had such great communication with the vendors and I had nothing whatsoever to worry about on the day. He also checked in with my husband and I sporadically to make sure everything was going great for us. What a nice guy with an incredible talent! I would recommend Marc to anyone!!

Alyssa

Married on 10/14/2017

I cannot speaker higher of Marc! As our wedding DJ, he was easy to work with and always there when we needed him. He executed the ceremony and reception flawlessly. He managed to wrangle my boisterous bridal party. His music selections were excellent and had everyone on the dance floor from the start of the reception to the very last song! My guests came up to me all night telling me how much fun they were having and how great Marc was. He went above and beyond on my wedding day, and I highly recommend him to anyone.

Lauren

Married on 10/13/2017

Marc did a great job providing the music and dance floor at my wedding. His energy was great and everyone was dancing until well after midnight. Thanks again Marc!!

Alexa

Married on 09/15/2017

I was fortunate enough, being newly engaged, to have witnessed Marc's work first hand at a wedding. Trying to research and pick DJs can sometimes be hard if you have never listened to them work their magic in person. His style and personality was exactly what my husband and I were looking for! From our first phone call, before booking, I knew I had to choose him to be our wedding DJ. Marc is so funny and easy going - I felt like I was talking with a good friend. When we met before my wedding ceremony, he made me feel so at ease knowing that everything was going to run smoothly. We were in constant contact the whole night, whether it was verbally or just giving each other a thumbs-up. All we wanted was for everyone to be on the dance floor all night, and that is exactly what happened! Look no further - you will not be disappointed!

Luke

Married on 07/01/2017

Marc took care of the uplighting and music. He was very professional and gave some great suggestions throughout the planning process and even the day of. The uplighting looked amazing and he even was able to change it throughout the reception to fit the mood. He also was able to set up in two locations to meet the needs of the night/venue. His DJing kept the crowd, both young and old, on their feet the entire night. There was no cheesy dances or vocal prodding, the man is just that good! We would highly recommend Marc for your events wherever they may be.

Molly

Married on 06/03/2017

All these other reviews are spot-on: Marc is a fantastic DJ! I'll start with the most important thing: he got everybody on the dance floor with his song selections, making it such a great party! We've been to a lot of weddings and even objectively he stands out as being one of the best DJs we've seen. Our guests were raving about him. He played the songs we asked for and our guests' requests, fitting everything seamlessly into his playlist. We also had some unusual music requests for during dinner, and he nailed our tastes perfectly. From our first call with him we felt at ease, because it was clear right away that he knows exactly what he's doing. He was also really flexible and easy to contact. Going with Marc was one of the best wedding vendor decisions we made.

Melissa

Married on 01/20/2017

Marc was amazing. We had more of a non-traditional wedding, renting out one of our favorite restaurants for our ceremony and reception, which consisted of cocktails and hors d'oeuvres for 70 of our closest friends and family. I had my own vision for the evening and since our celebration was smaller and I chose vendors I trusted, I didn't feel the need to have a wedding coordinator. Throughout the planning process, Marc acted as both a friend and experienced expert and totally understood what I wanted. He helped guide us where we needed it but was never pushy, which I appreciated! Marc helped facilitate the flow of both the ceremony and the reception so the night ran smoothly. Though we had an overall timeline, I didn't want anything to feel forced or unnatural. Marc was able to read the crowd and decide the best time in the night to do certain things, like first dance, speeches, cake cutting, etc. Not to mention, his choice of music was amazing, and even in a more relaxed setting and no "official" dance floor, our guests danced the entire night and haven't stopped talking about what a great party it was.

Keith

Married on 08/27/2016

Best DJ in Eastern PA! Marc made our special day one to remember. He was super helpful throughout the planning process not only with regards to mysic but also just about the wedding in general. During the wedding, he kept everyone engaged and the dance floor full. Highly recommend to anyone seeking a DJ!

Samantha

Married on 05/28/2016

What can I say, Marc is awesome! Not only is he an amazing DJ but his sense of humor and kind spirit are definitely what you want for your wedding day. As a wedding photographer myself, I knew how important it was to have a DJ who knew how to get butts out of seats! Marc did just that. We were having so much fun that I didn't want it to end! From start to finish, Marc was such a pleasure to work with and he created such an incredible soundtrack to our day. He took songs we loved and weaved them in at the perfect moments. I remember sitting eating our dinner and we were singing along to every song. It was simply the best! Thank you, Marc!

Kim

Married on 05/21/2016

Marc Killed it!!! I would recommend him to anyone looking for a great DJ. From the start I knew he was a perfect fit for our wedding, he was responsive, kind, professional, and really listened to what we wanted. Before I even mentioned that I cannot stand the cheesy DJ's that talk throughout the night, he had already addressed that he was not that kind of guy. WIN! My husband and I wanted an alternative kind of dance party, so the week before the wedding we hopped on a call with Marc & planned a surprise for our friends. At the reception, we borrowed the mic to dedicate the last hour of the night to all of our friends and kicked off all of our favorite Punk/Pop Punk songs from the early 2000's. My friends LOVED every minute of it! We even had the event staff at Terrain singing along! He was truly a huge part in making our night a success. I wish I could relive it all over again!

Elizabeth

Married on 04/16/2016

Calling all happy couples! As a former client of Marc Fisher Entertainment I can't say enough about how AMAZING he and his team are. Having worked with Marc in the past my fiancé and I knew right away we wanted Marc to be our DJ. Marc was fantastic to work with not only the day of but leading up to our special day.
We knew we were in great hands and couldn't have been happier. Marc went above and beyond to make sure our wedding was perfect.

Thank you Marc!

Sergey

Married on 04/08/2016

Marc did a fantastic job for us. He was very easy to work with - he is a pro. Marc provided great advice about the flow of the evening (he suggested we consider moving the timing of certain speeches and the dancing to improve the flow of the evening) and executed wonderfully. We really liked how he did his job because he was always involved, coordinating with the other vendors seamlessly, but was never overbearing / too intrusive. We would definitely recommend Marc.
Are you interested?
Send a message