113 Reviews
Recommended by 99% of couples
Quality of service

5 out of 5 rating

Average response time

4.9 out of 5 rating

Professionalism

4.9 out of 5 rating

Value

4.9 out of 5 rating

Flexibility

5 out of 5 rating
29 User photos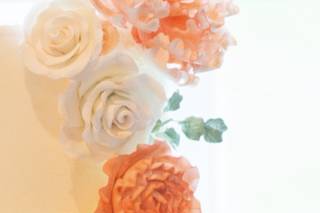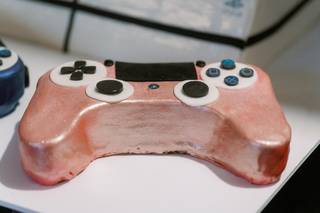 + 25

photos
Alison D.

Married on 10/08/2022

Beautiful and delicious cakes!

Working with Anita to design our wedding cake was a dream! The final product was incredibly delicious and beautiful. Her eye for design and suggestions really elevated our vision to make a spectacular cake. She's organized and dedicated to making a gorgeous final product. Plus, doing the tasting box was one of our most fun wedding planning tasks (!!!!) - a huge box of cake flavors and frostings. The only hard part was deciding which delicious flavors to go with.

Amy

Married on 08/06/2022

Dream wedding cake!

Anita was so amazing to work with and is so talented! Her cakes are not only beautiful but are SO delicious. She made all of the decisions and the cake tasting an easy and fun process, and was so accommodating to discuss plans. I had a specific idea of what I wanted our cake to look like and Anita absolutely nailed it! We can't wait for our first anniversary to enjoy our cake again. We cannot recommend her highly enough!

Sofia H.

Married on 06/11/2022

Beautiful cake!

I had booked a different vendor during the pandemic, but they could not accommodate my wedding date after it moved. I called Anita and was a bit frantic but she was booked because she had so many weddings and rescheduled events. She gave me some alternate names, but no one could help me. I guess she took pity on me after I called for some more suggestions (thank goodness!) and said she would help me out. From then on I had no worries. She took care of coordinating flowers, delivery times, and made the most delicious tasting box for us. On our wedding we had the most amazing and beautiful cake I could have imagined. My only regret in wedding planning was to not hire her first. If you want to remove at least one worry from your wedding day, make sure to book Anita…and do it soon!

Maliha Creations's reply:

Sofia! I am so happy we could get your dream cake. I am sorry the process was so stressful with the dragging on of the pandemic. You were a joy to work with!

Are you interested?

Send a message

Lisa L.

Married on 06/04/2022

Stunning and delicious!

Finally coming off our wedding excitement and the thing I'm looking forward to most is more cake on our first anniversary. Our cake was not only a gorgeous centerpiece, it was so delicious. We came into planning not having much of an idea of what we wanted. I loved the idea of sugar flowers and Anita sketched a design and created an absolutely gorgeous cascade of handmade flowers going down our cake. The outside was beautiful, but the inside was where it all came together. We had a hard time choosing from the flavors in our tasting box, but we ultimately decided on layers of fresh fruit, lemon cake and passionfruit curd and our guests are still raving. We served the extra at our getaway brunch the next day…I would have never thought of this, but I'm so glad she recommended it. 10/10 would recommend her for your wedding!

Sarah E.

Married on 04/23/2022

Amazing and delicious!!!

We started planning our wedding during Covid and we were so impressed with Anita's ability to continuously make changes as we had to constantly shuffle. When we finally had our wedding day, our cake was the most beautiful I have seen. But the most important thing was the flavor. We have been married for a few months and people are STILL talking about how delicious it was. If you want to make sure that you don't have to worry about cake on your wedding day, hire Anita. The process was seamless and I didn't have to worry about a thing.

Chelsea B.

Married on 08/14/2021

Best and most beautiful cakes!

Anita is so incredibly talented - both as a baker and artist! She was so incredibly helpful and sweet with our changes throughout COVID and both our wedding cake and groom's cake turned out more beautiful and delicious than we ever could have imagined. Her calm confidence is inspiring and even some of the crazy ideas I had for my husband's cake didn't phase her in the least! We still have people tell us how tasty our cakes were and we already can't wait for our anniversary cake! She is the best, you should absolutely work with Anita!

Maliha Creations's reply:

Chelsea! Thank you so much for your fantastic review. I will see you this summer. It was such fun surprising your groom!

Annie R.

Married on 07/17/2021

Cake as beautiful as it is delicious!!

We loved working with Anita. From a very easy COVID-safe take it away cake tasting to the final delivery of our beautiful, beautiful cake, working with Anita was a wonderful experience. We decided on a vanilla cake with lemon curd and buttercream with fresh raspberries and it was AMAZING. We got so many compliments on the cake and she beautifully executed on the exact design I had in mind. We would highly recommend!!

Maliha Creations's reply:

Annie, I am so glad we were able to have a beautiful wedding despite the curveballs threw our way! I look forward to seeing you soon :)!

Elizabeth D.

Married on 06/19/2021

AMAZING! Highly recommend!

Anita is SO talented!! She made the most beautiful and delicious wedding cake for us. We had our tasting during covid, so Anita gave us a to-go box of cake flavors and frostings for us to take home and try to make sure we still got to have that experience. Anita is so wonderful and easy to work with and will go above and beyond for her clients. We would highly recommend her to anyone planning a wedding!

Andrew P.

Married on 05/30/2021

Incredible Cake!

Anita was fantastic to work with. From our initial cake tasting, up until my wife and I cut into the cake on our wedding day, Anita did everything she could to help make our wedding day special. We had to postpone our wedding 11 months due to COVID and Anita was very flexible in helping us move our date.

Our cake was delicious! Guests enjoyed it so much that almost everyone went back for seconds!

Kelsey C.

Married on 10/10/2020

Anita is incredible

Anita is truly one of a kind and is a joy to work with. She captured our vision for our cake perfectly without us ever sitting down in the same room to meet (we had a covid wedding). She also was able to accommodate a safe take-away tasting so we could determine the flavors we wanted (we had a hard time deciding - everything was incredible and she gave us a LOT of samples!). I highly recommend her to anyone in the VA area looking for a flawless yet delicious wedding cake. Anita is incredible!

Laura K.

Married on 10/03/2020

Amazing! 11/10.

Anita is incredible - she helped me and my husband craft our dream cake remotely as we were unable to travel due to our schedules and the pandemic. Anita was super helpful, responsive, and flexible - and the cake was gorgeous, delicious, and exactly what we wanted!

Miranda S.

Married on 09/20/2020

Beautiful and delicious!!

We were in the market for a specific style of cake (the look of birch bark) and found a lot of bakers whose designs were…lacking (okay, some we saw were downright sad). Neither of us are big fans of fondant, so add on top of that the challenge of finding a baker talented enough to create something without relying on fondant. Anita showed us pictures of a similar cake she did in the past and it was much more attractive than most of the others, and we'd get it with European-style real buttercream frosting. We signed up for a cake tasting the next time we were in town (visiting family for Christmas) and she made sure to work us in, since we had very limited overlap.

We were thrilled when her cake was also scrumptious! We probably would have settled for mediocre, given the poor designs we had seen elsewhere, but we lucked out and got both beauty and taste, with Maliha Creations! The sheer number of different options and combinations at the tasting were a little overwhelming (and didn't even include all the options from the website!) and we were lucky there wasn't a tasting after us, since we definitely went over our time slot, but we had a lot of fun and came up with two different combos that we were really excited about. At the wedding reception and in the days after, we received many compliments from guests about both the simple natural elegance of the cake's look as well as the quality and deliciousness of the unique flavor combinations.

After the tasting, it was just a matter of confirming the number of servings and asking her the occasional question (how big should our cake stand be, how big can our cake topper be, etc.) and she handled almost everything else! Our florist left some flowers for her and they were beautifully integrated.

Our biggest regret, and no fault of Maliha Creations, is that we didn't get to try one of our two cake flavors. We didn't do our cake cutting aggressively enough and ended with basically just frosting, for our first choice flavor. When we later got around to grabbing cake, all of that flavor was gone (they served it first)! So, we know what flavor we're getting with our complimentary first anniversary cake!!

Anna W.

Married on 07/31/2020

Beautiful Work

Anita is fantastic. I loved my wedding cake so much! I showed her exactly what I wanted on pinterest and she made my cake even better. Great to work with!

Morgan M.

Married on 05/01/2020

Delicious and Beautiful!

We were so happy with our wedding cake. It was gorgeous and most importantly, tasted delicious! Highly recommend!

Alexa D.

Married on 04/25/2020

Beautiful AND delicious cake!

Anita not only made a beautiful cake for us but a delicious one too! She was calm, cool, and supportive as we had to postpone our wedding 3 times due to COVID and just really did her job fantastically. We could not be more happy with how our cake turned out and with our whole experience with Maliha Creations. I highly recommend Anita!

Maliha Creations's reply:

Alexa, we did it! Crazy covid was not going to stop us from a beautiful wedding. Thank you for choosing me to work with you. What a joy it was to create magic on your day!


Meagan S.

Married on 11/16/2019

Gorgeous, delicious cakes

Anita is phenomenal. She hosts the cutest tastings in her home with tons of different cake/frosting flavor combinations. My husband picked all three of our flavor combos (almond cake/raspberry, carrot cake/cookie butter, and chocolate cake/amaretto mocha) and Anita sketched out our wedding cake design before we left, then followed up with a quote very shortly afterwards. So many of our guests raved about how beautiful and delicious the cakes were - in addition to our wedding cake, Anita did a beautiful Captain America shield groom's cake. She is so friendly and easy to work with. We can't recommend her enough!!

Cecilia H.

Married on 09/29/2019

Incredible Cake!

From the first tasting to the end result, Anita from Maliha Creations was a joy to work with. Not only are her cakes DELICIOUS, but she is a true artist and so open to experimenting with new techniques. We were thrilled with our choice and can't wait to order an anniversary cake next year!

Jennifer K.

Married on 09/22/2019

Delicious AND stunning wedding cake and desserts!!

Anita was fantastic! Our wedding cake was not only delicious, but was absolutely beautiful. She also made the desserts for our "sweets table", which were all out of this world. Ami styled our dessert table and it was stunning and elegant. We received SO many compliments on our sweets table and wedding cake. I highly recommend Maliha Creations!

Maliha Creations's reply:

Jennifer you were a fabulous bride and it was our absolute pleasure to create the magic you wanted on your wedding day. I wish you much joy and happiness!

Renuka

Married on 05/31/2019

Absolutely Delicious!

I highly recommend Anita and Maliha Creations. Anita created an absolutely beautiful cake for us that featured a watercolor design matching our invitations. She also made several mini desserts for us. By the end of the night, there was absolutely nothing left- our guests had devoured everything! We are super grateful to have worked with Anita!

Maliha Creations's reply:

Renuka...I loved creating those treats for you. You both are darling and I wish you a very happy married life and will see you in a few months...time flies!


Kristen

Married on 04/30/2019

Wonderful Cake & Service!!!

I don't have enough praise for Anita for her stunning work that she did for our wedding in late June!!!! The green & gold design we ultimately chose was a perfect blend of minimalist flare and cohesion we were looking for. And of course, it was SO SO DELICIOUS -- we love how she does flavors and had the most wonderful time planning the flavor for each tier of cake. We also felt so welcome in her home at our tasting/planning meeting earlier in the year. ❤️ Lastly, she was the main vendor that other vendors from our team spoke highly of when they learned that we were working with her, which was such a joyful and comforting experience. Thanks for everything, Anita!!! I REALLY do hope we get to work together again soon!!!

Maliha Creations's reply:

Kristen...your review made me cry! Thank you so much. I told your mom when she came by after the wedding that you both were a couple that knew what it was all about. You both were so excited about the MARRIAGE and not just the wedding day. I wish you a blissful married life and look forward to seeing you soon!

Justine W.

Married on 02/09/2019

Incredible - Outside and In!

Anita was absolutely lovely to work with! Her entire process was lovely - we very much enjoyed the tasting for cake, frosting, and filling (who wouldn't??). Anita was able to guide me in a direction and a design that made sense for the season and complimented the overall feel of our wedding. When I saw the cake on our wedding day, I was FLOORED. It was absolutely visually stunning - a true centerpiece, and of course it tasted incredible! All of our guests commented on how delicious it was. Anita did a fantastic job and I would highly recommend her!

Katheryn

Married on 11/17/2018

Spectacular from start to finish!

If you're looking for someone to create your dream wedding cake to perfection, look no further than Anita! From our initial tasting, we knew Anita was going to be a fabulous partner – her glowing personality and creativity immediately shined through. While we wanted a classic buttercream frosting with delicate flowers on the exterior of the cake, we wanted to add some fun flair to the inside layers to make it both memorable and delicious. Anita rattled off dozens of fun combinations she'd done in the past – and we decided to go with two tiers of: vanilla butter cake with 2 layers raspberry jam schmear with vanilla buttercream and fresh raspberries and 1 layer of lemon curd, and two tiers of: double chocolate cake with 2 layers of Oreo buttercream and 1 layer of bourbon buttercream, all with a vanilla buttercream lined exterior with fresh florals… and it came out perfectly! Guests raved about it – and my husband and I are eagerly counting down the days to our anniversary so we can enjoy our top tier :)! In short: If you're looking for a wedding cake that is both delicious and beautiful – and made by a kind, creative, joyful person, go with Anita—you'll be so happy you did!

B&S W.

Married on 09/22/2018

Above and beyond - gorgeous and delicious!

We are still over the moon that we found Maliha Creations this year. Our cake was a true show-stopper -- we wanted a unique one and Anita made our vision come to life BEYOND what we had hoped for! It's been 2 months and we still get comments about how delicious and gorgeous it was! Working with Anita in the months leading up to the wedding was great; even though we live out of state, the process was as smooth as can be and she really gave us peace of mind. We had a popular wedding date, so we actually booked her before having a tasting because of her gallery and reviews, and how much we loved her from our consultation call. That was a risk we are so glad we took!! Anita is not only an incredible and thoughtful creator and expert, she is also a clear and intentional communicator, which anyone planning a wedding should value. Our appreciation for her and the art form elevated with every exchange we had -- we actually learned a lot because of her thoughtful answers to our questions. She thinks outside the box, is accommodating and generous with her time, and put her whole heart into our cake. She even made a gluten-free cutting cake because one of us is sensitive and she wanted to make sure we had the full experience. It's all what we needed and more than what we dreamed of - we will forever be grateful!! Go with Anita and book her fast -- she's the real deal, the absolute best, and will take your day to the next level!

Malak

Married on 08/19/2018

Anita really has it together, the whole experience from the tasting to the day of was WOW! She even created a specific cake flavor based on our request and it was so so sooo delicious. Highly recommend for any special event.

Ella

Married on 07/28/2018

If you want an absolutely stunning piece of art, that tastes as good as it looks, at your wedding, my husband and I highly recommend getting your cake from Maliha Creations! Anita is extremely talented and an absolute joy to work with when creating a cake that will represent you on your big day. When we first reached out to book her, She invited us at her lovely home in Charlottesville for our tasting. Immediately upon arriving, she provided us coffee and an assortment of every type of cake and filling she could offer. There must have been 20-30 different cake types, fillings, jams and buttercreams that could be used, each one incredibly delicious. She made us feel so relaxed and excited about trying everything! We were able to choose two flavors, and we decided to pick a vanilla cake with fresh lemon curd layers and a center layer of vanilla buttercream and strawberries for the bottom tier, and the two tops tiers were a chocolate cake with Raspberry buttercream and jam and a center layer of chocolate ganache. Anita was also so easy to work with in terms of design. She immediately grasped my concept and provided a lot of suggestions on what would work best aesthetically and how she could create the perfect succulents for our cake (my wedding had succulents as the main plant/flower in all the design elements). She also offered to make us a little detail on the back which could represent something special about us as a couple.

On the day of, we were absolutely blown away! Our imaginings couldn't even come close to how gorgeous that cake was. Anita hand crafted every succulent and leaf, and the bottom tier was absolutely exquisite, the ruffled element played so wonderfully with the top two tiers which were smooth white, and the personal element at the back of the cake was perfectly sculpted! We felt bad when we had to cut it! Everyone kept telling us how delicious each flavor was and we couldn't have been more pleased! Thank you so much for a show stopping cake!
Are you interested?
Send a message