30 Reviews
Recommended by 100% of couples
Quality of service

5 out of 5 rating

Average response time

5 out of 5 rating

Professionalism

5 out of 5 rating

Value

5 out of 5 rating

Flexibility

5 out of 5 rating
Awards
5 User photos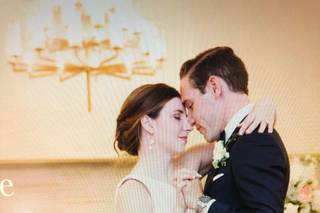 Ellen

Married on 06/22/2019

10/10 Would hire again!

I was married in June of this year and Keri Ann did my makeup for my bridal portraits and wedding day. She took the time to make sure everything was exactly how I wanted and did make me feel rushed. I loved that she gave me small containers of the some of the makeup so that I could touch up if needed during the long day--but it wasn't needed! My makeup lasted throughout the entire night and I was on the dance floor almost the entire night. I highly recommend Keri Ann.

Wonderful experience.

Keri Ann is terrific. She is very patient and tries very hard to make everyone happy and look our best. I especially like how she pays attention to blending colors with your dress. Furthermore, as mother of the bride, I appreciated her calm demeanor. I highly recommend her.

Marisa

Married on 08/12/2017

I absolutely loved working with Keri Ann for my makeup on my wedding day. I met her at an open house at Agave Real and immediately fell in love with her styling on social media and knew that I wanted her to do my makeup for my wedding day. Keri Ann did a trial run of my makeup for my engagement pictures (which turned out great) and she took care of both myself and my 2 bridesmaids for my wedding day. Keri Ann was flexible, super easy to communicate with and so sweet. She was always punctual, prepared, and had a wonderful attitude. She provided exactly the "look" I wanted for my wedding; naturally beautiful, glowing, and bridal. I truly felt like the most beautiful bride on my wedding day and my new husband absolutely loved my makeup. I would definitely recommend Keri Ann to anyone looking for a natural and beautiful makeup look.

Are you interested?

Send a message

Frances

Married on 04/01/2017

Hands down, Keri Ann was the best choice for doing my bridal make-up on the day of my wedding. She just really understood what I wanted, and made me feel like a polished version of myself when I looked in the mirror. Let me give you an example of what happened after my first trial with her: I went to a different makeup artist for my engagement photos closer to home and they did not work with me on what I wanted, and ended up with me feeling uncomfortable with the way I looked in the mirror - I ended up washing it all off and doing my makeup myself. In comparison, Keri Ann just wow-ed me, was patient, and very kind. I look forward to booking her for all my future special events, and referring her to my friends.

Janet

Married on 02/18/2017

Keri Ann is fabulous and I highly recommend her if you are looking for a make-up artist. She is very talented and most importantly she is able to adjust her work to fit each individual's style. She came to the wedding venue prepared and worked very well alongside the two hairstylists that I hired to do hair for the women in my wedding party. This was super important to me as we had 5 women for hair and make-up and a tight schedule. Not only is Keri Ann highly professional, she also has a very warm personality and makes you feel at ease which helps make for a stress free wedding day!

Catherine

Married on 10/22/2016

I was a bit nervous about having my makeup done. I don't wear a ton of makeup on a normal day, and for my wedding, I wanted to look nice but still like myself. Kerri Ann did a fantastic job. She listened and was responsive to what I wanted, and I love the way I look in the pictures. I would definitely recommend her to a friend!

Sadie

Married on 10/15/2016

If you are looking for a make up artist who is helpful, kind, and AMAZING at what they do then Keri Ann is right for you!!! She did my wedding as well as my sisters wedding and it wouldnt have been the same without her. I am not a makeup person but wanted to look great for my wedding. She knew exactly how to do my makeup and made me feel so comfortable. I wouldnt have picked any other artist.

Kristi

Married on 09/18/2016

Keri Ann was fantastic! I'm not a huge makeup person but her natural look was perfect for my photoshoot. She answered my millions of (probably) silly questions about what she was putting on and how. And even put up with my toddler and mother in law who both sat there and watched the entire time. After my photoshoot I didn't want to take my makeup off because I felt so pretty and we couldn't believe it lasted thru two hours of sweating and sunshine. I will absolutely use her again.

Want to look amazing for your event? Then Keri Ann is your gal! She did a marvelous job in my daughter, the bride and me as the bride's mother. Keri Ann took the time to understand our preferences in makeup and our skin types via a survey. It was a relaxing and stress-free event with Keri Ann and her steady, artful hands. Keri Ann us patient, professional, and a fine Christian lady who sees this as her ministry. I highly recommend her for your makeup needs!

Alice

Married on 07/02/2016

Keri Ann is one of the most professional persons I have met so far. Her service is so good and she herself is a very beautiful lady inside and out. She is very punctual, and a very funny and talkative person as well. You can both get your make up on point for you special day and don't have to worry about getting bored.
Keri will make you look like yourself, but in a much better and more beautiful version. You don't have to wear a cakey face to be on point, she can help you to be beautiful without turning you into somebody else.
I would recommend Keri Ann for everyone I know. And believe me you will be satisfied with her service!!!

Margie

Married on 06/24/2016

As a mother of the bride, I wanted to look my best on my daughter's wedding day. Keri Ann did an excellent job of putting on my makeup and I had the perfect look for that special day. I was pleased that when I called her for the first time she answered her own phone and spoke with me directly and was very personable. I was really impressed with that. When she came the day of the wedding to do our makeup, she was so sweet and she made it such a fun experience!

Marsha (.

Married on 04/16/2016

Keri Ann is a beautiful person inside and out! She was very knowledgeable about all the makeup processes. She made this mom of the bride very confident for the long night ahead of me! My makeup was spectacular!!!!

Melissa

Married on 03/20/2016

Keri Ann is awesome! She traveled to Dallas on numerious occasions - to cover my engagement photo shoot, bridals, and the wedding! She did an incredible job and make me look like myself - not a stranger! She is kind, compassionate, reliable and prompt and the ultimate professional! Definitely a top pick!

Elizabeth

Married on 02/27/2016

I am usually a no makeup or very little makeup girl and I wanted to feel glamorous for my big night but did not want to feel like the makeup was caked on. Keri Ann did an amazing job. She made my makeup look natural but I looked amazing! She will listen to your likes and dislikes and it will be perfect!

Erica

Married on 02/15/2016

Let me start by saying that I was not getting married when I had Keri Ann do my makeup. I just felt like I was in a "makeup rut" so I went to Keri Ann to discuss my makeup routine and see if she could help me broaden both my makeup outlook and my makeup bag. I loved that she didn't try to sell me any products or on any particular product line. Instead she offered great tips and advice on a variety of products that she would use on someone with my skin type. She was very knowledgeable and definitely kept me looking like myself while still showing me techniques and colors that I might have been scared to try on my own. I had a great experience and plan to use her again in the future whenever I have the need to get my makeup done. Also, I definitely plan to take my daughter to see her when it comes time for her to wear makeup. Keri Ann understood that more didn't necessarily mean better and I would trust that she would teach my daughter to highlight her face and not just try to cover it up with a ton of product.

Caroline

Married on 01/24/2016

I am very pleased with how my makeup turned out! I definitely recommended Keri Ann to anyone who is looking to get makeup done for any event!

I am SO GLAD I booked Keri Ann for my wedding. I had a makeup trial before her that went horribly due to unprofessionalism. After that experience, I called Keri Ann to ask a few questions, as she did the makeup for a wedding I was in a year ago. She was so kind and helpful, even before I asked to set up a trial with her. Throughout my experience, she went above and beyond for me. She was easy to work with and accommodating to my makeup preferences. I love the way my makeup turned out, both at the trial and on my wedding day. It looked absolutely amazing! Her sweet spirit was a blessing to be around on my wedding day, too. Who she was as a person contributed to my day being stress-free and joyful :) you will not regret booking her for your wedding!

Taylor

Married on 10/10/2015

Keri-Ann was perfect in every way for my wedding!!
I met with her a few months prior to my wedding and did a trial run.. at that point I was a little nervous because I didn't want to not look myself and I've heard so many horror stories about make up artists. After my trail run I was so at ease, she really understood what I wanted and we played with makeup until it was right! I had my make up done for my bridals as well and those turned out so good! By the time my wedding date came I had no worries at all that Keri Ann would take great care of my bridesmaids and I. I loved that she took into consideration each of my bridesmaids requests and even walked them through all that she was doing! She was very attentive and kept everybody on time. I can honestly say I had no complaints at all about my make up and will forever keep her in mind for all my make up needs!!!

Elizabeth

Married on 09/05/2015

Keri Ann was the make up artist at my wedding on the 5th September 2015. She did a trial makeup a few weeks before where we got a chance to know each other and test different colors. this is certainly worth doing. On the day she did the make up for both the mother of the bride and groom, and 5 of my bridesmaids as well as my own makeup. She brought an additional makeup artist with her to help on the day. The makeup was superb and for each lady Keri Ann had several eyelash options depending on what suited them best - I loved this individual approach. Keri Ann is the sweetest women. I really enjoyed having her as part of the party while getting ready. She listened to everyone and made adjustments where needed. I am so glad we found her. She even recommended a hair stylist when our planned stylist couldn't make it, and that stylist was very good also. If i had another opportunity to get my makeup professionally done again for a birthday/ anniversary or other special event I would consider arranging to visit Keri Ann so she can make me look beautiful again! :)

Katie

Married on 08/08/2015

I am so pleased to have had Keri Ann as a part of my bridal experience. She made me, my bridesmaids, and my mom feel so special and glamorous. She provided such excellent and personalized service to each one of us. Keri Ann knew exactly how to bring out each girl's natural beauty without making us look over the top or 'too' made up. We still looked like ourselves, which was very important to me. The makeup photographed beautifully and stayed on from 1 pm to 11 pm at an outdoor wedding on a scorching day in August. I was very impressed that the makeup stayed so well and did not sweat off. I would highly recommend Keri Ann to any bride who wants to feel special and beautiful on her big day.

Doni

Married on 04/15/2015

Book Keri Ann for your next event! You won't regret it!

Keri Ann is out-of-this-world talented. I am so blessed to have found Keri Ann to be my make-up artist for my wedding. She is very professional, reliable, organized, and knowledgable in her field. She is a great listener and made sure that I felt comfortable at every appointment. I felt so confident and couldn't have asked for a better experience on my wedding day. I know I can always call on Keri Ann for any special occasion. She is always quick to respond and very accommodating! I cannot thank her enough for making the best day of my life even more perfect.

Sophia

Married on 04/04/2015

Keri Ann was just awesome. She did my makeup for my engagements and bridals, and wedding makeup for myself and 5 bridesmaids. She didn't just assume what kind of makeup I wanted, she absolutely took the time to get to know what I was looking for and looked at previous pictures to see what would work even better next time. I've never felt as beautiful as I did the day of my wedding! Keri Ann was a great person to get to know and I'm so glad I had her through the whole thing!

Holly

Married on 01/24/2015

Keri Ann is a truly exceptional makeup artist, she made my mother, sister and I look absolutely beautiful. My sister who is knowledgeable about makeup and at times is very particular about how hers looks said to Keri Ann after she was done "I've never had to not ask a makeup artist to fix something, I love it and I want you to fly to Virginia for my wedding." Not only is she a talented artist, she involves you in the makeup decisions and she is just a joy to work with. It was so great to be around Keri and her cheerful , calming personality the day of my wedding. I will definitely recommend her to any of my friends seeking a makeup artist in the area. Thanks so much again Keri Ann, you're the best! 

Kim

Married on 11/29/2014

This review is long overdue... Before I was married last November (2014), I did two other trial runs with a couple makeup artists before trying Keri Ann on a referral. By the time I met with her, I was pretty frustrated and at that point had almost decided to do my own makeup. My trial with Keri Ann was *notably* different, and by different I mean far better. She listens, is so very patient and has a natural calming way about her. She did the makeup for my entire wedding party. Everyone looked striking. Not a single complaint or change to Keri Ann's work. Keri Ann is also just a great person... she stuck around after I left for the ceremony to help my mom, who at that point was in a virtual panic. ;)

Kacey

Married on 11/15/2014

Keri Ann is a close friend. She offered to do the make up for my mother and I as a gift for our wedding. I was so impressed with her. We did a trial run in May and I liked what she had done. After I had a bad experience with my bridal make up being done by Ulta, she offered to go through another trial to assuage my fears. We ended up not doing the other trial run, but I trusted her with my wedding Day and she did not disappoint. She is so nice and so great!
Are you interested?
Send a message