40 Reviews
Recommended by 99% of couples
Quality of service

5 out of 5 rating

Average response time

5 out of 5 rating

Professionalism

5 out of 5 rating

Value

4.9 out of 5 rating

Flexibility

4.9 out of 5 rating
19 User photos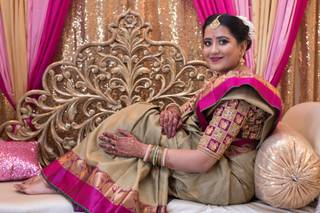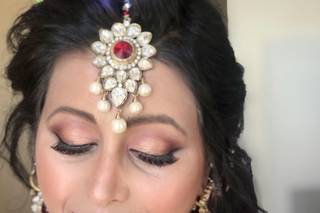 + 15

photos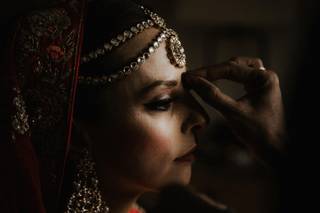 Kavya P.

Married on 12/15/2019

Friendly and flexible

I got to work with Pratixa from Abilasha's team for my engagement. I needed her to come at 3 am because I needed to be ready by 5 30 am ( crazy, I know!). We were sharing our woes about losing sleep over text and she arrived promptly at 3. She understood exactly what I wanted and was very adept with her skills. She primed my face pretty well and did a perfect natural look for me. We ended having not much time for the hair but that wasn't her fault. She suggested to come at 2 30 am but I only pushed it to 3. I loved my make up although I wish I gave that extra half hour for my hair. I would totally recommend her. She is very friendly and amazing!

Amy G.

Married on 08/03/2019

Bride - Amy G. Stephan

Abi is amazing and patient!! She will work with you to make you stunning and very flexible w changes to your look. Her beauty priorities are to make you look like an amazing bride, party goer or whatever you hire her for. She takes your natural beauty and enhances it fully. I whole heartedly recommend her first class service to everyone. You will feel like a queen on your special day for your special events.

Ri Li

Married on 07/27/2019

There is not a makeup artist like this in the whole world

I have never met someone so professional, so amazing at her job, so thorough and mindblowingly good at what she does! She made me look like a princess on my big day. Aby uses the highest and the most expensive makeup brands I was wowed by that. She arrived on time, was very professional and a dream to work with! Before the big day I shared some pinterest images with her for the kind of look I wanted. She gave me a look that was a 1000 times better than the pinterest looks I selected. I was blown away, so was my husband and all the guests - they loved my makeup. I was happy all day feeling beautiful. Out in the sun all day and after 12 hours my makeup was still intact and still made me look fresh, not a smudge, no trace of oiliness. The products she used were so high quality. She made my day perfect!

Are you interested?

Send a message

Nandhini R.

Married on 07/07/2019

Excellent. If you want to look good and natural contact her :) :)

Abby and her team are amazing! My wedding was in SanJose and i was so tensed to get a south indian look . I checked her website and because of her reviews I approached her .I think that was the best thing i did.From the beginning, everything was very easy. I loved her work during the trial. She is really good at what she does . All my friends and relatives loved her work(hair and makeup ) during my wedding. I had to change 4 sarees during my wedding and she did it with ease . It is so easy to work with her. Phone calls and messages were returned promptly and she really took her time to listen to what I wanted. I loved her work during all the ceremonies(trial, pre engagement, mehendi, wedding and reception). Each had a different touch to it. If you are looking for something natural please approach her and I am sure you will not be disappointed :) :).

Vidhya R.

Married on 06/06/2019

Highly professional, catering to one's specific needs and really caring!

I got to work with Abhilasha's team members Hema and Mariah on my wedding day for hair and makeup. Ours was a South Indian wedding and Aby and her team answered all of my questions prepping up to the wedding day via WhatsApp. On the day of the event, Hema and Mariah arrived on time, patiently catered to all of my requests and small changes as we went through the preparation and I felt completely pampered and well taken care of. The outcome turned out to be excellent, just as I wanted. Needless to say, I received a lot of compliments on my wedding day look from friends and family who attended the wedding or got to see the photos. Overall, I would highly recommend Aby and her team for your special day!

Swathi K.

Married on 05/26/2019

Amazing makeup artists

Absolutely loved all my make up looks for my wedding and Sangeet event. We booked Aby's team in less than a month for my wedding. Aby was helpful in accommodating make up artists and also Henna artist for my South Indian wedding and Sangeet events. Her team was very accommodating with our last min requests too. Everyone loved my wedding makeup. My photos turned out amazing. Happy that I went ahead with Aby and Aby's team. Thanks a lot. I would highly recommend her.

Irene

Married on 05/17/2019

Amazing Team

Aby and her team was amazing to work with. Although Aby was not available to do makeup and hair for my events, she introduced me to a makeup artist and hair stylist from her team, Mariah.

My MIL and I had chosen Aby for my Anand Karaj and Indian Reception looks. I'm Chinese, so initially, I was afraid my make up would be too heavy and dramatic. However, during our trial, Aby and Mariah worked with me to make sure I was completely satisfied with my makeup and hair. I ended up loving my looks even more on the actual events! I received so many compliments!

Mariah also helped me pinned my dresses and dupatta. As we had to get ready so early, having to figure out how to pin everything myself would have been so stressful. Mariah was amazing and everything stayed where it should all day/night. Thanks Aby and team for making me look flawless.

Shristika T.

Married on 02/22/2019

Aby is a Makeup Goddess!

To all the ladies out there who are on the verge of deciding whether or not to hire Aby, let me ask you one question.. 'WHAT ARE YOU WAITING FOR ?!?!' Am pretty sure you've seen her work online and are in love with it already. You know you want to hire her, so why waste time by second guessing yourself?

I got married in February of this year and Aby did my hair and makeup. And can I just say, she did a phenomenal job. She worked with me from day 1 to perfectly curate the two looks for my ceremony and reception that I felt comfortable with. For the morning ceremony, we went with a subtle look with glowy skin and simple bun for hair-do whereas for the evening reception, we still went with glowy skin BUT with grey smoky eyes and wavy hair. I loved both the looks! And the best part, I didn't have to touch up my makeup at all, other than just blotting some oil from my face.

And ladies, get this-- she will work with you as early as 3 months prior to the occasion date to make sure your hair and skin is at its ultimate best on the day of. Based on the skin/hair type you have, she will recommend home remedies, diet changes and/or natural products to get to that beauty goal. She will ACTUALLY listen to what you have to say and bring your makeup/hair vision to life. She will take her time to make you look perfect for your big day/occasion.

I personally believe that makeup is to accentuate features you already have. The purpose of makeup products was never meant to make you look like a completely different person. And Aby believes in that!! She will do her magic on you, but YOU will still look like YOU. You will look glamorous after she is done, but you will still recognize yourself in the mirror, which for me was a big deal .

I would absolutely recommend her to anyone and everyone who is seeking a makeup/hair artist. I am a happy customer, and will work with her every chance I get.

Aaraadhya N.

Married on 02/21/2019

Abhilasha is AMAZING!!

I got married earlier this year and booked Abhilasha and her team for my wedding events. Working with Abhilasha was breeze since day 1. I started looking for makeup artists a bit late but luckily she was available on my wedding day. Soon after, I had my makeup trial and we were able to connect right away. She listened to exactly what I wanted and made sure I was completely comfortable with all the make up looks. She envisions what looks good for the bride and creates that look while making sure the bride is comfortable with everything she is doing. I trusted her with everything, and I can say she never failed to deliver.
Because I was a bit late, she gave me a regimen to follow right away to make my skin glow and I have to say, my skin was ABSOLUTELY glowing! She is so caring and lovely that working with her never failed to put a smile on my face. I was one of those brides who decided to do everything by myself and I have to say I was pretty stressed. No matter what was going on she made me feel relaxed and made sure I was taking a moment to enjoy being a bride. She followed up constantly to see if she could help me with anything. She was more of a friend than a vendor I was working with and I loved working with her.
My sisters got their makeup done with her team while she was completely focused on me. Abhilasha and her team are extremely professional and always on time. Her team made sure that my sisters were completely comfortable with their looks and took extra time to make changes to the hair and makeup if they weren't completely happy. All of us looked amazing and its all thanks to Abhilasha and her team! I would highly recommend her and her team to any future bride!!


Misha S.

Married on 12/29/2018

The experience was amazing!!

My experience with Abhilasha on my wedding day was absolutely amazing!! This is the first time in my life I'm writing a review for anything but felt compelled to write something. I was very very hesitant about getting my makeup done as I don't like to wear alot of makeup. Abhilasha had that covered- she was extremely receptive to what I felt comfortable wearing and did not push me in any direction. I loved the way my makeup looked on my wedding day and this is coming from someone who doesn't like to wear makeup. Because I trusted her I ended up wearing more than I ever have and it looked great! Mostly I felt completely like myself, which I felt she captured with an art. She did a great job with my hair as well.

There is something about Abhilasha that is so easy going yet so caring. I felt throughout the process as if I had a family member in my corner. I only had to make the decision to work with her and she so kindly took care of the rest. Abhilasha is truly gifted at what she does and she can make however faint a vision you make have of yourself on your wedding day a reality because she has a unique eye for hair and makeup.

Farah

Married on 11/03/2018

The fairy godmother for my fairytale wedding!

Where to begin with the amazing Abhilasha Singh?!? First off, I was plan all, do all bride. About six months before my wedding I had the venue, the dress, the food, decorations, florist, decorations and everything in between picked out and finalized. Except, of course, the dreaded makeup artist and hair stylist. I consider myself to be fairly girly/feminine, but I do not like the way I look in heavy make-up... at all! I cried after having my make-up done for my engagement party because I did not feel the least bit pretty. And, coming from a fairly traditional Lebanese household, my mom and sister had high expectations that I wear about 10 lbs of makeup!

Abhilasha returned my call and follow-up with me after I went missing for a good month (I had some health stuff to deal with). After she got back on my radar, I know I was pretty late in the game and needed to book someone fast. She was so kind on the phone and after briefly explaining my vision over the phone on my lunch break while traveling for work, she reiterated what I said and THEN SOME! A few months later, I went by her place for the trial. You know how every woman wants her "ah ha" moment when she tries on her wedding dress?!? Screw the wedding dress, Abhilasha made me feel like a bride in jeans and a white tank top! I mean, wow!!! She is so unbelievably skillful with foundation and skin. I've never seen anything like it. I felt like a celebrity with my hair and extensions, which came part of the package.

Leading up to the first look and/or ceremony, you spend the most amount of time with your make-up artist and hair stylist and photographer. I loved being around Abhilasha so much I want to be friends! She is witty, professional, charming, and so freaking good at what she does. Wedding day was organized down to the last second. Mostly because of me, but also because she knew what needed to get done. She brought a few of her girls with her to do my bridesmaids hair and makeup and they did a great job.

Everyone was in awe at my makeup and they could not get over how spectacular my hair looked. I had a grand wedding with a Lebanese zaffe entrance and needed my hair and makeup to stand out, but not over shadow the dress and venue. I felt like myself 100% and that was the most important thing to me. But, I felt the most beautiful I ever have in my life.

Abhilasha was worth every cent and then some. She traveled from San Francisco to Monterey, CA and helped make my fairy tale wedding a dream come true. I recommend her over and over again.

Maria D.

Married on 07/24/2018

Perfect makeup for my perfect day

Aby is one of the kind. Her skills and experience are typically only available on the movie or TV sets. Aby's overall beauty knowledge on the process and how things work together are unprecedented. She transformed my hairstyle - flat hair colored highlights and cut to a fresh, up to date look. She also styled me for my special day by giving me a makeover with make up that was understated yet, emphasized my eyes and features and gave me that glam look. She has selected for the makeup tones that looked natural yet gave me confidence and held through the day. Being a fair-skin and blond I always avoided a strong dark makeup but what Aby selected was simply perfect.

We are really lucky to have Aby in San Francisco.

Naitri

Married on 06/24/2018

I found Aby while looking for a bridal hair and makeup artist who could handle all the events for a crazy and large scale Indian wedding. She worked with me, starting from the first day we met for coffee until the day of the wedding (and even after!). She gave me a carefully crafted self-care program a few months before the wedding, so that I would look my best for the big day. Aby is also a fantastic hair guru and now, she is the only person I would trust to cut my hair!

During the time leading up to the occasion, we would chat quite regularly and share notes about the look and style for each event - especially since Indian weddings have multiple events! Aby is truly gifted at creating unique and beautiful looks. She made me feel like a total princess! Aby also helped me find hair and makeup artists for the bridal and groom parties! She and her team were thoroughly professional with each service and we received so many compliments!

If you are a bride looking for the BEST makeup and hair artist for your special day, look no further. Aby's services are incredible and unparalleled! I highly recommend you book her if she's available!

Preet

Married on 05/29/2018

Absolutely Fantastic! Aby takes care of what a bride really wants -- I wanted my look to be very natural and subtle and Aby made sure I was satisfied. I received a ton of compliments for all my looks and the pictures came out to be great. All thanks to her! :) I'm so glad I chose Aby for my pre-wedding shoot, sangeet, wedding and reception. Totally recommend her, she's AMMMMMAZING!

Sameeksha

Married on 04/21/2018

I was all dolled up for my pre wed shoot

She did a fantastic job with my hair and makeup. She was very friendly, professional, and left me feeling beautiful. My hair/make-up was stunning and my friends certainly raved about how beautiful I was. Definitely recommend!

Nicole

Married on 04/14/2018

Aby is absolutely amazing! I booked Aby for my wedding and a separate photoshoot back in April. From the time of booking to the wedding day, we were in constant contact. She would ask how everything was going, how I wanted to look, and shared all her ideas. I prefer to use cruelty free brands and Aby was happy to accommodate. She provided different tips to do before the wedding to help me look and feel my best. This included adding different juices to my routine which really made my skin glow. Aby is very knowledgeable and passionate.
On the day of the wedding, Aby and her team were prompt, organized and made my morning incredibly easy and relaxed. Any issues were handled professionally and without hesitation. My wedding party looked fabulous! Aby went above and beyond what I imagined. She was great to be around and made me look and feel beautiful!


Flora

Married on 03/22/2018

I chose Aby for my bridal hair and makeup and was not disappointed. She was FANTASTIC! From our initial email several months ago up until the day before my wedding, she frequently checked up on me and on how my skin was doing. She asked me what problems I was encountering with my hair and skin and provided helpful suggestions for how to help clear my skin and nourish my hair. For reference, I have dry, frizzy hair and my skin is dry and prone to acne and rosacea. I honestly thought I was hopeless until Aby gave me some home remedies and holistic information that has seriously helped clear my skin.

Aby was very easy to work with. Not to mention she has a fun personality! I did a makeup trial to get an idea of what it was I wanted and how the look would go with my Indian outfit - completely worth it. She even toned it down for my date night that evening with my fiancé (now husband).

The day before my wedding my sister wanted to get her hair done and Aby was very flexible in accommodating her request. She came early and still had enough time to do my hair and makeup and a touch up on my husband.

Aby was prompt, friendly, and made sure I was happy with how everything looked on my wedding. I would recommend Aby to any bride!

Imelda

Married on 02/24/2018

Aby was so amazing and made my wedding morning absolutely great! She is so flexible and did such an astounding job on my makeup. Words can't describe how amazing her work is. My entire makeup and hair look lasted for well over 12 hours with red lipstick! I was astounded. Not only did my own make up have such great longevity so did all my bridesmaids! She is so talented. Do not hesitate to hire her!

Karla

Married on 01/26/2018

I'm from Ecuador and i didn't even know where to start to find a good person to do my make up for my wedding day in San Francisco, so I was reading reading reviews about Aby and I contact her.
From the moment I talk to her about the wedding, I can't describe how helpful she was... she sent me a whole list of the things I should do to make my skin soft and prettier ans she was for 4 months texting me and asking how was doing with the juice and facial and everything!
When I finally met her for the big day, you can tell how she really loves what she does, it was such a GORGEOUS job! She turn me into a beautiful bride...
Thank you so much Aby! She's defenitely the BEST!

I needed a last minute makeup artist for my wedding which was less than a week away. Thank God for Aby!!!!!! I had just flew in from India and my skin was super dry and flaky. I was worried about how the makeup would look on such dry skin but Aby gave me some tips on how to prep my skin over the few days leading up to the ceremony. The day of the wedding my skin was still dry and i was worried but Aby managed to make my skin look flawless.

I was also worried about my hair. I don't have very much hair and what i do have is thin. I was worried we wouldn't be able to set my heavy daputta on my head. But again Aby was able to manage. By the end of the day i wanted the weight of the daputta off my head but was worried about how my hair would look. I took the risk and removed the pins from the daputta and found my hair still looks fabulous!! I was completely shocked.

On top of my dry skin and thin hair i had another impossible task for Aby....... i had a velvet shawl that i wanted to wear. I was unsure if I'd be able to wear both the shawl and daputta but the shawl was gifted to me by my sister-in-law so i wanted to wear it. Again Aby came up with a way to make it happen. The draping looked beautiful!!!!

Aby was super sweet. She was punctual and got right to business when she arrived which put me at ease.

Thank you Aby for making my wedding day happen!

Taranjit

Married on 06/03/2017

Abhi and I were in school together, but never thought she would be doing my make at my wedding. Apart from following each other on social media, we had not formally been in touch for last 20+ years. Destiny brought us to the US at the same time and as I prepared for my big day decided to contact Abhi since I loved her work. I was so calm on my wedding day because I knew was in such a great hands, she is so talented at her craft and you can tell she really loves what she does. I felt like me on my wedding day, as opposed to feeling like I had a face full of makeup. I loved that she was able to create natural effortless look for Gurudwara wedding and glamorous look for wedding reception. Thank u Abhi for making me look stunning! Overall I had a great experience and would wholeheartedly recommend Abhi.

Abhilasha was recommended to me by a friend and like every other bride I was a little skeptical at first so decided to go for a make up trial.

And it only took me 7 minutes to be absolutely sure about her as her work was so professional and the products high quality.

And what I like the most about her is that she doesn't copy paste stereotyped bridal looks. She actually understands your face structure and your personality and chooses the right look accordingly.

The cherry on the cake for me was not only did she take care of my make up but she also helped me with hair styling tips and selecting appropriate jewellery for my outfits as well.

Thank you so much Abhilasha for making my special day just that little bit more special for me. :D :D


Sarabjeet

Married on 12/04/2016

Abhilasha is so amazing! I never ended up doing a trial with her for my sister, schedule and flexibility just did not allow her to, but she had such wonderful raving reviews that I trusted it would be ok. And all her reviews were so right! She made her look and feel so gorgeous.Even before I met her, through all my email exchanges with her, she was so professional and so nice! I highly recommend Aby, you will be so happy that you did!

Gunwant

Married on 12/02/2016

Aby is absolutely amazing! She knew exactly what I wanted and she was quick and efficient. Her ability and experience shows in her work. I highly recommend her expertise!

Barkha

Married on 11/30/2016

Abhi is a wonderful make up artist! She did make up for my sister on her wedding and for me and my mom. She did a great job on us and we received so many compliments on my sisters wedding for the stunning look she gave us! I must say she is awesome at her work, very patient and professional too. She clearly understood our needs and gave us the look we envisioned for ourselves. Her make up was so natural and yet so gorgeous! I am very thankful to you Abhi and glad we had you and I hope you could do my make up everyday! Lots of luv!
Are you interested?
Send a message