47 Reviews
Recommended by 99% of couples
Quality of service

4.9 out of 5 rating

Average response time

4.9 out of 5 rating

Professionalism

4.9 out of 5 rating

Value

5 out of 5 rating

Flexibility

4.9 out of 5 rating
16 User photos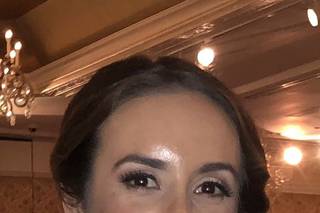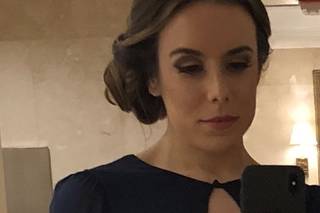 + 12

photos
Kaitlyn

Married on 07/16/2022

Perfect hair and makeup

Kristen is the real deal. She listened to me and paid attention to every detail. I wanted a natural look and she was able to accomplish this. I highly recommend her services. Hair and makeup is extremely important as all eyes are on you as the bride. I looked perfect for my big day thanks to Kristen.

Paige H.

Married on 04/24/2022

Best Make Up!

Kristen first did my makeup as a bridesmaid for my friend's wedding and I was truly blown away. She really listens to what you ask for as a client and made me feel so beautiful. Fast forward to my wedding my wedding this May, I was so relieved and happy Kristen was available to do my makeup. She is so polite and talented and I would recommend her 1000x more. She not only made me look beautiful, but also made my friends and family feel and look beautiful as well! Her pricing is great, she communicates well and quickly. I look forward to booking her for future events!

Esther A.

Married on 09/18/2021

Wonderful!

Cannot recommend Kirsten more highly. I had an idea of what I wanted, a simple bun, and we worked together to iterate on some of the pictures I showed based on my face structure etc. She was super sweet and really efficient day of. I loved my hair and makeup as did my bridesmaids & mom!

Are you interested?

Send a message

Cecilia

Married on 08/17/2019

Kristen is such a pro!

Kristen did hair&makeup for my friend's wedding in 2018 where I was a bridesmaid and I was so impressed with her work that I booked her for my own wedding in August 2019. She is SO incredibly easy to plan and work with - we had a consultation over the phone (again she had already recently done my hair/makeup so I didn't need a full wedding consult for myself). She was happy to travel into Manhattan in the early morning to have time to work on myself and all my family/bridesmaids/flower girls before pictures. As we had 8 women getting ready, she brought a colleague who did equally amazing work. They both finished everyone on schedule, and everyone looked incredible. Kristen has such range - giving me the look I wanted with subtle false eyelashes and natural looking bridal makeup, and giving my friends and mom/mother in law what they wanted and felt comfortable with - very important as some of them had never had makeup done before. Highly recommend!

Kacie

Married on 10/06/2018

Wonderful experience

Kristen was absolutely wonderful to work with. She did exactly what I wanted and it came out even better than I could have ever imagined! I would highly recommend her if you want someone who will help you make your day perfect!

Christine

Married on 09/06/2018

Kristen is very talented and you can see she loves what she does ;) She is talented, friendly, and professional. My daughter was married outdoors on one of the hottest days this summer, but in the pictures we all look like its a cool crisp day ;) Make up and Hair stayed flawless all day into the night. Thanks to Kristen !!!

Dana

Married on 05/19/2018

I had my hair done as a bridesmaid and loved it so much I immediately booked Kristen for my own wedding. She did all of my bridesmaids and everyone looked picture perfect and stunning. We had an interfaith wedding, so we had two ceremonies and a very long day of celebrating. Everyone looked absolutely fantastic until the very end of the night. Not only was the hair and makeup perfect, Kristen and her team were a pleasure to be around and wonderful to work with. Her prices were fantastic too. Cannot recommend her more highly!! Thank you, Kristen!

Gloria

Married on 01/06/2018

I was a bridesmaid in a wedding and Kristen did my hair and makeup. She did an AMAZING job, I've never felt so beautiful. The airbrush foundation, false eyelashes and smokey eye stayed on ALL day (and it was a long day). At 3am everyone kept telling me how my hair and makeup looked the same as it looked at 11am. I would definitely recommend Kristen and can't wait to get my hair and makeup done by her again at another wedding!

Jennifer

Married on 10/15/2017

Kristen was amazing to work with for my wedding. I had never had my makeup professionally done before and she was friendly, prompt, and professional, and responsive to messages. She did my trial the day of my bridal shower and it came out amazing and I knew it would be amazing on the day of my wedding as well. She was super flexible and arrived at my house at 5am and was exactly on time. She was flexible when my maid of honor/sister was late because she was sick and still got everyone ready on time! She listened to what I wanted and the hair and makeup and it came out amazing. She adjusted the false lashes several times until they were completely comfortable for me! My hair lasted all day, even though it was raining. If I could do it all over again, I would! I wish I had her put my veil in my hair though because it kept falling out!

Mollie

Married on 09/08/2017

I have used Kristen 3 times in the past 6 months! Twice as a bridesmaid and once for my own wedding. My makeup was natural looking but still made me feel made up and look special. My hair has a tendency to never hold a curl and both times she did my hair it held in a full curl until the following day! I wouldn't choose anyone else. Thanks Kristen!!

+ 2

photos

Holly

Married on 06/10/2017

Kristen and her team did the hair and make up for 9 of us at my wedding last weekend, and everyone loved how they looked. Kristen and team were so calm, relaxed and easy to chat to, whilst still getting everyone done in really good time! Everyone wanted different hairstyles and they all ended up looking fantastic, our make up stayed put all day and night. Our pictures look awesome! I definitely recommend hiring Kristen for your wedding or event, you wont regret it!

Kathleen

Married on 12/10/2016

Kristen is terrific! She does hair and make up so it saves a ton of time on coordinating trials and scheduling multiple vendors the morning of the big day. I got ready at my parent's house and there was a lot of traffic so it was nice to be able to go to one of the bedrooms and not have to travel.

I had an idea of the up-do that I wanted but Kristen was able to make it even more glamorous and contemporary. She had terrific suggestions and was patient as we explored different modifications on the style so that I didn't look or feel like every other bride. I also don't wear a ton of makeup and I have oily skin. I knew it was important for photos to have my makeup done but I still wanted to look natural. Kristen probably spent an hour on my eyes. They were gorgeous and lasted all day (and well into the after party)!! And she solved my oily skin issue too so I only blotted a few times throughout the reception and re-applied the lipstick. Kristen also did my mom and aunt's makeup - and both of them are very particular. She was calm and professional as my aunt made some ridiculous demands. Another major help was that Kristen recommended her colleagues for my bridesmaids and future inlaws and her sisters. It was so much easier to go with someone you trust rather than shop around for multiple people. Everyone felt and looked beautiful and complimented their artists. Kristen definitely removed the stress from this part of the wedding process. I would highly, highly recommend her. I also thought her prices were reasonable considering some of the other vendors that I found. She was on time and finished early and even helped fix my flower girl's hair.

Mindy

Married on 09/10/2016

I can't begin to say enough wonderful things about Kristen. She is exactly what every make up artist should be. She listens to exactly what you tell her, and makes great suggestions based off of her years of experience. She did my makeup and hair for my wedding as well as my bridesmaids, and my mother's makeup as well. Everyone was so happy and looked so beautiful. If you are looking for quality hair and makeup for a special occasion you will not be disappointed!! Thank you Kristen for helping make my day more beautiful!

Jennifer

Married on 09/09/2016

Kristen did an amazing job with my makeup for my wedding this past Friday and for my bridesmaids. She was extremely sweet and professional to work with. I didn't even have a chance to have a trial so it was the first time she was dong my makeup and it came out perfect. I received numerous compliments. She listened to what I had to say, took her time, and made sure I was satisfied with the final product. I highly recommend using Kristen!!

Alyssa

Married on 07/23/2016

I could not be happier with the way that my hair and makeup came out for my wedding day! I used Kristen and her team for my hair and makeup along with my mom, grandmother and entire bridal party. They were extremely efficient, down to earth and made us look fabulous and natural! I would recommend Kristen's services to any bride that is looking for someone that is professional, responsive and will keep you calm on the morning of your wedding day!! Cannot thank her enough :)

Lauren

Married on 07/02/2016

Kristen did an absolutely amazing job on my hair and makeup for my wedding! I could not have been happier with the results! My hair had voluminous, touchable, sexy curls, and my makeup was big, glamorous eyes, natural lips, and flawless skin. Kristen made me totally comfortable in expressing what I did and didn't like, and she did a great job of listening and delivering. Kristen is so meticulous with her work- you can tell that she genuinely cares and wants you to be as happy as possible on your special day! She also did one of my bridesmaids hair and makeup, who wanted a more natural look. Kristen made her look awesome too! Her skills are so versatile in hair and makeup that she can make you look bold and glamorous or subdued and natural. She will do an awesome job for any occasion that you might be celebrating! I will definitely be booking her again.

Jill

Married on 06/24/2016

Kristen did mine and my bridal party's makeup for my wedding day and we all were thrilled! Couldn't have asked for a better job, thank you Kristen!

Diana

Married on 05/22/2016

Kristen did hair for my best friend's wedding (where I was MoH) almost 4 years ago, and I LOVED my hair (I loved the Bride's too!) So when I got engaged three years later, I knew who I wanted for hair. I also had a good idea what I wanted, but Kristen even added a unique twist (literally) around the back of my head for my half-up, half-down style. I also got a hair clip last minute that was flawlessly worked into the style. I don't always love my hair but I did on my wedding day, and I looks and felt gorgeous, and I never once had to give my hair a touch-up. My bridesmaids' hair was gorgeous too, everyone went for something slightly different and everyone looked amazing. In addition to being great with hair, Kristen is also really personable and easy to work with, and very accommodating. She traveled pretty far to do our hair, and also had another affair she needed to attend later that day but she went above and beyond to work with me for my big day.

Kristen did an absolutely amazing job with my bridal makeup and all the ladies in my bridal party! She came to my house with an assistant was very flexible with scheduling and had everything finished in time. My makeup was so light and don't perfectly I didn't feel it all night and it was still perfect by the end! I would highly recommend Kristen for any bride looking for an artist who does an amazing job and has an awesome personality to help keep you calm on the big day!

Christine

Married on 05/30/2015

Kristen did an absolute flawless job on BOTH my hair AND makeup on my wedding day. I felt and looked beautiful because of her work. Hair and makeup are two very important things to a bride so having someone like Kristen really made the day go perfectly. Kristen makes you feel completely comfortable telling her what you do and do not like and will make sure everything is exactly how you want it. I loved the way she does makeup so much that I have hired her for other occasions, she's truly a professional! She uses makeup products that are natural looking and long lasting, including air brush. Her style is modern in terms of hair which was super important to me. I didn't want Shirley Temple curls she she was stylish enough to understand that when many other hair dressers were insistent upon tight curls. She made my hair look natural, sexy, and beautiful all day! Hire her! For everything! You cannot go wrong!

Bonnie

Married on 10/25/2014

Kristen did a fantastic job on everyone in my wedding, including myself (the bride!). Everyone felt so beautiful. She did 7 different people and each and every one was amazed. She even gave me a second trial when I panicked last minute that I needed a more dramatic look! I would (and have) recommended her for any occasion that you need to feel fabulous for!

Annie

Married on 06/13/2014

Kristen did my hair and make-up for my wedding and I could not have been more pleased. When I went for my hair trial she did a gorgeous low bun. Her hair skills are amazing! After some thought, I pictured my hair down on my wedding day so on the day of my wedding she did my hair down and brushed back on one side. My hair came out stunning! Along with my beautiful hair was my beautiful make-up. I love make-up and I was nervous to have someone else do my makeup not knowing if they could convey the look I really wanted. Kristen was able to deliver exactly what I wanted and it looked so beautiful...and it lasted all night! Kristen was so nice and accommodating and I highly recommend her for both hair and make-up...she is very talented!

Megan C.

Married on 04/26/2014

10 years with Kristen! Amazing!

I just had another photo shoot for my business and had to write this review! Kristen has done my makeup since 2012 when I got engaged! She did my engagement makeup, wedding makeup, all my bridal party, my Mom, every major event in my life and now all my business photo shoots! I have recommended Kristen to multiple friends and everyone becomes obsessed! I have never found anyone who can compare to Kristen's makeup skills. I have a massive amount of hair and every time Kristen makes magic happen and it stays looking fabulous always. It has been 10 years and I still hire Kristen for every major occasion! From my wedding day to now she has been my loyal go to for hair and makeup. If you are trying of make a decision on hair and makeup you will not be disappointed with Kristen from Make u up! She can come to you and her prices are so affordable. I look and feel like a movie star every time!

+ 4

photos

Elisabeth

Married on 10/06/2013

Kristen did an absolutely amazing job with both my hair and makeup for my wedding day. I cannot say enough positive things about my experience with her from the start. She also did make up for my mother and sister and brought Renee to help with their hair (who also did a great job). I was very pleased after my trial when Kristen worked patiently on my makeup. On my wedding day, I opted for some different colors even after she was almost done with my eye makeup, and it was at this time that her professional, patience, & attention to detail truly shone through as she worked until everything was absolutely perfect! I could not have been happier with her services! I would highly recommend Kristen to anyone looking for a hair and makeup artist for their wedding day or any other special event. I would definitely use her services again in the future.

Christina

Married on 09/27/2013

Kristen was AMAZING from start to finish. Her skills are flawless and so was my face haha. I recommend her to everyone!!!
Are you interested?
Send a message