Reviews
4.9 out of 5 rating
Quality of service

4.9 out of 5 rating

Average response time

4.9 out of 5 rating

Professionalism

5 out of 5 rating

Value

4.8 out of 5 rating

Flexibility

4.9 out of 5 rating
98%
Recommended by couples
33 User photos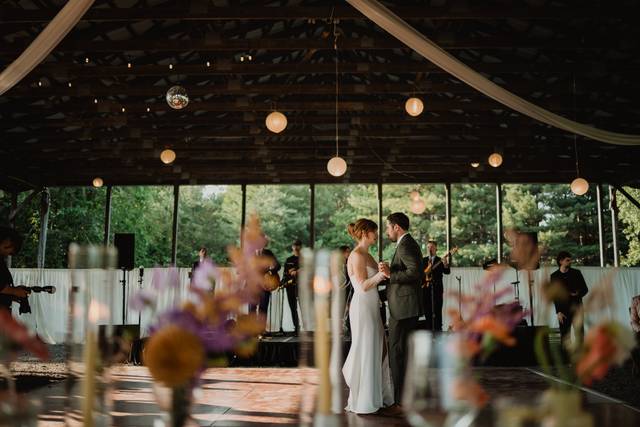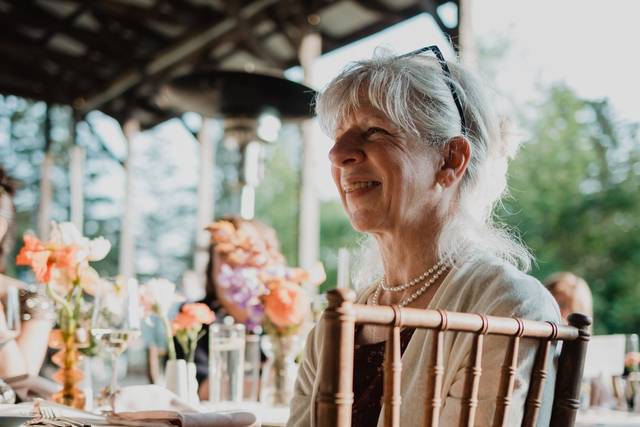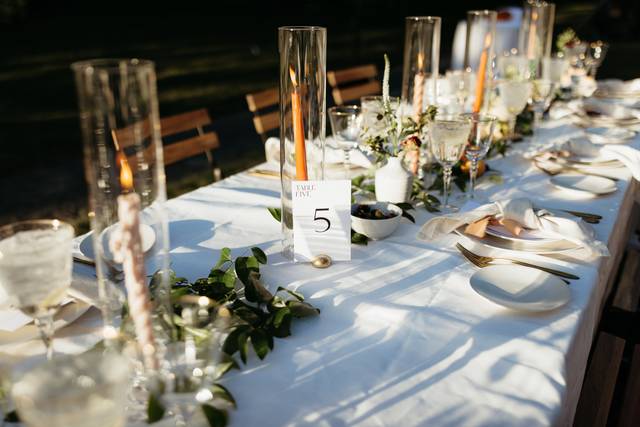 + 29

photos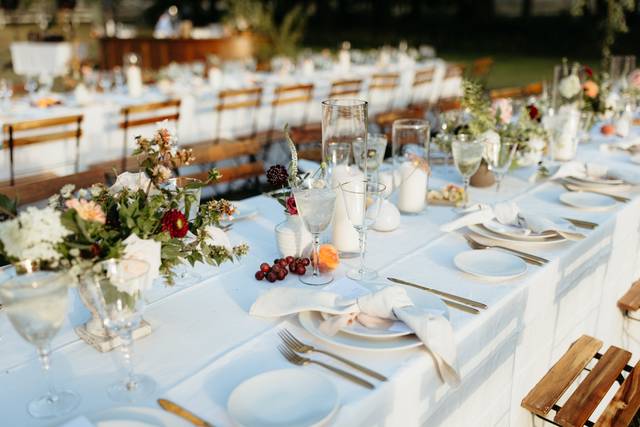 Ben S.

Married on 08/12/2023

Professional + delicious

Main Course was far and away the most professional, attentive, and organized vendor we worked with for our wedding. We felt so lucky to have them help us plan our wedding reception. They seriously kept us sane in the weeks leading up. Plus their food was amazing, genuinely delicious, far above typical wedding food fare. This was particularly true of the dessert - we had multiple guests tell us it was the best wedding cake they ever had. If you're considering working with Main Course, do yourself a favor and book them. You won't regret it.

Julie A.

Married on 06/17/2023

The best experience!!

I cannot recommend Main Course enough for catering and planning your wedding day! They were a dream to work with, and people are still raving about the food from our wedding--everyone says it's hands down the best wedding food they've ever had!
Food was very important to us, so we were very picky in choosing our catering team. From our first meeting with them, we knew we had to book this team, and we are so lucky we did!! Main Course completely exceeded our expectations. We had an amazing experience with the Main Course team from the get. They were super responsive, flexible, creative, understanding and fun to work with from our initial meeting with them all the way up to the wedding day. And of course, the menu they planned was also incredible! They did not balk when we asked for a (mostly) vegetarian and vegan menu, and were really excited to create special, amazing dishes that were in line with those somewhat annoying dietary preferences :)
Our tasting was hands down my favorite part of the wedding planning process. We had SO much fun meeting their incredible team and tasting all the delicious foods and drinks. Emily led us through the whole process and was so helpful helping us select our dishes and all the other things that go along with a wedding dinner and reception. Hogan created the most amazing speciality cocktail and asked very thoughtful questions to help us pick our drinks (we settled on a spicy strawberry margarita and a ward 8 and would HIGHLY recommend these drinks). The day of the wedding of course was also amazing and went off without a hitch! Everyone loved the look and taste of all the cocktails, the passed hor d'oeuvres, the stations, and the actual dinner food itself. We also cannot say enough good things about all the wait staff and bartending staff, who were also so friendly and positive the entire time.
We also want to give a very special shoutout and heartfelt thank you to the most wonderful person, Emily!! During our tasting, we realized we were in way over our heads and we decided to hire Emily to be our wedding coordinator. We cannot emphasize enough how special this person is and how critical she was to our wedding planning process! There were so many times during the months leading up to the wedding where my husband and I would turn to each other and say, "how could we have done this without Emily?!" She literally saved our lives and helped us plan everything, including the things we simply would not have remembered without her. We had monthly meetings leading up to the big day, which were so helpful, and she was also super responsive whenever we emailed or texted her, which we started to do more frequently and with increasing anxiety in the weeks leading up :) She coordinated our rehearsal dinner and our wedding day and didn't let us break a sweat. Everything was totally handled, and it made us really be able to actually enjoy the wedding weekend. She is also just the best person to spend so much of the weekend with--so organized, so put together, so helpful, so funny and so fun. We love Emily so much and the entire Main Course Team!

Laura G.

Married on 06/10/2023

Main Course made the food one of the best parts of our wedding!

I am so glad we hired Main Course for our wedding day! Not only was the food absolutely wonderful, but they really helped me out throughout the wedding planning process. I mainly worked with Amanda, but Emily ended up being our day of coordinator at the wedding. Both ladies were fantastic, friendly and super good at their jobs. We had a rustic farm wedding, but wanted to elevate it with local food, and man, did it ever. All of our guests keep raving about it! Everything was amazing; the harvest table, passed hors d'oeuvres, specialty cocktails, seated dinner and dessert station (amazing cake!) I am a creative person and wanted to do a lot of the planning on my own, but thank goodness Amanda was there to walk me through everything, keep my on track, answer my questions, and even meet us in a snow storm to see the venue. On the day of, Emily was always right there to take care of anything, before I even knew I needed her; she even helped me bustle my dress. I was blown away that the day ran without a hitch and the timing worked out perfectly. Oh! And the servers were professional and friendly — honestly, I can't recommend Main Course enough, they made our day super special.

Are you interested?

Send a message

Julia L.

Married on 08/13/2022

Why you need to hire Main Course Catering for your wedding!

There was no doubt in my mind that I would be hiring the team at Main Course Catering for my wedding. I knew this before I was even engaged because my sister had them for her wedding just a few years earlier and It was love at first bite. Seriously - Her guests (and I) were still talking about how delicious the food was even 4 years later. So the decision to partner with them was hands down the easiest and best decision made.

Our experience working with the Main Course Catering Team was beyond our expectations though. Tasting their food is one thing - but once you actually meet the team of pro's you'll actually get it. Working with them is comparable (but better) to having dinner at your best friends house - you instantly feel like you're home and you always know theres an open seat for you at their dinner table.

The owner and chef, Bruce Kazan and his team prepared two separate menus, one for our rehearsal dinner and one for our wedding that were both so thoughtfully crafted; accommodating those with any food allergies or restrictions without lacking ANY flavor or presentation. 10/10 + CHEFS KISS!

The next best decision we made was confirming full planning + day of coordination with the queen herself - Amanda Serroukas. Amanda is the head catering director at Main Course and a wedding planning wizard and if you're lucky enough to work with her, your planning process is guaranteed to be seamless, and your event is promised to be beautiful and successfully executed. Plus, Amanda knows anybody and everybody in the game. She has worked with countless incredible vendors throughout the area and her strong partnerships with them only added to our confidence!

Our wedding was in Rhinebeck, New York at Ankony Carriage House - A private estate with a big beautiful house, rolling hills, and expansive views of the Hudson River. Main Course was familiar with catering events here, and Amanda was an expert on this entire property so because of her existing relationship with the estate owners and her previous experience working events on this site, she was able to answer any and all questions we had + inform us about the things that wouldn't have crossed our minds otherwise.

Although the wedding was in NY, I was planning from California, (where I live) - but even with 3,000 miles between us, Amanda and I worked closely through the entire process.
To share some additional perspective, I am an Interior Designer, so maybe you can imagine how much details really matter to me. ;) However, I trusted Amanda entirely. Not only because she has 10+ years of experience, but because she genuinely wants your day to be a total success in every sense of the word - stress and worry free, beautiful AND FUN. She's an event planning mastermind and she is truly the coolest and calmest person ever. Working with her maybe only made me feel half as cool, but it definitely made me feel just as calm from start to finish.

It's been a month since our wedding and our guests are still raving about the food as well as how incredibly beautiful and fun the entire weekend was. Our California friends who attended are now considering having their weddings in the Hudson Valley area just so they can work with Main Course. Their words! I could clearly go on with this review forever, but to sum it up - We owe it all to Amanda and everyone at Main Course. We strongly recommend this dream team to anybody and everybody we know and promise your event will be better for it.

+ 5

photos

Patricia

Married on 07/15/2022

Wedding perfection

Main Course was one of the best wedding decisions we made. We're both foodies and love to cook ourselves so we wanted to ensure that we did not offer mediocre or predictable food to our wedding guests. We were a little worried that it'd be difficult to please guests from the US, Europe, and Latin America but Main Course truly blew our and our guests' expectations out of the water!

We can't keep count of how many guests complimented both the food and service at our wedding. Our guests continue to rave about the appetizers, the festive presentation of the plates and platters, the gorgeous setup of the harvest table and dessert buffet, and the excellent quality of the ingredients. To quote some of our guests: "You've raised the bar on the types of food that should be included in a harvest table," "Best wedding food ever", "I barely finished an appetizer and was already presented with something else that I really wanted to try". We also loved that we received compliments on a wide variety of appetizers and every single plate that we served, highlighting that the food was stellar across the board. Finally, the signature cocktails that we put together with Hogan were also a big hit!

Collaborating with Main Course leading up to the wedding was seamless and stress-free. Amanda and Emily are a power team–very responsive, true experts in what they do, and they both represent the epitome of friendliness. They worked patiently through all our nitty gritty requests (e.g. having a separate wine glass for red and white wine, only using local cheeses, folding the napkins in a certain way, etc) and delivered on everything. They also recommended doing a private moment after the ceremony and we're so grateful that we were able to take in the magic of the day (and taste all appetizers) before mingling with our guests. We also highly appreciated that Emily checked in multiple times throughout the night to ensure that we had everything we wished for and were eating sufficient food.

If you're looking for a wedding caterer who can delight *all* your guests and offer outstanding service leading up to and on the day of your wedding, look no further–Main Course is simply the best.

Laura C.

Married on 06/18/2022

The most incredible food and service!

Main Course was the cornerstone in making my wedding happen, and it was an absolute dream perfect day! The wedding vision was very DIY from the outset - a tent reception on a golf course in a private community - and Main Course helped us plan everything from food & drinks, to planning for and renting the tent and all furniture rentals. They were even available for day of wedding planning services and consulted with us on random other topics that came up as we planned. The true highlight was the quality of their food and high level of service. I don't typically love food at weddings so my husband was astonished when I ate my entire dinner and couldn't get enough of it! All of our guests remarked that it was some of the best food they have ever had at a wedding. Everyone was super impressed. They helped us completely customize the dinner, appetizer, drink, dessert and even after party menus and wanted it all to reflect our personal taste and preferences. They also had such a high level of customer service, no one was ever waiting to be served and everything ran so smoothly. They took special care of me and my husband to make sure we got to sample all of the appetizers during cocktail hour. They even were amazing with a major hiccup that came up. It was an extremely windy day and the cocktail tent blew over during the speeches. But the caterers didn't skip a beat and all quickly went to the tent, secured it, and moved the bar into the main tent. They handled the stressful/unforeseen situation like pros and it didn't end up distracting or taking away from the wedding one bit. HIGHLY recommend using Main Course for your wedding or event!

Katie C.

Married on 04/30/2022

Wedding day lunch!

I ordered lunch for all the folks staying on-site at the venue on my wedding day (about 35 people). We ordered sandwiches and vegetables with the best aioli ever! Delivery was on-time and everything we ordered was absolutely delicious. Highly recommend!

Kerri M.

Married on 04/16/2022

10s across the board!

There really aren't enough ways to say how happy we were to work with Main Course. We can't tell you how many people have commented to us how "great the food/cocktails were"-and we couldn't agree more. It felt especially great that the team was attentive to us throughout the night. Amanda was so easy to work with and helped guide us throughout the process as well as Hogan who helped with the bar portion. The tasting set the bar high and got us so excited for what was to come. Main Course was a dream come true from pre wedding to day of execution and all of the details in between. We are so grateful from the bottom of our hearts for a truly unforgettable day! We recommend them over and over again and also recommend their spot in New Paltz for a dining experience!

Meghan B.

Married on 09/10/2021

Most delicious food!

Main Course is just incredible! Amanda is so organized and helped us plan, pick out and decide everything for our wedding day. During our tasting, she spent so much time with us helping us make our decisions perfect and what we wanted. We did not not feel rushed, or just like another couple. Main course's food is OUT OF THIS WORLD. They use all local farms so the food is fresh, and you can expect it to be exactly how it is at your tasting. Our guests have told us that this cannot compare to other weddings, they were blown away! Can we talk about the signature drinks?! Everyone is STILL talking about the Hibiscus Margarita, it was incredible. Amanda also was there for our rehearsal (much needed, thank you!) went over all of our decor for the next day, and I knew we were in good hands. The day of the wedding, everyone checked in, made sure everything was where it needed to be.. I had nothing to worry about! You can rest assured, they are organized and will treat the day like its their own wedding. No detail goes unturned. Thank you so much to Amanda, Bruce, and Hogan, you guys are just so top notch!

Spectacular wedding weekend thanks to Main Course Catering!

Main Course was truly fantastic to work with, both as our caterer and especially with Amanda leading the team as our wedding planner. We cannot thank them enough.

Planning:
Amanda left no detail unturned during the entire planning process. She was very organized throughout the process. She was incredibly professional and organized, while also really getting to know us and my family throughout the planning process. We planned our wedding with continuously changing COVID policies, and she was not only very on top of the rules as they evolved for the state and our venue, but she was very communicative and very patient as I would text her every time I heard wind of a policy change! :)

Leading up to the wedding, she did an amazing job coordinating all our vendors and worked closely with us to ensure that her very organized wedding weekend plan was in line with our vision. She was very communicative and helpful and available to brainstorm and assist with last minute details as they came up in the weeks leading up to the wedding.

The wedding weekend itself (which included events Friday, Saturday, and Sunday), went incredibly smoothly thanks to Main Course Catering. The whole team was really fantastic, available and helpful. Everything ran very smoothly, and we had multiple guests come up to us to tell us specifically that the wedding organization and flow was excellent. Furthermore, we had a significant number of guests tell us it was one of their favorite weddings they had ever been to. Amanda is a superwoman! Thank you thank you thank you to Amanda and the team for helping us to create a weekend of celebration with our family and friends that captured our essence as a couple.

Catering:
The food and drinks were both excellent and had very pretty presentation. The team was very helpful in creating our menu for the multiple events of our wedding weekend - they were able to match the vibe of our welcome event and lunch with the foods they recommended. The food at the reception was very delicious and fresh, and we loved that the menus we designed using their graphic designer had a map on the back displaying the local farms in the Hudson Valley that the foods used had come from. Throughout the entire weekend, we had guests tell us that the food was truly exceptional. Hogan's cocktails were very delicious and also matched up with the vibes of the various events. We very highly recommend their food and cannot wait to go to the restaurant to eat in the future!

Jennifer K.

Married on 06/24/2021

Most amazing team!

I have to start by saying that being able to book with Main Course felt like a blessing. I immediately was impressed by their professionalism, their menu options, and the clear, detailed information they put forward so I knew exactly what to expect. They came highly recommended by my venue and I knew immediately I did not want another cater. We worked with Amanda a lot and she was amazing, organized, patient, and on top of all details. Given the short amount of time for planning (five months), everything seemed effortless. We met with everyone for our tasting and I was blown away. Hogan, our bartender, crafted cocktails exactly to our liking that also somehow reflected our personalities, making them legit bride and groom cocktails. Bruce, the chef, was incredibly knowledgeable and down to earth, and we were able to discuss which meal options would work best. Everything was insanely delicious, the presentation was gorgeous, and it was the first time I got really excited about our big day. On the day of, Emily was our coordinator. When i tell you that she made everything seamless, I mean everything was perfect, well handled, no stress for the bride at all. She was so pleasant to work with, has such a calming personality, and even when we ran into an unforeseen hiccup caused by a family member, she handled everything and it was like it never happened. We had the most perfect day and I know most of that was a result of working with Main Course. If you are lucky enough to have the opportunity to work with them, I highly recommend it. I recommend them to everyone I know and I will be forever grateful for how amazing they made our wedding day.

+ 3

photos

Megan I.

Married on 06/19/2021

Best Wedding Food Ever

This is the third wedding my Husband's family has hired Main Course Catering for, and there are so many reasons why we didn't even think about talking to other caterers. Their food is delicious, AND beautiful. I am very particular about food, and they knocked it out of the park. I got so many compliments throughout the weekend about how delicious everything was, and how nice all of the small touches, like fresh flowers, were. Their whole team is exceptional at what they do. They helped us to create bespoke menus for each part of the wedding weekend, listened to what we wanted, and gave super helpful suggestions. I had multiple guests come up to me and say that this or that was the best they ever had. Our bar was second to none, thanks to Hogan who helped us create a cocktail menu that everyone loved, and who suggested we get a frozen slushy machine for frose and pina coladas. I've had a lot of frose, and I don't know if I can order it in a restaurant any longer. If it doesn't have fresh flowers and taste as good as the one Main Course made, I no longer want it. Their staff is so attentive and wonderful, and there is Amanda. She does their day-of coordinating and planning, and she is super human. We could not have pulled off the wedding we wanted without her. If you are considering hiring a planner, don't bother speaking to anyone else - Amanda is seriously the best in the business. She is so responsive, and organized it amazes me. She coordinated with all of our vendors, and ran the entire wedding weekend. Not only did she ensure every person was where they were supposed to be, she somehow found time to consistently check with myself and the groom to see if we needed anything.

Ashley C.

Married on 10/31/2020

Couldn't have done it with out them!

Amanda, Hogan and the team at Main Course Catering were incredible to work with. After postponing our larger 2020 Wedding we had just over 2 months to plan a smaller ceremony and Amanda made it possible. The options we had to choose from for the menu was amazing, it allowed us to make it work within our budget and our guests are still talking about the food! The day of, Hogan and the team ensured everything came together just as we envisioned and I didn't think about logistics one. I highly recommend Main Course Catering!

Claudia

Married on 10/18/2020

Main Course Made Our Day!

Main Course truly was the key to success on my wedding day. Amanda & Emily were tremendously helpful, communicative and a guide throughout the process. I planned my wedding under a short time period and they were still very accommodating. Based on reviews, I trusted that the food and service would be amazing and it absolutely was. They coordinated my day and thought of details that made the day special. Everything was absolutely delicious. We are so grateful that Emily, Amanda, Hogan and the Main Course staff were a part of our special day! I can't wait to visit their restaurant soon :)

Margaret T.

Married on 06/27/2020

The best team

The Main Course team made our wedding more spectacular than we could have ever imagined. From our first meeting over a year ago, throughout the planning process, and re-planning process when we had to downsize due to COVID, Amanda, Emily, Hogan, Bruce, and the full team were unbelievable in every aspect. They have tremendous attention to detail, they helped us brainstorm and develop the perfect menu, and they kept our plans on track by also working with our other vendors to keep tabs on the full event. While our wedding weekend shifted from 200 people to 20, the Main Course team made it the most special, intimate, and perfect celebration I could have ever imagined. The food is beyond spectacular - it embraces the local Hudson valley cuisine while also being inventive and exciting. I could go on and on about the team, their business, and especially their food; but I can't recommend them highly enough.

S Degiovanni

Married on 03/10/2020

One of the best decisions we made!

I can't imagine what our wedding experience would've been without everything the Main Course team brought to the equation. The food was original and abundant (and the menu of options diverse and delicious enough to have made the selection process very difficult!). The beer, wine and spirits offerings were high quality and very customizable. Everything the guests saw and ate and drank was exactly as we'd envisioned it, but the most critical service to us was all that happened in the background and in the months leading up to our (small) big day. We didn't go into our wedding planning process thinking we'd hire a planner, but we were pleased to learn that Main Course offers this service and are so, so glad we took them up on it! Amanda was an absolute rock star and a steady, responsive and experienced guide through all of the challenges that planning a wedding in 2020 threw our way. Bride, groom and MOTB all fancy ourselves organized people but Amanda's shepherding through the process kept us as sane, relaxed and confident as we could've hoped for.
Main Course was everything we needed in our caterer -- and more -- and we can't recommend them highly enough. Go check out the restaurant to see the quality of the operation first hand!

Lauren Z.

Married on 10/08/2019

Absolutely perfect!!

If you are looking for delicious food, TOP of the line service, and an amazing wedding coordinator, look no further. Choosing Main Course to cater our wedding was 110% one of the best decisions we made during our wedding planning process. The food was excellent (beyond even typical "good" wedding food) and we received loads of compliments from our guests. Drinks were always topped off and the Main Course staff was always one step ahead of the game.
Bruce and Amanda were extremely detail oriented, communicative, and all around an absolute pleasure to work with. Amanda went above and beyond in planning and nailed my vision - I am a bit of a type A personality and I really appreciated all her email communication in the months leading up to the wedding. She will work with you on everything from choosing your menu, rentals, decorating, time lines, seating schematics, the rehearsal, and the big day. Everything went incredibly smoothly day of and my family and I knew we were in excellent hands with Main Course - everything was stress free, the way it should be. :-) We can't thank Main Course enough for their service - choose them, you won't regret it!!

Kait

Married on 10/05/2019

Outrageously delicious!

Main Course was absolutely incredible. Our guests could not stop raving about the food. They were incredibly organized, communicative and so willing to collaborate on some unique special treats for our wedding guests. They were also just an absolute joy to work with. Would recommend these guys 1000x over!

Stephanie

Married on 09/14/2019

Super Helpful!

I am not even sure where to start! We used Main Course for our wedding and it was a wonderful experience! Amanda and Emily and the rest of the gang were on point and super helpful throughout the entire planning process. There was rain in the forecast for our wedding day and we opted for only one tent for cocktail hour and just hoped for the best with the outdoor ceremony. Emily was great in making sure everything ran on time that day and we were able to get our guests to cocktail hour before the rain! We received so many compliments on the food and everyone left stuffed. 


Ashley

Married on 06/22/2019

Couldnt ask for better

Main Course Catering was the best, I'm so glad we chose them to cater our wedding. Not only was the food amazing - our guests, my husband and I were blown away - but Amanda and Emily were so communicative, on top of it, and accommodating throughout the whole process. It really put my mind at ease to work with them - there were quite a few elements I hadn't even considered leading up to the wedding that Amanda made sure to align with me on, and on the day of, Emily ran everything so seamlessly. Working with them was one of the best decisions we made in advance of the wedding - I was considering going really cheap with food and just getting a food truck or some BBQ delivered but I'm a bit of a foodie and wanted to treat our guests to something special considering some of them were flying across the country to celebrate with us. I didn't really consider how much their years of experience working weddings would elevate the whole event and was very pleasantly surprised. Even our venue manager who has overseen many weddings was particularly impressed by their service and attention to detail.

Bailey

Married on 06/22/2019

Main Course is AMAZING!

Working with Main Course has been an absolute dream from start to finish. From booking them a year out from the wedding all the way through the wedding itself, Main Course was incredibly knowledgeable and helpful on every question we had, large and small. We worked with Amanda, who I can't recommend enough - she was so knowledgeable and was always available for anything we needed. There were times we forgot a deadline or didn't know what we should choose, and Amanda was never anything less than very kind and of the utmost help in every way.

The food was absolutely incredible, and the service was excellent as well. From the beginning we knew one of the most important things to us was having great food, and Main Course was our top choice in that regard. We got many compliments from our guests on the quality of the food and drinks, as well as on the efficiency and helpfulness of the servers and bartenders. We provided our own coffee and wedding cake, and it was so exciting to see how happy our guests were at our choices. Main Course didn't charge a cake cutting fee, which we really appreciated. We had our wedding at a private residence in the Hudson Valley, and Main Course transformed the house into a perfect backyard wedding venue (with the help of vendors Events Unlimited and Party Rentals LTD, who did everything through Main Course).

The other thing I couldn't be more grateful to Main Course for is acting as our day-of wedding coordinator. Amanda worked out the schedule with us far in advance (down to the minute!) from the moment Main Course arrived to the moment they left, and coordinated all our other vendors into that schedule so she could answer their questions. It freed up so much of my energy to just enjoy the day, and know that my vendor team was looking out for each other.

Main Course also catered our wedding brunch the next day, and once again it was incredible - the food, the drinks, the service. A perfect casual brunch!

We're truly so grateful to have had Main Course with us for our special day, and for them to have been focused on making sure we had the best day possible. I hope you book them - you will not regret it!

Louise

Married on 06/15/2019

could not have done it without Main Course!

I cannot rate Main Course highly enough. In the planning stages we mostly worked with Amanda, who accommodated all our requests (including an all-vegan wedding for our very mixed crowd, which she described as "not a challenge"). She thought of all the little details that weren't even on our radar, was patient with our indecision, and really worked with us to identify our vision for our wedding and bring it to life.

For the rehearsal and wedding day, Emily was our point person, and she was an absolute superstar. Totally organized, calm, professional, kind. If there were any emergencies or disasters behind the scenes (I really doubt it, given the level of preparation), my husband and I certainly weren't aware of them; we just got to enjoy our day to the fullest without worrying about any of the logistical stuff.

We have heard nothing but glowing reviews about the food as well, from vegan, vegetarian, and omnivore alike. Our culinarily (is that a word?) unadventurous guests weren't intimidated by the food, and we heard from our hardcore foodie friends that they spent the better part of the meal trying to dissect exactly what went into the dish to make it so good. Our friend with celiac disease, who is usually very nervous to eat food she hasn't prepped herself, was nearly in tears because she felt so taken care of-- MC brought her gluten-free versions of everything the other guests had so she never had to feel left out or unsafe. That means the world to us, given that we wanted our wedding day to be a gift to the people we love the most.

We cannot thank Amanda, Emily, Bruce, and the whole Main Course staff enough.

Taylor

Married on 06/01/2019

Luxury Catering Experience

Main Course is the most professional, knowledgeable, experienced and delicious choice for your wedding caterer.

They counsel and provide advice during every phase of your wedding planning. They are there to answer every single question you may have! They provide a massive menu of drink selections, hors d'oeuvres, first course, entrees and desserts to chose from. They also let you customize anything!

In addition, they provide a phenomenal tasting experience! They let you sample all of your selections and simply wine and dine you. The are their to ensure you love everything and are willing to make changes based on your tastes and preferences! They are also there to talk about every detail of your wedding from your day-of schedule to what your "Welcome Refreshment" will be/where it will be served, if you would like a Private Moment as a couple right after your ceremony, your introduction/wedding party introduction, toasts, your first dance as a couple, parent dances, cake cutting, rentals that they coordinate on your behalf (taking care of linens, extra cocktail tables, plates, silverware, high chairs etc and any other items you may need). They iron out EVERY detail for you and even provide a timeline to work from!

I also need to praise the Private Moment - this was suggested by MC and essentially gives the Bride and Groom a few minutes alone together to enjoy some hors d'oeuvres and a cocktail and just reflect on becoming husband and wife right after the ceremony ends. THIS WAS WONDERFUL. This was one of the best things about our wedding - just being able to have those few moments alone to take it all in and EAT some phenomenal food! MC had everything prepared for us in advance and ready!

Last, but not least their staff is the most attentive and professional. They truly were our favorite vendor and the one most vital to our wedding day having been so flawless. During the planning process, Amanda, was an absolute rockstar in communicating with me, answering my million questions and even coordinating rentals, setting up the tasting with my parents, sister, and my husband, creating our timeline, seating chart, and overall floor plan for our reception. She truly is brilliant and an expert at what she does. Emily was MVP on the day of the wedding. She was there for my groom and I to make sure we were not without a drink and that we were able to share a split plate with both of our entrees, and enjoy all of our desserts! She was always checking in with us and coordinated a million things so wonderfully with the owners of our venue. Literally the dream team! The entire MC team is amazing. Truly the servers and bartender were so attentive and polite.

Last but not least, the food is just the best. It's so fresh, so delicious and beautifully served. MC sources the highest quality local ingredients. It was the most magical culinary experience and tons of our guests told us that our food was the best they have ever had at any wedding.

I could seriously go on and go. Just hire MC for your wedding. What are you waiting for?






+ 2

photos

Alexandra C.

Married on 06/01/2019

A Wonderful, Flawless Experience

Hiring Main Course to cater and coordinate our wedding was one of the best decisions we made. Amanda was there every step of the way during the planning stages and put us at ease during what is a pretty stressful time. Amanda, Bruce, Hogan, and the Main Course staff made our wedding day completely flawless. If there were any issues that day we never knew about them. They were extremely attentive, helpful, and creative! We had a beautiful hanging floral display on the chuppah during our ceremony and the staff re-purposed it for the cake table and it was gorgeous. As for the food, many of our guests told us it was the best food they ever had at a wedding and we couldn't agree more!

Anne

Married on 05/04/2019

Amazing food and superior staff

Main Course is exactly what we needed for our wedding. Other caterers cannot compared with what MainCourse can offer. The food is top quality and the service is unbeatable. I highly recommend Main Course.
Are you interested?
Send a message