40 Reviews
Recommended by 100% of couples
Quality of service

5 out of 5 rating

Average response time

5 out of 5 rating

Professionalism

5 out of 5 rating

Value

5 out of 5 rating

Flexibility

5 out of 5 rating
26 User photos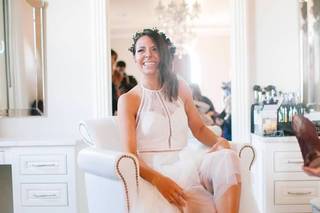 + 22

photos
Lauren D.

Married on 04/04/2020

Magnolia Adams = all the heart eyes

I loved that she shot in film and digital. Michelle was amazing to work with and knew what she was doing. She helped us stay on time but not feel rushed. Her final product is stunning. So much so we also asked her to shoot a special anniversary photo shoot for us one year later. I felt like I gained a friend and not just a photographer. :)

Danielle

Married on 10/26/2018

Best choice you will make planning your wedding!!

Michelle shot our wedding last fall (October 2018) in Oklahoma and we will continue to be grateful to her for decades to come! She was extremely helpful and professional, but also relaxed and calming throughout the process. On our wedding day, Michelle had a knack for making everyone feel at ease, helping her to capture beautiful, natural photographs that really show the love and joy we felt. She even had the guys comfortable and relaxed; and they all have a hard time hiding their expression once they're over taking pictures! 🤣

Michelle was also incredibly quick capturing both our pre- and post-ceremony photos. She kept things rolling such that I was happily surprised when we were finished early and Bradley and I had time to stroll together before "lining up" to start the ceremony. Similarly, she managed to get three group photos of our huge extended families and beautiful sunset shots of us so quickly that we hardly missed any of the reception! And don't mistake this efficiency for a lack of thoroughness. We have an almost overwhelming abundance of shots of every moment and detail.

The images themselves are wonderful. Michelle has an innate ability to translate emotions to photographs and capture the soul of a moment in a way that continues to impress me every time I look at our albums and prints.

I highly recommend Magnolia Adam's Photography. You will neither regret Michelle's presence on your wedding day, nor the service and end product you receive.

+ 3

photos

Grace

Married on 10/20/2018

Magnolia Adams is without a doubt the best decision you can make

Hiring Michelle was the best decision I made about my wedding, besides deciding to marry my sweet husband. I knew I wanted Michelle to photograph my wedding long before my engagement even happened. I followed her on instagram for a few years and found myself obsessively checking her feed. Her images are timeless and beautiful, but most important she has a gift for capturing moments in a way that the smallest details are beautifully and artistically preserved making you feel the magic of your day. From the photos of the way the light shone through the trees or the portrait of my husband digging up our bottle of bourbon. Every time I look at my images they immediately bring me back to the sounds, the feel, even the smell of my wedding day. They transport me there instantly.
Not only are the photos perfect but so is her professionalism and customer service. She has a way of immediately making you feel like her friend from the very first moment we met her. She worked with us on our budget and help to customize her package to create something that felt perfect for us. Michelle also brings an energy to your wedding day that is needed and vital. He sense of control and ability handled my rowdiest family & friends with grace and ease were amazing bu also the sense of comfort she creates is necessary for her to be able to silent observe and capture your most intimate moments. For our day that was our last dance. As everyone lined up for our getaway by husband and I stayed behind for one last intimate dance with just the two of us. It wasn't until I received my photos that I even realized Michelle had silently slipped in and captured that for us.

To this day the love and intimacy I feel in those photos and would hire Michelle all over again.

Are you interested?

Send a message

Aimee Y.

Married on 08/18/2018

Wonderful!

Michelle is wonderful to work with and has an eye for catching serene, loving moments.

Aimee

Married on 08/11/2018

Wonderful!

Michelle is wonderful to work with and has an eye for catching serene, loving moments.

Caitlin C.

Married on 07/28/2018

Michelle captured our wedding perfectly and had fun doing it!

From our first meeting with Michelle, I knew that I could trust her with capturing the biggest day of our lives! She is authentic, hysterical and someone I would just want to be around. I had a number of concerns (e.g. wedding being later in the evening, being able to wrangle a large wedding party for pictures, etc.), but her confidence eased my anxiety and I knew I could trust her! On our wedding day she was efficient, focused and helped us relax. We are thrilled with the final product of our wedding photos and cherish the memories Michelle captured!

Haley F.

Married on 07/25/2018

Amazing!

We had a destination wedding and we felt absolutely no hesitation when booking with Magnolia Adam's photography! We loved the airy film style that she has, so we knew it had to be her. She has such an adventurous spirit and fun personality, which made the wedding photos so fun! She really made us feel like we had all been friends for years. Our photos turned out better than we could have ever imagined, and we will cherish them forever!

Katie

Married on 06/15/2018

The best there is!

Michelle is the best. Our pictures are breathtaking. We get so many compliments on how beautiful they are. She was so easy to work with and very responsive. She was very efficient with the family/bridal party pictures so we could join the party quickly. I would 100% recommend her to anyone.

+ 4

photos

Kylee

Married on 04/07/2018

Hiring Michelle was the easiest and best decision we made!

I had known before we were engaged I wanted to hire Michelle to document our wedding as I had admired her work for so long. Not only is she the sweetest and most professional but her work is truly timeless and I know we will look back for years to come and still be so pleased with our photography! Michelle is a pro and made us feel comfortable throughout the entire day allowing us to truly be in the moment and enjoy each other and our families. If I could give her a million stars I would because she is so deserving, not only did she exceed our expectations, we would trust her to continue to document all of life's milestones!

Jennifer K.

Married on 09/30/2017

Absolutely amazing!

Michelle did a fantastic job of capturing the entire day of my wedding. From the fun moments getting ready together with our friends and family to the beautiful moments of the ceremony and joy and celebration of the reception. They were there from start to finish and captured everything that we could have ever needed.

Kayla M.

Married on 08/04/2017

High Quality Photos & Human

Michelle is one of the best photographers you could get for your wedding. She does a high quality job and is so easy to work with! You definitely will not regret having her be a part of your big day :)

Shaina

Married on 06/10/2017

Highly recommend!

Michelle is an absolute gem of a person and an amazing artist. From the moment we first met over brunch to the wedding day, she was nothing but professional and personable. She got along great with all the other vendors and was responsive and organized.

Her photography is incredibly beautiful. Michelle has an eye for details. She'll capture the little things that you didn't know you wanted, like the way the sunlight reflects off the water or closeups of the musician's hands. Because she's a hybrid photographer and uses film (with backup- zero chance of a mishap), the photos have such a timeless quality. They feel like instant heirlooms.

Michelle worked great with our family dynamics, including feuding family members and badly divorced in-laws. She managed to get an inappropriately dressed family member in the shots and yet completely hid what he was wearing (thanks for that by the way!).

My only regret is not using Michelle for our engagement photos, and that was only because we didn't know about her yet!

+ 2

photos

Shea D.

Married on 06/09/2017

Michelle is THE BEST!

There are so many vendors to choose from when planning your wedding, and photography was one of the most important choices for me. I had a friend who worked in the wedding industry, and she highly recommended Michelle as one of the most sought-after photographers in the area. After our initial conversation, I loved her right away. She's so down to earth and personable, and she really listens to what her brides want. Not to mention, her film is BEAUTIFUL! My wedding photos are so vibrant and striking, I can't imagine having used anyone else. She was super responsive and there for me every step of the way, and she made sure I got every shot I wanted on my wedding day. She's one of those people who you just inherently trust to do a great job, and I promise she will!

Emily

Married on 04/22/2017

Michelle is absolutely wonderful. Not only is she a highly talented photographer, she's also kind, funny and understanding. We had our engagement session with her, she took my bridal portraits and she photographed our wedding. The photos are breathtaking. She has great ideas for different shots that are sweet without being cheesy. She is super calm and helped put me at ease on my wedding day and also keep everything on schedule - so important! She's also honest while she's shooting, which I think helps everyone get the most out of the photos. If you look awkward, she'll tell you - in a very nice way! I am so happy that Michelle was our photographer. Our photos turned out amazing and getting to know her through the process was a lot of fun!

Makenna

Married on 04/15/2017

Wonderful!

Michelle is so friendly and easy to work with. She made our wedding day feel dreamy! She was very accommodating to taking requests for certain pictures we wanted. She made sure to capture all the details, candid moments, and more!

Rachel

Married on 11/19/2016

Michelle is the real deal. You are paying for high quality images you can count on no matter what. She will help you put together your wedding timeline as well to make sure you get the best lighting for your images. Even when our timeline changed a little bit on the day of, Michelle was flexible and made everything work smoothly to make sure all our pictures happened. Book her now!

Shae

Married on 06/03/2016

Michelle is absolutely wonderful to work with! My fiancé and I were totally sold after the first time we met her. She's passionate, genuine and we could tell she really wanted to capture us with authenticity and beauty. She was super generous to my fiancé and I and she's the kind of person you totally want to be friends with forever. Her film photography is incredible and her passion is contagious. We absolutely love her and would suggest her to anyone! Book her :)

Sarah

Married on 05/27/2016

Michelle is amazing to work with, from the moment you contact her until the day she sends you your amazing photos. My husband and I had such a great experience with her, she is so personable and caring. Michelle kept us laughing the entire day, we felt so comfortable in our pictures. She captured our day perfectly, we could not have asked for anyone better.

Shelby

Married on 04/30/2016

Michelle is not only an artist but wonderful to work with! Her creativity and keen eye for capturing special moments is priceless! She photographed my husband and I's wedding and did a wonderful job! She's a special friend and captured our wedding perfectly. She flew out from Norman and braved the snow and cold weather. Even though the weather wasn't how we wanted, she used it to make the pictures look magical. She pays attention to detail and takes pictures I'd never think to take but it makes it all the more special! She also had our photos done in a promptly manner! I'm so blessed she was a part of a special day!

Caroline

Married on 02/06/2016

Michelle was AMAZING to work with. She put my husband and I at ease throughout our engagement photoshoot and all during our wedding. She is well worth the investment. If you're looking for someone who cares about details, beauty, and you - she's a great fit. I also loved that she specialized in natural light and film. (Did I mention she has a great sense of humor?!) :) - Caroline

Paige

Married on 07/11/2015

Michelle was an absolute joy to work with. From the moment we met at our very first meeting, I couldn't wait for our wedding to take place because I was so excited to work with her. She was extremely helpful leading up to the big day, and patiently answered every detailed question I asked. She told me she wanted to bring me sense of peace on my wedding day, and she did just that. There were special moments throughout my wedding day that she handled in such a way that made me feel so relaxed. Our wedding party made several comments about how fun she was to be around while taking our pictures. I am looking forward to the next event when I can ask Michelle to come take more pictures. She is not only a talented photographer, but also a caring, passionate friend to her clients!

Heather

Married on 06/27/2015

Photography was THE most important vendor for me to hire for my wedding. I was engaged for 1 1/2 years, so had plenty of time to search for vendors (and I teach science, research is second nature! lol). The way Michelle can capture the love and happiness of a couple, along with the beauty of the world around them is just amazing! Along with her impressive talents, Michelle's personality is also a blessing to be around. The stress that comes with wanting perfect engagement and wedding photos, and the awkwardness you feel when the camera is focused on you can be overwhelming but Michelle really makes you feel at ease which allows you to enjoy those fleeting moments! Michelle is also easy to contact, incredibly helpful in multiple aspects of the wedding planning process, and was one of the best vendors I hired for my wedding. I would highly recommend hiring Magnolia Adam's Photography for all your pictures needs, you will not regret it!

Michelle with Magnolia Adam's has been so fun to work with. She's inventive, easy to talk to, (relatively) new to the business but learning SUPER fast and improving all the time (going from really good to great at the speed of light, y'all). She made family drama on wedding morning a breeze. Engagements, bridals, and wedding all went down without a hitch. And the photos are stunning. I'm so happy!

Stephanie

Married on 05/29/2015

Working with Michelle was an absolute treat! Each time we met with her, whether for our engagement photos, my bridal portraits, or for the wedding day itself, she always took a personal interest in who we are as a couple and how she could express that in her photos. She poured herself into capturing so much more than just some really beautiful pictures--she captured the very essence of who we are with every creative shot. And you can tell she has so much fun doing it! Michelle is so much more than a great photographer. She is a constant encouragement and support, and I was so thankful to have her by my side on my wedding day because she made it so much more calm and joyful for me and my husband! Plus, the photographs themselves turned out stunningly. We will never tire of looking back through all of these beautiful memories Michelle captured for us!

Mindi

Married on 05/23/2015

AMAZING! The experience I had with Michelle Leach - Magnolia Adams Photography was more than I could have ever asked for. The very second my fiancé and I met with Michelle we knew she would be the person to photograph the most important day of our lives. She is sweet, genuine, caring, honest, devoted, professional, and hilarious!!! The pictures I have from my engagement session and wedding day are spectacular. Michelle captured every detail so perfectly. Looking through my wedding pictures for the first time was an experience I cannot describe in words. I had never seen the way people looked at me before. Seeing my parents look at their baby girl with such pride and joy.... and seeing my husbands face as I first walked down the isle to him. But ever more special that that I had never seen the way I looked at the people I love. Looking at my parents for their approval before I took those steps down the isle... looking at my sister with gratitude for all that she is to me... and looking at Brent as I walked down the isle to the beginning of our life together. Seeing the love and passion in my face when I look at him is so powerful!!!! I am so thankful I found Magnolia Adams Photography! I will definitely use Michelle for every special occasion in my life. I have recommended Michelle to every soon to be bride I know and I will continue to recommend her any chance I get! Seriously, the best experience EVER!!!!!
Are you interested?
Send a message