360 Reviews
Recommended by 99% of couples
Quality of service

5 out of 5 rating

Average response time

5 out of 5 rating

Professionalism

5 out of 5 rating

Value

4.9 out of 5 rating

Flexibility

5 out of 5 rating
104 User photos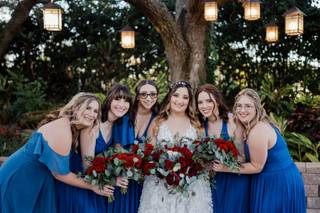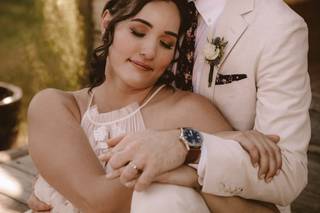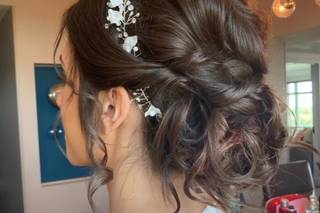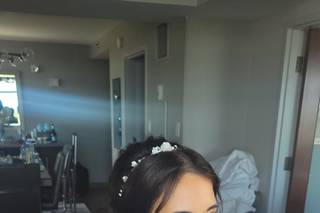 + 100

photos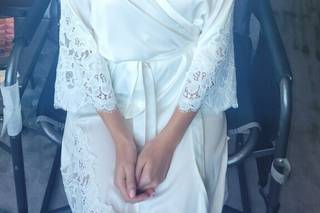 Emma B.

Married on 12/18/2022

Hair and Make-up were perfect

I've never felt more beautiful in my life. My artists really took the time to fine tune my bridal look and I loved that me and my bridesmaids didn't have to worry about getting ourselves ready

M3 Wedding Beauty - Makeup and Hair Services's reply:

Thank you so much, Emma! You looked beautiful and I'm very glad to hear how amazing you felt. The team loved working with you. We wish you the absolute best of luck with your marriage and future.

Megan R.

Married on 12/09/2022

Such an amazing team!

Michele and her amazing team did such a great job on my wedding day. They were super flexible getting me scheduled for my trial run and remained in contact with me throughout the whole time from day one. On the day of, they showed up on time, did a phenomenal job and got us done in what felt like record time. I've never felt more beautiful and my girls have never looked better. My pictures turned out amazing because of their dedication and skill. So thankful we spent the extra instead of doing this ourselves.

M3 Wedding Beauty - Makeup and Hair Services's reply:

Thank you for the glowing review. "I've never felt more beautiful"...I love it! We feel grateful to have worked with you and also glad you didn't do your hair & makeup yourselves. That's always so much more stressful on the big day. Great photos is always one of the best testaments to great hair & makeup. You were a joy to work with and we wish you nothing but the best.

Emily W.

Married on 10/08/2022

The best glam squad!

Michelle and her team have been nothing short of amazing. I'm so thankful for the great communication and wonderful artistry work. When I met Evelyn and Brittany during my first trial I immediately knew I was in good hands and trusted them with my wedding look and with my girls! The M3 team has a way of welcoming you and making you feel at ease while making you look amazing. Thank you for providing such an important service to me and my girls and giving us all a confidence boost! Huge shout out to Brittany and Evelyn for nailing my look with every preview and the day of, you are both so sweet and talented and I wish I could have my hair and makeup done by you ladies everyday!

M3 Wedding Beauty - Makeup and Hair Services's reply:

You are most welcome! I'm thrilled everyone loved their looks and felt amazing. You were STUNNING! We feel extremely lucky to have worked with you. From start to finish, you've been a sweetheart and it has been such a pleasure. Brittany & Evelyn were the perfect fit and I'm glad I put them with you. They're both talented and yes, so very sweet.Thank you for choosing us and we're here if you're ever in need of hair and makeup again!

Are you interested?

Send a message

Lila G.

Married on 10/07/2022

Look no further than M3 for your event!

M3 was the perfect beauty vendor for my wedding. Michele was so nice and everything went so smoothly from our first call. There's a lot of information to go over, but everything from the rates to what we could expect on our wedding day was well-explained and easy to understand. I loved working out of their website portal, which made payments a breeze and the rates/contract extremely easy to go through. The rates are very competitive for how smooth everything went. We had our final beauty schedule promptly 30 days from the final date. What a huge relief when coordinating with the bridal party.

M3's beauty team was fantastic. Haley, Rachel, and Prisila were all so kind, patient, and skilled in their craft! I did the bridal make-up/hair beauty trial and had a few notes, and they made sure to double-check and accommodate for those changes on wedding day. I highly recommend the trial for the bride for that reason! They stayed on schedule and had my entire bridal party looking gorgeous in about five hours. No super-early start times or cutting-it-close finishing touches. They nailed it!

Thank you so much to the M3 team for helping make our wedding so beautiful!

M3 Wedding Beauty - Makeup and Hair Services's reply:

Wow! Lila...thank you for taking the time to write such an amazing testimonial! Truly, it's brides like you that make it all worth while. Hearing that you loved working out of the portal we use is music to my ears. It certainly simplifies communicating and making everything streamlined which we love as well. I'm thrilled everyone loved their looks and the team stayed on track with the schedule. (Another thing we take very seriously.) You were a stunning bride and I can't wait to share your photos! It was a such pleasure working with you. Thank you for choosing us!

Geena F.

Married on 03/26/2022

You won't regret it!

M3 came highly recommended to me and I know why, they are AMAZING at what they do! I had the pleasure of working with Evelyn and Natasha. They both LISTENED to my feedback from my trial and let me tell you- they DELIVERED on my wedding day. I've never felt more beautiful, It was like I walked out of a magazine, but I still looked like me-which is what I asked for. Michele was also a pleasure to work with! She was always quick to respond and so organized! I will be recommending M3 to everyone.

M3 Wedding Beauty - Makeup and Hair Services's reply:

You were absolutely STUNNING and you definitely looked like you walked right out of a magazine! We loved working with you throughout the process. You were a dream bride and for that, I thank you. We can not wait to see more photos and wish you all the very best!

Gale B.

Married on 03/21/2022

Haley made me beautiful


Haley from M3 Beauty did a great job on hair and makeup for my daughter and me. She is very talented and friendly. My hair is very thin and fine but she put it into a lovely chignon that lasted all evening. She styled my daughter's hair with a braid crown and long ringlet curls. Our makeup was the glamour we asked for. Wow! Haley, thanks so much!

M3 Wedding Beauty - Makeup and Hair Services's reply:

I'm thrilled you were both so happy with your hair and makeup! You can't even tell your hair is fine in the chignon and Kellyn was glowing. We're honored you chose us for your daughter's big day and wish you all the very best!

Mykeetah M.

Married on 03/13/2022

Wonderful Staff

Well, from the beginning Michelle was absolutely amazing, friendly, responsive, fun!! I enjoyed speaking with her and her helping me with my vision on what I wanted. Her staff is absolutely amazing. I personally had Evelyn as my makeup artist and all I can say is FIRE 🔥!!! We had both hair and makeup done. I would definitely recommend using this vendor!

+ 2

photos

M3 Wedding Beauty - Makeup and Hair Services's reply:

Mykeetah, you were a joy to work with throughout! I loved laughing with you and I'm fairly certain you and Evelyn have become best friends. Your makeup was stunning and yes...FIRE!! We wish you nothing but the best!

Sharon T.

Married on 08/02/2021

Wonderful!

The team at M3 were absolutely wonderful from the moment I contacted them to the day of the wedding. The one thing that meant the world to me was that there was no judgement. I was very apprehensive as I have a lot of scarring on my face from SLE lupus - I was really worried about how a MUA would be, how they would react and how they would make the makeup work for my skin. They did not disappoint! Even with thinning hair from awful treatments and from heavy scaring, M3 made me feel beautiful. I am so grateful for Michelle and her team of wonderful artists and the impeccable services they provide!

Elaine M.

Married on 03/04/2021

M3 is top notch. Definitely recommend.

I would highly recommend M3 Beauty for hair and makeup. Michele Hundley and all her team did a beautiful job on everyone's hair and makeup for my daughter's wedding in April. We had a total of 13 ladies plus two flower girls. They were so patient, kind and professional. My daughter and I had a trial run prior to the wedding. So I knew long before the wedding day that everyone was going to look beautiful. They deserve 10 stars! Our photos aren't available yet or I would post one with this review.



Ashley L.

Married on 02/10/2021

M3 is an A+

M3 was amazing from start to finish. Michele (makeup/owner) and Alyssa (hair stylist) were professional, but also very fun to be around. They had me laughing and enjoying conversation at both my trial and the day of the wedding. I felt relaxed, confident and BEAUTIFUL (something I would pretty much never say about myself). I wanted a very classical look and these ladies made it happen. Alyssa suggested that I use hair extensions and dye my hair a little darker to match the extensions and it was EXACTLY what I wanted. I'm not typically the bold type, so for me to agree to dye my hair and wear extensions just goes to show how much I loved (and trusted) these ladies. I wish I had another reason to get my hair and makeup done again just so I could go through the process all over again. My mother also got her hair and makeup done. Neither one of us really get "done up" on our own very much and the girls explained everything that they were doing. Do yourself a favor and meet the M3 team. Tell them that Ashley says hello! (Can you tell? I adore them.)

Megan R.

Married on 02/03/2021

Nothing but compliments to give about M3 Wedding Beauty!

I could not be more happy with my decision to choose M3 Beauty for my wedding! Michele was very easy to communicate with and work with. She always responded to my emails quickly and was flexible when I had people to add or changes to make to services. When I went for my trial she was so welcoming and made me super comfortable. Evelyn and Savannah were my leads for makeup and hair and I absolutely loved hanging out them! They were super fun and lively and their work was incredible! They nailed the look I wanted on the first try. On my wedding day they arrived on time and made all my ladies look amazing! Anne-Marie also helped with hair on our wedding day because I had so many people and she also made everyones hair beautiful!
Thank you M3 Beauty for make everyone beautiful and confident on my wedding day

Liza P.

Married on 12/13/2020

Amazing!

Where do I even begin?! Michele was absolutely fantastic and such a sweetheart! Due to COVID, we had to make so many changes to our wedding and Michele helped us change our plans and she made it absolutely STRESS-FREE!! I cannot thank her enough for everything! Our makeup artist, Rachael was literally the greatest! Her artistry was absolutely beautiful, I felt so incredibly beautiful and so did my bridesmaids. She also had such a wonderful personality! I cannot thank Michele and Rachael enough for making my special day absolutely wonderful!

Courtney G.

Married on 10/11/2020

Cinderella Wedding

Alyssa and Rali were an incredible team. I felt so at ease the entire afternoon while they transformed me into looking like my best self! I felt like a superstar! I recommend the M3 Beauty Team to everyone!! Thank you being an integral part of my BIG day :)

Rita K.

Married on 03/07/2020

Look No Further

M3 was fantastic! All of my girls looked so beautiful! On top of making you look absolutely beautiful, they're super fun and funny and we had SUCH a good time on my wedding day!!

Erin S.

Married on 02/29/2020

Great Experience

Michele and her team were great to work with and they made the entire process so easy! Denise and Ann Marie came to my house the day of the wedding to help my girls and I get ready. They were simply amazing and we absolutely had a blast hanging out with them while they made us beautiful. Thank you for making us all feel so special.

Diana D.

Married on 02/23/2020

The BEST Makeup experience

Michele Hundley is extremely talented! She was spot on with my daughter and I on my wedding day-our makeup was absolutely beautiful! It was flawless and she listened to exactly what we wanted! We both love makeup and don't trust just anyone! I highly recommend Michele and will definitely use her again!!!

Marissa C.

Married on 02/22/2020

Amazing!! M3 did a fantastic job!

I had my bridal trial with Michele and Savanah and they both came plus Marissa and Shanna for my wedding day makeup and hair for my bridesmaids and mothers! This team is so professional and friendly, they are always so prepared and have the best advice to give too!! Would definitely recommend them to any friend :) Thank you M3, and a big thank you to Michele!!

Chloë

Married on 02/15/2020

Flexible, Professional, On-Site Service

M3 was great to work with. I got married at home and the team came and helped me get ready in my own bedroom! The on site team was so positive and happy, it really set the mood for the day. The owner Michele was very responsive and timely. Savanah, my hair stylist, was able to pull off a variety of looks for me, my mom, and my two best friends. Denise is extremely skilled with both lashes and makeup, and she also gave great skin care tips. Both artists were fun to be around!! Overall, the experience was positive and seamless. It really helps that M3's prices are super fair, and their quality of service is worth every penny (which is truly refreshing in an industry that often takes advantage of the opportunity to overcharge)

Kathryn D.

Married on 02/12/2020

Brides - don't hesitate. Book them!

Being an older bride, I was a bit hesitant to contact Michele and use M3 Wedding Beauty thinking it would be safer to do myself. However, she came so highly recommended that I did. It made for a very relaxing morning with Michele and crew doing our hair and make-up while we sipped champagne and visited with girlfriends. Don't hesitate, book them.

Shelby

Married on 02/05/2020

Beautiful wedding hair and makeup that lasted all day.

Thank you, Michele, for being so kind and patient with all of my questions—I had never worn false lashes or airbrush makeup before my wedding day so there were many. Thank you, Denise, for sharing your talent with me and making me look like a bride. I could not have asked for a better professional to spend my wedding morning with. Thank you so much! p.s. I never needed to reapply any lip color and my lashes stayed on all day. :)

Michelle

Married on 02/03/2020

Amazing work, very professional, great communication

I had a brunch wedding so I had to start getting ready very early in the morning. They were punctual and provided amazing service. I did not want to take down my hair or remove my makeup at the end of the night. I wanted to keep it that way forever lol. Very professional and talented. I will hire them again if I have any future special occasions.

Kathleen S.

Married on 12/10/2019

Excellent Service

M3 did an AMAZING job! They were recommended to me by my sister who used them for her wedding 7 years ago. They we on time, professional, and friendly. I highly recommend them!

Erica

Married on 11/16/2019

Fantastic experience


Michele, Rail & Amanda did such an amazing job. They were so patient with me and my wedding party. I changed my look on my wedding day and Rail handled it with no problem. I bought extensions last min and Amanda has no problem putting them in for me. No one could tell I had extensions in, she placed them perfectly I didn't even feel them. They did such a perfect job and I'm truly thankful I had them all there in my big day!! Wish I could post pics You ladies are the best :) Lots of love

+ 9

photos

Janelle M.

Married on 11/07/2019

The best!!!

Shanna and Alyssa did an amazing job!! They made me look gorgeous for my big day along with my bridesmaids and mom too! They even came to my house taking a little bit of stress out of the day. Highly recommend M3.

Monique U.

Married on 11/04/2019

Beautiful Bridal Hair and Makeup

I'm so happy I found M3. They were so understanding and flexible and communicative. Denise did my hair and makeup and she was wonderful at putting words to what I imagined and then bringing it to life. I really felt like my happiness was her number one priority, and isn't that what every bride wants?
Are you interested?
Send a message