74 Reviews
Recommended by 100% of couples
Quality of service

5 out of 5 rating

Average response time

5 out of 5 rating

Professionalism

5 out of 5 rating

Value

5 out of 5 rating

Flexibility

5 out of 5 rating
95 User photos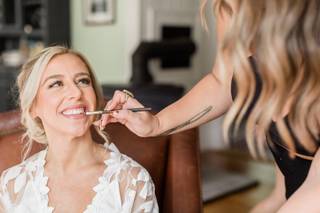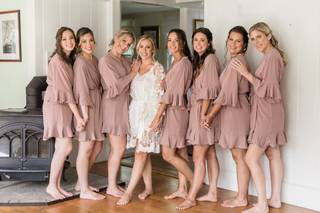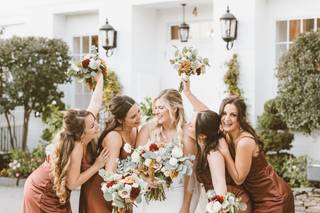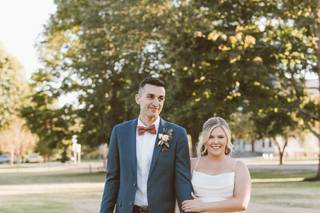 + 91

photos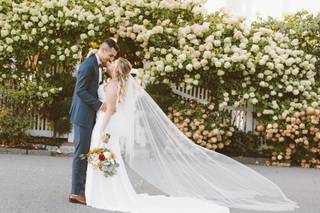 Allie L.

Married on 10/22/2022

Wonderful!

I could not recommend Lyndsay Simon beauty enough! Well we did not have Lyndsay with us on our wedding day, I did work with her from start to finish and she was nothing but professional, kind, patient, and extremely accommodating. We had the most magical day with her team from start to finish. We had the pleasure of working with Eliza and Amy who went above and beyond to make the day wonderful. They were so kind, fun, professional, creative, and talented. Thank you, ladies!

Amanda M.

Married on 10/02/2022

Professional, Experienced and Personable

Lyndsay and her team were prompt, professional, prepared and FUN! She went out of her way to make sure I was comfortable with my own makeup and the plan for my bridesmaids. Her experience doing 1000+ weddings meant that I felt like I had nothing to worry about. This is crucial day of, which for me and my wedding party, was smooth and perfect!

Emily W.

Married on 09/24/2022

The best team!

Lyndsay Simon and her team are absolutely amazing! Lyndsay was so wonderful to communicate / work with through the whole planning process and was SUPER responsive to all of my emails and questions. Kelly and Steph did hair for my wedding and did such a wonderful job - such an amazing decision selecting them! They were also so great and kept the morning fun!!

Are you interested?

Send a message

Paige T.

Married on 09/18/2022

You should hire Lyndsay immediately!

If you want to feel absolutely stunning on the day of your wedding Lyndsay Simon Beauty is who you should hire! Lyndsay was so sweet and easy to work with. We were from out of town so I was a little worried about scheduling a trial, but Lyndsay was very flexible and very quick getting back to me which is huge! At the trial I first met Heather from Lyndsay's team and found out she would be doing my hair the day of the wedding. I am a very indecisive person but Heather was able to take my many inspo pictures and honestly combine them all to create my dream look. Also she let me in on the secret that most of the Pinterest pictures we love and adore contain extensions! Lyndsay's studio was a one-stop shop extensions, beautiful hair, and beautiful makeup! For someone that hardly ever wears makeup I was slightly intimidated by having it professionally done, but Lyndsay calmed my nerves. On the day of the wedding it was a well oiled machine everyone worked together to stay on track and get my large bridal party done in time and looking flawless. Everyone loved their hair and makeup, and the pictures are breathtaking. I truly felt like a princess and got countless compliments even to this day! Thank you Lyndsay and Heather for making me the most beautiful bride!

Jocelyn D.

Married on 09/16/2022

Lyndsay Simon Beauty is amazing!!!

Lyndsay and her team were amazing to work with! We got married on 9/16/22 and our experience working with her could not have been better. From when we booked her to the trial to the wedding day- it was perfect. I loved how her team puts together the getting ready schedule for you so you don't have to worry. I would highly suggest letting them do that because they know best!! I had myself, along with 9 bridesmaids and a MOG. There were the lead hair and make up artists, Kelly and Lyndsay, along with 2 assistants which was perfect. I loved that she allots for 6 hours of getting ready time so you don't feel like its ALLLL day long. The experience is truly premium with hand massages, face masks and a lot of fun. Not to mention all 9 of my bridesmaids were SUPER happy with their hair and make up which I know is not always the case. I was also over the moon with my look and had a great experience with the trial as well. Lyndsay listened to everything I wanted and made it come to life. I highly suggest using her company for your wedding!

Joseph M.

Married on 09/16/2022

Made my wedding hair and makeup dreams come true

From the trial to the wedding Lyndsays team was amazing. They made me and my girls all look and feel our best. I wanted a subtle glam and was blown away by the skill level and how well the makeup stayed all day! I also upgraded to clip in extensions, worth every single penny! I was obsessed with the final look and how supportive the team was throughout the wedding planning process.

+ 3

photos

Liz C.

Married on 09/04/2022

wedding day hair and makeup

Hiring Lyndsay Simon and team was the best decision I made for my wedding! From our first phone call, to the trial, and the big day, Lyndsay was an absolute pleasure to work with. She's always professional, prompt, and extremely kind. Her and Alicia both made me feel like I was the prettiest bride they'd ever worked with the entire time, and all my bridesmaids loved them as well!

Colleen G.

Married on 08/27/2022

Unmatched Talent

The talent at this company is completely unmatched. I've been in a few weddings and my makeup has always been...just okay. The last wedding I was in, my fake lashes were falling off before it was even time to sit down for dinner. But the talent at Lyndsay Simon Beauty is truly something else. Val and Kelly were assigned to me and immediately from the hair/makeup trial I knew I was in good hands. Kelly is a wizard with what she can do with hair. Val truly listens to every word you say and truly hears you. At my trial, I wasn't completely in love with my makeup, so when it came time for my wedding, I told Val my hesitations and she heard every word. She made some changes and when it was time for me to look in the mirror, I couldn't hold back the tears. I have never felt more beautiful in my entire life. I just want to relive that day over and over, and its all thanks to the talent at Lyndsay Simon. Furthermore, one of my bridesmaids also made a point to tell me that she has never felt more beautiful in her entire life, than she did on my wedding day. Lastly, Kelly did the hair for my flower girl's mom, and the mom is self conscious about her hair because its quite thin on top......well, the joy that came across the mom's face when she saw what Kelly was able to do with her hair made my entire day. She even came up to me and said "It looks like I have so much hair!" Again, I say, wizards! Do yourself a favor and book this company, you will never regret it. I will use them in the future for any reason possible. Thank you soooo much!!!

Caitlin T.

Married on 08/20/2022

Excellent!

I am so thankful for Lyndsay and her team for making my wedding day so special! When I first reached out to learn about their services, Lyndsay quickly responded and offered to schedule a time for us to talk. She even took the time to reach back out to me in order to ensure my date remained saved! I had the privilege of working with Amy and Eliza for hair/make-up and they are both incredibly talented, down to earth, and fun to be around. They both ensured that I felt calm, comfortable, and beautiful on my wedding day. I loved my experience working with Lyndsay Simon Beauty and would highly recommend her to anyone who is looking for an exceptional team of hair/make-up artists!

Samantha

Married on 08/09/2022

Dream team

Lyndsay and her team are amazing!! They are professional, fun, dependable, organized and honestly the dream team. My friends and I have never looked so beautiful. Lyndsay also did an incredible job on my mom and mother in law, they looked natural and beautiful! I couldn't picture anyone else doing my makeup for my wedding day! This team is the best of the best.

Meghan H.

Married on 08/07/2022

Ideal Beauty Team

Lyndsay Simon Beauty and her team are the best of the best. I got married in August 2022. Val did my makeup and Heather did my hair. They are both extremely talented and so professional. Lyndsay's team was so organized all along the way and made me feel completely at ease about my makeup and hair for the day of the wedding. They did hair and makeup for myself and 8 of my bridesmaids. We all felt so gorgeous! My hair and makeup lasted the entirety of the night and photographed perfectly. Val and Heather are a dream team as they are hysterical and super relaxed. I laughed the whole morning and and they made me feel like a queen! I literally could not have asked for more from Lyndsay Simon and her team. Thank you ladies for making my wedding day a success!!!!

Patricia A.

Married on 07/02/2022

Awesome team!

I used Lyndsay for my wedding hair and make up for my 7 bridesmaids, my mom and me. Lyndsay and her hair team with Sara were truly amazing to work with. Lyndsay and her team were communicative throughout the whole process, were flexible with added bridesmaids etc, and my mom and I were both able to do a trial before hand which I highly recommend as we both decided we wanted something different than we originally thought. They were efficient the day of and made the whole process really fun for all the bridesmaids and me. One of my bridesmaids has special needs and Sara and Lyndsay both worked so well with her - everyone looked stunning! Highly recommend to anyone seeking hair and makeup. The absolute best team of ladies.

Julia A.

Married on 06/25/2022

I highly recommend Lyndsay Simon Beauty!

Lyndsay and her team are absolutely amazing, and I would highly highly recommend them for your wedding day! From the very first introductory phone call, Lyndsay was so warm, friendly, and informative about her team and the whole process. I was so excited for the initial hair and make-up trial with Amy and Eliza, and even more pleased with the outcome. They were so collaborative during the trial and worked so hard to ensure I would have the exact look I was hoping for. Lyndsay and her team were extremely organized during the final weeks leading up to the wedding. They created the detailed schedule for the bridal party, ensured all of the logistics were in place, and communicated very closely with me and my wedding planner. When it came time for the big day, Amy and Eliza were such a joy to be around while we were all getting ready. The bridesmaids, flower girls and mothers all looked absolutely stunning!! They were so great with the little flower girls as well, who were only 2-5 years old and don't easily sit still for very long. I can't thank Amy and Eliza enough for making me look and feel so beautiful on my wedding day. They are truly so talented, and such a pleasure to spend the day with. My hair and makeup turned out exactly as I had dreamed it would, and it still looked just as perfect by the end of the night. Thank you to the whole team for being so wonderful and for helping to make my wedding day so special!

Kerry F.

Married on 06/24/2022

Everyone felt absolutely beautiful!

I just had the pleasure of working with some of the team from Lyndsay Simon Beauty for my June wedding . Getting ready the morning of your wedding can be a stressful time and this team made me, my bridesmaids , mother and mother in law feel so relaxed and beautiful ! Heather did amazing with everyone's hair and even finished two hours ahead of schedule ! Even after our ceremony on the beach and photos everyone's hair looked absolutely perfect . ( I even had my hair all down which I was concerned about !) Val did the whole teams makeup and everyone looked like the most beautiful elevated version of themselves . She was so easy to talk to , funny , and absolutely talented . ( she also finished 1 hour ahead of schedule with tons of times for touch up's !) Everyone had such a good time working with her and everyone's mu lasted the whole night . Sinn the makeup assistant was an angel sent from above . So kind and sweet . My bridesmaids and I wish we could have this awesome group help us get ready every day . Lyndsay the owner is also an amazing business owner . She was responsive and accommodating from the start and was also so kind when I met her during my trial . Thank you to the fabulous team at Lyndsay Simon who helped us all look 10/10 all day !

Kara S.

Married on 06/18/2022

Lyndsay Simon Beauty - highly recommend!

I was recommended to Lyndsay Simon Beauty by a friend and Lyndsay's team far exceeded expectations. I had Val and Kelly for a hair and makeup duo and immediately felt as though I was hanging out with lifelong friends - we just clicked! Not only did they make me feel SO comfortable, but they were also masters of their skill - my wedding hair and makeup came out stunning and I couldn't have been happier with my choice to book with Lyndsay Simon Beauty! I would highly recommend choosing this team for your day - they will exceed all expectations.

Michelle A.

Married on 06/17/2022

Absolute rockstar

Lyndsay did my wedding makeup and I truly could not recommend her more. She made me feel beautiful and I received so many compliments on how beautiful my makeup looked. She also did my wedding party's makeup and they all continued to reiterate the fact that it's not easy to please everyone for makeup and she did exactly that. She made us all feel our absolute best and catered to each women's "vision". I will be recommending Lyndsay and her team to every bride!

Rachel B.

Married on 06/11/2022

Natural, beautiful hair & makeup!!

I am so grateful that I worked with Lyndsay Simon for hair & makeup on my wedding day - and I want to give a special thanks to Val (makeup) and Amy (hair) who were true professionals and so much fun to spend the morning with!!

After reviewing lots of reviews and portfolios, I originally picked Lyndsay Simon Beauty because of their approach to natural, effortless hair and makeup. Lyndsay was very responsive during the booking process and addressed all of my initial questions about how the stylists would work with a few of my family members who have naturally curly hair and tend to avoid makeup at all costs!

I initially met Val and Amy during my hair & makeup trial a few months before the wedding. They were both so warm and put me at ease right away. After sharing just a few inspiration photos with each of them I felt like they totally "got" what I was going for! While the trial looks were gorgeous, I ended up having a few things I wanted to tweak for the wedding day itself -- and true to form, both the hair and makeup on my wedding day were even more gorgeous than the trial and made me feel beautiful all day long. I really put this hair & makeup to the test - I arrived at my wedding day with a fairly major acne breakout on my chin that Val needed to cover up, I basically sobbed through half the ceremony ceremony and then danced the whole night away, and at the end of it all I still felt gorgeous and everything was somehow still intact!! The way that they made me look completely "natural" and yet delivered hair and makeup that could withstand all of that -- it was truly magic from my perspective!! And they worked so well with my mom and bridesmaids too. Everyone was thrilled with the final result!!

Thank you again, Val, Amy and Lyndsay Simon Beauty for everything!

+ 2

photos

Anna M.

Married on 06/10/2022

Truly amazing!!!

Lyndsay and Kelly are amazing!! So talented and fun to work with. I don't usually wear much make up and Lyndsay really listened to what I was looking for and executed it perfectly. My make up lasted for the entire night with no issues at all! I ended up changing how I wanted my hair from what we did at my trial and Kelly did such a beautiful job. I was so so happy with the final look!! My mom, MOH, and two of my friends also had their hair and make up done. Not only did they all look stunning, we all agreed that Lyndsay and Kelly brought such a fun energy to getting ready! Couldn't recommend more!!!

Mariam

Married on 05/16/2022

Stunning makeup & seamless process!

I can't say enough good things about Lyndsay and her services! From beginning to end, Lyndsay was communicative, friendly and always willing to answer my questions. She was extremely clear on the process of the makeup trial, payments, and I appreciated the organized portal and her prompt email responses. The organized makeup schedule was a big help too. I truly felt like I was in good hands throughout the entire planning process.

Eliza was the makeup artist for my wedding day and did my own makeup as well as my bridesmaids'. She is truly a talented artist and a miracle worker - the girls were so happy with their individual makeup looks and as was I. Makeup itself was stunning with high quality products, radiance and a very natural look to it. More than that, Eliza was a dream to work with. She made everyone feel comfortable on the morning of and we had a chance to laugh together and share stories. She definitely made everyone feel at ease and listened to everyone's preferences. We all felt so glamorous!

Mary L.

Married on 04/29/2022

So amazing!

Lyndsay Simon's team was so wonderful on my wedding day! Val, Eliza, Taylor and Amy made the day so much fun and did an absolutely incredible job with the hair and makeup for the bridal party and some extra family members :) The girls were so efficient but gave every individual the time and attention that they deserved on such a special day. I would recommend them to anyone! Thank you all so much!

Jessica S.

Married on 04/23/2022

And the groom too!

Lyndsay and her team made the day so fun and my girls (and the groom - in a pinch) look flawless for our day! It's was a long awaited celebration and they kept the good vibes going all day! Thank you for helping to make us feel amazing as we finally got to celebrate with our friends and family!

Rachel W.

Married on 04/08/2022

Lyndsay makes you feel and look like a queen

I do not even know where to start when speaking about my wedding day with Lyndsay, if I could give her 10 stars I would! From the initial clear and prompt communication, to helping set the schedule for the day to make sure everything runs smoothly, to showing up on time and prepared, (covid protection elements included) - just the initial experience was stress free. All of girls loved their makeup and experience with Lyndsay. And then when it came to my turn, she made me feel like an absolute queen from start to finish. She absolutely understood my inspiration and what I was looking for. When she was done, I still felt like myself but a more beautiful and amplified version of myself - which is exactly how you should feel on your wedding day! I wish I could get pampered and beautified by Lyndsay over and over agin. Thanks again Lynds (:

Alix

Married on 11/20/2021

Awesome wedding makeup and hair

Such talented make up and hair artists, and so caring. Talented at listening to what everyone in the bridal party wanted and then truly making it happen , did my natural look perfectly -- they really did help make my wedding day perfect! So glad I found them!

Keara

Married on 11/12/2021

PERFECT hair & makeup experience!

Lyndsay and her team did a phenomenal job with the hair & makeup for my entire wedding party! Lyndsay did my makeup when I was a bridesmaid for a wedding 5 years ago, so I knew the second I got engaged that I had to have her as the makeup artist for my wedding day.

At my trial appointment with Lyndsay and Heather, they spent as much time as necessary to make sure I loved my wedding day look. I'm definitely a perfectionist, but they were so sweet and made sure I was happy with every last detail.

Lyndsay's airbrushing technique is beautiful and it lasts ALL DAY. Both my hair and makeup withstood sweat, pouring rain, and wind and you would never know it! I had photos taken immediately after my hair/makeup was finished up until the end of the night and my look stayed exactly the same the entire time.

Not to mention they are all so incredibly sweet and friendly. They made us all feel beautiful and pampered. I can't recommend their team enough. They are worth every single penny and more! Thank you so much for making me feel BEAUTIFUL on my special day!

+ 4

photos

Danielle D.

Married on 11/06/2021

The Perfect Natural, Enhanced Look

Made the right choice by working with Lyndsay's team! Worked with Heather on hair and Eliza on makeup and was so happy with how everything turned out for me and my bridal party. Having the beauty team be so easygoing and fun to talk to was a huge plus during a stressful wedding process!
Are you interested?
Send a message