30 Reviews
Recommended by 100% of couples
Quality of service

5 out of 5 rating

Average response time

5 out of 5 rating

Professionalism

5 out of 5 rating

Value

5 out of 5 rating

Flexibility

5 out of 5 rating
Awards
19 User photos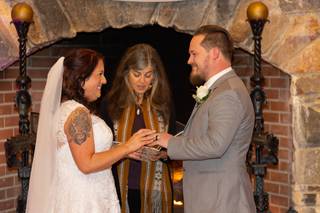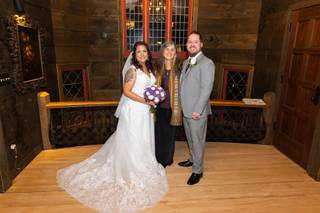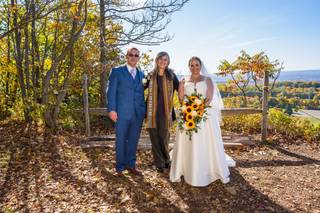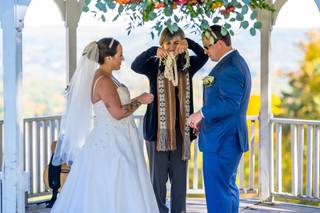 + 15

photos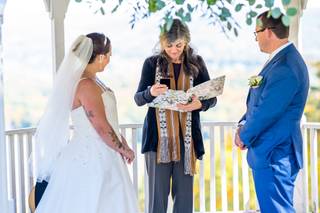 Jason F.

Married on 01/01/2023

Debra Was Exceptional

I sent her and email with my wedding specifics and she was very responsive. We spoke on the phone several times and with her experience she was able to help us make the right decision as to our wedding ceremony...Debra was exceptional and I would recommend her to anyone not looking to do a big church ceremony..

Love, Light & Music's reply:

Thank you. Jason! Wishing you and Junee a lifetime of joy together! What a beautiful way to start the New Year!

Kaylee M.

Married on 12/06/2022

Absolutely Wonderful!

Debra is amazing! My husband and I originally booked her for our wedding in June, but decided we wanted to get married much earlier. After reaching out to her, she answered my email almost immediately and was able to do our private ceremony 2 days later! She is so attentive and accommodating. We have nothing but wonderful things to say about Debra and cannot wait for her to do our public ceremony in June!

Christine L.

Married on 11/26/2022

Sweet and very helpful

Our ceremony was beautiful and much of that was due to Debra. She is a very friendly and kind woman who will work with you to make your best ceremony. She also offered many different ceremony types, so you can find what you like. We wanted a handfasting ceremony and she was very well versed in the tradition and helped us to create one. Her cost is more than fair, and her communication is excellent! I received many compliments on our ceremony from guests as well. Highly recommend!

Love, Light & Music's reply:

Thank you Christine for your kind words. It was truly a pleasure to meet you and Ricardo. I hope your trip to Italy was wonderful!

Are you interested?

Send a message

Michael P.

Married on 11/18/2022

Guests were very impressed

Everyone commented how professional Debra was and how great her cadence was for the entire service. Very glad we had her as our Justice of the Peace.

Joanna F.

Married on 10/28/2022

Amazing! The perfect day

We could not have asked for a more perfect ceremony. Debra gave us the day we had dreamed of. She was very thorough in making sure we had the ceremony we wanted. She was very responsive and reliable. We can't say enough good things!

Love, Light & Music's reply:

Thank you Joanna! Hope you guys are staying cozy and warm this holiday season. Wishing you abundant joy!

Ashley H.

Married on 10/15/2022

The perfect officiant

As soon as I saw Debra's information on wedding wire I knew she was the right officiant for my husband and I. From the beginning, she was friendly, responsive, and informative. She took the time to meet with Kris and I to learn about our story and craft the perfect ceremony for us. She provided our ceremony music and we opted to add handfasting to our ceremony as well, which added a nice touch. I can't say enough good things about Debra's service but thankful we had her to make our day so special.

Love, Light & Music's reply:

Thank you so much Ashley, your mountaintop wedding was so much fun, including going up the ski lift to do so! And what a glorious autumn day we had :) All the best to you both!

Created a very personal ceremony

Debra really listened to us and paid attention to our wants and desires and was able to suggest elements of the ceremony and helped us stay on track. She has a great sense of humor and was open to integrate our suggestions into a very personal ceremony.

Love, Light & Music's reply:

Thanks, I'm so glad you were happy. It was so much fun to celebrate your uniqueness, wishing you all the best!

Landen G.

Married on 09/03/2022

Everything and more!!!

My wife and I were recently married and we used Debra as our officiant. We had some special requests and a very specific vibe we were looking for. We got it and more with her. She worked with us lovingly from the start. We met at a restaurant and she paid! From there she was prompt with all her responses to our request and questions and patient with us when we couldn't respond right away. That was huge. We needed that patience. In the end everyone was so impressed with the ceremony they talked about it more than the reception, and that was a fun reception! Couldn't have asked for a better officiant than Debra!!!

Love, Light & Music's reply:

Thank you guys! I honestly loved everything about planning your wedding ceremony with you, and the spiritual connection we shared was precious. Many blessings to you always!

Allie T.

Married on 08/20/2022

Debra was great!

I'm so happy we went with Debra! She delivered a beautiful ceremony and even sent us reminders to make sure we brought the marriage license the day of! She took the time to get to know us and made sure the ceremony reflected who we are as a couple. She did an excellent job, I highly recommend her!

Love, Light & Music's reply:

Thanks so much Allie! Wishing you and Eddie a wonderful holiday season, with so much joy! What a sweet couple, I'll always remember your bright wedding smiles :)

Peter D.

Married on 07/23/2022

Wonderful officiant. Beautiful music. Highly recommend!!

We met Debra over zoom after finding her website online. We immediately got along as she talked us through the process and curated the perfect ceremony! She was so professional and organised whilst at the same time really personable and easy to get along with. The ceremony itself was perfect. Debra played her guitar beautifully as guests gathered and we walked down the aisle. Numerous guests commented on how good it all was. I highly recommend Debra for whatever you have in mind. We were very pleased indeed!!!

Love, Light & Music's reply:

Thank you Peter, it was a pleasure meeting you and Spencer! I wish you many years together of abundant joy!

Kitty B.

Married on 07/15/2022

Excellent!!

We had a wonderful experience with Debra, the ceremony was perfect and we would not change anything. She sang the song beloved beautifully and brought tears to our guests eyes, we kept the song as a surprise. She has a great, warm and friendly personality and smile. Everyone raved about her. Thank you Debra for making our day so special, we would highly recommend her.

Love, Light & Music's reply:

Thanks to you Kitty and Gino, you make this work so much fun! Singing to you was a joy and a privilege !

Natasha N.

Married on 03/19/2022

Our Happy Day

Our wedding was perfect!! Debra did a great job putting together our story and walking us through our vowels. Debra helped everything run smoothly she came with such positive and warm energy which created a great atmosphere for our guess.

Love, Light & Music's reply:

Thank you Natasha! Merry Christmas to you and Josh and a happy and healthy new year. Wishing you all the best in your lives together!

Fred H.

Married on 12/21/2021

Beautiful, Charming, and Heartfelt

Debra brought her extraordinary talents into play for our Wedding. Not only was the ceremony carefully thought out and personal, the music she played made the ceremony so much more special for us and our guests. Everyone raved about the professional, yet intimate, ceremony she crafted and delivered.
The mood she set and maintained was a delight for all involved.
I can't imagine a more perfect person to have Officiated our special day.
Love, Light, and Music is only the beginning of what Debra brings to the table. I'm already thinking of a renewal of vows just so she can do it again. :-)
Thank you Debra!!!

Love, Light & Music's reply:

awww Fred, you are the sweetest. I love you guys so much! May your new year as newlyweds be filled with an abundance of joy!

Fran L.

Married on 11/17/2021

Beyond wonderful!

We decided on a last minute wedding and Debra helped us cover all the details we cared about, and gave us some great ideas as well. We loved the addition of a song which elevated the ceremony beyond anything else we could imagine. What a heartfelt, soulful connection, we are so grateful!

Thea J.

Married on 11/16/2021

Deb is authentic & thoughtful

Our wedding day was just what we had hoped for, and Deb was supportive and collaborative with us through the planning process. We had a very simple wedding, and when we told Deb our ideas and hopes for the short, simple and sweet ceremony, she essentially partnered with us through it to ensure it worked the way we had planned. Not only did she have a plethora of ideas and examples as we began to put the ceremony together, she also listened and absorbed the vibe we were hoping to create for our moment.

I remember when we first met her via Zoom (Covid times!), my husband said multiple times on the call, 'I like her.' We immediately felt her warm, calming energy and her confidence in helping us to make our day special.

Thank you Deb, we couldn't have asked for a better officiant, and we felt like we had known you forever - even before meeting you for the first time!

Love, Light & Music's reply:

Thea, what beautiful words to describe a connection. Thank you. What a pleasure it was to help you create the day you were hoping for. Wishing you years of great happiness!

Johanna P.

Married on 10/23/2021

Intimate house wedding

Last weekend we had a small intimate wedding in a vacation home on the water in Milford. We chose Debra initially for her musical talents and the overall openness and spiritual strength that came through in our first zoom meeting. Debra did not disappoint! The wedding was everything we envisioned! Our guests raved about her calming presence, singing and the individuality of our ceremony. Debra came by the night before for rehearsal. She was warm and patient. She wowed the toddlers in the family with her guitar. Debra even went out of her way to learn a song that has great meaning for us- "Marry me" by Train. It's that kind of personal attention that we are sure we would not have received elsewhere. We really can't say enough!! Thank you so much Debra!!

Love, Light & Music's reply:

Thank you so much! What a delight it was to marry you two, wishing you years of abundant joy and good health and lots of laughter!

Danielle C.

Married on 10/10/2021

Absolutely Magical!

So blessed to have had Debra officiate our ceremony! Debra made it very easy to create and open up a space that was filled with loving intention. From start to finish she helped us create a ceremony specific to our desires and executed it flawlessly! My Step Father commented that it was hands down the best wedding he has ever attended! He's not moved by much so this is very dear to me to know that he felt it! I would highly recommend Debra to anyone that is looking for a magicial ceremony!❤

Love, Light & Music's reply:

Thank you Danielle, you and Adam made it easy to bring magic to the day! What a joy to officiate your wedding!

Allison B.

Married on 10/10/2021

Spectacular!

Deb was spectacular in every way. She was prompt in responding, very detailed, and professional. She arrived early to our ceremony and was more prepared than any vendor. She did a beautiful job on both the ceremony and the music. Highly recommend if you are looking for an officiant and also include an entertainment piece. We were very happy and grateful!

Love, Light & Music's reply:

Thank you so much Allie! I wish you and Matt a beautiful life together and am grateful for the opportunity to have helped make your day spectacular!

Kelly R.

Married on 10/08/2021

Personal Ceremony

My husband and I were at first very concerned over who would officiate our wedding. After dating for 9 years we had a lot of history and personal stories/growth we wanted to frame and emphasize during the ceremony instead of allowing a more traditional templated/scripted presentation. We wanted to focus heavily on our relationship and the uniquity of our union and marriage, and not just the vague bigger picture details of what it means to marry someone or love someone in general. When we first found Debra something told us both that she would be able to do this for us and make this vision a reality, and we were right. After only one zoom meeting Debra quickly grasped and was able to see what motivated and drove our love, our relationship, and now our desire to marry. She also captured what key events and growth milestones were important to us that we felt best displayed who we are as a couple. All of this was then written up, personalized, and delivered at our ceremony to create the ceremony of our dreams. We knew we were right to have chosen Debra when almost all of our guests spontaneously throughout the night and subsequent week reported that this was the best wedding and ceremony they had ever been to, and that it was the most personal, intimate, and embodied everything a marriage ceremony between two unique individuals should be. That was what we wanted. That was what we tasked Debra with helping to facilitate and create, and that is what was presented on our most special day. Debra truly takes the time to create a ceremony that tells the story of the two unique individuals who are getting married and their story together. All while staying far away from the vague and cold generalities of discussing love and marriage only in the broadest of terms in relation to all couples. Your ceremony is not for and about any couple other than the two people on the altar with Debra, and she will tell your story and start your next chapter beautifully, intimately, and uniquely.

Samantha S.

Married on 10/03/2021

Debra was amazing! Highly Recommend

Debra was an exceptional officiant. She helped us plan a ceremony that felt like us and exceeded our expectations. She offered a long list of options to pick and choose how you want your ceremony to come together and then worked with us to make sure everything flowed just the way we wanted. She offered some great suggestions on how to make the ceremony even more special. We asked Debra to attend a rehearsal, which was definitely so helpful in making sure everyone felt comfortable on the day of. Debra also helped to coordinate the set-up of our microphone and our classical guitarist ahead of time - above and beyond what we expected! When it came time for our wedding day and ceremony Debra did a wonderful job. She was not rushed and carefully guided us through the ceremony. We would highly recommend Debra to anyone looking for a caring, compassionate, and genuine officiant. Thank you Debra!!! - Sam & John

Elizabeth F.

Married on 09/26/2021

Spiritual Wedding

We were over joyed with our experience with Debra. We were looking for a shamanic officiant and she was amazing. Debra walked us through the ceremony process from beginning to end. She has so many formats for you to choose from and use to create your own personal spiritual ceremony that has deep meaning just for you as a couple. Debra was available to answer any questions and guided us through the process with ease. We had multiple zoom meetings leading up to our ceremony. Her voice was amazing, so soothing, gentle and soul full. We asked her to play her guitar and sing. We had so many compliments from our guests about our ceremony and how it really spoke to them in their own personal way and I give Debra the credit for opening a space of love and acceptance.

Love, Light & Music's reply:

Thank you so much Liz, what a pleasure it was to marry you and Scott! Your joy and excitement was infectious!

Beth S.

Married on 09/18/2021

Perfect ceremony

Debra took us on very last minute. She worked quickly to write a personalized ceremony for us that we absolutely loved. We would recommend her to anyone!

Love, Light & Music's reply:

Thank you Beth, I loved meeting you and John and your family! And I will never forget those bagpipes! Many blessings ...

Cheryl K.

Married on 09/12/2021

Debra was amazing and the perfect person to marry us !!!

To say Debra was amazing would be an understatement. From the first contact via wedding wire to the last moment the day of our wedding everything was absolutely perfect. Debra was extremely professional and organized. The ceremony was beyond beautiful . Be sure to bring plenty of tissues :) We highly recommend you give Debra a call, you wont be disappointed I promise !!

Love, Light & Music's reply:

Thank you Cheryl, it was such a treat to be part of yours and John's wedding, a true delight and honor in every way!

Melissa M.

Married on 04/11/2021

Perfectly done

We decided on a JP for our wedding. We were kind of all over the place with what we wanted but Debra was there for us from the very beginning.. from meeting with us initially in Zoom and through our countless email questions right up to our wedding day. We had changed our date with little notice and she happily accommodated. We didn't meet her in person until the day of our wedding (due to covid) and it was like she knew us for years. Very attentive, responsive and has so much to offer from a small family ceremony like ours to the bigger more lavish ceremonies. She even filed our license the next day. Highly recommend!

Love, Light & Music's reply:

Thank you so much Melissa! I truly loved meeting your family and I'm so glad you loved the sand unity ceremony idea for your beautiful blended family! Wishing you a lifetime of joy together!

I highly recommend Debra!

When I looked for a Justice of the Peace to perform a wedding for my fiancé and me, I saw there were many choices. What made Debra Lynn Alt stand out with Love Light & Music is the fact that she offered music. We wanted something simple and precious for a last minute ceremony because we wanted to travel across the country to see family after getting married. We did not know the marriage license and certificate process, but Debra helped us get the license and was so friendly. Also, Debra created a ceremony that was so beautiful and well organized. We picked one song from Debra's song list, and her singing for us was much more awesome than when we saw her sing on her website and Facebook.What I really appreciate is that Debra helped us find a beautiful and sweet place to get married. We did everything we needed in less than 2 weeks with Debra's help. We are so grateful and lucky that we met her and have such beautiful memories of our wedding. After our ceremony, Debra gave us a present with a lovely card and helped us get the certificate. I would recommend Debra for any kind of wedding you would like to have.
JK and YJ

Love, Light & Music's reply:

What an absolute pleasure it was to marry you two! So very sweet and so delighted we could have the ceremony by a piano and enjoy music to highlight the event!
Are you interested?
Send a message