Reviews
5.0 out of 5 rating
Quality of service

5 out of 5 rating

Average response time

5 out of 5 rating

Professionalism

5 out of 5 rating

Value

5 out of 5 rating

Flexibility

5 out of 5 rating
100%
Recommended by couples
2 User photos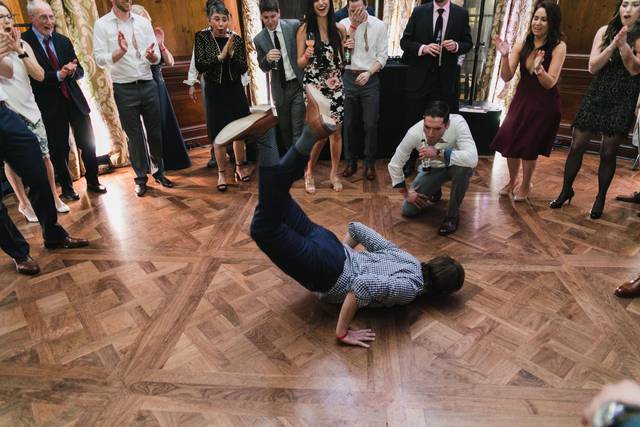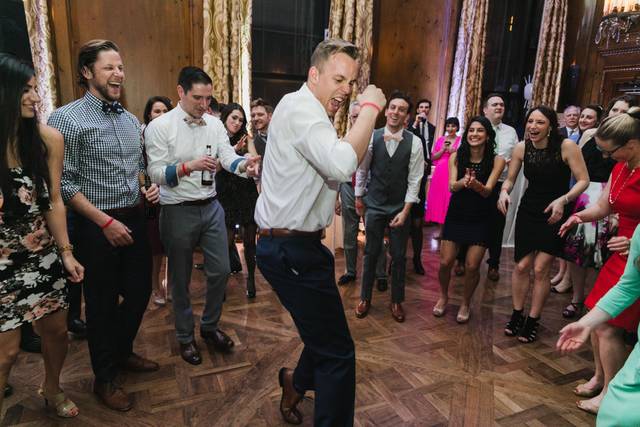 Eric F.

Married on 10/08/2022

Ben made our wedding perfect

Ben was referred to us by another couple who had glowing things to say about him, and we're so thankful for that. He exceeded our expectations. He's a true professional in that he knows exactly what music needs to be played to get people dancing, but also hits the perfect cues during the ceremony and provides a great atmosphere during dinner. Wedding planning can be very stressful, and Ben's professional and calming demeanor put us at ease.

Elizabeth M.

Married on 11/13/2021

An Unforgettable Wedding Thanks to Ben

Hiring Ben Goldfarb (DJ Scribe) of Love Junkies NYC was one of the best wedding decisions we made. We received SO many complements from guests young and old telling us that he "made" the wedding. We were so pleased with his overall performance. People I didn't even expect to see dancing were letting loose and having the time of their lives at our wedding. It was an unforgettable party.
What caught our attention about Ben in the first place is his knowledge and passion for music. His own musical tastes are far and wide and align with ours, and we knew right away from his sample playlists that he was the one. So one of the key factors was that we could completely trust his taste. His competence and fluency in intergenerational music was one of the things that set him above the rest---we didn't get this vibe from any other DJ found in our initial search.
For many months leading up to the wedding, Ben had meetings with us to go over what we were looking for and what he provides. He was always super helpful with a very chill demeanor that allayed our wedding jitters. Ben did deep research into our personal playlists we provided for him, so that he could capture the essence of what we like and expand on it. His DJ Worksheet is set up in such a way that he plays all of the requisite songs and compiles others for guidance. At the wedding he was right on cue with all of the announcements and sections. He's been doing this for a long time and is very experienced, so everything felt smooth and under control. I highly recommend Ben if you are looking for an unforgettable night of great vibes and incredible dancing.


Daniel

Married on 09/25/2021

Love Junkies + DJ Scribe, The Best Wedding DJ!

Ben at Love Junkies NYC was easily one of our favorite vendors we worked with for our wedding in Sep 2021. He was so responsive and professional and helped us navigate the difficulties of scheduling a wedding during the pandemic. We had to change our venue a couple of times, and Ben took everything in stride. He also helped seamlessly organize an indoor/outdoor and band/DJ hybrid set up. His method for working with couples was really well thought out and allowed for people to help tailor their desired music songs/genres. Most importantly, the set list and sound were awesome and everyone in our wedding was dancing their heart outs! We would absolutely recommend Ben and his company to anyone looking for a wedding DJ.

Are you interested?

Send a message

Rj Mcnamara

Married on 09/29/2018

"The Best Wedding Music" - All of Our Guests

My wife and I worked with Ben after hearing him perform for a wedding we had attended previously. Ben is super easy to work with, and has a nice system in place for running through all the ins and outs of a wedding day. Most importantly, Ben is super collaborative and can take the songs/vibe you're going for and bring it to the next level with his extensive knowledge of good music. We loved working with Ben and had several friends ask us for his info. Could not recommend more strongly!!

Emily

Married on 08/25/2018

To start, I started referring people to him before he even played at my wedding because I just really liked him as a person. I was introduced to Ben from another DJ from NYC who said Ben was the best DJ he knew in the area, and was always his go-to when referring DJ's. I was very impressed by that DJ- so I thought he was a very credible source and eagerly said yes and booked Ben right away.

Ben then exceeded every expectation I had. As many brides and grooms know, good music and a good DJ is the MOST important part of the wedding - next to an open bar of course. If your music sucks, it's likely your wedding will too. So as anyone would be, and even though I had faith Ben would be great, I was still nervous and stressed about it all working out.

From the beginning Ben was cool, calm collected, and very kind. There were multiple occasions where he calmed me down as I was having a bridezilla moment. I specifically remember one email exchange when I was panicking about something stupid, and apologized for being all over the place. His response was "everything will be fine. i promise. really no need to worry. i will take care of you and the music and you won't be worried." I legit cried at that moment because I felt like I truly was being taken care of and that I didn't have to worry, and that meant the world to me at the time.

Then the day of the wedding came and he made sure he took the time to personally introduce himself to me and my husband, and then killed it (in a good way) all night long. He played everything I asked for and more. I even had multiple different groups of people come up to me during and after the wedding to talk about how great the music and DJ were. Some even said it was the best one they ever heard and were planning on using him for their wedding. I truly couldn't have had a better experience, and I am very grateful I was introduced to Ben. He made the party, and we partied our faces off and danced the night away.



Priya

Married on 04/07/2018

Jon is a true professional who takes his craft seriously. He loves music and has extensive experience across genres which enables him to make a perfect template to play the music you are looking to hear on your day. His client service is also excellent. He is responsive and exceptionally organized and was able to help plan some of the order of our events using his experience that we had not yet thought of.

From our first email conversation to our video chat to our correspondence as we discussed music we wanted to have played, Jon was kind, patient and an excellent listener. On the day of our wedding he played what we had discussed, kept events moving on time and helped smoothly guide the day while playing some great tracks without some of the fanfare we have seen from other DJ's. Jon uses great equipment and even visited our venue to ensure he understood the layout and where he could best position himself for acoustics and MC duties. Highest Recommendation.

Laura

Married on 09/16/2017

We can't say enough good things about Jon! We were afraid that we'd end up with a corny wedding DJ that was constantly on the mic all night long, so our wedding planner friend directed us to Jon. He was exactly what we were looking for! From the moment we reached out to him, he was incredibly helpful and professional and guided us through the entire planning process. His playlist was upbeat and so incredibly fun, and we appreciated the fact that he checked in with us before playing music requested by the guests to make sure we were happy with everything he played. Three months later and I'm still getting compliments from guests and family on how great a DJ Jon was. We recommend him to anyone who wants a hassle-free experience with a DJ who knows exactly what he's doing!

Jenna

Married on 09/09/2017

From the very first moment we got an email back from Jon Oliver, we thought we had won tickets to the Brit-hosted HBO show. But from the moment AFTER that, once our confusion dissipated—the SECOND moment—he was patient and professional to a fault, and the perfect wedding DJ. He was the calm rock to our waves of inexperience and neuroses, and brought considerable expertise and experience to help us throw an awesome wedding party for 100 of our closest friends and family. We had rave reviews from everyone—my 80-year-old grandparents danced their butts off, the best man works at Capitol Records in LA and was belting out the lyrics to Panic! at the Disco, and one of my husband's high school friends even said that he had more fun at our wedding than his own. There wasn't a bad song in Jon's set! Plus, when my family requested the Hava Nagila be played 4 times in a row, so everyone could go up on the chair, Jon was flexible and kept it on repeat. It was such a blessing to have a professional keep us from going off the rails while planning the wedding, and we were even amazed two months later when it turned out Jon had recorded the speeches and ceremony! He is just the best, top notch person.

Hillary

Married on 09/02/2017

We hired Jon as our DJ for our Upstate NY wedding in September. He was easy to work with, quick to respond - a true all-around professional. He has lots of experience DJing weddings and was able to give us suggestions and recommendations when we had questions. He had lots of good worksheets that made it very easy to brainstorm on songs/music selections and helped you think through the whole day. He provided music for pre-ceremony, ceremony, cocktail hour, and reception - he is a machine! It was also super important to us that vinyl be used as much as possible. Jon has an incredible vinyl collection and it really made the night for us. The vinyl was an extra charge over his standard fee (which is extremely reasonable) - and for us, worth every penny. He also provided editing for ceremony music, first dance, and parents' dances that helped make the moments absolutely perfect. He really got the vibe we are going for and ran with it full speed. We could not have asked for a better DJ! I would recommend him without hesitation.

Jane

Married on 09/01/2017

Jon was the perfect DJ for our wedding. He met with us multiple times to get an understanding of who we are and what we wanted, and also brought his own wisdom and knowledge to the equation, leading to an epic and electric 3+ hour dance party. This was confirmed by many of our guests who said it was the best wedding DJing they'd ever witnessed. He clarified every last detail with us and was completely professional. Literally nothing went wrong! I wish we could do the whole thing over again! Thank you, Jon!


Kathryn

Married on 08/12/2017

Worth every penny! The dance floor was packed all night and everyone LOVED the music. Jon was very responsive, organized, and professional - a dream to work with. He met with us several times to craft our playlists and provided really helpful guidelines for timing, genres, etc. We heard every song we wanted to and none we didn't. Zero stress on our end. LOVED Love Junkies.

Laura

Married on 08/05/2017

Jon was a pleasure to work with. He was very organized about getting all the information he needed from us before the wedding. We had a call with him to talk about the direction for different phases of the night and he made great suggestions based on our input. He also was super diligent about making sure we had all the right equipment for our outdoor DIY venue and everything went off without a hitch. He did a wonderful job of announcing speeches and the whole thing felt seamless. The music was perfect and had guests of all generations up and dancing all night. We had so much fun and he brought such great energy to the evening. I would recommend him highly for anyone looking for a DJ for a wedding or other event. Thanks Jon!!!

Jon was great to work with and had a good sense of humor. He kept the party energy high during our reception, and we would highly recommend him to another couple looking for a DJ! Or even for a non-wedding party. We thought that the phone call in advance of our wedding to review some of our song choices was extremely helpful.

Aaron

Married on 07/01/2017

We couldn't have asked for a better experience working with Jon. He listened to us, gave us useful/practical advice and was extremely responsive throughout the process. The dance floor was packed all night and compliments are still coming in about the music. He's dynamic and did a great job of weaving different genres to keep all guests entertained as well as incorporating all of our must-play songs.

Late on the Thursday before our wedding, we wanted to make a change to the first dance song – not only did Jon accommodate this, but he sent us multiple edits to choose from. This was after he aptly pointed out a few weeks prior that another potential song had some lyrics that were maybe not the most appropriate for a first dance.

A few other positives worth noting:
-He's actually mixing, cutting, etc. (been to a few weddings where DJ's play songs start-to-finish and it is painful to watch)
-He liaised directly with the venue leading up to the date so we didn't have to be a middle man
-His fee is fair and he is very transparent about everything he provides and needs (no surprises or last minute costs)

Kaity

Married on 06/10/2017

Jon is an incredibly talented DJ and we were so lucky he was available for our wedding day! He made the entire planning process so seamless and fun. He provided worksheets for us to fill out and we were able to request a ton of songs and genres for our cocktail hour, dinner and reception. Jon really paid attention to our musical likes and dislikes and made sure the songs played at our wedding were exactly what we had in mind. He even worked with me the day before our wedding in editing down our wedding song to be the perfect cut! He was such a pleasure to work with at our wedding – music was exceptional! He really paid attention to the dance floor enthusiasm and catered to the vibe of the room when playing music. Our guests had a great time. I highly recommend the Love Junkies!

Jon was absolutely fantastic! He was very professional and really fun to work with. Andrew and I didn't have to worry on our wedding day and he really got the crowd dancing all night long! Thank you for a great day!

Graham

Married on 06/03/2017

I really cannot say enough good things about the experience Jon delivered on our wedding day. Not only did he curate an amazing playlist for every facet the event (cocktails, dinner, dancing, entry) but the transitions were all seamless, the sound quality and volume was excellent, and the timings were on point. It was very professional that Jon did not try to inject any extra flare (i.e. hype man) and just let his skills do all the work. If we ever have another event that would benefit from a DJ, we'd definitely choose Jon in a heartbeat.

Courtney

Married on 04/22/2017

Jon was an amazing DJ! He met with us in person before the wedding to go over our tastes and what we wanted for the ceremony and reception. He was professional, responsive, and brought up things we hadn't even thought of! He was on top of everything leading up to the event, including going direct with the venue to work out the space and set-up. And then the night of he was even better than we expected. Friends couldn't stop raving about how he kept the whole wedding on the dance floor the whole night! We still have people ask for his information. We couldn't recommend him more!

If you're looking for an A-list DJ that really knows music, can read a crowd, and that will have everyone talking about how good the music was at your wedding... Love Junkies is it.

Jon was truly a highlight of our wedding. We continue to feel so lucky to have found him. He provided seamless A/V support during the ceremony and dinner toasts, which was no easy feat given that the co-best men sang over snippets from four different songs in their toast. In addition, there were multiple setups across various rooms at our venue, and Jon & his assistant were able to handle it all without any problem.

Best of all was the music and atmosphere that Jon provided. He helped guide us with music genre & song selections for each component of the night based on our interests, and he built on that to keep the energy up from cocktail hour to the last song on the dance floor. He appealed to both older and younger crowds, peppered in some of our favorite artists, and really set the tone for an awesome party.

Bottom line, Jon is excellent at both planning and execution. He's organized, reliable and creative. We are so grateful to him for all the work he did to make our wedding even better and more memorable than we'd imagined. Thank you Jon!!!

Jon was a pleasure to work with. We knew Jon was a perfect match from the very first time we met him. He listened to our requests and came up with a music list which perfectly suited our style. We also loved that he is a full-time DJ, so he knows what he is doing.

Bethany

Married on 11/12/2016

Jon is absolutely fantastic. So easy to work with and provided us with great guidance on putting together our music list. Jon had EVERY person up dancing. It was unbelievable to experience being on the dance floor with amazing music surrounded by all our family and friends. The whole night all our friends kept coming up to us complimenting us on the DJ and asking how we were able to get him. Jon also make the experience leading up to the wedding completely stress free. Thanks Jon!

Stephen

Married on 11/11/2016

Jon was outstanding and a pleasure to work with throughout our wedding planning and the event itself. He worked closely with my wife on the playlist, combined vinyl and digital seamlessly, and helped us structure our toasts and the flow of the evening in subtle ways that made it all come together. Jon was also just a very sweet, patient guy in the face of a big, complicated wedding -- we did cocktails, the ceremony, the dinner, and the reception in the same venue, and he planned and executed all of the music for each stage. He connected with the folks at the Gramercy Park Hotel, tested all of the equipment, and even created custom, extended versions of our processional and recessional to make certain we had enough time. Love Junkies made our wedding day fantastic, and we can't thank Jon Oliver enough for all of his help and kindness!

Kathryn

Married on 11/05/2016

Love Junkies (Jon Oliver)
Jon is an incredible DJ and we were lucky to book him for our November wedding. He is the ultimate professional and it certainly showed at our wedding. From my first inquiry, Jon was extremely responsive and I totally trusted him and felt comfortable that the music was one key area we would not have to worry about. And Jon certainly delivered. He had the crowd dancing from the first song and left us wanting more at the end of the night. The music was perfect and appealed to the older and younger crowd without any of the typical (cheesy) wedding fare. The sound was perfect and he put a lot of thought into the setup. Our guests could hear every word of the speeches which, having been to many other weddings where that was not the case, made a huge difference. Jon also did the sound for our outdoor ceremony so our vows were audible even to friends in the very last row. All our family and friends raved about the music and how fun our wedding was which we owe to Jon. I can't recommend LoveJunkies highly enough.

Samer

Married on 09/30/2016

Jon was amazing. Came to meet us in our neighborhood, quickly understood our music preferences and the direction we wanted to go in, edited songs for us, and was always responsive and super easy to work with. When the wedding night came, he let the music do the talking, read the crowd perfectly, recorded the toasts (really nice touch), and really brought life to the party. He's a true professional and really good dude. We couldn't imagine finding a better DJ to keep our friends and family dancing. Thank you, Jon!!

Sam & Aysu

Ted

Married on 09/17/2016

We were lucky enough to hear Jon DJ a friends' wedding in New York before planning our own, and thought he would be a great match! And he lived up to our expectations. The planning was easy with his spreadsheet and a number of helpful video consultation calls. Jon took our diverse musical ideas and put together a fantastic set which had everybody dancing and having a great time.
Are you interested?
Send a message