31 Reviews
Recommended by 100% of couples
Quality of service

5 out of 5 rating

Average response time

5 out of 5 rating

Professionalism

5 out of 5 rating

Value

5 out of 5 rating

Flexibility

5 out of 5 rating
24 User photos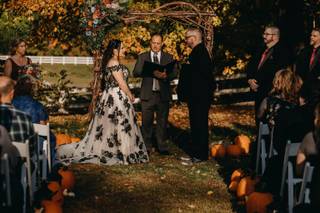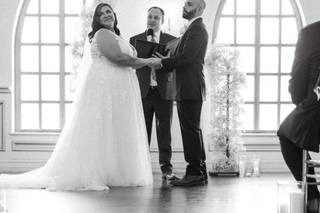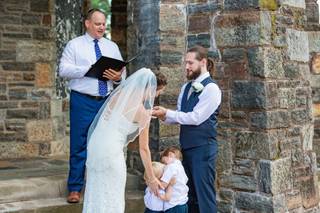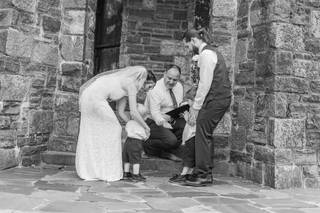 + 20

photos
Kathy S.

Married on 10/15/2022

Best Wedding Officiant

If you are looking for someone to officiate your wedding stop right here! Dave is incredible! We met Dave to see if he was the "right fit" and we knew instantly he was. He made us feel comfortable, made us laugh and helped us plan our perfect ceremony at the first meeting!! Dave was easy to communicate with and fast to respond. The day of our wedding I was so happy to see Dave arrive and his calm nature kept us calm. My dad loved how he walked him through his job of walking me down the aisle and the official "handoff" to my husband! My photographer loved how Dave knew to "dive out of the way" for our first kiss shot! Our guests couldn't stop telling us how beautiful and special our ceremony was! Dave was perfect from beginning to end and I'm so thankful we found him for our wedding.

Chrissy S.

Married on 08/20/2022

Simply the Best!

One of the best choices we made when it came to our wedding was choosing Dave as our officiant! He is professional, charismatic, and overall a great human being. He brought a level of calmness to one of the most stressful and high emotion days that made us both take a deep breath and relax. The months leading up to the wedding, he was prompt and responsive and made the whole process very seamless! Our ceremony was intimate and beautiful, and is something we will both remember for the rest of our lives. I cannot recommend and speak highly enough of Dave! Everyone at our wedding had something wonderful to say about our ceremony and it couldn't have been possible without him!

Megan P.

Married on 08/07/2022

Fantastic to Work With

David was a great officiant to work with. We had a small ceremony, that we had planned on our own. He was able to work with us and create vows that were just what we were looking for. Something simple, and included our children in the process. It was perfectly imperfect!

+ 3

photos

Are you interested?

Send a message

Jill C.

Married on 07/30/2022

Setting the Perfect Scene

I'll be honest! I'd fully forgotten about the need for an officiant and realized about a month out from my wedding day. To put it simply, I was STRESSED out! But that all changed when I got to connect with Dave.

After reaching out to Dave on The Knot, he was (thank god) available for our wedding day. And he was immediate in his responses and incredibly enthusiastic. We decided to set up a meeting for later that same week and upon meeting him, we knew we'd made the right choice. Dave was immediately energetic, personable, and charismatic and we knew he'd be the best person to officiate our ceremony. In that first meeting, he broke everything down for us in a really clear and easy-to-understand way that made all of my nerves and fears dissipate. I just KNEW we were in good hands.

My fiance and I aren't very religious and tend to be pretty chill. We wanted a short and sweet ceremony and Dave delivered exactly that for us. He matched the vibe we wanted to a tee! After that meeting, he kept us up-to-date and informed on the script and progress and I never worried. I was able to just show up on wedding day and everything went as planned. It was a beautiful ceremony with laughs and happy tears and Dave really made it all come together. I cannot thank him enough!

Ally S.

Married on 07/15/2022

Such a wonderful ceremony!

We had the privilege of working with Dave for our special day. He was incredible! He had everything written out for us to proofread before hand and he ran the ceremony with grace. He was on time and looked sharp too! We're so happy our ceremony went so smoothly. I cannot recommend him enough!

Courtney A.

Married on 06/25/2022

Highly recommend Dave!

Dave was an amazing officiant and I'm so glad we chose him. He was easy going, experienced and clearly loves officiating weddings. He made great suggestions for how we could make our ceremony special for us even though we didn't want to write and recite our own vows. His communication was great and keep us feeling calm and assured that our ceremony would go smooth.

Vicky

Married on 06/12/2022

A great experience from start to finish

Dave is absolutely wonderful! From our first conversation, we knew that he was the right officiant for our wedding. He was warm, genuine, and full of humor. He was helpful in reviewing our personal vows, and throughout our planning process. Many guests told us after our ceremony that Dave was the first wedding officiant they had seen who made a positive impression on them. Dave crafted the perfect ceremony for our vision of our marriage and our wedding.

Amanda G.

Married on 05/01/2022

Completely Personalized and Professional Ceremony

David was absolutely fantastic. He helped us completely customize our ceremony and had offered up several suggestions for readings, vows, and general passages for the ceremony. He also was completely flexible and open to us finding our own things and customizing the language. Additionally, he was completely comfortable adding on/taking away religious aspects of the ceremony based on our comfort level. He never made us felt pressured to make choices in the ceremony based on his preferences leaving us with the feeling of a truly customized and personalized ceremony, just for us. On the wedding day, he showed up promptly and checked in with us to make sure we were comfortable and make sure there were no last minute changes. It was fantastic. He did all of this for an insanely reasonable price. Cannot say enough good things!

Bryanna G.

Married on 04/23/2022

An Amazing Experience

Hiring Dave was one of the best decisions we made for our wedding! He is responsive, reasonably priced, and knowledgeable. He has a great personality for this job, and our guests loved him. Dave traveled quite a distance for our wedding, which we appreciated. We also got married in a different state than where Dave is licensed, and he took care of all the necessary paperwork promptly. After meeting in person, Dave will share a copy of your wedding ceremony with you, and you can edit it as much as you want. We are pretty traditional people, but Dave has some unique options for your ceremony that we loved and used for our ceremony. Dave is kind and easy to work with. I would recommend him to anyone!

Jordan T.

Married on 02/05/2022

Intimate Wedding at Heavitree BB

We contacted Dave only 2 weeks prior to our wedding day and could not believe how quickly and professionally he put together our perfect ceremony. After a single video chat we felt confident that we were in good hands and all of our worries over words were relieved. He is very personable and brought a smile to all on our wedding day. Can't thank him enough and highly recommend him!

Emerald

Married on 01/21/2022

Dave is great

Dave is fun and energetic with an open mind and a willingness to step outside the box for a wonderful, personal, non traditional ceremony.

Sherry S.

Married on 12/21/2021

The perfect fit!

There are no words to accurately communicate how wonderful it is to work with Dave. He helped us lean everything we didn't know about how to set up a wedding ceremony and created a beautifully romantic celebration of love that WOWED all of our guests. The best part is that he did all of this through just one highly enjoyable, brief, in person coffee session and a phone call run-through the week before the event. For us, the knowledge that things were "taken care of" allowed us to focus on the other moving pieces of planning the event. That being said, any question or update I had for Dave, was responded to immediately and I always felt that he was actively involved in our planning process. He anticipated our preferences and needs in a way that really showed how perfect he is in this role. We are actively working on coming up with excuses to work with Dave again!

Nicole G.

Married on 10/17/2021

Couldn't have asked for a better wedding officiant!

It was an absolute pleasure to work with Dave throughout the entire process. He is highly responsive and truly helps you create a ceremony based on your personal style and preferences as a couple. Our ceremony was perfect and brought us both to tears. He's a genuinely great person and we highly recommend him - you won't be disappointed!

Valaree D.

Married on 10/09/2021

Reliable Officiant Made Our Day Our Own

David was wonderful to work with. He is kind and funny and arrived at our venue on time and ready to go. He worked with us to make sure that our ceremony went smoothly, allowing us to have input on the the script and timing of our vows. If you're looking for someone to marry you - David's an excellent choice!

Nicole S.

Married on 10/08/2021

Amazing, very professional, made us feel very comfortable.

We could not have been happier!!! He was professional, he explained everything to us and gave us choices. Everyone at the wedding commented on how beautiful the ceremony was. He was the best!!

Patrick D.

Married on 10/02/2021

Dave is the best!!! Made the day so fun and so easy!!!

Dave made the entire experience so fun and took a lot of stress and nerves away from us. We met via zoom and once more in person to go ever what we wanted said at the wedding. He knew exactly what we were looking for, short and sweet. He wrote up several options for us to choose from, and let us piece whatever we wanted together. We obviously could have done custom, but the write ups Dave has are perfect. There were a few inside jokes from our meeting, so throughout the ceremony we were all laughing. He made sure to back out of the photo during the kiss, which was a big detail my Wife asked him about. It made the day super enjoyable and stress free. He also did all the leg work regarding the documents and the boring stuff! We would have been lost without Dave. My Partner, capital P, and I will always remember our wedding day/ceremony because of the laughs, and we will recommend Dave to anyone for years to come!

+ 2

photos

Chealsey O.

Married on 09/17/2021

Best jop ever!

Dave is AMAZING and was exactly what my husband and I were looking for! I never met anyone who responded so quickly to emails and was very understanding when we postponed our wedding from 2020 to 2021 due to Covid. We expressed to Dave we wanted a very short ceremony and he made it happen without a question. Dave was very professional, well dressed, and very well spoken. Hire Dave!! You will NOT be disappointed!!!

Michelle S.

Married on 06/12/2021

The best!!

Dave is literally the best justice of the peace! He knew exactly what we were looking for and answered all the questions I had. Definitely recommend

Dharma S.

Married on 03/26/2021

Just The perfect ceremony ❤️

Dave.. He is a guy with a lot of experience very professional, since the first time he made us feel comfortable and he helped us to find the perfect ceremony according to our personality and beliefs. We just recommend David as your Justice of peace to celebrate your special day.. 💯/ 💯 👏🏻

Joyce R.

Married on 12/27/2020

Highly Recommended

David was easy to work with from the beginning and was great all the way till the end. His website was clear about expectations. Checking in with us throughout, David helped to make our special day perfect and memorable.

Rob V.

Married on 11/01/2020

Absolutely Incredible

I could not possibly begin to even describe how wonderful David was through this entire process. Let me tell you, me and my wife are incredibly picky people and David blew us away. He was polite, fair, charismatic, at tentative, responsive, caring and overall just a great guy. He made everything so easy for us and made sure our ceremony was the best part of our wedding. Don't consider David, just choose him. I'm telling you it's one decision made out of the countless decisions you'll have to make that will not be regretted. Thank you a million times over David, you were simply incredible.

Hali B.

Married on 08/15/2020

Life saver!

He was a pleasure to work with. My husband couldn't find anyone to tie his tie, he saved a total melt down, but also made our ceremony picture perfect. Beautiful words spoken, and had the whole family engaged in the ceremony. Highly recommended!!!!

Rithy V.

Married on 06/20/2020

Dave was great!

Dave was a awesome! He was great with communication and is truly a nice and friendly person. We were suppose to get married last year but got postponed until this year and Dave stayed as our officiant. He has been great keeping up with communications with us the entire time. On our wedding day we couldn't ask for a better service from Dave, he was fantastic! I would highly recommend Dave for his service.

Terrel S.

Married on 06/20/2020

Excellent and flexible

Would absolutely recommend Dave to any couple looking to be married. My wife and I had to change venues from California to Connecticut and Dave was able to meet with us and help us out together a perfect ceremony in less than TWO WEEKS from the wedding date.

Janet M.

Married on 05/23/2020

Amazing All Around!

Dave is absolutely amazing to work with. We booked with him for our 5/23/20 wedding and unfortunately we had to postpone our reception due to COVID-19. Dave was responsive and helpful when we had to postpone to 2021. We were lucky enough to still have to have a small private ceremony with our families on 5/23 and Dave went out of his way multiple times to be there for us and make our ceremony beautiful! I can't wait to work with him again for our ceremony/reception in 2021. I would highly recommend Love Honor Cherish to all couples looking for a caring, well spoken, helpful, and loving officiant.
Are you interested?
Send a message