174 Reviews
Recommended by 96% of couples
Quality of service

4.8 out of 5 rating

Average response time

4.8 out of 5 rating

Professionalism

4.8 out of 5 rating

Value

4.8 out of 5 rating

Flexibility

4.8 out of 5 rating
63 User photos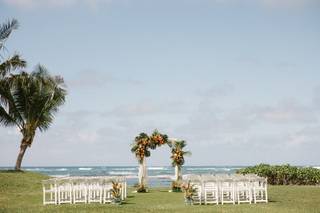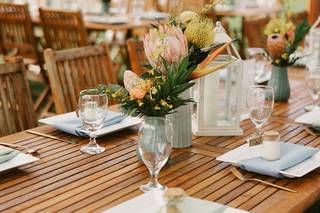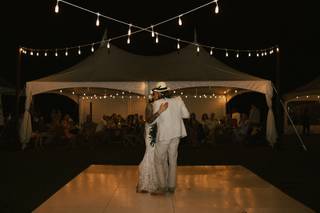 + 59

photos
Featured

Tim G.

Married on 11/05/2022

Dream wedding at stunning venue with amazing coordinator

Loulu Palm was an absolute dream location for our wedding. The North Shore of Oahu is such a beautiful location and Loulu Palm takes full advantage of it. Although conveniently located on the highway, it feels completely isolated and private, with a stunning beach location and gorgeous grassy area and huge lanai. Everyone who arrived was in awe of the location. The team at Loulu Palm were amazing to work with. Lynn and Nickie were so helpful and kind, particularly when we had to change our date about 5 times due to the pandemic! Our wedding would not have happened without the support and care of our planner, Linda Kress, though. Her advice was top notch, she always kept us calm no matter what, recommended the most amazing vendors to us that all did a superb job and went above and beyond to make our vision for our wedding come true. She also had beautiful touches we wouldn't have even thought of - live cutting of coconuts on arrival, a malasada truck, an Aloha sign that looked so good on the hill. On the day she was amazing at making sure everything ran smoothly so that we didn't have to worry about the details. We couldn't more highly recommend Loulu Palm!

Adriana M.

Married on 03/02/2023

I Do in Paradise

I could not have found a better place to have our wedding at. The venue was beautiful since we arrived. Greenery started since the gate with flowers everywhere and the sound of the wave! I'm not going to lie I burst out in tears when we walked throw the back doors and I saw the whole thing in person for the first time!! From booking to planning to the actual day everything was smooth and stress free. We were on a tight budget and Ashley made it possible to still have a wedding in paradise and not burn a whole in our pockets. She made it so easy and fun. When we got there the day off even though we were running a bit late she made me fell calm and relaxed she kept telling me not to worry and that she had everything covert and she sure did!! We had a whole room to get ready the room was a good size and it was just me getting ready in it. It did have AC which was PERFECT! One thing I would recommend it use the whole day! We had it from 11 am to 11 pm but didn't start until 4 pm so I would say have an early ceremony so you don't have to rush anything and just enjoy the time!
We had the following Vendors:

Bartender: Recommend by Ashley Issac (He was the BEST and every one loved him)

DJ: David Asing (I was a little upset with him because he messed up our first dance but we just went with it. I'm sure there was just some miscommunication he was pretty basic but it was good for the cheap price, we also got the fire dancers and drum players with him which were GREAT but they were 2 hours late and even though we paid for 15 min I'm positive they weren't even there for 10 min, but over all the guys were great and our guest LOVED the surprise.

Catering: Keneke's Bluesky catering(also in the recommendation from Ashley) (I have not express how AMAZING THE FOOD WAS!!!! And not to mention within our budget!! I had made so many changes and Carmela was the one who helped me every step of the way!! They even let us take the left overs home and the staff was great!! Seriously everyone kept telling us how this was the only wedding they had every gone to that had GREAT food!! We had the following;
Keneke's "Sit Down Serve" Wedding Special
1 Meat Choice: Hibachi White Meat Chicken
4 Pupu Choices:
1. Shoyu Poke 2. Mango Chicken Skewers
3. BBQ Pork Skewers 4. Shrimp Cocktail
1 Salad Choice: American Iceberg (can we get Ranch with this)
1 Bread/Roll Choice: Traditional Butter Rolls
2 Starch Choices:
1.Garlic Red Potatoes 2. Yakisoba

Wedding Day of Coordinator: Ashley Fennell (AMAZING)

Wedding Officiant: Kalona Ortiz, she was great and I was able to create the whole ceremony from drafts she gave me. Also for a good price

Cake: A Cake Life, the cake was a little more expensive than what I was hopping for especially since it was a small 2 tier cake. BUT it was so worth it and they got it SPOT ON to what the picture I had send them and the flavor was ALL there besides me only getting ONE bite for the picture it was amazing and everyone kept saying so. We had the (1) 2 tier cake small serves 20-30 Round 6" vanilla chocolate marble cake with chocolate cream and fresh raspberry filling Round 8" yellow butter cake with fresh strawberry cream filling. Shades of teal smooth-ish/ stucco-ish buttercream icing

We kept it super simple and didn't do much decorating as the location itself was enough! Don't worry so much about the materialism or decorations just focus on the love in the air and having your loved ones there to celebrate your love!!

+ 10

photos

Helen B.

Married on 11/12/2022

Dream Wedding Finally

Having our wedding at Loulu Palm was a dream. We were originally supposed to have our wedding in June 2020. Due to the pandemic we ending up having to reschedule multiple times. Our coordinator Linda, was amazing throughout the whole process and stuck with us even when everything was chaos with covid. Finally having our wedding this November was more than we imagined. All of our guests had a blast and said it was the the best wedding they had been to. I would say so much of that was due to how beautiful the venue is and how Linda helped us find the best vendors. Using her coordination meant so much less work for us and she recommended the vendors she works with all the time that know the venue well. She also helped us find ways to save money and stay on budget. If you're leaning towards a Hawaii destination wedding this is the best hands down venue you can find. You get the views of the beach but the privacy that you won't get at a hotel or resort. All of the staff at Loulu Palm are so friendly and want to make it the day of your dreams. 100% recommend to anyone looking at a Hawaii wedding. You will not be disappointed.

Are you interested?

Send a message

Stephanie N.

Married on 11/11/2022

A magical wedding venue!

Loulu Palm is such a special place and made all of our wedding dreams come true! I loved working with Nickie throughout the whole process and she was so patient and accommodating with helping us to finalize our wedding rental inventory list. There are very few places on island where you are able to have both an ocean view on one end, and some of the mountains behind you on the other - it is truly a magical place for beautiful memories to be made!

Jacqueline

Married on 09/30/2022

Amazingly perfect !!!!

I read some reviews and I honestly couldn't disagree more. This venue has EVERYTHING! The beauty, the beach, the weather, the history and also was rustic yet modern with such an aloha vibe. You can get your venue, coordinator and equipment/ decor from the same place. Ashley Fennell was my coordinator and she was absolutely amazing. All my guest complimented how great and easy she made everything feel. She wasn't scared to get the boys in line and listening, she honestly felt like family and treated us the same. She made all my stress and worry feel easy and effortless on my day. Truly a special place and every single 90 guest I had on this destination wedding won't stop telling me how perfect it all was ! If I could relive my wedding everyday there I would without hesitation!

+ 7

photos

Jenna S.

Married on 09/01/2022

Say yes to this location

I do not have enough words to fully describe Ashley's positive impact on the planning of our wedding, the wedding week and day of the wedding. From our first call to our first meeting I felt like I had a best friend or sister (minus the drama) helping me plan every little detail.

Her calm and confident voice is worth every penny for those who might be anxious in planning their wedding. For those who have no idea what they want (which was us) she has so many good prompting questions, amazing vendor contacts that you can really window shop with as you get clearer on your vision.

When I first met Ashley in person- a hug immediately occurred and with my last wave goodbye to her I promised I will return to Hawaii to meet up for a margarita if she will have me! I not only felt 1000% supported and guided through this whole process but so did my partner. He just as much as me could not give her enough praise- along with the vendors she connected us with.

If you are in doubt over your flowers, cake or venue - I can not point you. If you are in need of a wedding planner I can- Its Ashley Fennell!


Sione T.

Married on 08/16/2022

Our dream wedding came true!

Loulu Palms Farm Estate made our dream wedding come to life. Working with their management team and booking or event was so fast and hassle free. We gave them or specific layout and design set up and they made it happen with any issues. Their team and event set up crew were so fast and professional. The MVP of our wedding definitely goes to our weddings coordinator, Mrs. Linda Kress. She was so fun and easy to work with. When my wife and I stressed out she was there to calm us down and handle everything thing for us. Whenever an issue arised she always had a plan B and C ready to go. I just want to thank again Linda and the Loulu Palms team for a wedding my wife and I will never forget.

Justin M.

Married on 07/12/2022

Highly recommend! Wonderful location

We had our wedding at Loulu Palm in July and it was an amazing experience that we will remember forever; We were blown away by this place. The venue is very beautiful and serene on the north shore of Oahu that is far enough away from anything that it more or less has its own private beach. Our coordinator was Ashley, who was extremely helpful and with us 100% throughout the process. We planned the wedding from Texas, so we relied heavily on her recommendations for other vendors making the entire experience smooth and absolutely wonderful. She was extremely easy to work with and we had no issues at all. We highly recommend Loulu Palms & Ashley for anyone looking to have their wedding here.

Amanda R.

Married on 04/01/2022

MAGICAL! Definitely recommend!

Linda and the Loulu Palm staff were so amazing to work with. We just had our wedding last week and we can't stop thinking about how beautiful the venue is and how effortless the staff made our special day seem. Linda, is the DOC but has helped in so many ways, from day 1. She listens, helps couples work within budget, is well connected, and can offer suggestions or alternatives to fit your needs. All the vendors and our guests can't stop raving about how perfect our night was. We hope to visit as guests at this incredible venue in the future. F I V E stars and a big mahalo nui to everyone who made our night unforgettable.

Avi J.

Married on 12/04/2021

Smooth, easy, and communicative!

Linda Kress was a perfect fit for our wedding. She made everything run smoothly and we never felt stressed or as if we needed to step in and fix anything. Because of her and her team we were able to relax and truly enjoy the whole day. She helped up cut costs in areas we didn't care about and put it into areas we did. She was communicative and fun and we are thrilled that we made a friend of her as well. Would definitely recommend her for any of your wedding planning needs!

Chinasa V.

Married on 10/16/2021

Spectacular Venue and Island's BEST Coordinator

I decided to use Loulu Palm for my wedding venue and the pictures do not do this venue justice. The views are breathtaking. I also decided to use Linda Kress as my Day of Coordinator for my October 2021 wedding. I want to start out by saying Linda made my husband and me feel like we were family from the first moment we spoke to each other! She is patient, kind, thoughtful and always found a way to make me feel at ease. Planning a wedding during the uncertainty of a pandemic was probably one of the most difficult tasks I have conquered in my life. I was also a nervous wreck with deciding how to navigate a wedding with Hawaii's change in wedding guest requirements during the pandemic. But Linda took all of my fears away by creating potential scenarios as well as a timeline for each. She was also always quick to respond via email or text. Linda also, found a way to help me stay under budget. On the day of wedding, Linda and her team kept everyone on schedule, she made accommodations for each vendor, and she always made sure my husband and I remembered to eat throughout the day! I would 10/10 recommend Linda, don't even waste your time looking for anyone else.

Amber G.

Married on 09/30/2021

So fun and versatile!

This venue is the best thing to happen since sliced bread. It's tucked away so well that you'll probably miss it on your way there, but once you get through the gate, it's like stepping into another world. The beachfront is amazing, the greenery is sprawling, and the building itself is so versatile. You can't make a bad photo here!

+ 10

photos

Nicole M.

Married on 08/01/2021

The wedding of our dreams!!!

We chose Loulu Palm as our wedding venue because of the amazing view and location. What made it even better was having Linda Kress as our wedding coordinator. Planning to have my wedding back home, while living in Austin TX, was a bit of a challenge. Not to mention the 5hr time zone difference and the uncertainties of the ongoing pandemic. But Linda has been such a blessing through all of it, being very flexible and resourceful, constantly checking in to make sure we were on top of everything. She gave so many awesome suggestions and helpful tips to keep within our budget. Linda and her assistants also definitely put in the manual labor on the day of, too; making sure the decorations and equipment were all perfect. And even bringing my husband and I pupus while we took formal photos, so we didn't miss out on any of it during the cocktail hour. The vendors (Keneke's, Cortney Crane Events, Akahi Productions, Red Ring Media, Reveal Hair and Makeup, etc.) she recommend were also spectacular! Hearing my friends and family rave over the execution of the wedding and the location was the cherry on top of such a tough year for so many of us. If I could have a wedding here again and again, I would!!! (Photos attached are by Schyne Photography).

Jack

Married on 07/03/2021

An Intimate Day at an Otherworldly Venue…With the Help of a Kick-Ass Wedding Planner

Our special day at Loulu Palm was nothing short of amazing, thanks in large part to our wedding planner, Linda Kress. Linda was everything (and more) we could have ever asked for in a wedding planner. She was chock full of creative ideas and solutions to help turn our disparate—often incoherent—visions and daydreams for our big day into a reality. She gave us honest recommendations on the vendors, furniture, equipment, etc. she thought were best suited for our event – frequently checking in with us along the way to ensure we stayed within the confines of our budget and helping us adjudicate our "ABSOLUTELY need-to-haves" and our "nice-to-haves." She kept us on task – often, and I mean often (because we needed it), reminding us to reach out to "so and so" vendor" by "so and so" date to ensure we got "so and so" done. She was on it! But what we appreciated most about Linda was her character. She was warm, kind, funny, and easy to talk to (traits that helped neutralize the inevitable stresses and "what-ifs" that arise when planning a wedding). She truly embodies what it means to live with "Aloha Spirit." We had the pleasure of getting to know Linda very well over more than a year period, as state-issued COVID restrictions forced us to postpone our wedding, then required that we scale down our guest list. When my wife and I ultimately opted to use the venue for a 5-hour long "styled photoshoot" instead of a full-on ceremony & reception (we had snuck in a small, intimate, wedding on the mainland by this point), Linda was fully supportive and helpful in hearding our boutique furniture and cake vendors in place to provide cool settings & props for our shoot.

Loulu Palm is your quintessential vintage Hawaiian plantation getaway, replete with an indescribable unique character and feel. The venue is flanked by a pristine private beach on one side and views of a densely forested mountain range on the other. A long stretch of well-manicured grass and palm trees populate the center. The site rests at a perfect vantage point to watch the world-famous North Shore sunsets. Can't recommend this venue enough to prospective bride and grooms! Your guests will be mystified by this authentic-Hawaii atmosphere –a great respite from tourist-inundated Waikiki. Oh—and this probably goes without saying—but if you do choose Loulu Palm...also choose Linda Kress to serve as your wedding coordinator!

Michelle L.

Married on 06/04/2021

Dream wedding

This venue Loulu Palms and our coordinator Linda Kress made our wedding DREAM come true !!! Planning through Covid and having to change our wedding date. Linda made it easy .It was perfect from start to finish. Linda made our lives so stress free. Linda was so caring and kind and listened to all our wants and needs for our special day. Linda was so organized and detailed. If we did one thing right it was hiring Linda Kress and having our dream wedding at Loulu Palms. I would not change a thing. Still in wedding BLISS. Big thank you to all. I highly recommend.

Janel F.

Married on 06/01/2021

The most beautiful venue!

My cousin got married at Loulu Palm a really long time ago and when I attended his wedding, I was in love with the venue and dreamt of getting married there one day so Loulu Palm was always at the top of my list when it was finally my turn. This was the perfect because I always wanted to get married on the beach but my husband didn't want to get married in the sand so this was a great compromise (if you can even call it a compromise). You get married with the ocean behind you and you also have all the beautiful Hawaii landscape around you, all in your own very private estate. This was a semi-destination wedding, we live in Los Angeles but a lot of my family is in Hawaii so hiring a coordinator was very necessary for me in order to do this from afar. I hired Linda Kress based on other recommendations and she did not disappoint! She is a MUST HIRE and some sort of wedding superhero. She is really on top of her game. She had great recommendations for vendors and she just made the whole process so much easier and less stressful. Definitely recommend the venue for a nice private ceremony and reception. The whole thing was really easy from start to finish as far as communication, setting up times to view the venue and meet with Linda etc. I also really liked having everything in one place. I wish I could do it all over again...the day, not the planning part :) We are still reliving our special day over and over again.

Ashley C.

Married on 04/07/2021

Venue is pure magic. Linda Kress is even more exceptional.

Loulu Palm is pure magic. Just look at the photos and the reviews below. Our July wedding exceeded our expectations (and they were high!) on every level.
*
Loulu Palm becomes *exceptional* when you include the expertise of Linda Kress. Choosing Linda, our "day of coordinator" —who should drop "day of" from her title because she's a trusted partner from the very beginning—was *THE* best early decision we made. From her came a flood of trusted recommendations (nearly all our vendors came through her), a wealth of expertise and critical connections, especially when you're planning a destination wedding from six time zones away.
*
We especially appreciate her creativity...both with decor and event needs AND with finding AFFORDABLE solutions to help us put on the event of our dreams (while staying within our budget). She consistently went above and beyond to help us, whether it was gathering decorations for our welcome picnic the day before our wedding or making sure our families were well-fed and comfortable. She did all this with a big smile and glowing enthusiasm.
*
Most importantly, Linda is a JOY to be around. Especially when planning a wedding (hello, that's months and months of collaboration), it's critical to have a partner you enjoy working with. Linda quickly became more than just our planner. She is our good friend and an extension of our family. Every time we head back to Oahu's North Shore (which we hope is very often ;), Linda will always be among the first we call.
*
Thank you, Linda, for sharing your time and talent with us. Our greatest wish for other couples in planning-mode is that they have a strategic and creative partner as generous and talented as you!


Corina

Married on 03/03/2020

Great customer service, incredible venue!

I worked with Nickie at Loulu Palms and she was beyond amazing. I planned a ceremony to be held here on my own from the mainland and Nickie made the process a delight. We had great communication via email and phone and she made sure I had everything I needed. The estate is absolutely stunning. The pricing was incredibly reasonable and I believe this location is such a gem on this island. If you can snag a date for your wedding, definitely do it here! I can't wait to come back for our anniversary. A huge thank you to Nickie and the incredible team at Loulu Palm!

Joseph U.

Married on 02/20/2020

Professional, but personal. Spacious, but intimate. Affordable, but glamorous.

As the groom, all I could do in a lot of instances was watch my soon to be wife be stressed out. Our families were making it hard, our finances were making it hard, our anxiety was making it hard. But once we got off that plane and Linda came to see us face to face, that stress went away. The personal touch and attention she gave us was unlike anything I expected, and have never had before. She was prompt and professional, but kind and relatable. She not only kept our finances where they needed to be, but also gave us real talk about what we actually did and didn't need-all while keeping a smile on our faces. Throughout the whole process, she was there. She kept us on point, under budget, and overjoyed. She kept in contact with us via phone and text before, during the wedding she was always nearby for anything we needed, and even arranged for us to plant a tree at our venue days after the ceremony. There aren't enough good things I can say about her and her work ethic. Everything we needed, she supplied, and everything we didn't know we needed, she thought of. If you hate money and love stress, look elsewhere. But if you want everything to be perfect, cost efficient, and with a loving personal touch, this is the woman you want on your side.

Now, the venue was absolutely perfect. It was spacious while still having a very intimate feel about it. The beach in one direction was immaculate. The mountains in the background of the other direction were breathtaking. And the trees and plants surrounding the venue were lush and beautiful. There was a hammock, lawn games, a fire pit and chairs. The arch they provided for the ceremony was lovely, the chairs for guests to sit in were comfortable and organized perfectly. Plenty of well maintained bathroom space was very important to me, and they definitely had that covered. The house and the suites for bride and groom were all temperature controlled and homey-just the thing stressed out bridal parties need. They were able to get us a clear tent set up for the reception which was amazing to be under when the rain came down. The DJ, bartenders, and food left everyone impressed and me and my wife stuffed, drunk, and happy. The venue was more perfect than I could have imagined, and the staff from head to toe was fun and professional. More importantly than anything else though, they made my wife happy and satisfied. By pleasing her, they pleased me, but the Loulu Palm Farm Estate went far above and beyond what was expected, and did far more than others could or would provide. If you're getting married, get married here. Itll be the best choice you can make.

Jenny D.

Married on 02/20/2020

Absolutely perfect

This venue and our wedding coordinator, Linda Kress, were an absolute DREAM. If you're looking to get married in Hawaii stop here. It was far better than I could have even imagined. From the very first time I contacted Linda I knew it was going to be an amazing experience. She made great suggestions and was realistic about staying on our budget. She was attentive and helped walk me through every step of the planning and made the actual wedding day seamless and perfect. She kept a smile on my face and I always felt like she was in my corner. She even stayed in touch with us days after the wedding so that we could come plant a palm tree at the venue to give us an excuse to come visit. Thank you Linda for making our day so magical and something we will cherish for the rest of our lives.

As far as the venue... it was so stunning. We got married in front of the beach with the water in the backdrop. It was actually really nice because everyone didn't have to get sandy unless they wanted to. The florals were so dreamy too. It was extra windy and a little rainy that day so Linda did some quick thinking and put our reception under this gorgeous tent with beautiful lighting. It really was so magical.

Chris F.

Married on 02/01/2020

A magical event

From the moment the private gates swing open, past the happily ever after swing, you are drawn through the property across the lawn, the beach and into the sunset in the ocean.

It was an event that none of our guests will soon forget. They are leaning on us to go back every year to restate our vows as an excuse to re-live the dream.

Marxlester C.

Married on 01/17/2020

Gem in a Rough

Loulu Palm is gem in a rough. Heading down the north shore, you would not think that there was a beautiful place like Loulu. Coming from San Diego, we were very picky on the venues we looked at in Oahu. A lot of couples get married in Waikiki or Honolulu just to say they got married in Hawaii. The amount of money you spend having a wedding there can go a long way if you get married at Loulu. The day we took a tour of the place, we knew we wanted to get married here. We did go over our budget but it is well worth the money. Also, having Linda Kress (Day Of Coordinator) by our side the whole way made the whole experience even better. She's a "Day of Coordinator" but she is with you from the day you choose her till days after the wedding. We trusted her with all her suggestions and recommendations. She is a must in your wedding planning. You will not regret choosing Loulu Palms as your wedding venue. There were times that communication was a problem due to us being in the mainland during the process. But our questions were always answered in due time. My wife and I highly suggest Loulu Palms.

Lorraine Y.

Married on 09/01/2019

Magical - Best Venue Ever

Loulu Palm is magical. That is the one word that can be used to describe our wedding. It was everything we wanted and more. The venue itself is unbeatable. Whether you choose to do a tent or use the lanai or both, there is no place else like this. You have the freedom to do anything you like with the space to make it your perfect day. We booked the venue, sight unseen, and are so happy we did.

We worked with Nickie to book and when we went for our first visit, we met Linda Kress, our wedding coordinator. Linda will make everything happen for you, and save you some money while doing it. She is thrifty, smart, experienced, and knows all the contacts to get you what you want. She will respond to all your emails, get on calls with you, and makes wedding planning seem easy. Our wedding day went so smoothly, without any hiccups, all because of Linda. I can't stress enough how wonderful Linda is.

If you're thinking of having your wedding at Loulu Palm, I highly suggest you book the venue now and work with Linda to make your day the best day ever.

Raphaella&Luana

Married on 06/12/2019

Dream Wedding In a budget!

If you are still looking for avenue to get married in Hawaii, you should stop right now, Loulu Palm is everything you are looking for and more! We love the place,it is romantic, is beautiful and it does speaks all the Hawaiian vibe you look for when you decide to get married in paradise. Also Linda Kress is a God sent, she was with us since the day we hired her as our day of coordinator. We had so much fun planning our wedding with her assistance, all the vendors that she recommended did a great job, and went beyond out expectations, also she made our dream wedding happened in our budget, can it be better then that? We love everything about our big day, Linda and her assistant Lynn with all the Staff were AMAZING, our family and friends still talk about the day as the most beautiful wedding in the most magical place they have ever been!

Jeff A.

Married on 05/10/2019

Dream wedding come true!

It has been over 3 months since my wedding and my husband and I are still in awe over this BEAUTIFUL venue. Loulu Palms encompassed everything we had hoped for on our wedding day – the gorgeous greenery, the lush landscape with the beautiful ocean waves cascading in the background. On top of that, Linda Kress was an absolute dream to work with. We knew we were in perfect hands from the day that we hired her. From all the e-mails and phone calls, Linda was always there for us, despite how busy wedding season can be. She made planning a breeze all the way from California and we loved all of the vendors she connected us too. On our wedding day, my bridal party and I had nothing to worry about aside from getting ready. Linda was amazing and we cannot thank her enough for such a magical day.
Are you interested?
Send a message