38 Reviews
Recommended by 100% of couples
Quality of service

5 out of 5 rating

Average response time

4.9 out of 5 rating

Professionalism

5 out of 5 rating

Value

5 out of 5 rating

Flexibility

5 out of 5 rating
42 User photos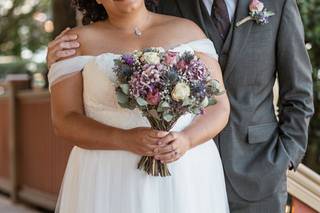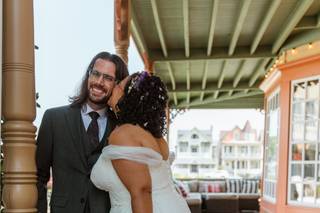 + 38

photos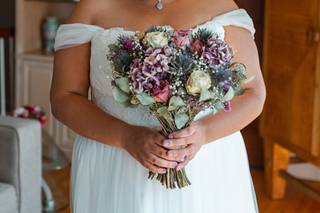 Aicha B.

Married on 06/03/2022

Natural Glam

I want to express how happy I am to have worked with LondynArtistryGlam for my wedding. Faye the owner did an amazing job at proving the right artists to create my vision for myself and my bridal party. She did an amazing job at communication. The artist that came the day of the wedding Jacil, Alyssa, Dani and Jade were true professionals. They came in a timely fashion which is hugely important when executing a wedding. They made the morning very lively with their amazing personalities.. Everyone said the entire bridal party looked like we stepped out of a glam magazine! From the hair to the makeup everything looked natural and beautiful! As the bride I received so many compliments about my look. Can't thank them enough for making me extra pretty for my wedding day.

Ursula

Married on 05/21/2022

Wonderful with natural hair and makeup

My hair and makeup artists, Alyssa and Daisy, did such a great job for my wedding. I wanted to keep my natural hair and was really concerned about finding someone who could work with it, and Alyssa knocked it out of the park. Same with my makeup - I never wear makeup and I was nervous, but Daisy did such a good job, it didn't even feel like I was wearing anything and it stayed looking good all day. Definitely recommend!

+ 2

photos

Ashley

Married on 02/22/2022

Everything was amazing! All the bridesmaids hair look fantastic! I would highly recommend them to anyone. The service was super fast and the quality was there!

Are you interested?

Send a message

Faith C.

Married on 10/23/2021

Loved Fay and her entire time! Everyone was professional and accommodating!

Very helpful and Fay answered any and all my questions!

Taneeka G.

Married on 08/14/2021

Miracle worker!

I cannot say enough good things about Faye and her team! Faye is a miracle worker!! I am 100% natural and was really concerned about my hair not holding my entire wedding day. Faye assured me it would hold- she came to my house a week before my wedding for the trial and I was just blow away by her personality, professionalism, knowledge of natural hair, and just her skill! My hair lasted the entire night and even the next morning. She 100% understood the assignment! I would 1 million % recommend LondonArtistry Glam

Brielle

Married on 07/31/2021

Fay and her team are amazing!!!

It was such a pleasure to work with Fay! I had a vision for how I wanted to look on my wedding day and after my hair and makeup trial with Fay and Dani (makeup artist) I knew I was in good hands. Fay's other makeup artist, Megan was amazing as well! I felt like a princess on my wedding day and most importantly, I still felt like myself! Every part of the look was perfect! Thank you again, Fay!

+ 3

photos

Ashley

Married on 05/09/2021

Awesome Glam Squad!

Fay and her Glam Squad did an amazing job. Fay styled my naturally curly hair exactly how I wanted it. I never wear makeup so I was a little nervous, but Meagan made me look and feel beautiful. It didn't even feel like I had any makeup on. They also did a great job with my bridesmaids and my mother.

Vonda C.

Married on 12/19/2020

Excellent , overall satisfied

I was referred by my God daughter..Dani did my make up for my dads funeral. Not wearing makeup since my modeling days, i was nervous. But she did exactly how i wanted, light and natural..very professional, explained everything, washed her hands ,wore gloves and mask..(safety).thank you.

Rita N.

Married on 12/05/2020

Excellent!

The staff arrived on time and started work immediately! They were able to finish at the scheduled time. Highly recommended and absolutely professional. All my girls loved their makeup and hair!

Grace

Married on 10/10/2020

Incredible!

When the pandemic hit earlier this year our plans had changed dramatically and with trying reconfigure our plans I lost track of how close our date was coming. It was just a month before our big day and I haven't booked stylists for my hair and make up or even any trials! I reached out to LondynArtistry and received a response from Fay very quickly, while other vendors either got back to me weeks later or none at all.

Fay was very kind and accommodating to work with, she was able to pair me with Jamie and Brittani and coordinated a trial within the week. I wasn't sure what I wanted done so I shared a variety of pictures I had on my Pinterest board and let Jamie the Brittani do their magic. Both of them absolutely nailed it and gave me everything I was looking for!
The morning of the big day my hair and makeup was just as stunning as my trial! My hair stayed in place thanks to Brittani's attention to detail and with Jamie's talent my makeup was glamorous all night. A few my bridesmaids had hair and makeup done and everyone looked absolutely beautiful!
It was such a pleasure to work with with Fay, Brittani and Jamie. They were all so sweet and their positive energy made every moment working with LondynArtistry as pleasant as can be. I absolutely recommend LondynArtistry!!

Lauren C.

Married on 07/24/2020

Exceptional

Fay did an amazing job not only on my hair (the bride), but also my friend, fiancé, and mother. She was very patient and accommodating. Danielle is a wizard with makeup! I had so many compliments all night between my hair and makeup. Danielle also did the makeup for my friend who loved it. Fay and Danielle exceeded everyone's expectations and I would highly recommend them to any bride/groom for their wedding or for any event.

Alex

Married on 06/27/2020

Stellar service! Wonderful crew!

Amazing! Hands down the best makeup I could ask for on my wedding day! I am so grateful for choosing LondynArtistry. The reviews on weddingwire were one of the draws for me and now I understand why. LondynArtistry is like having your personal fairy Godmother by your side. Communication with them is super efficient and prompt. Fay helped coordinate all services requested and she paired me with Briana.

Briana was wonderful. Her energy is super calming and sweet. I had a trial appointment becauuse I did not know what style of makeup would suit my face and skin, but she was SUPER patient with me and helped me design the exact look I wanted for my wedding day. A few photos from Pinterest and voilà it was magic. Her patience and attention to detail really were truly wonderful. What also caught my attention was how much care she put into the makeup of my guests too. She matched each one to fit their style and clothing. Her work shown through in the photos and stayed throughout the day in summer heat. She is a true makeup artist. The makeup was beautiful. Thank you Briana for your artistry! ❤️ I'd pick this team again for any event.

Anjali G.

Married on 10/06/2019

Perfection!

Fay is amazing!! From our first message exchange via wedding wire, all the way to my wedding day, she was so responsive, flexible and professional! More importantly, she's a magician with her hands and hair tools!! I felt beautiful and secure all weekend! My mom, my sister in law and I all got our hair done by Fay, and our looks were all so different. We were all thrilled with how they came out, and every hair was in place until the end of the night! It was so much fun getting ready with Fay and her MUA partner. It felt like a bunch of girlfriends hanging out. I will recommend her in a heartbeat! Wedding Wire is how I found her, so I hope this review convinces someone else to hire her as well. THANK YOU FOR EVERYTHING, FAY!!

Melissa D.

Married on 09/06/2019

Fay is a hair goddess!

Fay did an amazing job on my bridal hair. She nailed the exact style that I was looking for! She also worked her magic with my bridal party - 7 girls with all different hair types/lengths and all different styles. She truly is a hair goddess! She is personable, prompt with communication, and very easy to work with! I was definitely at ease knowing that she was playing a major role in how I would look on my big day. Thank you, Fay!

Nancy S.

Married on 08/10/2019

Overall wonderful experience!

Fay and Jamie,

I cannot thank you enough for helping to make my wedding day so special! You got everyone ready so quickly and calmly and helped keep the morning fun! Everyone loved their makeup, you even converted my mom, a usual non-makeup goer.

The makeup stayed fresh all night and the hair] looked as good at the end of the night as the beginning without a single strand out of place. Even after hours of dancing! I really loved the entire look.

You both were professional, on-time, fun and overall a pleasure to work with! So glad you were a part of my wedding day!

Maybell B.

Married on 07/27/2019

Perfect person for the perfect day!

My wedding was perfect and I cried so much so my make up was so important. She was wonderful. Thank you for putting the right person to work with me.

Astrid C.

Married on 07/20/2019

Amazing, responsive, and so easy to work with!

Jamie and Ashley did hair and makeup for my wedding and were phenomenal. I gave some feedback after my trial about some very minor things and everything was perfect on the day. I felt confident and beautiful, but still like myself. I don't often wear very much makeup, so it was important to me to feel this way, and Jamie was able to do such beautiful makeup and still let my freckles and natural skin shine through. I am amazed every time I look at the photos at what a spectacular job they did. Not to mention they were so lovely, professional, and fun to work with. Thank you, Londyn Artistry!

+ 2

photos

Danielle

Married on 06/15/2019

Made my day

Fay is such a pleasure to work with and found the absolute perfect stylist to help me on my day. Sasha is a magician, she makes me cry when I see the gorgeous beast she transforms me into. So accommodating to work with and such a pleasure. They have me finding events to have so that I can use their services again! Thank you!!!

Elena S.

Married on 06/09/2019

Hair for my baby shower

I worked with Fay for my baby shower and she was a pleasure to work with. I live in Chicago but was hosting my shower in NJ and found her online (had great reviews). So I had no tangible context for her services besides reviews. She was easy to contact and very responsive. I asked her a few days before the event if she could incorporate a flower crown into my look and she was able to make it happen (from start to finish, find the flowers, make a crown, and use it)!! That's a great quality and that's what it means to go above and beyond. My look came out great! I would definitely use her again and would recommend her services. Thank you Fay!

Hannah K.

Married on 05/07/2019

Amazing hair and makeup!

Fay and Brianna were amazing! They came to my hotel at 7AM (!) and got started right away. They did a beautiful job on hair and makeup for me and my entire wedding party. Before the wedding day my bridesmaids did not want to get their hair done but when they saw what an incredible job Fay was doing they both decided to get it done day of. Fay was so accommodating of all last minute requests. One of my bridesmaids called Fay and Brianna the "silent heroes" of the wedding. I couldn't have said it better myself.

Angelea

Married on 02/17/2019

Fay is magical!

Fay and her assistant Ainya were absolutely magical! They were so attentive to my bridal needs as well as my bridesmaids. They were so easy to talk to and were incredibly time efficient! They had a relaxed professionalism about them that really helped myself and my bridesmaids take on the morning with ease. At the end of their service, my bridesmaids and I were over the moon with the quality of style we saw as well as the care that went into each look! My bridesmaids continuously asked where I found Fay because she left such a lasting impression! I will definitely go straight to Fay for any special occasions I may have as well as recommend her to all that ask advice on the service I received! I know my bridesmaids have already taken her contact down for events they may have in the future. If you are looking for someone with phenomenal style quality, efficiency, accommodating, as well as incredibly kind, look no further than Fay!!!

P Ni

Married on 12/08/2018

Stylist for your special occasion

Fay came to our home at the crack of dawn to style our hair— an adult and two teens— for my daughters bat mitzvah. She was great with my kids, easing nerves and going with the flow. She didn't skip a beat. When I added make up service she quickly found another consultant to come.

Susan

Married on 11/03/2018

Wedding Hair and Lashes - "Gave Me Life!"

Too many times you see recommendations that start with the phrases, "I rarely come across…" or "few people have the opportunity to work with someone…."
Well, those words are not sufficient or effective enough to start this recommendation for the styling professionals at LondynArtistry. Simply put – Fay knows how to create beautiful hair styles and Dani is a true makeup artist.
Fay was recommended to me and upon meeting her I was impressed with her listening skills and attentiveness to my wants and preferences for my wedding day hair and makeup needs. Fay was professional and not at all pushy when it came to describing her styling recommendations for me and my wedding party.
Dani, the makeup artist, and I performed a consult by phone and she was also a true professional. She understood "the look" that I wanted for my makeup and she made perfect suggestions on the coloring and accents for me to consider.
Well, when the "big day" arrived I could not have asked for a better duo to handle "putting me together". These ladies DEFINITELY bring positive energy and calming vibes with them. Fay and Dani worked as a team and individually on my wedding party. They made us each so comfortable that I felt like I was spending time with old friends. Dani even brought along some music that played in the background that had us all laughing, talking, and singing while they worked their magic. The styling on my Maid of Honor was sooo lovely that she broke out in tears where she saw her finished hair and makeup. Dani made my mom look like the prettiest "Mother of the Bride". And all I can state is "WoW!!!" When I saw my hair and makeup I just could not stop smiling. Fay styled my hair just so it didn't lose a curl or droop after 10 hours of pictures, dancing, and partying. And the lashes and makeup that Dani styled "gave me Life!"
Thank you ladies! I will definitely be calling on you both again.

Terri

Married on 09/29/2018

I needed a hair and make up duo to come to my hotel for my nephews wedding. I found Londyon Artistry on line and after speaking with Faye who was amazing I booked the appointment. Keep in mind I wasn't the mother of either the groom or the bride, but that didn't stop me from reaching out quite a few times and Faye was terrific with each and every call, text or email.
I was beyond thrilled with the end results and so were all the people in my party. Faye and Danielle thank you for making us all look fabulous and making it go smoothly. You are a credit to your professions. Brides , mother of brides, bridesmaids, and anybody who wants to feel special you will have no regrets by going with Londyn Artistry. Thank you ! !

Linda

Married on 08/04/2018

Fay and Brianna were wonderful to work with. They were professional, courteous and patient. I was so nervous for my wedding day, but getting ready with them made me feel at ease. Thank you for helping me look and feel my best. I wouldn't have been "wedding ready" without you!
Are you interested?
Send a message