23 Reviews
Recommended by 100% of couples
Quality of service

5 out of 5 rating

Average response time

4.9 out of 5 rating

Professionalism

5 out of 5 rating

Value

5 out of 5 rating

Flexibility

5 out of 5 rating
54 User photos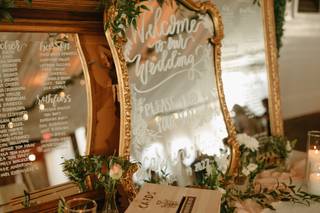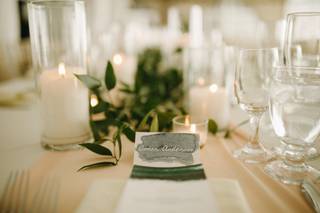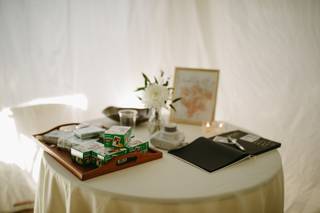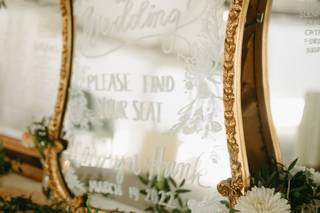 + 50

photos
Caroline J.

Married on 08/13/2022

Lindsey is the best there is!

If you are lucky enough to snag Lindsey as your planner know that you are in the best hands possible. Lindsey was fantastic to work with, from her connections with any and all vendors and general expertise when it comes to catering, styling, and wedding timeline. There truly wasn't a single thing that was overlooked. My dress strap snapped during our rehearsal Friday and within 3 minutes she had needle and thread in hand and was sewing my strap back on.

Lindsey is worth her weight in gold and even as an organized person who generally enjoys some of the planning aspects I would have been totally out of my depths with this large of an event with so much coordination. By hiring Lindsey and her team you are able to completely enjoy each second of your wedding not to mention all of the most stressful aspects of planning in the lead up to the wedding are out of your hands.

All the best weddings we had been to had planners so we knew we wanted someone, but now that it's all said and done I can't begin to express how grateful we are to have had Lindsey on our team.

Danielle H.

Married on 07/16/2022

My Superhero

The wedding weekend was a huge success. Masterfully orchestrated and executed by Lindsey. Ultimately, I was able to thoroughly enjoy the day, knowing that Lindsey was taking of all details with loving care.

Lindsey is a rockstar and I look forward to working with her in the future.

If you've got an important event, do yourself a favor and give her a call.

Carolyn R.

Married on 03/19/2022

The absolute BEST!

I have had the absolute pleasure of working both with and for Lindsey as a bride and as an employee. Working for Lindsey, I knew that she would do whatever was necessary for the event to be flawless, that she spends an incredible amount of time on each event ahead of time to be sure all of the details are organized and accounted for, and that she has a fantastic array of skills that she can utilize to style an event to match the client's needs. As a bride, I knew from day one that I needed Lindsey as my planner, so that I would not be worried about anything day of my wedding. That's exactly what happened! Months in advance, Lindsey helped guide us to be sure that we thought through each decision we had to make (what are the implications of not hiring transportation? Is this reasonable? What will our guests do instead?) and offered advice from her years of experience, as well as laughs from past learning experiences. She handled firing a vendor quickly and without any fuss, and promptly sent over multiple suggestions for us to choose from, making the entire situation incredibly straightforward and alleviating our anxiety. Did I mention that she did all of this long distance from Vermont, while our wedding was in Atlanta, Georgia? We heard nothing but fantastic responses from our more local vendors working with her! With Lindsey, there's no restrictions on distance, as she will take care of every detail and solve it, regardless of where your wedding might be. Her organization and pre-planning are second to none, and I had to ask specifically what went wrong day of, because I couldn't tell that ANYTHING had gone wrong! She's an outstanding professional and a wonderful human. The amount of love, heartfelt care, and passion that she has for her profession, her team, and her clients is second to none. You will never find anyone else who will make you feel simultaneously taken care of and as though you can have the best time hanging out with them, as Lindsey. Hire her for your wedding, catering event, dinner party, anything where you want to be calm and reassured day of that she's got it all handled.

+ 12

photos

Are you interested?

Send a message

Laura C.

Married on 10/08/2021

Amazing to work with -- high quality event planning

I worked with Lindsey over the course of about 8 months to plan my dream, beach, boho-chic wedding. It all turned out better than I could have imagined, and I have Lindsey (and her husband Andrew!) to thank for a huge part of that. What started out as fun and routine wedding planning, turned into numerous Covid challenges that neither Lindsey nor I expected along the way. During a time that was stressful and scary, here's what I got from Lindsey: positivity, smiles, laughter, light-heartedness, anxiety relief, and most importantly professional and expert execution of the management of our event, which was no easy feat, because it was a wedding at a private residence; therefore, did not start as a venue that was set up for a wedding. Lindsey used her expert knowledge and constellation of high-quality vendors to put together an event that felt effortless – and yet, every detail was on point.

Lindsey and her husband Andrew were available the entire wedding weekend. Andrew provided delicious bartending services for the rehearsal dinner. They both worked so hard. Lindsey executed details that we had never discussed and I had never thought about. They made every nook and cranny of the property look and feel well thought out. They went above and beyond to put together an amazing event, and I'm so grateful to both of them for all of their hard work.

Abigail D.

Married on 09/18/2021

Exceptional!

Lindsey was highly recommended to myself and now husband as our wedding planner and we truly could not imagine it any other way. Our whole wedding vision would not have been successful without her by our side through out the whole journey. Lindsey's skills as a planner extend above and beyond, you name it and she will get it done, despite the many constraints placed on the wedding industry and planning process during a global pandemic. Lindsey is extremely efficient, reliable, responsive, organized, determined, thoughtful, and with an amazing artistic talent bringing our whole wedding vision come to life. Her several close relationships with vendors and efficient follow-up and communication in management with each person was so impressive. She has a wonderful sense of teamwork with her colleagues and clearly holds high respect within the event planning community. Besides what we saw day to day with her hard work, I truly can't imagine how many more hours were put in behind the scenes - she never missed a beat. We couldn't imagine having gone through the whole wedding process without Lindsey, she made it so we could truly be in the moment enjoying our day and made the planning process stress free despite any obstacle thrown our way. From planner to now friend, we are so forever grateful we had the opportunity to work with Lindsey & 100% recommend her as your planner to help make your wedding dreams come true!

Ryan D.

Married on 09/18/2021

A true master of her craft!

Lindsey is on top of her game! She did my cousins wedding a few weeks ago, where I was the best man, and it was a delight to see her in her element... from setting up the reception venue the day before, to orchestrating the day-of logistics, everything went off without a hitch. Lindsey is friendly, approachable, and really excelled at taking the bride and grooms vision to heart, and making it a reality. She's also not afraid to take charge and be an absolute boss when necessary. From the big picture things down to the smallest details, she helped create a truly unforgettable wedding experience!!

Melanie H.

Married on 09/04/2021

BOOK Lindsey for a stress free wedding experience!

RUN do not walk to booking Lindsey as your wedding planner & designer. As a busy bride, this was hands down the best 1st decision I could have made by getting Lindsey in our corner. A few things I LOVE about Lindsey:
- She is super connected with all Vermont & even new England based wedding vendors - This is super helpful when you talk about what you want your day to look like, she can pull in the right vendors for the job which saves a TON of time for the bride/groom
- As the President of the Vermont Association of Wedding Professionals - She was up to date on all Covid Protocols and helped ease any tensions we had about covid on our big day
- Not only will Lindsey help bring in (if you want) an exceptional wedding vendor team - she also has the most beautiful style and design capabilities - she took our initial wants for what we wanted our event to look like and made it even BETTER
- Last but certainly not least, Lindsey is a kind, fun, and warm individual to be around. As a bride, I wanted a really chill wedding experience and Lindsey helped create that for us
- Lindsey also does Calligraphy and IT WAS AMAZING - added the best and most special touch to our day
- Lindsey has your back (literally, see photo) when I got a stain on my dress 30 mins before walking down the aisle Lindsey was literally to my rescue and it was as if nothing happened!

Cannot thank Lindsey enough for being there on our big day and for making it 1000x better than we could have imagined.

+ 2

photos

Stephanie R.

Married on 05/17/2021

Words Can't explain How AMAZING Lindsey is

Hello, first off if you are looking for an amazing wedding, you NEED Lindsey. I was the sister of the bride (maid of honor) for the wedding Lindsey worked on. Lindsey worked with my sister 3 months prior to the wedding. Nicola, my sister told, me Lindsey was amazing, but as the person that did some work a few days ahead of the event, I saw how crucial Lindsey was to the whole operation. Lindsey was there EVERY step of the way. She popped in to the house we were staying at every once in a while, to check in on us. This was so comforting!!! As a person, Lindsey rocks! Her personality is real, funny, authentic, but super confident and professional. She is beyond organized and made sure EVERY detail was thought through and addressed. She's made to be a wedding planner!!! She is incredible at seeing the big picture and fixing ANY problem that arouse. She was like a fire fighter, swiftly putting out any and every little wedding fire!!!

Nicola, my sister and bride was busy enjoying her day, but I got to see all the behind the scenes work Lindsey did during the wedding. She took care of any small details that needed attending. For example, I prepared a slide show for my sister. The presentation happened under a tent so we had to create the whole projection setup which I learned is not easy. Lindsey was SUPER accessible through phone. She picked up right away and fixed and coordinated any audio visual last minute problems we had. It also struck me how Lindsey KNEW everything was going to be okay, and it then in tern was. She CONFIDENTLY knew how to address and fix any problem. I feel like I learned a lot from Lindsey on how to act like a true professional. As the Made of honor, I was nervous to give my speech both at the rehearsal dinner and at the wedding. She was there for ME TOO!!! She and right hand woman, Chloe were there with a pep talk to calm me down and I swear it came from such a genuine place.

Other examples of what she did was she constantly was popping into our house the days leading up to the wedding and the actual wedding to check on the schedule and make sure I had the right lists and present me with organized itineraries for the day of. She was ON it and you could feel that she prioritized the wedding and was working her butt off. She also made sure that everything was in its place at the right time. Like the rings being given to the ring bearer at the right time and she knew little things were the brides phone was and where and when to bring her to-go bag for the night of the wedding. She even came the day after the wedding to give Nicola any thing that was left like her vail. Gosh Lindsey put a personal and loving touch on this whole even.

Even at the actual wedding, when ever a problem arouse, Lindsey and Chloe were just magically there!!!! it was like pleasantly freaking!!! its like they sensed where problems where and like two little ferries with their wands, they just made it better!!!! Lindsey was instrumental and amazing at orchestrating the entire event from the actual wedding ceremony to the wedding dinner under the tent. EVERYTHING went seamless!!! I had a wedding planner at my wedding 6 years ago and literally she did NOTHING so I know how valuable Lindsey is. She's the real thing. I gem! Any time I looked around at rehearsal dinner, wedding ceremony or wedding dinner, I say Lindsey standing stoic somewhere, making sure everything went smoothly.

Last thing, Lindsey is super creative! As an artist myself, I learned that she is also a talented watercolor painter. She has grate taste and this lends itself to how she helped everything come together beautifully.

All in all, Lindsey organized the wedding of a life time for my sister. It sparkled. It was heartfelt, genuine and the stuff that dreams are made of in a real life way. She was ALWAYS a blink away asking if we needed anything. She went above and beyond. She's amazing. Hire her and you'll see what I'm talking about.

Heather G.

Married on 09/12/2020

Amazing!

Lindsey was truly the best decision we made for our wedding at Mountain Top Inn in Vermont in October 2021!!! There really are no words to describe how amazing this woman is and we really could never have gotten through the wedding planning or the wedding weekend without her!! We are so blessed to have found her! Lindsey is so professional and anticipates problems and solves problems without you ever even knowing they were a problem! She makes the wedding experience what it should be...stress free and all about the bride and groom!! Lindsey knows how to execute a wedding with poise but also with determination..everything you want in a wedding planner! She takes the stress off of the bride and groom and makes it her own! We loved working with Lindsey and feel so blessed to now have her in our lives! She made our wedding PERFECT!!! Our guests are still commenting on how our wedding was one of the best..and this is in part due to Lindsey!!! Lindsey should really be a part of every wedding experience!!!

S C

Married on 06/09/2020

Hire Lindsey.

Lindsey was incredible -- so incredible that I'm almost at a loss of words, except to say: if you have the opportunity to hire her, do it immediately.

Lindsey made our wedding perfect. She went above and beyond at every opportunity. She is truly tremendously talented. Some things to know about her: she does beautiful calligraphy, and did our invitations and our place cards, which everyone thought were stunning. She makes bomb proof timelines so that the whole day runs smoothly. She can style a table/bar/cake/display/cheeseboard/bonfire/flowers perfectly. On the day of, she kept everything running smoothly, was kind and reassuring and remarkably competent. Hiring her was the best money we spent on our wedding, and would be the first piece of advice I'd give to any friend who is getting married in the Northeast.

Sarah B.

Married on 06/06/2020

Calligraphy for wedding invitations and more

Lindsey went above and beyond in helping us with calligraphy and mailing of our wedding save the dates and invitations. She coordinated with our invitation designer to pick up each order directly (as I live a few hours away from where they both were, this was a huge help to me), and she promptly addressed and mailed our invitations. She did the most beautiful and stunning calligraphy for our invitations -- our guests had so many compliments! She even provided us with numerous options for vintage stamps to make the invitations more personalized and special. When our larger wedding plans got derailed due to Covid19, Lindsey surprised us with a beautiful watercolor painting, which we framed and displayed at our elopement, and plan to hang in our new home. Lindsey is a true professional, so easy to work with, and also a wonderful and kind person. We can't wait to work with her again!

Katie G.

Married on 05/24/2020

Lindsey made everything possible and amazing!

We don't know what we would have done without Lindsey before, during and after our wedding. She was the perfect teammate to make our love party the best it can be. From creative problem solving to finding reasonable ways to bring out our crazy ideas, to helping manage our family and friends (and their strong personalities) on the day of, to keeping track of every little thing we wouldn't have even thought of. Our wedding was everything we could have hoped for and it was truly thanks to having Lindsey by our side. She is amazing, fun, organized, resourceful and reliable - everything we could have wished for.

+ 2

photos

Meghan O.

Married on 09/28/2019

Custom Watercolor Table Markers

Lindsey designed and created the most beautiful Vermont mountain themed table markers for our wedding. She used watercolors for each unique mountain shape and calligraphy for the name. She worked directly with our florist, Meredith Clayton (Clayton Floral), to coordinate the colors, look and feel and even the delivery. They were the perfect addition to Meredith's gorgeous arrangements. Lindsey made the process so simple and straightforward. She's incredibly organized and quick to respond. She sent us mocks the day we began discussing our vision, and went above and beyond even after our wedding was over. We wanted to frame some of the mountains that meant the most to us, but one had gotten slightly smudged. Lindsey had a replacement in the mail the following day. Thank you again, Lindsey, you are so talented and fun to work with!

Wendy

Married on 09/14/2019

Creative, professional, reliable

Loved working with Lindsey on our daughter's wedding. She hand painted place name cards, beer growlers for table seating, and signature drink signs complete with illustrated fruit and glasses. Way beyond our expectations for the price. Beyond Lindsey's artistry, she is upbeat, thorough and reliable. Highly recommend !!

Diane

Married on 09/07/2019

Lindsey did a fantastic job at our son's wedding!

Our son and fiance trusted Lindsey with their wedding and were rewarded with an amazing wedding day. She took care of everything expertly.

Lindsey knows first hand the ins and outs of catering. She coordinated effectively with all the vendors and her wonderful staff. Her communication skills are outstanding. She listened intently and had a quick response time to emails, texts and calls.

On wedding day, Lindsey made sure our son, his wife and we were well taken care of and able to relax and enjoy the day. Thanks to Lindsey's organizational skills, the whole wedding day was a dream!

Lindsey is amazing and we would hire her again for all our event planning.

Eve

Married on 09/07/2019

You found the right person

I don't think it gets any better than Lindsey. She is extremely detailed, professional, fun, and caring. She makes you feel at ease in every part of the planning process which is a feat within itself. It is clear that she has all of your interests in mind and is able to execute them seamlessly. Every other vendor I hired knew her, spoke highly of her, and all were happy to work with her again at my event. She will have your back and you will always be grateful you were able to work with her!

Julia L.

Married on 06/22/2019

Brilliant, Warm, Professional, Inspiring

Lindsey has mind for understanding all the complexities of the day - planning far in advance, selecting vendors who are excellent at their craft, creating designs that are breathtaking, a warm and honest personality, and truly serving her clients to create a custom event that is exactly what they want. She solves problems before they arise and inspires everyone to create magic for the couple. She goes above and beyond in every part of her craft. I HIGHLY recommend Lindsey.

As a wedding photographer, I always look forward to working with Lindsey. Everything she touches is brilliant!

+ 12

photos

Harrison W.

Married on 12/09/2017

Worked with and learned from Lindsey for over 5 years.

I have worked events/catering part time for over 10 years and 4 different companies , now going off and on with Lindsey for the last 5 and can say without a doubt she is the most knowledgeable, positive, and detail oriented event planner I have ever worked with. We have worked over 100 weddings together and not a single client has ever had anything but a glowing review and great experience. Her attention to detail, top to bottom understanding of the industry, and experience make her what I would consider to be a true expert in her field. I have seen her give her heels to bridesmaids, run to the store for more ice, and just overall pull magic out of her hat on numerous occasions. 10/10 would recommend.



Cassandra

Married on 10/06/2017

Wonderful planner!

As a wedding vendor, I cannot express the importance of building a team of other trusted vendors that can help to make our clients' weddings and events both successful and memorable. I was thrilled to find that in Lindsey! She is professional, responsive, and just a pure delight to work with! I am proud to call her a part of our vendor family and I cannot wait to work with her again!

Jeff

Married on 10/02/2011

Lindsey is the Best!

We as a wedding band had the pleasure of working with Lindsey on 12/14/19 in Manchester, VT. I can't say I've ever worked with a wedding planner that is as organized, on top of her game, knowledgeable and most importantly so pleasant to work with. We've seen many, many wedding planners over the past 20 years. If you are shopping around look no further...Lindsey is the best! We can't wait to work on another event with her!

Rachel B.

Married on 08/13/2022

A wonderful experience!

We engaged Lindsey's services to plan my wedding about a year in advance. She was a huge help in sourcing and booking a vendor team that helped bring our dream wedding to life.

We had the unique experience of working with Lindsey's team for the wedding weekend itself as she was previously engaged with another client. Her team (Darren, Kim, Talena, and Karsen) were excellent in executing our vision, helping our guests when needed, and making sure that everything went smoothly.

Our wedding was a dream come true and Lindsey and her team helped make it that way!

Annie S.

Married on 10/16/2021

A perfect day in the eye of a storm

We cancelled all of our other meetings with wedding planners after our first meeting with Lindsey, and we can say with complete certainty that it was the right choice. Lindsey threw an unbelievably perfect wedding for us in Vermont this past October despite Mother Nature throwing everything it could at her! But before we get to that, it's first important to recognize that working with Lindsey was a great experience. While correspondence could get sparse at times in the midst of the pandemic, Lindsey always came through with any and all updates when needed and over-delivered on every promise that she made. Lindsey is just plain fun to be around and to talk with, which made the planning process a pleasure. She also is multi-talented, having created an awesome water color for our save the dates! We threw Lindsey a bit of a curve ball right off the bat by announcing that we wanted our wedding venue to be at one of our parents' properties in rural Vermont at a barn that they were going to renovate before the wedding. Having immediately nailed the vibe that we were going for at our very first meeting, Lindsey was quickly able to put us in touch with the perfect vendors to help deliver our vision of the perfect wedding. From there, Lindsey managed all of the minutiae of planning a non-venue wedding which includes all sorts of things from the amount of wattage available at various outdoors spaces to the way that we expect people to move throughout the property and so many more details that we wouldn't have even known to give any thought to. The result was, of course, a masterpiece of an outdoor / barn wedding in Vermont that many of our guests referred to as the best wedding they had ever attended! Where Lindsey's expertise really shined though was on the day itself, where our worst fears came true and a massive thunderstorm ripped through the countryside right when our ceremony was supposed to take place. Lindsey rapidly handled the unexpected delay by coordinating an early opening of the bar and background music to keep everyone happy during the wait, and she flawlessly managed getting everything back on track despite the rain and mud that would persist throughout the rest of the evening. Lindsey's staff escorted our immaculately styled guests under white umbrellas to and from areas of cover as they moved about the tent, barn, bathrooms, and other structures on the property and managed all other accommodations (movement of rental furniture and equipment, management of vendors and reshuffling of scheduling on the fly) without either the bride or groom ever having to lift a finger throughout the entire day. In fact, it wasn't until the day after the wedding that we learned that Lindsey had quietly dipped out of the after party to literally winch many of our departing guests out of the parking lot that had been thoroughly churned into a nearly inescapable mud pit. So truly it is an understatement to say that she pulled it off, because she absolutely crushed it. Part of the success is certainly due to the clear respect and genuine friendship that Lindsey has cultivated among her stable of vendors, and it's no surprise considering the care and attention that she gives to curating and executing an absolutely perfect wedding. We whole-heartedly recommend reaching out to Lindsey immediately for your wedding, because we have no doubt that she'll be selling out years in advance with the well-deserved reputation that she's built for herself.

+ 6

photos

Beth

Married on 06/26/2021

Lindsey is the absolute best.

If I could give more stars I would. Lindsey joined our event late in the game and totally hit the ground running, as soon as she was on board we knew we were in good hands and didn't have to worry. She dealt with some strong personalities, and a very last minute weather location change for a family that insisted that we "didn't need a rain plan". She kept her cool and made the event feel flawless from our perspective. We can't recommend enough, except that we want her to be avail for our next event!
Are you interested?
Send a message