78 Reviews
Recommended by 95% of couples
Quality of service

4.8 out of 5 rating

Average response time

4.7 out of 5 rating

Professionalism

4.8 out of 5 rating

Value

4.7 out of 5 rating

Flexibility

4.8 out of 5 rating
34 User photos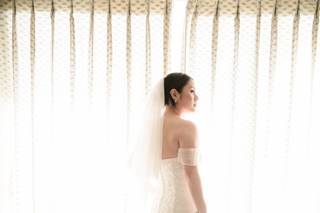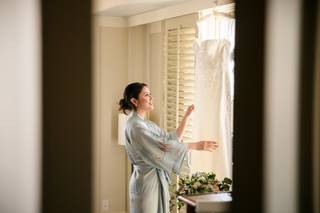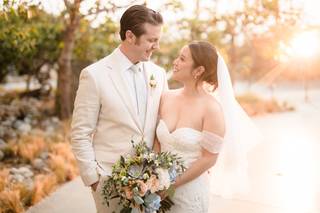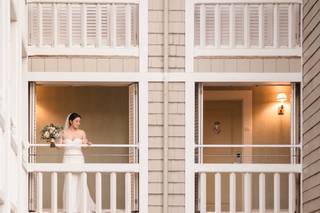 + 30

photos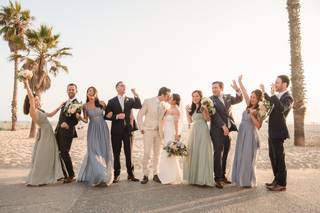 Olivia

Married on 10/01/2021

Fun experience

The photographers were amazing. They moved furniture to get the right shot and really paid attention to every detail. They convinced my husband to go out and take a night photo and it ended up being his favorite photo.

They were very nice and made my husband who doesn't like taking a ton of photos relaxed.


Angie C.

Married on 08/21/2021

Beautiful photos for a lifetime!

SPECTACULAR! I didn't give too much thought into my wedding photography, was just looking for a portfolio I liked and fit our budget and I'm so incredibly grateful that I stumbled upon Lin & Jirsa. Now, the #1 piece of advice I give to anyone planning a wedding is INVEST IN YOUR PHOTOGRAPHER because at the end of the day all you have are the photos. I think the fact that they are a larger studio (versus 1 or 2 photographers running their own business) works in their favor as make sure their photographers can shoot in all styles or at least match you with someone who can shoot in the style you prefer. Also, they had a very fleshed out process, they had me look through their Pinterest and pin photos I liked to get a sense of my style, a comprehensive questionnaire and included an assistant (for lighting, coordination, 3rd shooter) in their package. Had to wait the full 12 weeks to get the photos back but they were SO worth it! My lead photographer Larry Sandez had such a good eye for framing, positioning, getting fun poses and shot the "light and airy" style beautifully. Thank you so so much, I love flipping through my wedding photos!!!

+ 2

photos

Sierra B.

Married on 07/09/2021

Incredible photographers!

We knew from the very beginning of wedding planning that having Lin and Jirsa on our wedding vendor team was a must. The Lin and Jirsa team is extremely well organized and ensured that everything was addressed prior to our events. Their photographer scheduled a call with us to go over our vision to be sure that they got each and every one of the photos we wanted on the day of our events. My husband and I met in the San Francisco Bay Area and we were able to arrange Lin and Jirsa's team to take our photos in San Francisco. We had many locations scheduled and our photographer Mike and second shooter made our engagement shoot an incredible experience. They even braved the 40mph winds near the Golden Gate Bridge! The engagement photos were absolutely incredible as we anticipated! For our wedding events, their attention to detail was exceptional. They made sure to capture all important parts of our Mehendi/Sangeet, Indian ceremony, American ceremony, and reception. On the day of our events the Lin and Jirsa team were on time and followed our timeline perfectly, even adjusting to an earlier ceremony time so that we could have more time to dance! The quality of every photo is truly phenomenal. I would choose Lin and Jirsa one thousand times over again and cannot recommend them enough. Mike, your work is truly incredible and we really appreciated how you make everyone comfortable in front of the camera. Thank you Lin and Jirsa!

+ 14

photos

Are you interested?

Send a message

Felicia T.

Married on 02/22/2020

A Different Kind of Photoshoot Handled with Grace

When my husband and I were planning our wedding throughout 2019 we ended up with a different photography company that was on the vendor list of our venue.

You might think this is a COVID-related cancelled/postponed wedding, which it is not. In early 2020, my fiance (at the time) was diagnosed with cancer and passed away suddenly shortly after diagnosis, and 2 weeks before our Big Day.

Months later, after some communication issues with our original photographer regarding the cancellation, I wanted to do a bridal photoshoot to honor the wedding we would've had and remembered Lin & Jirsa from our wedding planner.

I was set up with Lin & Jirsa and the experience was 180 degrees from our original photographer. Communication was great and I felt excited and comfortable.

Come to the day of the photoshoot and Brian was very sensitive to the situation while still making it a fun shoot for me. He made me feel confident in doing this for myself all while honoring my husband and our wedding at the same time.

I recently got the pictures back and I was speechless from the start. They are amazing and I will cherish them forever.

Ancy A.

Married on 02/08/2020

Best Photography Team!

Larry, Josh & Hector from the Lin and Jirsa team were excellent and captured so many beautiful moments! Their artistic creativity exuded in their techniques & approach! Thanking our lucky stars for this team that made our day perfect!

Saumya R.

Married on 10/14/2019

Thank you L&J!

We had a destination wedding in California, so naturally, we did A LOT of research on weddings and vendors in the area prior to finalizing. A good photographer being one of the most important vendors, we knew we had to find one that was well reputed, took beautiful photographs and had trustworthy service.

When you search for Southern California photographers, Lin and Jirsa pop up literally everywhere - and for good reason! They have been in the business a long time, photographed countless beautiful weddings and received rave reviews from customers and other vendors in the area. Our experience with them was nothing short of that.

We worked with at least 4-5 different photographers across our 3 days of events (probably more - I can't even remember anymore!), but all of them were experienced and easy/fun to work with. Their pricing is reasonable for how many photographers they provide at each of your events, and the process to book them is also quite simple. We received regular communication from them about creating a mood board and providing more information about us as a couple, but it was also nice to know that we could could trust their quality from the get-go.

Our main photographer on the day of our wedding, Andrew, was really great! We had LARGE group photos, and we appreciated that he did his best to make sure everyone was looking in the same direction, positioned correctly, etc. Indian weddings tend to be chaotic in general, but he and the whole L&J crew with us on our wedding day managed that very well!

In hindsight, I do wish we would have had the same team of photographers for all 3 days of our events, because I think that would have allowed them to get to know as better as a couple and get EVEN better photographs. I also don't think our mood board ended up being reflected in our photos as much as I would have wanted. There are a lot of shots we wanted and didn't get - but there were also some that we got that were unexpectedly beautiful.

All in all, I would say L&J was a good choice for us. Although I would urge couples in the future to clearly communicate about certain shots they REALLY want and try to book the same photographer for all events, we are very happy with our photographs and had nothing but good experiences with everyone at the company.

Cayla H.

Married on 08/20/2019

This is the photo team you need!!!

Planning a wedding is hard, stressful, and often times overwhelming. Working with Lin and Jirsa is the opposite of those adjectives. From the moment I reached out to make an inquiry to the day they arrived on site-- they were stellar. Their office team is responsive, easy to work with, and informative. Our photographers (Shivani, Lauren, and Pye) were more than we could have ever asked for. Shivani was our ULTIMATE hype girl-- her energy was perfect for my wedding party. Lauren was kind and thoughtful, she even hung back after the reception to say goodbye to my parents. Pye was professional, intentional, patient, and intuitive. Together, they were the DREAM TEAM. I've only seen sneak peeks so far, but I'm already obsessed. My family, friends, and I have been swooning over these, and we cannot wait to see the full gallery. Thank you, from the bottom of my heart, for being the photo team I needed. You far exceeded my expectations.



Mk Bu

Married on 05/11/2019

Fantastic Photos!

Lin and Jirsa did a fantastic job with photography for our fusion Indian American wedding. Leading up to our day, their team arranged multiple phone meetings to discuss our vision for how we wanted our wedding and our wedding photos to look, and helped us hammer down a clear timeline of when, where, and of whom to take photos on our wedding day. On the day of, their team was well-prepared and captured everything we asked for and more. And when our wedding photos arrived we could not have been happier. The photos are absolutely beautiful. Without a doubt we would go with Lin and Jirsa again, and would highly recommend them to any of our friends or family.

Nicki

Married on 08/18/2018

Lin & Jirsa are the best - especially for a big fat Indian wedding!

We are so grateful to have had Lin & Jirsa as our wedding photographers - everything about them is high quality and very classy. They definitely know how to capture all the emotions, vibrancy, and organized madness at weddings, especially big Indian weddings!
We had Brandon for our engagement shoot at Victoria Beach, for our first wedding event we had Nick, Rabiya, and Angel, and the wedding/reception with Justin, Nick and Rabiya! Selena was incredibly helpful in all aspects of coordination prior to and after the events.
All of the photographers really just make you feel comfortable and yourself, which is what you need on your wedding day! They make sure to discuss certain shots you may want before hands so they can incorporate them into the day. Most importantly, on the day, they were so accommodating, friendly, and if they were expected to be somewhere or capture something, they were always on time doing it. We are so pleased with all the photos we got, and again, are so grateful to have had the team we did! We would highly recommend them to anyone for their wedding!
Also, just a special shout out to Justin, who is such an artistic visionary, and an overall wonderful person - once he gets his mind going on a shot, he will work so hard to make sure its perfect, and it is SO worth it!

+ 3

photos

Atoosa

Married on 08/11/2018

Every single person at Lin and Jirsa was a joy to work with! We did our engagement photos with Brandon and then had Tim and Brandon on our wedding day. There is a reason why they are in such high demand! We just had our wedding last weekend and already 2 engaged couples have asked us for their info. Can't say enough great things about them!

Jennifer

Married on 09/09/2017

Lin & Jirsa Photography & Cinematography were wonderful and exactly what we expected. The whole team was very friendly and personable. The videos were customizable to our exact liking - I especially love the highlight video so much! The photos were just as amazing. They brand themselves as "high end" because the quality and thought they put into the whole journey (from engagement to wedding) really shows. Genuine thanks to Bekka, Kiersten, Clarence, Joseph (please forgive me if your name is not on here)! WOW, we really had a giant production team just for us. We felt so special :)

Tori

Married on 06/17/2017

Every team member at Lin and Jirsa is great! Everyone was super nice and responded back to all our questions in a timely manner. Our main photographer was Joseph and he did a phenomenal job making my husband and I (who don't like getting our picture taken) feel very comfortable. We just got our pictures back and are over the moon! They are absolutely stunning and capture every moment of our magical day! We would highly recommend Lin and Jirsa!

Serena

Married on 06/03/2017

It was a pleasure to work with everyone we came into contact with at Lin and Jirsa, whether it was Justin and his team, the associates who shot our sangeet, and everyone we communicated with via email. Shout out to Emi! :) Everyone was so friendly, professional, and easy to work with. Justin not only made us feel comfortable in front of the camera, but also went above and beyond to make certain shots perfect. He is also very personable and fun, so much so that we feel like we gained a new friend! Despite the gloomy weather during our wedding, Justin and his team got many amazing shots and captured some moments in a way that made them even more beautiful in the photos than they probably looked in real life! I love the photos we received from Lin and Jirsa and would definitely recommend them to everyone!

Kristin

Married on 05/20/2017

Using Lin and Jirsa Photography was one of the best decisions we made for our wedding! We booked the Associate package, and Nicole was amazing! All of the photographers were fun, professional, creative, and very easy to work with. Our photos are stunning and we have received endless compliments. We honestly could not be happier as our wedding day was captured perfectly. I will recommend Lin and Jirsa to all of my friends and family members!

Lin and Jirsa Photography's reply:

Kristin!
Thank you so much for your kind words! We loved working with you and your wedding was absolutely stunning! Congratulations once again on your marriage!

Paulette

Married on 12/16/2016

Before I was even engaged I knew that I HAD to get Lin and Jirsa as our photographers! Once we finally booked them they were so great in communicating with us. I was busy with school and was having a hard time trying to find out when we should do our engagement shoot, but they made it work even with last minute changes. We had Emily do our engagement and it was our first time doing any type of photography so we thought we were going to feel and look awkward, but she was so friendly and made us feel comfortable. Our engagement photos turned our amazing!

For our wedding we had Marcel as our lead shooter and he called us a couple days before the wedding to make sure he jot down all the looks we wanted. Talking to him made us feel at ease. He actually got us more excited for our wedding and to take pictures. The day of the wedding he was so nice, fast, and efficient. We were on a time crunch since some things were pushed back because of the rain, but we didn't feel worried at all with Marcel. He made everything work! We just received some sneak peak pictures and they were AMAZING!!! We cant wait to see the rest!

Albert

Married on 09/04/2016

I wanted to share that our Wedding went great, and even though it was a long and at times challenging day, Andrew and his team from Lin and Jirsa did a WONDERFUL JOB!!! He, Kevin, and Bilal were personable, professional, and made our Photo Shots and Experience a TRUE Pleasure!!! In truth, they kept us calm, collected, and comfortable... and they laughed at my dumb jokes! Most importantly, they brought they kept us on task... And although it took some time to get our final set of photos, they were simply incredible!!!
THANKS AGAIN for the wonderful service, and helping us to forever record our memories!
ALBERT & LAUREN

Sanaz

Married on 07/16/2016

This team was by far the best team experience I had during the entire process of my wedding - They are AMAZING!!! I would never hire anyone else

Jenn

Married on 07/01/2016

I'm so glad I found Lin & Jirsa photography! I was looking for an epic style photographer and they delivered. This was my favorite wedding vendor. They were super attentive and professional leading up to my wedding day.

On my wedding day Chris and his assistants were amazing. So thoughtful, unobtrusive and friendly. I had guests tell me afterwards that they blended in so well and felt like guests. Even my now husband was super impressed.
The teasers they've delivered so far are gorgeous. I cannot wait to get the full set. You cannot go wrong with these guys!

Tiffany

Married on 06/18/2016

My favorite vendor at my wedding was Lin & Jirsa! Working with everyone from the studio managers to the lead photographer and assistants was extremely easy. Their professionalism was on another level. Photography was #1 on my priority list and Lin & Jirsa delivered without a doubt. It was fun working with the team for both the engagement session and wedding day. Our lead photographer knew how to make my husband feel comfortable even though he is camera shy. They pay a lot of attention to your moodboard and make sure they take pictures aligned with your vision. Even though they only took pictures at our venue once, they did an amazing job scouting and finding unique spots. You won't regret booking them! (P.S. Chris and Marcel - you guys were awesome!)

Shiba

Married on 06/17/2016

Lin & Jirsa is composed of a group of amazing photographers and videographers who produce top-notch photos & videos. But not only are they awesome at what they do, but they also have the most amazing personalities & presence! It was such a pleasure to work with these guys, & I would recommend them to anyone & everyone I know.
We were lucky enough to work with Chris from Lin & Jirsa and his team for both engagement & wedding photos, & David & his team for wedding videography. We honestly could not be happier!
Starting with engagement photos. Chris & his assistant went above & beyond to capture the perfect shots. I'm not kidding when I say they literally fluffed my dress, fixed our hair, climbed rocks at the beach, & even went waist deep into ocean water trying to get the perfect shot! Chris is amazing -just when you think he's probably exhausted from shooting for hours, he asks you if you're open to taking a few last shots. It's so awesome when your photographer is 10x more committed & invested than even you are when it comes to getting "the shot".
After finishing our engagement shoot I thought "this guy is amazing". Hard to believe that he topped himself at the wedding! He was enthusiastic but calming at the same time. For a busy bride with a packed bridal suite hours before the wedding, that combination is priceless. He captures the mood & storyline of the day with ease. He is a true artist and we are so lucky we got to work with him and his team. Our photos are perfect -we couldn't be more thrilled with how everything turned out!
Not only are the photographers and videographers awesome, the entire Lin & Jirsa staff are equally amazing. I was lucky enough to work with both Jackie & Leslie. We talked via email & phone for the last year. They walked us through every step of the process -booking the team, talking about timelines, getting hair/makeup advice, etc. They were incredibly prompt, informative, and responsive.Can't say enough about the entire team!

Grace

Married on 04/02/2016

I have been so pleased with Lin and Jirsa Photography. I booked them after reviewing a lot of their work on Pinterest, their website and blog. So far we've gotten our engagement pictures back and they are AMAZING! And the booking process has been a lot easier than a lot of other vendors. They are patient and easy and thorough. Instead of me having to ask specific questions, they address many issues that I don't even think about like, how many outfit changes, what time to start, etc...

Our photographer for engagement session is Sarah and our wedding day photographer will be Pye. I am eagerly looking forward to all of our festivities coming up and know that they will just be cherished in print forever. I can't wait. Highly recommend LJP for their friendliness, quality of work and ease of correspondence (especially during this hectic wedding planning time). Anything that makes my to-do less stressful is a 5-star in my book.

Jessica

Married on 03/19/2016

I had a great experience with Lin and Jirsa Photography. Booking them was SO easy and they have so many different packages available to meet your financial needs. Even if they don't have a package that has exactly what you want, they will customize one for you. There is no question that LJP is the best in the industry. They respond very promptly to emails and if there is any issue, they resolve it right away. They truly want to make you happy. Onto the photography itself, Andrew was our lead photographer and he was amazing. He is very artistic and pays attention to detail. My husband and I are not comfortable in front of the camera and don't really like to take pictures, so Andrew was very patient with us and made it as painless as possible. He got some amazing shots, but my favorites were the candid ones. Andrew and his two assistants did an amazing job at capturing the moments. We didn't have a videographer, but with the pictures we got we didn't need it. He really told the story of our day through the pictures. Lastly, we got married on Saturday, March 19th, and received all of our images on Friday, April 1st. Less than 2 weeks after the wedding. We technically got married before the busy wedding season, but still they originally told me 4-6 weeks and we got them in less than 2 so I was very happy with that!!!! Anyway, great service, great work, and I recommend them to everyone!

Jamie-Dee

Married on 12/06/2015

We hired Lin & Jirsa for our wedding photographers after much research. After viewing Lin & Jirsa's photographs I knew I had to have them for our special day. We were on a tight budget but did not want to compromise on photography since it is a HUGE part of a wedding. We worked with Jackie, the studio manager, on a package that fit into our budget. They were so accommodating and very prompt with all responses. We always felt very well taken care of and like they had everything under control. Our wedding day photographer was Nicole and she was so professional but still very personable. She made us feel relaxed and we knew that she had everything under control. Our wedding photos are absolutely stunning! I can't say enough great things about this company. Although they handle many clients they made us feel special and kept us in the loop with every step. I 100% recommend hiring them for any occasion. Thank you Lin & Jirsa!!

Erica

Married on 10/10/2015

Our photos are amazing and Sarah Hurley made us feel very comfortable. Thank you for an amazing job!

Amazing quality and great professionalism. Very friendly and reliable people. Highly recommend.
Are you interested?
Send a message