33 Reviews
Recommended by 100% of couples
Quality of service

5 out of 5 rating

Average response time

5 out of 5 rating

Professionalism

5 out of 5 rating

Value

5 out of 5 rating

Flexibility

5 out of 5 rating
20 User photos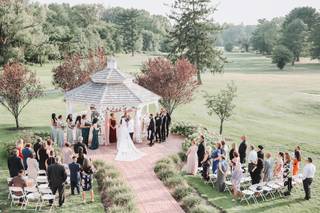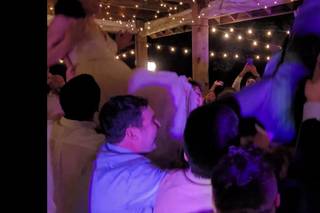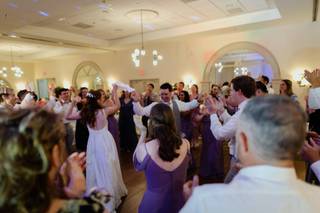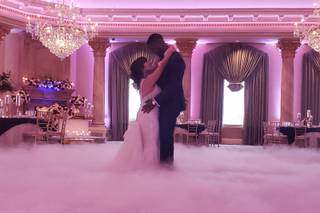 + 16

photos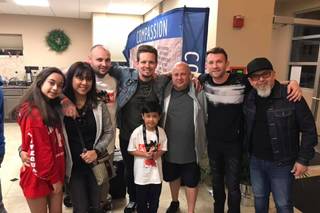 Featured

Shelby H.

Married on 06/13/2021

High-quality, memorable FUN!

From the first phone call, I could tell Lilly would be the right fit for our wedding! She was just as excited as we were about each part of our wedding reception. Lilly was incredibly thorough and organized with her itinerary and made sure to include each of our special requests for activities and songs. I was so thankful to not just find an affordable DJ, but a DJ committed to making sure everyone had an enjoyable experience. Lilly was able to get everyone dancing and even taught our guests line dances to the electric slide, etc. She also managed to seamlessly organize everyone for our sparkler exit. Lilly helped create such memorable, fun memories for all. We received comments both guests and hotel staff that this was one of the most memorable receptions they'd ever attended. I highly recommend Lilly for a high-quality, professional, and FUN wedding reception!

Lilly's DJ Service's reply:

Thank you so much for your review - it was so easy to work with both of you - what a loving family and friends - welcoming and so friendly - enjoy the rest of your lives - live laugh and Iove

To the news Mr. and Mrs. Henry

Mary E.

Married on 08/27/2022

Mary and Duane's Vow renewal

Thank you Lily and DJ Leo for the awesome job you both did on our special day. You guys made our evening so special. DJ Lily kept me informed from the beginning to the end. We loved everything!!! They were on time and offered much more than what I expected. I recommend them highly you won't be disappointed. They are the BEST!!

Megan M.

Married on 06/25/2022

Our Wedding

Lilly is amazing! The guest loved her also. Very responsive and helpful. Highly recommend over and over!

Lilly's DJ Service's reply:

Thank you both so much - great working with you. I wish you the best future - live laugh and love

Lilly

Are you interested?

Send a message

Helen S.

Married on 06/04/2022

Incredible DJ!!!

DJ Lilly (and team!) made our wedding such a fun and special party!! She was so fun to work with and has such an awesome sense of humor and was really organized. Working with her helped us think through the different parts of the evening and make sure we had a good plan for the night.

And when it came to the night itself, DJ Lilly knew how to bring the fun and keep everyone dancing and having a good time!! She had an incredible sense of humor that kept people laughing. She taught everyone the Wobble and Cupid shuffle, got everyone to join in a giant conga line, and we even did the hora at the end! We gave her a list of Spanish music, classics, 2000s music, hop hop, and more and she set the mood at the cocktail hour, dinner, and party and kept everyone dancing. DJ Lilly and team, thanks for making our wedding so special. You are truly awesome and we are so thankful to have had you DJ our wedding!!!

Lilly's DJ Service's reply:

It was truly my pleasure and honor to be a part of your special day - thank you so much for your kind words and review


Cruzita

Married on 12/19/2021

DJ on the Rise

My wedding was Dec 19 2021. DJ Lilly and DJ Leo were awesome. They were on time. Neatly prepared. Help us with the venue and did an Awesome job with the crowd. Lily did everything I wanted and beyond. I would referral them a hundred times and more.

Lilly's DJ Service's reply:

you made such a beautiful bride - worked so hard before the wedding and didn't break a sweat. Thank you for for kind review - stay well remember to laugh a lot and enjoy the ride.

Sofia R.

Married on 10/08/2021

Professional & Simply Amazing!!

We said yes to our "DJ"!!! From the moment we had our first meeting we knew she was someone wonderful to work with, Lilly is caring, attentive and definitely wants your special day to be memorable. We couldn't be happier to have had her be part of our wedding day, she not only demonstrates professionalism but also portrays a wonderful personality. Lilly's infectious personality was seen throughout the dance floor with our guests who couldn't stop dancing nor smiling. We would recommend "Lilly's DJ Service" without a doubt. Thank You Lilly for making our special day even more memorable!!

Lilly's DJ Service's reply:

You and your family and your guest are amazing. Had a great time making you smile - you are truly lovely. Thanks you for your wonderful review.


Yolanda T.

Married on 08/06/2021

Truly amazing

Lilly was amazing, she is the epitome of an amazing time. She was so professional but still felt like family. She was so easily to fix the playlist when I screwed up about how we entered the ceremony. She tried her best to get people to get up and dance. I'm forever grateful for her amazingness

Lilly's DJ Service's reply:

you're amazing - great family and friends. Thank you for the review I truly appreciate your kind words.

Jessica

Married on 11/27/2020

The greatest DJ/MC in NJ!

Dj Lilly's services were amazing! She is very passionate in what she does and is very good at it!
Before the wedding we met a few times just to make sure everything was exactly how we wanted it to be. She got everyone out their seats to dance at the wedding. She is also extremely funny and kept us all laughing as we danced the night away. She played all the songs we wanted and more! She danced with us showing us how to do the cupid shuffle, wobble and cha cha slide! She even got me the fog machine I wanted and was on point when using it! She is so much fun and has an amazing personality and heart. She has now become family and we will use her for all future events! Thank you DJ Lilly for your hard work in helping make my day perfect!

Lilly's DJ Service's reply:

Thank you so much for the kind words - you have a great bunch of friends and such a loving family- thank you for hiring me I had such a great time

God bless

Riley R.

Married on 10/31/2020

Best DJ Service Ever

I really could not have asked for a better DJ service for my wedding. Lilly made sure to get everyone on the dance floor (even me, who hates to dance.) She was so personable, caring, and skilled. She really made our wedding feel like it was a priority and that she enjoyed being there for us- not like it was just another job she had to get through. She took the time to get to know me to make sure that everything would be perfect for our wedding. She added so many special touches that made the night incredible. I could not recommend her enough. She was patient, helpful, flexible, and just amazing!! My guests still rave about her every time I see them, over a month after our wedding! Thank you so much!!!

Lilly's DJ Service's reply:

Riley - you are an extradorinaiy - great friends and family - I had a great time with you and appreciate you hiring me - thank you so much for your review. Be safe and enjoy all life has to offer you. Give my love to your HUSBAND and your great family.


Stephanie P.

Married on 10/11/2020

Amazing and Wonderful Dj

From our first phone conversation I knew we picked the right dj . Dj lilly made everything effortless and so easy ! She brought such a special touch and personalized our whole wedding ! I highly recommend this wonderful woman ! She got everyone dancing and made every moment so memorable. She puts her entire heart into her work and it absolutely shows !

Lilly's DJ Service's reply:

Thank you for your wonderful review - I wish you much happiness and love - we have to get a game night and play Pictionary

Lance C.

Married on 08/12/2020

lilly is amazing

I have known lilly since i was 12 years old she was the best dj then and to this day noone i know has the vast knowledge of music how to mix it and how to keep people on the dance floor.She did a sweet 16 for my sisters daughter the kids the adults had the best time ever.Lilly is a gem and the hardest working woman in teh industry i would not hesitate for a second to recomend her to dj anywhere she works hard always has a smile and makes people feel right at home at any event.

+ 6

photos

Lilly's DJ Service's reply:

thank you so much lance - I appreciate your kind words. Next stop is when she gets married. But we will wait for some time. Be well



Jessica

Married on 05/15/2020

Lilly is the best!

My husband and I hired Lilly to dj our wedding ceremony and reception. Her genuine upbeat personality got us pumped and we knew she would absolutely kill it. She took plenty of time to make sure everything went exactly how we imagined and played music we asked for and also what some of our guests requested. The lighting she used along with her fun attitude got people up on the dancefloor with no problem. We got so many compliments on her service. Can't go wrong with Lilly! We love her.

Lilly's DJ Service's reply:

Thank you for your review - you made a stunning bride - you beauty, kindness and great personality shows not only in you but your family and the choice of husband - You're truly blessed - see you at your sisters wedding

Jessica S.

Married on 09/27/2019

Lilly is the bomb!

Lilly was not just our dj, she was part of the family! Everyone loved her!! She made us laugh and dance the night away! I have seen her dj for a few of my family's events and I have always loved her! I knew she would be a hit at our wedding. She is excellent and I highly recommend her. She has kept in touch since day one and responds instantly. Thanks again Lilly so much for making us shake our booties! We will def have you dj at our future parties!

Lilly's DJ Service's reply:

I could just cry - thank you so much for your kind words - couldn't have asked for a better day for your great wedding - luv you guys

Nikki R.

Married on 06/15/2019

Phenomenal Wedding DJ

Lilly was PHENOMENAL! She took our ideas and really brought them to life. Everyone at our wedding had a great time. Throughout the planning she was easy to get in touch with and always reassured us that she's got our back. 10/10 would recommend!

Lilly's DJ Service's reply:

Not only did you make a beautiful bride - you and your husband have hearts of gold - thank you for allowing me to be part of your big day and your lives

Maria R.

Married on 04/06/2019

Genuinely Gifted

Dj Lilly was phenomenal! Her charisma, charm, and professionalism as an MC is a one package deal. She invested her time to coordinate, shared her insight, and made it happen. She truly brought life to my wedding celebration as she had nearly all of my family on the dance floor, even the ones I had never seen dance. Truly amazing I tell you! I give her 5 stars. Check her out and you will see why.......

Lilly's DJ Service's reply:

Thank you so much for that wonderful feedback - your friends and family were off the hook - I enjoyed every minute of our one on one meeting leading up to the big event - truly heart felt love

Stephanie

Married on 03/30/2019

Lily Rocked the Steph & Ed Wedding!!

Lily, what a great wedding you made for Ed & I. We couldn't have expected more. You played every song and made the whole experience breathtaking!! Definitely will be getting all my friends' business, so many people asked about you! Thank you again! Amazing!

Lilly's DJ Service's reply:

Thank you so much for hiring me. What great family and friends. Hope to see you guys again so we can rock out.

Teresa

Married on 11/10/2018

Amazing service

My husband and I got married 11/23/2018 and our experience with Lilly's service was excellent. She paid attention to details to make sure our day was special and memorable. I would hire Lilly again without hesitation. Give her an opportunity to make your special day one you will remember for years to come. Thank you Lilly for your service and personal touch!!!!! Teresa & Carlos

Lilly's DJ Service's reply:

You made a beautiful bride - your friends and family are beyond fabulous - thank you for the kind words

Holly W.

Married on 10/28/2018

Lilly is the best!!

We couldn't have had a better DJ for our wedding! Lilly got everyone up dancing. She kept the party going. She is the absolute best!

Lilly's DJ Service's reply:

thank you for your kind words - you made such a beautiful bride - groom wasn't so bad looking either.

Charnette

Married on 09/28/2018

My husband and I got married September 28, 2018, and Lilly rocked the house! She is awesome she made our special day amazing!
And she made our wedding a night to remember our guests are still talking about how much fun they had. Thanks Lilly you Rock!!
Love,
Mr. & Mrs. Kinslow

Lilly's DJ Service's reply:

thanks for everything - being part of your big day was truly my honor - your kindness was truly heart felt - let's get together for lunch

Kim

Married on 09/28/2018

A fabulous DJ experience

Lille was an amazing DJ who remain attentive to the needs of the wedding party. The experience was incredible ! I would totally recommend any person that wants to have an exceptional wedding , party etc to choose Lille to meet their needs. She met the needs for my daughter Charnette's wedding day. I also would choose the uplightning & Gobo .

Lilly's DJ Service's reply:

Thank you so much for your kind words - your friend and family are wonderful welcoming people - you guys made me feel like family - thanks again

Christina

Married on 09/08/2018

Lilly is the BEST! I kew from the moment I spoke to her over the phone that I wanted her to be my DJ, and I had absolutely no regrets. For her, it was all about doing everything she could to make the best night for my husband and I. She came up with fun activities to do, she was one floor for every line dance teaching people - she even got MY PARENTS on the dance floor! I hope we got pictures of all of our parents trying to wobble!

For the last dance she brought out blow up microphones and guitars to jam out to bohemian rhapsody. We loved her, our guests loved her and I would recommend her again and again. Oh, and SO affordable!

Lilly's DJ Service's reply:

Thank you Christine for such kind words..I truly appreciate it. You are one of the most beautiful people inside and out - Your HUBBY got a winner. Please keep in touch

Danielle

Married on 08/18/2018

My wedding was Saturday August 18, 2018. After consulting with a couple DJs, we knew Lilly was the perfect choice for us!! Our theme was pop culture/movies, so we wanted iconic theme songs from different films during our cocktail hour and dinner. We also wanted to walk in to our ceremony and reception to some different nontraditional music. We met with Lilly to discuss all these things and sent her a play list and a do not play list. We sent her a request list from our guests. She sent us an itinerary for our night. She gave us great suggestions and knew exactly what we wanted and didn't want.
On the night of our wedding, I arrived to our venue early, and she was already there all set up with her assistant. She lit the room, she had our beautiful monogram on the dance floor, they were dressed professionally, and greeted guests as they wandered in. Lilly played everything we wanted!!!! Lilly is super organized; she kept everyone in the loop and kept everything running on time! She was warm and engaging and got everyone up and dancing! Her announcements were fabulous! Everyone was telling us how great our DJ was and how they loved the music! My 9 year old nephew was fascinated with them and wanted to see how it all worked, and they invited him in their booth and put the headphones on him and let him Jr DJ! My heart melted and I was so happy that he was having such a great time. Our guests repeatedly told us that our wedding was the most fun they've ever been to!!! Lilly and Vince, whenever we need a DJ, you will always be our choice. I highly recommend Lilly's DJ Service!!!! Thank you for making our night extra magical!!

Lilly's DJ Service's reply:

Danielle - your wedding was so unique - I loved every minute of it. Thank you for your kinds words. Your family, friends and especially your nephew made me feel like part of the family - that means so much to me. Let's go see a Marvel movie.

Krystal

Married on 08/10/2018

Lilly was such a wonderful addition to our wedding day. Her energetic enthusiasm was just what we needed to get the crowd going!! Her expertise was visible as she guided my husband and I through the various categories of wedding music. Her suggestions were perfect for the mood and ambience we were trying to set. People cried when we wanted, danced when wanted and got to enjoy relaxing music with their dinner. I would highly recommend her services to anyone. What's more she was so affordable, professional and a super sweet person. My pets loved her and they are a pretty good judge of character. Lol

Lilly's DJ Service's reply:

Thank you Krystal - you, your family and your guest are truly wonderful- you my friend made a lively bride

Aubrey L.

Married on 05/19/2018

Best DJ and Person

Lilly is so kind and such a great person inside and out. She made my wedding so much fun for my guests. She made everyone dance and play games and made it an enjoyable time for all. Thank you so much Lilly 💓 you are amazing!!!! Highly appreciated you and Highly recommend her. Xoxo

Jennifer

Married on 11/04/2017

After googling servers DJs just by the conversation and the comforting feeling on the phone I didn't hesitate to book Lilly! She will definitely be my go to DJ as long as the same for several of my guests! There was also several compliments from our guests! Thank you again Lilly!!!

Lilly's DJ Service's reply:

Thank you Jennifer - what a lovely bride and handsome groom- remember to live love and laugh - that will grow you love for each other. Thank you so much for hiring me - it was my honor to be your dj.
Are you interested?
Send a message