67 Reviews
Recommended by 99% of couples
Quality of service

5 out of 5 rating

Average response time

5 out of 5 rating

Professionalism

5 out of 5 rating

Value

5 out of 5 rating

Flexibility

5 out of 5 rating
3 User photos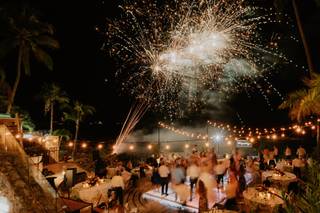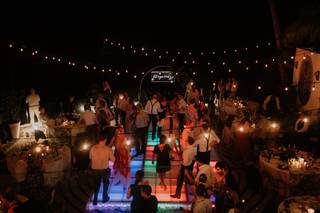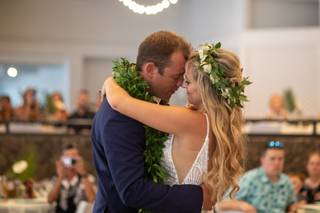 Arhana C.

Married on 04/19/2021

Best DJ in the business

We didn't expect to find a world-class DJ on the island of Maui, but Liam is IT. We really wanted to avoid the "cheesy wedding DJ" but had a hard time finding someone who fit our vibe without flying someone in. Then we found Liam, and he was everything we hoped for and more. Many of our guests are very into music, and one of them remarked that he felt like he was at an exclusive club in Ibiza during Liam's set at our Olowalu wedding. His sound system is top of the line, and the highlight of our dance party was him rocking out with his drums to our favorite songs. He was able to create an amazing energy for all our guests. He is also the consummate professional—he went above and beyond to stream in a speech from someone who couldn't attend the wedding, gave us guidance on transitioning between events, and putting my father (who was officiating our Indian ceremony) at total ease. Liam is also just a very cool person and so fun to work with on our wedding day. Even though Maui is the center of the worldwide wedding industrial complex, Liam is far from corporate—he genuinely loves music, cares about you, and is dedicated to giving you an incredible experience. We would hire Liam again in a heartbeat!

Brianna L.

Married on 01/18/2020

Best wedding soundtrack ever!

Liam was the best DJ for our destination wedding! Music is incredibly important to my husband and I, and Liam had everyone dancing all night long, there was truly never a moment when the dance floor was empty. He traveled to Puerto Vallarta and learned about our music preferences, keeping the vibe going exactly as we'd hoped. He even worked closely with our wedding planner to coordinate the perfect timing for our fireworks to go off during one of our favorite songs. Liam was an absolutely joy to work with and I strongly recommend him to anyone planning a wedding!

LIAM GRIST - DJ & MC's reply:

Thanks so much Brianna and Micheal! What a fun day. Thank you for all your awesome energy. I look forward to keeping in touch!

Cathy O.

Married on 06/01/2019

Excellent!

Liam was the perfect DJ for my daughter's wedding at Waimea Valley, Oahu. He seamlessly provided the perfect music for the ceremony, cocktail hour, dinner and then dancing. It was a beautiful wedding from beginning to end, much because of his talent as a laid-back, yet on the ball, DJ. Highly recommend!

Are you interested?

Send a message

Matt J.

Married on 09/15/2018

If you're looking to hire a DJ for your wedding, stop because you just found him!

My wife and I got married at the Catamount in Steamboat Springs, CO September of 2018. We selected Liam to play the music for the ceremony and DJ the reception. We were extremely happy with the service Liam provided for our most special day! Liam's professionalism started well before the day of the wedding. He contacted us via email and gave us a form that covered every aspect of the music we desired for the ceremony and reception. About a month before the wedding, Liam contacted us via FaceTime (Liam was out of state at the time and we live in the Denver area) and had a good conversation with us detailing exactly what we wanted.

On the day of the ceremony, Liam arrived on time and was dressed well for the event. He played exactly what we wanted for the ceremony and his system sounded perfect! For the reception, he kept the party going strong and everyone had a blast! We got many comments from our guest on how much they loved Liam. I highly recommend hiring Liam for your wedding or big event! He is very professional, fun and good at what he does as a DJ. I promise you will not regret hiring him!

Sam

Married on 11/24/2017

Liam was our DJ for our wedding & I can't recommend him enough! He was professional, prompt, responsive, and most importantly, he got the party going! He has an eclectic taste in music, so if you're looking for a musical selection a little less conventional than your average wedding- he's definitely the man! However, he'll cater the playlist to whatever you select, so no worries if you're just looking for a more traditional music set with a really fun, genuine wedding emcee. Would recommend him to anyone looking to have an inspiring music set to dance to!

Cameron

Married on 11/23/2017

More than just a DJ, Liam is the whole package! There was not one part of the ceremony that he did no make better!! From mic-ing the Officiant and musicians, to creating a slideshow, Liam became our first hand man. And those beats. I don't know how he made my conservative uncle and my burning man friends happy at the same time, but the man has class and funk. Thanks for starting the dance party Liam, and keeping it going alll night long. Everyone kept telling us it was the best wedding ever, and I think it was because of you. Thank you, thank you, THANK YOU!!!!

Josee

Married on 09/03/2017

If you are thinking about getting married, Liam Grist is an amazing DJ, great person and excellent business man. His great taste, style, and ability to read a room make a good reception into a phenomenal one. He's easy to talk to, open to last minute changes, and just the man to take care of our receptions music. From the beginning, face-timing with Liam, until the very end of our wedding we couldn't have hoped for a better DJ. He was very communicative, had great planning and payment tools, needed little in respect to set-up and space, was punctual, announced events eloquently, and oval had a great playlist (including some of our unordinary song requests and "do not play" requests) with good transition and poise. By the end we both were hugging him and wishing the night was longer. My elderly dad even mentioned several times that the music and the announcements were really good, and his tastes are limited. Everyone at the wedding, at all age demographics, were dancing at eh reception, having a great time. I highly recommend Liam to DJ at any event, I would absolutely ask him to join my next one1

LIAM GRIST - DJ & MC's reply:

Wow thank you Josee!

Sarah

Married on 08/05/2017

Liam was fantastic to work with! He met with me over the phone several times before the wedding, which helped with planning. He also did a great job communicating with our ceremony musicians, the caterers, and the photographers to make our day run super smoothly. Liam created a really fun atmosphere both during dinner and dancing! He was able to use the songs I had chosen on our playlist and mix in other songs that matched the mood and our tastes perfectly. Everyone was out on the dance floor and having a great time! We would definitely recommend him!

LIAM GRIST - DJ & MC's reply:

Thank you so much Sarah!

Anna

Married on 04/21/2017

We booked Liam for our April 2017 wedding on the Big Island at Kahua Ranch. He was amazing! Liam was incredibly responsive, had a flat rate with no additional costs, read the room perfectly, and provided awesome music for the dinner and reception. He had great energy, but didn't steal the show like DJs can do. We cannot recommend Liam highly enough.


Carly

Married on 02/19/2017

First off, for a pretty young guy, Liam is more professional than almost anyone I've met on Maui. His Google Docs form helps you get every detail nailed down exactly how you want it. He was always willing to hop on a call and very responsive to emails. He threw a crazy awesome wedding reception party for us that we'll always remember. He accommodated last-minute changes, made announcements, and played awesome music with a big smile on his face. HIGHLY recommend Liam!

LIAM GRIST - DJ & MC's reply:

Wow thank you Carly! Best wishes to you and Zac!

Kristin

Married on 10/15/2016

DJ Liam has a great sense of a crowd! My husband and I were super busy, and outside the specific song we needed for specific times, we didn't give a playlist and Liam picked an AMAZING set that matched the mood of the guests, kept people dancing, and matched the feel of the other songs we used and the venue.

LIAM GRIST - DJ & MC's reply:

Thank you so much Matt and Kristin! Your wedding was amazing!

Krista

Married on 09/10/2016

Liam Grist made the dance floor! He created the best Playlist for our wedding and did great taking requests of all kinds.

LIAM GRIST - DJ & MC's reply:

Thank you Krista! You guys were so fun!

Duyan

Married on 09/03/2016

LIAM is a great DJ, Very flexible and accommodating. Definitely Great value for wedding at Maui.

LIAM GRIST - DJ & MC's reply:

Thank you Duyan and Bassam! Loved your unique music and dance party!

Missy

Married on 08/05/2016

Definitely book Liam Grist!!! He is awesome!!

We had such a blast with Liam. He made the night so smooth and fun. Everyone was dancing. Flexible and easy to get a hold of by phone prior to our arrival in Hawaii. We would absolutely recommend Liam. A real pleasure to work with.

LIAM GRIST - DJ & MC's reply:

Thank you! Best wishes!

Kristy

Married on 04/19/2016

We hired Liam for our wedding in April at the Olowalu Plantation House. He was awesome! He was very responsive to our emails and all of our requests. Planning a destination wedding can be stressful but working with Liam was a breeze, he had many handy online forms that helped us plan our wedding playlist. He attended our rehearsal and hit every cue during our ceremony and kept the dance floor full all night at the reception. We are very happy we booked DJ Liam for our wedding!

LIAM GRIST - DJ & MC's reply:

Thank you Kristy! Best wishes to you and Dave!

Tatiana

Married on 04/16/2016

Great to work with. Fun music. Good vibest

LIAM GRIST - DJ & MC's reply:

Thank you!

Mark A.

Married on 03/19/2016

Liam and Samantha were the highlight of our wedding vendors. Super fun and helpful. Our guests were raving about the music as soon as cocktail hour started! We didn't have a dance floor but the grass was totally flattened! Bonus was the CD they mailed us of our ceremony and speeches... in addition to making our Maui wedding unforgettable. Thank you Liam and Sam! - Mark & Amanda 3/19/2016

LIAM GRIST - DJ & MC's reply:

Thank you! Best wishes to you Mark and Amanda! Way to rock a dance party!

Parrish

Married on 12/31/2015

Stacey and I booked Liam for a weeding in Maui on New Years Eve, 2015. Liam was incredible! Liam is really easy to work with, very responsive and was great in customizing a playlist for our wedding. I can't say enough good things about Liam. It's clear that Liam understood the importance of this day to both of us and was really open to working with us on making the music/entertainment exactly the right vibe for our people. Simply put Liam is a really good guy and obviously loves what he does! I would highly recommend Liam for any occasion.

Parrish

LIAM GRIST - DJ & MC's reply:

Thank you Stacey & Parrish! It was so fun to drop the ball with you! Congrats again and best wishes to you both!

Kelley

Married on 11/21/2015

We loved that Liam was a part of our special day! We interviewed several DJ companies but liked Liam's style most. He and Samantha were easy and fun to work with... and adorable :) Liam wowed our guests with the "best dance party music ever". He was entertaining... but not overbearing. Professional... but fun. He has a Bose sound system. If you know how important music is and are willing to spend maybe a little more, GO FOR LIAM!!! He's worth it. Thank you Liam!

LIAM GRIST - DJ & MC's reply:

Thank you for your detailed review Kelley! That means a lot. Best wishes to you and Johnathan!

Rachel

Married on 10/17/2015

Liam was fantastic! His partner Sam was also attentive and very helpful throughout the day. We are so happy to have picked them to make our wedding fun! We had a slideshow which went smoothly along with dinner. Then we couldn't stop dancing! The energy was there! So much fun. Enough said... Book 'em!

LIAM GRIST - DJ & MC's reply:

Wow thank you Rachel! Best wishes to you!

Jaime

Married on 10/03/2015

We couldn't have asked for a better DJ & MC! My now husband and I had our wedding on October 3rd, and although excited, we were lost when it came to music. Liam gave direction and suggestions that helped make the night perfect. We had a mostly non-dancing crowd, but the music and mood was perfectly suited and fun for those in attendance!

LIAM GRIST - DJ & MC's reply:

Thank you Jaime & Brandon!

Jennifer

Married on 08/15/2015

DJ Liam Grist helped create a truly unforgettable night for us and our guests at our wedding at the Andaz Maui on August 15, 2015! Throughout the planning process DJ Liam Grist was extremely responsive and helpful, and his planning website was easy to use. In fact, his detailed planning form actually got us thinking of important details that we hadn't yet contemplated.

DJ Liam Grist had clearly taken notes during our conversations and thoroughly reviewed our planning form because the night proceeded seamlessly and effortlessly, and his music selections were strategic and thoughtful.

DJ Liam Grist kept our guests on the dance-floor all night, entertained all reasonable requests and faithfully respected our "don't play" list. Everyone hoped the night could go on forever, and were sad to leave the dance-floor when the party ended.

Indeed, even hotel staff approached me the following day to thank me for the great music!

It is with great confidence that I highly recommend DJ Liam Grist.

Jen and James Trounson

LIAM GRIST - DJ & MC's reply:

Wow thank you James and Jen!

Kristina

Married on 05/08/2015

Liam was even better than we expected him to be! He was extremely easy to work with even though we lived in different states. He also traveled to Mexico for our wedding and made that seamless. He was a very critical piece to the success of our wedding, he made it so fun and professional!

LIAM GRIST - DJ & MC's reply:

Thanks Kristina! I'll never forget your wedding and that week in Sayulita!

Aaron

Married on 04/18/2015

Stop your search. You have just found your next DJ. Liam is the best DJ that I have ever heard or worked with, and I don't mean that lightly. Not only does he make the entire night sensational, but he is very organized and professional on the business side. My husband and I never felt out of the loop or confused about any step of the process. Liam was thorough, kind, and flexible with last-minute changes. Thank you, Liam!
Are you interested?
Send a message