38 Reviews
Recommended by 93% of couples
Quality of service

4.6 out of 5 rating

Average response time

4.6 out of 5 rating

Professionalism

4.6 out of 5 rating

Value

4.6 out of 5 rating

Flexibility

4.6 out of 5 rating
Awards
14 User photos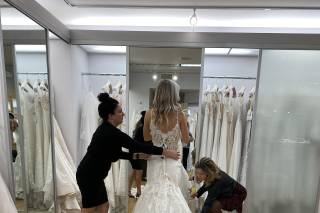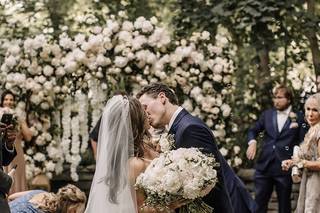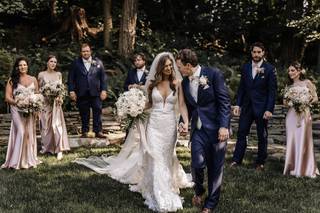 + 10

photos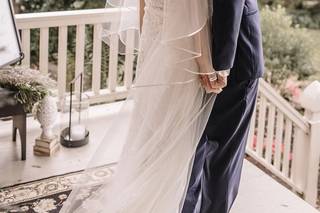 Mollie S.

Getting married on 11/03/2023

The best experience

This morning I worked with Kenzie and Leslie to find my dress. I went A LOT of places in the area and found ones I loved but nothing like the dress they had me in! I found my absolute perfect gown and both ladies were THE BEST. I work in the wedding industry and I couldn't have asked for a better experience. They both had a lot of knowledge in the dresses I tried. I specifically loved the fact they took the time to dim the lights and let me see and envision what my day would be like - even allowing me to walk with the dress around the shop as it was the "aisle". I couldn't recommend them more! GO SEE THEM!

Katie C.

Getting married on 10/14/2023

AMAZING EXPERIENCE! 10/10! Leslie was incredible!

I seriously can't say enough good things about my experience at L'Fay, Fogelsville location! We paid to have the store privately for two hours and it was the best decision we made. It was so intimate, fun, and seamless! We had mimosas, cheese and fruit. We worked with Leslie and she made me feel so comfortable and beautiful! She was so knowledgeable about the gowns, she kept checking in on me and asking questions as I tried on the dresses about what I liked, what I didn't like. She was incredible. I of course found my dream dress! As well as a veil and jewelry.

I was surprised how amazing this shop was! Must go here ladies!!

Jessica D.

Married on 11/13/2022

Dream bridal experience!

From the moment I scheduled the appointment to when I said "yes to the dress", my experience with Leslie at L'Fay Bridal was everything I imagined in finding my dream dress. Not only is the boutique absolutely stunning, but there are so many beautiful dresses, not a limited selection like other places. Leslie was so inviting and made me so comfortable and actually listened to me, what I like, and what I envision myself walking down the aisle in, which helped her to find my dress in less than 10 minutes after walking in! I knew it was the one from the second she pulled it. I can't say enough good things about Leslie and L'Fay Bridal. If you want a private appointment in a beautiful boutique with an amazing consultant, look no further because you WILL find your dress here. Good luck!!

Are you interested?

Send a message

Sequoia

Married on 07/01/2022

Dreams Do Come True!

Thank you so much to Renata at L'Fay Bridal for hand selecting the most exquisite accessories to complete my vision. From the jaw dropping Maria Elana tiara, to the absolutely perfect earrings, to the extra long drop veil to accommodate my train, she used her expertise to select them all and pull together a look that was even more beautiful than I could have dreamed. She made my vision come to life, and made it even better! Thank you, you were a real-life fairy god mother!

Her and Leslie helped me choose beautiful earrings and hair pieces for my mama and bridesmaids too with such detail, listening, asking questions and paying attention to small details like their dresses, necklines, hair dos and personal style. I cannot thank them enough for this wonderful experience. The excitement in the process carried into excitement as we put the accessories on day of. Oh my goodness, everyone looked and FELT beyond gorgeous. From start to finish, L'Fay provided such a wonderfully tailored experience and brought dreams to life! Thank you thank you thank x10000!!!

Jazmine

Married on 09/17/2021

Amazing First Experience

Leslie and Sequoia made my experience such a magical day. From the minute I arrived they made everything so easy, they listened to what I wanted, helped me pick amazing dresses to try on, and ultimately led me to the dress of my dreams. The customer service is like none other- complete attention on you for your time slot, they made my guests comfortable and were so engaging. They made me wish I can do this over and over again!

Devan B.

Married on 09/17/2021

perfect experience

My experience at L'Fay was awesome ! It took me some time to decide on a wedding gown, but I found my dream dress with the help of Leslie and Samantha !! I can not wait to wear my wedding gown !!

Christine C.

Married on 06/18/2021

You need to go here!!

I cannot say enough good things about my experience at L'Fay. I was in a unique situation where I actually decided to go look at a dress I had been admiring in their window right before I got engaged. I think most shops would have judged me for this (I judged me for this!) but Leslie and Sequoia treated me like a bride (even though technically I wasn't one yet) and not just any bride, but like the most important bride in the world. They actually close down the shop and only see one bride at a time, which aids in making the experience so special. I did not feel pressured at all but instead felt like I was shopping with friends who just wanted me to make the decision that would make me happy, even if it meant not finding my dress there. Luckily I did find my dress that day and Leslie and Sequoia are 100% responsible for that- L'Fay is very lucky to have them!! Every bride in the area (or even outside the area- it's worth a drive) should go here! Great selection and great service (and even champagne!)

Laura

Married on 08/08/2020

It is YOUR Day - L'Fay Cares About It!

I had no idea that bridal shopping could be such a wonderful, relaxing, and thorough experience! I felt special and pampered from the time I walked into the salon to the time I left. Leslie and Sequoia are an amazing team and were so attentive. They respected my budget and made sure I was completely happy. All of the dresses they pulled for me to try on fit the criteria I gave them and completely exceeded my expectations. The dresses are high-quality and worth the value of not only the asking price, but also the entire experience of the undivided attention, commitment, and expertise of the consultants. I said yes to a dress by the end of my appointment with a champagne toast and hugs all around! I cannot recommend this salon more highly!

Rosario

Married on 06/06/2020

I said YES to the dress

Hello Sequoia,

L'Fay is an amazing bridal shop. The minute I walked in, I felt so "high end". But as soon as I met you Sequoia (Bridal Coord) made me feel very comfortable. She was very calm, cool and collected, she asked all the right questions, knowledgeable off all the styles of dresses in your shop, after a few dresses, she never made me feel rushed in finding something, and I want to THANK YOU SOOOOOOOOOO MUCH for helping me pick my
"Wedding Dress" I love it. I do. It's stunning, elegant & classy, just what I was looking for. You are the BEST Sequoia. I would recommend this bridal boutique to any future bride. ;)


Sarah L.

Married on 01/04/2020

A Magical Experience

After a first round of dress shopping that made me feel less than excited for the next time, I put off dress shopping for 5 months. A friend found L'Fay online and thought I should check it out. Sequoia listened to every detail I said and asked guiding questions to figure out what I truly wanted in a dress. She was so patient and helpful. She and Leslie worked very hard to find just what I was looking for, right down to the small details such a sleeves and a belt. They helped make my vision come to life, even though I hadn't been quite sure what that vision was. When you go to L'Fay, you will receive a private and quality experience designed specifically for YOU! I can't say enough about how amazing this experience was!

Amy

Married on 05/29/2018

Leslie was absolutely wonderful to work with. She listened to what I was looking for and did a great job helping me find several dresses that I loved! I would highly recommend Leslie and L'Fay Bridal to future brides!

Lisa

Married on 10/14/2017

I just wanted to Thank Leslie at La Fay Bridal in Fogesville Pa. After looking at a few in my local area with no success my Daughter and I made an appoitment at La Fay and as soon as we walked in the door we New we were at the right place . Leslie new exactly what we had in mind needless to say we purchased the dress the same day !!! I would highly recommend La Fay to future brides and moms !!!!! Thank you again. Lisa

Elizabeth

Married on 04/29/2017

My dress was beautiful and affordable! Everyone at L'Fay was friendly and professioal. They really made my experience stress-free and exciting. I love how they only take one bride at a time, so you have complete attention!

Ashley

Married on 09/17/2016

I went to L'Fay Bridal yesterday to find my wedding dress with my best friend, future mother-in-law, and future sister-in-law. Before going, I had never tried on any dresses - only looked online and had ideas of what I thought I would like. Upon arriving to L'Fay, I immediately felt like I was in a high end boutique in NYC. It's beautiful inside. It's not extremely large, but it seems they only book one bride at a time. My consultants name was Noreen, and she gave us 100% of her attention throughout the entire appointment. I loved that we were allowed to browse through all of the gowns ourself to pick out ones I wanted to try on. I was gravitating to one specific style of dress, and Noreen encouraged me to try on a few different styles. She said if there was even one thing about a dress that I liked, then I should try it on. I tried on 7 different dresses, and actually ended up saying yes to the very first dress I tried on! Noreen and I would come out in a dress, we would get everybody's opinion, and then when we went back to the dressing room she made sure to ask how I specifically felt in the dress. Also, we were allowed to take pictures in every dress. My friend was able to make a collage on her phone so we could compare them all next to each other. After trying on the dresses, she told me to pick my top 3. However, I was pretty positive which dress I thought would be mine, so I decided to get back into that dress. When I came back out, I just knew it was the one. Everybody's reaction was priceless - and when Noreen put on the veil we all couldn't help but get a little emotional. My sister-in-law brought champagne and plastic champagne glasses, and they had no problem with us celebrating with a toast after I was out of the dress. One of the best parts was that everything totaled well under my budget. I wanted to spend no more than $2,000 (and that was including a veil and accessories). We are still talking about how much fun we had! Thanks L'Fay!

I am so pleased that I decided to visit L'Fay bridal when beginning to shop for my wedding gown. I contacted L'Fay bridal searching for a specific wedding dress that I found online. I live over an hour away and only planned to be in that area one day to attend a bridal show. Renee was quick to respond to all of my emails. Not only were they able to fit me in for a private appointment 2 days after I contacted them, they even opened the boutique 30 minutes early so I could have more time to try on dresses before the bridal show. My consultant, Noneen, was very welcoming. My requested dress was pulled and ready for me upon arrival. She also encouraged me to look around and pull several more dresses in their beautiful boutique. After trying on several dresses and not quick getting "that feeling", upon her suggestion, I tried on the gown in the window display. I got "that feeling" and found my perfect dress thanks to her help! The atmosphere was clean, bright, and comfortable, much like you would expect to find only in a big city. They answered all of my questions and allowed me to take as many pictures as I wanted. The entire team, Renee, Noreen, and Gloria, are just lovely. I am looking forward to my second appointment!

Sheena

Married on 11/14/2015

This is a diamond in the rough! I went to all the typical bridal stores to get an idea and after putting on dresses that were 10 sizes to big with clamps to keep it on me ... I was completely discouraged until my matron of honor saw that this boutique was nearby and it was open so we called ahead and said we understand you most likely need an appointment but we are just curious if we would find anything of interest.... Well, lucky for me!!!! The bride that was scheduled for her fitting never showed up and the consultant was able to dedicate all her time to me and what an amazing experience.... I felt the "Wow" and every dress I tried on just kept getting better and better to the point that I had to choose! This store had everything I dreamed for my wedding day and I can't thank everyone there enough for such a wonderful experience.

This shop presents clients with knowledge and professionalism to its fullest. They are very kind and patient with their brides and the dresses are also very beautiful and unique! Would definitely recommend to others.

I went in today just hoping to walk out with an idea of the type of dress I wanted. I walked out with the most amazing dress! The first thing I was asked was what I thought I liked, I honestly had no idea! They were the most helpful people EVER and I felt like I have known them for months. They were so welcoming and so helpful. We were able to customize my dress to exactly how I wanted it. The best part is, I said I don't think I would cry when I found the dress, sure enough I cried once I was all dolled up with my dress, veil and sash. I have never felt so beautiful. They knew exactly what they were doing. I never once felt rushed or pressured to make a decision that day. Everyone must of asked me if I was sure 20x! I think because it was the first place I went and one of the first dresses I tried on! They say when you know, you know, and I did not believe it until it happen to me & it all had to do with the people and the amazing experience we had at L'Fay Bridal in Fogelsville. It was matron of honor, mom, dad, grandparent, sisters & two best friends approved!!!! Thank you so much and I highly recommend this place to EVERYONE!

My best friend purchased her gown at L'Fay on Saturday. I scheduled the appointment at L'Fay due to its reviews and I was a bit nervous. Not knowing what to expect, I was completely blown away by how beautiful the boutique was, the quality and uniqueness of the dresses, the knowledgeable and kind staff and the fact that we had the entire space to ourselves (since it is by appointment only.) It was a dream experience and I don't think anyone (the bride, her mother, family) could have asked for anything better.

Thank you so much, L'Fay!!

Samantha

Married on 10/04/2014

This was the first vendor that I visited for my wedding dress, and my last. I was helped by Robert and sales associate Ann. Although this was overall an overwhelming experience being my first location, I was beyond pleased by the professionalism and assistance these two exceptional people provided. Ann listened and was responsive to the list of gowns that I hoped to try on, and Robert helped move me out of my comfort zone to try gowns that I would have never thought of. Robert is extremely knowledgeable in this area and made me feel like a queen. Both Robert and Ann were very accommodating to my mother and best friend who attended. I ended up finding my dress, which was not even on my list! With the help of Robert and Ann they helped create the perfect dress for me which I had envisioned, but they did not exactly carry. I ended up with a dress and a bolero on top! Perfect. Another aspect which would cause me to highly recommend this location is that they help ONE customer at a time. You set up an appointment, and you are the only one in the store. I was very turned off during dress shoppings with my friends when there were 5, 6, even 7 other brides being helped at the same time! This experience should be fun and personal. I have no complaints and would recommend L'Fay in Fogelsville, PA to anyone!

Dana

Married on 12/20/2013

Anyone and everyone who is looking for a wedding dress, should definitely go to L'Fay Bridal! I am telling you, you will not be sorry! This bridal boutique blows all others in the area, out of the water! You will feel like you're in NYC, by the way they treat you. When you are there searching for a dress, nobody else is there. It is just you and your party, and the consultant. Robert helped me when I went in. I did not feel strange having a man help me. He knew far more about fashion than most women! My dress is a showstopper and I've never seen one like it! After you purchase your dress from L'Fay, it will then be cared for by Nina, their seamstress. She is amazing!! I didn't even have to tell her where I needed more support in my dress, or where I felt like I was "falling out" of my dress. She would take one look, and immediately said what she needed to do. Each fitting I went to , my dress was exactly the way I wanted it. Please, before going to any other bridal boutiques, you should definitely be going to this one! I had visited many boutiques in the area, and I thought I had "my dress" already picked. I already had an appointment with L'Fay's scheduled, so I decided to keep it and just check what they had. Boy, was I wrong? I found "my dress" at L'Fay's, and it is beautiful and everything I ever imagined! I am so glad I listened to my mom and sisters, and decided to keep my appointment. Go to L'Fay's, and you will get one heck of a wedding experience!!

At L'Fay Bridal, I fell in love with the Faye Dress and knew it was my dress. It is so unique, and beautiful! I never knew such exquisite lace existed. Renee, my consultant showed me the perfect way to accessorize it and showed me a great way to wear my hair!
She even set up an appointment for me the same day to meet the seamstress Nina, who showed me how she would line the dress for me  and how it would be bustled. I am beyond excited to be getting such a fabulous dress, and its from France!


Nicole

Married on 08/24/2013

This past Sunday my mom and i had the most amazing and pleasant time at L' Fay Shop. Rene treated us with so much patience , care and elegance. She is not rushing you. I felt so at ease trying all the dresses and Rene was superb!! so caring, intuitive and sophisticated!!! I tried my dress few times and we left so vey happy!!!!

The seamstress Janina is so talented , she was able to add cap sleeves to my strapless gown making it seem as if they are part of the dress! I really love the way she tailored it to fit me perfectly and she added a built in bra so no discomfort or worries there!
Renata , my Consultant was by my side the entire process and L'Fay accommodated me when needed. I really recommend L'Fay Bridal for the benefits of getting such personalized service. I cannot wait to walk down the aisle in my dream wedding gown!


Jennifer

Married on 12/21/2012

I have nothing but great things to say about L'Fay Bridal and Renata (my consultant.) First of all know that L'Fay bridal carries, (as far as I know,) only gowns by French designer Cymbeline. These gowns are a must see. They cater to a bride who wants somethign different from the run of the mill wedding dress but who also cares about elegance, quality and attention to detail. I am so happy I found out about this designer!

I chose to go to the Fogelsville PA location for a few reasons. I live in NJ so am pretty much in the middle of all 3 locations. I figured the PA location would be less crowded, offer me a quiet experience and be easy to get to. The store is beautiful, very modern and elegant. I was the only customer in the store which was awesome, I was really the center of attention! The shop is right off the main highway so it is super easy to get to from NY, Philly or even NJ.

Renata was the reason the day was perfect. Prior to my appointment she asked me what type of dress I was interested in and told me she would bring dresses from the other shops if I had a specific gown in mind. The great thing about the PA shop is that they have primarily all of the gowns from previous seasons and are offered at amazing prices. They will however bring a current gown from NYC for your appointment if you so desire. I had already purchased a gown from Allure that I hated so for me, saving money was important. Renata never made me feel bad or feel like I was a waste of time like some shops do when you buy sample gowns or off the rack. She asked me my price point (I wanted to stay under 2,000) and I was amazed to find that every gown in the shop was under my budget!!! She is the sweetest most professional consultant I worked with during the dress buying process!

She made me feel at ease and knew almost immediately the exact dress for me. In fact, the first gown she pulled was the gown I ended up buying! I loved every gown there but ended up narrowing it down to two gowns. She never rushed me, tried to influence or pressure me, very uncommon for bridal consultants. She helped me in and out of the two gowns 3 times before I could decide! She even let me take a picture of the gowns to send to my Sister to help me choose.

The whole process from start to finish was perfect. To make an appointment at the PA shop I recommend calling the NYC store since the PA location will not be open full time until September. Renata came in just for me on a Sunday and gave me my choice of time, unheard of in the bridal gown world! I arrived at 1130 and didn't leave until almost 230, like I said, she let me take my time! I ended up with the dress of my dreams, an illusion lace bodice, drop waist corset gown with an amazing (not mermaid) skirt, all for only 1600! BTW, they also have AMAZING accessories at L'Fay. Super high end looking pieces for very reasonable prices!

They are storing my dress for free until I am ready to come in for alterations. Renata recommended I come in early Nov for my first fitting as my wedding is in late December. I will post a review on the alterations and seamstress after I work with her! Please do yourself a favor and try L'Fay bridal before you purchase a gown. Be sure to ask for Renata, you will not be disappointed!
Are you interested?
Send a message