29 Reviews
Recommended by 98% of couples
Quality of service

4.9 out of 5 rating

Average response time

4.8 out of 5 rating

Professionalism

4.9 out of 5 rating

Value

4.9 out of 5 rating

Flexibility

4.9 out of 5 rating
Awards
3 User photos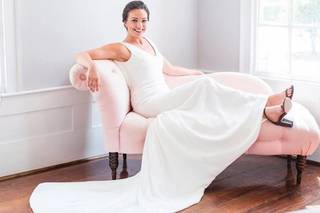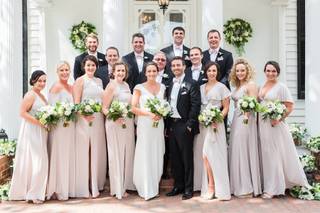 Ruth R.

Married on 05/21/2022

Great! Book Immediately!

Let me start out this 5 star review by being completely honest here for a moment: I have never wanted a wedding. When my fiance and I got engaged I pleaded with him for a courthouse ceremony with 2 witnesses at the Santa Barbara city courthouse. My fiance wanted the wedding so we compromised on a small, intimate ceremony…cue Maddash entering the conversation.

Let me also be vulnerable and say I am one of the most neurotic people I've ever met (and I'm a clinical psychologist with a PhD in clinical psychology!) so it is a particular challenge for me to give up control and trust someone else…especially with such an important day as a wedding. However, I finally let go and trusted the MadDash process and have been thanking myself a million times over for doing so.

Ok here's the deal: if you go with MadDash your wedding will be even better than you could have even dreamed possible. You might have an idea of what "perfect" looks like in your head but Brooke and Priscilla will do such an amazing job that you realize whatever your mental image of "perfect" was before was actually just "mediocre". They will truly show you how perfect it can be. You will be on cloud 9, showered with love, unable to form words at how incredible the decor/planning/execution will be.

Brooke feels like a big sister looking out for you and having your back while simultaneously wanting the absolute best for you. She is engaging, genuine, kind, loving, empathetic and simply "gets it"...but also at the same time she is somehow efficient, competent, intelligent, sharp witted and a quick thinker. She is the IDEAL wedding planner and could not have found a profession more suitable for her skills. She is the type of person you wish could be your best friend and you feel proud of her even though you may not know her very well yet. Wow, her children are SO lucky to have her as their mom (I can't even imagine how good those birthday parties and family trips must be!!). Saying MadDash goes "above and beyond" feels like a watered down version of the reality of the situation. They literally and figuratively make your dreams come true. You can tell they surround themselves with good people and likely good people are attracted to working with them because of who they are at their core. In your most vulnerable, intimate, life altering moments (about to walk down the aisle, about to do the first look etc.) you want someone like Brooke by your side. One of the most meaningful moments of the entire day was when I looked over at Brooke before the "first look" and told her I was nervous and worried I might cry-to which she responded "Stop or you might make me cry". I could have been dreaming this up but it looked like her eyes might have been a bit misty when she said that. If after doing this for so many years and she STILL feels emotion with her brides…that right there is the sign you've got the right planner. Not only the right planner but THE planner. What more could you ever want?

I'm going to end this review now-not because I want to or have even fully captured how incredible MadDash is-but because I'm starting to feel creepy with how obsessive/enamored this is sounding.

TLDR; just book MadDash for your wedding and I guarantee it will be one of the wisest decisions you and your future spouse can make in your life.

Melissa K.

Married on 05/22/2021

Amazing wedding!

This was such a beautiful venue! Ian was extremely helpful and responsive. All the staff made sure we had everything we needed and the wedding was perfect.

Grace E.

Married on 03/04/2021

Amazing!

This venue is amazing. Brooke and Priscilla go above and beyond to make sure that everything is to your liking.

Are you interested?

Send a message

Gina P.

Married on 05/16/2020

Amazing job!

The girls who own this venue did such a wonderful job at making our day feel so special, despite the current events. Extremely flexible, and they were willing to go above and beyond. Definitely recommend!

Dorian M.

Married on 01/11/2020

Beautiful, Well-Maintained, Chic

Immaculately kept space. Super chic (straight out of a Pinterest post) decor. Perfect background for our wedding!

Kristen

Married on 09/08/2018

Priscilla and Brooke are amazing! This venue photographs so well. I fool my bridal portraits there and I was so happy with all of the different scenes created in fine house. For the wedding, it was everything we wanted. Our guest raved on how beautiful the venue is. The bridal and grooms suite is perfect for getting ready and makes for some beautiful pictures. The venue staff went above and beyond! I highly recommend this location.

Tiffany

Married on 06/10/2018

Priscilla and Brooke were so easy to work with and completely brought my vision to life and beyond. Every detail was remarkable and every guest commented on how beautiful everything was. They calmed my nerves when I panicked a couple days before but they ensured we had everything we wanted and needed. I could not have asked for anything more. I love them so much for making this one of the best days of our lives.

Tara

Married on 04/14/2018

I toured the Mims House 4 days after I got engaged & immediately knew it was going to be the perfect venue. It was charming, quaint, cozy & gorgeous all at the same time. Priscilla & Brooke were fabulous to work with from the start & I immediately loved their energy & style!

It was incredibly helpful that they provided a list of preferred vendors. I booked a couple meetings with some (DJ, florist, rentals, etc.) & they each exceeded my expectations. I knew quickly that if Priscilla & Brooke recommended someone, then that vendor would be amazing. I had most of my wedding planned within the first 3 months simply because of the fabulous recommendations provided by the Mims! I had no idea that by picking a venue I would also be getting some of the best vendors in the industry.

As a bride you spend so much time planning & hoping everything comes together exactly how you wanted it. I can honestly say that it was EXACTLY the way I pictured & I owe that to Priscilla & Brooke. Priscilla met with us a few months before the wedding at the Mims and helped create a detailed itinerary of the day before/day of the wedding. This was so helpful as I was planning details with the rest of my vendors. The day of my wedding, the bridal party got ready in the bridal suite & grooms room. Both are gorgeous with everything you could need -mimosas, steamer, etc. By the time we were ready for pictures it was completely set up downstairs! No arranging tables or decorations - it was all taken care of for me! Each room in the Mims House is charming in its own way so I didn't need a lot of extra fluff/decor.

I pictured a traditional wedding that was whimsical & southern while cozy enough for my guests to feel like they were hanging out at my own house. That is exactly how my guests described it! Since then, we've been told by guests that it was by far the best wedding venue they have ever been to! I HIGHLY recommend the Mims House & it will always hold a special place in my heart.

Leslie-Alford-Mims House's reply:

Well my goodness - this is the loveliest review ever. We loved getting to know you and work with you. Thank you for choosing the Mims House. Your wedding day was gorgeous from start to finish!

Patrick

Married on 10/01/2017

The experience for myself and husband were phenomenal. Priscilla was right on time with everything! I could not have imagined the best day of my life with out her. I would recommend this venue to anyone. It's simply a gorgeous historic home. Priscilla and Brooke have the best test.

Thomas

Married on 08/19/2017

Could not have been happier with this venue. Great folks to work with, beautiful setting, wonderful facility. Highly recommend. They did a superb job with our daughter's wedding.

Jodie

Married on 08/18/2017

Our wedding experience here was absolutely amazing. The house looked beautiful and the staff accommodated all of our needs; we didn't have to worry about anything except showing up and getting married.

Tessa

Married on 07/02/2017

It was an amazing wedding! Everything was very organized and beautiful.

Lauren

Married on 08/06/2016

My wedding day at the Mims House was absolutely perfect!! I would recommend this venue to any bride! Brooke, Priscilla, and all staff on board bent over backwards to make this day totally perfect for me, my husband, my bridesmaids, and my family.
On my wedding day, it started off raining, so we made the call to move the ceremony inside. After a couple hours of rain, it started to clear up, so Brooke and Priscilla made the call to move everything back outside, which included moving chairs and tables for 180 people. The Mims House staff did this no problem at all!
Not only was Mims staff amazing, their venue looks like something straight out of Pinterest. I got ready in the Bridal Suite and the salon (two of the cutest decorated rooms I've ever seen.) My hubby got ready in the Groom's Suite - very masculine and manly - which was a nice break from all the blush and grey for him! :) The back patio and portico was the perfect spot for my intimate reception. They even had market lights already strung!
My wedding day would not have been the same without the Mims House and their amazing staff. I am truly so happy I decided to get married at this venue!

Lina

Married on 06/05/2016

If I could give The Mims House more stars, I definitely would because they deserve them 100%! From the first day we went to see the Mims House, we knew that our wedding would take place at this beautiful historic venue. All of the staff is truly amazing! They are helpful, talented, sweet beyond words, and impressively organized! We worked with Brooke throughout the entire process and I can't stress enough just how amazing and accommodating she is. Brooke bent over backwards for me multiple times throughout my planning process (at least 3 times) due to some unexpected last minute changes I had to make, and never once did she act like it was a problem for her (...when i'm sure in reality, it totally was). During my 8 months of wedding planning she kept in touch, reminded me of important details & always offered to help me with any of my other wedding tasks, especially when she could sense i was getting overwhelmed with the whole thing. In the end, the Mims House made the planning process very easy and stress free because their contract was very clear and included almost everything, and for the few things I had to do independently, they provided me with references to reputable vendors that I could use (who also did a wonderful job). Our wedding was amazing and ended up truly being...everything I'd ever dreamed about!
Thank you to Brooke and Priscilla for making sure our day was the best day ever!!

Whitney

Married on 05/29/2016

The day after getting engaged I began looking at wedding venues (I was super excited!) and the ladies at the Mims House were the first people I contacted. Brooke and Priscilla quickly set up a time for my fiancé and I come and visit, and we fell completely in love. The house is dripping in beautiful, historic details and you can tell that they poured their hearts into every inch of it's restoration.

My wedding party spent the entire day of the wedding at Mims in their awesome bride/groom suites (and unique hair/makeup room!), and loved the relaxed atmosphere it created not having to rush over after getting ready.

The downstairs and outside spaces were perfect for our wedding (we had just over 130 guests) to feel intimate but not crowded. The backyard has an amazing paved patio which fit right under the 40x60 tent we rented - and was a lifesaver when a massive tropical storm blew through our wedding.

During our reception I had quite a few guests mention that they had never been to such a beautiful wedding, and how romantic and charming the house was. I absolutely loved having my wedding at the Mims House and working with Brooke and Priscilla. These women clearly love what they do and their creativity and passion are contagious! Thank you from the bottom of my heart for bringing my wedding vision to life!

April

Married on 05/07/2016

First of all I had the most perfect wedding! Everything turned out beautiful! The Mims house was such a gorgeous location and I knew it was the place I wanted from the first time I saw it. Brooke and Priscilla were great to work with. The addition of the back patio was fantastic and was so excited that it was ready for my big day. It worked out perfect to be able to have my bridemaids and I get ready at the house. We had drinks and food available the whole day. It was just absolutely perfect and wouldn't have changed a thing :)

Larry A.

Married on 05/07/2016

Mims House was a beautiful location for our daughter's wedding and reception. Brooke and Priscilla worked with our daughter to make sure the venue was available for the wedding portrait, rehearsal, wedding, and reception. They provided delicious food for the wedding party on the day of the wedding. Chairs were provided and set up for our many guests and a bar was set up for those who wanted wine and beer.

Mims House has an ideal location for outdoor dining and dancing. Their staff worked tirelessly to help set up before the wedding and afterward.

We HIGHLY recommend this venue for a beautiful and memorable location for a wedding and reception!!!

Leslie-Alford-Mims House's reply:

We can't thank you enough for your kind words. We sincerely appreciate you taking the time to leave your feedback and for encouraging others to use our property. Best wishes!

Madeline

Married on 04/02/2016

We had a beautiful day at the Mims house! Brooke and Priscilla were so gracious and attentive on the day of, and their staff set up everything just perfectly. I prepared my own flowers the morning of, and they let me make a mess of the house with buckets and leaves and petals, yet somehow had it beautifully decorated just a few hours later. I had a tight budget, but compared to other vendors in the area with both an indoor and outdoor space, this venue was the best value for me. The house is beautiful, and the portico was perfect for a lovely evening of dancing. Brooke and Priscilla set up a rain plan, floor plans, and went with the flow of all my last minute changes and questions and vendor additions. If I had the chance to do it all over again, I wouldn't change a thing!

Leslie-Alford-Mims House's reply:

Thank you for your sweet words! We absolutely loved working with you. You are a true gem, evident by bringing home a gift for us from your honeymoon. We wish you nothing but the best and hope you'll keep in touch!

This venue is just absolutely gorgeous and the sweet ladies who run it are simply the best.

Stephanie

Married on 12/19/2015

The Mim's House was the most amazing place for my wedding. The owners of the Mim's house took the time to get to know me, my style, my likes and dislikes, and came up with the most beautiful wedding reception I could have dreamed of. Everything was perfect down to each detail. As a bride, there is so much to worry about, and Brooke and Priscilla took care of all those worries so I could just cherish my special day.

The Mim's House is so beautiful. All my family and friends were in amazement that I found this "secret" place located right here in Raleigh (well, in the heart of Holly Springs).

Randi

Married on 10/03/2015

Finding the perfect wedding venue was one of the first and most important decisions we made during the wedding planning process. It was easy to fall in love with the charm, beauty, and homeyness of the Mims House. But just as important for me, was to find a venue that would treat our family and friends like honored guests. I hoped that Priscilla and Brooke were going to take care of our guests, the same way that they poured their hearts into the restoration of the Mims House.

Now that our wedding day is behind us, I can say that I am so deeply grateful that we booked this venue. They did just that. And to top it off, they made me feel like a very special bride.

We had a great experience from the first time we toured the home. The owners talked openly and respected our budget. I loved watching the home evolve during our engagement. We were one of the early couples to book at the very end of 2014 when renovations had nearly begun. It was so cool to watch Brooke and Priscilla's vision for the Mims House come together. I adored visiting and exploring as much as I could... and was always welcomed! They even invited us to their grand opening party, and that's when we knew that our wedding wasn't only going to be beautiful, it was going to be FUN. Brook and Priscilla know how to host a darn good party!

Since our wedding, our family and friends gush about how much they LOVED our wedding venue. The bridal suite and grooms suite were extremely accommodating and comfortable. I had a bridal party of 6 and we had plenty of space to relax, spread out, and get pampered. I imagine this venue would be perfect for larger bridal parties too. Did I mention the decor? To die for.

It seemed like this venue has thought of all the small details we would need for our wedding. From extra hairspray, to stocked mini refrigerators, clean bathrooms, and extra umbrellas-- everything was covered. I could go on and on. If you are looking for an exceptional wedding venue, pick Mims!

Leslie-Alford-Mims House's reply:

Oh sweet Randi. How do we ever thank you for choosing the Mims House to host your wedding and for allowing us the opportunity to get to know you? We adored your wedding. When we envision the perfect intimate wedding, yours will always be the first to come to mind. It was full of love and respect and was dripping with gorgeousness. You and your family are welcome back anytime and we are so thankful to now call you a friend. Let's please get together soon for a little girls' night!

Lauren

Married on 09/12/2015

I have loved the Mims House since I moved to North Carolina in 2007. It's changed hands several time through the years, but Brooke and Priscilla have finally got it right. The house is beautiful on it's own, but Brooke and Priscilla have decorated it in a trendy, yet classic and elegant way. I've always wanted to have some excuse to spend a few hours at the Mims House, and finally decided I would throw my sister-in-law's baby shower there. Brooke and Priscilla were SO accommodating in working with my special requests. They were responsive, professional, kind, and competent during the entire process, from initial contact, to the end of my event. There were approximately 30 attendees at the shower, and most of them commented on how impressed and in awe they were of the venue. Several of my fellow book club members were in attendance and commented that they'd love to have our annual Christmas party at the Mims House. Brooke and Priscilla are now working with me to schedule that event. I would recommend the Mims House to anyone for any special event, big or small. We made some incredible memories in the three hours we were there for the shower, and I finally fulfilled MY dream of spending time in this historic, stunning house. AND, it was affordable to boot!

Leslie-Alford-Mims House's reply:

Thank you so much for choosing the Mims House for your event and for deciding to host another one! We can't wait to have you on the property again and are looking forward to hosting you and your friends. Thank you for taking the time to leave your feedback. We are so grateful.

Lisa

Married on 05/23/2015

I had my husband's 50th birthday party at the Mims House. The house is beautifully decorated and has so much character. The staff is super friendly, knowledgeable and attentive. I can not rave enough about their services and have had so many compliments about the party. This is definitely the first of many events we will host there.

Leslie-Alford-Mims House's reply:

You were such a delight to work with and we loved every single minute! We hope your husband loved his cake as much as we did. Please come back soon!

Addie

Married on 05/02/2015

This is the BEST venue in the Raleigh/Durham/Cary area.

The Mims-House saved our wedding! With just a few months to go before our big day, our previous reception venue backed out on us. So I reached out to my network and begged for help. A friend recommended the Mims-House and I sent them an SOS right away. Within 10 minutes I had a response from Priscilla, and within 30 minutes I had an appointment on the books to check out the space. We signed on the spot. (Note: With the many other venues we reached out to, it took days if not weeks to either get a response or get answers to our simple questions).

The venue is breathtaking - the owners, Brooke and Priscilla have gone to great lengths to maintain the house's historical integrity, but have added their own chic style to the rooms and suites - we felt like we were in the pages of a magazine spread.
I must have talked to 15 vendors before I connected with Brooke and Priscilla - each vendor had a huge price tag, crazy rules, hidden fees, confining "packages" we had to purchase for this or that etc. The Mims-House was a breath of fresh air. We found the ladies to be very flexible, there are no confusing hidden fees, no crazy rules or stipulations, and price was very affordable for our budget.
I relied heavily on Priscilla and Brooke's expertise to help me get things in order for my big day - they both have many years of experience helping brides like me coordinate and plan for a stress-free wedding - I couldn't have done it without them. They answered all of my questions quickly, professionally, and went above and beyond to help make our day a success.
I can not recommend this venue enough. We will definitely go back to the
Mims-House for our next big party or event! I know we will be in excellent hands.

Thank you ladies!! We will see you soon!

Leslie-Alford-Mims House's reply:

Thank you so much for hosting your wedding at the Mims House. We were extremely blessed to have you come our way and we were more than happy to pick up where the other venue left off. You were an amazing client and we so grateful to have had the chance to work with you. xoxo

Kenzie

Married on 06/24/2017

I knew I wanted old southern charm for my wedding venue- and the Mim's House was perfect!! The value for the price is perfect! The ladies who own the house (Brooke and Priscilla) were fantastic to work with and were ready to help with any question or issue that arose!
Are you interested?
Send a message