23 Reviews
Recommended by 93% of couples
Quality of service

4.7 out of 5 rating

Average response time

4.6 out of 5 rating

Professionalism

4.7 out of 5 rating

Value

4.6 out of 5 rating

Flexibility

4.7 out of 5 rating
5 User photos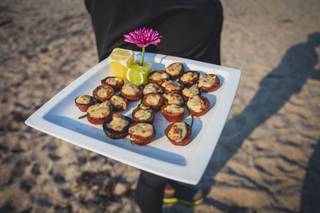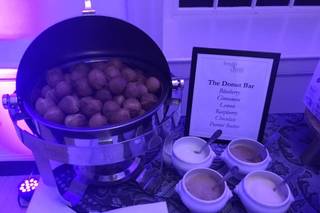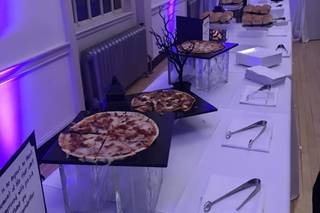 Tennyson

Married on 08/27/2022

Great service, great experience

We had a wonderful experience with Jonathan, Cayla, and the Lavishly Dunn staff. The tasting was fun and Jonathan's expertise was vital in determining the amount of food we should have, as well as how to execute a family-style meal for our small wedding of under 30 guests. The LD staff was great in helping us with our backyard wedding, and came to the house months in advance to help determine workable locations for their staff, power outlets, and brainstormed any issues we'd encounter. The staff were so friendly the night-of, and we loved their bartender, Tucker! Our guests raved about the delicious food as well as the raw bar. Our only snafu was the delivery of their 2000lb oven... with a backyard wedding and a difficult gravel driveway to navigate, we saw it as an issue at the home visit months in advance. We agreed that it would be dropped off days before the event, but that did not occur. We all would have been better off listening to our original plan, instead of trying on the afternoon of the event. In the end it all worked out, but it was far too stressful for everyone involved!

Kaitlin M.

Married on 04/25/2020

Phenomenal!

Lavishly Dunn catered my small wedding reception back in 2020 when COVID first started. A month before the reception we had to go from a 160 person reception to 10 people due to COVID. Lavishly Dunn was so helpful and accommodating to our last minute request. Jonathan delivered the food right to our house and set everything up for us. When I say the food was delicious, that is a huge understatement. My family is still raving about how yummy the food was. I can't recommend Lavishly Dunn enough! We can't wait to have them cater again!

Liz C.

Married on 08/16/2019

Summer Wedding, 2019

From the first tasting to the day my daughter got married, our experience with Lavishly Dunn was fantastic. Both Jonathan and Cayla were so professional and easy to work with. They accommodated our menu preferences with ease, and everything was delicious. I never actually expect that much when a caterer is serving 150 people, but Lavishly Dunn surpassed my expectations. The meals were served in a timely fashion and they were served hot! Numerous guests commented on how good their meal was, not to mention the appetizers and oyster bar! They really know what they're doing, so that you don't have to worry about a thing. Can't thank them, and recommend them enough!

Are you interested?

Send a message

Mike

Married on 06/29/2019

Unique fun amazing food and professional team

Lavishly Dunn catered our wedding last week and did a phenomenal job! The food was delicious and they customized the menu to add little touches that matched our personality (their fun & unique appetizers were a huge hit!). Jonathan did a great job as our wedding day coordinator as well making sure everything ran smoothly at the rehearsal and on the day of. He and Cayla were super easy to work with in regards to preparation and coordination and we highly recommend Lavishly Dunn to anyone looking to cater their event!

Colleen

Married on 10/13/2018

Delicious!

They had the best selection of food and allowed us to customize and choose precisely what we wanted for our wedding! We got to have all our favorite foods with fantastic service on top of it all. Cayla was great to work with any everything turned out exactly as we wished. Thank you!

Paige

Married on 09/22/2018

Amazing food, people, and service!!

Our wedding was in late September, 2018 so this review is long overdue! Jonathan, Cayla and the rest of the Lavishly Dunn team are absolutely fantastic. We were fortunate enough to have our wedding at a family home on the Cape, which was amazing but also came with a lot of details that normally a venue would take care of. Lavishly Dunn made the process easy and fun. Jonathan also served as our 'day of' planner. He and Cayla always quickly answered my emails and calls, helping to ensure that the 'day of' menu was correct and the wedding events could run smoothly. The food was also delicious. Honestly, it felt like we were eating in a 5 star restaurant. The horsd'oeuvres were amazing (I could have eaten a plate of those chicken quesadillas myself), and the dinner was ridiculously good. Several of our guests came up to my husband and I after, asking for recipes. When cooking for 120+ guests out of a makeshift kitchen (they set one up in our garage), I figured it would be good but honestly, they blew everyone away. It was amazing.

The staff were also incredibly kind and accommodating. They took terrific care of our guests. Our cocktail hour was outside by the water, and once the sun went down it got chilly. One server ran to fetch my husband's 90 year old godmother a blanket, and kept checking in on her throughout the evening. They also made sure that my husband and I were always taken care of- that we had a good drink or got first choice of our favorite appetizers. Overall, they were professional, approachable and genuinely happy to be there.

I can't recommend Jonathan and team enough. Jonathan has a great style. He knows how to get stuff done, but he also keeps it fun and stress-free. We wanted our wedding to be a big celebration and Jonathan helped us achieve just that. He and Cayla helped us personalize it with fun details (like making us our own signature cocktails...and letting me buy my own Costco cake). We will 100% work with them again and I can't wait until that day comes! I know how stressful it can be to find a great vendor/food option and I am happy to chat further with anyone who wants to learn more. :)

Patrick

Married on 09/08/2018

Lavishly Dunn was fantastic!! Working with Jon and Cayla was so easy and fun, we were excited to see them on our wedding day. The night of, and since the wedding, we received so many compliments regarding just how good the food was. The salmon and risotto were particularly delicious. From the hors d'oeuvres at the cocktail hour to the carving station and the bartenders, everything was top notch and flawless. It was so reassuring to work with such a professional and talented group!

Karen

Married on 06/17/2017

Rehearsal & Wedding catered by Lavishly Dunn this past weekend. Anyone looking for an amazing team of people to work with & absolutely delicious food, LAVISHLY DUNN is the one to have.

We live in Miami and it is hard planning such an event from 1500 miles away, but with LAVISHLY DUNN, it was easier than I anticipated.

They are so accommodating and easy to work with, not to mention the food!!! We didn't even have leftovers, food was enjoyed by one & all.

Cayla was our coordinator...she was such a sweetheart and was on top of everything. She has great suggestions, so when you get stumped or confused she's right there with a solution.

Jonathan (owner) was amazing! All his years of experience really helped us pull the menu together.

As the nervous grooms Mom, Cayla kept me calm & reassured me all would be perfect, not to worry. She was right, it was perfect!!

THANK YOU again & again Jonathan, Cayla and your entire team!!!!!!

Danielle

Married on 09/07/2013

I can't speak highly enough about Jonathan (the owner and chef) and Michelle (the event planner). First of all, the food was all amazing - the statler chicken breast with potato cake and green beans was delicious (some of our guests said it was the best wedding food they have ever had). Michelle was incredibly organized and responded to my calls/emails right away. After my sight visit with them, I felt at ease. She emailed me a very organized detailed schedule of the day and where everything should go right after our meeting. When I arrived, everything was set up beautifully, 1 of the servers stayed near me to make sure I was able to have my fill of apps, and they made sure my husband and I always had a drink in hand. I would highly recommend them to anyone looking for fantastic food, very reasonable pricing (the were willing to make something that fit our budget), and wonderful event planning! It was an added bonus that Jonathan and Michelle are some of the nicest people we have met as well!

Bridget

Married on 08/04/2012

I highly highly recommend Lavishly Dunn to any New England bridge looking for a personally-tailored menu, delicious food, and a creative-responsive-professional staff! Jonathan took the time to respond to every email and phone call personally and made sure I felt like his number one priority. He tailored his services to fit our on-a-budget-cocktail-style reception and our unique New England meets New Orleans requests (no one in New England makes a better New Orleans Shrimp Po Boy than Jonathan's team!) On top of delicious food (that we actually got to eat because Jonathan made sure one waiter was dedicated just to us during cocktail hour), Lavishly Dunn can literally do all parts of your wedding if you wanted - they have so many contacts and know the area/venues well, so they can do anything! All our guests are still telling us how much they loved the food (and even the presentation of the food!) Thanks for making our wedding delicious!!!

Martha

Event on: 07/25/2012

If there were 10 stars that is what I would have given them. This was a private dinner party for 10 close friends who were celebrating a birthday. From start to finish it was amazing - presentation, quality of food, originality of food, impeccable service and professionalism. Jonathon and Nicole were obviously enjoying what they were doing and it showeed - the night before they had done an event in Boston for 1,000 people but you would never have known - I would and will recommend them to all groups. Martha (Duxbury)

Lindsay

Event on: 07/24/2012

Lavishly Dunn is a terrific full-service catering company. They have a tremendous staff with a great deal of knowledge of the events industry. They are quick to respond to requests both before and during the event. They are reasonably priced,meet budgets and exceed all expectations!

They are unmatched in the city of Boston - in my opinion.

From the preliminary tasting at my parents' house to the end of the night of our wedding, Jessica, Jonathan and the Lavishly Dunn team were professional, flexible and ready to handle anything that came their way - not to mention excellent chefs! The food was DELICIOUS -- I have been receiving rave reviews from guests who could not get over how perfectly cooked the beef was! (I just wish I could have eaten more myself!) Jessica even packed a little bag with extra hors d'oeuvres for my husband and me to take with us at the end of the night. Jessica stayed until midnight to make sure everything was squared away, and oversaw the entire wedding, ensuring that it ran smoothly from start to finish. One example: we had 2 wedding "crashers" arrive during cocktail hour who had originally replied 'no' but Jessica quickly found a table for them without causing a stir. She also made sure the bartenders created our "specialty drinks" just right, checked that the band played our song at the right time, helped get our overnight bags into the getaway car, etc. -- she really took care of everything!

Phyllis

Event on: 05/05/2012

Jessica helped us plan this bridal shower. All food was fresh and attractively displayed. She helped us with the linen and table rentals. Everything arrived on time and made for a stress-free, fun event for our family and friends.

First off ... the food was delicious. My only complaint about Lavishly Dunn is that we got almost no leftovers from our stations and the food was so good that we really, really wanted leftovers to take home! When I told them after the event that this was my only complaint, the chef actually put together a batch of some of the food we'd had at the event for us. It wasn't as good as what we had at the event, unfortunately, but what they did on the day was the important part. Our guests have repeatedly told us that they loved the food, and that everything was delicious.

From the very beginning, they were focused on us, our event and what we wanted. They provided a private tasting, using our menu - something no other caterer offered us. When we were told that they never had a tasting when they didn't make a sale, I didn't believe them, until we went for our tasting. Yum. They sent us home from that with a huge bag of leftovers, and they didn't last 24 hours. At the event the staff followed the bridal party around and made sure they offered us plenty of appetizers and kept asking if we needed them to bring us anything else. They even were willing to make us a groom's cake made entirely of meat and mashed potatoes. It started as a joke, but ended up as very tasty meatloaf that several people commented on. Their prices were very reasonable in comparison to others in the area as well, so, all in, a very very good choice.

User851655

Event on: 06/23/2012

Jessica was a delight to work with from the start. She was enthusiastic, she came up with wonderful ideas to help our event be special and suit the hosts. She also was understanding of our budget constraints and worked hard to create an elegant event that we could afford. She responded within minutes to email and was readily available by phone, even once on her vacation!

The event itself went very well. The food was excellent and received many compliments from a crowd that goes to enough local catered events to be picky. The space was used well and our strange requests were all fulfilled with ease.

We had one glitch with the service during the event. We agreed a time for the cake to be ready at the end of the event, and yet after sending all our guests to the table there was no cake for about 5 minutes. If we hadn't set a time, we would understand this being our fault, but given the overall number of staff available, we were a bit disappointed.

Other than that small problem, the rest of the event went beautifully without any problems.

Amanda S.

Married on 09/03/2022

Fun, well cooked wedding meals

Lavishly Dunn catered our wedding and did a fantastic job. The food was wonderful and they were so accommodating to many allergies. The fish the could have easily been dry wasn't and our guests who are vegan said their food was so good. What really made it though was that their whole staff was so fun and attentive! They really brought the celebration atmosphere to everyone the interacted with. There's always some sticker sticker shock with these types of things but they were right in the ball park with every other quote we got for 130 people.

Shenley M.

Married on 09/11/2021

Elegant backyard wedding in the Fall

Lavishly Dunn provided the catering at our wedding this past weekend and went above and beyond our expectations. Though it was in our backyard, Lavishly Dunn helped elevate the event to an elegant affair. Their timing, professionalism, and skill were all on point. Cayla was flexible and friendly in helping us sort through the planning. Jane led the crew and was outgoing, friendly, and a calming presence. They worked gracefully around us and met all of our guests' needs. The food was outstanding and I heard numerous guests comment that it was the best wedding food they had ever had. We would definitely recommend Lavishly Dunn for your event/catering needs!



Elizabeth D.

Married on 09/10/2022

Delicious Food

Our main focus for our wedding was DELICIOUS food, and Lavishly Dunn completely delivered. Every guest commented on how delicious everything was, and how it wasn't the typical wedding fare, but true restaurant quality cuisine. There were a few logistical issues, but the owner Jonathan completely stepped up on the day of the wedding, and even bartended when he was short-staffed. Definitely recommend!

We hired Lavishly Dunn for our wedding and day-of coordination this summer. My mom had seen them on a local news segment and promptly scheduled a tasting for them to cater our backyard wedding. They were able to work with our budget and alter some things to get the cost down to the amount we were able to pay by substituting certain dishes, and none of the quality or flavors suffered! We also hired them for coordination services, so that day-of we could have someone directing the activities. While we started off with one coordinator, she left and we were paired with another. Most everything went according to plan but there were a couple things missing upon arrival of the cocktail hour. After gentle reminders from my mother-in-law, the missing items were located and placed accordingly.

Our details were very complicated and LD was able to work with our requests. I would recommend them for future events!

Mary

Married on 08/25/2012

Excellent service. This is one of the best catering company out there. I highly recommend them to anybody looking for a wedding catering service. Good job guys!

Whitney

Married on 07/05/2014

Lavishly dunn's food is fantastic! Why is that not a category for rating? The price is reasonable for the quality. It is a small business, though, so be prepared for several days to respond to your questions that is until the week of the wedding then they are very receptive. I would recommend them.

Alexa G.

Married on 06/01/2019

Extremely disappointing and expensive

I never write reviews, but my experience was so poor that I sadly felt compelled to warn future brides and grooms. To be brief, your quote will be a starting point that will increase little by little until your budget has been largely exceeded. For a wedding of 140, we gave a $20k budget. By the time we got to the tasting, the bill had creeped up to $26k. The team at Lavishly Dunn will give you affordable options in order to lock in your $1k deposit, at which point they know they have you hooked. When I addressed the fact that my budget had been blown by 30% for nothing new or special added, Jonathan, the owner, told me that "it wasn't that much of a difference from where we started." However, when I requested my deposit back, I was told that "$1k is a lot for Lavishly Dunn, and they would not return my money." The hypocritical, deceitful practices here are shameful - for those trying to plan a beautiful (and already expensive!) day. Additionally, when going to the tasting, it is $75 per person for those in addition to bride and groom, so be aware no MOH/Best man/parents can come without another incremental cost. The portions were laughably small. For appetizers, the "bite size" portion was so small it really only qualified as 1/4 bite. We would have been mortified serving that to our guests. For $26k, the mac and cheese bites shouldn't require a magnifying glass (it isn't as though this is an expensive to produce item!). Stay away unless you want to be underwhelmed with the food, having guests leave hungry (a friend used them for a bridal shower and they RAN OUT OF FOOD - didn't find this out until after I had booked), or price gouged. There are so many phenomenal options out there - give your business to good people who deserve it, and save yourself time, money, and frustration!
Are you interested?
Send a message