Reviews
5.0 out of 5 rating
Quality of service

5 out of 5 rating

Average response time

5 out of 5 rating

Professionalism

5 out of 5 rating

Value

5 out of 5 rating

Flexibility

5 out of 5 rating
100%
Recommended by couples
Awards
3 User photos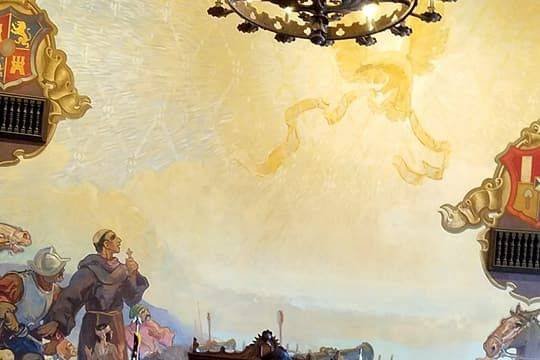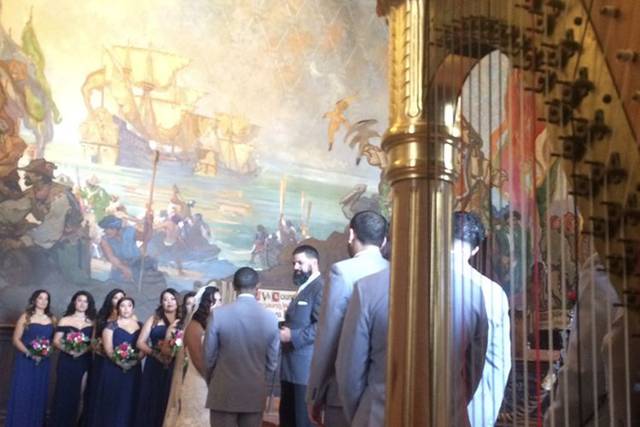 Jennifer

Married on 08/08/2023

So glad we hired Laurie!

We hired Laurie to play at our ceremony at the Santa Barbara Courthouse in the Mural Room. We are so glad we did! She is so easy to work with and she plays beautifully! It gave our ceremony just the perfect touch for a very memorable day! Thank you Laurie!!!

John

Married on 04/21/2022

Harp for the heart

Laurie Rasmussen played beautifully at our wedding! Without any extra work on our part, she folded herself perfectly into the proceedings and worked seamlessly with our officiant to set up and play our outdoor wedding. Laurie's wonderful harp tones and bright smile added even more light to a day that will forever remain illuminated in our memories. Thank you Laurie!

Matthew

Married on 09/05/2021

Incredible Harpist

We loved Laurie's harp at our wedding. Many of our guests came up to us after the ceremony telling us what a wonderful addition she was to the ceremony. Moreover, Laurie was very easy to work with! She responded to our emails within hours and had great ideas for what we could have played at our ceremony. She was also great with logistics; she asked all the relevant questions upfront and knew exactly what to do the day of. I could not have asked for a better harpist at our wedding!

Are you interested?

Send a message

Kaeli D.

Married on 07/24/2021

Beautiful Music and Wonderful Person!

I loved working with Laurie! She was very easy to communicate with, as well as friendly. Laurie was able to accommodate all of the songs we requested at our wedding even though they were not on her website. She was very punctual in her arrival the day of the ceremony and worked with my wedding planner to make sure the timing of the music was exactly right.
The harp music made my walk down the aisle feel so special. It sounded magical! I would definitely hire her again for a future event and recommend her to anyone looking for a harpist. My only wish is that she could have stayed longer because my guests and I did not want the music to stop!

Michelle

Married on 12/31/2019

Perfect ambience for our ceremony

Laurie provided the perfect ambience for our intimate wedding ceremony. She plays beautifully, and delivered a mix of traditional and modern selections for our special day. I would absolutely recommend hiring her for a special event!

Jane

Married on 07/20/2018

Laure made my oldest daughter's wedding an unforgettable event. She is a top notch musician and professional. The selection of songs were perfect for our wedding venue and our family highly recommends her for any musical venue that you might need. Please feel free to contact me via email for any further details. I would be happy to help.

June

Married on 06/08/2018

We initially called Laurie in a panic four days prior to our wedding thinking there was no way she would be able to help us. Laurie immediately reassured us that she WAS AVAILABLE and she had no issue performing at our wedding despite the short notice. She made time to meet up with us two days before the wedding so we could review the song selections for the ceremony. The moment she played "all of me" by John legend i couldn't help but tear up. She played so beautifully, and we knew we were fortunate to run across Laurie as if it was meant to be! The day of the wedding she was able to provide an amazing atmosphere beyond our expectations. She truly added to the experience for us and our guests. Thank you Laurie!

Mike

Married on 05/20/2018

Laurie was absolutely wonderful. She coordinated well with the officiant I hired (Patrice Handley). There was a lot of commotion during the wedding ceremony, but Laurie did not stop her music at all. She constantly played and was able to satisfy the guests while they waited.

Macy

Married on 01/19/2018

Laurie is SO talented and amazing, and the beautiful sounds of the music of her harp floating across our wedding ceremony was the most incredible dream. We are so unbelievably happy that the most special day of our entire lives was so eloquently accented with such classic accompaniment, we will remember this for the rest of our lives. Truly, just so beautiful. Thank you so much Laurie and we are forever grateful for your unbelievable musical abilities and your loving heart. Highly recommended!!

Ramon

Married on 09/09/2017

Wonderful music. We are so glad to have been referred to Laurie.
Beautiful ceremony music. Very enjoyable to work with Laurie.
Highly recommend Laurie Rasmussen.

Dr. Ramon & Mrs. Sandra Guerrero

Diana

Married on 10/14/2016

I can't thank Laurie enough for sharing her talents and experience. She was easy to work with and so flexible. She allowed us to have a private session and even offered to learn new music which she did beautifully! She added an elegance to the wedding ceremony that is hard to describe. The guests absolutely loved her and she was so kind and even answered questions from my curious guests that wanted to know more about the harp. My family still talks about her whenever thinking back to the ceremony. A true professional and a very kind and sweet person! Thank you Laurie!!

Elizabeth

Married on 05/30/2015

Laurie was simply amazing! She played her harp during our ceremony and I loved it! Laurie was easy to work with and when we met with her in her studio she gave us some great ideas and really helped bring our ceremony together! Laurie drove the 45 minutes to our venue, was timely, organized and just looked beautiful! Laurie really can play any song that you ask and I highly recommend her!!

Laurie is the best! Excellent quality, excellent responsiveness, excellent professionalism, excellent value and excellent flexibility.

Yvette

Married on 04/03/2015

Laurie played her gorgeous harp at my wedding at the Biltmore in Santa Barbara. She plays beautiful music and all of my guests raved about how beautiful it sounded. I would recommend her to everyone and do not hesitate to hire her if you want to add a magical touch to your wedding.

Dan

Married on 03/14/2015

We hired Laurie for our ceremony music at the Santa Barbara courthouse. She did an excellent job. We met with her beforehand and she suggested some songs but also let us choose our own song for the entrance of the bride (we chose Halo, by Beyonce and she played it beautifully) She was very responsive via email or phone and very skilled. I'll confess, as the groom, everything was a bit of a blur. But all the guests thought the ceremony was beautiful. Thank you, Laurie!

Samantha

Married on 02/28/2015

Laurie was amazing! My husband and I knew that we wanted a harpist but had no idea what kind of music we wanted for our wedding ceremony or reception. After meeting with Laurie we decided to have a harpist and a violinist. Laurie also helped us select a song for each person walking down the aisle and suggested classical as well as contemporary songs to play during the ceremony and reception including songs by the Beatles! Most impressively, for our first dance, we wanted Laurie and the violinist (Carmalisa who was also fantastic) to play a song titled "Married Life" from the Pixar movie titled "Up." This is not a song that is designed for the harp and violin but it was very meaningful to us so Laurie worked with us to figure out a way to play the song and she did such a beautiful job. The video footage from our first dance is our most cherished memory from the wedding and it would not have been possible without Laurie's talent and her willingness to work with us to make it happen. I cannot say enough positive things about Laurie!

Michelle

Married on 12/13/2014

If I could rate Laurie higher than a five out of five I would in a heartbeat. Talk about beautiful! She is so talented, and the mood that her music creates is absolutely PERFECT for a wedding. She played our ceremony music, and just hearing her play brought me to tears. We were lucky enough to have time to talk with Laurie after the ceremony, and she is one of the most sincere people I have met. Just a genuinely great person. Choosing her for our ceremony was absolutely the right decision, and we highly recommend her to others.

Caroline

Married on 07/06/2014

Laurie was fabulous! We contacted her last minute (9 days before our wedding!!). She got back to us right away and thankfully was available! She gave me song suggestions and sent a link with samples to listen to. She was very prompt in her e-mails and phone calls and even asked for the color scheme of the wedding so she could match! Of course as the bride I wasn't there for the music before the ceremony (my husband said it sounded great), and she played the ceremony songs so beautifully.

Laurie played her harp as the guests arrived at our wedding, during the service and during cocktail hour. We were so glad we chose her. She was wonderful to work with - we were lucky enough to initially meet with her in her charming studio, but she was great to work with by email too. She talked with us about the type of ceremony we wanted and our musical tastes, making some good suggestions for music at key parts of the service but also playing some of our favourites too. Laurie's playing was divine and added an elegant and romantic touch to the ceremony, and during cocktail hour her music was very relaxing and gave a wonderful musical backdrop as the sun lowered and drinks and hors d'oeuvres were served. Our guests loved our choice of harp and in particular the children were fascinated by it. Her harp is surprisingly portable and can be played in many settings, and she has a choice of gold or blue harp. She dressed to fit in with our colour theme, which added an elegant and thoughtful touch. She was extremely professional to deal with and really wanted to make sure we were happy with her services - and we were. We were so pleased to have Laurie help make our wedding so memorable and recommend her unhesitatingly.

Lena

Married on 08/18/2012

Laurie provided music and officiant services for our wedding at a winery in Lompoc. She was a great person to work with; easygoing, helpful, and talented. My husband and I are a very relaxed couple so we relied on her for her expertise and she met the goals we had in mind for our ceremony. The music was very beautiful and the ceremony had a very loving feel. In her ceremony that she made for us it didn't feel like there was a wall between us and our guests; it felt like they were embraced within the ceremony and I thought that was wonderful. The ceremony was replete with laughter, tears, and love.

Both of our parents loved the ceremony and I had friends also comment that they were loving it as well.

She was also very professional. She sat with us for a bit to discuss what we wanted and emailed us with parts of the ceremony beforehand for us to approve. She was also dressed very nicely which I appreciated. She is also very trustworthy; I left a friends bracelet in our ring box at the ceremony and she is mailing it to me.

I highly recommend her!



Dariella

Married on 07/28/2012

Laurie played for our beach ceremony this past weekend and it was absolutely beautiful! Several guests commented on what a nice touch the harp added to the ceremony. She was very easy to work with, responded quickly to emails and played various music selections for us when we met with her. We definitely recommend her!

Jennifer

Married on 07/21/2012

Laurie is a master of her craft and a true professional! She played for our outdoor wedding ceremony at the Four Seasons Biltmore in Santa Barbara this past Saturday at the Monte Vista Lawn. Not only is she extremely talented and affordable, but her music added a special touch to the ceremony that was priceless and magical. Laurie' s harp playing was impeccable and was amplified the perfect amount. I, the bride, was even able to hear the music faintly from the balcony of my room that overlooked the ceremony site before the ceremony which was very special for me. Laurie was extremely easy to get a hold of via email and made the interaction so simple and headache free. I would without an ounce of hesitation recommend her and her services to anyone! Laurie far exceeded our expectations in every way! Our only regret was that we should have booked her for our cocktail hour as well! Our guests were extremely impressed with the soothing live music and thought our ceremony was one of the best they had ever attended and we attribute that to Laurie's flawless, angelic, and heartfelt performance!

Laurie was our lifesaver! We had booked her to play during cocktails and dinner for our wedding reception, and then at the last minute, our ceremony guitarist backed out. Laurie came to our rescue by playing the music for our ceremony in addition to the reception and adapted to the changes in the schedule without a flinch. She even learned two special songs to play during the ceremony. While it was nerve-wracking to make changes like this just weeks before the wedding, we are so glad it worked out this way because he did such an amazing job! She even color-coordinated her outfit with the colors of the wedding. Her music is elegant and beautiful, and it was just perfect for our garden wedding. She is super-responsive and helpful, and was definitely the best vendor to work with!

Lark

Married on 05/25/2012

Like most brides, I had a vision of my wedding; a beautiful day in a park with elegant harp music soflty playing in the background. Well, Laurie Rasmussen helped me to bring that vision to life. Her harp playing was perfection (a comment also stated by my guests) and she was absolutely wonderful to work with. My husband and I met with Laurie prior to our wedding and she played for us several suggestions that she had and some that we had. We loved it! Such a talented lady. On the day of the wedding, Laurie was on time and professional. We can't say thank you enough to Laurie for making our wedding day everything we wanted it to be.

Patricia

Married on 05/06/2012

I knew that I desired to integrate the Celtic into our special day; in particular because of my family ties to Ireland.
When I met with Laurie, and had the pleasure of listening to her interact with the instruments, I felt so calm. The sounds of the harp were so peaceful, and romantic.
For the ceremony, serendipidously, she played a tune at the same time as the bells of the UCSB campus.
I know both I and all of the guests appreciated the uniqueness and peacefullness she brought to the day.
Are you interested?
Send a message