27 Reviews
Recommended by 100% of couples
Quality of service

5 out of 5 rating

Average response time

5 out of 5 rating

Professionalism

5 out of 5 rating

Value

5 out of 5 rating

Flexibility

5 out of 5 rating
Awards
89 User photos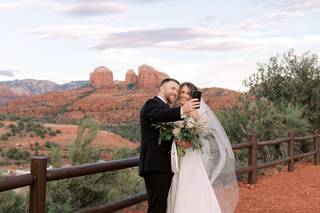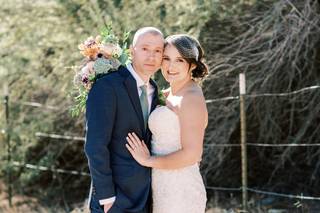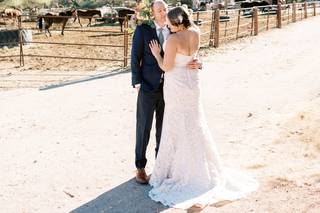 + 85

photos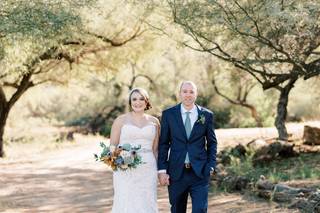 Lisa A.

Married on 10/08/2022

My wedding photos are the best part of my wedding!

Larissa was absolutely amazing to work with and she's insanely talented! She was kind enough to throw in a complimentary engagement shoot for us so we could get to know her and get comfortable in front of the camera and I'm so glad we did it! We still needed some guidance during our wedding shoot but she was with us every step of the way, helping us relax and most importantly, HAVE FUN! And she knows what she's doing because our pictures turned out phenomenal. I love all the candids she was able to capture too. Hands down, one of the most important decisions you'll make for your wedding is hiring a photographer and trust me, you won't regret hiring Larissa.

Larissa Jean Photography's reply:

I'm crying. You and Tanner are the best. I had so much fun getting to know you two and being a part of your day. I feel like the lucky one here, so thank you for trusting me every step of the way for one of your biggest days together! So much love for you!!

Lela G.

Married on 12/11/2021

Say YES to Larissa Jean Photography!

After seeing Larissa's photos from past jobs and talking to her, I was excited to work with her for our wedding. Despite a date change and 20 months of pandemic-uncertainty, she offered steady support throughout the planning process. She provided help and answered questions outside of the typical photography concerns. Alex and I were so excited to finally meet Larissa, and work with her on the day of the event; it felt like meeting a friend. After the wedding was over, seeing the final product absolutely confirmed that choosing her was the right move. We would absolutely recommend working with Larissa for your special day!

+ 6

photos

Larissa Jean Photography's reply:

Lela & Alex- thank you SO much for your kind words! This is everything that I hope my clients will feel, and more. Couples like you are the reason I absolutely love my job. You were amazing to work with and made me feel so welcome the second I got there. Thank you and congratulations again!!

Sarah M.

Married on 12/09/2021

Not just a fabulous photographer, but also a friend!

Larissa was an absolute joy to work with. She was fun, personable, and truly understood us as a couple. It felt like she was a friend at our wedding and we'd known her for years. Thank you Larissa for capturing so many special moments for us!


Larissa Jean Photography's reply:

Thank you so much Sarah & Eric!! It was such a joy to be at your wedding, especially in such an intimate setting. Thank you for trusting me and welcoming me into your family time, and for your sweet words written here! Big hugs to you both!!

Are you interested?

Send a message

Kaitlon B.

Married on 11/06/2021

Amazingly Talented Arizona Wedding Photographer

First and foremost, Larissa is the absolute best person! She is so sweet and easy going and was such a pleasure to work with. She is organized and stays on top of everything which made the planning process run as smoothly as possible (even during chaotic wedding planning moments!). It is evident that she is passionate about her work & her clients. She is accommodating and truly works with you to create exactly what you and your significant other need on your wedding day.
I highly recommend doing an engagement photo shoot with her prior to your wedding day - it was such a fun way to meet her and spend time with her before the big day! You'll quickly realize how great she is and I think that helps going into your big day :)
Lastly, Larissa's work is as amazing as her personality!! Her pictures are absolutely gorgeous and she has the talent to know exactly what to capture. We knew she was amazing, but we were BLOWN away when we got our photos back.
If you are searching for a similar experience - choose Larissa as your photographer! I would choose her a million times over again :)

Larissa Jean Photography's reply:

BRB I'm crying. Thank you Kaitlon for the sweetest review ever!! This means the world to me and I'm so grateful to have met you and Anthony and spent the most beautiful day with you two! Thank you a hundred times over and I cannot wait for our next round of photos!!

Brittany C.

Married on 11/05/2021

We LOVE Larissa!!!

My husband and I got married this past November in Scottsdale, and in the planning process, we found ourselves asking other couples the 'must haves' for the wedding. Every single person we talked to said that investing in a really good photographer was on the top of their list, and now that we have gone through it, I couldn't agree more.
When we found Larissa, I immediately knew we had found that, and then some. My husband and I had never taken professional photographs before, so I won't lie, I was pretty nervous about the whole experience. Larissa wanted to get to know us before our wedding, so we did engagement photos with her. She found the most gorgeous spot for us to take our photos, and made us feel SO comfortable. Coaching us through the whole process and making it feel so natural. I was so amazed by her creativity. When we got those photos back, I was completely blown away, and knew she was going to capture our wedding day in the most spectacular way. Fast forward to our wedding weekend, and Larissa was there for the whole ride. She truly felt like part of our wedding party and like we just had another person from our family joining us. She photographed our rehearsal dinner then our entire wedding day with a second photographer. Both Larissa and her teammate were an absolute dream. Coaching us through the entire photo experience, and once again, making us feel so incredibly comfortable.
She got our sneak peek photos back to us SO fast (I was beyond impressed with this), and I was BLOWN away. She captured one of the most important days of our lives with the most gorgeous photos. I feel like I am pretty picky, and I can truly say my husband and I loved every single photo. Every single detail was captured. She gave us more than I could ever ask for. We are forever thankful for what she has done for us!
Not only is Larissa absolutely incredible at what she does, she has become such an amazing friend through this special time in our lives. We are so grateful to have had her as part of our wedding team, and cannot recommend her and her work enough. She is SO talented and I have gotten an overwhelming amount of compliments on her work. Larissa, we love you too much! Thank you for giving us the most gorgeous photos & memories to look back on for the rest of our lives!!

+ 5

photos

Larissa Jean Photography's reply:

Oh my gosh, how do I even begin to thank YOU for everything Brittany & Collin?! You are two of the best human beings I've ever met. I'm so incredibly grateful to have been a part of your day, I'll remember it forever and I have so much love for you two!! Thank you a million times over for taking the time to write such a thoughtful review. Your appreciation means the world to me and you have a friend for life with me! Hugs!!!!

Britnee W.

Married on 10/22/2021

Highly recommend!!

Larissa was amazing! She was in communication with me throughout the entire wedding planning process (this made planning my wedding from another country in a pandemic go so smooth)! Her photos are gorgeous and we even received our sneak peak 3 days after our wedding!!! 😍 highly highly recommend Larissa!!

Larissa Jean Photography's reply:

Thank you thank you thank you Britnee!! I am so happy that I got to be a part of your day and I so appreciate your kind words! It makes me feel so good knowing that I had a hand in making your wedding day extra special, and I feel lucky that I was the one who got to capture it for you and Clayton!!

Cassandra K.

Married on 09/25/2020

Incredibly gorgeous desert photos from a fun photographer!

We initially approached Larissa with an ask to build a smaller "micro wedding" sized package for us. She thoughtfully took the time to get to know us and our wedding vision, and we agreed to a reasonable price that would fit into our micro wedding budget.

Larissa included an engagement session which was incredibly helpful. This gave us an opportunity to get comfortable in front of the camera, learn her shooting style, and how things would go on our wedding day. Larissa is positive, energetic, and super fun!

Throughout planning, Larissa was very attentive with communication and making sure we had all our ducks in a row for which photographs we wanted to include. Ultimately, we ended up asking her to add an additional hour- and she was more than flexible to accommodate us.

Larissa returned our sneak peek within a week, and our full beautiful gallery within a month. We are so in love with our wedding photos and are so incredibly grateful that we found Larissa!

Larissa Jean Photography's reply:

Thank you SO much for your sweet words Cassandra & Edward!! I feel so lucky that I got to be a part of your special day and I just love you guys to pieces! Can't wait to see you guys again in the future!!

Stacey H.

Married on 02/29/2020

Larissa Made Our Wedding Perfect!

I don't even know where to begin listing the positives about Larissa. She is incredibly talented, patient, sweet, organized, and genuine. She was the best part of our wedding (I mean, other than the whole getting married surrounded by everyone we love bit!). I was an anxious bride and somehow she always made me feel like everything would work out....and she made it work out because she's awesome! She was the one vendor I didn't ever have to prompt, she was so on top of it all!!! She provided wedding guidance when I didn't know who else to ask! She's like an instant friend to help you through! I went with her after I saw the amazing wedding shots she did for a coworker and she did not disappoint!!!

Stephanie

Married on 12/15/2019

Awesome, fun, easy going photographer!

From the first time we talked with Larissa, we appreciated the time she took with us to ensure we felt comfortable choosing her as our photographer for one of the most important days of our lives. She is incredibly patient, kind, and very easy going, it almost felt like another family member was with us throughout our wedding day. And of course, the photos came out great! Larissa and her assistant literally captured every moment of our day and we did not have a videographer, so it was amazing to see how much of our day was actually caught on camera. If I had to do it all over again, I would absolutely choose Larissa again and I would highly recommend her for your special moments as well, you will not be disappointed.

Larissa Jean Photography's reply:

Thank you Stephanie and Bill!! I could not be happier that I got to capture such an amazing day for you two and I'm over the moon with how happy you were with the whole process! You two are the best, congratulations again!!

Jessica C.

Married on 11/23/2019

Larissa is THE BEST!

There are not enough words to express how wonderful Larissa is. We initially hired her for our engagement photos, and after spending time with her and seeing her work we knew we had to snag her for our wedding as well. She is so patient, creative, talented, kind, and just a true joy to work with! As awkward as having photographs taken can be, Larissa made it so easy and comfortable for us. Plus, working with her felt more like a friendship and she's the best hype gal. When I look at her photos, I am able to go back to the moment captured and feel all of the feels again. I feel very lucky to have had the opportunity to work with her twice, and am definitely planning on using her again in the future. I would recommend Larissa eleven out of ten times and highly encourage everyone to hire her.

Larissa Jean Photography's reply:

Well I just love you guys!! You made the entire experience working with you and Gabe so enjoyable and I felt like the lucky one to get to do not only your engagement photos but also the most important day, your wedding day! It was fun and relaxed and you two have an undeniable love for each other! I cannot wait to do more photos for you in the future!! hugs!

Kari S.

Married on 11/01/2019

AMAZING! We love Larissa

We LOVED working with Larissa. We could not have imagined a better person to take care of one of the most important parts of our big day! She was helpful leading up to the day helping us cast a vision for what we wanted to capture and she over delivered. She made the day so fun and encouraged us to be ourselves. We are so in love with the final pictures. Definitely recommend hiring her!

+ 2

photos

Larissa Jean Photography's reply:

Kari & Britton- YOU made the day fun!! I absolutely loved working with you guys and even though we didn't get to meet in person before your wedding day, you made me feel like I was part of your friends and family right from the moment we met! Thank you for being such an amazing bride and groom and thank you for having me capture the best day ever for you!!

Callie R.

Married on 10/11/2019

Perfection

I honestly cannot say enough wonderful things about Larissa!! From our very first conversation, I felt at ease and trusted her completely. Your wedding photographer is one of the most important people to choose for the big day and no one is better than Larissa. She is so incredibly talented, kind, creative, and detail oriented. She was ALWAYS available to answer any questions and also to hear exactly what we envisioned. She was so prepared and I did not ever have to worry about anything when it came to her and her skills. I was planning my wedding from out of town, which can be complicated, but Larissa made it so so easy and effortless! I really can't say enough things about her because it was just PERFECT and she is perfect and if you want someone to capture all the most amazing moments of your special day, hire Larissa!!!!

+ 2

photos

Larissa Jean Photography's reply:

I'm just reading this again and could cry from pure joy! Your words mean the world to me and I can't tell you how happy I am that you were so happy and at ease through the whole wedding planning process. All I ever want is for my brides to feel confident, and to read your words just makes my heart so full! Love you guys and am so grateful to have had a part in your amazing wedding day!! hugs!!

Mercedes

Married on 09/27/2019

Amazing Photographer!

We hired Larissa for our wedding at the Four Seasons in Scottsdale after coming across her through a mutual friend. I found it difficult to find a photographer with light, bright, and airy photos and she was exactly what I was I was looking for! It was truly such a magical day and Larissa went above and beyond for every single shot and request I had. She is the sweetest person and responded to all of my requests very promptly and was happy to do so. She also went to scope out the venue more than once to find the perfect places for all of the photos and we could not have been happier with the way they all turned out. I highly recommend Larissa and would book her again in a second.

Larissa Jean Photography's reply:

Ahhh Mercedes and Nick, I just love you guys!! I'm so glad we connected and that I was the one who got to capture your wedding day! I still smile thinking back on it and how much fun it was to meet you both and spend time with you. Thank you for trusting me and thank you for including me in your celebrations. Please keep in touch next time you're in AZ!!

Josta

Married on 12/08/2018

Perfection

My words of praise can't be said loud enough for Larissa, she is so talented, caring and a truly down to earth person who made everyone feel comfortable and relaxed. Her work is absolutely the investment and time. I highly recommend her!!

Larissa Jean Photography's reply:

Thank you so very much for your kind words Josta! This is exactly how I hope my clients will feel about me and my work, so you just made my entire week and it means the world to me!! Thank you for picking me to capture your beautiful wedding day with Joseph!

Alexandra V.

Married on 09/29/2018

Dedicated and talented

From the moment I met Larissa, I knew she would do everything possible to make my photos and wedding day absolutely perfect. It is apparent that she puts a lot of thought and care into her work, as her photos perfectly capture every aspect of such an eventful day. Planning a wedding is a lot of work and can be very stressful, and Larissa was great at being there whenever I had questions. She also was involved in putting together the timeline to make sure that the day would run smoothly and she would be there to get all of the necessary photos. Larissa is extremely kind, talented, and I cannot recommend her enough!

Larissa Jean Photography's reply:

Well you just brought tears to my eyes! Thank you for being a dream bride and groom, and for having such a fun bridal party!! I will forever remember your bridesmaids serenading you and laughing the day away, and everyone involved in your day was so joyful to be around!!

Brooke

Married on 06/23/2018

We found Larissa through a mutual friend and I am SO thankful that we did. Larissa shot our engagement photos, my boudoir photos, and our wedding photos and let me tell ya; this girl is amazing at what she does! I was so impressed by her professionalism, her quality of work, and how much she truly loves and values her business. It's awesome to see how passionate she is about photography and it definitely shines through her work. Larissa met with me multiple times before the shoots to ensure she understood our style and expectations, which was extremely meaningful to this stressed out bride. The turn around with her pictures is extremely fast, which is a huge plus to me! After each shoot, she would send us sneak peaks just days later and would have all pictures back to us within a month or so. I am so glad that we found her because not only is she our forever photographer, but she has become a great friend. I could seriously go on and on about how wonderful Larissa is!

+ 7

photos

Larissa Jean Photography's reply:

I just love you guys!! I'm so glad that we were introduced and from the minute I met you I knew we would be friends for life! You were a dream to work with and I never knew you were stressed because you handle yourself so well. It was all smiles all day on your wedding day and that's how it should be! Thank you a million times over for booking me for that first engagement shoot....I'm so grateful that our paths crossed!!

Courtney

Married on 04/21/2018

We hired Larissa for both our engagement photographer, as well as, our wedding photographer. We could not have been happier with her professionalism and ability to make a process that could have been painful, fun and easy! Her ability to direct everyone to get the best shot and deal with large groups so seamlessly was amazing. Every picture turned out great and I could not pick a favorite as they all were!

Larissa Jean Photography's reply:

Courtney & Mike, I loved photographing your wedding and seeing how happy you two make each other!! Thank you so much for picking me to document it all and I have no doubt that married life is treating you amazingly!

Monica

Married on 04/15/2018

We used Larissa for our engagement photos and wedding day photos and we couldn't be happier! We met her the day of the engagement photos and right away she made us feel so comfortable! Our original photo shoot spot was crowded, but she quickly adapted and found an amazing backdrop for us! Between the engagement photos and our big day, Larissa was always checking in to see if I needed ANYTHING - not just about photography but for any questions I had with wedding planning! She was so easy to talk to and always giving advice and recommendations. She wasn't just my photographer, she was my friend! Once our wedding day came, Larissa showed up even earlier than planned and started shooting right away! She took charge and got things done, even helped get my flowers to the right place! I had made a list of photos I wanted to capture on our wedding day, and Larissa 100% made sure we got each and every one of those photos! She was on the go all day, and we have the most amazing pictures because of her! Larissa is such a sweetheart, I would highly recommend her!

+ 4

photos

Larissa Jean Photography's reply:

Monica & Eric- thank you thank you thank you for being such amazing clients - and friends! From the minute you got out of your car for your engagement photos, I knew we were going to have so much fun capturing your love together! It's couples like you that make my heart overflow with happiness and I can't believe that I get to call this my job. Thank you for being so honest and open with communication the whole time, you made it easy for me to serve you in the best way possible! Love you guys and cannot wait to see you again!!

Chelsea

Married on 04/14/2018

Larissa Jean Photography is the absolute best!!! Larissa made me and my husband feel so comfortable in front of the camera. She did our engagement photos, which were more beautiful than we could have hoped for! She also shot our wedding in April 2018 and sent us a Sneak Peak a COUPLE of DAYS after our best day ever. She captured memories in a beautiful way that will now last a lifetime.
She is not only an amazing photographer, but she's a joy to be around, quick to communicate, worked well with our families, and flowed seamlessly with our coordinator and vendors.
We loved working with Larissa and her photos are priceless!

+ 5

photos

Larissa Jean Photography's reply:

Chelsea & Casey- I loved working with the two of you just as much!! Thank you so much for the kind words and for allowing me to be a part of such a special day for such a special couple! Your love was the center of the entire day, exactly as it should be and it shone through all your friends and family and all their obvious support for you! And your First Look was absolutely priceless!!

Lara

Married on 03/31/2018

I can't express enough how amazing and talented Larissa is. She has such a calm and sweet demeanor and has a way of just making you feel comfortable and relaxed. Her photography is gorgeous and she has an immaculate eye for details. What I love the most about working with Larissa is that she has a way of guiding you so that you look natural in your photos. Nothing ever seems forced or artificial. She has a way of capturing the most flattering of photos in the perfect lighting. Can't wait for our next session!!

Alison

Married on 02/10/2018

I would HIGHLY recommend Larissa for all of your photog needs, especially your wedding. Larissa was great from the start, she knew all of the best spots for our engagement photos, and came to the wedding venue a month in advance to scout it out. She was great about making the day fun and comfortable for us - my husband hates taking pictures and he was even having a great time!!

We had a very informal "House Party" wedding but Larissa was still able to catch the candid moments and I was so happy with the Bride & Groom and Family portraits. Also, she got the wedding pics back to us in under a month! Thank you Larissa!!!



Elizabeth

Married on 01/24/2018

Larissa is an absolute God-send for any bride! In my wedding planning process, Larissa was a breath of fresh air and by the end of it all she was a friend. She is so much fun to work with and helps you stay excited about wedding planning when it gets tough. She bent over backwards to accommodate our timeline and budget for the day of, and gave us the best wedding photographer experience we could have imagined! I was over the moon with how beautiful all of our pictures turned out! I would recommend her to any and everyone!

+ 5

photos

Larissa Jean Photography's reply:

Elizabeth!! Wow, you just completely made my entire week!! Thank you for being equally as amazing to work with. I could tell you were going to be the sweetest bride right from your first email, and I felt like a part of your family by the end of your wedding day! Thank you for everything!!

Melanie

Married on 12/02/2017

The best!!!

Working with Larissa was one of my favorite and best decisions we made for our wedding. We met about a year and a half before the wedding when we did our engagement photos with her. I knew from that moment she was the one we needed to help capture our big day. Our photos were to die for and just simply amazing. She made us feel so special with her enthusiasm, excitement and ideas. She was so easy to work with during the in between planning months, always happy to help and so responsive. When we arrived at the venue on the day of the wedding, stepping out of my limo and seeing her as a familiar, friendly, excited face actually helped calm some pre-wedding jitters & nerves. The photos are stunning and I have loved looking at them to remember that day and all the love and special moments she captured. It makes me so emotional. I can't thank her enough or say enough good things. We love Larissa so much and highly recommend her if you are looking for amazing photographs and someone to make you feel good, confident and feel like a friend!

+ 4

photos

Larissa Jean Photography's reply:

Melanie and Danny, I love you guys!! I have so much fun with you and you're making me cry with your kind words here. I am so happy to know that I could calm some pre-wedding jitters....that is my biggest goal in all of this, is to make sure you're happy and relaxed with me! I still tear up when I hear "Memories" on the radio but it makes me smile to remember such a special moment from your wedding reception. Thank you for including me in such a special day in your life! Stay in touch!! Hugs!!

Laura S.

Married on 11/11/2017

My new husband and I could not be more pleased with our wedding photos! Larissa, first of all, is one of the most kind and genuine people I have ever met. Her passion for wedding photography shows with every single photo she takes. Larissa is an amazing communicator and was committed to capturing the "feel" we wanted for our special day... and delivered 100%. You will not be disappointed with Larissa... if you choose her as your wedding photographer, you will be in the BEST of hands!

Amanda

Married on 11/04/2017

AMAZING!!! I am beyond happy that I booked my engagement and wedding photos with Larissa! She is so talented, organized, flexible, and personable! First I booked my engagement photos with Larissa and met with her to talk about a location. I told Larissa my fiancé and I love Sedona and really wanted our engagement photos there and she was as excited as I was to have them there! She travels which made our engagement photos the perfect location! Before we met for our engagement session she sent me a Style Guide which was so helpful on what to wear so it wouldn't clash with the background or each other's outfits. A couple things I really liked about Larissa were that in our photo session she gave us direction of how to pose. She made us feel so comfortable that I forgot she was there and had such a romantic experience with my fiancé. We fell in LOVE with all of our engagement photos!
Wedding photos- Larissa was so flexible with her time on my wedding day. She arrived early to get detail shots of my wedding dress and venue. I loved that she took pictures of the set up and details because on the day I didn't have chance to look at everything, and now I can look back at the photos! My husband and I decided to have a first look which Larissa set up and made private for us. First look photos turned out so beautiful and after photos Larissa gave us a few minutes to catch our breath and have a drink with each other before the ceremony! Larissa asked me to give her a must have photo list of family members and she ensured every photo was taken and she directed and organized who needed to be in the photo. Family photos went so smoothly that we were able to join part of cocktail hour with our guests! Larissa ensured to get reception photos of all the dances and guests!
For all of our photos I loved how we were able to print all of them online and have it mailed to our house! Super convenient to download all the photos too!
Are you interested?
Send a message