106 Reviews
Recommended by 96% of couples
Quality of service

4.8 out of 5 rating

Average response time

4.8 out of 5 rating

Professionalism

4.8 out of 5 rating

Value

4.8 out of 5 rating

Flexibility

4.8 out of 5 rating
7 User photos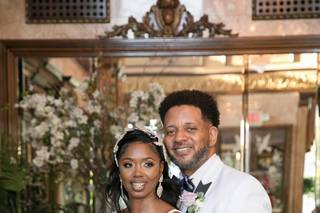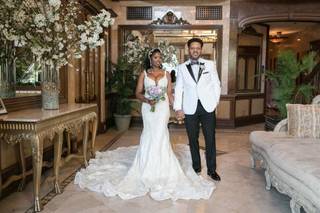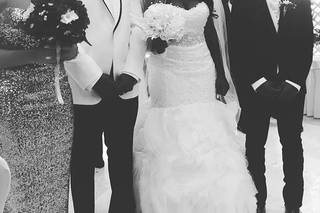 + 3

photos
Pride

Married on 09/03/2022

I had a great experience

Pictures came out beautiful and they were on time.

Lamar Wedding Center's reply:

Thank you Pride, you are a simply stunning bride. Blessings to both of you from the entire staff of Lamar Wedding Center

Louis C.

Married on 06/19/2021

Great Experience!

From start to finish, Rita and her team could not have been better! My wife and I had to reschedule our wedding multiple times due to the pandemic, and during each date change, Rita was extremely understanding and accommodating.

For our actual wedding, Rita was our officiant along with one of our photographers. All guests had such nice things to say about her after the ceremony since she made it so enjoyable. If I were you, I would not hesitate to use the Lamar Wedding Center for your wedding. They offer so many options at great prices, with great service. Thanks, Rita!

Lamar Wedding Center's reply:

Thank you Kim and Lou, I had the best time with you both and your families. Can't wait for the 5 year renewal in 4 more years lol.. Love to both of you, Rita

Yolanda S.

Married on 11/02/2019

Wonderland Women at Lamar

These are a wonderful group of women. I had to reschedule with Rita twice because I was sick. She emailed me wishing for me to get better and to not come outside until my body was ready. She was so caring and sweet and I hadn't even met her. I knew then, i wanted to do business with her. When my fiance and I finally made it, we were greeted by Dana and Collette (the jeweler) with a warm welcome and hospitality. Rita was with a client and Dana helped us. By the time we were done, they felt like family. I'm even having a jewelry party their with my girls in April..... i booked them immediately especially after seeing the beautiful work

Lamar Wedding Center's reply:

Yolanda, you ARE family. We love you and cant wait to work with you on your wedding event. Love, Rita

Are you interested?

Send a message

Steven W.

Married on 08/16/2019

Love our photos!

A coworker of a family member suggested to us to use Lamar Wedding Center, and man, are we so thankful they did! Prior to our wedding, they asked us if we wanted photos of anybody specific, such as grandparents, nieces and nephews, aunts and uncles , etc. Rita and Katarina were prompt in their response to our questions, detailed in taking photos, and to put it simply, nice, genuine, people. They provided us with over a thousand HIGH quality photos to chose from! During the wedding ceremony and reception, you would never even know they were there. Our video was well edited and entertaining, and our photo album was stunning! The photos were collaged in a perfect manner, where the backgrounds faded into each other, creating a continuous flow of our wedding album. Our parent's albums came clean cut and were placed in perfect order. We are at the age where a lot of our friends are getting married, and we have recommended them to everybody. It is rare you find a couple who loves their photographers and videographers. We can honestly say we LOVED working with them.

Jess

Married on 08/09/2019

Excellent Job

Highly recommend very perfectionist! Made my day perfect

Lamar Wedding Center's reply:

Thank you for the wonderful review Jess. My staff and I had a great time sharing the day with you and Ryan. Best of luck to both of you for a wonderful life together .

Dina

Married on 10/13/2018

Been in two wedding that Lamar has been a part of and they were very respectful.

Lamar Wedding Center's reply:

Hi Dina and thank you for your review. It was a pleasure to work with you and your family. Best, Rita Lamar

Grace

Married on 07/28/2018

THE WEDDING WAS GREAT , THE PHOTOS CAME OUT FANTASTIC

Lamar Wedding Center's reply:

Many thanks for the review Grace. Our team was thrilled that you took such good care of us.. Rita

Diana

Married on 05/19/2018

I was very pleased with Rita and her team I felt quite comfortable and was happy with how my photos came out. When you go there ask for Arthur the most professional and patient photographer I have worked with. You won't regret it #Teamlamarwedding

Chevon

Married on 11/17/2017

I will be using them funny wedding this year in November, but they're excellent any questions you have to get back to you with an answer right away. And they have so many things that they can help you with. If I knew that before I would have booked everything with them. I can't wait to have them at my wedding.

Lamar Wedding Center's reply:

Chevon, we r so excited to be doing your wedding. Before you know it, its here. Let me know your needs and ill do your timeline with you. Love, Rita

Chante'

Married on 11/12/2017

I'm glad I chose to work with the Lamar Wedding Center, Rita(officiant) is very professional and informative. The LWC works with your budget and makes sure everything you want/need for your big day is a reality. The vows, sand ceremony, family prayer, ceremony music(I had a live guitarist-Andrew) and jumping of the broom everything was PERFECT & Rita even had the crowd laughing a little which helped keep my tears at bay lol......Thank you Rita and your staff at Lamar Wedding Center!!!

Lamar Wedding Center's reply:

Thank you so much. We love what we do for fantastic customers like yourself. Do you duty

Catherine

Married on 10/07/2017

Choosing Lamar was one of the best wedding decisions I made. They took the stress out of wedding planning, are very fair with pricing, and are just really nice people to work with. All of their vendors that I used – from Glenny for hair and make up, Irene for photography, Jack for DJ services, and Andrew for videography – were professional and amazing at what they do. Rita and Dana were wonderful helping to coordinate everything. And Lodi Flowers provided the most beautiful arrangements. Huge thank you to Rita and the team at Lamar for helping to make my wedding a beautiful and memorable day!

Lamar Wedding Center's reply:

You made a beautiful bride. Thank you for this wonderful review!

Dorothy

Married on 09/24/2017

Lamar Wedding Center was a God send for our Wedding. Choosing Lamar Wedding Center was a great and wise choice for us. Stress is inevitable when planning a Wedding. They kept the stress level down to a minimum for us. This Company was so Courteous & very Professional. They took care of all our NEEDS! From the initial planning up to the Most critical Day. Dana was so helpful with handling the Contract/very responsive. They were always there to answer all my questions, worriers & fears! Rita is a GEM, She met w/me many times to keep things on track. She did my Engagement Photo Shoot as well. It was Fun & photos are amazing! Juan Carlos, my Wedding Photographer is a true Professional. I was so nervous at times. He made me feel so comfortable and made me feel like a true Princess that day. He knows his business and from Shots of getting my MakeUp & Hair done, dress/shoes & Accessories, Bridal Party, etc; he was timely, exact and made it all so much Fun, but with a note of Let's get this as close to perfect as Possible. I LOVED his STYLE!
Mark, my Videographer was amazing as Well. He was so in sync w/my Photographer. He talked us through shots, had us do the most relaxed moments, cutest, elegant little Shots, etc. Made us feel so at ease & comfortable. Our DJ George Hoffman was a Major Hit. He worked w/me early on w/my Music Selections; spent much time w/me on various phone calls answering my questions, offering Suggestions, etc. He was major patient w/me throughout this stressful process. My Guests Loved Him. They are still talking about this Amazing Team Of Prifessionals that made my day PERFECT. My husband & I owe them All our most humble GRATITUDE!! We HIGHLY Recommend Lamar Wedding Center, especially this TEAM!

Samantha

Married on 08/12/2017

We used their photography, photo booth and officiant services for our wedding on August 12 2017.
Rita was a fantastic wedding officiant! Her witty comments and attention to our guests kept me from balling my eyes out. Our photographer was on time, professional, and very attentive throughout our reception. The photo booth guys were fantastic to work with as well! We received numerous compliments from our guests about the services at our wedding and after! I was also very appreciative of Rita's office staff who were helpful and always a pleasure to speak to on the phone. Thank you very much for being part of our special day and making it less stressful!

Donna

Married on 06/10/2017

Lamar did our wedding and the team did a great job. We used them for every service they had, except for the limo cause we had a shuttle. I would recommend them over and over. Very nice staff and on top of things.

Marleen

Married on 05/27/2017

Rita was a great officiant , we asked her to make our ceremony funny and she did.She has an amazing staff. The photographer, Tim captured every moment and made our wedding pictures phenomenal. I can't wait to see our album, once done. Although, I really didn't get to enjoy my wedding (as every bride), I definitely cannot wait until our video is done. I will then get to enjoy my wedding. I hope Ara captured every details. My husband and I are having a viewing party once finished. Rita and Tim were absolutely great. Dana, who works at the office, is such a sweetheart and very helpful. She goes above and beyond with anything you need. If she doesn't know the answer, she will get it for you.
I recommend Lamar Wedding Center for any of your wedding needs. They will work with you and your budget. I am happy we chose them.

Zeneida

Married on 03/31/2017

I used Lamar Wedding Center for my photographer and DJ/MC at first; however added Videography at the very last minute (3 1/2 hours before the wedding!!). When I reached out to Andrew to ask for video, his response was "see you at the church!". I am so grateful to him and Rita for being so accommodating and professional. EVERYONE loved my DJ (James Cruz) and MC; especially me!! James kept making sure I was enjoying myself and had every song I requested. My photographer (Irene Wenkel) so great to work with; professional, courteous, and put everyone at ease as she snapped away! I can't wait to see the final pics! I would definitely recommend them to everyone!

Dionne

Married on 09/04/2016

I'm glad we went with Lamar studios for our Photographer and Videographer. Both showed up on time and our photographer "Pam" was more like a friend to us from the moment she showed up till the end. She made us really comfortable and was open to our ideas for shots. It was easy planning our event with Dana, and I was glad that everything ran smoothly from beginning to end. All I can say is "Tears of joy when we saw the end product". Thanks a zillion

We originally went to Lamar Wedding Center just looking for a videographer, but we also ended up leaving with an officiant as well, who was Rita (the owner). I couldn't have been happier with that decision.
The day of the wedding came and I wished so badly I had also used them for their limo service. I had received a text from my groom, that the AC wasn't working in the limo. Called the company directly and they were beyond rude to me and later on my sister and made promises of switching out the limos which never happened. We were stranded at our 1st look location after the limo was officially out of commission because the power steering and the belt went. When I called Rita to tell her what was happening, she offered to come and pick us up and thankfully our Lamar Videographer, Mark, was there for everything and when we were trying to figure out what to do all our vendors ended up giving us a ride to the venue. So the Lamar team was a life saver, one way or another.
Fast forward to the ceremony, Rita did an amazing job!!! She made it light hearted and added just enough humor into the mix. I received multiple compliments on our choice of officiant and the ceremony itself. She handled all our paperwork before hand, which was great.
I seriously suggest Lamar, for their services.

Wendy

Married on 06/03/2016

We used Lamar wedding center for our officiant, ceremony music, videography and photography. They were very easy to work with. Rita the owner and officiant was absolutely amazing. She performed a great ceremony and we received many compliments from our guests about her. The photo and video people were early and prepped to go. Even though we haven't gotten our pictures or video back yet, I def feel that they caught all the moments we wanted. Great value also for budget conscious brides.

Lamar Wedding Center's reply:

Thank you Wendy. Blessings to you and Jen. Our team loved being with you on your very special day and your families were amazing. God Bless you all. Love, Rita

Meghan

Married on 05/22/2016

I can't recommend Lamar enough! The value that you get here is incredible. I paid a fraction of the price that many of my friends paid for a wedding photographers but the results were even better. Our photographer captured every single moment that I asked for perfectly. She even threw in a surprise video that we didn't even ask for. Throughout the whole process, Dana was so responsive to our questions and the final album came out INCREDIBLE. So professional, sticking with my vision and much better than I had even imagined. If you are looking for a photographer to capture your day with no hassle (as we had from many other vendors) at an incredibly reasonable cost, look no further. If I could give them six stars, I would. :)

Lamar Wedding Center's reply:

Thank you Meghan! You made a beautiful couple and we enjoyed working with you. All the best in your new life together, Rita

Eileen

Married on 04/22/2016

My friend recommended Lamar Weddings she used their photo and video I believe. We weren't going to have a videographer but we were able to get it with them since it fit into our budget. We hired them for photo, video and officiant. The whole experience was smooth and professional. They answered all my questions even when I got a little ancy towards the end. I would recommend them, just keep in mind you don't talk to the photographer or videographer until the week of the wedding which is a little nerve wracking but in the end it worked out perfectly. They were professional and made us feel comfortable at the wedding. The pictures came out great and we can't wait to see the video!

Kim

Married on 03/05/2016

We worked with Lamar for our videographer. We love our wedding video! The videographer was great to work with, he captured so many great moments and the video is wonderful. Not only did it allow us to see so moments that we missed during the wedding, but we were able to share the ceremony and celebration with a grandparent who was unable to be there. They also provided us with the edited video quickly. I'm sure that we will watch it again and again over the years to come (our parents have already watched it multiple times!). Thanks for being a big part of our special day.

Ashley

Married on 01/23/2016

Thank you all first for being so great when my wedding got postponed because of blizzard Jonas then for your excellent service Rita married us, Andrew played the gituar beautifully for the ceremony and Mark on video... he didn't miss a beat!!

Julie

Married on 11/07/2015

My photographer Irene was Amazing for my wedding photos! She captured every angle, scene and moment it was unreal that she is just one person! She knew the angles to photograph and how to use the lighting. Every perfect moment on the dance floor or off, she was there taking photos and would glance at every one to make sure that it was perfect. I would absolutely recommend Lamar for photography or any other service. They are very professional, friendly and extremely thorough in their work!

Peter

Married on 10/03/2015

Rita provided our 'special day' with needed calm organization, and a strong personal commitment to its success.
The Lamar team was thorough without being pushy, was able to customize everything to our taste and budget; and, delivered the services and final photos in a way that surpassed our expectations.

If you look at Rita's site, and FB page, you always see her and everyone else smiling...and, that's not a put-on. She brings personal joy to the occasion, and it is infectious to all around. I would recommend Lamar Wedding to anyone...straight or LGBTQ...who wants a partner, instead of a vendor.
Are you interested?
Send a message