119 Reviews
Recommended by 99% of couples
Quality of service

4.9 out of 5 rating

Average response time

4.9 out of 5 rating

Professionalism

5 out of 5 rating

Value

5 out of 5 rating

Flexibility

4.9 out of 5 rating
101 User photos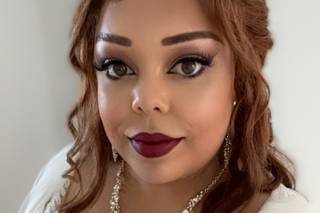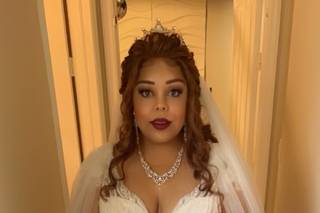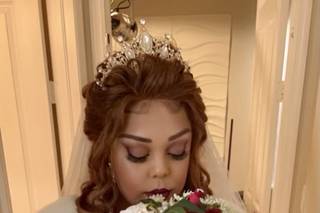 + 97

photos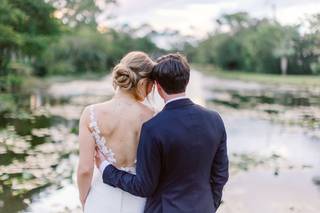 Featured

Sammie

Married on 09/24/2022

Amy and Susana are amazing!

Amy did my hair, both moms and my sister in laws hair for my wedding. She did an amazing job and everyone commented on how gentle she is while doing hair. She came up with styles that everyone loved!

Susana did my makeup and my moms airbrush makeup. She was amazing as well. The makeup looked so natural and didn't feel heavy at all! Our airbrush makeup lasted all day through sweat and tears!

I definitely recommend Amy and Susana, they are a great team.

La Sabrina Hair Design's reply:

Thank you so much Sammie for taking the time to leave this beautiful review! We loved being a part of your biggest day! Congratulations again!

Megan B.

Married on 12/03/2022

Simply perfection

Amy and Susana were simply amazing! I cannot begin to express my gratitude to them on my wedding day! Amy made sure that all of our hair styles were different and lasted the whole day…not a single curl fell or was out of place! Susana made me feel so glamorous with my makeup! Amy went out of her way to be flexible on location and times for my bridesmaids and I! Working with them made the morning go so smoothly and we all received so many compliments throughout the night!

Juliana A.

Married on 05/14/2022

Absolutely Stunning Hair and Make-up

I've come to La Sabrina a few times for hair color and cut and I always loved their service. I was excited when I had Amy as well for my wedding hair and Susanna for make-up. They did such a stellar job. It was so easy working with them and the service was worth every money spent. I wanted an elegant and classy look for me and my bridal party and the La Sabrina team went above and beyond to make that happen. I highly recommend them and would totally hire them again for future glam needs.

+ 17

photos

La Sabrina Hair Design's reply:

Thank you so much Juliana for leaving this review and making our day! Can not wait to share with the rest of the team!! Congratulations again!

Are you interested?

Send a message

Stunning work

Amy and Susana did a fabulous job with hair and makeup for myself and my wedding party. They were easy to work with, communicated well and very professional but also were great to chat with while we were getting ready. The results were stunning and I couldn't have been more pleased with how everything turned out. Thank you!

La Sabrina Hair Design's reply:

And thank you!! For letting us be a part of your biggest day! Congratulations again! Your review means so much to us!

Ana S.

Married on 02/19/2022

Amy is amazing!

Amy did my hair and Susana did my makeup. Both are very talented and I looked absolutely stunning on my wedding day. Thank you Amy and Susana!

La Sabrina Hair Design's reply:

Thank you sooo much for such a lovely review! You looked like such a princess! Thank you for sharing your day with us!

Haley S.

Married on 12/11/2021

Amy is a hair magician!

Amy did the hairstyles for my six bridesmaids and myself on my wedding day. She did something unique for each of us, and they were all intricate and beautiful! I couldn't have chosen a better hair stylist for my day, and my girls were all so happy with their individual styles! Thank you so much Amy!

La Sabrina Hair Design's reply:

Congratulations Haley!!! And thank you so much for including me in your day! And Merry Christmas & Happy New Year!

Jennifer S.

Married on 11/07/2021

Top Notch!

When I was searching for a hair stylist for my big day, it was one of the most important vendors for me personally! That can really make or break your photos I think! When I met Amy and we discussed all the options and styles she TRULY made my vision come to life! She went above and beyond during my special day and put all her amazing talents to work. Once she finished my hair, I honestly stood there in awe and just could not stop looking at my hair! I was absolutely obsessed with the outcome! I don't think I could highly highly recommend anyone more than I do her! Her salon is awesome and so peaceful. She is the most genuine, kind heart people you will come in contact with.
10000000000% go see Amy! You won't regret it!

La Sabrina Hair Design's reply:

Jennifer! Your words have brought me to tears! Thank you so much 💕 congratulations again and here to all your years of happiness!!

Abbey O.

Married on 10/23/2021

Professional, on-time and just what I wanted

The owner is lovely. She is very easy to work with and will accommodate if possible. The best part was the hair- everyone looked stunning, and it was everything I pictured.

La Sabrina Hair Design's reply:

Thank you Abbey, for choosing us and for taking the time to leave this review! Congratulations to you again!

Fia

Married on 05/08/2021

Outstanding human being and hairdresser

Amy and her company were hired to provide hair and makeup for my wedding just last weekend. From the very beginning, the company was very diligent in their responses as well as follow ups to any questions or concerns. They have obviously done this before and a lot as they were in tune with the whole schedule and even the photographer I had hired for my wedding. Amy was amazing at putting my hair together beautifully as I have thinner hair and wanted to have an updo that would be full and yet delicate enough for the look I was going for. She nailed it on the first try. She is very attentive to her work and would even review what she did and make the appropriate adjustments. Her makeup artist was just as skilled at putting on the perfect amount and the proper look for this beach style wedding. I am Asian and so I am very particular with the way eye makeup is done on me as it is often difficult for makeup artists to not make me look like a raccoon but her makeup artist also nailed it. Would 100% hire them for another event if I could.

Anne M.

Married on 04/30/2021

LaSabrina hair and makeup services

Amy and her team provided makeup and hair services for us on my son's wedding day. She came to our hotel location and provided such a great service. We all felt beautiful and ready for our special family day. I would highly recommend LaSabrina! I give them a 5 star rating!

Jennifer H.

Married on 04/29/2021

Fantastic!

Amy and her assistant were such a DELIGHT to work with! I couldn't have asked for better stylists for my big day! I initially had booked with her in 2020, due to Covid-19 we had to push back our wedding date 1 year. Amy was WONDERFUL in rescheduling and made the whole process very easy. Especially since I live in Nebraska! She stuck to our timeline and made not only myself but my bridal party look FABULOUS! Our styles held all day and got so many compliments! She also traveled to the Resort so we didn't even have to leave! Check her out!

Christina

Married on 04/29/2021

AMAZING! Lovely hairstyles

We hired this vendor to all the bridesmaids and mother of the bride hair and it turned out AMAZING! Christina showed up on time and got started right away. Every girl in the wedding LOVED how their hair turned out. She was able to work with all hair types and paid attention to detail. It turned out exactly how the girls wanted and lasted the ENTIRE night even with the heat from outside! Would recommend to anyone.

La Sabrina Hair Design's reply:

Thank you so much for taking time after your busiest week ever to leave a beautiful review! Sharing this with Cristina as we speak! CONGRATULATIONS!!!

Mallery K.

Married on 02/27/2021

Best value

Amy was a very attentive and caring stylist. From the very beginning, she cared about what I wanted for my bridal party and myself on my wedding day. On top of that, she is one of the most kindest souls. She puts her heart in her work and you can see that reflected in her product. When one of my bridesmaids wasn't exactly satisfied with her hair, Amy and her team's responsiveness was very professional and came to a solution quickly. She doesn't take any feedback or criticism personally and just wants you to be happy with you end result. I felt absolutely beautiful on our wedding day.

La Sabrina Hair Design's reply:

Thank you Mallery!💕 and congratulations again!! It was such an honor to be a part of your biggest day!

Natalie

Married on 01/08/2021

Professional and Personable--the perfect match!

Although we had to cancel our destination wedding to FL due to Covid-19, it must be known that Amy at La Sabrina is both welcoming and professional. I had to work with all vendors via phone/email, so finding ones that I trusted had its challenges. However, this was not the case with Amy! I was so appreciative of how she handled our postponement, and ultimately our cancellation. While I cannot comment personally on the work she does (although I can see the beautiful pictures!) I can definitely leave this rave review for her personality and professionalism!

Elizabeth

Married on 12/31/2020

Beyond my wildest dreams

I met with with La Sabrina's Amy Button for a wedding hair trial before the pandemic, and I knew immediately she was the one. She perfectly executed the look I wanted based on a Pinterest photo that only showed the side profile of the bride.

Not only that, but she was also willing to travel to my hotel room to help me and my wedding party get ready at 4:15 AM (on her birthday, no less!). And when COVID-19 forced us to change our date, she was extraordinarily flexible and understanding.

The work she did on my wedding day was even more beautiful than the trial. Her professionalism, skill, and talent are unparalleled.

(Plus, I took a nap between the wedding and the after party, and my hair DID NOT MOVE while I slept.)

I'm beyond thrilled with her work. I wish I had another occasion coming up so we could work together again.

In addition to Amy, I hired La Sabrina's makeup artist Oana to do my wedding makeup without even getting a trial first. I'd had a disastrous experience with a different artist a few weeks prior, and I hadn't budgeted money to do a second trial, so I wasn't sure how to move forward.

Then, during my hair trial, I watched Oana do another girl's makeup for her wedding, and I was absolutely sold. She's professional, kind, and "wants to make people feel good on the inside and the outside."

She's also a nurse and made sure to explain the products she was using and double-check with me about skin allergies before we got started—a HUGE plus for someone like me with sensitive skin.

Oana's work perfectly fit the natural look I was going for. She color-matched the lip color I wanted based on a worn-down lipstick I dug out of my purse. She taught me how to cry without ruining my makeup, which came in handy at the altar later on!

She also created a look for my mom, who is infamously anti-makeup, that my mom adored and didn't want to take off at the end of the night.

You would be missing out of you skipped over La Sabrina

Brenna G.

Married on 12/12/2020

Seriously talented

Working with the La Sabrina Hair Design team was a fantastic experience! I LOVED my up-do for my wedding day, and felt totally confident after meeting Amy and having a trial. Amy is truly gifted in bridal hair design – she takes the time to curl and set your hair before styling it, and is totally detail-oriented. As a hairstylist's daughter, I have been watching the art all my life, and felt I was in capable hands. It doesn't hurt that Amy and her team are sweet and kind, making everyone in the bridal party feel beautiful and at ease!

Chelsea B.

Married on 12/05/2020

Beautiful Work

From the moment I reached out to Amy to the day of the wedding, she was so helpful! I wanted something different from what a lot of the brides do. I wanted huge curls and big hair. I went to my trial and we did a down and an updo, both were beautiful. Later decided I wanted something a little different. I wanted old Hollywood. I felt very confident in Amy that I didn't need to go to another trial. On the wedding day Amy delivered. My hair was exactly what I wanted. It was beautiful and I felt like an old Hollywood actress.

Jenelle V.

Married on 11/21/2020

Wonderful Hair!

Hair came out amazing for the mother's, bride and bridesmaids! They came to our home the morning of and everyone's hair came out exactly as they wanted. I didn't have the opportunity for a hair trial but it wasn't even needed!

Trisha

Married on 11/14/2020

Awesome job

Everyone loved these down to earth girls. Their work was amazing. I highly recommend this vendor.

La Sabrina Hair Design's reply:

Thank you Trisha, for taking the time to write this review! Hope your Thanksgiving as newly weds was amazing!

Christy K.

Married on 11/12/2020

Simply Perfect!

Amy was very sweet and accommodating on my wedding day. She was open to feedback and guidance, and was able to take a few ideas and transform them into a unique and beautiful design. My hair looked great and held up to the crazy humidity that day. HIGHLY RECOMMEND

La Sabrina Hair Design's reply:

Thank you Christy for taking the time to leave a beautiful review!! Congrats again & Merry Christmas!!

Claudia

Married on 10/02/2020

Could not ask for better

Amy was very accommodating, easy to work with during my chaotically rescheduled covid/hurricane wedding & I of course LOVED my hair!!! She has obviously been perfecting her skills for a long time & did so well adjusting my style to fit exactly what I wanted. I was extremely stressed on my wedding day, but my hair was my favorite & totally made my look.

La Sabrina Hair Design's reply:

Thank you so much Claudia for taking the time to leave this beautiful review! Congratulations again! It was such an honor!

Cassandra H.

Married on 09/19/2020

You are the priority!

I hired Amy just as COVID started taking over life as we knew it but they were so sweet about everything. Their new shop is gorgeous and her, her team and family make you feel as though you are all that matters. We did a plan A and a plan B hairstyle depending on how my hair reacted at the trial to ensure I had a full day of beauty and day of I was so happy. Would recommend her for every bride!

+ 2

photos

Kaitlin

Married on 02/29/2020

Highly Recommend!

I hired Amy Button to do my bridesmaids hair for my wedding. Everyones hair turned out beautifully and it stayed all day/night. She was very prompt and did not have any issues fitting in one of my bridesmaid's mom. I would highly recommend her service. Thank you so much Amy!

La Sabrina Hair Design's reply:

Thank you Kaitlin, for taking the time to write a review! Deeply touched by your encouragement during this Covid-19 crisis!
Stay healthy!

Samantha A.

Married on 01/25/2020

So thankful for Amy!

I wouldn't recommend anyone else! Amy is so calm, caring, professional, and talented!

+ 6

photos

La Sabrina Hair Design's reply:

Thank you So much for your sweet review and photos! LOVE the PHOTOS! It was an honor to be a part of your day!

Maria E.

Married on 12/29/2019

Amazing service!

I found La Sabrina Hair Design through Instagram when I was searching for someone to do style my hair for the wedding and they did not disappoint!!! I am so thankful I found them and Amy (the owner) is so caring and wonderful, she even recommended Susana for makeup. Both did my trial and wedding day makeup, I felt so beautiful the day of the wedding. My mother, bridesmaids and flower girls looked beautiful too! The makeup and hair lasted all day :)

Amy and Susana knew exactly what I wanted and it helps to also bring reference photos so they have an idea :)

I highly recommend La Sabrina Hair Salon!

La Sabrina Hair Design's reply:

Thank You SO so much for taking time out of your day to write this beautiful review! It was truly a pleasure to be a part of your biggest day!
Are you interested?
Send a message