36 Reviews
Recommended by 96% of couples
Quality of service

4.8 out of 5 rating

Average response time

4.8 out of 5 rating

Professionalism

4.8 out of 5 rating

Value

4.8 out of 5 rating

Flexibility

4.8 out of 5 rating
11 User photos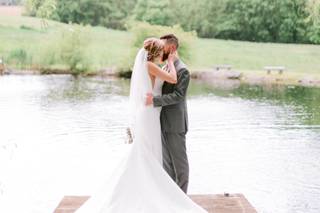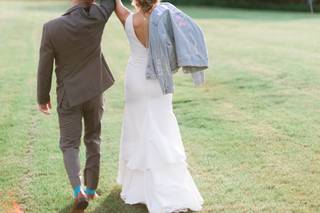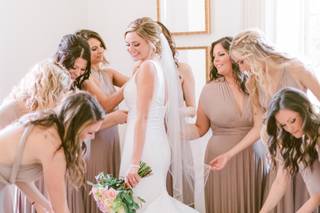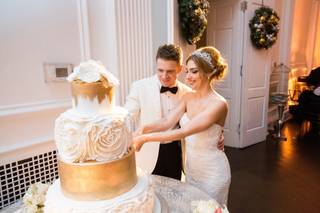 + 7

photos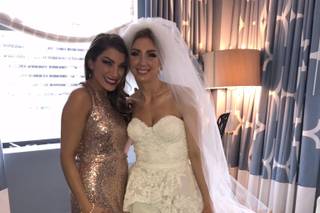 Kristen P.

Married on 09/22/2022

Beautiful Salon & Great Customer Service

I purchased my dress off of the rack during their White Friday sample sale in November. I was thoroughly impressed with their off-the-rack selection (and the condition of their sample dresses), as everything looked and felt brand new. After shopping around at a few other salons and sample sales, I was so happy to end up at La Belle Mariee. Not only was the customer service impeccable, but the selection was as well. The saleswoman listened to what I was looking for, stayed within my budget, and helped me find my dream dress! I also had my alterations done at the salon and I was honestly blown away by their seamstress' work. I am thrilled with how everything turned out and would absolutely recommend this salon to anyone looking.

Morgan

Married on 07/23/2022

Sarah is the best!



After visiting 3 other shops, I was left feeling overwhelmed and frustrated trying to find the perfect dress. I had heard great things about La Belle Mariee and decided to book an appointment. Best wedding decision I've made so far! My consultant Sarah was friendly, attentive, knowledgeable and most importantly, conscientious of my feelings. Unlike the other shops I'd visited, Sarah let me browse through their selection and had sample dresses in sizes other than and a zero which really helped boost my confidence. I have nothing but wonderful things to say about my experience. I know I made the right choice. Thank you La Belle Mariee and Thank you Sarah! I can't wait for my first fitting!

Elissa

Married on 10/14/2021

I said yes to the dress!

I had such a wonderful experience shopping for my dress here! Sarah was amazing and pulled a dress I wouldn't have and of course it ended up being my dress! She was so patient with me and I never felt pressured to decide. Sarah helped me in and out of each dress and let me take as much time as I needed in each so I could really think about everything. When we did say yes to my dream dress, she popped some bubbly for my mom, one of my bridesmaids and I and we were able to celebrate! All in all, an incredible experience at a beautiful shop. I highly recommend shopping for your dream dress here!

Are you interested?

Send a message

Marissa D.

Married on 10/02/2021

Wonderful!

Such a sweet bridal shop! I was lucky enough to find my perfect dress on the first try! Everyone there is so nice and helpful, and they are so organized. As a bride with all the hectic planning, it was nice not to have to stress about the alterations and the timeline of getting your dress ready. Would 100% recommend if you're in the area!

Reece F.

Married on 09/25/2021

Amazing Experience

Sarah was very helpful and amazing! She listened to what I wanted, but also gave her opinion as well. Found the dress of my dreams!

Dale R.

Married on 09/03/2021

Very helpful and personal

I wasn't sure if the exact wedding date when I went to try on some dresses. The young lady that helped me was very patient and helpful!! I end up getting the last dress that she convinced me to try on!! It looked much better on than I thought but just looking it! So happy I took her advice!!

Genevieve W.

Married on 06/19/2021

Wonderful experience- said yes to the dress!

Had a wonderful experience at La Belle Mariee! I worked with Sarah and she really listened to what I was looking for and made the experience fun and feel special! I had visited La Belle Mariee earlier this summer the very first time I looked at dresses, and ended up going back and purchasing my dress there yesterday. The experience at La Belle Mariee was so much better than the other bridal salon I visited.

Meg I.

Married on 10/03/2020

So kind and beautiful

Their store is so clean and beautiful and aesthetic. I felt like a princess trying things on! My consultant was beyond helpful and sweet. She even told me her haircare routine because her hair was gorgeous! They thought out all the details of the bridal try on process and I highly recommend.

Lacey O.

Married on 05/30/2020

Most amazing experience!

I've had quite a few experiences with bridal shops in many different areas, but this one exceeded ALL of my expectations! Not only do they have some of the most beautiful dresses you'll ever lay your eyes on, every single consultant was amazing! Extremely accommodating, and the complete OPPOSITE of pushy (which is my biggest pet peeve when shopping). They truly care about making your big deal special and that was evident during my experience today. I am SOOO HAPPY I said yes to the dress at this amazing shop!

Kate

Married on 05/16/2020

If you are a bride and you don't go here to dress shop you are doing yourself a major disservice. I had been dress shopping at 4 other bridal salons. Each time I left I felt so underwhelmed, I was expecting to have these magical moments seeing myself in wedding dresses and each time fell short. When I walked into La Belle Mariee I knew that was about to change. To start, the salon makes you feel like you are in a boutique in Paris, it's simply stunning. The selection they had was extensive, with something to fit into every budget and a wide variety of styles. I was lucky enough to work with Gabrielle who, at 7 months pregnant, made me feel like the most important person in the world. She knew every option for each dress and made great recommendations. Needless to say I loved just about everything I tried on and I found "the one"! I wish I had the option to give them 100 stars in every category, because I would!

Zoe

Married on 11/15/2019

Amazing Bridal Saloln!

I went with my mother and three bridesmaids and had the most amazing experience. The salon is so beautiful and all the consultants are so nice and professional. I didn't feel rushed or pressured at all (even when I tried two dresses on back to back 4 times to compare them) which made the entire process so amazing.

Heather

Married on 11/01/2019

My daughter Rebecca is getting married 11/2019. We had met with Danielle from La Belle Mariee to begin our search for the perfect wedding dress two weeks ago. Danielle was incredible and patient as my daughter tried on numerous dresses in various styles until she began to understand what she was looking for. Danielle immediately knew which dresses my daughter would like and helped her narrow down her search. My daughter thought she had found the perfect dress and we put our deposit down. After three days of stressful reconsidering, my daughter contacted the store and Danielle called her back as soon as she was back in the store. She assured my daughter that the she could come back into the store and look at the dresses she liked again. Danielle spent another two hours choosing dresses, offering advice and finally we made the best decision on her perfect dress. We could not have been more thrilled with Danielle and the patience and professionalism she showed to our family! We are so excited to work with Danielle and La Belle Mariee!

Alexandra

Married on 08/23/2019

Amazing Bridal Shop!

LBM is amazing! I worked closely with Sarah and Gabrielle (one of the owners), and had a great experience with both of them.

My dress came in and I went to try it on 7 weeks before my wedding, and the designer added something to it that was not supposed to be there. LBM tried to fix the designers mistake, but unfortunately it was still noticeable. So, at their suggestion, they reached out to the designer and had a whole new piece of my dress sent in, and had it replaced and ready within 2 weeks for me to see at my next fitting. Sarah and Gabrielle fought to get my dress fixed, and really went above and beyond to make my dress perfect.

They made the process so much less stressful than it could have been, and were just wonderful to work with! I HIGHLY recommend this bridal shop. They're wonderful!

Sarah D.

Married on 08/18/2019

Dream Dress

The best bridal salon! Clean and beautiful aesthetically. My mom and I found everything to be super organized and the racks of dresses were easy to look through - something we didn't experience at two other Bucks Co. salons we visited prior. We were paired up with Sarah, who did not rush us and made the experience absolutely enjoyable. It was so nice to have her as my "stylist" the entire way through, from the first appointment through my last fitting. I wound up getting my dress tailored at the salon, and was very happy with the experience and the results. Found my dream Pronovias dress!

Nicole

Married on 05/17/2019

Beautiful dresses & helpful staff!

The staff at La Belle Mariee Bridal are awesome! From the first time I visited the store, to the day I picked up my wedding dress, there was always somebody there to greet me with a smile. Everyone was involved in making sure my dress was exactly how I wanted it. I couldn't have been happier with my experience or with my wedding dress! Highly recommend!

Jessica C.

Married on 02/16/2019

Great Experience

I had an awful experience at the first bridal shop I went to, so walking into La Belle Mariee I was a little nervous. That quickly went away as my group was met with smiles and champagne and an amazing team of ladies. The dresses were gorgeous, and even though I wasn't sure what sort of dress I wanted, they pulled a variety for me to try on. The staff was so patient as I tried the dresses on, and I never felt rushed. Rachel was my consultant that day, and she was very encouraging with how I looked in each of the dresses, and gracefully helped button me into dress after dress. They were encouraging the entire time, and helped me to understand the differences between the dresses and how they may look bustled. Once I found my dress, which was even cheaper than I anticipated, they were very communicative about its arrival and my fittings. They advocated for me and helped me determine if it was fitting right during my fittings and always made me feel special and beautiful. Even after I picked it up, they still emailed to check in on me and were there to answer my questions about wedding dress preservation. The dress was gorgeous and perfect, and I loved every moment of my experience with them!

Mary L.

Married on 12/31/2018

Amazing Experience!

This salon is not like the others! My daughter and I went to multiple salons before we tried La Belle Mariee, and I wish we came here first! The selection of dresses and accessories were absolutely gorgeous, with great prices! The staff at La Belle Mariee were very honest about pricing, and never suggested anything out of our price range. I felt at other stores we needed to lie about our price range so they would bring us dresses in ours! The owners, Gabrielle and Michele were so accommodating and patient, they even shared stories from Gabrielle's wedding and what vendors they used. My daughter ended up buying her dress from La Belle Mariee, and I am so happy she did! She ended up finding her veil and accessories there with no stress ! Gabrielle and Michele knew exactly what would work with the dress she chose, without being pushy. Wonderful experience at La Belle Mariee, we cannot thank you enough!

Kelly T.

Married on 12/31/2018

Exceptional selection and customer service!

La Belle Mariee's customer service is exceptional! The whole staff including their seamstress is an absolute pleasure to work with. They never once made me feel pressured or rushed. They are patient, knowledgeable and truly want to help you feel like a princess on your big day! Their selection of gorgeous dresses is to DIE FOR !! It was very difficult for me to choose a dress! Michele and Gabrielle helped me each step of the way. From my veil, to accessories they helped me create the perfect bridal look! I ended up choosing a detachable skirt, which was two looks in one dress! Gabrielle showed me photos of her wedding, and showed me her own detachable skirt she wore! I received so many complements on my dress, veil and accessories, everyone was dying to know where I got my dress!! I was so stressed during wedding planning, and the La Belle Mariee girls made me feel right at home, and gave me hugs each time I walked in! I felt at such ease at each appointment, I lost a few too many pounds before the wedding (totally unintentional!), and the seamstress came right away, they called her in from home! She was so patient and kind, I was worried my dress wouldn't fit the next week for my wedding day. She did a fabulous job and had it finished the NEXT DAY. Rachel had my dress pressed, and called me the next afternoon and said "its ready!" and it fit like a glove! I never have heard of such a thing! I cannot thank them enough for their patience, kindness and amazing customer service! Thank you La Belle Mariee for making me feel like a princess on my wedding day!!!

Kristie L.

Married on 12/01/2018

La Belle Mariee Bridal is AMAZING

When my first wedding gown got ruined one month before my wedding, I thought for sure I was going to have to get a new dress that I hated. However, I found La Belle Mariee and they completely saved my wedding and are responsible for helping me find a new gown that I absolutely adored. When I went to LBM I told Sarah what had happened and showed her my original gown. Not only did she make sure I found a gown I was in love with, she also helped me with pricing. Sarah and the entire LBM team made my wedding possible. They got the alterations done in a timely manner and worked with my throughout my process. The dress was absolutely perfect and everyone at my wedding could not stop talking about it. The seamstress, Sarah, LMB ownership and the entire staff there made the impossible, possible. I am so thankful for them and all that they did!!

Clare

Married on 10/06/2018

I cannot say enough good things about this shop. I have been searching for a blue wedding dress, something every other salon I have visited has been taken aback by. The staff at La Belle Mariee was not only excited by my idea but more than willing to search their designers to see who makes blue dresses. They pulled out every colored dress they had and were honest about how each shade looked on me. I felt encouraged to try different colored dresses, something other shops have actually discouraged me from doing! They eventually pulled the PERFECT dress for me to try on and I fell in love. I didn't feel rushed into making a decision, and I was brought several veils and slips to try on with the dress. When the stylist found out I'm marrying a woman she happily pulled other dress samples to coordinate colors so we won't clash on the big day! I felt welcome, comfortable, and supported in this shop. I finally found the dress I knew was out there, and everyone at the shop was so kind to me and my family. I would absolutely recommend this place to anyone looking for a personalized experience.

Nicole

Married on 09/29/2018

Beautiful selection of dresses, kind staff

My entire experience here was phenomenal. From the moment I said yes to the dress, to my fittings, to taking my dress home. Not only did I choose my stunning gown from here, the entire staff went above and beyond to make each visit pleasant. I am beyond pleased with La Belle Mariee and I would hands down recommend this Bridal Shop to any bride who is dress shopping.

Caitlin

Married on 09/08/2018

I had the most amazing experience finding my wedding dress at La Belle Mariee!! The shop is beautiful and the staff made sure my mother and I were greeted and taken care of from the moment we walked in! I went in knowing the designer I loved and Liz was great at helping me choose dresses to try on that felt "like me". I narrowed down my selection to 2 and wasn't quite ready to say yes. I came back the following weekend and worked with Garielle and said "yes to the dress"! To top of my positive experience, I received a hand written letter from Liz (who was not able to be there when I said yes), congratulating me on finding my dress. I love the personal touch and they truly make you feel like the most important person. Thank you Le Belle Mariee!! -- I cant wait to come in for my try on once my dress comes in <3

Sylwia

Married on 09/01/2018

Wonderful place

I found my dream dress with ease! The ladies were so pleasant to work with as well. Highly recommend!

Kate

Married on 08/04/2018

La Belle Mariee Bridal helped make my wedding gown dreams come true! My initial appointment was with Gabrielle. I really wasn't sure on the style that I wanted for my wedding dress, so Gabrielle pulled a variety of different styles. She spent a lot of time with me, completely focused on me, and listening to how I felt. I looked at her for honest opinions and she was always super thorough and honest with me. She never once pressured me into purchasing anything. After my first appointment, I went to a variety of different stores, and then I came back to LBM. I felt like no other store compared to the selection of LBM, and the professionalism that their team carried. Gabrielle helped me a second time, and this time, she was just as dedicated to me as the first time. After purchasing my gown from their store, the team at La Belle Mariee made me feel exceptionally special! With consistent communication, letting me know when my gown was arriving, and scheduling fittings, the entire process with them was extremely organized. I got my dress altered with their seamstress as well and I was extremely pleased. I cannot say enough about La Belle Mariee. I truly felt like a princess on my wedding day and I cannot thank you all enough! The entire team is extremely professional, always going out of their way to make their customers happy. Thank you Gabrielle and to the entire team!

Jessica

Married on 05/19/2018

The service here is incredible. I went to approximately 12 different salons, and only here did I feel special and like they were truly listening to what I wanted in a wedding dress.
Are you interested?
Send a message