Reviews
5.0 out of 5 rating
Quality of service

5 out of 5 rating

Average response time

5 out of 5 rating

Professionalism

5 out of 5 rating

Value

5 out of 5 rating

Flexibility

5 out of 5 rating
100%
Recommended by couples
104 User photos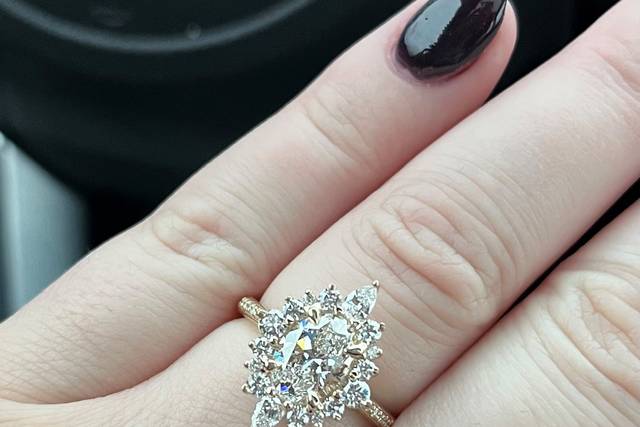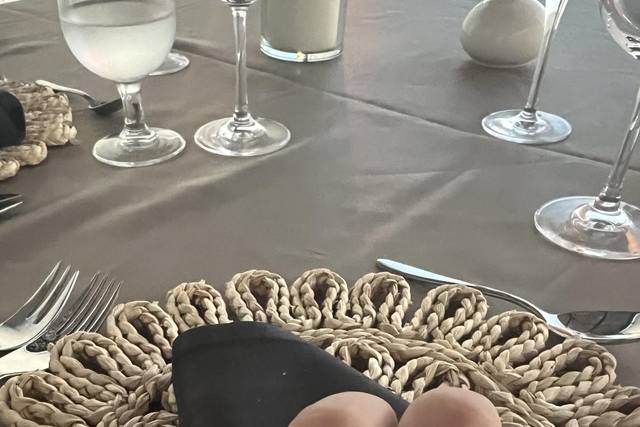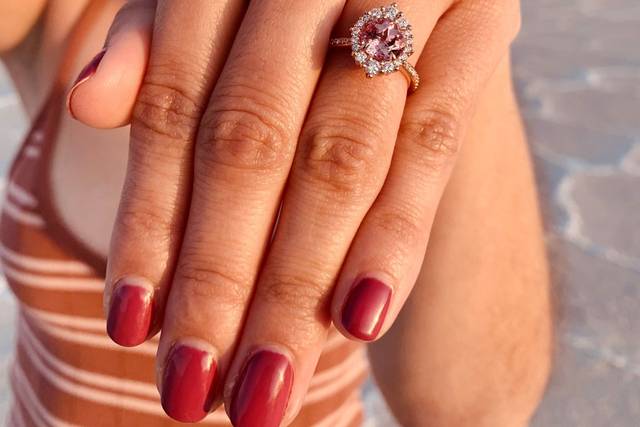 + 100

photos
Featured

Paige D.

Married on 11/05/2022

Get your ring from here!

There are no enough words to describe how thankful I am for Kristin. Not only was she an absolute joy to work with, but she designed the most perfect ring for me. I could not love it more! If you want a unique ring that is insanely stunning & support a female owned small business, then Kristin is your girl!

Shaun Q.

Getting married on 03/01/2025

Perfect Ring for the Perfect Moment!

The best decision I have ever made was to go with Kristin Coffin. The ring is incredibly beautiful and has been crafted to perfection. I was lost for words when I first saw it and my partner could not believe her eyes either. Kristin was so helpful through the whole process and such a joy to work with. Thank you KC for being apart of this magical moment in our lives that we will always remember!

Chris C.

Getting married on 07/01/2024

Start to Finish Service!

Buying my fiancé's ring was no less than the smoothest pain-free process thanks to Kristin Coffin! I had plenty of questions and Kristin worked with me directly every step of the way to find the exact match of what I wanted. My fiancé who has been an admirer of Kristin's work for some time could not be happier. Would absolutely recommend anyone to use KCJ!

Are you interested?

Send a message

Daisy P.

Getting married on 05/24/2024

Would choose KCJ over and over again!

I had been eyeing an engagement ring from Kristin Coffin for years and never imagined being able to own one of my own. My fiancé and I chose the grey Reyna together and I could not be more thrilled with how perfect it is in person. I get compliments on it everyday, it truly is the most beautiful ring I've ever seen. All of her designs are so unique and the attention to detail is unmatched. (Grey moissanite truly shifts with lighting/colors around you, nothing like I've ever seen before). Kristin's communication was prompt and detailed throughout the whole process. I can't wait to have my wedding ring made with her! I cannot thank Kristin enough for her beautiful craftsmanship and for making me the perfect engagement ring.

+ 6

photos

Jennifer P.

Getting married on 05/04/2024

Beautiful Ring

My fiancé bought the Anika from Kristin and it is so gorgeous. The ring arrived and it was missing one of the halo stones. Kristin believed that it came off in transit and explained the stone setting process, letting us know that it happens to even the best of stone setters occasionally. Of course, my fiancé did not notice at first, but I did the day after he proposed (which was way after the 7 day return period). Kristin responded when they were shut down for the Thanksgiving holiday - it was super nice to hear back from her quickly. She was able to fix the ring and replace the diamond free of cost. It took about two weeks which was a little gut wrenching, but also totally understandable considering it was a holiday! She had great customer service and was very accommodating.

Abby S.

Getting married on 03/16/2024

Absolutely GORGEOUS! Highly recommend!

Ring of my dreams! Thank you so much Kristin. You were amazing!

Ricardo R.

Getting married on 01/06/2024

Thank you so much

Kristin's work is incredible. My fiancé is absolutely obsessed with her Emerson ring and we are already planning to purchase the band to go along with it as well. We love the culture at Kristin Coffin Jewelry. Ethical, non-traditional rings that just lighten up a room, literally. I proposed to my fiancé over the weekend in Salt Lake City and she has already gotten so many compliments on the ring. Combine that with the incredible work Kristin had put in for us and I couldn't ask for a better situation. Her communication was excellent and she pays such close attention to detail. I had never considered ordering something like this online and after speaking with her I felt so comfortable and happy I made the decision to do it! You should too. Thanks again, Kristin. I'm sure we'll be working together again soon!

Josh

Married on 10/07/2023

She Said Yes!!!

This review is for the boys out there. Being a guy and making a purchase like this is tough. There are so many things I did not know about Engagement Rings and Kristin was amazing with her guidance and help. All I can say is when I asked my significant other she was so stunned and happy that she broke out into tears of joy and said yes. The rings are so beautiful that they grab everyone's attention. I am glad I went with Kristin because I have had a few guys ask me where I got a true piece of art on her hand. Save yourself the nerves and just go with Kristin guys! I promise she will say yes.

Eric A.

Married on 09/23/2023

Dream Girl Dream Ring

I couldn't have been any happier with the whole experience, I got to propose to my dream girl with her dream ring (also my dream ring!). Kristin is amazing and made sure I ordered the right size ring. When I received the ring I couldn't believe how beautiful it was. I couldn't have asked for it to go any better.

Osho

Married on 04/16/2023

Superior Quality Engagement Ring

Kristin was very friendly, professional, and pleasant to work with! She was so helpful and responsive throughout my ring purchasing process and I was very impressed with how smooth and seamless it went. My fiancée loves Kristin's jewelry and her engagement ring came out amazing! It has the style, quality, and flare that catch your eyes and her lab-grown blue diamond is the most beautiful stone I've ever seen. Kristin made my engagement ring experience so positive and I'd recommend her if you're looking for a unique, high-quality ring!

Johnathan S.

Married on 03/13/2023

Absolutely Stunning ring

Found her on Instagram and decided to message before I was ready and it was more than a year of emailing back and forth and never batted an eye at any question or idea that I had. Great communication throughout the whole process and would defiantly recommend her to anyone!

Sumona R.

Married on 02/20/2023

Love my ring!!

I have been eyeing Kristin's rings for a while and I finally decided to purchase a ring for myself and I was beyond thrilled with the ring! Kristin was so communicative and kind and honestly couldn't be happier with the product! The quality was even more precious than I had hoped for. I would recommend Kristin Coffin jewelry to anyone who wants a gorgeous ring!

Dani J.

Married on 02/04/2023

My dream ring! Could not be happier

I always wanted a blue sapphire engagement ring and I could not be happier with the Avery ring from Kristin Coffin. The entire buying process went very well and Kristin was quick and helpful in answering any questions we had! 10/10 would recommend.

Kevin M.

Married on 01/05/2023

Great experience!

The ring we got from Kristin Coffin is beautiful! Kristin was very responsive and helpful during the whole process of ordering & shipment! Thank you!

Rayden O.

Married on 12/03/2022

Amazing Ring and an Amazing Designer

This review is long over due. I began my ring search at the beginning of Covid (March 2020) and narrowed my search down to 3 different vendors. Kristin was by far the quickest to respond despite all of the shutdowns and was able to accommodate all of the requests and questions that I had. What I really enjoyed about working with her was that she was very quick and I had a planned on popping the question about 6 weeks from the date I reached out to Kristin. She would respond usually within the same day which was amazing because when a ring is getting designed and casted from scratch, that could make all the difference on how quickly it is done. Thing ring itself was beautifully made and my Fiance is always getting compliments on it. She is skilled with her craft and is equally great at communicating and being easy to work with. I would highly recommend her to anyone that loves vintage styled rings.

Rayden O.

Married on 12/03/2022

Beautiful Jewelry and a True Gem

I worked with Kristin a little more than a year ago and wanted to get my wife's engagement ring custom done. I found Kristin because of her vintage style rings and knew this was the one. I was working against the clock because I wanted to have the ring in hand before our anniversary and most vendors said they wouldnt be able to make the turn around time.

I reached out to her and she was super easy to work with. Quick communication, super friendly, and was able to help me with getting the ring in time!

The craftsmanship and quality is amazing and we always get compliments everywhere we go on my wife's ring (we got the Rosalind)

If you are looking for a show stopping ring, amazing person to work with and an ethical business, Kristin is the way to go!

Macie A.

Married on 11/04/2022

Sofia Rose Gold Moissanite Ring

I have been pretty speechless since receiving the ring from Kristin Coffin! From quality to customer service, it has been an amazing experience. Not to mention, the ring is absolutely more than I could have ever imagined. It is so stunning and I cannot wait to give it to my future wife! Definitely recommend this to anyone searching

William C.

Married on 10/15/2022

6 stars if I could

I wish I could put how amazing Kristin is into a review but it just won't do her justice. She was beyond helpful throughout the process. I ordered a wedding a band a little late and she made sure it got to me way before the date. Pictures on the website do not do these rings justice. Order from her she is the best in the biz!

Stephanie S.

Married on 09/18/2022

Getting my ring with Kristin Coffin was the best decision I ever made!

I have been contemplating getting a lab-grown diamond for some years now because a) I wanted a sizeable diamond without the cost and b) I wanted a conflict free diamond. When my friend showed me Kristin Coffin's instagram, I immediately knew I had to have one of her rings because they weren't like any other rings I had seen (and trust me, I've been looking at rings since I was 5 years old). I not so subtly let my boyfriend know that I was interested in a KC ring and he made it happen. He said working with Kristin was amazing and that she was incredibly helpful and kind. I ended up having to reach out to Kristin myself to get my ring insured and she quickly replied and got me everything I needed, as well as being friendly and easy to talk to. I get so many compliments on how beautiful and unique my ring is. My favorite comment from my friends has been "that ring is so YOU!" I honestly wish I could buy multiple rings from KC because they are so well designed and made. I got the ring of my dreams for a fraction of the cost and I know that wouldn't have been possible without going with Kristin Coffin.

Diana

Married on 07/16/2022

So incredibly happy with my Large Moissanite Sofia

Kristin was amazing from start to finish! She is so professional, responsive, and helpful. I love my engagement ring, I get compliments on it from everyone. I love that she values sustainability, and her craftsmanship is impeccable. Highly recommend!

Adam M.

Married on 07/08/2022

Beyond grateful – 5 stars aren't enough!

Dear Kristin,

This is just a quick note to thank you for all you did and for all you helped to make possible for me. She said yes! (And she absolutely, positively adores the ring. How could she not?!) I can't express enough how wonderful and how easy you were to work with, even with the time pinch I put you under, and your grace in working with me was and remains so very appreciated. Already SO many have reached out to me privately to ask where I got the ring and I've been so glad to point them your way.

The ring is completely, utterly perfect.

It was such a perfect evening – ended up popping the big question on Christmas Eve. We went to a beautiful (and safe) Christmas Eve service – where our families live – and after that went out to look at 'Christmas lights' as there is a mile-long trail with gorgeous lights that ends at a gorgeous, historic, antique covered wooden bridge. Her best friend from grad school and her husband were there in hiding to snap some pics (though it was at night, in the dead of winter, in the dark, etc – I still think they turned out great!). In a way it feels like we both blacked out for an instant. I got her good for sure... the surprise of her life. Happiest moment of my life for sure!

Thank you, Kristin. Gratitude abounds.

Alexander

Married on 11/19/2021

Flawless Experience and Ring!

Couldn't have asked for a more seamless experience. Kristin was personally communicative throughout the entire process and was as flexible as possible about the timeline for making the custom ring. It arrived in a timely manner with great coverage for shipping and the ring was absolutely beautiful. My fiancé isn't a jewelry person and was converted by this piece, its stunning. I have received countless props from my women friends and family saying that it was one of the best choices they've seen a man make for an engagement ring. The amount of care and precision craftsmanship more than covers the price - don't hesitate to order your ring from Kristin!

Meaghan O.

Married on 11/12/2021

Get your unique, one-of-a-kind ring from Kristin!

There are not enough words to describe how special it feels to receive a piece of Kristin's amazing work of art. I have been eyeing the grey Emerson ring with the rose gold band for years and I never felt shy to let my now fiance know ;-). He said that the ordering process was smooth and simple and he felt extreme confidence with shipping the ring all the way to the East Coast with the process Kristin has in place. My ring is everything I dreamed of and more. I absolutely love having such a unique ring and receive endless compliments on its beauty. I never attempted to seek an ethically sourced ring, but now that I have a moissanite stone, recycled gold band and diamonds that come from fair humanitarian practices- I feel so proud. Kristin also loves for you to share your personal photos of your ring/engagement with her and she makes you feel like an old friend- not an experience you can get with all jewelers, especially one from across the country! Run to get your unique, one-of-a-kind Kristin Coffin ring!

Mark W.

Married on 08/27/2021

Stunning Ring, Stunning Service!

I purchased a Sofia ring for my (now) fiancé and she couldn't be happier with it! A few months back we had been sitting on the couch, probably binge watching some show, and she was just looking at rings online. When she showed me a picture of the Sofia, I knew that was going to be the ring I bought her. When the time came to buy it, Kristin was AMAZING to work with! She really takes the time to make sure you're getting exactly what you want, the way you want it, with clear open communication throughout the process. I can't say enough about how great it was to work with her, and how happy we are with the ring. It's beautiful!

Camille Y.

Married on 08/09/2021

Can I give 100 stars?!

I never thought I'd be the type of person to "obsess" over a ring, but that's exactly who I've become! I've followed her work for years and told my fiance it was the only place I wanted a ring from. I fell in love with the Emerson and can hardly believe I get to wear it every single day. She was wonderful through the purchasing process with my fiance and has been such a dream to work with. I promise you won't be disappointed! I get compliments all the time from strangers, coworkers, friends, and family about my ring and gush about Kristin every chance I get!
Are you interested?
Send a message