266 Reviews
Recommended by 100% of couples
Quality of service

5 out of 5 rating

Average response time

5 out of 5 rating

Professionalism

5 out of 5 rating

Value

4.9 out of 5 rating

Flexibility

5 out of 5 rating
19 User photos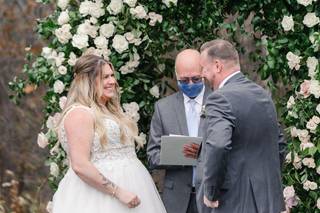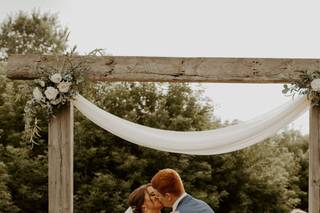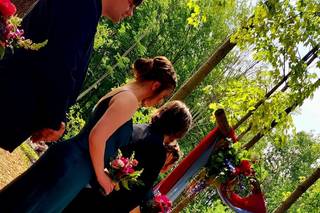 + 15

photos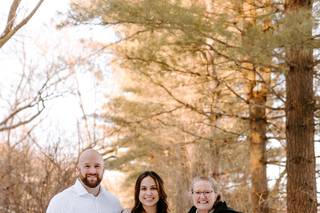 Featured

Aly

Married on 12/23/2022

Must Hire!!!

Pat was such a joy to work with and made the entire process of creating and executing our ceremony so easy! She was organized and calm and exactly what I was hoping for in an officiant. I was feeling pretty anxious at our rehearsal as I was trying to organize a large group of family and friends, and she took the lead at the perfect time. Pat totally nailed the ceremony and had both dads in tears. I can't recommend Koru Ceremony/Pat enough!

Koru Ceremony's reply:

Thank you, Aly and Vince, for your heartfelt and warm words of praise! It was a joy working with both of you to create a truly magical and perfect ceremony for your Dec. 23 wedding day. What made it even sweeter was that it was both sets of parents' wedding anniversaries. It created a beautiful lineage of love on such a special day.

Olivia

Married on 12/31/2022

Special and Unique

We hired Koru and Rev. Pat to officiate our wedding and could not be happier. My husband was concerned at first about having someone we didn't know marry us, but I wanted someone professional and with a religious background. After our initial meeting with Pat we both knew she was the perfect fit.

Pat worked with us to create an individualized ceremony that was exactly what we were looking for. We were able to pick and choose the most meaningful pieces to build our perfect ceremony. I was joyful just reading the rough draft! She is very detail oriented and did a perfect job during the wedding itself. We received a ton of compliments on the ceremony afterwards from our guests.

The most special and important moment of the day for me was during the ceremony. It was emotional without being cheesy-- I heard lots of sniffling in the crowd! Thank you Pat!!

Koru Ceremony's reply:

Thanks so much, Olivia and Jed, for writing such a heartfelt review! I adored working with both of you, and I feel like the ceremony we created together was perfect. My favorite part was when the fireworks went off at the end, as I introduced you as Mr. and Mrs. A. to your guests. Congratulations!

Sam P.

Married on 10/22/2022

Fantastic leader through the wedding ceremony process

Pat was amazing!! She delivered an absolutely beautiful ceremony and was fantastic at guiding us through the process of getting married. She was flexible in working with us to craft her words during the ceremony, gave clear instruction on the legal processes, and offered great advice during the rehearsal. Our wedding wouldn't have come together as smoothly without Pat's help.

Koru Ceremony's reply:

Thank you so much, Sam and Heidi, for your kind words. I loved the ceremony we put together; it was a complete joy to work with you. Wishing you all the best in the years to come!

Are you interested?

Send a message

Courtney

Married on 10/21/2022

Incredible

If you are looking for a wedding officiant, look no further. I can promise that you too will fall in love with Peter + Koru. My now husband and I had no idea who would marry us and looked at recommendations until we came across Koru and decided we would book a consultation. After the first consultation we knew that there were no other choices. From the first consultation, Peter continued to be one of the most helpful people we would work with while planning our wedding and on our actual wedding day. He was incredibly helpful, kind, awesome at communicating, and truly made our big day one of a kind. With the ability to make the ceremony your own, you truly cannot go wrong. My husband and I cannot wait to rewatch our ceremony video just so we can reminisce.

Peter + Koru, thank you for making the best day of our lives even better!!

Ryan N.

Married on 10/15/2022

Simply the best!

First of all… we do not have enough good things to say about Pat Werk at Koru Ceremony. She is an absolute professional. Pat helped so much to ease the stress of our ceremony planning with her organization and experience. Pat was able to help guide us in some decision making that we definitely would not have had had we hired anyone else. She was so easy to work with and made us feel loved as she was able to personalize our ceremony to make our day "ours". We had numerous guests compliment her about our ceremony and Pat is 100% to credit for this. We promise that if you hire Koru Ceremony, you will be elated with the service.

Koru Ceremony's reply:

Thank you, Ryan and Rebecka. It makes me so happy to hear how happy you were with the process and how the ceremony turned out. It was a joy to work with both of you.

Melissa C.

Married on 10/05/2022

Very helpful for COVID-19 Couples!

We originally planned a big wedding for this November, but after the pandemic hit we postponed to next May and opted to do a small backyard wedding on August 1, 2020 since we still wanted to get married this year. Both me and my now husband and our families loved the ceremony and we loved working with Pat! She was very flexible and accommodating when we needed to postpone and I was so happy that she was still available for both of our new dates. We can't wait for Pat to do our vow renewal at our big wedding next year!

Koru Ceremony's reply:

It was delightful to work with you and Will. I look forward to celebrating with both of you again next spring! Wishing you all the best in the coming months before your next celebration.

Elizabeth L.

Married on 09/17/2022

Worth every penny!

Peter was an absolute highlight of our intimate wedding in 2020. The process was thorough and seamless, and the ceremony was entertaining and very personal! I would absolutely recommend him.

Koru Ceremony's reply:

Thank you so much, Elizabeth, for your very kind words! I absolutely loved officiating your beautiful Northern Wisconsin wedding. I wish you both many years of happiness together!

Ari S.

Married on 09/03/2022

Very Happy With Koru Ceremony- Rachel Tatge

We worked with Rachel Tatge to officiate our wedding and could not have been happier with our decision! The process of organizing our ceremony was quick and easy and she was there with us every step of the way.
Rachel showed up on time the day before for the rehearsal and the day of with a clear plan in mind to make everything go smoothly. She was professional, courteous and a pleasure to work with!

Emma H.

Married on 09/03/2022

Amazing Officiant and Services

Peter was an absolute perfect officiant for our wedding. He really took the time to truly get to know us and our story, and incorporated everything we asked for into the ceremony. Peter worked with us from start to finish, as we weren't really sure what to include at first. He offered suggestions, and always made sure we were happy with any additions/edits that were made. Peter was flexible, stuck to the timeline we discussed, and had great communication. We received so many comments from our guests about how great of a job Peter did. We cannot recommend Peter enough!

Kye S.

Married on 09/02/2022

Excellent experience

We had an amazing experience working with Pat! She made our wedding customizable and unique to us while providing helpful information and including common wedding practices along the way. We have gotten so many compliments on how well Pat told our love story and on how personalized our ceremony was. We couldn't be more pleased with Koru Ceremony.

Koru Ceremony's reply:

I absolutely adored working with Kye and Dani. They were such a sweet and fun couple, and it was a joy sharing their amazing love story with their guests during the ceremony. Best wishes in the years to come to this delightful couple!

Tori S.

Married on 08/27/2022

A Wonderful Ceremony Planning Experience

Working with Pat to build our ceremony was one of the most fun parts of our wedding planning process. With her resources and advice, we were able to make the ceremony incredibly personal and special. Pat was very responsive and quick to get back to us when we had questions. We are so grateful for the care she took in working with us and are beyond thrilled with how everything with our wedding ceremony turned out.

Koru Ceremony's reply:

Thank you so much Tori and Casey for writing such a fantastic review for me. I loved working with you too and it was a joy to share your beautiful love story with your guests. It was a perfect day, and I was honored to be there with you.

Nicole G.

Married on 08/13/2022

Amazing, and so helpful!

It was a pleasure to work with Sara on our wedding ceremony. We thought about potentially having a friend marry us, but were glad to have the professionalism and experience that Koru brought to the table. Sara incorporated various custom requests, and we were so pleased with the flexibility on ceremony script. She even gave us little tips for how to make the ceremony go smoother. Would recommend for sure!

Taylor W.

Married on 08/06/2022

We loved Pat!

We are so glad that we booked Pat for our wedding! She was very thorough, caring, and considerate. She explained to us her process and encouraged us to choose the package that best fit us (not the most expensive package). She helped us to create the most beautiful ceremony! The way she creates a ceremony is very tailored to what you are looking for as a couple. She is very flexible with allowing for wording changes or any ideas you would like incorporated. We almost were unable to have her come for the rehearsal of the ceremony, but thank goodness she was able to come because she made every single little detail look perfect! She has been very dependable throughout the entire wedding planning process and could not have asked for anyone better! Overall, Pat has been a Godsend!

Koru Ceremony's reply:

Thank you so much, Taylor and Alex, for writing such a heartfelt review. It was a joy working with you to celebrate such a beautiful day overlooking Lake Michigan. It could not have been more perfect. Wishing you all the best in the years to come in your marriage.

Kristen

Married on 07/31/2022

High Praise for Koru Ceremony!

We hired Pat from Koru Ceremony to officiate our wedding and we are so happy we did! Pat was terrific to work with from start to finish. She was friendly, very personable, and very responsive to our emails. Pat helped us create a meaningful and personalized ceremony script. She had a great and extremely thorough system for creating the script where you could select pre-made options or totally customize anything you wanted. We wanted the groom's uncle to lead a cultural ritual and Pat did a great job working with him and making sure the ritual was performed in the correct manner. Pat was a wonderful leader at our wedding rehearsal and made sure everyone knew exactly what to do. She also did a fantastic job at the ceremony, and guests couldn't stop talking about how meaningful the ceremony was! Although we only chatted with Pat a few times, it felt like a friend was marrying us rather than a stranger, and we are so happy with how everything turned out!

Koru Ceremony's reply:

Thank you so much, Danny and Kristen, for your wonderful review. I adored working with you, and it was so much fun to share your love story with your guests. I loved having your uncle perform the ritual at the end. He was fantastic to work with- such a funny guy! I'm delighted to read that your guests loved the ceremony, and I agree that by the time we got to the wedding day, it felt like I was there celebrating with friends.

Sherry K.

Married on 07/16/2022

Excellent experience

Sarah was able to command the attention of everyone at the rehearsal and make sure that people knew what to do come showtime. She was a truly stabilizing force that allowed us to be in the moment during our actual wedding ceremony. Highly recommended.

Skyler H.

Married on 07/09/2022

We highly recommend Pat and Koru Ceremony

Looking for a unique and memorable ceremony that will truly be your own? Look no further! We highly recommend Pat Werk as a wedding officiant. She prides herself in providing a ceremony that is personalized to the couple. You get to choose so much of what will be said and done. Our special moment featured a knot tying ritual which embodied our passion of the outdoors and rock climbing. Pat was excited to help us make that possible! She was so kind in preparing a personalized ceremony that will not be forgotten. Although the ceremony can be a stressful part of the day, her confidence, kind presence, and compassion for her work allowed us to relax and be present in the moment. Pat will undoubtedly make your special day even more special.

Koru Ceremony's reply:

Thank you, Skyler and Heather, for writing such a glowing review for me. I loved the ceremony we created, especially the climbing rope ritual that was a perfect metaphor for your marriage.

It is always a joy to marry delightful couples like the two of you. But I was incredibly honored that you asked me to officiate your wedding because of our family's connection. Watching Skyler grow up in our small town made it even more magical to be a part of your big day.

Wishing the two of you all the best in the years to come and the beautiful life you are creating in Utah.

Savannah V.

Married on 07/08/2022

Pat worked with us to create a highly personalized and meaningful ceremony!

Pat was truly outstanding to work with! She took time and care to get to understand us, what was important in our relationship and what we wanted our wedding ceremony to look and feel like. The result was truly the most special 35 minutes of our life! Many of our guests commented that it was one of the best wedding ceremonies they had been to and we have Pat to thank for that. We highly recommend Pat and Koru Ceremony for wedding officiants!

Koru Ceremony's reply:

Thank you so much, Savannah, for your kind words of praise. It was an honor to be there to celebrate with you. I loved every minute of your wedding day. It was a joy to create something unique and special for you that spoke to your relationship and the love you and Cody emanated throughout the entire day.

Caitlin D.

Married on 07/01/2022

Pat Werk of Koru Ceremony is Absolute Magic

This review is hard for me to write because I truly don't know if I can put into words what working with Pat meant to me. I am both a writer and a reader and to me the officiant was an extremely important choice to make for our wedding. I wanted to feel at home with our officiant, that they knew our story and were going to present our love and what it felt like to us to everyone at our wedding. I found that in Pat. The first call I had with Pat was two hours long, I just couldn't stop talking with her and I felt so comfortable speaking to her about our vision and our story. When it came time to review the ceremony she had drafted it was also a priority for me to feel heard. Pat sent me an initial version of our ceremony and then I replied back with edits and some of my own ideas. Together we worked to make a wedding ceremony that truly reflected mine and my husband's life, love and family. Pat also directed the rehearsal seamlessly and as soon as I saw her I gave her the biggest hug because she felt like family. On our wedding day, I wasn't nervous - I was brimming with happiness. Part of that happiness and ease was brought about by having an amazing team of vendors. Pat was a huge part of that and we will forever be grateful to her for helping in creating and executing pure magic on our wedding day.

Married 07.01.2022
Mr. + Mrs. Herder

Koru Ceremony's reply:

This review that Caitlin wrote made my heart swell with love and affection for this amazing couple. Caitlin is such a fantastic writer that it was a complete joy to collaborate with her to create the perfect ceremony reflecting their love and vision for the wedding day. Wishing Caitlin and Andrew all the best in their life ahead as husband and wife.

Kati G.

Married on 06/30/2022

Wedding on August 13

Pat was a joy to work with! She was so organized and on top of things which helped put me at ease. She is always willing to customize or change anything we asked her to. Overall, we had a great experience with her!

Koru Ceremony's reply:

Thank you, Kati and Nick, for your sweet review! I'm so happy to read how working together put you at ease and that you felt you had a great experience working with me. The two of you were a joy to work with as well! You had a beautiful wedding at a gorgeous location. Wishing you all the best as husband and wife.

Krista W.

Married on 06/26/2022

Amazing Officiant

Pat Werk was our officiant for our wedding ceremony last week. Working with Pat was simple, wonderful, and very informative during our meetings. We met via zoom, which was very convenient for us, to plan and organize our ceremony. We chose to have Pat share our love story during our ceremony…. since we met during Covid some of our extended family and friends didn't know our full story! I can't count how many people came up to us during our reception and asked if Pat was a relative because she told our love story so well! It was AMAZING!!! I can't wait to get our wedding footage from our videographer so we can watch and relive the ceremony again. Pat was also super helpful, timely, and organized in providing us with all of the information we needed to get our marriage license and for me to change my last name. Thank you Pat and Koru Ceremony!

Koru Ceremony's reply:

It was simply wonderful working with you and Shane too! I loved sharing your love story because it was so unique and special. Thank you so much for your very kind words of praise, they meant a lot to me, and I really appreciate your taking the time to write such a heartfelt and informative review for Koru Ceremony. Wishing you all the best in the years to come!

Luther R.

Married on 06/25/2022

Excellent guidance and care

Pat was fantastic!
We had a pretty general idea of what we wanted for our Wedding ceremony, but the guidance and assistance we received along the way was so valuable to helping us really put together the perfect ceremony, just like we wanted it to be. It was obvious to us, as the planning stages unfolded, that Pat and the Koru process would be suitable for many different types of couples, whether religious or not or spiritual in their own way or not, the freedom to "pick and choose" what types of wording and even edit the specific phrases in whatever way we desired.
This flexibility was very important to us, and we utilized it to its full potential to help us build our ceremony.
We had ample opportunities to communicate and go over the ceremony and what it was going to look like with Pat, and she was always willing to work with us along the way. Her experience with former clients was also very relevant and helpful.
The execution of the ceremony itself went very well, Pat was professional and flexible and, at every step along the way, a joy to work with.
I would recommend Pat and the Koru team to anyone.

Koru Ceremony's reply:

Thank you so much, Luke and Kris, for writing such a lovely review for Koru Ceremony and me. I loved and adored the ceremony we created for the two of you. It was perfect and genuinely represented your relationship and everything important to you with all the special and unique details and elements we included. I was deeply honored to be there to celebrate with you.

Ye Xu

Married on 06/25/2022

Great job!

We found Koru Ceremony online and were impressed by the variety of ceremony style they could offer. After submitting our request, their certified officiant Rachel soon reaches to us and set up our first virtual meeting. She helped us a lot for the wedding ceremony preparation from the marriage license application procedure to details of ceremony content. The entire process was well organized and make us feel less stressful. Rachel showed up at 45 minutes earlier at our ceremony to check if everything was going well. The ceremony was very successful and touching! We are very happy with Rachel's and Koru's professional service and great help! Highly recommend to other couples!

Koru Ceremony's reply:

Thank you so much for this super kind review, Ye! I was honored to work with you and Shaun to create your perfect ceremony, and I loved meeting your friends and family on the big day. You both are the best, and I wish you (and your precious animals) nothing but happiness in the future!

Warmly,
Rev. Rachel

Dana C.

Married on 06/18/2022

Personalized ceremony experience

Highly recommend!!! Pat at Koru Ceremony was amazing. We were a two-religion couple, so we were initially worried about how we could make our ceremony feel spiritual & meaningful without leaning too strong in any one direction - Pat was able to help us make it feel extremely personalized and bring all of the important elements into our ceremony.
If you are looking for a professional, personalized, & heartfelt ceremony, go with Koru!

Koru Ceremony's reply:

Thank you so much, Dana and Chad, for your glowing review. I can't tell you how much I loved working with you and how tickled I am to know we were able to create the perfect ceremony for you. I adored your joint vows, and it was so meaningful to acknowledge that 100 years ago, your great-grandparents married on the exact same date. Wishing the two of you all the best in the years to come as husband and wife.

Cassie G.

Married on 06/11/2022

Excellent!

I would highly recommend Pat to officiate your wedding! She is very personal and knows how to adapt in unexpected situations. She helped the day proceed smoothly. She took stress off my plate since I knew she was so reliable.

Koru Ceremony's reply:

Thank you, Cassie and Austin, for your sweet comments.
Inviting 200 guests to join us under the two massive willow trees in the middle of your ceremony when it started to rain created an intimate bonding experience. Thank you for being so flexible and able to go with the flow in this unexpected situation. I'm sure your wedding will be something your family and friends will remember in the years to come.
Just as storms make trees grow deeper roots to withstand bad weather, may any storms that come your way in the years ahead help you grow closer and take comfort and refuge in one another.

Barbara K.

Married on 06/09/2022

Fantastic and Personal Wedding Experience

Koru Ceremony and Pat Werk were specatcular to work with. Pat advised and guided us through the whole process while letting us make our own choices, kept in touch, and provided a very personal experience for us and all of our guests. We received several comments complimenting our wedding ceremony. I could not more strongly recommend!

Koru Ceremony's reply:

Thank you so much, Barb and Mike! It was so much fun to help you create a one-of-a-kind ceremony that reflected your relationship, the importance of family, and that dreams do come true. The stained glass cross Mike made for the unity cross ritual was gorgeous. Wishing you all the best in the years to come as husband and wife.
Are you interested?
Send a message