101 Reviews
Recommended by 100% of couples
Quality of service

5 out of 5 rating

Average response time

5 out of 5 rating

Professionalism

5 out of 5 rating

Value

5 out of 5 rating

Flexibility

5 out of 5 rating
31 User photos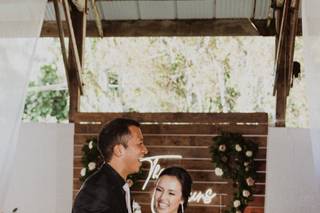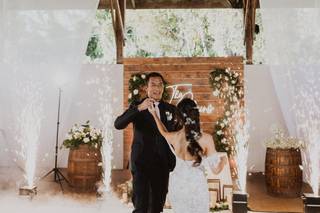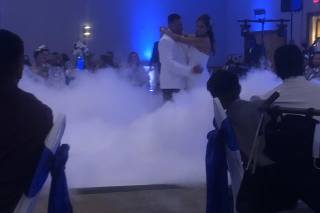 + 27

photos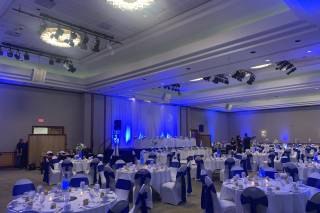 Eric M.

Married on 03/21/2023

Top Class Performance and Care

Kuldip took our wedding reception to the next level. He delivered a quality and entertaining service. With only a basic script and details, he made every guest feel welcome. He worked the entire room and was extremely professional through the entire process. He truly cared about our wedding, and I would reccomend him to anyone.

Cathy L.

Married on 06/06/2022

Great emcee and easy to work with

We saw Kuldip at a friends wedding. He was engaging, fun, and kept the party moving. We decided to hire him for our non-profit event. Unfortunately due to the ongoing crisis we had to cancel, but he was very accommodating and worked with us to get everything straightened out.

Kooldip Productions's reply:

It is our hope we get to service a future event of yours Cat! :) Thank you for taking the time to write us! We appreciate you. Much love coming your way during these times!!

Chelan C.

Married on 06/04/2022

Unforgettable!

Hiring Kooldip Productions for my wedding was hands down my favorite and BEST decision i made for my big day. Not only is Kuldip a great speaker who can command any crowd, but he has the wittiness and humor to get the crowd truly engaged and invested in your love story. What i appreciate about Kuldip is that he makes it a priority to really get to know who you are...from how you met, to your favorite football teams, to your inside jokes with your friends and family. A few months have passed since my big day and my friends and family still bring up "that awesome emcee" i had at my wedding. Thank you Kuldip and crew for being such a huge part of making that day special! :)

P.S. Kooldip Productions' equipment is top notch. We added on "the cloud" for our first dance, which is a fog machine made to look like you're literally "dancing on a cloud." I was expecting the fog to come up to our shins, but there were moments when the fog came up to our faces! Highly recommend adding on this service.

Kooldip Productions's reply:

Aww Chelan, you have always been the sweetest! And might I add, the COOLEST student ;) I enjoyed watching you, Brans, and your friends doing the gitup challenge!!! I especially enjoyed your best man roasting Brans... Dang he was brutal! lol.. But I guess that's what homies are for!

P.S. I always appreciated how thoughtful and observant you are when it came to the little things so I really thank you for noticing our cloud effect! lol... Sending you and Brans nothing but LOVE today!!

Thank you so much for taking the time to write this and more importantly, thank you for being our 100th review!! :)

Love you guys!
Kuldip

Are you interested?

Send a message

Katrina W.

Married on 05/29/2022

Everyone loves Kuldip!

It's been a month since our wedding, and we still get compliments from our wedding guests about Kuldip and DJ Rude Dogg. Kuldip kept our guests laughing and engaged throughout the entire reception, and DJ Rude Dogg got EVERYONE on the dance floor for the entire night. On top of that, Kuldip kept the entire wedding organized, and you could really tell that he studied our timeline and really listened to us when we spoke about us as a couple and our diverse group of wedding guests. We had the BEST day because of Kooldip Productions. If you're looking an incredibly fun wedding/event for you and your guests, look no further than Kooldip Productions!

Johanna G.

Married on 05/27/2022

Never ending fun!!!

What can I say, but AMAZING!!! DJ Kooldip and crew are the Best of the Best! Professionalism at its best! We did our research in search for a DJ and emcee and no one came close to this gem. He took the time and effort to get to know us, our guests, our likes and dislikes, our passions and what makes us tick! He engaged our guests in games and laughter. We all had so much fun from beginning to end. Our guests were all amazed by him and kept asking where we found him. We will definitely be a repeat customer!!!

Tony G.

Married on 05/27/2022

Unbelievable Experience and a must hire

Kooldip is a true professional and entertainer. His preparation before the wedding was so thorough that it made the wedding reception so much fun! From the beginning all the way to the end of the reception was great. It was almost as if he had known me and the bride all our lives as well as a lot of our guests. Every guest kept telling me how funny and how much fun Kooldip was. Kooldip truly made our special day even more special and memories not only for me and my bride but for all the guests. I cannot even imagine having any event with out him and his team.

Alexander B.

Married on 05/21/2022

Best Emcee Ever!!

DJ Kooldip absolutely made our wedding!! Could not speak more highly of him and his entire team. His energy from start to finish was amazing, and even my family - which is a bit more conservative - was really getting into it and enjoying themselves immensely, all thanks to him. From our first dance, to the games, to the dancing at the very end, Kooldip absolutely hit it out of the park! One month to the day, we are still getting emails, texts, and phone calls from friends and family, telling us how much fun they had - and they always start by saying we had such an incredible emcee! Would HIGHLY recommend for anyone getting married in Oahu!!

Cristel M.

Married on 04/09/2022

Must have, do not go cheap on this one!

If there is one thing you MUST HAVE for your big special day, it is KULDIP and KOOLDIP PRODUCTIONS! If need to put all your eggs in one basket, that would be KULDIP! He IS the LIFE of the party! If you want your guests to have theee BEST NIGHT, you better have KULDIP! You don't want to spend a lot on your decorations, food and venue and have an "okay" emcee and DJ because you know what? You'll regret it… and you will forever think about "what if I hired Kuldip, instead…"

Honestly, I personally know Kuldip and he is the most humble person I know. He doesn't like to brag about all his achievements and his goals. He focuses on you and what you want to accomplish for your event and then, he gives it a 1,000% and just gives back so much in return. His energy, his style, his personality, charisma is beyond you can ever imagine from an Emcee. He PERFECTS all of his speeches and you would think that he just comes up with them on the spot (which he totally does and can do) but he also comes prepared and every single thing he says, are with intent.

My guests loved him so much and Kuldip had made a huge impression on them- even on us who knew him for a long time. If you want everyone to have a good time, KULDIP is your guy. He does it all- EMCEE, DANCE, COMEDIAN, COORDINATOR (helps and enhance with timeline), ACTOR, MOTIVATIONAL SPEAKER, EVERYTHING!!! Don't just hire someone who can hold the Mike and talk and follow the timeline, hire KULDIP!

He does the all the hard part so you don't have to worry. He helped us refine our program and enhanced it to flow even more than I thought it could be. He's seasoned in this industry and he was born to entertain. I loved that he took his time to go through the whole process with me not just once but as many times we needed to make sure we got every single detail down. His suggestions are incredible because they make so much sense, like I said, he is experienced in this industry and he brings something new and different from the rest. All of the videos don't do justice because having him live on your big day, is beyond what you can think of.

Kuldip made sure we were one hundred 💯 percent satisfied and he kept the crowd laughing the entire time! He also customizes everything he says to fit your guests and of course you the celebrant. I can't say it enough, you NEED to have him on your special day. Don't go cheap on this one because you've already spent so much on so many other things that you don't want your day to be ruined by someone who didn't deliver.

Kristina A.

Married on 12/18/2021

Best Emcee Ever!

We reached out to Kuldip and his team to emcee and DJ our wedding this past December. It was the best decision we ever made! Kuldip and his team were incredibly professional, funny, and had the crowd pumped up and excited the entire time. Kuldip takes his craft very seriously, but knows how to have fun. He spent time before the wedding getting to know us and asking lots of questions about us and our story. We also had consultations where he would review our timeline and help us perfect it. His past experiences with emceeing weddings allowed him to provide insight, suggestions, and ideas to keep the reception flowing smoothly and crowd pumped up when we were finalizing our timeline. During the reception, he knew how to engage the crowd and keep them laughing without any cheesy or inappropriate jokes. He's incredibly witty and quick and knows how to read the room- something very important when you have friends and family from all different walks of life. He also found ways to share our story with the crowd and made the wedding centered around us and our family. When there were a few hiccups (none which were Kuldip's fault) - he was quick to improvise and keep the crowd pumped and engaged! All of our guests raved about how much they loved Kuldip and still talk about him to this day! A lot of our other vendors had also recommended him too (which says a lot since they see a lot of weddings!) He had the entire dance floor packed and it was an amazing time. Kuldip really made the wedding for us.

Christel M.

Married on 10/17/2021

The best!!! You won't regret it!

Due to covid, we had to reschedule our wedding for a year later. Throughout this time, Kuldip would check in with us and would ask us how we were doing. He was very personable and made us feel extremely relieved to have someone that cared about us, and was not in it just for the money. This is the type of people you definitely want to be working with. Kuldip was always involved and communicated frequently with us. From what we have heard, not many emcees will actually take the time to get to know the couple. Apart from his great communication skills, Kooldip and his team were prompt, professional, full of energy, and made all of our guests have an enjoyable time. Kooldip was able to keep the guests entertained and involved.

Kuldip was also very attentive to our needs during the wedding, and made adjustments accordingly on the spot. For example, Kooldip noticed my eye contact when I wanted a song to be cut short, and made the transition quick, smooth, and unnoticeable. Another example was when Kooldip was told to buy time, while our media team set up equipment for our slide show. Instead of doing the typical wedding games, he creatively involved all of our guests to participate in an activity that everyone seemed to enjoy.

Our guests still talk about how much fun they had at our wedding and how our emcee & DJ did such an amazing job! We highly recommend Kuldip and his team for any future events! If we could do it again, we would definitely book with him without hesitation!

Thank you so much to Kuldip and his team (Koodip Productions) You made our wedding absolutely everything that we envisioned, and more.


Briana D.

Married on 10/15/2021

Totally amazing!

Kuldip is such a chill, easy going gentleman to work with. In the 3 years of planning since 2019 to 2022 due to covid & the postponements- communication & organization was on point. Our wedding at Ko'olau ballrooms a few weeks ago was totally epic. He did great executing our stories (memorized), kept our entire guest pumped & lit through every part of our evening program. Our wedding day itself couldn't be any smoother, we also did the uplighting, monogram, dancing on a cloud & sparklers through kooldip & his awesome dj Rude dogg. My husband & I had a blast at our wedding & the load of positive comments flowed in that evening, the next day & still weeks on asking who my MC at my wedding was. 110% totally recommend Kooldip & his crew! Absolutely loved the outcome of our magically epic thrilling & memorable wedding event. Our guests are ALL still in awe & can't stop talking about #RnBmeant2be 💙✨

Lowell T.

Married on 08/14/2021

Kooldip Review

Kooldip was an amazing Emcee for our wedding! I high recommend him for your wedding or event. He did an awesome job of knowing his audience, keeping everyone laughing, and never let the dance floor die. Many of our guests commented on how funny the Emcee was. However, a lot of them dont know how much work Kooldip put in prior to the event. We had multiple meetings with him, and he really wanted to know our story in order to convey it to the audience. He also made sure our wedding was run the way WE wanted it. We interviewed many Emcee's for our wedding, but none really took the time to get to know us like Kooldip did. I cant thank him enough for making our special day better than we could have imagined!

Joseph T.

Married on 08/08/2021

Best Emcee Ever!

Just had my wedding during Covid and was so afraid to hire any DJ during this time. I was blown away with his professionalism and kindness. This is the type of company that will listen and ask questions to make sure your wedding day is memorable and perfect. You will not be disappointed, I've had plenty of compliments from my guests stating that this was the best wedding that they have ever attended just because of him. He will make sure that your guests are entertained and comfortable. Being an MC is hard, but with his skills (memorizing your story and delivering) will keep your guests amazed. Kuldip is the type of person that will make your wedding day unforgettable. Hire him! You will not be disappointed! Thank you for taking the time to make our wedding day perfect! Best MC in the world! I cannot thank you and your team enough

Maritess S.

Married on 06/18/2021

Kooldip Productions is the best hands down!

If you guys are looking for a DJ and emcee, then look no further. We hired Kooldip Productions for our wedding and they were absolutely spectacular! Kuldip was our emcee and captured the audience's attention from the start to finish. He has a GREAT energy and really knows how to work the crowd.

We had to reschedule our May 2020 wedding due to COVID and Kuldip made everything so simple and were even reaching out to us to tell us they were here for us before reality set in. LOL! He was extremely responsive and replied back to my emails in a timely manner.

Working with him prior to the wedding was also super easy and efficient. I was worried about our wedding being boring because most of our guests are not into dancing, but I knew from our first consultation that I could trust Kooldip Productions to give us an amazing night and they did! Our guests raved about how entertaining he was and never wanted the night to end because the DJ mixed music seamlessly and had the most popping beats!

Kooldip Productions was so reliable, fun, and talented – we couldn't have asked for a better DJ and emcee! We booked 18 vendors and they were all great, but Kooldip Productions was the icing on the cake! We highly recommend Kooldip Productions for any wedding and we thank them from the bottom of our hearts for making our wedding day absolutely unforgettable!

+ 3

photos

Kooldip Productions's reply:

Mari,

You and your maid of honor are so lit, and you know why! We'll keep it between us! lol... Thank you again for having us! If we're the icing, it's only because you guys (the main cake), were such a pleasure to work with! Words can't express how grateful we are to have met you and Josh!

Hope to party with you guys again! Please say wassup to my man Josh!

Much love to you both,
Kooldip

Chase G.

Married on 06/03/2021

Absolute best MC in the business!

Where to start… well Kooldip Productions was by far one of our best (if not the best) decisions when it came to picking a vendor for our wedding. YOU HAVE TO PICK HIS TEAM FOR YOUR MC AND DJ COMBO.

The process begins with an email getting to know the couple and some deliverables due matched with unparalleled customer service throughout the way including calls, texts, emails, you name it. Kuldip was always there when we needed him and leading up to the wedding was a breeze. The information we provided him was all for the reception. Once he got an idea of who we were, he filled the reception with funny jokes and facts that I was very surprised he remembered from the document. He knew everything about everyone it seemed like. Now that I think about it…. Haha he's psychic!

At the wedding reception he really wowed me. He took the time to memorize and practice lines for the reception including a 5 minute monologue on how we met. DJ Rude Dog was on point as well and they make a terrific team with the music selections. Kuldip was constantly hovering around making sure everything went well and his vibes/energy were just unrivaled. He was a blessing that I couldn't have imagined if I tried. His package came with awesome sound, excellent lighting, and even our own monogram! He stayed on schedule and made sure everything on our timeline went smooth.

Kuldip, thanks for making our wedding reception special and further, thanks for making it something we will remember forever. Drinks on me next time we see one-another. You're one of the good guys man, hope our paths cross again.

Kooldip Productions's reply:

Chase my friend!

You and Ninnette will forever hold an epic space in my heart! Most epic ending ever in the history of weddings lol. We'll keep that a secret between us and maybe social media haha... First things first, there is no way an Emcee or DJ can rock a party without a fun crowd!

My friend, I must say, Arkansas and Texas really know how to throw a party! On behalf of my team and I, we are grateful to have met you and Ninnette! Send our love to her please :)

It is my hope we cross paths again! I'll take you up on that drink my friend! In the meantime, you guys take care and thank you so much for the kind words! It means a lot!

With love,
Kooldip

Lerma G.

Married on 04/03/2021

Friendly and professional emcee with an amazing team!

Geeze, it's already been 2 years since we first met Kuldip at the Wedding Expo over at Blaisdell! Kuldip was the emcee for the event and he was making a joke about the human checkerboard - and that's when my fiancé (now husband) first locked eyes on him and busted out laughing. At that moment, we both knew that Kuldip was going to be our emcee for our wedding.

Kooldip Productions was offering an awesome bundle which included uplighting, custom monogram, awesome DJ and interactive emcee if we booked during the week of the wedding expo. Of course we did! We booked him 2 years in advance!

Kuldip is such an awesome person! You can tell by the way he interacts with you. He's very personable and professional. We took him out to lunch to discuss our wedding details and we are so glad that we did. It allowed us to talk to him outside of his suit (LOL!) and made the planning and conversing so much easier.

My fiancé and I finally got married on 4/3/21! Kuldip and his team showed up at our venue on time and got set up right away. Since we were having a Korean Tea Ceremony while they were setting up, Kooldip Productions were kind enough not to do a sound check to ensure that they were not interrupting anything.

Kooldip Productions worked with my coordinator, officiant and venue to have everything go smoothly. I'm very thankful for them! During dinner, our guest kept clinking their glasses to get my husband and I to kiss. Kuldip could tell that we weren't very fond of it so he created a game where we would pick a different couple to kiss instead of the bride and groom! It was fun to pick out couples and it helped to stop the guest from doing it again. Thank you Kuldip!

We were allowed to have dancing with our masks on - and I'm glad we were able to! Kuldip has got some dances moves! He was on the dance floor dancing with us and our guest and making sure that we were taking the proper safety precautions.

During such unprecedented times with COVID-19 and wedding restrictions, we couldn't be happier to have Kooldip Productions on our special day. They made our day ten times better and we're so glad that the wedding industry is finally able to get back to work. Thank you so much for all the hard work that you and your team has put into our wedding day, Kuldip. We couldn't have been happier. We will definitely book you again for our next event!

Kooldip Productions's reply:

Lerma thank you so much for your kind words! I can't stress enough how thankful I am of that human checkerboard because it was what bonded us 😂😂😂

I absolutely love you and Robert! Couples like you are the reason why my team and I do this! Seriously! You just know how to have fun. The boys doing their thing to blow the whistle and early 2000s music is a moment I'll never forget! AND I just appreciate that you not only allowed us to be us, but also treated us like family!

You fed us, tipped us, reminded me how amazing Liliha bakery food is, and all of that doesn't go unnoticed! ❤️

It is my hope that I get to run into you both again in this life or party with you again! Who knows, when I stop working, I may start catching you guys online when I go back to video games 😂😂😂

Thank you for being part of that 10% who chose love over fear and for that, I'll never forget you both when I reflect back on the pandemic!!! ❤️❤️❤️

Love you guys! Say hi to Robert and thank you so much for taking the time to do this! Seriously, it means the world to me and my team!!! Our company stands strong because of the rare couples like YOU!!! ❤️❤️❤️

Have an amazing year my friends,
Kooldip

Jeff A.

Married on 02/27/2021

The review

In a time when we needed things to happen this braddah came through and delivered what was expected. Very professional and in my experience kept everything 100 with me. Kept audience engaged throughout event, has out of the box unique ideas to bring to the table, fast thinker for every situation and never a dull moment. You need an entertaining guy like this in order to keep the audience alive and engaged. my wife and I are happy with the outcome and couldn't have asked for a better host.

Kooldip Productions's reply:

Jeff my man!

In a time where most people use "fear" as a driving factor in their life, you and Sziezel lead yours with love! I'm so proud of you both for getting married because it reminded my team and I how amazing love can be! At the end of the day, you have proven that LOVE conquers all things!

Appreciate you both sooooo much and I can't wait to party more with you in the future,
Kooldip

Mina

Married on 07/11/2020

Awesome energy and flow

Kuldip is incredibly amazing! He and his team are, hands down, the best wedding entertainment / dj/emcee. Regrets only!!

+ 3

photos

Kooldip Productions's reply:

Well, let me start off by saying, you and Aaron got the golden buzzer for the "So you think you can dance" for first dances of all time! haha. Mina, I just want to thank you from the bottom of my heart for taking the time to do this! Seriously it means a lot! Please say wassup to Aaron for me!!

Hope to see your Bali pics on Aaron's IG! lol...
Kuldip

Kristie W.

Married on 02/29/2020

So. Much. Fun!!!

Kooldip was the first vendor we booked, and for good reason. We had an immediate connection with Kuldip after we had our first phone meeting. He really got to know us as a couple and tailor made his MCing to us, our guests, and so many of our inside jokes. We got so many compliments from our guests about how hilarious he was during our reception.

DJ Rudedogg played all of our requested songs and then some. There were moments on the dance floor when my fiance and I were like, "Wait, did we request this song too?" only to realize that the DJ basically read our minds in that moment! Our guests were a mix of local people and mainlanders and our dance floor was PACKED the entire night. I can't think of one song that didn't fit perfectly with what we were hoping for.

Also, GET THE SPARKLERS. They really brought a wow factor to our first dance and made the party have that club vibe during dancing. We got a lot of compliments on that too.

Out of all the vendors that we had, Kooldip Productions had the biggest effect on how much fun we and our guests had. Kuldip and his team really exceeded our expectations!

Kooldip Productions's reply:

My goodness Kristie, when dancing started, I was like whoaaaaaa, can I have what they are having?! lol... You are the definition of FUN! It was such a blast partying with you and Tony! Please send him my regards :)

Kelvin

Married on 02/01/2020

Kooldip is the BEST!

If you want your wedding to be the talk of the town, office, friends and family hire Kooldip Productions. My husband and I got married February 1, 2020 right before COVID-19 brought the world to a halt. We were lucky in so many ways. I found Kooldip by searching many sites and his name kept popping up with 5 stars. I decided to pull the trigger and hire Kooldip. From the first conversation all the way through the wedding reception, Kooldip was perfection. He was professional, friendly, asked the right questions and made the night a total BLAST! Kooldip and his team tailor made the up-lights, song list and kept a perfect flow to the night. His charm and levity had the crowd laughing and happy all night. After the wedding, everyone came up and told me how beautiful I was and how much they enjoyed the reception and Kooldip. Hire him NOW for 2021 or for anything that is allowed by law. Talent like his will go fast once the wedding industry is up and running again.

Kooldip Productions's reply:

These are amazing pics Kelvin and Liz! Gosh you are so wonderful and kind! Both of you are such young souls and I believe if more people lived life in such a fun way, they'd be much happier! :) Sending love your way during these times!!!!

Lourdes O.

Married on 11/05/2019

Kooldip is the one you want for your event

This is not your typical review but would like for those future brides & grooms to get to know our story and consider Kooldip for your big day. We live in Miami, Florida and we hired Kooldip for our daughter's destination wedding in Turtle Bay for April 2020. Unfortunately, a month before her wedding we had to cancel due COVID-19 a global pandemic. Kooldip was the first vendor that did not wait for us to reach out but instead called to express his most sincere concern about our wellbeing. I cannot express enough the level of Kooldip professionalism and good vibe you get from the first time you speak to him. He responds in a timely manner and never hesitates to pick up the phone to address any ideas, questions and/or concerns you might have in regards to your event. With the uncertainty of when this pandemic will be over and how long it will take for things to get back to normal, we agreed to cancel our contract with an agreement that was beneficial to both. We now have a new friend in Oahu, Hawaii and his name is "Kooldip"

Kooldip Productions's reply:

I will definitely bother you when I come to Florida lol. I really hope you are all staying safe and healthy Lourdes! I'm so happy to have a friend in Miami as well!!!!!!!

Amanda

Married on 10/04/2019

We LOVE Kooldip Productions!!!

We hired Kuldip & DJ Rude Dog for our wedding at Kualoa Ranch and they were a favorite of mine, my husband's, and all of the guests at the wedding. From initial contact, to helping us create a wedding timeline, to playing amazing music, and getting the entire wedding to dance, Kuldip was a consummate professional in all regards. They were essential to making all of our wedding dreams come true and are truly the sweetest human beings. We can not stress enough how important it is to have a DJ AND emcee! We are so grateful we made the decision to hire Kooldip Productions and would do it again in a heartbeat.

Kooldip Productions's reply:

Amanda and North!!!! You are such beautiful human beings!!! I miss seeing your bubbliness in person!! Glad we are facebook friends because I can lighten my day by seeing you both!! Take care and I hope all is well with you both :)

Judi P.

Married on 09/26/2019

THE Best Entertainment!!

If you are looking for THE best wedding entertainment, look no further than Kuldip and his crew! From our first conversation to the main event, Kuldip was there every step of the way. My husband and I were in 2 different time zones on the Mainland planning a destination wedding in Waikiki and Kuldip was so accommodating in terms of getting us on the phone, planning together in the midst of our crazy schedules. Kuldip and his crew are the epitome of FUN. Our guests raved about how great they were and how well Kuldip knew us. Kuldip takes the time to get to know you and that translates into a personal experience, like he was our family emcee'ing the event! From ceremony music, to the dance floor, to the extras (get the SPARKLERS!!), Kuldip and his crew were amazing! The memories they provided us will stay with us forever. You will not go wrong with Kooldip Productions!!! Hire them!

Abrielle

Married on 09/19/2019

Kooldip was great

We LOVED this company. They were great in the wedding planning process and was soooo funny and welcoming on our wedding day and the playlist (we let them do whatever the DJ wanted) really had the party going all night, especially for a wedding of only 60 people!
He was very professional, and FUN.
I would recommend them to anyone who wanted a fun, easy flowing wedding day

Leimakamae

Married on 09/01/2019

Kid 'n Play!!!

From our first meeting at Starbuck's, it has been an absolute pleasure working with Kuldip! Kuldip as well as his team are professionals that know how to read/entertain people, extremely easy to work with, very quick response time, super flexible and willing to accommodate or make recommendations, and WORTH THE MONEY!!
Honestly, I wasn't even worried about who would emcee. My thinking was, if it ends up being too expensive we could just have family/friends do it. First of all, Kuldip is so easy to talk to. He informed/honored a promotion they were giving if we met him at the expo (which he knew we did not attend). It was while he was explaining all the perks that came with the promotion that I realized we were getting WAY... more than "just an emcee." Being that he has been in the business for quite some time, he is well connected/established (which makes things A LOT easier throughout your entire wedding experience), very handy with tips for your special day/night and provides explanations, but most importantly great with communicating and sharing his knowledge.
Finally, WEDDING DAY and RECEPTION. We had such a great time, not only with family and friends but vendors who (I'd like to think) became friends!! I literally was on top of the world the WHOLE day! Thank you to Kuldip for keeping the entire room entertained at our reception. Mind you, this is a room filled with 400 guests from all different lifestyles... infants/toddlers, teens, devout Christians, shipyard workers (NOT engineers, shipyard welders/shipwrights)!! We still get compliments about Kuldip from EVERYONE at our party!! Should we ever need a DJ for another event, we would definitely be reaching out to Kuldip again! To top it off, Kuldip and the DJ ended the night dancing with us and showing off them Kid 'n Play moves!!! The room went crazy! :)

We absolutely loved working with you all!! Thank you to Kuldip and the gang!! We love you guys!
Are you interested?
Send a message