41 Reviews
Recommended by 100% of couples
Quality of service

5 out of 5 rating

Average response time

5 out of 5 rating

Professionalism

5 out of 5 rating

Value

5 out of 5 rating

Flexibility

5 out of 5 rating
6 User photos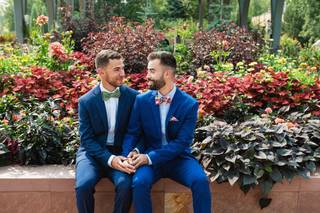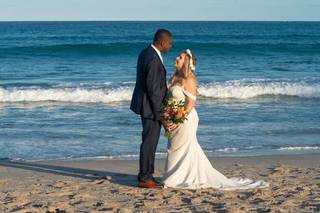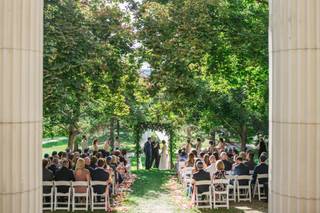 + 2

photos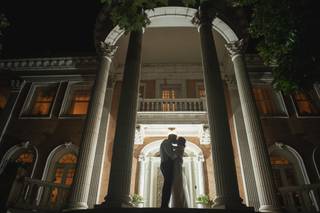 Sean M.

Married on 08/22/2020

Amazing Pictures

Amanda does an amazing job! She was recommended to me by a friend who works in marketing. I checked out her website and was blown away! She was very helpful beforehand in explaining the process and talking about what services she thought would work best for our smaller wedding. (She was helpful and didn't try to push too much on us.) I was actually planning my wedding from out of state, which I thought might make things difficult, but she was very responsive and easy to work with. We were even able to fit in an engagement session during a quick visit to town. She was the perfect amount of helpful when it came to what pictures we wanted and where. We both trusted her expertise and we were not disappointed. That's not to say she controlled the day; she very much wanted to make sure the pictures we got were what we wanted. The day of the wedding we got so many amazing pictures. She was very quick to get all our pictures back. Even thought it was a small ceremony, I'm still looking through all of them. Moreover, I know it's not her job, but Amanda was even helpful in making sure we stayed calm and relaxed during our wedding day. You can tell just by the way she talks about photography and how much she engages with you that it really is her passion and she loves doing it. I would recommend her to any of my friends getting married in the Denver area and would have her photograph for me again any time.

Amanda T.

Married on 11/30/2019

Amazing Service

Amanda went above and beyond for our wedding! She scouted out the perfect places to take photos and helped other vendors as needed! When a tacking fell out of my dress, she borrowed a sewing kit and fixed my wedding dress! This is above and beyond and she was only happy to be helpful. Thank you so much!

John S.

Married on 10/19/2019

Kokoro (Amanda and Debbie) were great

Kokoro Photography (Amanda and Debbie) were great to work with and most importantly the photo's were awesome. From our initial meeting, through the engagement photo shoot, to the wedding day, we felt very comfortable with this Mother/Daughter team. Everyone we have shared the photographs with comment on how good they were. We'll now have treasured memories of our wedding day for a long time to come. A funny story, as we doing the getting dressed photo's there was a small tear in my jacket pocket and it was gaping a little bit. Amanda jumped in, pulled a needle and thread out of her purse and got it all taken care of! Lastly, as a same-sex couple we wanted to make sure that we found someone who would fully embrace and capture the joy of our day. Kokoro was a great choice and we highly recommend them.

Are you interested?

Send a message

Angelique V.

Married on 01/09/2019

Professional and Skilled Team

Selecting a photographer was one of the things we spent the most time on during our wedding planning. After scouring dozens of photography sites, we found Kokoro to have the perfect mix of skill and sentiment. We spent a little more than we'd originally budgeted, but we felt like we were getting a higher level of quality for the price.
Both Amanda and Debbie have an eye for the artistic that we really loved. And they're fun to be around. I would definitely recommend them!

Kim

Married on 06/24/2017

Amanda and Debi were so wonderful to work with, we could not have been happier about our decision to choose them to photograph our big day! They are both very down to earth, fun and easy to work with, super organized and professional, and incredible photographers. Amanda was super prompt with all of our communication prior to the wedding, and was even willing to go out of her way to scout some good spots around our venue to ensure we were able to get the settings and shots we wanted. Their calm demeanour the day of made things so easy. They were great to set up some perfect poses and also to capture the special impromptu moments as well. We have really enjoyed looking back through their amazing photos and being able to relive a truly special day. It's important to pick the right photographer, and I highly recommend Kokoro to anyone who is looking for the perfect photographer to capture their special day!

Analisa

Married on 05/28/2017

Amanda and Debbie are phenomenal! Amanda is so quick to respond via emails and phone calls and really made it easy to feel comfortable with them. We don't live in Colorado so having someone we were comfortable with without meeting in person was huge, I was able to meet them during a trip home and I knew I had made the right choice.

On the day of the wedding, they came in and jumped right in, I was ready to explain everything to them, but they had all the information they needed from our pre-planning conversations and their easy to navigate forms. They were great about making us feel comfortable in front of the camera and posing us so the photos turned out better than we could have asked for. So many of our guests commented on how amazing they both were, we could not be happier with our choice to pick them - you seriously won't regret it!

Candice

Married on 10/08/2016

We used Kokoro Photography for both our engagement and wedding photos. Not only did Amanda and Debi do a masterful job at capturing all of the very special, important moments, but they also find all of the beautiful "in-between" moments as well. Their pictures really captured the feelings and emotions of our wedding. As I go through them, I feel like I can re-live and re-feel every moment of that special day. I feel so lucky to have had them there. They truly have a special gift and are extremely talented at what they do.

Heather

Married on 10/01/2016

Can't say enough great things about Amanda and Debi, they were fun, professional and amazing to work with on our wedding day. Highly recommend!

Rachel

Married on 07/03/2016

Amanda and Debi were easy to work with, pleasant, and a lot of fun to be around! You don't realize how much time you spend with your photographers on the day of the wedding, and I can say that we both loved having them photograph our special day. They did an outstanding job, and we are so pleased with how the captured these memories. Both are very creative and truly talented, we can't thank them enough!

Jennifer

Married on 06/10/2016

Let me start by saying that I knew of Kokoro's work due to their dance photographs. It is very difficult to perfectly time a dance photograph that captures both movement (in a manner that makes the dancer look good) and emotion and intellect a dancer brings to a role; Kokoro has it down. Impressed, I hired Kokoro to photograph my blended/Vitamixed/Ninja/quirky/lovable family 3 years ago. Then again a year ago. When it was time to finally say "I do" I thought of no one else to help capture the special moment than Kokoro. To say that I was astounded, impressed, blown away, isn't saying it all. Kokoro's team also innately understood and worked with the various dynamics an extended family can bring to special events. I wish I could give Kokoro more than 5 stars!

Chris

Married on 05/29/2016

Hiring Debi and Amanda to photograph our wedding was the best decision we made in relation to our wedding (except choosing each other!)
The photographs captured our excitement and joy, the happiness in our parents' eyes, the delight our grandchildren took in throwing flower petals and dancing, and all the silly, awkward, touching, and timeless moments such a special occasion holds.
It was a big investment, and one we will never regret making, because the marvelous pictures truly enable us to relive the beauty and love of that incredible day.


Abigail

Married on 10/24/2015

They were wonderful to work with, even though my husband and I were a little awkward. And the pictures came out great!

Kristin

Married on 09/26/2015

Kokoro was fantastic! They knew our venue inside and out and were wonderful at guiding us through the process. My husband and I both have kids who were in the ceremony, too, and Kokoro did really well with them. Actually, there were a total of 9 kids just in the wedding itself - the photographers were troopers! They really captured some amazing shots of us and our guests. We are so glad they were available to capture our special day!

Kathryn

Married on 09/19/2015

Amanda and Deb are wonderful. They have done several weddings, baby photos, family photo shoots for my group of friends and we each keep coming back. They are personal, attentive and go the extra mile. On top of that they are wonderful people in general. They put my husband and I at ease even though we were a little camera shy. The compliments on our wedding photos are still rolling in 9 months later. Thanks Kokoro!

Elizabeth-Ann

Married on 07/11/2015

My husband and I loved working with the women of Kokoro! They did our engagement photos and wedding, and we will definitely use them for any other occasions or milestones we need to commemorate. They are a perfect mix of professional and artistic. They were timely, up front about pricing, responsive to questions, and handled our guests (and us!) in a way that made us all feel comfortable. And, of course, their photos are GORGEOUS. They have such a way with light, color, and capturing the emotion of a moment. We treasure the photos from our wedding.

Lexie

Married on 06/27/2015

Amanda and Debi were fantastic from the get go! My husband hired them to take pictures for our engagement when he proposed. The details and emotions they are able to capture in pictures are incredible. Looking at the pictures always bring back memories of the moment. We loved their work so much that we hired them for our wedding! Throughout the whole process they were flexible, easy to work with, professional and prepared. They are genuinely good people and working with them is a pleasure. We are so happy with all of the photos they took from our wedding day! Not only did they do a fantastic job capturing special moments for Chris and I--they also captured so many fun pictures of our bridal party, friends, and family that were there celebrating our big day with us. Amanda and Debi paid special attention to intricate and special details, as well as the beautiful scenery from our wedding day. Working with them throughout our entire wedding journey was great, and I would highly recommend them to anyone!!

Amanda is simply AMAZING. She is truly and artist with her camera. She captured our wedding like no one else could. She made classic wedding shots look modern and interesting. She really captured the feel/theme of our wedding. My husband and I are not people who like to be in the spotlight. Neither of us have had our photos professional taken before. Amanda and Debbie made us feel at ease and very comfortable. I highly recommend her for any photography need.

Kokoro was wonderful to work with and captured the day of my wedding beautifully! Amanda and Debi are both professional and personable, truly caring about my day and providing exceptional, quality service. I highly recommend them!

Leslie

Married on 10/09/2014

Even on a rainy day, Kokoro captured our wedding perfectly. They even ran out in the rain (while my wife and I were covered) to capture our event! They went above and far beyond what we could have ever expected and we cannot wait to work with them again for our future adventures.

Kelly

Married on 09/20/2014

5/5 no joke. Kokoko photography is the best! Amanda and Debi are professional, creative and have a brilliant eye. My husband and I had them photograph our wedding. They captured every detail and made the wedding look even more amazing. We had so many amazing pictures it was hard to choose specific ones to share and not overload our friends. Amanda and Debi are also very patient and helped us look sleek and beautiful, but completely natural. One of our friends posted on our Facebook, " i now compare all wedding pictures to yours."
I would choose them over and over again.

Tanya

Married on 08/15/2014

Absolutely wonderful!! Amanda and Debi were great to work with. We just let them do their thing and our pictures came out better than we could have hoped. We have since used them for a maternity shoot and our daughters newborn and 3 months pics with the rest of the year to come! Would highly recommend them for any event.

Dana

Married on 05/25/2014

Kokoro did an amazing job capturing our event! We couldn't be happier with how the pictures turned out. On top of the great pictures, Amanda and Debi were so easy and flexible to work with, even with my husband who has a photography background and is very picky about it =) I cant say enough great things about them. I would highly recommend using Kokoro for any upcoming event.

Charisse

Married on 03/02/2014

I absolutely loved working with Amanda and Debi! They were on board for our zoo engagement session with lots of great ideas to get the animals and unique features of the zoo into our pictures. Then on our wedding day they were very efficient on getting everybody, including bunches of kids, organized for the formal pictures, and even brought some extra props that went along with our theme for some of the bride and groom photos. Our pictures are absolutely gorgeous! We loved working with them so much that over a year later when it was time to get new family photos done, I knew exactly who to contact. I definitely plan on using Kokoro as my go-to photographers for life. We've already thrown around ideas for newborn pictures and I'm not even pregnant! They are both very easy to connect with and they get to know you and pay close attention to what you like and want in your pictures. I recommend Kokoro to everyone I know.

Debbie and Amanda are the greatest team! I highly recommend them for ANY photo opportunity. It doesn't get much better than Kokoro!

Caitlin

Married on 06/23/2012

I would recommend this mother and daughter photography team to any bride having any type of wedding. They are very artistic and get interesting and in the moment photos but also very classic. Day of the wedding they were wonderful to have around and didn't need any direction from me which I appreciated. The photos we have are definately worth the cost and we will be using them in the future.
Are you interested?
Send a message