87 Reviews
Recommended by 100% of couples
Quality of service

5 out of 5 rating

Average response time

5 out of 5 rating

Professionalism

5 out of 5 rating

Value

5 out of 5 rating

Flexibility

5 out of 5 rating
26 User photos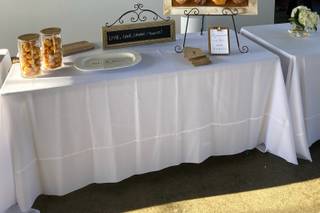 + 22

photos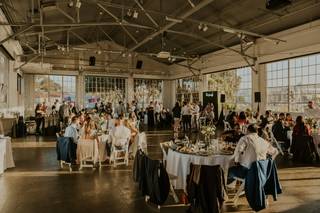 Featured

Daniel A.

Married on 03/19/2022

Amazing catering!

Kitchenina is quite wonderful!! From the food tasting, communication, dietary restriction requests, to the actual wedding day catering services, professionalism, staff, and excellent food-- I would give Aliki and Kostas 1000 stars. One week after our wedding, our family and friends are still raving about how delicious and perfectly prepared the food was. Guests commented on the fact that they could go back for seconds. I love how the food felt like a home-cooked meal, making the wedding day even more special while celebrating with family and friends. Considering we had our guests served buffet style, Aliki hand served and delivered our food to our table. The attention to detail was everything and more. Choosing Kitchenina was the best thing that we could do for our magical day!!

Lisa

Married on 01/15/2023

Wonderful in every way!!!

Kitchenina catered our daughter's cocktail reception and dinner in Monterey during the historic and epic floods which ravaged Nor Cal in January. We had 180 guests arrive in torrential rain greeted with hot cider and friendly servers. Following the ceremony, empanadas and appetizers and delicious margaritas were promptly served, followed by dinner. Everything was delicious, presented with elegance and served with aplomb. We enjoyed chicken, beef and pasta entrees with an amazing colorful salad and roasted potatoes. Aliki and Constantine were so easy to work and communicate with and they managed to serve a truly beautiful dinner under extremely trying weather conditions. (The kitchen facility was limited and required multiple trips moving food and drinks from one place to another in pouring rain.) The wedding was a huge success and we're still receiving compliments from guests about Kitchenina's food.

Morgan A.

Married on 11/14/2022

Best wedding meal ever!

Kitchenina was incredible to work with! From the menu tasting, to all the communication leading up the the wedding, Aliki was so responsive and willing to email or jump on phone calls to make sure everything was perfect for the wedding day. The food on the wedding day was just as great as the tasting even when our venue didn't have a full kitchen. Kitchenina was able to give us top tier food and service and we can't thank them enough. A few of my favorite items were the chimichurri meatballs, spanakopita, tri tip and mac n cheese. The chef, Kostas, gave great recommendations at the tasting for his professional opinion that I truly valued. I would 100% recommend Kitchenina!

+ 2

photos

Are you interested?

Send a message

Kashi S.

Married on 11/11/2022

Utterly superb

Aliki and Konstantine run a fantastic, professional operation. From menu selection to tasting to event planning and execution, they took such good care of us and everything was always completely straightforward. The way they produced our wedding was simply amazing. People raved about the food, all of it. They provided great options for vegetarians, vegans, and gluten-free folks, too. The crew of servers was also fabulous, so friendly, and Konstantine kept making sure we the grooms ate. So helpful, so caring. Kitchenina will definitely be our first recommendation to anyone we hear is looking for a caterer.

Morgan L.

Married on 10/22/2022

Impeccable service and food

I can't recommend kitchenina enough. Aliki and Kostas made things so easy for me and the quality of food was incredible. I had to plan a wedding fairly quickly and Aliki got back to me right away and was very accommodating for everything I needed. You won't be disappointed if you go with kitchenina!

Beth

Married on 10/22/2022

Kitchenina

Aliki and Chef Konstantine were excellent to work with every step of the way! Everyone was happy with the food, service and I felt completely confident relying on them to deliver day of.

Jasmine M.

Married on 10/15/2022

HIGH QUALITY Wedding Food, Amazing Service, Clear Planning

If you're looking for a caterer, stop here. Aliki, Kostas, and their team were absolutely amazing and I'm already thinking of hiring them again! We just got married on October 15, 2022, but we didn't contact them for an inquiry until July 7! My (then) fiancé and I had different plans on what food we wanted catered, and we were planning on providing all the drinks, ice, cutlery, plates, cups, etc. When those plans fell through, I looked up local, affordable catering companies, and Kitchenina was the first to pop up. I loved that they used high-quality ingredients and had a wide variety of foods to choose from. We quickly set up a tasting with Kostas, and it felt like we were just eating at a restaurant. The food was incredible. For cocktail hour, we chose pesto mozzarella flatbread and bacon-wrapped sausages. Simple but delicious. For the reception, we chose to have a buffet with their 10-spice Angus beef tri-tip, garlic butter chicken thighs, basmati rice, Caesar salad, and verde Mac n cheese. Oh my goodness. Everything was so flavorful, succulent, fresh, and truly upscale. I've never had wedding food this good, and our guests kept saying the same thing. There was so much food that even with extra (uninvited) guests showing up, people were able to get three or four plates of food, AND we had four large trays of leftovers! We decided to also rent out all the cutlery, plates, glasses, and table napkins from them for convenience. Because our venue was residential, they didn't already have their own serving sets. If you're in the same boat, PAY FOR THE CONVENIENCE. Aliki and Kostas have done so many weddings so you can fully trust that they know what you need. They didn't try to sell me anything I didn't need, and they were able to tell me what amount of things we needed. I also had them provide the water and ice. I was AMAZED that how much ice is needed for a 170-person wedding. Again, pay for convenience. You'll be grateful for how smooth everything goes when Kitchenina is in charge! Also, Aliki was always so quick to reply to my emails and was very patient when I made any changes. She helped me pick out our menu, drove to the venue a month in advance and helped us figure out the most efficient layout for the buffet and cocktail hour, and she spoke with great confidence and authority. You NEED her on your vendor list! I'm so grateful for Aliki and her team for being a part of our special day!

Irene

Married on 10/14/2022

Cannot recommend Kitchenina more!

Aliki and the Kitchenina were a dream to work with throughout planning and the day of the wedding. They were responsive and transparent in communication. We had to move the wedding twice and they accommodated us without complaint. The hors d'oeuvres and dinner were delicious; we had so many guests commenting on how much they loved the food, even weeks after the wedding. And as an extra bonus, our brother and sister-in-law were deeply grateful that the bartender cut off our nieces after their second cup of coke. Would absolutely recommend!!

Cobey N.

Married on 10/01/2022

The Best Caterers!

We had backyard wedding on October 1st in Alamo and Aliki and Kostas were absolutely amazing. I cannot recommend Kitchenina highly enough! The food was amazing, the staff was so friendly and on top of everything and most importantly Aliki and Kostas are fantastic people. It is so nice to work with a true family business and with people who care as much for their customers as they do. Aliki was so helpful in the lead up to the wedding and was willing to work with us on everything. When we were stressed in the last minutes she calmed us down and assured us that everything would work out and she would be there to solve any problems on the fly, should they occur. And she did exactly that. Everything went perfectly and I have no doubt Aliki played a huge part in that.

Again the food was amazing, we had multiple guests approach us during and after the wedding saying they had never had such good food at a wedding! And on top of that the servers during the wedding made sure that our entire wedding party was able to try all of the appetizers and even ran us drinks. The staff went above and beyond to make sure we got to enjoy everything our guests did. At dinner Aliki prepared us heaping plates packed with everything and brought them to our table and we actually had time to enjoy our meal.

To sum it up definitely go with Kitchenina for your wedding they are the best!

Marcus G.

Married on 09/17/2022

The best caterer money can buy

We can not express how grateful we are to Kitchenina for handling all of the food for our wedding. Everything was amazing. From the moment we first arrived for the tasting, to the moment we closed out the night, they were accommodating, professional, personal, patient, understanding, and flexible. They ensured that everything that we hoped for when it came to making sure everyone was fed and happy, happened. The food was delicious and filling, but in a light way that allowed us to tear up the dance floor immediately afterwards. Throughout the night, the catering staff would come up to my (now) wife and I to make sure that we got to taste everything and that we had eaten. Above and beyond. If you are considering anyone to cater your wedding day, look no further. Kitchenina needs to be your first and only choice. Thank you all for helping to make our special day amazing!

Tina S.

Married on 09/16/2022

Jubilee and Tina's Wedding 9.16.22

BEYOND BLESSED to have Kitchenina cater our wedding!! Head Chef Kostas and Aliki's were both amazing! There are not enough words to describe how much the quality of food and also the quality of service that they both offered! From the moment we went in for our 1st tasting - IT WAS A SEALED DEAL FOR US! They were super friendly and kind! You can taste the love in the food they served!

If I can replicate another Kostas and Aliki - I WOULD DO IT WITH NO HESITATION ! 😭 we most definitely recommend Kitchenina to anyone who is looking to have amazing and quality food served at your event! Our guest would not stop raving about how good the food was!

For our wedding we had: meatballs and samosas (appetizers) and for the main course (Tri-Tips; Guava Honey Chipotle Chicken Thighs; Roasted Veggies; 4Cheese Penne Pasta; and Asian Salad). Again - even to this day our guests talk about how great the food was!

On our wedding day - I cannot stress how much Kostas and everyone made me feel at ease. For the bride - we stress regardless lol but the amount of patience that Kostas and the servers provided was beyond fantastic!! Aliki and Kostas - y'all truly made our dream wedding become a reality through!!

We love y'all so much and cannot thank you guys enough !!! ❤️🥹🥹

Y S

Married on 09/04/2022

Fabulous wedding catering!

Kitchenina catered our daughter's wedding in September 2022, for which they provided a cocktail and hors d'oeuvres hour with open bar, buffet dinner with table-side wine service, and bar service throughout the evening. Our experience with Kitchenina was wonderful at all stages. From our initial contact and tasting session, to later discussions before the wedding, Aliki and Kostas were always very responsive and extremely helpful with recommendations about all aspects, from menu selections to table set-up. We really appreciated their flexibility in accommodating some additional dessert items that we provided, and their recommendations based on their experience for estimating wine and drinks quantities.
The food was absolutely superb - of the highest quality, flavorsome, plentiful, and very nicely presented. During the cocktail hour the hors d'oeuvres came around constantly, so guests were always being offered a tasty morsel! Our guests also commented on how exceptionally pleasant all the servers and the bar staff were, and everyone loved the delicious food.

The confidence we felt from planning with Aliki and Kostas before the wedding was completely justified: during the event, they ensured that everything went extremely smoothly and were very attentive and "in tune" with the pace of the evening.
All-in-all, Kitchenina was professional, reliable, and easy to deal with, and provided FABULOUS food and service. So happy we chose Kitchenina - they were the perfect caterer for a perfect wedding!


Daria

Married on 08/14/2022

So lucky we found this caterer

Kitchenina is an amazing catering find. Their food is incredible (pretty sure we had the best wedding food I've ever experienced), their prices are reasonable, and they are an incredibly thoughtful and professional crew. We had a great experience with them and are so grateful to Aliki and Kostas. I definitely recommend the tri-tip, butter chicken, and verde mac & cheese. They worked super hard and did not disappoint.

Lenna S.

Married on 08/05/2022

Kitchenina is an all-star catering team!

It was such a delight to work with Aliki and Kostas on our wedding menu! From the initial proposal to day of execution, we could not have asked for a better team to be in charge of our catering. They made sure we were able to eat at our reception, and were accommodating with changes up to the last minute. The food and service was just amazing and we are still getting compliments from everyone about all of the food (especially the tri-tip and the salmon) days after our big day! They are the best and we definitely chose the right team for our wedding :)

Suheyla K.

Married on 07/24/2022

Amazing Taste

We really love Aliki and Kostas. There are amazing people. Kostas prepared us a delicious taste that helped us making our decision. Our guests loved the food.

Leah R.

Married on 07/09/2022

Above and Beyond Service

Aliki and the Kitchenina team were extremely professional throughout the entire planning process and wedding reception. She and her husband Kostas made great recommendations for the menu items we wanted according to the timing and amount of guests we had for our wedding. They provided all the silverware and linens along with bartending services which simplified the process immensely for us. When it came to the venue walk-through, Aliki (who had just done a wedding there a few months ago) knew exactly what was needed and how many people she would need for the allocated setup time which was 1.5 hours at most. She offered great advice and made us feel completely at ease with the level of experience she has. The food was amazing and tasted exactly like it had when we did the tasting. Our guests loved the food and many went up for seconds and thirds. We highly recommend Kitchenina for any catering needs!

Katie C.

Married on 07/01/2022

Truly the best catering experience

Kitchenina was very helpful from the start, calming, informative and willing to work within our budget. After hours of caterer searching I knew that I had made the right choice.
They take great pride in the quality of their food, fresh ingredients, moist, tender and flavorful. Our guests commented that it was one of the best wedding buffets ever. They served slow cooked chicken and salmon with delicious side dishes.
The presentation and service was elegant and professional and their 10 hours of service went without a glitch.
I would definitely recommend Kitchenina for all catering needs


Dimitris T.

Married on 06/04/2022

Amazing job!

Kostas and Aliki did an amazing job in providing food for our wedding. They were both really helpful through the process, being quite flexible while finalizing menu and rentals. The food itself was really good—well-made and diverse! We had multiple of our guests comment on how much they liked the food and service. Kostas himself coordinated everything on the day of and everything ran smoothly. It was a pleasure to work with Kitchenina, would 100% recommend!

Lisa B.

Married on 05/29/2022

Hands down the best

I wish there was a way to give 10 stars. Kitchenina was hands down the best decision we made for our wedding. Not only could our guests not stop saying how delicious the food was, but Aliki and Kostas were so incredible to work with throughout the entire process. Not only that, but their team went above and beyond for us on multiple occasions. When our buses cancelled on us 30 minutes before our ceremony started, Kostas offered to have his staff step in to help shuttle guests from the hotel to the venue. We also had a mishap with our cake (different vendor) and Kostas did his best to put something special together on the spot. I wish we could have another wedding next year, so I could work with them all over again!!

Excellent food and service!

Kitchenina is absolutely amazing! Their food is delicious, allergen conscious and reasonably priced. We loved that we were able to taste the food before signing the contract (a requirement from them - but it makes sense). Aliki was very responsive to our phone calls and emails during the 5-6 months before our wedding day. We especially appreciated her "real talk" advice about what and how much to order, and she never tried to oversell us something we didn't need (such as extra appetizers). The service on the day of the event was flawless. Our guests raved about the food and the presentation. Everything was perfect. We highly recommend Kitchenina!

Agnes P.

Married on 05/06/2022

Kitchenina is amazing!

We went with Kitchenina as our wedding caterer at Saratoga Springs and we are so happy that we chose them. They really went above and beyond and made us feel heard and accommodated our needs and requests. They are very attentive and have clear communication with very quick responses via email. The tasting experience was very personable as the chef talked through the process, source and freshness of ingredients, and how each step is optimized for best taste and presentation. It is evident that Kitchenina has strong attention to detail and takes pride in everything that they do. The quality of the food at the wedding was just as good as the tasting and all our guests really enjoyed the food, some going for seconds in hopes that there were extra servings. They provided us a cake cutting knife set for free and their staff handled the cutting for free. We cannot thank Kitchenina enough for their amazing food and service. We highly recommend Kitchenina for your catering needs!

Camo-Girl

Married on 05/01/2022

Daughter's wedding 5/2022

Re: My daughter's wedding 5/2022 at Deer Park Villa (Marin County)....The food was delicious! The caterer's presentation at the buffet and table settings looked gorgeous and so in tune with the DPV vibe. The staff was very friendly, helpful and professional.
Aliki, the owner, helped calm my nerves with her sweet talk telling me everything would be OK and answering all my questions pre-wedding. Family owned business with a family feel. Definitely would recommend Kitchenina.
I cannot say enough.
On behalf of our family Thank You.

Anna S.

Married on 04/30/2022

Outstanding!!

The Kitchenina team was outstanding! The food was delicious (even as leftovers) and beautifully displayed, the servers were professional and attentive and Aliki and Kostas were accommodating and a joy to work with. We received numerous compliments on the quality of food with many of our guests saying, "it was the best wedding food they've ever had."

My husband and I are so grateful to the whole Kitchenina team for helping to make our day perfect. It was an absolute pleasure working with Kitchenina!

Nathan H.

Married on 04/24/2022

Fantastic!

In my experience, wedding food is one of the most forgettable aspects of the event. Not this wedding food!!! Our experience with Aliki, Kostas, and the whole Kitchenina team was anything but forgettable. When guests go out of their way to tell you how much they loved the food you know they mean it. The kind woman managing the floor and general flow of service was Camille, and she was absolutely brilliant. She was so kind and accommodating, even when we made a mistake on the seating chart she handled that situation with grace and efficiency. Kitchenina is so fortunate to have Camille on their team.

Every item on the menu was superb. The biggest hits were the definitely the Verde Mac and Cheese and the Chicken Satay, but everything was just wonderful including the Tri Tip and California salad. Guests are encouraged to come up for seconds or more. At the end of the night everything they cooked for you is packaged up to take home. Sadly, the Verde Mac and Cheese was so good there were no leftovers but we see that as a a wonderful sign! As the bride and groom we had a great view of people going to receive seconds and there wasn't a plate returning to it's seat without that mac and cheese, with the exception of our Vegan guests of course. Kitchenina was so accommodating to our three Vegan guests. They were able to make Coconut Tofu Curry and all who had it absolutely raved about it. I wish Kitchenina had a restaurant so we can eat from them again.

The Kitchenina team is so professional and helpful as they help you plan your special day. The team they send on the day of the event is on point and everything moves along as it should. Our outdoor ceremony space was also used as our dining area. The Kitchenina team set up all tables and made our ceremony space a dining hall in the blink of an eye. They really were so efficient in all aspects of the day. We could not have done it without them!

+ 5

photos

Jennifer

Married on 04/16/2022

Excellent food, great service!

My husband and I hired Kitchenina for our COVID-delayed wedding reception almost last-minute -- only two months before the event. Our previous caterer went out of business in 2022, so we had to scramble to find a new vendor. We really got lucky with Kitchenina, who is a full-service caterer (they rent linens, china, and bar packages on top of their food). Kitchenina was very responsive to our emails, always available to answer my myriad questions before the event. Our reception went by without a hitch. Aliki and her staff (besides being incredibly friendly) provided excellent service, going out of their way to anticipate the needs of the guests and the bride and groom. They worked with us to make a special dish for the groom, who has food sensitivities, and the rest of their food was also excellent. We overheard many guests marveling at how good the food was (and how much better quality than typical wedding fare). At the end of the night, Aliki and her staff packaged all the leftovers for us. We are incredibly happy with their service and hope to work with them again in the future!
Are you interested?
Send a message