46 Reviews
Recommended by 98% of couples
Quality of service

4.9 out of 5 rating

Average response time

4.9 out of 5 rating

Professionalism

4.9 out of 5 rating

Value

4.8 out of 5 rating

Flexibility

5 out of 5 rating
9 User photos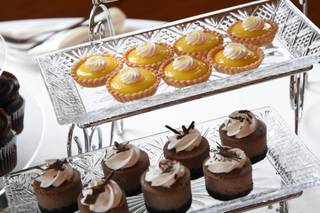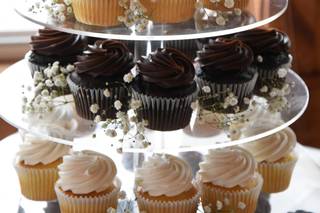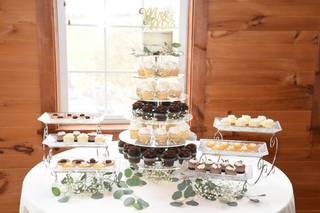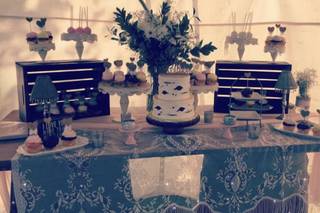 + 5

photos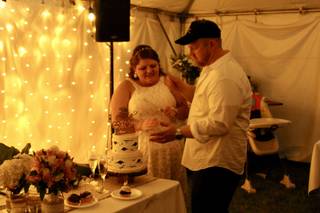 Gillian D.

Married on 11/20/2021

Amazing dessert and beautiful cake!

Kirstens cakery did an amazing job as always; they catered my sister's wedding and now mine! Not only did both turn out beautiful, but they also worked with our budget. The guests loved the tarts and cupcakes! We ended up getting tarts and mini cheesecakes, a personal cake, and cupcakes.

Casey

Married on 11/03/2018

great choice

We did a variety of 4 flavors of regular cupcakes, mini cupcakes and a 6 inch cake to cut. All tasted great and looked great! I dropped off my topper and cake table decor 2 days prior and told Kristen to have at it... and it was perfect!

Katie

Married on 04/14/2018

Love this bakery! It was a great experience from start to finish with Kirsten's Cakery! Our tasting was outstanding. We received exactly what we were expecting the day of the wedding! The coconut cake is my favorite, but I haven't tried anything that I don't like here! Thank you so much for being apart of maki our special day what it was! I look forward to using your services again!!

Are you interested?

Send a message

James

Married on 02/03/2018

Kirsten never surprises me with her excellence. Our wedding cake was AMAZING! I have been working with Kirsten for 5+ years. I have watched her business grow from a small business to a premier bakery.

When I came up with this idea and design. Kirsten made it come to life. I can't even imagine a better cake.

The look, taste, freshness, and promptness of Kirsten's cakery. Is all above my expectations and I love this bakery.

Hannah

Married on 07/08/2017

We ordered a cut-cake, 90 cupcakes, and a TON of truffles. Everyone was obsessed with all of the delicious choices! During our testing, we had discussed buying truffles to try, and with their hospitality, we could try as many as we wanted- and loved them so much, I believe we bought over 100. I've already recommended their services to others.

Megan

Married on 02/18/2017

Kirsten's was amazing from start to finish! I am allergic to dairy, and she was able to make a completely dairy free cake that was under budget! Our guests questioned how I was able to eat the cake, assuming it had dairy. When I told them it was dairy free, they were in shock! It was so delicious! I didn't sit much at my wedding, but I made sure to take a break from dancing and have a large piece of the delicious cake. We have her cupcakes often, so we knew we had to use her for our wedding cake, and I am so glad we did!

Sarah

Married on 01/21/2017

We had a great time working with Kirsten's Cakery. First, the cake was delicious (multiple guests told us how much they liked it). Additionally, we had a clear idea of how we wanted the cake to look (a simple white cake with flowers placed by our florist) and Kirsten did a great job bringing that vision to life. Finally, Kirsten suggested we have a smaller cake to display at the reception and then a sheet cake to feed the rest of the guests in order to save money. This suggestion worked great for us, and Kirsten executed it perfectly.

Tim

Married on 10/10/2015

Kirsten was great to work with. We went in to do our tasting back in April and immediately knew she was the right person to use. She even personally delivered the cake way out in Rock Hall on the eastern shore!

The best part is that we didn't have to micro-manage Kirsten or her team. She was on-point and did everything above and beyond what was expected. She even called to confirm the guest count to see if we needed a larger or smaller cake the week before.

When it came to the cake, it was delicious, not dry or overdone, in fact there was nothing left at the end of the night and we are just jealous that we have to wait till our one year anniversary to get more.

We will definitely use Kirsten and her team again in the future.

Courtney

Married on 09/19/2015

Kirsten did an amazing job on my wedding cake. My sister and I met her at a bridal expo and we instantly wanted to give her our business. She is very humble, provides amazing prices for amazing work. You don't see that often. Our cake turned out beautiful. Exactly how I had pictured it in my head. if you are a supporter of small businesses, go through this cake shop. They were extremely helpful, laid back and accommodating throughout the whole process.

I contacted Kirsten's Cakery a week before my wedding date and she was able to set up an immediate tasting. At the tasting I was delighted that we spoke directly with Kirsten herself. We had special requests that she was able to provide with no hesitation. I would highly recommend this business on excellent customer service, quality and cost.

Bayly

Married on 03/28/2015

I had my first experience with Kirsten's Cakery at a wedding expo in Baltimore. I tried a lot of cake samples that day, but theirs was by far the most moist and flavorful!

We were a little less traditional with our wedding cake. We wanted a two-tier cake for us to be able to cut at the reception and save the top layer, and we wanted a groom's cake and cupcakes. This was no problem for the bakers at Kirsten's. When we went in for a consultation, we tried all sorts of cakes and fillings and were given a quote right away. The prices were very reasonable, and the cake was delicious. We ended up choosing a lemon cake with raspberry filling for the bride's cake and vanilla cake with fudge filling for the groom. We also got an assortment of cupcakes. I provided an inspiration picture for the bride's cake and described what we wanted for the groom's cake (a stack of books).

When I saw the cake at the reception, I was blown away. The bride's cake looked even better than the reference picture, and the groom's cake actually looked like a stack of books! A lot of guests commented that they didn't even know it was a cake! The top "book" was the Lord of the Rings and they even painted the One Ring on the cover!

The cakes were delicious, and even the fondant, which I normally do not like, was soft, thin, and tasty! (Kirsten's Cakery offered both butter-cream and fondant, but I wanted the look of fondant for the specialty cakes. We had butter-cream on the cupcakes.)

Sondra

Married on 12/06/2014

I had a vision to mix Hawaii and Maryland together for my Sister's Wedding Reception, and These ladies made it happen. We did a cake topper with mini cupcakes. Both of them were absolutely delicious. Everytime I went in to discuss the cake or pick up, I had to walk out with a half dozen of cupcakes to bring home...The designs I saw coming out of the door were incredible. Thank you..

Amanda

Married on 09/20/2014

The cake was fantastic! It looked just like I wanted it to and tasted delicious.

Stephanie

Married on 08/30/2014

We had a cupcake tower with a small cake on top for our wedding. It turned out exactly how I wanted it and we got lots of compliments on how good the cupcakes were. Would definitely recommend this bakery.

Danielle

Married on 08/23/2014

Kirsten's Cakery made our wedding cake! It was not only absolutely beautiful but delicious!! We had a tasting and it was so hard to pick our favorites, they were so amazing! We decided on red velvet and cream cheese frosting for two layers and vanilla with the famous raspberry filling for the other layer! We received so many compliments on how tasty the cake was! It came out exactly how we envisioned and it was so fresh!! We have been to so many weddings where the cake was just not good at all and I am so glad our wedding will not be one of those! She offers an anniversary cake so we don't have to worry about freezing cake at all! I would highly recommend Kirsten's Cakery for any occasion!

Teresa

Married on 05/24/2014

I HIGHLY recommend Kirsten's Cakery! This was one of our favorite wedding vendors! Kirsten is an incredibly sweet woman that is an absolute joy to work with. For our wedding, we did a 6" top layer and then did cupcakes. We came in with ideas and a "theme" and Kirsten totally knew how to take that and make our vision come true. She is also unbelievably affordable. For how amazing her cake is, we should've paid an arm and a leg, but we didn't! She also put cupcake wrappers I bought on almost 150 cupcakes for no additional charge. Our venue was local so she delivered for free, and we didn't have to worry at all. She delivered on time, and the set-up was BEAUTIFUL. We received SO many compliments on the cupcake tower. Kirsten, we can't thank you enough!!! We will definitely be back to Kirsten's Cakery in the future :)

Kristin

Married on 04/20/2014

Kirsten did an amazing job with not only the wedding cake we had delivered, but she also delivered an incredible birthday cake for my sister who's birthday was the same day as our wedding. We absolutely loved the cake, as did our guests, and we are looking forward to our one year anniversary cake that was included in the price as well!! We still go back to the cakery and get her cupcakes all the time!! I highly recommend Kirsten's Cakery if you are looking for a beautiful AND crowd pleasing wedding cake, or anytime cake!!

Kristin

Married on 12/14/2013

First of all let me say our wedding cake was absolutely delicious. We had a four tiered cake big enough to feed 110 people. Due to inclement weather on the day of our wedding a lot of people left the reception early and there was probably only about 60-70 people left at the reception to eat cake. The entire cake was gone. My husband and I got one slice a piece. Each tier was a different flavor. Kirsten was very helpful and helping us pick our flavors and answered any questions we had. I honestly have never had a wedding cake that tasted that good. She also mixed two different wedding cake designs that we found and liked to create the perfect cake for us. Without her delicious cake our reception would have been boring. Everyone was talking about how gorgeous the cake was. Thank Kirsten's Cakery. We can't wait to get our anniversary topper next year.

Carrie

Married on 10/26/2013

Our cupcake tower turned out beautifully. And the cupcakes were delicious. Kirsten's was very easy to work with and very helpful. I would use this bakery in the future for other events.

Kirsten did an amazing job with our wedding cake! We went to a couple places for cake testing and she had the best method. She brought us out a plate with samples of all of her different types of filling then allowed us to pick cupcakes from her display to try the cake flavors. Her raspberry filling was to die for and my personal favorite was the cinnamon cake with apple cinnamon filling (unique and delicious!). She did a great job coming up with a design based off of what we described and showed her. She also offered sheet cakes to help save some money. Out of the different places we went, she was also the best value. We were very happy with how our cake turned out and look forward to our anniversary tier come next year!

Steven

Married on 09/20/2013

Kirsten was great, our guests said this was the best cake they have ever had. Kirsten was great letting us try many different samples until we found the perfect flavors. The truffles were gone so fast, that we didn't even get any.

Alyson

Married on 08/03/2013

When we were trying to find a bakery for our wedding cake we knew we had to stop in here and check it out! They cake tasting was amazing and they have so many different options for the cakes and fillings! The almond cake was delicious! The great thing about this place is that a year after your wedding they give you a new top layer of the cake so you don't have to eat nasty freezer burned year old cake! They bake a new one free of charge! They really listened to our design idea and helped us figure out how we wanted our cake to look! I HIGHLY recommend using this bakery!

Cami

Married on 07/17/2013

Wow! My cake was not only Beautiful, but tasted AMAZING! We planned our wedding in 3 weeks and got the cake we wanted. It was moist and tasted fabulous. Our guests all asked where we got it and said they would be ordering from Kirsten's Cakery in the future.

The cake was beautiful and tasted delicious! We would definitely recommend Kirsten's Cakery to other couples who are getting married!

Rebecca

Married on 07/14/2012

The cake made by Kirsten was exactly what I had envisioned - beach theme without being too trendy or cheesy with adirondack chairs and a sculpture of our dog on the top. It was perfect and we thank her so much for bringing our vision to life. The taste was also perfect - moist and yummy! And we also bought truffles from her to use as favors which were also a hit! Great bakery!
Are you interested?
Send a message