104 Reviews
Recommended by 95% of couples
Quality of service

4.8 out of 5 rating

Average response time

4.7 out of 5 rating

Professionalism

4.7 out of 5 rating

Value

4.8 out of 5 rating

Flexibility

4.8 out of 5 rating
5 User photos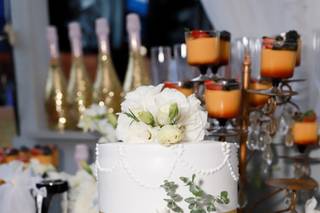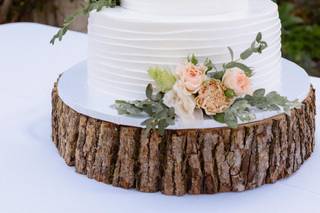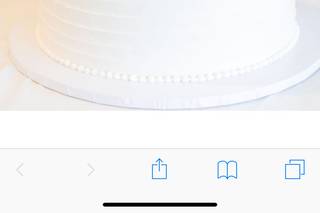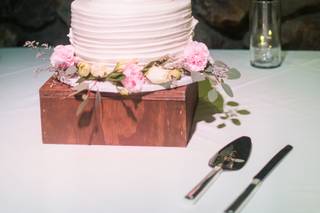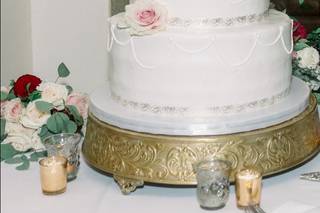 Featured

Matt H.

Married on 07/10/2021

Convenient & Affordable

Customer service is top notch. A quick call and had my wedding cake order under way. They're very flexible on their options and work around your needs. They also decorate your cakes with modern aesthetics in mind. Their cakes are very affordable and delivered it to my venue with no issues! 11/10 would order again

Pricila

Getting married on 03/11/2036

Cake tasting

I went for a cake tasting and it was so nice, we arrived about an hour early than our scheduled time and they accommodated us right away. We tasted 4 of their cakes and we are definitely impressed with the flavor and texture. They only do the whipped topping along with their different frostings but there is no fondant. They also deliver which is a huge plus and we are excited to use them for our wedding.

Nicol V.

Married on 09/18/2021

September 18th, 2021

The cake looked incredible and tasted very delicious. The best part is its not too sweet because the King's Hawaiian Bakery is vegan. Completely recommend to try out their cakes. 👍🏻

Are you interested?

Send a message

Light and Delicious Wedding Cake!

We had a heavy meal for our wedding and we wanted something light to finish of the night with. Our cakes were so wonderful our guests kept asking where we got it and what flavors we got. We had a smallish guest list so we bought a 2 tier wedding cake in one flavor and a separate sheet cake was delivered directly to the kitchen in a second flavor. This ended up being very cost friendly and we had enough left over to save our cake top. We had a great time at our initial cake tasting also and Natalie was just beyond lovely. We had a wonderful experience and knew from day 1 there would be no other option for us but Kings!

Carina

Married on 07/26/2019

Delicious cake

My wedding cake came out beautiful. Natalie at the Torrance location was so sweet and helpful. My friend bought our cake as my wedding gift and it was fairly priced especially compared to other bakeries. My venue was in Yorba Linda and they provided delivery and set up for $95. I got 3 layers of paradise cake because my family and I love it and we always get it for birthdays and special occasions. The cake was moist and the design was exactly what I wanted. I got compliments from all our guests and even the vendors. We had 2 slices left, when does that happen?! I've never been to a wedding with good cake, so that was my goal and Kings Hawaiian didn't let me down.

Taylor

Married on 06/14/2019

Just amazing

Growing up in Torrance, everyone knew of King's Hawaiian signature Paradise cake and while it is amazing... their wedding cakes are even better! As someone who isn't a fan of buttercream frosting, they use a delicious whipped cream frosting that is to die for. For our wedding we wanted a small cake to cut and do donuts and my husband didn't even want to go cake tasting. After dragging him to Kings Hawaiian and him falling in love with cake, we ended up ordering an even bigger cake because in my husbands words, "Its just too good". We went with a simple (but tasty) white cake (not the chiffon) with fresh strawberries and whipped cream frosting with a smaller chocolate dobash cake on top with the same frosting. The staff were super friendly and easy to work with and they even delivered our cake ON TIME all the way to Malibu! Beyond impressed and continue to rave about my wedding cake.

Molly

Married on 05/25/2019

Gorgeous cake that tasted great!

We were so lucky to stumble upon this bakery. We got married at the Redondo Beach Historic Library and a wedding cake came with our wedding package from King's Hawaiian Bakery. To be honest I only knew about the King Hawaiian rolls so I was a little skeptical but I was so pleasantly surprised by the whole experience. We had our tasting and each flavor we tried was seriously amazing - I figured when they made a larger cake there was no way it would be as good but I was 100% wrong. We ended up going with a white butter sponge cake with fresh strawberry filling and a chocolate chiffon cake with the wonder filling. We decided to upgrade what came standard with our venue and added a fourth tier to the cake and chose a design we liked. We bought some ribbon and brought it to the bakery and they were able to add that to the cake design. We also ended up renting one of their gold cake stands for only $40 and it really made the cake gorgeous and added so much elegance to it. When we had our first bite of cake at the wedding I was so surprised because it was just as good as the cake we tried at our tasting. The cake was seriously one of the highlights of the wedding. I cannot tell you how many people told me they went back for seconds, thirds, etc. because it was so good. We saved the top of our cake to eat on our one year anniversary but every night my husband asks if we can cut into it early :) On top of the cake being so delicious and exactly what I envisioned, it was a joy to work with Natalie and the team at King Hawaiian. They are so professional, kind and responsive. Highly recommend.

We got our wedding cake from King's Hawaiian and was absolutely thrilled with the cake! The cake tasting process was great and we booked our cake right away (we tasted cake from another bakery of this town's namesake but liked the taste and consistency of King's Hawaiian SO MUCH BETTER). We showed a picture of a cake design that we saw online and they were able to replicate it for our cake. Initially we thought we would order a white cake, but when they shows us all the colors that the outside of the cake could be - we went with another color and loved it! For our cakes, we went with the chocolate dobash cake, paradise cake, and lilikoi. Be warned though - many of our guests liked the cake so much they treated themselves to second servings! On the day-of, our cake was beautiful, light and fluffy, and delicious - exactly as expected from tasting day. I should also mention that the cost of this cake was a lot LESS than other bakeries in the area! One of the best decisions we made for our wedding!

Ada

Married on 08/11/2018

After I got engaged there was one thing I knew for certain: that our wedding cake was going to be the paradise cake from King's Hawaiian. I dreadfully and patiently waited until 2 months before the wedding for our cake tasting and it was exactly what I hoped for. Our cake coordinator was Natalie and she was so sweet and responsive to everything. We had an initial hiccup with the delivery time and she was able to promise that even with a 15 minute delivery window they would be able to get the cake to the venue (and they did!). I initially wanted a rustic three tiered cake with undefined horizontal lines which is the current trend, but Natalie showed us a few designs on her phone and we actually changed our minds and went with a totally different design for the cake. I am so happy we did since my original idea had been done by a million other brides. The paradise cake definitely fit our asian palette more as it is not as dense and heavy as traditional buttercream cakes. It has a light flavor with non dairy whip cream and strawberries between the layer that gave it an extra blast of fruitiness. Our guests absolutely loved it! The cherry on top is that their cakes are not outrageously priced. We got our three tiered cake plus an extra quarter sheet for under $700 including delivery fee. I was so busy on our wedding day that I didn't eat much of it, but my husband was able to pick up a slice for me when he went back to return the cake stand the next day. Happy wife makes a happy life!

Jill

Married on 04/06/2017

excellent service....and keep up the great work!!!

Catherine

Married on 01/28/2017

My favorite cake is the King's Hawaiian Paradise Cake and King's Hawaiian was able to turn this delicious cake into a magnificent wedding cake. Natalie was wonderful to work with. She helped us create the wedding cake of our dreams within our budget. She allowed us to bring our own flowers to decorate the cake and it turned out so beautifully. Everyone loved the cake!!

Michelle

Married on 10/15/2016

We ordered a two tier lilikoi cake for the cake cutting and a full sheet of the crowd favorite Paradise Cake. We did a simple design and including delivery it came out to just over $300, which was very affordable compared to other quotes we got. The cake tasting was complimentary and easy to schedule- but call ahead as they get very busy.

Kitty

Married on 08/28/2016

I planned my wedding from out of town, so I was unable to do a tasting beforehand, but I was really happy with how our cake tasted on the day of the wedding. I really enjoyed working with Natalie, she was really communicative over email and phone. I sent her my wedding cake design drawing and the end result turned out beautifully - it was exactly as we had envisioned. I highly recommend King's Hawaiian for your wedding!

King's Hawaiian Restaurant Bakery & Restaurant's reply:

Thank you for sharing such a great review! So happy you enjoyed the cake and experience working with us!

Nam

Married on 08/05/2016

We enjoyed tasting the various cakes and after meeting with a few other bakeries, we decided to go with King because the cake was light and not too sweet. The design of the wedding cake was perfect and exact to our requests and the groom had a nice Groom cake that was a replica of the Cal Golden Bears football field. Great addition to our wedding.

Jasmine

Married on 11/11/2015

Definitely passed the taste test. We opted for a simple design as we were more interested in getting a good tasting cake. Everyone loved it and we had one whole tier left over. Not sure of how it would taste a year from now though!

After trying a few other bakeries, we went to King's Hawaiian for a tasting. We tried the Paradise, Chocolate Doblash, and Lilokoi Crunch and all three were delicious. We ended up ordering the Paradise and Chocolate Doblash because they were so light and moist! In the weeks before the wedding, King's was so flexible and accommodating with any changes we wanted. Even though I thought that the actual wedding cake would be more dry (because they have to prepare it in advance), it was SO good. Many of our guests came up to us to ask where we had gotten the cake because it was so good! We ate the leftover cake for a week after our wedding and it was still so tasty and moist. The design that I asked for also came out perfectly.

Allison

Married on 08/29/2015

I loved how our wedding cake turned out! We booked an appointment for a tasting on a Saturday morning and told the consultant what look we were going for and which colors we liked. They have a book of photos for inspiration and different color ribbon swatches to pick frosting colors and pick a ribbon if you want one on your cake. I had a Pinterest board that I showed her and she was able to help us figure out exactly what we wanted and gave an email address so we could email the photos for inspiration. The prices were the best even including delivery- they have a list of cities and what the delivery charge is for each location. I called them a couple weeks before the wedding to order an extra sheet cake and they were super helpful and everything ran smoothly. The cake was exactly the color and style that I asked for and I really couldn't have been happier with how it turned out.

Janice

Married on 07/25/2015

We decided on King's Hawaiian for our wedding cake because we had heard they are reasonably priced and we did not want an overly sweet cake. When we scheduled the tasting, we had a difficult time choosing between the orange chiffon cake and the paradise cake because they were both delicious! The other two we tried (yellow cake and chocolate chiffon) were okay. In the end, we decided on the paradise cake and added fresh strawberries. Delivery for the cake was around 25% of the cost, but that was worth it because I wouldn't even want to try deliver a 3-tier cake on a Saturday afternoon in So Cal traffic! The cake arrived on time and looked beautiful. My husband's family is from the midwest and his Mom loved the different flavors the paradise cake provided. Next time they come to visit, we're going to take them to the bakery so she can pick up another slice of paradise cake.

Angela

Married on 05/24/2015

King's Hawaiian Bakery was able to schedule a wedding cake tasting only a week in advance; it is a very bustling bakery and restaurant (means the food and cake are good!) - we were seated in a more private corner and presented with our four choices of cake (their most popular flavors). We went with the guava chiffon cake with fresh strawberries and cream - none of the flavors were overly sweet at all (we wanted to avoid the sugary-sweet "normal" cakes, we had been to two cake tastings already where we could barely finish more than two bites because of the sweetness) and with a subtle guava flavor in the fluffy cake and delicious taste of cream with strawberries. These didn't leave you feeling heavy and the guava has a cute pink cake color that worked well with our garden wedding. We simply sent over a Pinterest photo of our cake icing design, we wanted a very simple, uneven icing all around the cake layers and they were able to do this easily and perfectly, very classy. It was delicious and was delivered on time with no hassle. Perfect.

Robert

Married on 05/02/2015

King's Hawaiian provided everything that we wanted for our wedding cake. We had a cake tasting at the bakery, which was really fun to taste their most popular flavors, and we decided to go with the Paradise cake. As for the design, we just wanted something clean and simple, so I just showed them a picture of what I want it to look like, and they had no issues with it. Best of all, they are super affordable. I didn't want to spend that much on a cake, and I find it baffling how wedding cakes can cost well over $1000. The staff is friendly, they delivered the cake on time, and it looked just the way I expected.

Cara

Married on 04/18/2015

King's Hawaiian Bakery came with our venue, and we are so glad that they did! The cake was not only delicious but beautiful. They set up a very fun and relaxing tasting for us in their very busy bakery, and the cake came out amazing. We wanted something simple for our wedding cake, but it seems like they can handle anything. Thanks for being a part of our wedding day!

Beth

Event on: 03/03/2015

Everything was unbelieveably delicious and wonderful! I never knew that Kings Hawaiian had a bakery otuside of their sweet rolls that I'd bought from the store but moving to California proved me wrong!

Great, beautiful cake - everyone loved it.

It was 3-tiered so they make the top two tiers one flavor, and the bottom tier another.

Delivered on time - very easy to work with.

Christina

Married on 01/17/2015

Kings Hawaiian was a great value and the cake was delicious. We couldn't decide on a flavor so they were willing to make it a multi flavored cake. The ordering process was delicious and simple!

Gabriel

Married on 01/17/2015

Kings Hawaiian was a great value and the cake was delicious. We couldn't decide on a flavor so they were willing to make it a multi flavored cake. The ordering process was delicious and simple!
Are you interested?
Send a message