25 Reviews
Recommended by 100% of couples
Quality of service

5 out of 5 rating

Average response time

5 out of 5 rating

Professionalism

5 out of 5 rating

Value

5 out of 5 rating

Flexibility

5 out of 5 rating
32 User photos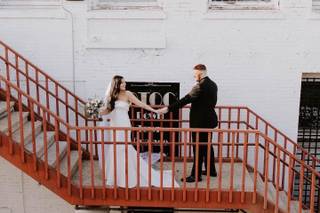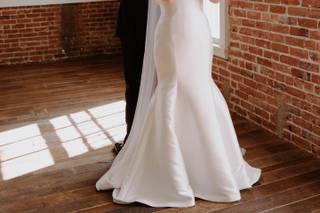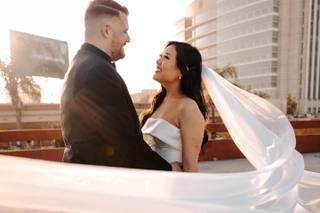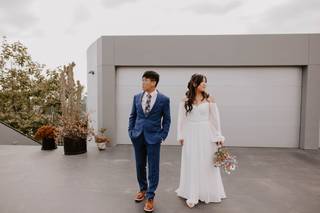 + 28

photos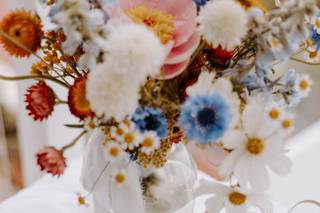 Green L.

Married on 09/04/2022

Thank you kelsey!

I fell in love with Kelsey's photography style when I stumbled upon her website through the Knot, and I am so happy I did. The second I saw her portfolio I contacted Kelsey who promptly reached out to set up a virtual meeting with me. I knew from that first meeting that Kelsey was a perfect fit for our wedding. From the get go, she was extremely personable, friendly, and professional. She definitely knew what she was doing. I also appreciated her setting up this meeting with us so she could get a good idea of what we wanted from our photographer on the day of.

As it got closer to our wedding day, Kelsey once again reached out and set up an in-person meeting to go over final details. She meticulously combed through our timeline and shot list to make sure that we were going to be able to get all of the shots that we wanted on our big day. I left feeling confident she was going to do a great job.

On the day of our wedding, I was SO preoccupied with a million different things that I needed Kelsey to tell me what to do, where to go, and how to pose. She was an expert in wrangling my chaotic bridal party, family, and friends to get the exact shots that we wanted. After the ceremony, Kelsey took us around our venue to spots that legitimately produced the most BEAUTIFUL couple shots ever. She is truly an expert in her field. I just got our previews back and I am in love. I feel so lucky to have had Kelsey take my wedding pictures. They could not have come out any better. I highly highly recommend booking Kelsey for your big day, you won't regret it!!!

Sean C.

Married on 06/11/2022

Great and fun experience!

After looking online at many different photographers, my wife and I decided to go with Kelsey for both our engagement and wedding photos. She was an amazing photographer and super professional from the very beginning. She who was able to catch candid and planned photos of my wife and I. She made us laugh and made taking photos fun. She was able to capture a good side of me, which is no easy task. We were truly amazed at how all our photos turned out and loved them so much that we printed many of them to display in our home. Kelsey really listens to what your vision is and adds a unique, artistic and creative touch. We did a photo shoot at our wedding venue and her attention to the background/environment and details was phenomenal. With her expertise and experience, she's able to think ahead about the minor details so that things run smoothly on the big day. Her photography services were well worth the price we paid. If we could be engaged and get married again, we would definitely have Kelsey take our photos.

Jubilee L.

Married on 05/21/2022

She's fun and knows what she's doing!

From the beginning, Kelsey was excited for us as a couple and excited to be part of our day. Her energy was reassuring for me, especially as I'm not used to being professionally photographed. She quickly got down to business and was flexible with our casual/loose schedule. On the day of, she seemed to be in multiple places at once, capturing details, different angles, and great candids of us and our guests! She was also fun to work with as she shot just us two, and directed posing very naturally. I love the way the edits came out, not to mention the sneak previews were ready just a few days later! Our last batch was edited and posted 7 weeks after our wedding date, and it's been so fun to share with friends and family. So thankful we have these memories saved forever!

Are you interested?

Send a message

Randy P.

Married on 04/16/2022

Friendly & Fantastic

Pay her in boba. Just kidding, not really. One thing that my wife and I look for is someone who can be a great friend as well as a master of their craft. Kelsey is a professional who checked both those boxes. My wife and I had an elopement in 2020 during covid and we loved her work so much that we wanted to hire her again for our large celebration this past month.

My wife and I know how to navigate photos because we are in in the industry ourselves so for us, having someone we could jive with on our wedding day was just as important as having someone who we have trust in to capture the important moments and our loved ones in a beautiful way. Kelsey is someone we can count on to deliver consistently high quality and beautiful artistic photos.

She is super laid back and easy to work with and she got along great with the team. She knows when to step in and take charge of the day like during our group portraits. We all felt comfortable, yet confident, in front of the camera as well as my friends and family. She also knew when to just be a fly on the wall and capture the moments from a distance so we could enjoy the celebration. She's the type of person who we would trust 100% to recommend to any friends and family and anyone looking for wedding photography .


Dein L.

Married on 02/05/2022

Amazing person that helped with a true surprise proposal

Kelsey was very responsive to my ideas and helped elaborate on them to help create a perfect scenario for a surprise proposal. She was very willing to go above and beyond to help make the proposal a smashing success!

Michelle A.

Married on 09/03/2021

Flexible and Easy!

Kelsey was really easy to work with. She was super understanding, especially with us pushing our date back because of C19. Her second shooter was amazing! Thank you for making our photos so special :)

Kelsey C. Photography's reply:

Thank you Michelle!! I had so much fun with you at your wedding :) I'm glad I could help capture your day!

Jason D.

Married on 08/28/2021

Perfectly Captured

Kelsey artfully captured all the feels of our perfect day. From the first Zoom interview through delivery of the final highlight video, working with Kelsey was a breeze. We went to lunch a little over a week before our wedding day and Kelsey got a good feel for our style and how we wanted our day captured. She worked seamlessly with our photographer and even provided us with the raw footage of our ceremony and reception, which was a substantial additional expense for all other videographers we interviewed prior to selecting Kelsey. She began working on our video immediately after our wedding and kept us informed of the progress until it was completed. We couldn't be happier with our highlight video and had a great experience working with Kelsey!

Ivy O.

Married on 06/26/2021

Great for our micro-ish wedding!

My husband and I hired Kelsey to do the photography for our small wedding in June (~70 guests). On top of lovely photography, Kelsey was a pleasure to work with - very professional while also friendly and personable. She is communicative, flexible, and good at helping everyone stay on schedule for the day. Best of all, her photos came out beautifully and within the quick timeline we discussed! We highly recommend working with Kelsey!

Esther K.

Married on 05/30/2021

Wedding Photography

Kelsey was our wedding photographer and she was great! She was very friendly and easy to work with. She got us some amazing shots on top of all the ones we asked for!

Randy I.

Married on 05/10/2021

Yosemite Elopement with Kelsey

Kelsey was so great! my wife Lily and I hired Kelsey to photography our elopement in Yosemite. Because of Covid, we opted out of having large ceremony this year and decided on going somewhere we both loved, Yosemite National Park. We are both avid travelers and hikers so we wanted to go to our favorite place and just take a small handful of people. Our group consisted of 8 people. 5 of them were our wedding party and family and the other 3 were the officiant, the videographer, and the photographer Kelsey.

She's such a a sweet heart and so easy to work with and fun to be around. Her work is great and that's a given. We didn't just want someone who could take a nice picture....we wanted someone who we'd have a great time with over the weekend. We had an airbnb rented out for our group and prepared some nice meals.

Not only is Kelsey good at what she does and very professional and easy to work with, but she's great to be around. She's like a friend! We're also glad she enjoyed the meals we picked out. She's a big foodie.

Our wedding was beautiful, over looking glacier point. She went with us on a short one mile hike to Taft Point, which was overlooking the Yosemite valley. Our portraits turned out great and she made the experience working with her very smooth.

Would definitely recommend her to my friends!

+ 6

photos

Julie A.

Married on 04/30/2021

The Best Elopement Photographer!

Bride // Kelsey was an absolute blessing for our courthouse elopement in April at the Laguna Civic Center! From the first inquiry, she made us feel at ease with a couple check-ins before the big day. She put together a great package for us where she not only accompanied us to the courthouse, but also allowed us to go get some great beach shots. In typical SoCal fashion, the day was hot and traffic from the courthouse was a mess, but Kelsey handled it all beautifully. Within a few hours, she had a highlight reel ready for us to share with our loved ones. Not only that, but within only a couple weeks she had our first set of photos ready! Her editing style is warm and just what we were looking for to capture all our memories so we were beyond delighted when we saw the results were nothing short of amazing. Working with Kelsey really was a breeze and she was so personable and friendly it truly felt like we were with someone we've known for a long time! Kelsey will definitely be our go to for any future milestones!

Danielle

Married on 11/22/2020

Absolutely amazing and incredible

Kelsey went above and beyond what she needed to do as a photographer! She made this shoot incredibly fun easy and loving. We had such a blast with her!!!!! She was very flexible in letting us pick the location! She helped us come alive in the photos and never once did she complain. She even got close in the water, got hit with a wave and still took our photos! Literally an MVP! She's quick to think of poses ( since we really did not how to pose lol) and help us coordinate ourselves.
After getting the photos back, we were in awe of her creativity! The angles, the poses, the editing, the joy that she was able to capture was all stunning and we love it so much. She has a joyful spirit that made us feel we were the only special people at the beach. Her excitement made us feel even more excited! You will not be disappointed if you choose this lovely lady to be your photographer!!!

** and also to add! She almost got knocked over by some waves but was unwavering in her photo game! My fiance and I loved her as our engagement photographer!

Ashkan S.

Married on 09/05/2020

Terrific & Professional!

Kelsey was terrific photographer! Engagement pictures could not have turned out any better! I highly recommend

Sarah R.

Married on 09/05/2020

Wonderful & Professional!

Kelsey was great! During the shoot she was patient even when it was 109 degrees! The pictures turned out perfect and I am very happy with how everything went! I highly recommend her for engagement photos!!

Connie S.

Married on 07/04/2020

Kelsey is the best

Kelsey is exceptionally gifted as a photographer and a wonderful person to work with. You wont go wrong with Kelsey. She did an amazing job at our wedding and would highly recommend!

Toni H.

Married on 03/05/2020

Kelsey is Blessed with Out of this world talent and a beautiful heart to match

My husband and I hired Kelsey as the videographer at the recommendation of our Wedding Photographer. I am so happy I was able to experience Kelsey's talents twice. She was the videographer for both my microwedding in January 2021 and my larger wedding + reception in August 2021. Kelsey does the most fantastic job with capturing detail shots as well as integrating transitions with the music.

Her talent withstanding, one of the most delightful things about working with Kelsey if her warm exuberance and her commitment to her work. I tend to be pretty shy and weary of being on camera, but she was the best "hype woman" you could ever imagine. She has a way of making the camera feel welcoming and for getting the perfect shots that you'd never imagine seeing. Every time I look back on our wedding videos, I feel so blessed that Kelsey was recommended to us.

January Microwedding: https://www.youtube.com/watch?v=UaUA_WadVRw&t=65s
August Wedding: https://www.youtube.com/watch?v=mzp5yLsjRC8&t=67s

Suzanne E.

Married on 07/06/2019

Engagement shoot/engagement party

Kelsey was an amazing photographer to work with! She was so professional and made us feel so comfortable! We had so much fun during our shoot and we were so happy to have her at our party taking pictures of our family (which also came out phenomenal). We would love to have Kelsey at all of our future events!

+ 3

photos

Mahmoud A.

Married on 06/12/2019

Engagement Party

Kelsey you are an amazing photographer! Thank you for making our day so special! 😁

Josh D.

Married on 05/19/2019

The best photographer for our big day!

I had Kelsey shoot for my wedding proposal and I was blown away by not only how sweet she was, but by also how serious she takes her profession.. she means business!
My proposal flew by really quick, there wasn't much time—but at the corner of my eye I see Kelsey sprinting from one end of the block to the other just to get the perfect shot, we were all amazed by her dedication—and it shows, the pictures came out beautiful!

After the surprise, Kelsey took us around the area for some of the most creative shots. Although my fiancé and I are so awkward and have no know-how in front of a camera, Kelsey really took her time in making sure we were comfortable and having fun just being ourselves.

Kelsey really made our big day all the more special. I definitely recommend her to anyone looking around for a great photographer.

Heather F.

Married on 04/13/2019

No better photographer!

Kelsey made it so fun and so easy to shoot our 1-year anniversary photos! We always feel awkward with photos, but she guided us through different poses and actions to where it felt natural! She was very responsive, professional, prompt, and her shots & editing are beyond amazing.

Book with Kelsey, because she will knock out and exceed your hopes & expectations! Not to mention, she has such a generous, deep heart. You won't regret booking with her!

Kelsey C. Photography's reply:

This was such a sweet and special moment for you two that I was so happy to be a part of. What a fun time frolicking on the sand!!

Ploy

Married on 03/30/2019

Kelsey C. Photography makes magic!

Kelsey is super easy to work with, we were so lucky to have her capture our engagement! She is super light hearted, fun, and energetic. She knows how to direct you on how to look natural in your photos, cause trust me, we needed all the tips we could get! And, most importantly she knows ALL the right angels to make you look flawless. Thank you Kelsey for capturing such a special moment in our lives. We can't wait to work with you more in the future!!

Donna O.

Married on 03/06/2019

A Rare Find & A Must Hire

Kelsey is a natural with the camera and has an incredible eye for lighting. My husband hired her for our proposal pictures and we were so satisfied that we used her again for engagement photos! She is so comfortable and easy to work with and takes your special shoot very seriously. Her editing skills are top notch, and she will not disappoint. She was a lucky find! You will not regret booking her.

Kelsey C. Photography's reply:

This proposal was one for the books! I thoroughly enjoyed walking alongside you two during the proposal and capturing those sweet, intimate moments. What an honor. Your engagement shoot was also one of my all-time favorites - so magical!

Mark A.

Married on 09/15/2018

Attention to details

Kelsey was very intentional about getting to know our story. She brings with her enthusiasm, a highly level of attention to details and flexibility. My wife and I were very blessed to have her be the photographer at our wedding. Her service was scintillating.

Annie

Married on 09/15/2018

Awesome Experience

My husband and I are very impressed by how Kelsey took her time to get to know us and our love story on the first meeting. She really listens to what we want and what we like. We are very pleased with her photos.

Kelsey C. Photography's reply:

Thank you, Annie!!! You and Mark are such an amazing couple with an equally amazing love story. Loved meeting little MJ the other day for the newborn shoot. Hugs!

Natalie T.

Married on 10/10/2015

Great friendly and affordable photographer

Kelsey shot our engagement photos. She was professional, friendly, affordable, and helped my husband and I feel comfortable while taking the photos. We went to 2 different locations and she took great photos at both places. She also returned the photos to us quickly. Thanks Kelsey!

Kelsey C. Photography's reply:

This was such a fun shoot! I'll forever remember the carousel photos!! So fun to see your family growing.
Are you interested?
Send a message