71 Reviews
Recommended by 99% of couples
Quality of service

4.9 out of 5 rating

Average response time

5 out of 5 rating

Professionalism

5 out of 5 rating

Value

4.9 out of 5 rating

Flexibility

5 out of 5 rating
87 User photos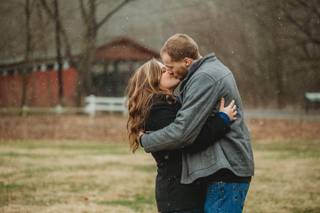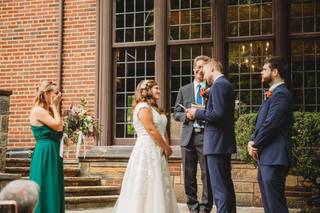 + 83

photos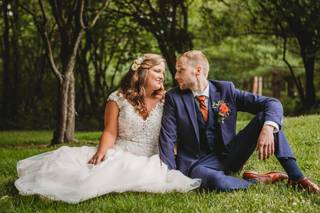 Megan M.

Married on 02/06/2022

Kelly completely went above and beyond our expectations!

If I had to get married during a pandemic again, Kelly would be the first person I'd call. We planned our entire wedding and had nearly every detail finalized. Fast forward to the month before our April 24, 2020 wedding-- our venue closed due to the pandemic and gave us the option to reschedule. Many people told us to wait until next year so we could have our "dream wedding". Having been together for nearly 10 years, we decided not to wait and had a small intimate wedding on June 26 with our closest family by our sides. It was our dream wedding. Kelly was there for us through the entire process-- the back and forth of being devastated and then optimistic about our new plans, the ideas we threw around about having a second reception next year once all this passes. Kelly was accommodating and kind through it all, offering her suggestions, her sense of humor to ease my stress, and she made herself completely available for any challenge we faced. I will be cherishing my photos from Kelly for the rest of my life. She captured every emotion, every special moment, and she even managed to mask the fact that it was 90 degrees and humid on our wedding day. I was worried everyone would be tense and sad about the overall state of the world lately, but somehow we were all able to forget about it all for the night and celebrate our families joining together. Kelly captured those feelings in every photo. She is insanely talented at what she does and genuinely cares about her clients. Kelly even offered to shoot a second event for us if we decided to have a large reception, since we had originally paid for a larger wedding and longer time frame of service. We weren't planning on having the reception, but came up with the idea to have her come by our home to take photos of us and our flowers on our new flower farm we started this year in our backyard. She is thoughtful and kind, and her skills are unmatched. I highly recommend Kelly for all your photography needs!!

+ 7

photos

Desiree D.

Married on 08/28/2021

Amazing photographer!

Kelly is a wonderful photographer who did a beautiful job capturing our love story!

Shannon P.

Married on 08/20/2021

Photographer 10/10

Kelley was amazing start to finish! She made us feel comfortable and really cared about what WE cared about! She helped make our day wonderful and captured it all perfectly

+ 2

photos

Are you interested?

Send a message

Amanda G.

Married on 05/15/2021

Kelly Is Amazing!

From the first time I spoke with Kelly, I knew I wanted her as my photographer. She spent an hour on the phone just getting to know me! I fell in love with her style and personality even more at our engagement session. She's so spirited, fun, and easy to work with! She even managed to get genuine smiles out of my fiance... which is nearly impossible to do! She was so flexible as I made changes to my schedule and photo wish list multiple time before the big day. On the big day she was the perfect balance of involved and invisible. By involved I mean every time I needed/wanted anything she was at the ready... she even swooped in to save the day with safety pins when I had a wardrobe malfunction! By invisible I mean that she wasn't in the way or pushy... when I viewed my gallery I was so pleasantly surprised by the photos that I didn't even know she had taken! She answered every text, every call, every question without hesitation before, during, and after... the day went by so quickly but thanks to Kelly I have every moment captured!

Alexandra

Married on 05/01/2021

Simply Magical

Kelly Pifer Photography is, in a word, magical.

My fiancé (now husband) and I are very introverted, non-attention seeking people. The idea of engagement shots and wedding pictures kind of overwhelmed us. But Kelly helped us feel relaxed and comfortable—like we were hanging out with a good friend!

We are in love with every shot. Our laughs were honest and some thing we dreaded ended up being one of our favorite experiences! Kelly is not only a skilled professional, but a genuine human who simply radiates light and is impossible to not adore.

+ 2

photos

Bryan C.

Married on 09/05/2020

One of the best decisions of our wedding!

Kelly was one of the best parts of our wedding! She made taking pictures really fun and comfortable. Her work speaks for itself but her flexibility and personality made taking a ton of pictures very easy. Easily one of the best decisions of our wedding was hiring Kelly!

Joy F.

Married on 09/05/2020

Beautiful pic! Easy to work with

So very to easy to work with.She captured all the picture we request. Highly recommend . Bride and groom had a wonderful experience working with Kelly

Katelynn

Married on 09/05/2020

She truly is the best!

There really are not enough words to express how wonderful Kelly is. Next to marrying my husband, hiring Kelly to be our photographer was the best decision we made while wedding planning. Planning a wedding is stressful enough but adding COVID on top made it even more stressful. Other photographers we met with were very intimidating. From the first moment we met Kelly, we felt at ease and that she really cared for us and our day as if we were her family. She was so down to earth and easy going. Kelly was responsive to every question or concern we had, was super flexible with any changes we made and really made the whole process stress free for Bryan and I. Kelly works quick and effectively, making sure pictures are returned in a timely manner! We received our wedding pictures on the last day of our honeymoon and it was so fun to end it trip looking at the best day of our lives! We had not one but two engagement sessions with Kelly and the pictures were beyond perfect. Kelly captured two people who hate having their pictures taken and made magic happen. She made sure we were comfortable and kept us laughing the whole time. Fast forward to our wedding day, Kelly was the reason our day was stress free and wonderful. She captured our day perfectly and I cry every time I look at our pictures. No detail was missed- big or small. Kelly perfectly captured our love, friends, family and everything in between. Although it was bitter sweet at the end of the reception saying goodbye to Kelly, Bryan and I know she will be our family photographer for years to come. We couldn't trust anymore more to be there for the special moments more than we trust Kelly. She truly is the best.

+ 11

photos

Logan H.

Married on 06/20/2020

Kelly was Amazing!

Kelly made a perfect day the most perfect. So prepared and easy to work with, she captured every shot we wanted and now we have the best memories of the best day ever to look back on forever. I cannot recommend Kelly enough. She was just amazing.

Kristen H.

Married on 06/20/2020

Wedding photographer

I cannot day enough great thinks about Kelly. Not only is she incredibly talented, and we are absolutely in love with both our engagement and wedding photos, but she is an all around wedding savior. Given the fact that our wedding was scheduled during COVID, Kelly served as such a key point of contact, doing her very best to accommodate the challenges, remain flexible with us, and was truly professional. Our wedding day was perfect because of Kelly and we can't be more happy with our experience. I highly recommend Kelly to everyone I know getting married.

Sarah M.

Married on 03/14/2020

Kelly is nothing short of amazing!

Kelly has been absolutely wonderful throughout our entire wedding process. Our engagement session was perfect and the photos were better than we could have ever expected. We got married on Saturday, March 14th, which was in the midst of COVID-19 closings. We had to find a new photography spot the night before the wedding, as our original plan fell through last minute. Kelly (and her assistant) rolled with the punches, walked in to a totally new location that she had not planned for, and made it work better than we could have imagined. Without her calm, cool, collected presence that day, we certainly would not have had such a great wedding.

Endya W.

Married on 08/18/2019

Kelly is the best!

We loved working with Kelly for our engagement shoot and wedding! She' so on point, knows how to get the good shots, and makes taking pictures fun. Our first time talking, I knew she would be a perfect fit-- she's so personable and kind. I'd highly recommend her!

Xxxi

Married on 08/17/2019

She's amazing

She was so easy to work with. The pictures were amazing. Couldn't have dreamed of anything better for the price we agreed for. You must at least give her a call when considering photographers!!!

Stacy E.

Married on 08/10/2019

Excellent. We made the best possible choice in hiring her.

Kelly was fantastic to work with and made us super comfortable. We had so many excellent shots from our engagement photos I knew we would have a ton of amazing shots from the wedding itself. We just got our pictures and can confirm that they are BEAUTIFUL. In addition, she was one of our vendors that I knew I didn't have to worry about. She is a consummate professional and she absolutely will take great care of you. She even helped with bustling my absurdly complicated dress, which goes above and beyond the expected duties of a photographer. Hire her. You will be so glad that you did!

Will E.

Married on 08/10/2019

Our best decision.

Booking Kelly as our photographer was our absolute best decision. Her perfect blend of fun and professionalism kept us both on time and laughing. Our pictures turned out great - our wedding memories persevered forever.

Anna H.

Married on 08/03/2019

Best photographer ever

I don't even know where to begin with Kelly! We had the struggle of planning a wedding from a state away! With busy schedules Kelly made planning and working with her literally effortless!!

Right away after talking with her on the phone I knew it was a match! She was so caring and real! I felt like I had known her for years!

We had an engagement session with our package and we were unable to find a weekend for this due to living out of state. Kelly let us instead do a session during our rehearsal dinner! The photos were amazing of us and our family, as well as let us practice working together before the big day :)

Our photos were so beautiful! The night we got them we went through them together and love reliving the big day again! We were totally blown away and so we're our families with the gorgeous photos. The way she captured our special day was just as we had hoped and dreamed. She captured all the best parts that really mattered to us!

When picking a photographer it is so important to find someone with a clear focus on the timeline and common goals as you. It is very easy to become overwhelmed and lose track of time. Kelly was perfect, she took charge and kept everything moving :) at no time throughout the evening did I have to worry about it!

I would recommend Kelly for anything to anyone! We can't wait to have her continue to capture our life events in the future ❤️

Katelyn M.

Married on 07/21/2019

If you don't have a wedding photographer already, hire Kelly! You will not regret it.

Kelly, or shall I say superwoman, is one of the best investments we made in our small-budget wedding. We probably spent about 5 to 5.5k on the entire wedding, and we gladly put about 20 percent of that on photography with Kelly. Not only is she incredibly talented, but she's also extremely professional, helpful, easy to work with, and flexible as hell. I contacted Kelly about 6ish months prior to our wedding and she had plenty of availability for us still. Not only that, she was willing to be super flexible with how long we needed her for and what we wanted a shot. Our wedding quickly went from a 20 to 30-person intimate ceremony and lunch/dinner to an 80-guest ceremony and reception. Kelly was still able to stick to our budget AND give us an incredible value with her free/included engagement session and the photo album she was offering as a special at the time for free! On the day of, not only was it Kelly's freaking BIRTHDAY, but it was also over 100-degrees with the heat index!!! This woman powered through four grueling hours in the hot sun and got SO many amazing shots and they are all beautiful! She managed to help wrangle our large, crazy families for photos and every single one turned out really nice! And she was even able to sneak in a few extras that we asked for...all while staying AHEAD OF SCHEDULE! Need I say more? Hire her. She's crazy talented, super professional, and makes you feel really comfortable in front of the lens. If I could afford to have her take pictures for me for everything, I would! Thank you so much, Kelly, for being the rockstar that you are. We couldn't be more grateful to have had you there for us on our big day! - Mr. & Mrs. Visco

+ 17

photos

Angelo V.

Married on 07/21/2019

Affordable and high quality

Kelly is funny, nice, professional, and a pleasure to be around. She makes taking photos easy and fun without making you feel at all awkward.
Highly recommended.

William P.

Married on 07/06/2019

Absolutely 100% what we were looking for!

Kelly captured our wedding experience in a way our hearts will never forget!! The pictures are amazing, and her ability to take photos at just the right moment is uncanny.

Allie

Married on 03/09/2019

Friendly and professional

My husband and I used Kelly for both our engagement and wedding pictures. We've never done professional photos so we were extremely nervous but Kelly made the experience enjoyable and easy going. Kelly was extremely easy to work with and we will definitely use her again for any future photos needed.

Tim L.

Married on 09/29/2018

My wife loves her, so do I

I am the groom and let me wife pick out the vendors. When I met Kelly she made me do so many photos, but after sitting back I was impressed on how well she was getting my groomsmen to smile and go along with it all. I could see why my wife was over the moon for her. When Kelly sent our sneak peaks I was so impressed and couldn't wait to see our photos. When my wife came screaming in the room I knew our photos were in. After looking through them I was impressed. She captured our moments and wedding day. I can now look back and see the emotions we had. Thank you for your hard work!

Megan

Married on 09/29/2018

Pick Kelly!!

All I can say is, how did I get so blessed with this amazing person as my photographer. Kelly from day one has helped me with everything. To late night emails of me freaking out about my wedding schedule to helping me plan my wedding, to taking amazing photos. If I could I would recommend Kelly to every person that needs photos taken! Kelly would answer my late at night emails, she would help me with every worry a bride has and calm me down. When it came to my wedding day she helped me put my dress on and help my bridesmaid out. She was like another mom in the room. When I got out photos I about cried. She is amazing! Yes, you need Kelly as your photographer!!

Renata

Married on 09/22/2018

Kelly was an absolutely amazing photographer to work with. The quality of our photos are breathtaking and my husband and I could not be happier with the outcome. We highly recommend Kelly to other couples looking for a photographer on their wedding day!!

Rachel

Married on 09/15/2018

I can't say enough about Kelly and her assistant Heather! We first met Kelly in downtown Cleveland to do our complimentary engagement shoot. We had already had our engagement photos taken so we chose to do fun Indians photos. Kelly was so much fun! She took some gorgeous shots and wasn't afraid to do what she needed to, to get that perfect shot. She was in a dress on the ground, climbing over barricades in the streets covered with water and she just brushes it off like it's no big deal. She'll do whatever it takes and I loved that about her. Our personalities clicked very well and I completely trusted her eye. Our Wedding day photos are beyond beautiful, everything I could have ever expected to help capture the day Kelly and Heather did flawlessly. I would highly recommend her to anyone and hope to use her again in the future. Thank you for capturing our big day some beautifully!

+ 7

photos

Kelly Pifer Photography's reply:

Thanks, Rachel! I felt that same awesome click with you and Jon from the moment we didn't get mugged in CLE, lol! Seriously, you two are awesome; you know how to play and also how to turn on the romance!

Melissa

Married on 09/09/2018

Kelly is super awesome! I found her on a whim and she was able to help me in my time of need. Not only is she professional, she is humorous, kind and down to earth. She goes above and beyond, is more than willing to help and has the best personality! During my wedding, there was some displeased guests and even though she was packing up to get ready to leave, she still took one last shot at my request. She maintains her cool and extra helpful ! You're crazy if you don't hire her!
Are you interested?
Send a message