12 Reviews
Recommended by 97% of couples
Quality of service

4.8 out of 5 rating

Average response time

5 out of 5 rating

Professionalism

4.8 out of 5 rating

Value

4.8 out of 5 rating

Flexibility

4.9 out of 5 rating
5 User photos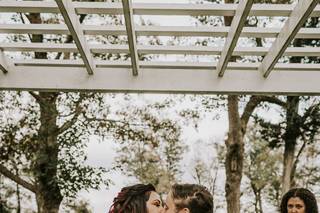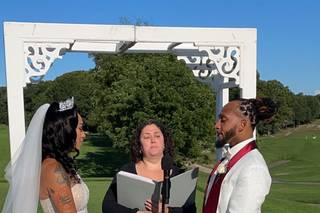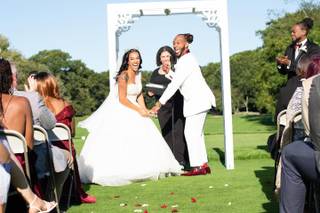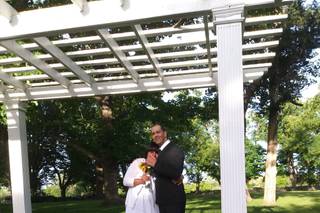 Alex E.

Married on 12/03/2022

Fantastic Officiant!

Kathy was wonderful to work with. She spoke with us over the phone, thru video chat and in person. She consistently followed up with us via email, and allowed us to work with her in creating the ceremony. She is kind, understanding and very helpful. We would absolutely recommend her to any couple!

Kathy Medeiros's reply:

Thank you! You were great to work with! Your ceremony was beautiful and you made it easy to communicate with.

Sarah B.

Married on 09/23/2022

Flexible, Professional

I loved working with Kathy on our wedding! We had kind of a unique situation - we're doing our marriage paperwork in a different state, and I wanted to write our ceremony. I'm an officiant myself and knew exactly what we wanted. When I reached out to other officiants, I was shocked by how baffled they were at my request. Most seemed offended that I didn't want them to write a script, and some even mansplained to me what should be in it to "make it more special." As if I don't know my own relationship.

I appreciated Kathy's openness to what we wanted, and she delivered our ceremony beautifully. We stayed in touch before the wedding to make sure we were on the same page. Her communication carried over to the wedding - she was 15 minutes late due to an accident on 495 but stayed in touch the whole time to keep us updated.

If I planned on getting married again, I'd hit up Kathy in a heartbeat ;)

Kathy Medeiros's reply:

Thank you! You were great to work with! As officiants, we are to accommodate our couples. I had plenty to work with to create the ceremony-but being hands-on is great.

Kazia B.

Married on 11/13/2021

A great choice

Kathy was punctual and professional! She did a great job choosing traditional vows and a ceremony for us that really reflected us as a couple! She was very flexible and accommodating as well.

Kathy Medeiros's reply:

I'm so glad that you were happy with everything! You were great to work with and communicated what you wanted.

Are you interested?

Send a message

Sarah

Married on 10/02/2021

Great experience

My husband and I picked last minute date. She gladly said yes and did a fantastic job!!!

Kathy Medeiros's reply:

I'm so happy I was available to help you! Last minute weddings are more common than we realize. You were easy to work with, too!

Steffanie R.

Married on 10/03/2020

Wonderful elopment ceremony

Kathy was very helpful and wonderful to work with. We had a short notice elopment ceremony and she was able to work us into her schedule. She was knowledgeable about different locations that we could use for the ceremony. She created the perfect ceremony for us. We highly recommend her!

Kathy Medeiros's reply:

I'm glad I was able to help you in what you were looking for, and you were happy eith everything. It was a pleasure to work with you!

Rhonda P.

Married on 08/14/2020

Our wedding ceremony was everything and more!!

Reverend Kathy was wonderful, very responsive to your questions and very nice!! She is very flexible to your needs and wishes overall i would recommend her services

Jocelyn P.

Married on 08/30/2019

Absolutely Magical

Kathy was great! We wanted a concise, straightforward and heartfelt ceremony and that is exactly what she provided. She was very respectful and professional and helped us to make the day exactly what we wanted. I can't imagine it being any more perfect than it was.

Antanika C.

Married on 06/04/2019

Justice of peace

She was very nice and kind and very respectful and I would recommend her to someone else

Christina L.

Married on 03/05/2019

Lovely experience!

Kathy is kind, responsive, and incredibly patient. She has an innate ability to make people feel welcome and comfortable around her. I was so happy to have her officiate our wedding ceremony!

Andre

Married on 01/06/2019

Kathy was amazing!

Kathy was excellent in her response and on working on us on all the details.
She speak multiple languages and she was on time. I really recommend Kathy to anyone who is looking for a professional. Awesome job Kathy, Thank you for the amazing work.

Shalla D.

Married on 09/26/2021

Good Officiant

Kathy was very good as our officiant. She made sure to include our prayers that we wanted. The one thing I would've changed is maybe during our prayers to make sure everyone knew that's what was going on and to maybe say bow your heads but I don't blame her with this. Our rehearsal was the day before the wedding and was extremely quick I mean fast and furious quick so I didn't get to say this to her or make sure we went over these things but all in all I would definitely recommend her to anyone looking for an officiant and something outside of a church wedding. She still made sure to include our religious values into our wedding even though we were outside of a church.

Kathy Medeiros's reply:

I'm happy you were content overall with the ceremony. Sometimes the rehearsals do seem rushed. I do try to communicate well, in my experience, most do not bow their heads when asked. This is unfortunate, but does happen often. Your wedding was absolutely gorgeous!

Quinten F.

Married on 10/16/2021

Very nice, very rushed

We hired this vendor pre-pandemic, and she was extremely accommodating in moving our ceremony from October 2020 to October 2021. She was able to incorporate all aspects of the short ceremony we wanted, including the handfasting for the pagan groom. The zoom calls we had prior to the ceremony went swimmingly. However, day of, we were running a bit behind and very frustrated to find out she had built in virtually no wiggle room before needing to leave for another appointment. Her reading of our ceremony felt rushed, the words quiet and jumbled together, and her execution of the handfasting mediocre. The twine was never actually tied, facial expressions in photos were less than ideal. Overall Kathy was astoundingly kind in the planning process and willing to work with us but the day of lacked a lot.

Kathy Medeiros's reply:

I had been hired by another couple with enough time for me to travel to their ceremony, when ceremonies go as planned. Your ceremony did start on time, as recalled.

I do apologize that it was an inconvenience.