133 Reviews
Recommended by 97% of couples
Quality of service

4.9 out of 5 rating

Average response time

4.9 out of 5 rating

Professionalism

4.9 out of 5 rating

Value

4.8 out of 5 rating

Flexibility

4.9 out of 5 rating
67 User photos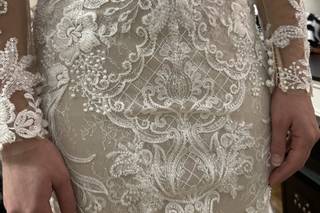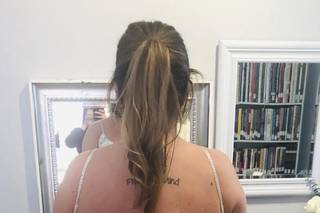 + 63

photos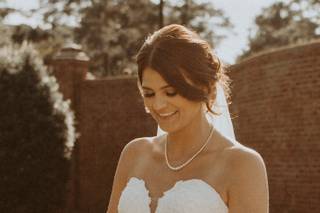 Featured

Alex C.

Married on 10/30/2021

Brought my Wedding Dress Vision to Life

Boy did I have the projects for Karen. She altered my gala Lahav wedding dress perfectly. She made me a custom over skirt from my photo inspiration. She turned my mom and grandmothers wedding dress into the perfect two piece rehearsal dinner dress. And she made me a veil. Needless to say, I had a lot of meetings with her so I really got to know her. Not only is she extremely talented but so so sweet. Would definitely recommend!!

+ 2

photos

Devon W.

Married on 05/27/2023

My amazing experience with Karen!

My experience with Karen and her team was absolutely incredible. My dress was a big/poofy gal, so I had approximately 5-6 sessions to get everything just right for my big day. One appointment I distinctly recall Karen on the floor picking through each feather detail of my gown to ensure it all was hemmed properly and looked cohesive with the entire dress. Karen is meticulous and works VERY hard to make sure your dress fits you like a glove, as it should for your big day! 5/5 stars!! Bravo!!

Aubree

Married on 12/30/2022

Amazing experience

The experience was great from start to finish. Not one detail missed!! I will be back.

Are you interested?

Send a message

Rebrecca

Married on 12/30/2022

Katherine Hendrix Couture

My daughter and I took our dresses for my other daughters NYE wedding to be altered.
We had such an amazing experience and our dresses fit perfectly. She can see things that we would not have noticed and made our dresses look perfectly fitted.
Katherine is a true delight and I will be back and highly recommend her!!

Ansley

Married on 12/30/2022

Nothing but praises for Karen!

From the moment I reached out to Karen to book my first appointment, Karen and her staff were nothing but accommodating with my schedule, professional, and truly incredible! Karen was so sweet and kind, especially while explaining the necessary alterations and the overall process to make my dress perfect for my wedding. I would gladly and excitingly encourage anyone in the Nashville area to go see Karen for any alteration needs. You will surely receive a beautiful final product along will an amazing experience.

Maura K.

Married on 11/11/2022

Amazing alteration experience

I had such a wonderful experience with Karen and her team! I was fortunate to not need a ton of alterations outside of adjusting straps and adding a bustle. Her team were so helpful, answered all my questions. When I came to pick up my dress they took their time with me and filmed a video to make sure I understood how to work the bustle for the day of the wedding. I decided to buy a cape that I thought needed some alterations and Karen was so helpful and gave me some great feedback and discouraged me from any alterations. I came alone to all my appointments as my family and bridal party is all from out of town. They took the time to answer all my questions, make sure I understood how to take the best care of my dress, keep it safe in the bag. They made the whole experience very warm and special. Highly recommend them to any bride!

Anna U.

Married on 11/05/2022

Incredible Company and Team!!

There are so many amazing things I can say about Karen and her team. They not only did an incredible job on the alterations with my dress, but added special touches and worked with me on making our wedding day extra special. I cannot recommend them enough to anyone looking for bridal alterations in Nashville!!

Sophie S.

Married on 09/17/2022

Wonderful Experience with Karen Hendrix

Working with Karen and team to design and create my custom wedding gown and veil was a wonderful experience from beginning to end, and one that I will forever remember as a truly unique and key part of my wedding planning and day. The care, attention to detail, and love that is poured into every stitch, silk button, and piece of lace is more than evident in the absolutely gorgeous couture that Karen creates.
The entire process was fun, warm, and stress-free, and I would eagerly recommend Karen Hendrix to anyone who wants to bring their vision to life with a talented and amazing fairy godmother.

Mary D.

Married on 09/10/2022

So grateful for Karen and her team! She made my dress the dress of my dreams.

Karen Hendrix completed my wedding dress alterations and I couldn't have asked for a better experience. I had many alterations and changes I wanted for the dress, and she completed them all beautifully. The dress fits perfectly and is prettier than I could have ever imagined. Karen and her staff are so kind and made me feel so special. I enjoyed talking to her about the exciting parts of wedding planning and she even helped comfort me when I felt overwhelmed with a long wedding to-do list. Thank you so much for everything Karen and your whole team!

Aaryn B.

Married on 07/10/2022

Karen and her team made this Covid bride ready for her big day!

Where do I start!?! Karen and her team were nothing short of AMAZING!

I was living in Nashville then Covid happened. My husband and myself had to move states and our original wedding date got moved from April 2020 to October 2020. I was in the middle of my dress fitting appointments and at my last fitting my dress fit perfect, all that was left was the bustle and I could bring my dress home! Once Covid happened this pushed my dress appointments back since I'm no longer living in the state of Tennessee and also brought on the dreaded Covid weight gain.

At my next dress appointment I just knew my dress wouldn't fit and I was right. We were a month and a half away from my wedding and my dress is now two inches from closing. How am I going to wear this dress down the aisle?!!

Luckily for me, Karen was assisting me this day and I am SO THANKFUL she was! She was my "Fairy Godmother". Karen did nothing but assure me we would be ok and she could add material to my dress without anyone being able to notice. Well she was right!!! My next dress appointment was the Wednesday before my Saturday wedding. I was greeted again by the lovely Karen and she made sure my dress was going to fit before completing the final touches. When I tried my dress on Friday for my final fitting she zipped up just like she was made for me. My dress fit like the day I bought it and I was in LOVE with it once again! You couldn't tell Karen and her team took material from the dress to help close the back. The back looked exactly the same as it did on the first day I brought it to her.

Karen and team, I cannot thank you all enough! You helped make me feel so beautiful on my wedding day. You showed me nothing but confidence, kindness and honesty during my appointments. There was not one day that I ever doubted your abilities. Thank you from the bottom of my heart!!

Kari S.

Married on 06/04/2022

Karen is Amazing!!

I worked with Karen for my wedding dress alterations and you couldn't ask for a more kind, caring person to work with during such a special time in your life!! She is so talented and goes above and beyond to make sure your wedding dress dreams come true. I ended up needing my dress taken in more due to losing weight, but Karen made it happen with a three day notice. My dress fit perfectly on my wedding day and I seriously can't recommend her enough. Thank you again!!

Chelsea K.

Married on 03/27/2022

Alterations & Day of steaming

cannot put into words how much we appreciate Karen and her team. She made my dream dress alterations come true. She was so much fun to work with, so easy going, and easily accommodating. She was able to turn my strapless dress into an open back with beautiful straps and even fit my bridesmaids in last minute for some alterations. Not only does Karen and her team do dream work, they are also also a true blessing day of!!!
I cannot thank her enough for being part of our big day. She arrived at the venue before my bridesmaids and I arrived. She steamed all mothers, grandmothers, and bridesmaids getting ready outfits (that all traveled from different states). Then moved onto each of our dresses, I had 10 bridesmaids and 15 people getting ready with me. She brought many "oopsie" kits incase we spilt something or needed emergent alterations. Not only did she accommodate the girls, but she then later helped the guys press their suits.
After the getting ready portion, Karen and her team proceeded to help with pictures. I had a large train and veil that she ensured was styled perfectly for pictures, assisting us with poses and fixing my dress with every move. Not only did she fluff out my dress perfectly while walking down the isle, she stayed until I was ready to be bustled and enjoy the rest of the evening without my train.
Karen treats you like a princess. She wants you, your friends, and your family to feel beautiful on one of the biggest days of your life. There are not enough words to express my gratitude and appreciation for this team. Thank you thank you thank you for all of your hard work! You truly are amazing!!!

+ 2

photos

Alyssa C.

Married on 02/05/2022

I will always bring my dresses here!!

Karen and her team are AMAZING! I felt important and special every step of the way. I had a couple appointments with the team to make sure my wedding dress was perfect. Even through COVID, Karen and her team were willing to help every step of the way. My wedding unfortunately had to be pushed back a whole year, but Karen was so helpful and allowed me to complete my fittings so that my dress will be ready for me for my wedding next year. My dress is more beautiful than I could ever imagine now that it is fitted! I had to have the hips brought in a little bit, the straps shortened, and my dress shortened quite a bit because I'm very small. My dress now fits me like a glove! Karen is so personable and so sweet. I wish I could write for days about her because they deserve it. If you bring your dress to her, you can be confident that it will turn out PERFECT!

Lexie H.

Married on 02/05/2022

The best Couture Bridal Wedding Gown Designer in Nashville, Tennessee

Karen Hendrix Couture is ABSOLUTELY incredible! They were one of my favorite parts of my wedding planning process :) Not only did Karen do an incredible job altering my 9-layer lace ballgown, but she also made a custom-designed second-look mini dress! This dress was unique and iconic; she spent so much time and passion designing this piece! Everyone at my wedding was dying to know where I bought it! Working with her team was truly a dream. She is so kind, compassionate, organized, and wonderful to talk to. I can't recommend them any more! 10/10 experience!

Lisa C.

Married on 12/18/2021

Thank you for making my wedding day perfect!♥️♥️

From the beginning my experience was wonderful. I knew my dress was in good hands. Karen Hendrix is such a lovely person with such a calming demeanor dealing with anxious brides. I can't recommend her enough. I'm so happy and the compliments on my dress go on forever! Our day was magical. So thankful and blessed by her and her team. Thank you for giving me peace of mind and making my dress perfect!

Deborah R.

Married on 12/04/2021

Karen Hendrix is an angel!

Karen Hendrix is a delight and a pleasure to work with. I would wholeheartedly recommend her to anyone! She is like a fairy godmother getting the bride ready for her special day! From the first meeting to the final appointment, Karen gives each bride her undivided attention and makes the bride feel special and beautiful. Karen altered my daughter's dress which was very grand and required a lot of work and expertise. Every fitting was a joy! She is patient, kind, and calm, no matter the situation. Karen's professionalism, experience, and attention to detail ensured that the dress was absolutely perfect. Working with Karen, a bride (and her mother) can relax and know that they are in very capable hands. We contracted with Karen for her wedding day package, which I also highly recommend. She will deliver the dress, steam everything for the boys and girls, and manage the dress/train in all the photos. Best of all, having Karen there that day is like having a peaceful angel present during a chaotic time. Working with Karen was a blessing. The only bad part about it is that you grow to love her and you wish that you could remain friends after the wedding is over!

Carley C.

Married on 12/04/2021

Customizations? No problem!

Karen and her team were INCREDIBLE! I had a vision, and she transformed my dress to match that vision. Lots of customizations including:

1. Altering sleeves
2. Altering zipper in back to make for a more "open back" dress.
3. Adding a skirt to my dress a week before the wedding.
4. Custom veil & blusher
5. Added a belt to my dress

The list goes on and on!

She was truly incredible. This is your go-to for all things Wedding Gown/Formal Alterations!

Debra L.

Married on 12/04/2021

Karen is simply the best!

Karen and her staff went above and beyond on my Mother of the Bride dress. My dress was only available in a size that would only zip to my waist. With her design and experience and maybe a magic wand my dress was a perfect fit and more beautiful that when I bought it!!! I felt like a princess and receive tons of compliments.

Shelby L.

Married on 12/04/2021

A Perfect Fit

Karen made sure that my dress fit me like a glove. Her schedule is very booked with brides, but she knew that I needed a few more fittings to make my dress perfect. And that's just what she did! There is no one else I would trust with such an important part of my day. She was also able to design me a custom veil that was perfect with my dress!

Sally R.

Married on 12/04/2021

A Real Life Fairy Godmother

THANK YOU KAREN!!! During the first meeting with our venue I was told, "You HAVE to see Karen Hendrix Couture for alterations." When trying on dresses at Adorn Nashville I was also told that Karen was "the best." Everyone was right - She 100% lived up to the hype and then some. She never told us that an alteration or change wasn't possible, she was incredibly accommodating with scheduling (even to make adjustments the week before the wedding!), and she made my dress PERFECT. I cannot recommend her enough. She joked that people call her a fairy godmother and she is RIGHT. I also highly recommend her wedding day package. It gave me peace of mind knowing that the entire bridal party's attire would be steamed/pressed/etc., and she added such a calming and peaceful presence. Additionally, she ensured my train, veil, and hair all looked flawless for photos. She really is incredible and SO very special.

+ 3

photos

Veronica T.

Married on 11/27/2021

Karen has the magic touch❤︯

From my first dress fitting I felt at home with Karen. She makes you feel so comfortable and she works so well! As they call her "the fairy godmother" is very true. She worked on my dress and made it into perfection. Definitely coming back for any dress I need to be fitted! She has hands of an angel ❤️

Sarah S.

Married on 11/13/2021

Karen Hendrix = My Superhero

Karen made my dress the most magical thing I've ever worn. She was so attentive, and she listened to my vision. She offered suggestions to help achieve what I wanted, and she went out of her way, above and beyond, to make sure my dress and custom veil were perfect for my wedding day. She also helped my mom and sister with their alterations - which were also done impeccably. I couldn't have asked for a better experience. I will forever recommend Karen to anyone I know!!

C Rucker

Married on 11/13/2021

Talented!!!

Karen did alterations for me a few years ago on a bridemaid dress! She made me feel absolutely beautiful. It fit me like a glove. When I got engaged I knew Karen would be the ONLY one I let alter my wedding gown! Thank you again Karen for helping this girl to feel beautiful!

Kellye Z.

Married on 11/12/2021

Amazing!!!

I had an amazing experience with Karen and all the other ladies who work here. Karen was beyond professional, kind, and so talented!!! She takes her time and really listens to your vision, I would absolutely go back and recommend Karen to anyone! Hands down, simply the best

Nikki

Married on 10/16/2021

Karen is the Best!!

I had the pleasure of working with Karen for my wedding- she not only altered my dresses but she was with me the day of the wedding making sure everything was perfect! I highly recommend hiring Karen to be on site for your wedding to stream all the dresses and fix any last minute issues. It was so comforting having Karen with us for the wedding day- she made sure everyone looked amazing! I wore two very different dresses for my wedding and Karen alter both perfectly! Not only is she incredibly talented, she is the sweetest and most thoughtful person I have met. She takes her time with you and ensures you will look and feel amazing on the big day. Along with Karen is her amazing team, they work tirelessly behind the scene and are a great help! I HIGHLY recommend Karen, she is the best!!
Are you interested?
Send a message