160 Reviews
Recommended by 100% of couples
Quality of service

5 out of 5 rating

Average response time

5 out of 5 rating

Professionalism

5 out of 5 rating

Value

5 out of 5 rating

Flexibility

5 out of 5 rating
5 User photos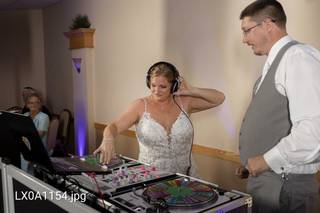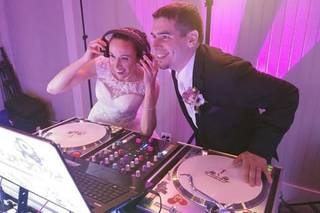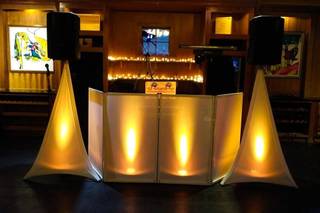 Abby C.

Married on 04/15/2023

Long Review But Worth The Read

This will be a long review but I want to talk about how awesome our DJ was. First off, I knew that the DJ would be an important part of our wedding, but I had no idea how crucial Kalifornia Entertainment would be to making our day memorable in so many amazing ways. Going with a real professional like Josh made all the difference, as it's clear how much the professionalism and expertise that Josh has really paid off.

Leading up, Josh was fantastic to work with ahead of our wedding. He was beyond patient and understanding with all of our questions in our first consultation. We had a lot of questions because we met with a handful of DJs before him which gave us the opportunity to ask him questions we thought of after meeting with the others. When we decided to choose him after meeting with us (we felt more comfortable with him over the others we met with), we finally started the planning process. He was quick to answer every additional question I had when planning. From strategies to have music for the ceremony at our outdoor spot to the best mic setup for our videographers to capture the audio they needed, he'd done it all before (and worked with many of our vendors as well), and the value of that experience was clear.

And of course, the detailed planning document and follow-up call 2 weeks before the wedding was the perfect way to make sure we'd ironed out all of the details. As a bride, it often felt like my job to think of everything, but with Josh, I got the comfort and relief of a pro who'd thought of everything I hadn't and was always one step ahead. Our wedding day was wonderful but a bit chaotic, validating all of the prep work Josh did to be ready for anything. Some nasty weather rolled in and we had to change quickly to an indoor venue, but because we'd been over the backup plan, Josh was able to shift gears quickly without scrambling for new instructions. And let me tell you about how incredible Josh is as a DJ --- ROCK STAR!! It was a bit of a fire drill for him to pack up his equipment when the rain came and switch over to our alternate venue, but he did an absolutely amazing job. The second setup worked really well, with all of our guests able to hear our ceremony clearly—a huge priority.

We'd provided a list of songs we love (but gave him the freedom to do what he does best), and he understood our vibe so well! We got compliments not just from guests but from our shuttle drivers saying that the party sounded fantastic and that we had the best music—all thanks to Josh! We loved the fantastic energy he brought, joining our friends on the dance floor and understanding exactly how to keep people pumped up. We wanted a mix of country, pop, 90's, and some "guilty pleasure" tunes from our college days. He managed to find the perfect blend, switching it up to keep things fresh without giving anyone musical whiplash. The moment Josh became the real MVP of our wedding was when he approached our venue and got them to extend our end time! He saw how much fun we were having and took it upon himself to see if we could keep things going. We had the very best night, thanks to Josh's intuition, initiative, professionalism and preparation that I honestly believe is unmatched by anyone else. I cannot recommend Josh and Kalifornia Entertainment enough!

Kaylee B.

Married on 12/02/2022

The Best Vendor You Will Ever Book!

Kalifornia Entertainment was amazing! Josh was so well organized and professional. He also had very helpful advice that saved us from a lot of stress and time. He was also very fun and in tune with our guest and adjusted the music as needed through out to the night to make sure every guest had a wonderful time. In addition to the music my husband and I also decided to rent the photo booth. The photo booth was a great hit at our wedding and a key part of our guest book because we wanted to do something a little different. We decided to have guests glue one strip of photos and write us well wishes or advice in a photo album. It will be so much fun to look back at our guest book and all the silly photos of everyone in years to come. Our Best Man and his wife signed a contract with Josh at the end of the night because they are getting married in 2024 and didnt even want to bother talking to any other DJs. They were so impressed with Josh that they wanted to book him right away. I highly recommend Josh and Kalifornia Entertainment. Anyone who does get him for their wedding will understand quickly why he is the most wanted DJ in Rochester by couples. If I could give him more then 5 stars I would!

Chelsea V.

Married on 10/21/2022

100% dedicated to the bride & groom!

We were truly blown away by Josh at Kalifornia Entertainment. He was the first vendor we booked over 18 months before our wedding and he never failed to check in with us every step of the way. He made sure every last song we wanted was played, and kept everyone dancing on the dance floor the entire night. So many people told us how much their feet hurt after the wedding because they just could not stop dancing. All through planning, he constantly made it known that he was there for us - checking in with us every couple of months and even the entire night of the wedding. He even helped make small moments become some of our most memorable moments, and truly just being a friend throughout the entire experience. We would recommend Josh to our closest friends and family. Weeks later, our guests are STILL talking about how absolutely incredible Josh was and the extra level of care he gave to everyone. He is the absolute best. We tell everyone our wedding day was the best day & dance party ever, and we really do have Josh to thank for it! We are the luckiest that we were able to book him because he books SO FAR OUT because EVERONE wants him for their wedding! Thank you Josh for giving us the best day we dreamed of.

Are you interested?

Send a message

Morgan P.

Married on 09/23/2022

He's an incredible DJ & Dancer!

Josh was recommended by our wedding planner. We met with him and we knew instantly he was the right choice for us. We have a lot of dancers in our family so music was very important to us. Josh has a lot of mixes on his website and after listening to them, we knew even more so that we made the right decision on him. His communication is outstanding and he was always there to help us with anything we needed or answer any of my hectic questions. He hit it out of the park during the wedding and not one person was sitting the whole night. Everyone including my 70 year old aunt, both of our parents, and our friends were on the dance floor the whole night. And the fact that Josh came out on the dance floor and showed his AMAZING break dance skills (we asked him to because we knew he was a dancer too) was incredible. A few of our guests even connected with Josh to see if he'd DJ their upcoming wedding as well so we get to party with him many more times which we can't wait. Thank you Josh for everything you did for us and giving us the best night of our lives.

Bailey R.

Married on 08/12/2022

The. Best. Choice. Period.

My husband and I had the pleasure and luck of booking Josh with Kalifornia Entertainment for my wedding reception and it was the BEST decision ever. The music was EXACTLY as we had wanted and we didn't leave the dance floor all night! Everything Josh does for his clients is wonderful and he offers a level of service that is UNMATCHED by anyone else. I would 100% recommend him for any event you need a DJ for but you have to book him fast. We snagged him over 2 years in advance. Just by doing simple searches you'll see that he has brides clawing their way to book him and it's no wonder he is the MOST popular and wanted DJ in Rochester. Consider yourself one of the true lucky ones if you have him at your wedding. We strongly believe there is no other DJ in Rochester that brides and grooms can say the same about. Thank you Josh for everything you did for our wedding.

Ellen L.

Married on 07/01/2022

Josh is the DJ you want for your wedding!

I can't even put into words how amazing Josh and this company is! Josh MADE our day! He was so helpful and informative during our planning process. He was sure to answer any questions we had almost instantly and he gave so many amazing recommendations that only someone with his experience and skill can do! He listened to what type of reception vibes and music we wanted! He even customized the timing and how my songs played for our ceremony. LET ME TELL YOU ABOUT OUR RECEPTION! Josh is the BEST DJ I have ever experienced! There was not one moment that the dance floor was empty! He played all the right songs that we wanted and needed! His photo booth was a MASSIVE hit and guests loving being able to use it for their favors. I got so many compliments and how great the music was and how fun the reception was! Oe of my bridesmaids is getting married and she signed a contract with him at the end of the wedding because she HAD to have him for hers. I give Kalifornia Entertainment a 1000000/10! Thank you Josh!

Crystall A.

Married on 06/25/2022

Josh was an amazing DJ

We are so happy with Josh's overall service! He was professional, fun, and made our wedding a great time for all! We got his largest package with the photobooth and other services and the photo booth was a hit! Easy to operate. We received all the videos and pictures that were taken in the booth too, so it was cool to see everyone having a great time. Josh also does cake mapping projection and our guests thought that was SO awesome! No one had seen anything like it! Amazing selection of services, each one executed meticulously and with care. DEFINITELY HIRE DJ KALIFORNIA!!!

Jordana B.

Married on 04/23/2022

The best of the best

Josh is a true professional. When we were searching for DJs for our wedding, we must have met with probably 10 different guys. After we met with Josh we knew he was the one for us. His planning and communication is wonderful. Our wedding day was something that dreams are made of and we owe a lot of that to Josh. If you're looking for a DJ that will make your wedding memorable and incredible, then look no further than Kalifornia Entertainment.

Molly D.

Married on 12/11/2021

Highly Recommended to Ensure Your Wedding Vision!

We got in touch with Josh at Kalifornia Entertainment because our venue coordinator referred him immediately. Our officiant recommended him also. Josh replied quick to our request and after meeting with him, we saw pretty quick why he is in such high demand and why our venue and vendors recommend him strongly. He complemented our vision in music tastes and wedding theme and was able to adapt to all of our guests musical requests and selections. Even for specialty songs that are not what you would normally hear at most weddings. He also surprised us with some awesome party LED foam lights that pushed our night forward even more! His video booth was a very big hit with our guests, especially with the guests who were not big dancers. It gave them something fun to do and they loved it. I wish I could give Josh a hundred stars. He is incredible at what he does. If you're able to reserve him for your wedding then consider yourself very very lucky because you absolutely will not find a better DJ that does what Josh does or a better company that gives you the level of customer service and detail that you get with Kalifornia Entertainment.

Heidi P.

Married on 10/23/2021

Wow wow wow wow wow wow wow

Josh is the ultimate professional and was awesome. He more than delivered than we could have possibly wanted! Not only is he an incredible DJ that uses turntables, but he comes with a ton of great wedding planning experience to make sure your night runs as smooth as possible. The way he was able to read the crowd and keep the party going was something I have never seen before at other weddings I attended. A DJ can make or break any party and Kalifornia Entertainment made my wedding the best party of my life. We asked for a "club" at the reception and he did just that! Everyone loved the atmosphere during the last 2 hours and honestly everyone was dancing all night. Josh is also very prompt in getting back to you just about immediately and he offers a special touch of customer service that is out of this world. He also goes through your music choices and timelines with you to makes sure you are satisfied and offers tons of suggestions if you are not sure what to do. RECOMMENDED! RECOMMENDED! RECOMMENDED!! He will be my go to DJ company for any event I'm apart of going forward.

Courtney C.

Married on 08/21/2021

Amazing!

Josh by far is the best DJ there is! He is professional and accommodated all of our requests. 3 months later people are still raving about my wedding and how awesome our DJ was!! He really pumped up the atmosphere and made our reception the best it could be. I've known Josh for a long time and he is great at what he does! I would recommend him to any couple looking for an amazing DJ!!!

Abby L.

Married on 08/06/2021

Thank You!

A huge thank you to Kalifornia Entertainment for helping us have an amazing wedding! Josh was so patient as we postponed our celebration several times and had a few last minute changes the day of the wedding. Josh is amazing at what he does and you learn very quickly why he books up so fast and why he is in such high demand. Consider yourself very lucky if you are able to secure him for your wedding. Everthing he does is on a whole other level to make sure your wedding is a total success. The music, the lighting, the planning and customer service, and the photobooth were all an enormous success with us and our guests and he truly enhanced the whole experience. This is without an absolute doubt the best company and DJ in Rochester to have on your side. Thank you again!

Paula H.

Married on 06/04/2021

Choose them!

My husband and I are so glad that we hired Kalifornia Entertainment for our wedding reception. Josh provided excellent advice and professional recommendations for almost every part of the wedding which I greatly appreciated, and personal touches that really made his company stand out above any DJ service I have experienced before at other weddings we were guests at. He was both great to work with and extremely professional. Most importantly, the music selection was perfect and he kept people dancing all night long. So many friends and family members said their feet were really sore the next day from dancing all night. So happy we went with Josh, and will be recommending Kalifornia Entertainment to everyone we know.

Jennifer N.

Married on 04/23/2021

Josh is your #1 guy in your planning corner

I'm overjoyed to finally be married and to have had the honor of working with Josh at Kalifornia Entertainment! He was patient and accommodating to the ever changing covid environment and very understanding of the need to rearrange at a moments notice. He has exceptional communication, high attention to detail, is an extremely talented DJ in the way he mixes music, let my husband and I play on his turntables so our photographer could get fun photos, takes extra care in making all of his lighting look flawless and impeccable, and most importantly has excellent knowledge of the nights wedding flow. Our families and friends loved him and the way he interacted with everybody, all had a wonderful time using his photo booth, and never once ever stopped dancing the entire night. I would highly recommend him to anyone needing a strong DJ in your corner to help your wedding go smoothly and create a night filled with fun!

Sharon C.

Married on 03/13/2021

Made Our Day Amazing

I don't even know where to begin and what to say that is anything different than what a lot of people have said and reviewed Josh. He is amazing at what he does and his reputation is spot on. He goes above and beyond, his customer service is 10 stars, he takes the time to add small touches and elements to his weddings, his planning and being OCD about everything being perfect is incredible and Josh himself is just a wonderful man. His DJ skills, lighting, photobooth and everything else he offers are miles ahead of anyone else you could even think of to talk about your wedding. Our venue coordinator, photographer, and limo company all referred Josh and told us there is no one better. That is so true. Thank you Josh for everything you did for us, our family and friends on our special day.

Natalie S.

Married on 02/20/2021

He was fantastic!

I hired Kalifornia Entertainment on the recommendation of my photographer and videographer. Not only did Josh deliver excellent customer service, communication, and planning prior to, during and even AFTER the wedding, my guests all said it was the best DJ they have ever heard and they had so much fun. A few of my guests had blisters on their feet because they couldnt stop dancing and were on the dance floor all night long. Josh had great audience participation and everybody loved him like he was part of the family. He helped to make things run very smoothly, and was actually more helpful and in control than some of the staff at the venue. He included everyone and has a great personality for his job. Josh knew exactly what to do and play to make sure everyone had a great time and our reception was a huge hit. I would recommend Josh to anyone needing a professional, experienced and fun DJ and photo booth company.

Traci B.

Married on 12/05/2020

Working with Josh was a great experience!

Josh, the owner of Kalifornia Entertainment, made sure he understood everything we wanted our wedding to be and he put all of the important details down that we were looking for to ensure it was the best day ever. He constantly kept in touch with us through out the planning phases and he helped us above and beyond plan out the perfect micro wedding due to covid. The day of, he was incredible! He checked in with us throughout the wedding to make sure everything was going the way we wanted it to, he got us drinks when he saw we didnt have any in our hands, he worked perfectly with our coordinator and other vendors and he was super attentive to the music tastes of our guests. His photo booth was perfect for our small wedding and with it being completely touch free really made things easy. We interviewed a few different DJ companies but when we met Josh we knew instantly we had to have him for our wedding and booked him immediately. If you're searching for the best DJ in Rochester that can give you certain things that no one else can, you will find it with Kalifornia Entertainment.

Heather L.

Married on 11/13/2020

Covid Wedding Was A Success!

Where do I begin, we were originally scheduled for to have our wedding in June and we had to postpone due to Covid. Josh took care of our rescheduling with ease, and assured us that we could easily rebook to a later date with no extra fee's. We ended up settling on a Friday wedding in November. Josh was great to work with and he made planning stress free and easy. He went above and beyond in so many ways that he was my savings grace through all this craziness. The day of the wedding, he was even more incredible. He played all of our requested music and I must say, he's a rockstar of a DJ. Even though a lot of people didnt want to be close to others on the dance floor, Josh was so much fun and kept our friends entertained the entire night. His lighting transformed the venue and made it beautiful. His touch free photo booth was awesome and everyone got to take home tons of pics. Kalifornia Entertainment was actually referred to us by our venue and we are so happy we chose Josh because our day wouldn't have been such a success without him. Thank you for everything Josh!

Karena B.

Married on 09/26/2020

Successful Pandemic Wedding

Having to plan a wedding during a pandemic was awful, but Kalifornia Entertainment kept in touch throughout and was very accommodating when I had to push our date out twice. Josh not only kept in touch with me but also with our other vendors and the venue to help replan everything so many times. I would like to say that our wedding happened and was a success because of Josh! When our day finally came and happened, he made everything run so smoothly! From the moment we arrived until the last song, Josh was so personable and went out of his way to ensure all of our needs were met. We were able to relax and enjoy every bit of our special night. Our guests had such a great time. Highly recommend Josh and Kalifornia Entertainment for everything he does, how he goes out of his way to make sure it's an amazing wedding for brides, grooms and guests and because of all of the extra work he does behind the scenes to assure your day is nothing less than perfect.

Kirsten A.

Married on 09/18/2020

DJ, MC, Coordinator, all of the Above

My husband and I were married last week. Both of us had no clue where to start when it came to looking for a DJ. Thankfully our venue suggested someone and a few emails/phone calls later and we were in contact with Josh at Kalifornia Entertainment. He asked us such great questions, regarding what we were looking for so he could provide us with exactly what we wanted. Josh gave fantastic suggestions for songs when we were stumped during the planning and really helped us along the way but the most impressive part of what Josh did was when we had to reschedule our wedding due to Covid-19. Josh was a complete life saver for us and not only coordinated with our venue and other vendors but he really gave us some great ideas for having a smaller scaled down reception. Once the day finally came, Josh wasn't fantastic, he was beyond fantastic. He was the best possible DJ we could have hired. He took what we talked about with him about and did better than we could have ever imagined. Josh even went beyond the job of a DJ. During dinner he helped to usher tables and spent time talking with our guests. Never did our reception dance feel like every other wedding, and guests who don't typically dance got out on the dance floor, including my husband who swore he might dance for one or two songs. He ended up dancing the night away. Many of our guests kept saying how amazing Josh was not just as a DJ but as person who genuinely cares about everyone who is there. We couldn't have asked for a better DJ and we will recommend Kalifornia Entertainment to anyone getting married.

Megan M.

Married on 09/05/2020

Best Wedding Reception Ever!

I cannot say enough about how awesome the music at our wedding was! Josh truly knows how to keep the party going and made sure our guests had a blast! After meeting with a bunch of different DJs, my husband and I were worried we were not going to find one that we truly were happy with 100%. We didnt want to settle for someone who was 70, 80, 90 or even 99% of what we were looking for. But Josh nailed it and hit 100% of what we were looking for exactly and he definitely brought the party and rhythm! Josh also worked with us during the ceremony and cocktail hour where we had a solo saxophonist play along with the DJ for an intimate live music feel. It was such a hit! We also got his photo booth through which everyone loved. Our guests have said over and over that our wedding was the most fun wedding they had ever been to. Money well spent!! If you're looking for someone who just gets it and will deliver on EVERYTHING you want for your wedding, you dont want to pass up meeting with and hiring Josh at Kalifornia Entertainment!!!

Kate S.

Married on 08/07/2020

Incredible DJ and Party Planner!

Where do I even begin? Josh was my savings grace. We originally planned to get married in the Spring but covid19 made us switch our date. Josh helped us so much and put my mind at east. He kept in constant contact with me, my husband, my venue and my photographer. We had to take our guest list down to 50 people but he still gave us an amazing wedding reception. He kept our guests entertained, created really fun table games and was able to do so much that our guests loved and still stay within state guidelines. If you're looking for an amazing DJ, I'm telling you right now that Josh at Kalifornia Entertainment is your guy, especially during the strange times we're living in now and having to change weddings drastically. Whether you are having a big wedding or a micro wedding with only 50 people, Josh can still give you everything you want plus more. Thank you Josh for everything and we can't wait to book you for our one year anniversary party!

Ciara S.

Married on 01/25/2020

One Word - WOW!

Our experience with Josh at Kalifornia Entertainment was very positive and he was my favorite vendor we hired for our wedding! We started by meeting with him to get a feel for what we were wanting from our big day and see what he could do to help us achieve that. We hired him on the spot without even thinking twice and we even had appointments set up with other DJs in the area. We are so happy we went with Josh because we received so many compliments on him and had an amazing time! At the end of the night everyone was sad to see it end which I believe speaks volumes on Josh's performance as a DJ. He helped take a lot of stress off from us as he worked behind the scenes on a lot of things for us. He took extra time to make our venue look beautiful with uplighting, an animated monogram on the wall and beautiful floral lighting that covered our entire ceiling. Our guests loved using his photo booth. His photo booth props are some of the best I have ever seen at a wedding which made using the photo booth even more fun. We were more than satisfied with our experience with Kalifornia Entertainment and I would highly recommend this business to anyone else looking for an incredible DJ for their wedding as well!

Andrea A.

Married on 01/17/2020

Absolutely amazing!

Josh was one of the best parts of our wedding. He went above and beyond what was asked of him. He went around and spoke with our guests and treated them all like family. When my timeline went a little array, he assured me we could be flexible and that there was plenty of time for everything we wanted to fit in. He followed our timeline and music requests to the T. If someone at the venue wanted to play a song that was not keeping in our He was very kind and respectful the entire night! I could not have asked for a better DJ. He was wonderful and even our venue coordinator said he was the best DJ she has ever worked with.

Catherine D.

Married on 01/10/2020

Highly Recommended

Josh was recommended by our venue, wedding planner and photographer. We chose his top package that included reception music, ceremony music, full room uplighting, and his photo and video booth! He did a phenominal job and we received positive compliments from all of our guests on him and his music. When we were planning things, he was easy to talk to, made us both feel very comfortable and helped us with a lot of things we were stuck on! Even though he came highly recommended by our venue, planner and photographer, we still compared a lot of DJ's so if you are currently doing looking for your entertainment...just go with Josh and dont waste your time with other DJs like we did. Josh is a great value for his personality, his experience, his planning, his customer service, his packages he offers and most of all, his talent!
Are you interested?
Send a message