127 Reviews
Recommended by 100% of couples
Quality of service

5 out of 5 rating

Average response time

5 out of 5 rating

Professionalism

5 out of 5 rating

Value

5 out of 5 rating

Flexibility

5 out of 5 rating
14 User photos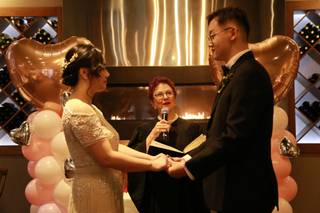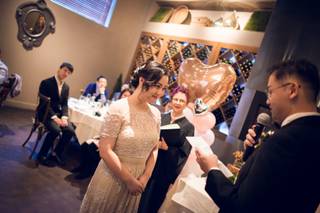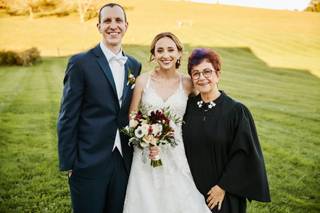 + 10

photos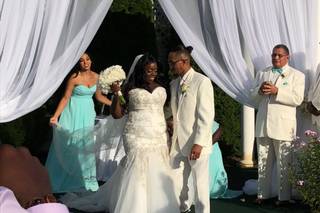 Alesha S.

Married on 03/26/2021

So appreciative

Justice Liz was absolutely amazing. My husband and I got married in May, and our wedding day threw us a pretty significant curveball. JP Liz jumped into action and had no problem officiating our wedding at a location that was not initially planned - and then officiated our second ceremony at our original venue without question. From our first meeting to our wedding day - JP Liz was so helpful and wonderful to work with. I also LOVED her book that she sent after we signed the contract. Thank you so much for everything, Elizabeth!

Holly B.

Married on 08/28/2020

Elizabeth is amazing!!

Elizabeth is by far the best!! She is such a sweet lady – when we met her, it seemed like she was an old friend. She is easy to talk to and takes a lot of time with meetings so you never feel rushed, which is something I value and appreciate. I don't want to spoil any surprises, but when we first met with her, we walked into her office and she did a special welcoming for us – at that point we knew we wanted her to marry us. She is fun, nice, creative, and has great ideas, too! She was a wedding planner for a long time so also gives you tips and tricks on wedding planning. She also gifted us the book she wrote on wedding planning (it's a super informative and cute book)! I cannot say enough great things about Elizabeth. Sadly, our wedding was postponed to next summer due to COVID – Elizabeth has been very caring and understanding throughout the entire process. We highly recommend her and cannot wait for her to marry us next year. I will leave another recommend next year, which I know will be great. But, in the meantime, I wanted to leave a great review, because she has been superb! Thank you, Elizabeth!

Maria C.

Married on 06/19/2020

Simply amazing!

We would highly recommend JP Liz, she made our wedding day intimate and special by taking the time to learn about us. She made the process easy and stress free. We can not thank her enough! We made the right choice with JP Liz!

John and Maria

Are you interested?

Send a message

Yihong J.

Married on 12/01/2019

LIz is the best

Liz helped us so much during the wedding as no one knows how to deal with such an issue. As a Chinese couple in the states, we dont know how to host the ceremony that meets government requirements and fits our needs. Liz helped us identify the main hesitant and provide solutions. Eventually, we did the combination way that we said our vows in Chinese while the other procedures in English. During the whole process, Liz was responsive and very professional. She was able to be flexible for timing and meeting locations. Without her, we could not be able to host the ceremony successfully. Thanks

Lynne

Married on 11/10/2019

Simple, yet elegant ceremony

Justice Elizabeth was a pleasure to work with, we loved the simple ceremony that she helped coordinate for our small wedding, it had all the perfect little details. I'm so happy she was our officiant and would highly recommend her for weddings big and small

Justice Elizabeth's reply:

Thank you Lynne, and Merry Merry Christmas. And Happy Happy New Year! It was a pleasure to meet your parents and perform your ceremony.

Best,
JP Liz

Chanel

Married on 11/02/2019

Highly recommend!

Liz was absolutely amazing! She was our favorite hire for our wedding. Great energy, very friendly and professional. She made the whole process easy and fun and met us several times at a nearby restaurant so it would be convenient for us. Lots of great ideas. Highly, highly recommend!

Genevieve

Married on 10/26/2019

JP Liz is awesome!

JP Liz was so awesome!!!!! From the first time we met her, we knew we were in good hands. She was so easy to talk to and had so many helpful tips and suggestions to make the big day flow smoothly. She met us a couple of times to put together the most perfect ceremony that reflected our love and everything that is important to us. We got so many compliments on the ceremony, and almost everyone told us they were in tears because it was so beautiful! JP Liz was the perfect person to marry us, and we're so happy we found her! We would highly recommend working with JP Liz!!

Alli V.

Married on 10/04/2019

amazing officiant and great customer service

JP Liz was amazing on our wedding day. Not only is she a wedding officiant, but she also has YEARS of experience in the wedding industry and was able to help on my wedding day in other ways as well. She was so helpful throughout the planning process and met with us several times in order to plan the perfect wedding ceremony. She made everything so personalized and we felt an instant connection with her. thank you so much for giving us a perfect wedding ceremony!

Kayla

Married on 09/07/2019

She was lovely!

I originally had asked another JP to do our wedding, but something came up with her and Elizabeth stepped right up to help us! She was great!

Justice Elizabeth's reply:

Thank you Kayla, Happy Happy first New Year as a married couple!
Say hello to Matt and your families. It was a pleasure to perform you ceremony.

JP Liz

Besiana L.

Married on 09/01/2019

Amazing and professional

Liz was absolutely lovely to work with. She has many years of experience in the wedding industry including working as a planner previously which allows her the know-how to make your ceremony so very special. She has a keen eye for details and works closely with the on-site coordinator and vendors so that everything goes smoothly. My husband and I absolutely loved her and were so happy to have chosen her as our wedding officiant.

Justice Elizabeth's reply:

Dear Newlyweds!1 Thank you so much for this wonderful review, I truly appreciate it and wish your Happy New Year! and first holiday as a married couple!

JP Liz

Olivia S.

Married on 08/24/2019

Wonderful experience!

Finding Justice Elizabeth and choosing to have her officiate our wedding was one of the best decisions we made for our big day. As everyone knows, wedding planning can be stressful and I was already anxious when our first officiant unexpectedly backed out. When I first met Elizabeth, she put me right at ease with her warm demeanor and calming personality. She asked all the right questions and gave us many helpful tips with the planning and prepared us for what to expect on the day. Ever the professional, Elizabeth showed up to all our meetings on time and was very prompt with communication. I couldn't have asked for a better experience and highly recommend Elizabeth to everyone I know.

Hillary B.

Married on 06/21/2019

Elizabeth is amazing!

Elizabeth was absolutely wonderful! From our initial meeting I knew she was the perfect match for us. She was so easy to talk to and gave us a lot of creative and unique ideas to make our ceremony special. On my wedding day it was pouring rain (lucky us) but Elizabeth kept me calm and told me to wait out the storm and right before the ceremony the skies cleared! She was such a delight to have around and all of our guests commented on how creative and well organized our ceremony was. She's amazing and I would highly recommend her to anyone!!

Marianne S.

Married on 03/30/2019

5 star experience all the way!

JP Liz is a real pro! She came to our house twice prior to the wedding. First to help us plan the ceremony, and then to go over every detail just before the big day. We love her. She's the best. Smart, well prepared and kind!

Claudia

Married on 12/30/2018

Elizabeth and Nino were fantastic from start to finish! I highly recommend them. My wedding was a dream come true thank you so much Elizabeth and Nino !

Stephanie S.

Married on 12/08/2018

A breath of fresh air. Organized, kind and personal

JP Liz is one of a kind. I was searching for an officiant with something special. I wanted personal, emotional, humor, Structure, and organization. She was all of that and more. We are still getting compliments on how well our ceremony was done. It was truly perfect. Liz understands what a couple wants, and is not afraid to let you know what will work or will not work with your wedding. She made sure we were prepared, organized and on time. We cannot thank her enough.

Stephanie

Married on 12/08/2018

She made us feel like she has known us forever

Let me start by saying that i Know nothing about flowers. When i was thinking anout bouquets i was very stressed because I had no idea what I wanted and this became a very daunting task because I was not as prepared for this as I was with other vendors. When I arrived we went upstairs to chat and come up with a plan. I knew what I did not want. I knew the shape I wanted and that was about it. They showed me different flowers, colors, samples, even put together samples of how certains things would look together. It was amazing. i cannot thank this florist enough for putting my mind at ease. I also was blown away at the price. It was less than half of what both my sisters paid for their wedding flowers. 5 stars for this florist for sure!!

Sharon

Married on 11/17/2018

Experienced Wedding Officiant

We are very happy that JP Liz married us! She has many years of experience officiating and planning weddings and it shows. She helped us plan a ceremony that was the perfect fit for us. She had great ideas and also thought of details/ issues that we had not considered. Thanks for everything, JP Liz!

Colleen

Married on 11/09/2018

Officiant/JP

Elizabeth was excellent! She was very personable and professional and very accommodating. We met on multiple occasions and she made us very comfortable with the ceremony planning process. She did an amazing job at our wedding and we highly recommend her.

Kristen L.

Married on 11/04/2018

Highly Recommended

JP Liz came to us as a recommendation from our venue (Fenway Park). I reached out to her via email and she responded almost immediately. She was very flexible with meeting us and guided us every step of the way. I would highly recommend her.

Jennifer F.

Married on 10/26/2018

We loved liz

We would definitely recommend Liz to anyone looking for a Justice of the Peace to marry them. Liz was so kind from day one and so excited for us! She really made us feel comfortable and we weren't nervous at all for big day because she talked us through our day so perfectly. She met with us multiple times and did a very detailed rehearsal so everyone knew what to do and where to stand. She was just amazing!

Jason

Married on 10/06/2018

We got married on 10-06-18 and Liz was our JP. she made our ceremony so special and personal while providing us with a very fair price. she made the ceremony perfect

Woodline

Married on 07/28/2018

Elizabeth is one of the most incredible person you'll ever meet. She is definitely an accessory to making your BEST day perfect. She's so kind, understanding and most of all the sweetest. Everything I wanted or had questions about she made sure to clarify. It was all about what the brides wants the bride gets. Love her to the moon and back!

Lucy

Married on 06/09/2018

Justice of the Peace Liz is one of a kind. We spent many months looking for the right person to officiate the most important day of our lives and when we found JP Liz we felt blessed. Her energy and extreme care for ensuring she could tell our story in a genuine way made our ceremony one we will never forget. She gave us lots of options to choose from so we could add special touches. She was highly prepared and looked really professuonal. She had everything under control and radiated confidence and genuine happiness to officiant our big moment - Our guest commented how amazing JP was and how much they enjoyed the ceremony above all things throughout the day. JP Liz will forever be at the center of our cherished memories. Alex and I highly recommended JP Liz.

Carrie

Married on 03/17/2018

Liz was great! We met a few time to go over exactly what we wanted and it was perfect

Sharon

Married on 01/01/2018

Elizabeth was wonderful. Ceremony was perfect, couldn't have asked for anything more, she truly made our special day special and memorable!
Are you interested?
Send a message