Reviews
5.0 out of 5 rating
Quality of service

5 out of 5 rating

Average response time

5 out of 5 rating

Professionalism

5 out of 5 rating

Value

5 out of 5 rating

Flexibility

5 out of 5 rating
100%
Recommended by couples
3 User photos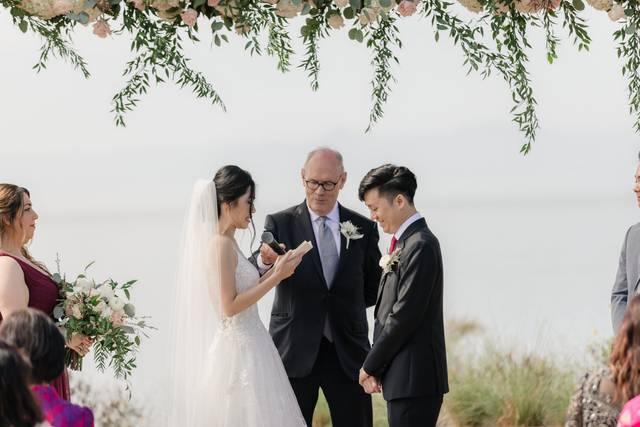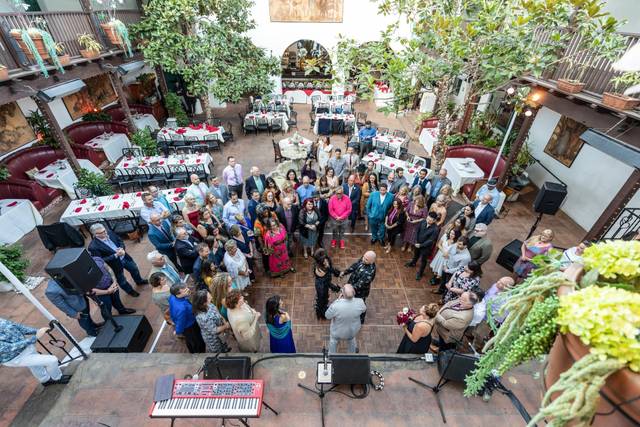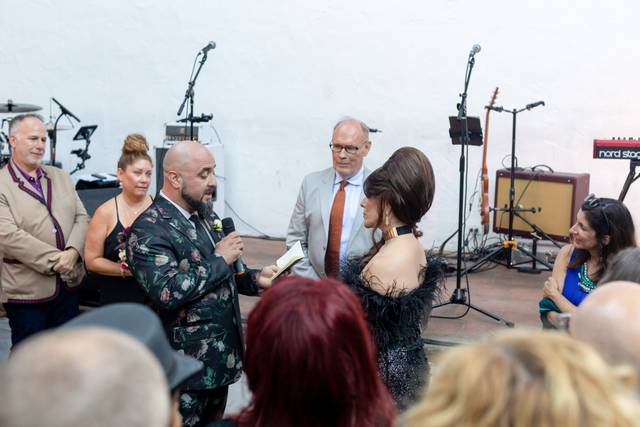 Sandy T.

Married on 07/31/2022

Amazing, Professional, Delight

JP was amazing from the beginning of our journey up to the wedding day at Terranea. My husband and I met JP 2 years ago since our wedding was postponed twice due to the pandemic. He was always there and ready to meet with us virtually with any questions we had. He has a ton of knowledge and very friendly.
The whole ceremony turned out beyond our wildest dreams. To this day, we still cannot believe how beautiful the entire process was. Every little detail from JP's heartfelt words to the calming vibes he provided was better than we could have ever imagined. With how anxious we both were for the day, he definitely played an essential role in helping us just enjoy the day together. An extra thanks to you for making our dream wedding a reality and a day to never forget.

Amy H.

Married on 07/30/2022

The Perfect Officiant!

JP is the perfect officiant. He made our wedding so memorable! So many of our guests complimented about our ceremony and how beautiful it was. He is so friendly, organized, and professional. He has a kind, but clear and confident voice. We had a couple of Zoom meetings throughout the whole wedding planning process to go over the what we had envisioned for our wedding and the logistics of each step. JP was able to walk us through each step and was receptive of our interest in a dove release for our unity ceremony and also to add in parent appreciation as it was important to us. Everything was clearly planned out so that it went very smoothly, we did not have to think or stress too much, and our photographer was able to capture each moment clearly. We're so happy to have had JP be part of our special day! If anyone is looking for an officiant, check out JP!

Ashley

Married on 04/28/2022

JP is wonderful!

We had the best experience hiring JP as our officiant. He is super responsive on email and we scheduled a consultation. From the moment meeting him we knew he would be the perfect officiant for our wedding. He took his time to really understand what we were looking for in a ceremony and tailored everything to fit our needs. We received so many compliments after the ceremony about how impressed they were with JP. JP is a must!

Are you interested?

Send a message

Natalie H.

Married on 10/30/2021

Heartfelt and Meaningful Ceremony

We feel so lucky to have found JP in our search for an officiant, not only was our ceremony heartfelt and meaningful but also flawless. In our discussions with JP pre-wedding, we truly enjoyed speaking with him and knew he was the perfect officiant for us because of how friendly, engaging and kind he is. Our guests were blown away by how beautiful the ceremony was and truly touched by his words. We felt completely at ease standing at the altar as his presence is very calm and reassuring, and he does a fantastic job with the cadence and timing of all aspects of the ceremony. We cannot recommend him enough!!

Olivia

Married on 10/01/2021

Great Officiant

He was really great and made both my husband and I more relaxed during the ceremony. Many of my guests came up afterwards and said how much they enjoyed his ceremony. He did exactly what we asked and it was really great having him apart of our special day!

Erica

Married on 10/10/2020

The Best Choice You Could Make

JP Reynolds is an absolute professional when it comes to officiating a wedding. JP took the time to get to know us, helped us plan out the wedding ceremony from beginning to end, was incredibly responsive whenever we had questions or wanted to change an aspect of the ceremony, guided us in regards to the marriage license, and delivered an incredible ceremony. Every person who attended our wedding complimented what a fantastic job he did and how much they enjoyed the stories and wishes that he provided. If you've confirmed the date of your wedding, JP Reynolds should be one of the very first vendors that you contact. We could not be happier with our wedding ceremony, and JP was a tremendous part of that. We would recommend him to every engaged couple.

Trevor I.

Married on 08/02/2020

Our Palm Springs Wedding

JP was beyond our expectations. My wife and I felt extremely comfortable up there; we did a circular ceremony so the concept seemed overwhelming at first with 200+ people around us but we couldn't of enjoyed it more with his calming words & energy up there. We even had a special request on the specific timing of saying our "I Do's," but we knew that it wouldn't necessarily be perfect given such demanding requests…but low & behold JP somehow timed it to the minute and made the ceremony absolutely PERFECT at 4:55pm! We had endless compliments from religious and non-religious guests on the job that JP did officiating our wedding. JP does a fantastic job of relating the ceremony to everyone present, regardless of beliefs. We highly recommend using JP, he is more than welcome to help and meet with you as many times as you want in preparation for your wedding! Unlike a lot of professionals out there.

Adam B.

Married on 10/19/2019

Awesome Officiant!

JP was an incredible officiant to work with. My (now) wife and I could not have been more happy with how our ceremony turned out! For the planning phase, JP is with you throughout the whole process providing invaluable advice and suggestions so that you are able to make your ceremony something truly special. He really puts in the effort to get to know the couples and we were so happy to be able to meet with him multiple times before the wedding to put our minds at ease. As for the actual ceremony, he is a special and heartfelt officiant with all the right words. We had multiple people ask us how we found him, because he was the best officiant they had ever heard. We highly recommend JP as an officiant!

Veronica P.

Married on 10/13/2019

He's 'the' guy!

Perfection, Real, True, Profound, Honest, Sincere … Our ceremony was the most important part of the wedding for us and JP NAILED IT! It was 'US'. Every aspect, every moment was full of love and reflected the complete essence of who Mike and I are as a couple. I say this in the best way, JP stole the show - not by being gregarious or over the top, but by just being him - a serene and beautiful person with an incredibly peaceful presence. All of our guests, all night long, kept saying, "That was the best ceremony I've ever witnessed. Where did you find that guy?! He was the best officiant ever!" … Truer words could not be said. JP Reynolds is the best officiant ever. Hire him! Don't even think twice. He's 'the' guy! We love you JP!

Mia G.

Married on 04/06/2019

JP Reynolds: The Officiant Of Our Dreams!

My husband and I came to JP with a myriad of asks in mind for our big day. My husband was especially particular about finding the perfect officiant; he had a Catholic upbringing and wanted a very meaningful ceremony, but did not want the stodgy feel that can sometimes accompany these mass-type ceremonies. Our ceremony was outdoors, and we wanted it to feel very positive, very upbeat, and be personalized to us and our story. From the moment I came across JP's website, I knew I couldn't wait to speak with him and see if he was the right fit for our day. His website stood out from the rest and I had a very good feeling that he would be able to give us the exact ceremony we were after, based upon what he presented. We wanted a ceremony that was not at all cheesy, was not gimmicky, was not canned, but was real and authentic to us. When we spoke with JP on the phone and met with him in person afterwards, our connection with him was immediate. He put us at ease and his presence actually felt familiar. We were so grateful that he was available for our day and booked him immediately. He is incredibly detail-oriented and, after getting to know us and what we were looking for, he took us through the entire ceremony, and explained each part. Our asks were unique, in that we wanted to exchange the traditional vows, but also wanted him to incorporate our sentiments to one another in the ceremony, but with one caveat: we did not want the pressure of saying them out loud. A true master of his craft, JP wove together a beautiful beyond words ceremony that expertly granted all of our wishes. His flexibility and creativity with our unique meets timeless ceremony is something we are very, very grateful for! His presence that day was calming and special alike; he arrived over an hour before the ceremony to make sure Chris and I were prepared and knew exactly what we needed to do. Every single one of our guests that night commented on what a memorable and beautiful ceremony it was. They all told us how much they enjoyed it all, and how real it was. Some of our friends even said that they stopped taking pictures and put their phones down because they wanted to take it all in. My uncle even asked JP afterwards it he was related to my husband, because it seemed like he knew us so well.

JP was an integral part of making our day as perfect as it was and we are forever grateful to him for truly setting the tone of the entire night with such a thoughtful and magical ceremony.

Jennifer

Married on 10/27/2018

Beautiful Ceremony!

The ceremony at our wedding was so special, and JP was a part of that. He helped guide us through the process of how our ceremony should be structured, and curated to be personal while combining some traditional Jewish elements. The beautiful words he shared with us that day were really lovely, I'd definitely recommend JP!

Sydney

Married on 09/15/2018

Incredible officiant, perfectly unique ceremony

Cannot possibly express how amazing JP is! We got married in Joshua Tree but we live in Chicago. We met JP once in person but also had a few Skype meetings with him. He provided some sage advice on writing our own vows, asked thoughtful questions which gave him great insight into our relationship and was willing to perform a cultural tradition we wanted incorporated during our ceremony as well. He crafted a ceremony that was heartfelt, thoughtful, and captivating for the audience. He managed to include the audience in the ceremony, which we loved. And he shared the most amazing/applicable words of good cheer as well. He is well-spoken and professional. The ceremony flowed perfectly. You won't regret hiring JP!

Diana

Married on 03/16/2018

It was such a pleasure working with JP. We were lucky enough to have met him through my cousin, who he also officiated. He has a kind heart and genuinely cares for his clients and their big day. He is a seasoned officiant but he's far from jaded; he loves what he does and it shows. We knew he was going to be our officiant after our first consultation. He was very easy to talk to and answered all of our questions thoroughly. On the big day there's so much happening around us, but JP's presence really set the mood and helped calm our nerves. We couldn't have asked for a better officiant. We love JP and would recommend him to all of our loved ones.


Misty

Married on 12/17/2017

JP created a beautiful wedding ceremony for us, it was everything we wanted. He did an incredible job and we are so happy with how the ceremony turned out. Before we met JP, we thought we needed a family member or friend to officiate our wedding ceremony in order to make it personal enough. We were torn about what to do. We aren't overly religious and wanted our ceremony to still have tradition and meaning. After meeting JP, we knew he was the right person. JP was willing to meet with us in person, via Skype/phone, and even at his home. He was very prompt with his email replies. On our wedding day, he didn't read from a prewritten script. He remembered our loved ones names and the flow of the ceremony was seamless. The ceremony was perfect, at least for us. It was personal, meaningful, and reflected us. Our family and friends complimented our ceremony and how he did such an amazing job. It was such a pleasure working with JP!

Frances

Married on 10/21/2017

JP is exceptional. He took the time to help us prepare for our marriage and walked through all of the details in advance which helped calm our nerves on the actual day. His words during our ceremony were very touching both for us and for our friends and family. Thank you JP !

Kayla

Married on 10/08/2017

JP was truly the perfect touch for our wedding, which was held in Santa Barbara, California. I met JP at a conference for the wedding/event industry and instantly knew he would be perfect to serve as our officiant! My fiancé and I traveled to California from Louisiana for our wedding and of course, choosing an officiant was SO important to us. JP surpassed all of our hopes and dreams. He listened to us and made our ceremony perfect! JP's ceremony was so heart-felt! His kindness throughout the process was icing on the cake! JP was wonderful in every aspect!

Diann

Married on 07/15/2017

JP was a warm, kind, funny, knowledgeable, reassuring guide throughout the process of planning our ceremony (really, the most important part of the wedding!) He helped us craft a truly personalized ceremony and, on our wedding day, his wise words on commitment and marriage had me bawling within 30 seconds.

I should also mention that JP is a consummate professional. He walked us through the entire formal/legal process of actually getting married, mailed in our paperwork for us, was very responsive when we emailed/called with questions, etc. -- I highly recommend him and am only sorry that I don't have more reasons to hire JP!

Susan

Married on 07/03/2017

JP was an amazing officiant. He has done hundreds, maybe thousands of weddings. When we met with him the first time, we knew he was the right one for us. He spent time talking to us to really learn who we were and what we wanted for our wedding. He talked us through every single step of the day and made sure we picked readings, rituals and people for the ceremony that had the most meaning for us. The day of the wedding he orchestrated everything and made sure everyone knew where they were supposed to be at what time.

Picking the right officiant is often overlooked as not a critical part of the wedding, but I think it is THE most important part of the ceremony. We wanted a professional who could guide us through the process and make sure that everything was just how we envisioned it, and JP delivered on all accounts. Every one of our friends and family shared that this was the most beautiful ceremony they have been to (and I don't think they were all just saying that). They said that the ceremony truly reflected both of us and each of our personalities. I know that is because of JP and his ability to understand us and what we wanted to accomplish. We enthusiastically recommend him!!!

Paige

Married on 10/28/2016

JP was the perfect officiant! He was professional, friendly, and we
connected right away with him. The ceremony was short and sweet, and
flowed exactly how we wanted it! I would highly recommend him!

Ellie

Married on 10/09/2016

My husband and I first met JP via Skype, as we planned our wedding from out of state, and RIGHT away we knew he was the perfect fit for us. So easygoing and easy to talk to, clearly experienced, and full of ideas and suggestions without being the slightest bit pushy. Our first in-person meeting wasn't until a week before the wedding, but he still officiated the wedding as if he'd known us forever. He told our story beautifully and the entire ceremony was a PERFECT representation of the two of us. Guests were commenting all night (and to this day) on how moved they were by his words, his delivery, and how it seemed like we'd known him forever. It made our wedding day that much more powerful and meaningful, and we couldn't have asked for anything more. Truly a natural at what he does. Thank you, thank you, thank you JP for your amazing work!!!!!

Sarah

Married on 06/24/2016

JP is just wonderful! He is warm and friendly, and a calm presence on the wedding day. He was open to all of our requests and ideas, and he made planning our ceremony simple and stress-free.

Millicent

Married on 05/14/2016

We loved him, guests loved him. JP was so accommodating. He met with us whenever we needed, gave us plenty of suggestions for readings and vows, and was overall just a pleasant human being. So glad we snagged him! And yes, he moved out of the way for our first kiss! He is very reasonably priced.

Annika

Married on 04/29/2016

We didn't want a religious ceremony, but still a deep and inspirational one. JP gave us exactly what we wanted. Many of our guests commented on how lovely it was. We felt the same.

Peggy

Married on 04/23/2016

We couldn't be happier to have found JP Reynolds to be our wedding officiant! Our ceremony was even more special with his words to us and our guests attending. From the beginning, JP was helpful in every way as we made our plans. He provided us with all the information we needed for the marriage license and guided us with our personal vows. Most of all, we appreciate his genuine happiness for our love, marriage and future.

Maraiah

Married on 03/08/2016

JP is without a doubt the most incredible person and officiant we have ever met. He is kind, warm, sophisticated, funny,... the list goes on and on. He perfected our wedding and his words came from the heart. He is more than we could have ever wished for, a dream come true. We are truly honored to have had him perform our ceremony and make our special day beyond memorable.
We adore him and highly recommend him!
Are you interested?
Send a message