161 Reviews
Recommended by 96% of couples
Quality of service

4.9 out of 5 rating

Average response time

4.8 out of 5 rating

Professionalism

4.8 out of 5 rating

Value

4.8 out of 5 rating

Flexibility

4.8 out of 5 rating
52 User photos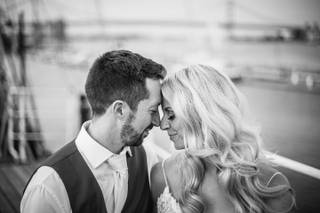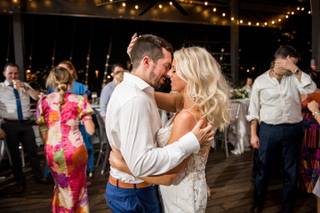 + 48

photos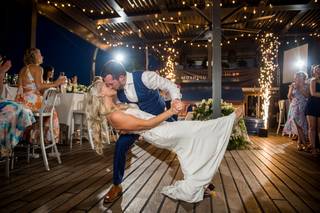 Erica S.

Married on 07/23/2022

Highest recommendation for Chloe Geiger!

I am extremely grateful that I chose Chloe Geiger and JPG Photo to capture my wedding day. Cindi Landmesser, the Studio Manager at JPG, is extremely responsive and organized, which immediately made me feel like we were in good hands for our wedding photos. Cindi provided us with the portfolios of several phenomenal photographers to chose from for our wedding photos. We ended up selecting Chloe Geiger, based on her dramatic, romantic, and genuine photography style. From our initial hour-long phone call, it was obvious to me how passionate, detail-oriented, and talented Chloe is as a photographer. She took the time to get to know me and my now husband, so she could capture our personalities on our wedding day. Chloe clearly communicated with us and promptly answered all questions we had throughout the process of wedding planning. My husband and I were impressed by how little guidance we needed to provide Chloe before we felt extremely confident in her ability to capture our celebration. Without even needing to provide Chloe with a "shot list" of the pictures we wanted, the photos she took absolutely exceeded all our expectations. Chloe was also totally on board for my idea of doing a bridal boudoir photoshoot instead of the traditional getting ready pictures. Throughout our wedding day, Chloe was a relaxed presence. She coordinated with our DJ to ensure that our day-of timeline was executed perfectly and so she didn't miss a photo opportunity. She provided us with a preview of our wedding photos just 5 days after our event. Chloe is a true talent, and we will cherish the beautiful memories she captured from our wedding day forever. I can't recommend Chloe and JPG Photo highly enough!

Chloe Geiger: @chloeelmerphoto
JPG Photo: @jpgphotovideo

+ 8

photos

Brittany M.

Married on 12/10/2021

All around great company!

I am truly blown away by this company and cannot say enough about how wonderful they are. We initially signed a contract with JPG in 2019 for a 2020 wedding and it was cancelled because of Covid. Aside from Covid, 2021 took us down a sideways path making it very difficult to reschedule and Joe and Cindi accommodated us in every way that they possibly could while waiting for us to give the green light!
We had the pleasure of Joe and Adam joining us for our wedding and they made our day perfect! The two year wait was worth it and you were both truly exceptional. Joe came to our rehearsal dinner the night before to meet my husband and I before the wedding and upon meeting him I knew that we picked the right photographer. He was on top of it all. I am totally awkward with posing and my husband just is not a picture guy and Joe captured some of the most beautiful photos that night. Joe was also my wedding buddy for the day and Adam was with the groomsmen to start. Joe showed up with a special goody bag and 2 sneak peak photos that he captured the night before. Joe and Adam, my friends, you are both saints with more patience than I will ever have. There are so many personalities that they encounter and they adapted to each and everyone so naturally, professionally and for those of us who love the banter, they brought their sense of humor. We were running behind on our way out, but it didn't compromise their professionalism and ability to remain collected, while still moving along the bridal party and families when it was stressful. On top of it all, they are down to earth, hilarious and absolutely a crowd favorite. Our guests pulled us aside to tell us how great our photographers are. The one thing that I loved the most about both Adam and Joe is that they checked in to make sure that we were both happy and to make sure that they were capturing the moments most important to us. Since I was with Joe all day, I will close my long winded review on this- While Joe works his magic behind the scenes, I really would have lost my composure without him being by my side at times. I truly can't say enough about how incredible things about his talent and his ability to connect with the entire room. Thank you for everything!



+ 5

photos

Danielle L.

Married on 10/02/2021

Highly rated for a reason!

We have nothing but amazing things to say about JPG's photography team! They are professional, great with communication, flexible with your requests, friendly, and so so talented! Our main shooter was Justin and our second shooter was Casey. They were a perfect team that captured our day in the most perfect way. We highly recommend JPG for all your wedding photography needs!

+ 10

photos

Are you interested?

Send a message

Rachel W.

Married on 09/26/2021

Jpg is the best out there!

Joe and the entire JPG team exceeded our expectations in every way. Our original wedding date was in March 2020 and when we realized we had to make a last minute change and get married at our rehearsal dinner, Joe helped us make sure every special moment was captured and made us feel confident in our decision. Our pictures and video turned out better than we ever could have imagined and truly captured the magical time. Joe and his team are extremely talented at capturing the raw emotion and making memories come to life. We received our preview photos quickly and we were even featured in philly mag to share our unique story thanks to Joe! When it came to planning our rescheduled reception and celebration, JPG was willing to work with us on a new venue, date, timeline etc. The JPG team went above and beyond and it feels like they are part of our family! We can't wait to use them for future occasions.

https://www.phillymag.com/philadelphia-wedding/2020/03/16/coronavirus-canceled-wedding/

Shruti P.

Married on 09/18/2021

Phenomenal

From the first conversation we had with Joe to the wedding weekend, we were truly impressed. They know how to capture the right moments that will give us a lifetime of memories to share with our families. Joe and his team are professional and also know how to get you to be comfortable. I still can't believe I am me in some of the photos they took, honestly phenomenal.

Linda Y.

Married on 07/03/2021

So happy with everything

We loved this vendor. They did an excelled job. So professional and experienced. Thank you so much for your wonderful service.

Victoria

Married on 06/28/2021

Amazing Videographers!

We booked JPG Photo & Video to videograph our wedding after we watched a wedding video they did for people we had never met, and it moved us more than we'd like to admit. It was hands down the best wedding video we had seen. That is, until we saw the one JPG made for us. They captured the most perfect moments to create a truly stunning highlight, and it is above and beyond what we could have ever imagined. We're biased, of course, but it seems like JPG consistently tops their own best work.  We had the absolute pleasure of having Naomi as our primary videographer.  She blew us away with her work, creativity, and kind spirit. If nothing else, JPG's professionalism and pleasantness are enough reasons to work with them. Especially for an event where those things matter most. Needless to say, we would choose JPG over and over again. 

Lauren G.

Married on 06/19/2021

Would Confidently Recommend to Anyone!

We had the most amazing experience on our wedding day with Joe G. and his fantastic team! Joe not only captured our day better than we could have ever imagined, but he also doubled as a comic relief when nerves were high, making my husband and bridal party feel completely comfortable. We loved working with Joe and have since recommended him and his all-star video and photo team to multiple couples.

April L.

Married on 09/20/2020

Best team ever!

I cannot say enough good things about Joe and his team! Right off the bat, Joe and I clicked right away during our first phone call. He totally understood my vision of what I wanted and executed it more perfect than I could have ever imagined. Besides our wedding, Joe did two other shoots for me. My boudoir and a cute Photoshoot with myself and my best friend. During the boudoir shoot, I was SO comfortable and not nervous at all. The photos came out so beautiful and exactly how I had envisioned them. On the day of our wedding (and even for weeks after), we kept getting compliments about how dedicated this team is and how "on top of it" they were. They got photos that I didn't even know were being taken, and I'm so glad they were. They were so fun to work with and made everyone feel great! We will be looking at these photos and videos for the rest of our lives and I'm so glad JPG was the team to do them.

Kaylee T.

Married on 10/12/2019

Unparalleled!

My husband and I are so thankful we picked JPG for our engagement and wedding photography and videography. Joe and his team were incredible to work with. There are three main things that really stood out to us. First, us and our bridal party had so much fun with them over the course of our wedding weekend. We were laughing constantly with them- they made it easy to keep smiling through the endless photos! Secondly, we loved our venue but the surrounding area did not give them too much to work with photo-wise. The team's creativity really came through though, you would have never guessed some of our photos had I-95 in the background! Lastly, we ran into an issue with our late-night food vendor during the reception, and Joe's team came to the rescue to make sure the food arrived for us. Not their job, but they bent over backwards to make sure there was no stress for us. We are so lucky to have a team that went above and beyond! Thank you JPG!

Lauren

Married on 09/21/2019

Amazing experience

My husband and I couldn't be happier with the experience we had with JPG. I am not the biggest fan of having my picture taken but their team made it fun and we had a blast with them on our wedding day. The quality and creativity of photos was beyond what we imagined. Joe did an amazing job at capturing our personalities and taking the time to understand who we are and it really shines through in our photos!

Kimberly

Married on 09/07/2019

Highly recommend

My husband and I could not be more pleased with our experience with JPG! From the first point of contact to recently getting our photos back, it was seamless and easy all the way through! We chose Justin as our main photographer and he was incredible. We don't really like getting our picture taken and he made it so much fun, and in turn was able to capture who we are as a couple. We didn't have any specific shots we wanted, but we trusted Justin to know what where photos would look best, etc. He and the entire day of team really added to our day and it wouldn't have been the same without them! Our photos turned out BEAUTIFUL and we couldn't be happier. The staff at JPG is amazing and so helpful and any time we decide to have professional photos done in the future, we will be calling them!

Jill A.

Married on 07/06/2019

Captured our day perfectly!

JPG Photo & Video did the videography at our wedding and it turned out perfectly! They came highly recommended from friends and I have since passed on the sincerest recommendations to other brides. Their team worked in the shadows of the day capturing everything but not disrupting the flow or duplicating poses/ time we were already spending with our photographer which is exactly what we wanted. The highlight video and full feature ceremony and reception films turned out great and captured all the details of the day that we forgot. I highly recommend using JPG!

Zeynep K.

Married on 06/08/2019

Wedding photography at the Sofitel

My husband and I strongly recommend JPG photography for any special occasion. We also think that they offer a competitive price. What makes JPG a better option is that their journalistic style of photography resulted in such great and fun photos. We worked with Chloe on our wedding day at the Sofitel and she is such an amazing, talented, creative and kind photographer to work with. She perfectly understood what we had in mind and took photos that have great color, vibrance and mood. We had more than 200 photos and it was very difficult for us to choose which photos to print because they were all perfect. All our family and friends loved the photos so much that now my mother thinks that we should have JPG again in future whenever we celebrate an important occasion. To be honest, I will be certainly reaching out to Chloe again and would love to have her talent turn every moment into long-lasting, glorious photos.

Rachel W.

Married on 03/09/2019

Phenomenal!

JPG was incredible to work with for our recent wedding. From rehearsal dinner the night before to late night at our reception, Joe brought a unique energy, sense of humor, and tremendous creative talent to the process. Our pictures are outstanding and we truly had so much fun shooting them with him and his team!

Debbi

Married on 03/09/2019

Debbie from Lafayette Hill

Joe at JPG was absolutely amazing!! We had a bit of a time crunch and he was completely unflappable. He's incredibly creative and the pictures are outstanding. I would totally recommend him.

Thai P.

Married on 11/10/2018

Stunning, creative photos paired with warmth

Have Joe and Becca there for our wedding day was like having another friend come along on our crazy, wonderful journey.

They truly captured the essence of who we are as a couple and as a family, from beginning to end. We knew the place we chose (mountain top) was beautiful on its own, but they managed to find even better spots and more incredible shots than we could have even imagined. What looked like an ordinary golf course and bench, for example, turned into this gorgeous fall foliage field. They experimented with drones, giving us these unreal artistic shots, but the heart of who they are was taking photos of our special moments -- tears, laughter, love, dancing and all. And they froze their butts off with us to get it done in unseasonably cold weather!

Plus, damn, they are well-oiled machines, with such organization and precision to make sure we got all the photos we wanted without having to spend a lot of time away from the celebration.

We could not recommend JPG Photo & Video enough. So many people have already commented that these are hands-down the most beautiful wedding photos they've ever seen. Kind, personable, organized, professional, creative and artistic.

Stephanie

Married on 10/20/2018

Highly Recommended!

Everyone from the photographers to the staff at JPG was great to work with. All of our questions were answered quickly and efficiently. Justin and his assistant (Pat I think? Amazing the things you forget on your wedding day) were great to work with. Justin worked around the fact that we aren't the "posing" type people. He was in and out of the crowd all night just snapping away. Our engagement pictures were awesome and our sneak peek of the big day is AMAZING. I can't wait to see the rest of the pictures!

Kelly J.

Married on 10/19/2018

Highly recommend

My husband and I HIGHLY recommend JPG Photo & Video! Joe and his team certainly exceeded our expectations! Having them document our wedding day was one of the best decisions we made. They are a fun, creative, energetic group of people who are truly passionate about their work. The actions shots were our favorite, we feel like we are reliving our wedding every time we look at our photos. Joe definitely knows how to tell a story through his work! We absolutely recommend getting the highlight video. One word, AMAZING!! We hope you love JPG as much as we do!

Ivy

Married on 10/13/2018

Highly recommend!

JPG was recommended to us by Cescaphe and we couldn't have been happier with their responsiveness and work! Joe did a great job photographing our rehearsal dinner- in addition to being incredibly friendly he took wonderful candid shots and made sure to get great footage of everyone. We also used JPG for our wedding videographer and excitedly await the end product!

Regina B.

Married on 09/15/2018

Highly Recommend!

Working in the industry, I have seen the magic that JPG creates in their videos. Their video quality is unbelievable. Their ability to edit and enhance videos is outstanding. Since I work in the marketing department at Springfield Country Club, I was not only planning the videographers for my wedding, but also planning video marketing promotional pieces as well for the country club. After getting off the phone with Joe, we were ecstatic about all the ideas we had for both videos. My contacts for the day were Laura and Gustavo. I had originally met Laura before when she had videoed my cousin's wedding and even then I thought she was amazing at her job as well as an amazing person. Both Laura and Gustavo were absolutely phenomenal. They were down to earth and fun yet professional at the same time. During our call, they took the time to understand and make note of what we wanted to capture on our wedding day. It was a long day with a strict timeline but they made everything flow smoothly and comfortably for all of us. They did an incredible job of capturing formal shots, candid shots, dancing shots, venue shots, etc., all while being "invisible". When we saw the highlight video, it was like we were reliving our wedding day all over again. They really captured us as a couple, which may or may not have sparked some happy tears. We cannot thank JPG enough for capturing our wedding day absolutely perfectly. We highly recommend them.

To everyone from JPG who was apart of the process, Jeff and I are extremely grateful and appreciative for all of the hard work, time and effort that was put into making our wedding day unforgettable. Our hearts are so full every time we watch the video. You all are amazing!


Michelle

Married on 12/22/2017

Having JPG Photography document our wedding day was easily one of the best decisions we made! My husband and I cannot stop talking about how amazing the workmanship is and the experience we had working with the JPG team. Joe, Tom, and Meg made us so comfortable on the wedding day and were also extremely fun to be with! The service provided and quality of their work is absolutely amazing!! Joe gave us a little preview of our photos and we were absolutely stunned at how gorgeous the shots are! We are two people who typically hate the outcome of our photos, but we were absolutely in LOVE with what we saw and it felt amazing to see! Many guests have been raving about the preview they saw too and how amazing the photos were compared to most wedding photos you see. If you want gorgeous photos done by creative, genius minds, JPG is 100% the way to go!! We could go on and on... we hope to work with Joe and his team again in the future!

Jeanette

Married on 11/18/2017

I have experienced Joe G as a wedding photographer THREE times in the past 8 years: my BFF's wedding, my cousin's wedding, and my own! I never knew who I was going to marry but I always knew that Joe would be my wedding photographer! Joe's pictures were the best that I've seen since 2010. His photos are of the highest quality, stunning, FULL OF EMOTION, and heartwarming! The candid photos are breathtaking! We have gotten so so so many compliments on our engagement and wedding photos. We could not be any happier with the pics and with Joe and Brandon! I often go back to look over all the pictures to relive our wedding day lol! They did a fantastic job...We love how many candid pics they took of our guests as well! Joe and Brandon have so much personality and were so fun to work with. I can be super awkward being in front of the camera and posing but Joe and Brandon made it so easy and comfortable for us. They were also so flexible and cool about taking so many unplanned portrait photos with my huge family. We really appreciated that! I don't think we can write enough to truly portray how awesome JPG is (the most artistic, professional, fun, genuine and kind)! Thank you Joe and Brandon for everything!!

Luis

Married on 10/27/2017

A big shout out to Adam Nettleton and Joe from JPG Photography. Can't say enough good things about these guys!! From listening to us to putting up with us ( we re- scheduled photo shoot a few times) to ensuring we had the best time on our big day. They were extremely professional, responsive, but most importantly PASSIONATE about their work and the couple. Thanks for being a part of our journey.

Harry

Married on 10/07/2017

Having seen how Joe G and his team captured our Molly and Andrew in their engagement shoot, we're very sure that the images and video of the wedding are going to be special; so this review is not about the work product, it's about the people who did the work.There are so many small, sometimes intimate things that happen during the course of a celebration that one remembers long after. When some involve the photographers, and we had that, you know you're working with a special group. On what was an incredible celebration of family and friends, Joseph and his team added to the night. Let's face it, getting the pre-ceremony pictures done and done on time can be stressful. Racing to a 6:30 ceremony start with a number of family shots could have been rough, especially with folks on edge to begin with. Joseph and his team got us through all of that with a little prodding, a little humor and a touch that understood all that we were feeling before the wedding. All of us, JPG included, were all smiles when we just had the ceremony and party in front of us. I know Joe and his team were all over the ceremony and the party but only because I saw a few pictures afterwards. At the time, they were so unobtrusive as to seem invisible. We were left to be in the moment of both. These folks know what they're doing, how to get it all done well and they had a relationship with our bride and groom that had them very comfortable. The previews shared have just been wonderful. While we can't wait to relive the night through their pictures and video, it was a pleasure to have them with us during such a special night.
Are you interested?
Send a message