32 Reviews
Recommended by 100% of couples
Quality of service

5 out of 5 rating

Average response time

5 out of 5 rating

Professionalism

5 out of 5 rating

Value

5 out of 5 rating

Flexibility

5 out of 5 rating
Awards
10 User photos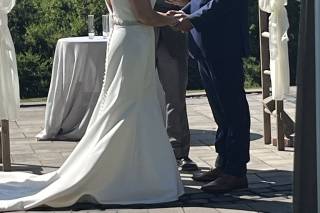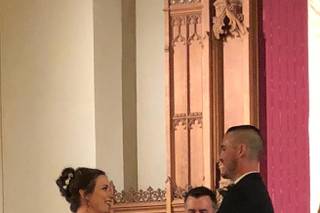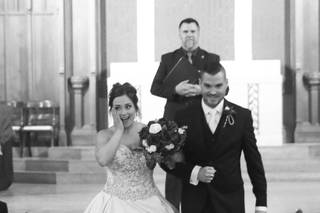 + 6

photos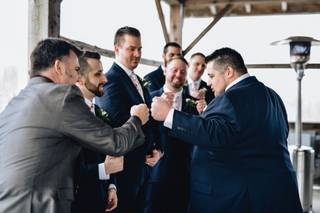 Stephen H.

Married on 07/30/2022

Wedding Savior

Dale is an extremely professional, responsive, and positive individual. Being able to officiate weddings and having done so in CT, I figured I would be able to in MA without any issues. Unfortunately I was wrong and with only 1 day prior to the wedding, I was stuck and Dale came to the rescue! His expert knowledge of the MA laws pertaining to performing a lawful marriage, he provided a solution to a situation that could have been devastating for the wedding couple! His flexibility allowed us to resolve the issue in a matter of hours rather than days or even weeks! His understanding of the pressures of a wedding can have on couples put everyone at ease and he was able to fulfill the dreams of two very special people without missing a step in the process! If you want to have the best wedding possible, I highly recommend contacting Dale and I know you will not be disappointed! It will be one of the best decisions in your wedding planning you can make! Not to mention the inexpensive cost is well worth the value and then some!

JP Dale D.'s reply:

Thank you so much Stephen! Happy to help. This is a great lesson for others to really dig in to the legality of officiating and I am happy yo help navigate the rules.

Cristina R.

Married on 07/09/2022

Wedding day JP

Dale is so much fun to work with. The first time we spoke to him on the phone, we knew we had to book him. We never spoke to another JP, just Dale. His personality shows, even over the phone. He makes sure that couples can personalize their ceremonies. We did a sand ceremony for our newly blended families. It made the kids feel more involved. Definitely recommend him!!!

JP Dale D.'s reply:

So sincerely appreciate the review here Christina. You and Fabio were so great to work with and the weather and view that day were just perfect! Your personal vows were such a great representation of your personalities, and I think everyone there was touched by your words. Thank you for choosing me and for asking me to be a part of your big day!

Danielle G.

Married on 02/11/2022

BEST JP around!

Dale is the BEST Justice of the Peace! He has a charismatic presence with an impressive projecting voice that gives your ceremony an excellent presentation.
He has so much experience and it truly shows. Dale also is organized and excels at paying attention to all the little details. He knew what to check in with us on in preparation as well as everything he needed to instruct the bridal party to do to ensure a seamless ceremony. Even down to how to hold your hands so your photos come out perfectly. These extra efforts were so appreciated and showed his dedication to what he does!

JP Dale D.'s reply:

So appreciate the kind words and you taking the time to write the review Danielle! Your ceremony twist and Patrick's selfless act was truly something that I will never forget. Please stay in touch!!!

Are you interested?

Send a message

Stephanie V.

Married on 10/24/2021

Choose dale! Look no further

Dale is incredible. His charisma is off the charts. Dale was everything we were looking for in an officiant. Dale was organized, professional, and made us feel so comfortable. We instantly connected over the phone, and even more in person at our rehearsal. We never felt lost or unsure. He was always there to guide us when the wedding nerves made us lose our train of thought and put us at ease without judgement. Though Dale may have done hundreds of ceremonies, he understood that this was our FIRST! So he was nothing but patient and kind from beginning to end and offered to go over specific parts as many times as we needed.

His delivery of our ceremony was perfect. Everyone not only heard, but FELT what he was saying. That is the most important part of a wedding in my opinion. He was the perfect mixture of serious and fun! Yes, a wedding ceremony is extremely serious, but also should be exciting and fun! Dale did both. We wish we could do it all over again.

Thank you Dale for marrying us!!! You are the BEST!

JP Dale D.'s reply:

Thank you so much Stephanie. I so appreciate you taking the time to share your thoughts. I love the fact that you mentioned that I helped make the ceremony fun, but know that you and your family we the key to making it and keeping the vibe fun. When you work with fun people, that tone is reflected in the end result of the ceremony. So grateful that you asked me to be a part of your big day!

Alyssa H.

Married on 05/22/2021

Dale was the best!

Dale was the absolute best officiant! He kept the whole atmosphere alive even before the ceremony started. I had family and friends commenting on how wonderful he was and asked for him by name for future reference. Dale was wonderful to work with and very easy to get a hold of, even during a pandemic! I will recommend Dale to anyone I know who is looking for someone to officiate their wedding. Nothing but the best!

JP Dale D.'s reply:

So appreciate the kind words Alyssa. Your group was so fun and just awesome to work with! It always means so much when someone takes the time to share their experience here. Thank you! ❤

Rebecca H.

Married on 04/10/2021

Dominic & Rebecca

Dale was an awesome justice of the peace! He had been the officiant at a few of our friends' weddings and when we saw that he was available for our third plan (thanks Covid) we were ecstatic. His personality, and willingness to deliver a short and beautiful service, matched our energy perfectly. The dancing to Whitney Houston beforehand was just an added bonus! When our friends told us they were looking to book him for their wedding, we recommended him wholeheartedly.

JP Dale D.'s reply:

Thank you so much Dominic and Rebecca! I mean, if you're playing Whitney, I've gotta dance with sombody!!!! Appreciate the opportunity to be a part of your big day and please know that couples who were able to weather the storm of Covid, have the strength to work together as a team for a lifetime!!

Madison

Married on 11/03/2019

JP Dale D - The perfect JP for your wedding!!!

Since our wedding was such short notice, we met Dale for the first time at our wedding rehearsal. From the moment we shook hands, it felt like we had known him for years. Prior to the rehearsal, he provides samples ceremonies, so you can cater yours to capture what you wish. He's available to answer any questions and he is very quick to respond. In addition to his professionalism, Dale has the most comforting and warm presence. He instantly makes you feel confident about the whole process, and has a lovely sense of humor. Because of this, you have the ability to focus more on your vows than any nerves. If you are hunting for a JP, look no further. Dale is your man! Thank you so much, Dale, for being part of our wedding day and making our ceremony most memorable!

JP Dale D.'s reply:

You rock Madison. Thank you for taking the time to do this. Means the world to me that you were happy with my services.

Sam

Married on 11/02/2019

Great Officiant

Dale was very easy to work with and very friendly. He gave us several different vow options to pick from that we were able to customize to fit our exact preferences since we didn't want to write our own. He was great at giving everyone involved in the ceremony direction and made our families and wedding party comfortable both at the rehearsal dinner and during the wedding itself. He guided us through everything we needed to do and made it as easy as possible. We would definitely recommend his services.

JP Dale D.'s reply:

Thank you so much for taking the time to do this Sam! I had so much fun, thanks for asking me to be a part of your big day!

Liz L.

Married on 05/04/2019

Charming, reliable, and fun!

My husband and I spoke with a few officiants before deciding to go with Dale Desmarais. We met Dale at a local coffee shop, and he brought along a couple of things to help familiarize us with the process -- examples of the scripts for the wedding, suggestions for the unity ceremony taking our backgrounds into account (he had done his research!), timelines for handling the paperwork -- so he was super prepared. His organizational capability and the way he takes the job seriously put me at ease, but what really won us over was his charm. Dale is very upbeat -- he guided us through the meeting with confidence, but he read us well enough to know we could all have a little fun.

Dale was very encouraging during the process of defining our ceremony script, which can be bizarrely very nerve-wracking. He provided suggestions for the general flow of the ceremony, and weighed in appropriately when we had any questions. He was always very timely in his responses, and he was always happy to check in over the phone.

During the rehearsal and the wedding itself, Dale was absolutely great. My husband and I had prepared for the rehearsal as much as we could -- deciding things like where people would stand and how they would process; and Dale was right on top of covering things we hadn't thought of -- e.g., how the Best Man was to give him our rings,, how our hand fasting ceremony would go exactly. He gave us a lot of confidence for the day of the wedding.

During the wedding, Dale did a brilliant job of grounding us, encouraging us, and keeping the ceremony moving. The event being so emotional for my husband and me, it was extremely helpful to have him tell us, after each major part, "Good job. You're doing great. Excellent." He never stumbled, and everything went off without a hitch, including the paperwork afterwards.

Dale is a fantastic JP, and if you get married in the area, we hope you get to have the pleasure of working with him!

JP Dale D.'s reply:

I am so blessed to be able to work with amazing couples like you and your husband Liz, thank you so much for the kind words and for taking the time to write this review.

Derek J.

Married on 02/28/2019

Best value. Very professional.

Very punctual and professional. Great communication. Very pleasant to deal with. By Far the best value of all the JPs in my area.

Emily

Married on 10/12/2018

Dale was the Justice of the Peace for my October 12th, 2018 wedding. A year ago at a bridal show I met Dale and knew that he was an awesome JP. Dale was very professional and enthusiastic about the wedding. He answered my phone calls/messages immediately, and he assisted us with creating the perfect ceremony. Dale arrived for the rehearsal/wedding day in a timely manner, even early!! Dale had everyone laughing at the rehearsal and during the ceremony. Pre-ceremony he checked in with my husband and I (separately of course!) to see how we are and to go over everything for the ceremony. He was even kind enough to ensure that everything will be perfect when I was extremely nervous prior to the ceremony! Our ceremony was as perfect as we imagined it would be and that is all because of Dale! We can't thank him enough for being a huge part of our special day :) Thank you so much for being our JP!!! I absolutely reccomend Dale Desmarais to any couple looking for an upbeat, fun and amazing JP!!!

-Emily and Brendan Crandall 10/12/18

Jennifer

Married on 09/29/2018

Dale was the officiant for our wedding on September 29th, 2018. Dale was absolutely amazing from the very beginning. The minute we met Dale we knew he was the JP we wanted at our wedding. During the planning process, Dale was extremely professional and organized. He explained exactly what to expect and helped walk us through everything. He sent us four samples of different types of ceremonies that were extremely helpful and easy to edit. At our rehearsal and wedding, Dale had everyone laughing. So many people came up to us and asked where we found him, because he was so awesome! Dale helped keep the atmosphere light during the ceremony so that when my now husband messed up his vows and when I put the ring on the wrong finger (oops), we weren't embarrassed in the least bit but were able to laugh it off with our guests. I was extremely nervous since I don't like being the center of attention at all, and Dale helped ease my worries and made me feel more comfortable. My husband and I would recommend Dale to any future couple for their special day!

Ashley

Married on 06/02/2018

Dale is the best around! We couldn't imagine having anyone else officiate our wedding. He will work with you on what you want and make the ceremony about the couple. Our guests had nothing but kind words to say about Dale. I would recommend JP Dale for any couple who want a fun and creative ceremony.

JP Dale D.'s reply:

I so appreciate these very kind words and taking the time to respond. You guys were so fun. Such a great venue and beautiful day.

Bianca

Married on 05/20/2018

Couldn't have picked a better person for my day! Even my guests were impressed asking, "where did you find him???" Made my wedding the best day ever!!

JP Dale D.'s reply:

You guys Rock! And your guests were super cool. I love it when they all laugh at my jokes. I so appreciate you taking the time to write this review.

Crystal

Married on 05/19/2018

Dale was an amazing person to work with, very outgoing and he definitely knows how to take the nerves away! He answers to you immediately, and is very easy to work with such as things you need to know or things you want done! He is very flexible as well he helped us out so much! He was such an amazing JP and I would recommend him to anyone!

JP Dale D.'s reply:

Crystal I so appreciate the very kind words. I take a lot of pride in being able to help my couples through the process and bring down the stress and nerves so thank you for saying that here.

Michael

Married on 05/12/2018

Absolutely fantastic! As a groom, things can get a little bit crazy last minute with all of the wedding jitters, but Dale was THE BEST! He kept me relaxed through the wedding processional when I was starting to get anxious, and I actually had fun while waiting for my bride!

Easy to talk with, connected with us instantly, and kept us calm throughout the entire process.

Could not have had a better time, and all of our guests complimented us on how great Dale was!

HIGHLY RECOMMEND!!

JP Dale D.'s reply:

Michael, you are a super cool guy and I just needed to remind you of just how cool you are while we were waiting. Blessed to be a part of your big day and sincerely appreciate the very kind words and taking the time to share them here.

Be El

Married on 05/11/2018

Lively and Organized

Dale was lively and supportive during our most important day. He gave us the option of using any of his ceremony guidelines or coming up with our own. He "herded the cats" of the bridal party during our rehearsal with the practiced art of experience. He stood calmly next to my husband-to-be and radiated peace and balance while I walked down the aisle. Dale gave an immeasurable amount of structure and grace to our ceremony and day, and we couldn't be more thankful.

Becci

Married on 05/11/2018

Dale is an excellent organizer! He coordinated the 16 of us in the procession flawlessly, kept the rehearsal flowing smoothly, and was even Mr. Cool about us forgetting the marriage license on rehearsal day (no problem, but we DO need it tomorrow!). Dale was so great at keeping everyone calm and focused that we only needed to do the rehearsal once and the BIG DAY went off without a hitch. My husband says Dale was a relaxing presence while he stood up on the alter waiting for his bride. Cannot say enough good things about this JP!

JP Dale D.'s reply:

Thank you so much Becci! You guys were both so great, you were very receptive to my suggestions which help it all run so smoothly and I so appreciate you taking the time to write this review.

Megan

Married on 05/06/2018

We couldn't be happier with the services provided from Dale on our wedding day. He was a pleasure to work with, he was so helpful, was very sincere, professional and everyone commented on how amazing of a job he did. Dale helped make our entire day run smoothly, and provided us with an amazing ceremony, all of which made for a perfect day. We highly recommend using Dale for your special day!

JP Dale D.'s reply:

Aaaaw, thanks Megan! You and your whole crew were awesome too!!! Always so great when my couples are fun and receptive to suggestions, so thanks for making my job so easy!!

Jennie

Married on 05/05/2018

Dale is THE ABSOLUTE BEST!! His ceremonies are amazing, so beautiful, personal, intimate, amongst many other positive things. He cares about your special day, he cares to get to know you, to make your day memorable and special. It was like our friend married us! The ceremony is the most important part and he knows how to deliver the most beautiful ceremony ever. I would HIGHLY recommend Dale to anyone. He made our day much more special and our ceremony an unforgettable one!
Love,
Ron and Jennie Venne
Wedding May 5, 2018

JP Dale D.'s reply:

Ron & Jennie, You guys were so fun. Super cool wedding party too. Thanks so much for taking the time to share these kind words here.

Shauna

Married on 04/27/2018

Dale was wonderful! I cannot say enough good things about working with Dale. He helped us customize our ceremony to make it perfectly us, with plenty of touches of nerdiness. When writing our ceremony he offered to wear a cape from GoT that perfectly fit what we were going for. He even switched up how our ring ceremony would go the night of the rehearsal when he found out our rings would be in a Death Star ring case. He made our ceremony unique, and memorable. I cannot thank him enough for making our wedding day amazing!

JP Dale D.'s reply:

I had so much fun doing this wedding! Several of the 'nerdy' components were also dear to me and I could absolutely relate. Thank you for asking me to be a part of your big day, it was about as special for me as it was for you.

Tracey

Married on 03/17/2018

Our ceremony was the most important part of our day. We were thrilled that Dale was able to serve as our JP. His warmth, professionalism, and attention to the detail was paramount. Dale was responsive and answered all of our questions. During our rehearsal, we were comforted that he was able to round up everyone who was part of the ceremony and give clear, concise instruction on what to do and when/where to stand. Details we hadn't thought of, he was already on top of! Thank you so much, Dale. We will always look back on our day and we are so happy that you were our officiant and would recommend you to anyone.

+ 4

photos

Dale was fantastic! He paid such close attention to every detail and really made our ceremony special. Highly recommend!!

JP Dale D.'s reply:

Thanks so much for the love here. I appreciate the opportunity to work with you and couples like you make my job easy!

Jacqueline

Married on 01/27/2018

My fiance's mother was diagnosed with cancer just before Christmas. We were hoping to move up our wedding plans but she rapidly declined. It was so important to us for her to see us get married. I contacted Dale hoping we could quickly put together a ceremony at her home. Although he had another event planned for that Saturday he said he would make time for us. We went ahead and applied for the marriage license on Tuesday and picked it up in Friday. By Saturday my fiance's mother could no longer leave her bedroom. During the week Dale kept in contact with us as our plans changed and wrote vows for us. He helped us through the ceremony next her bed. It was so important to us to share it with her. She asked every day what day it was. She stayed awake all day looking forward to to seeing her son get married. . were married on Saturday and she passed away a few days later Wednesday. As difficult as it was it never would have happened without Dale making time for us and being so understanding. I am not sure how many times we contacted him for information for the marriage license and as plans quickly changed throughout the week. We were able to share our wedding with my mother in law and have pictures with her. We are very thankful.

Catherine

Married on 09/09/2017

I suggest booking him at least a year in advance even though we were lucky enough to get him on short notice. All of our vendors knew him and love working with him and I can see why! He was responsive, flexible, comforting, funny, organized and I can't imagine how our ceremony could have been better! He will help you tailor your ceremony to be exactly how you imagined and you can add as little or as much as you want to his prewritten ceremonies. He helped make our wedding everything we ever dreamed it could be!
Are you interested?
Send a message