Reviews
5.0 out of 5 rating
Quality of service

5 out of 5 rating

Average response time

5 out of 5 rating

Professionalism

5 out of 5 rating

Value

4.9 out of 5 rating

Flexibility

5 out of 5 rating
100%
Recommended by couples
80 User photos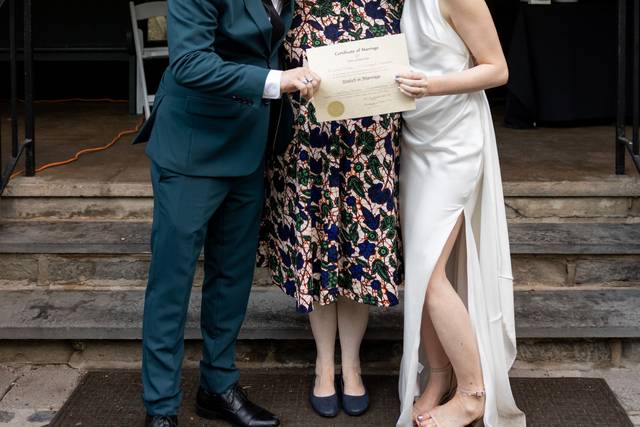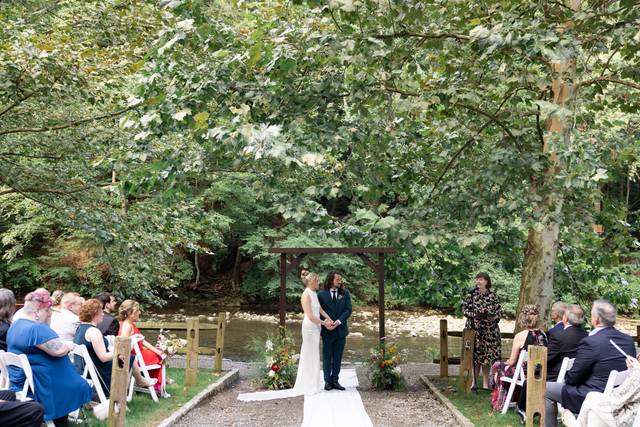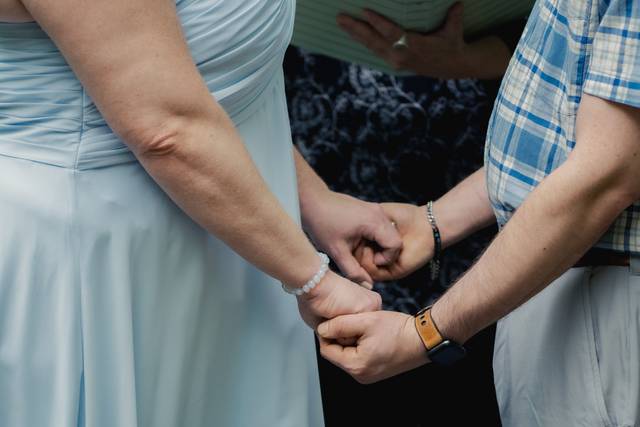 + 76

photos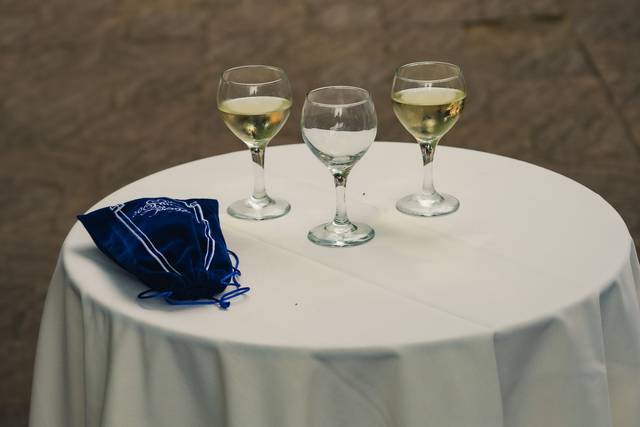 Featured

Aleah B.

Married on 01/08/2023

BEST officiant ever!!!

We had the absolute best experience with Journeys of the Heart. We chose Maura to be our officiant and she was so amazing to work with throughout our whole planning process!! She is very professional, sweet, and made us feel at ease through everything but especially on our wedding day. She made our ceremony so special and meaningful with her words and calming presence. We got so many comments from our guests telling us how beautiful the entire ceremony was and how touched they were. We cannot thank Maura enough for being such a big part of our planning process and wedding day, it would not have been possible without her. We highly recommend Journeys of the Heart for your officiant, but most importantly we would like to recommend Maura individually for how amazing she is! Thank you so much again!! :)

Heather S.

Married on 11/04/2023

Smooth process from beginning to end!

Sara Francesconi officiated our wedding and we had a seamless process with her from the very beginning! Upon meeting Sara, it was evident that she is a warm and caring person and an avid listener. She was very responsive to our requests of a non-religious ceremony and use of gender-inclusive language. Her first draft of the ceremony was nearly perfect and she was so open to any and all revisions. The love story portion of the ceremony captured us perfectly. Sara would also periodically check-in with us about how the ceremony was sitting with us and it was so, so appreciated. On the wedding day, she spoke with such eloquence that people kept coming up to say what a beautiful ceremony it was - someone even said she was almost angelic! If you're looking for an officiant - go with Sara!

Darren A.

Married on 10/29/2023

Brian was perfect!

We loved Brian - was there when we needed/wanted him and in the background when he wasn't (in a good way). Made the focus about us and he was simply there to make it better.
A Zoom call before to go over everything - reviewed our vows etc and gave great feedback.


Are you interested?

Send a message

Derek M.

Married on 10/27/2023

Susan was such a blessing to work with

Susan was perfect from the beginning until the final day!! We knew immediately after talking with her that she embodied the exact vision that we sought in our ceremony. During our Wedding she was very professional, easy-going, romantic and comedic when need be. We couldn't be happier with our decision.

Nicole F.

Married on 10/21/2023

A Magical Ceremony

Journey's of the Heart was a referral from our venue (The Manor House) and we loved working with our officiant, Kipp! From our first call we felt so comfortable and connected to him, you could tell he cared about his work for weddings. We filled out a questionnaire so he could get to know us and with that he wrote a wonderful story. The day of was hectic but he showed up with a smile and made us feel so at ease. During the ceremony I would turn to him and he had the biggest smile on his face. Our guests kept giving us compliments on how much they loved Kipp! We couldn't have been happier!

Eric M.

Married on 10/15/2023

Journeys of the heart - Diane

Diane was our officiant for our wedding in October 2023. From the get-go, Diane was very organized. She made the whole experience seamless. She is kind and funny. She was attentive to our needs. Very responsive with any questions we had. We weren't sure what kind of ceremony we were looking for, but she walked us through our own tailored plan with ease.
The guests raved about the ceremony.
We had high hopes, but Diane exceeded them.
We would recommend her a thousand times over!

Steve H.

Married on 10/07/2023

The perfect ceremony!

Heidi was amazing! She crafted such a beautiful ceremony, and encouraged us to express our love in a very personal and heartfelt ceremony. Many guests found us to express that they were brought to tears and felt that it was the best wedding ceremony they've ever attended.

Brian O.

Married on 09/22/2023

Fantastic Experience

We worked with Maura for our wedding day. Everything was smooth and effortless since our first meeting with her. She was easy to communicate with via email, zoom, and in person. We were able to personalize not only our vows but our entire ceremony with her help. She made it simple to collaborate and pulled it all together elegantly. Her calm yet engaging demeanor on our special day was so relaxing - there was no need to stress! She was professional, kind, and fun! Could not recommend her and Journeys of the Heart enough.

Alyssa M.

Married on 09/15/2023

Wedding ceremony officiant - Susanne Wilson

Susanne was incredible as our ceremony officiant. Matt and I were married on September 15th. Susanne was very kind and accommodating, and helped ease our nerves during our ceremony planning process by helping make it a fun and creative time for us. She made sure to include everything we wanted in our ceremony and really helped to make it just lovely. We would absolutely recommend Susanne and journeys of the heart for anyone who is wedding planning!

Ericka H.

Married on 08/25/2023

Personalized & Helpful

Susan from Journeys of the Heart did a wonderful job with our wedding ceremony. She was thorough and organized in her preparation, giving us ample time to complete questionnaires & phone calls to get to know us and what we wanted out of our ceremony. She also helped us stay on track with getting our license, providing us with links for virtual appointments and even printing / bringing the license to the ceremony. She helped us express our thoughts/ feelings in a way that felt genuine and appropriate. We received many compliments on how personal and heartfelt the ceremony was, and that was largely due to Susan's ability to listen to us and craft the ceremony that we hoped for. It was perfect!

Kayda R.

Married on 08/20/2023

The perfect ceremony!

We could not have been happier with Eve as our Officiant! Eve took the time to get to know us, and she helped us craft a beautiful wedding ceremony that was absolutely lovely! There really aren't words to describe how pleased we were with our ceremony on our wedding day.

Andie L.

Married on 06/10/2023

Personalized and thoughtful!

We loved working with Journeys of the Heart! The team was super responsive and quick to answer our questions and match us with an officiant. Once we connected with our officiant Susan, she took the time to listen to what we were looking for and created a custom ceremony that suited our values and beliefs. Seamless experience!

Simone

Married on 05/27/2023

Rare and Wonderful Officiants!

We had an incredible experience working with Debby from Journeys of the Heart. She spent so much care crafting an exquisite ceremony for us
that brought to life our love, and reflected our values. All of our guests remarked on how meaningful and wonderful your ceremony was! We feel incredibly lucky to have found Debby and I know she will make any wedding she officiates even richer and more beautiful!

Stefanie

Married on 05/06/2023

We HIGHLY Recommend Maura Bernt

We got married on May 6th, 2023 at Water Works in Philadelphia. I'm Jewish and my now husband is Catholic. Neither of us are particularly religious, but we wanted to honor traditions from both of our religions and upbringings. We were in search of a nondenominational wedding officiant, but we didn't want to ask a family or friend. We wanted a professional who does wedding ceremonies often and is comfortable leading one, especially one for an interfaith couple. Cescaphe put us in touch with Journeys of the Heart and it was so simple from the very first email exchange. We got to read many bios of wedding officiants who work for the company and we settled on Maura Bernt. We had an initial Zoom call with Maura to see if it would be a good fit, which it was! Maura was excellent from that first call. She listened to us as we described exactly what we wanted to do and she put together the most perfect ceremony for us with many rounds of edits and changes. She sent us readings from both the old and new testament to choose from, incorporated personal details from our "love story" form that we filled out for her, and honored loved ones who couldn't be present. She made deciding on our vows super easy and took any and all pressure off of us leading up to and during the ceremony. We didn't have to remember to do anything as she quietly cued us when we had to repeat lines, etc. We got many compliments for guests regarding how much they loved our ceremony. Maura allowed us to make some last minute adjustments, was always very responsive in our communications, and she was flexible throughout the process. She even read our ketubah in front of our family and bridal party prior to the ceremony, which is something a rabbi typically does. We really can't say enough about Maura and our experience with Journeys of the Heart!

Amy R.

Married on 04/29/2023

Brian Dixon from Journeys of the Heart was the best officiant we could have asked for!

Brian was extremely flexible and made sure to check with us about everything. He sent us the script ahead of time for us to make changes, and didn't add anything we didn't approve. He made the entire process so easy, we would absolutely recommend him and Journeys of the Heart to anyone.

Hannah P.

Married on 04/15/2023

Highly Recommend! Beautiful Ceremony

Sara was such a pleasure to work with; from the very start we had such a nice experience and she helped make the overall process so easy for us! We got numerous compliments from family and friends about how beautiful the ceremony was and what a wonderful job our officiant did; it truly all came together and big thank you to Sara in her role helping make our day special. We wanted a personal ceremony that truly represented us as a couple and Sara helped us to accomplish that. She truly listened to us and wrote a beautiful ceremony; she has a calming presence that shines through, helping us feel super relaxed during our ceremony. I would highly recommend Sara and Journeys of the heart!

Kathryn K.

Married on 04/08/2023

Beautifully written and delivered ceremony!

We worked with Diane Mina Weltman for our wedding, and we would definitely recommend her! She was so warm and friendly. She made the process so easy! And the ceremony she wrote was beautiful and had a lot of comic relief (which we requested and are fans of)! Everyone in our families told us throughout the day how beautiful and heartfelt our ceremony was. I would definitely recommend Diane to friends and family looking for an officiant!

Kim S.

Married on 03/25/2023

Personalized, Thoughtful, True to Us

For our ceremony we worked with Susan Harte from Journeys of the Heat and she was amazing. She asked great questions to get to know us and craft a beautiful personalized ceremony. We appreciated her thoughtfulness to small details from our story. Having her guidance during this journey was extremely comforting. And scheduling meetings with her was also very easy and flexible. I would highly recommend Susan to any future couple.

Heather M.

Married on 10/22/2022

A Perfect Choice


From the moment we first met and spoke to Jim Haley about the vision of our wedding, we knew he was the person to share out story. His follow-up, guidance, support, patience and compassion were truly amazing throughout the entire process, especially as we had to reschedule our wedding multiple times. Jim went above and beyond to take the time to get to know us on a more personal level and it really showed during our ceremony. It seemed as if we'd known him forever as we listened to him tell our story. We received countless compliments about how intimate and personal our ceremony was and how much everyone enjoyed it. Jim made us feel comfortable throughout which especially helped ease our nerves and anxiousness the day of our wedding. He made our day more special than we could've ever imagined and would highly recommend him.


Lauren C.

Married on 10/21/2022

My goodness - the perfection!

We worked with Susanne Wilson and we cannot say nearly enough amazing things about her! She was responsive and made sure we video called since we couldn't meet in person. She was flexible to my now husband's super busy schedule but the day of was just perfection! The ceremony was so focused on the equality between us and was just so sweet. It even made my husband cry which was amazing! it was so sweet and had everyone feeling the love for sure!

Cosette

Married on 10/17/2022

Non Denomination Wedding

We wanted a non denemoninational wedding and we definately got one! Maria was extremely helpful every step of the way both with the personalisation of the ceremony script and other general wedding inquiries. We couldn't have a more heartwarming officiant. I really felt this was OUR wedding and she told OUR story.

Ashley D.

Married on 10/16/2022

The Best Officiant We Could Have Asked For

Journeys of the Heart is an incredible company to find a wedding officiant!

My husband and I completed a questionnaire that matched us up with a few officiants and we ultimately went with Diane Weltman. She could not have been more perfect as our officiant. Our initial Zoom consultation with her was one that we'll remember. Besides going through the logistics and what is involved in the planning process, we really got to know Diane on a personal level and validated even further that she was a perfect match for us.

The pricing was very transparent, and Diane kept a very organized timeline that did not overwhelm the wedding planning process whatsoever. Every email she sent had such kind words and her email that she sent to us the week of the wedding gave such kind and loving advice that it really put me at ease and helped me relax in getting last minute wedding details settled. Writing our ceremony draft was very easy and Diane was very flexible in making sure our ceremony was absolutely perfect. She made my husband and I the driving force in writing our ceremony and she was merely a guide.

The ceremony itself was not a traditional ceremony. My husband and I stood at the altar as Diane talked in front of us to the guests as she went through our love story. She kept our guests engaged and even made some shed a few happy tears. She eventually went to the traditional spot when we performed our ritual and exchanged rings.

Alot of guests came up to us saying how Diane was an absolute delight and how they really enjoyed the ceremony and how non-traditional it was. My husband and I couldn't agree more.

We will always remember Diane and what she did for us. Thank you so much!

Katherine H.

Married on 10/09/2022

Memorable Experience, Beautiful Ceremony!

From the moment my husband and I got on the phone and heard Susanne Wilson's voice, we knew that we had found our match. Both Susanne and Journeys was recommended to us by our venue, without a beat of hesitation, after we described exactly what we wanted from our ceremony. We met once or twice prior to the wedding, both by phone and Zoom (this was still during COVID times...) and we were able to discuss everything we wanted to see for the beginning of our special day, as well as the start to the next chapter in our lives. After a two hour long consultation, filled with stories and tons of laughter, Susanne was able to take what we gave her and make it into a ceremony remembered not just by my husband and myself but by every one of our guests. Susanne is more than just our officiant but also a dear friend, one we will forever cherish. Thank you for everything!

Laura H.

Married on 10/08/2022

A Memorable Ceremony

My husband and I had the pleasure to work with Kipp Gilmore-Clough through Journeys of the heart. Kipp really tailored our ceremony to really reflect our relationship and background. Our ceremony and vows were one of my favorite memories of the day. So many guests commented as well and said it was one of the best ceremonies they've experienced. And many guests assumed Kipp was someone we had known for a long time since he really seemed to know us. Thank you Kipp and Journeys of the heart for making our day meaningful and special!

Ashley W.

Married on 10/01/2022

Loved our Officiant!

We hired Sara Francesconi from Journeys of the Heart on short notice after our original officiant fell through. She made the whole process so easy - she walked us through all of our options, made sure the ceremony was exactly what we wanted, and even talked us through what to do for the marriage license & changing my name. The ceremony she put together was beautiful, she was prompt, and just a joy to work with. Thank you Sara!
Are you interested?
Send a message