44 Reviews
Recommended by 100% of couples
Quality of service

5 out of 5 rating

Average response time

5 out of 5 rating

Professionalism

5 out of 5 rating

Value

5 out of 5 rating

Flexibility

5 out of 5 rating
Awards
11 User photos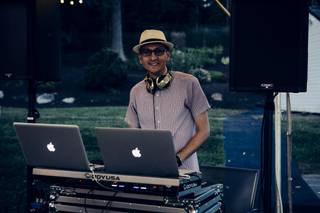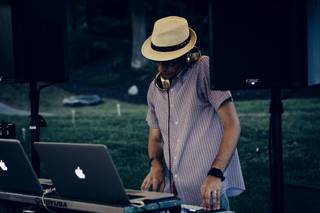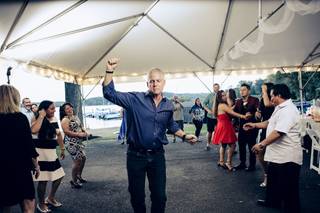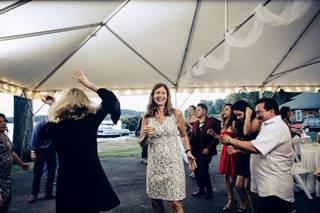 + 7

photos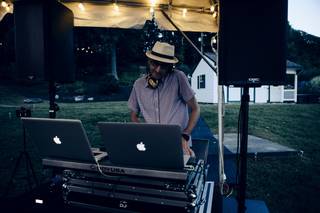 Carolina C.

Married on 11/03/2019

Dancing all night! Colombian-American wedding

DJ Josh totally listened to my requests and needs. I was scared about having a blended American Colombian wedding but Josh totally played music my Colombian family loved dancing too, while playing some amazing 90s/2000s hits mixed w some reggeaton and hip hop. We had the best time, and our guests were dancing all night! We only wish we had more time with him! Thank you Josh for helping us have the wedding of our dreams!

Josh Torres DJ's reply:

Thank you so much Caro. It was really my pleasure to have been at your wedding. I also wish we would've had more than 2 hours to dance because it was great seeing you and your husband and all family dancing to every song. Blessings on your marriage. Thanks for the lovely review.

Christopher T.

Married on 08/31/2019

Great Experience Working with Josh Torres DJ

Josh Torres DJ exceeded all expectations and helped deliver a wedding night that was beyond what we could have hoped for and one that we will always treasure. As a couple from distinct cultural backgrounds, we were thrilled to find that Josh would be able to DJ and MC in a way that would respect, include, and honor both our backgrounds. From the start Josh helped us decide how we would plan the events in our reception and the style and tone of the music for cocktail hour, dinner and, of course, a phenomenal dance party. It took a load off of our busy planning duties to have Josh help guide us with our events.

On wedding day, Josh's expertise and experience shined. He needed no direction - he set up and got right the mood set for cocktail hour before guests arrived. He even set up a pair of high-quality speakers in a remote location for guests that were enjoying themselves further from the main reception tent. The music was the perfect volume and he knows exactly the music to play to set the right tone. Josh helped usher the guests in for the dinner and events and built up excitement and delivered his MCing duties in a way that elevated our families and loved ones. He seamlessly served these duties in both English and Spanish.

When it came time to dance, the dance floor was full of family, friends, and good energy the entire night - and I mean the entire night! Josh delivered music that worked for and across cultures and generations, all over high quality sound equipment (which makes a huge difference!). Our families and our guests were so impressed with Josh. My now-wife and I couldn't be happier with our choice - we actually got to really enjoy our wedding night as we didn't have to manage anything at all - Josh took care of so much from running the show, timing first dances, mics for speeches, and music to boogie down to. We are thankful for the the joyous memories of dancing with our friends and families on our wedding night with Josh Torres DJ!

Heather M.

Married on 07/06/2019

Fantastic wedding experience

Josh is a very professional and talented DJ/MC. He communicated well with us in person, over the phone and by email. He made sure our wedding was amazing in every way. We had a multicultural wedding and everyone was very pleased with the variety of music and atmosphere. He played the right songs all night to keep the mood upbeat and exciting. Everyone danced all night and had a wonderful time. It was very important that we had a bilingual DJ/MC to make sure all of our guests felt welcome. We highly recommend Josh for your DJ/MC services.

Are you interested?

Send a message

Monica V.

Married on 06/29/2019

Dj josh was amazing!

I would hire DJ Josh 100 more times. He was very helpful throughout the whole planning process and the day of the wedding he was sure to keep everything in place. He truly made everything easier.

Josh was awesome ! He was always aware of everything he did and the mood of the party, he would always ask if we disliked or like something , he had everything perfect to what we wanted , very professional yet very friendly , I would definitely recomend him to others !

Josh Torres DJ's reply:

Thank you so much for your kind words. Reviews like these encourage me to always do my best and continue to make people's weddings the best wedding they've been to. It was a pleasure being your DJ & MC.

Alyssa

Married on 09/16/2018

We hired Josh to DJ at our wedding. My husband is a DJ himself, so this was an important role for us to fill. On top of that, we had a multicultural wedding, so we needed music to appeal to the American crowd, as well as the Ecuadorian crowd. From the moment I visited Josh's website and saw the photo of an American/Ecuadorian wedding, I knew he was a good fit. When we initially met to discuss the wedding, he understood our vision and assured us he would take care of everything. Because we had a low-key wedding, we only found it necessary to meet once before the wedding, and everything else was communicated through email. Any nerves I had were put at bay when Josh came and set up and did a fantastic job from start to finish with little to no direction from us. He made sure all the transitions from ceremony to cocktail hour to reception were smooth and that the guests knew where they were going. When it came time for the dancing, he KILLED IT ALL NIGHT! The dance floor was never empty, and he made sure to appeal to everyone. Even the guests who I know hate to dance… were dancing! I HIGHLY recommend Josh to anyone who needs a DJ, because he doesn't just play music - he's the timeline and the guidance for your event. I want to have another party so we can hire him again! Thank you, Josh!!

+ 7

photos

Hannah

Married on 06/09/2018

Josh was very helpful with meeting us and getting our input with how we wanted our wedding to flow. He added a lots of nice features to our special day.

Maggie

Married on 12/01/2017

Josh was totally professional he played the appropriate music and upbeat tunes which kept the dance floor full. He was there on time and did his set up very quickly. There was music for the cocktail hour which was in another room and in the venue the acoustics and sound were on point!!! He is a definite must have DJ!!!!

Rafael

Married on 12/01/2017

Had an awesome time thanks Josh

Serina

Married on 10/15/2017

Josh was absolutely incredible to work with. He was communicative, flexible, accommodating, and overall so fun! As we all know, the wedding planning process can be stressful, but Josh was so helpful throughout each step, and was sure to tailor his services to our personalities and the flavor of our different families. His bilingual abilities took the wedding over the top, as he was able to make everyone feel included in our special day. His suggestions for songs for specific moments were fantastic, as we had no clue what we were doing half of the time. Overall 100% worth every penny, he was a huge part of making our wedding a great success!

Josh Torres DJ's reply:

Dear Serina and Matt, thank you so much for your lovely review. What a great fun wedding yours was. Thank you for making me a big part of it.

Julie

Married on 10/01/2017

Josh was amazing!!! He was so good that people at the adjoining party hall came into ours because they heard the music and said they're dj was boring! So we danced with a few ,fun, strangers at our wedding! Guess it's true what they say good music brings people together. He was very professional and on top of everything all night, from timing all the way to even showing the crowd some line dance moves! Couldn't imagine a better DJ!

Ana

Married on 08/18/2017

We had a great time working with Josh, we were able to meet two times before the wedding to talk about the kind of music that we wanted, between music in Spanish and in English as well, he also provided the outdoor sound for our ceremony which was great, he was very good at making suggestions, and taking in mind our opinions, we had a lot of music changes during our ceremony, because we wanted something different, and he really met our expectations, in the dance floor when something had to be announced, it was cool that he could do it in Spanish and English, he played some oldies in Spanish to dance, some in English also, but he knew how to read the crowed, he also took couple of request from friends and family members. The lights were super cool, and he also let us design the Gobo which came out amazing, he was very flexible with our requests. He went above and beyond we were grateful that we worked with him. We had an unforgettable wedding.
Ana & Miguel Leon

Josh Torres DJ's reply:

Dear Ana & Miguel, may you have a wonderful marriage. You're a lovely and amazing couple so I have no doubt you'll be happily ever after. It was my pleasure to be there for you on your big day. Your intricate ceremony was one of a kind and I'm happy to have been there playing music through it all. Thank you for your kind words and lovely review.

Isa

Married on 05/18/2017

Josh was amazing, Very easy to work with. Super professional. Very quick with responding to my emails and questions. He is an amazing DJ, plays everything and keeps the party going. Everyone at my wedding loved the DJ. I WILL be using him again in the future and i fully recommend him to anyone who wants a GREAT DJ. I am very happy with Josh. Josh your the best!!!!THANK YOU

Josh Torres DJ's reply:

Isa & Darinel, I really enjoyed your wedding. The venue was gorgeous and all your friends and family were pleasant and danced to all different genres. Thank you for taking the time and leaving me this very nice review.

Sandra

Married on 04/29/2017

Very glad we had Josh as our DJ on our wedding day! Super responsive, and met with us a couple of weeks before to discuss the flow of the day and style of music. We went into the day knowing he would do a great job! Our guests loved the music, and it was super helpful that he is bilingual! Highly recommended.

Josh Torres DJ's reply:

Thank you so much Sandra and Jackson for allowing me to be part of your big day. You're a great couple and I am sure you'll both live happily ever after. Thanks again for the lovely review. It was a lot of fun seeing all of your family on the dancefloor.

Ariana

Married on 11/05/2016

Josh went above and beyond for our wedding! Had great suggestions for music and was very accommodating for all the different kinds of music we wanted. He helped to make a timeline for our wedding when all we thought we had to do was show up haha! Checked in with us periodically throughout the night to make sure we stayed on scheduled and had everyone on the dance floor partying! We would recommend him to anyone wanting a mix of music and a fun reception! He also has great GOBO designs and had party lights for the dancefloor! He also was great with coordinating with our photographer in making sure he knew what was happening at what time and where to be for it. Josh also microphones for our officiant to use and really helped to make sure everything went smoothly for the day!

Josh Torres DJ's reply:

Ariana, your wedding was one for the books! Thanks for your kind words.

Augustina

Married on 10/22/2016

From the moment I spoke to Josh he made me feel comfortable and excited about who I choose as my DJ for my wedding . He was pleasant to speak with and very knowledgeable. He helped me step by step with everything I needed and very accommodating..he was amazing!!!!! My main priority was to have my family and friends on the dance floor all night long and we definitely were .. everyone has such a great time including me and my husband.he truly made our night memorable I would definitely use him again and definitely recommend him to any couple for their special day...if ur looking for a professional,down to earth,top notch amazing dj ...Josh is where it's at!!!..
Josh u rock sir!!!! I can't thank u enough .. I hope to work with you again..may God bless u and ur family.... stay cool!!!!

Josh Torres DJ's reply:

It is always such a pleasure to have clients like you Augustina. Your wedding was very enjoyable. I really appreciate the fact that you left this awesome review.

Polexeni

Married on 09/26/2016

Luckily for us, we did not spend any time at all looking for a DJ. I just happened to find Josh online, he met with us right away and talked through everything with us and I knew he was right for our event. He is super professional but personable at the same time. Most of all he is accommodating and makes it work for everyone at your event. I had Spanish speaking guests, Greek-speaking guests, and English-speaking guests and he catered to everyone with the music. He even spoke in both English and Spanish to my guests. He is affordable and met with me 3 times before our wedding. I definitely recommend!

Josh Torres DJ's reply:

This Greek-Spanish wedding was amazing. Loved bringing different cultures to the dancefloor. Thank you so much for his lovely review.

Xiomara

Married on 09/17/2016

Josh was absolute the best! From the very beginning of our wedding planning until the end of our wedding night, he went above and beyond. It was important for us to have someone who was bilingual, had experience in playing a variety of music, and hands on (as my now husband and I needed guidance). He met with us to finalize song requests, genres of music we preferred for the event, a timed schedule of what the event would look like. He was very patient, professional, responded quickly and was easy to talk to. He even gave my husband a quick salsa lesson before our big night!
Everyone enjoyed themselves from the ceremony to the reception. He was very good at knowing what music to play to keep our guests dancing, I can assure you we danced all night! We are truly grateful to have had him as our DJ, we will most definitely requests his services again. Thanks again!

Liz

Married on 09/16/2016

Josh was very family oriented, patient with everything and very flexible with every request. i know he did his best and I am greatful for that. Thank you so much for everything Josh.

Josh Torres DJ's reply:

Thank you so much for reviewing my services. I loved all the special dances and all the cultural-traditional activities on your wedding. It was lots of fun.

Nicole

Married on 09/10/2016

Josh was amazing! He really knows what he's doing. We were in constant communication and he always was there to answer any questions! The week of the wedding we went over every last detail to the point where I was (almost) not even worried about the order of events for the day! I hired him specifically for my Colombian American wedding and he delivered, the dance floor was packed all night!

Joella

Married on 09/02/2016

From the very first meeting we had on the phone I knew Josh was the right DJ for my mixed Black/Latin wedding. I was looking for a DJ that was knowledgeable in multiple genres of music and had experience in mixed cultural weddings. Josh was very professional and friendly. He walked me through the whole ceremony and reception process so I could understand the order of events, which helped me plan and customize my wedding. Josh was highly responsive on email/text and sent over tools to help with the planning process. I utilized Josh's services for pre-ceremony all the way through party time. He was excellent!!! We wanted a nice love themed R&B/Soul music for pre-ceremony with a progression of mixed music during cocktail hour. From the moment we stepped into the reception Josh kept the party going. He was very receptive to the audience and was welcoming of requests. Our wedding guests was definitely a mix of different backgrounds and cultures and Josh was able to keep the energy constant and everyone on the floor. The venue pushed the start of our wedding back a good half hour and Josh was able to accommodate us for extra party time. We received so many complements that our guests had a great time and truly enjoyed themselves. Josh also provided GOBO services for us. We created a custom design and Josh was able to make it come to life in color as the backdrop to our sweetheart table. Everyone loved the GOBO and it was a nice focal point for the photographer. Josh collaborated easily with our other vendors for the wedding, which enhanced our reception and completed the beautiful atmosphere. Thank you to Josh and his assistant for helping to make my dream wedding an event to remember!

Josh Torres DJ's reply:

Joella, your wedding was amazing. It was an entire production. Thank you for your very elaborate and amazing review.

Angel

Married on 07/13/2016

Josh did an outstanding job DJ-ing our event. Not just myself, but the guess we're impressed. Very professional, excellent quality and flexibility. Can't wait for our next party. Josh will definitely get the call. I highly recommend DJ JOSH.

Caitlin

Married on 06/04/2016

Josh was the absolute perfect fit for our multicultural wedding (Peruvian/American). However, he would be the perfect fit for any wedding! He answered emails promptly, offered great advice, and took our unique music tastes into consideration when selecting our music. Josh was able to play music that got everyone on the dance floor throughout the night, which is not always easy to do when blending cultures. If I had to do it all over again I would go with Josh without a doubt!

Juan

Married on 05/28/2016

We wanted to have someone who spoke both English and Spanish, and this was one of the reasons that led us to inquire with Josh in the first place. We set up a Skype interview, and already there we could see that Josh would be someone who would be extremely responsible, kind, and responsive to our preferences for our wedding. As the wedding was approaching, we kept getting signs of Josh's commitment to his job with his promptness and responsiveness in replying to emails. Particularly memorable was the fact a bit over two months before the wedding, Josh sent us an email to let us know that he would be away for a week for a wedding in Puerto Rico, so he would have limited internet access. Wedding planning, as everyone knows, is a stressful activity, so this kind of attention to the details of the job was really appreciated. Josh also sends a planning page that helped us a lot in deciding how the events would proceed on the wedding day. Even more helpful was the meeting we had in person (Josh drove to us) to finalize the details of the reception (such as the type of music to play during each part of the event, for which Josh had great recommendations.
On the day of the wedding Josh was exactly what we had come to expect: simply excellent! His setup was clean and unintrusive, letting the decorations of the room speak for themselves, and the chill music that he played during the cocktail hour and dinner were perfect for the occasion. And he shone at what was for us the most important quality in a DJ: He really kept the party going, mixing up different styles of music so that people from different backgrounds would find songs that they would identify with. People were dancing all night, and many of our guests commented after the wedding that the DJ was great; one couple told us that in their 13 years of attending weddings together, they'd never seen a DJ who managed to entice people of so many backgrounds and ages to the dance floor. Needless to say, we agreed.

Sydnie

Married on 04/30/2016

DJ Torres was so accommodating to us! He made the night exactly what we wanted with our special song and dance requests and he was willing to work with our other performers we had at the reception. Family and friends keep raving about how much fun they had dancing and how great the DJ was! Definitely would strongly recommend him for anyone's event.
Are you interested?
Send a message