16 Reviews
Recommended by 100% of couples
Quality of service

5 out of 5 rating

Average response time

5 out of 5 rating

Professionalism

5 out of 5 rating

Value

5 out of 5 rating

Flexibility

5 out of 5 rating
Awards
43 User photos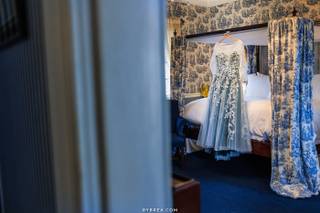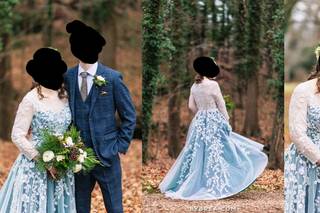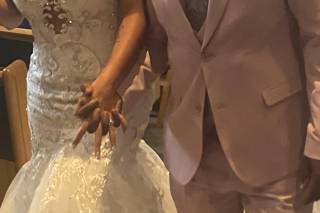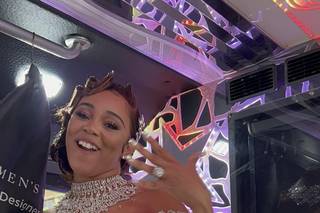 + 39

photos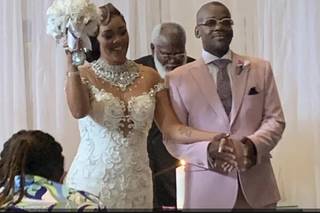 Nichole

Married on 12/17/2022

A dream come true!

Working with JoSaBi was a true pleasure. From the time consultation of the dress to receiving my dress was a great experience. I would like to highlight the communication. I did not have to worry about what stage we were at with my dress. The team kept me posted bit by bit. As I was looking at options I couldn't find the dress of my dress in a boutique or online. After some research i found JoSaBi. I explained that I wanted a black wedding dress that stood out. Oh, and the delivered. My dress was absolutely stunning!
I would highly recommend JoSaBi Mariées!

Betsy A.

Married on 12/10/2022

Dream Dress

What an experience! I contacted JoSaBi Mariees with just an idea for a wedding dress and no idea how to make it come true and no prior sewing or dress making experience. The lovely team at JoSaBi helped make that dream a reality and worked with me and kept me updated every step of the way! My dress idea a bit unconventional but they were down for it from the start. Planning took a couple months, but JoSaBi asked for my input on every detail, it was seriously like I was designing it myself. Then the dress was made and delivered within another few months. It did require a few alterations, like making the bodice fit tighter and the train shorter but not much else! I loved the finish product and if you are looking for something completely unique and have the time to make it happen I would highly recommend JoSaBi Mariees.

Shaniquea R.

Married on 09/17/2022

Josabi Mariees

My dress exceeded my expectations it was beautiful the communication was great I got videos and pictures through the whole process if you are looking for a unique wedding designer then look no further I am still glowing about my wedding

+ 2

photos

Are you interested?

Send a message

Shaquita H.

Married on 09/17/2022

Amazing!!!!

Dafra and her team are AMAZING!!! They helped me create my dream wedding dress. When I didn't have the words to describe what I wanted, they took a very creative approach in helping me discover what it is that I wanted. I could hear the "ooohs and ahhhhs" as I walked down the aisle. Definitely consider them! They exceeded my expectations!

+ 2

photos

JoSaBi Mariées's reply:

thank you so much JoSaBi Shaquita! your dress was such a sparkly dream to create, the details were so divine, and we loved every minute of working with you. Congratulations again, and thank you for allowing us to be part of your big day.

Shyntia D.

Married on 09/03/2022

It was excellent!!

Omg!! I can't say enough about JoSaBi Mariées. If I could give 10 stars I would. The CEO and her team are deeply involved in the wedding dress making process. From start to finish. They listened to all my requests, answered all my questions. And I tell you my wedding dress was perfect, I truly was perfect ! I was stunning ! I myself couldn't believe my eyes!! Thank you for making my big day a unique experience and an unforgettable one❤️❤️❤️❤️

Shauna B.

Married on 08/20/2022

Affordable custom dream dress

I really loved the experience of designing my dress with Dafra and her team at Josabi Mariees. From start to finish they were communicative and print to answer any questions that arose. In the end I literally had my dream dress. It's blue, one of a kind and was absolutely perfect for my wedding. It is much higher quality than anything I looked at on a rack and the design process was a lot of fun. I can't recommend this service enough!

Spriggs C.

Married on 08/19/2022

Turned my dream wedding into reality!

Thank you to Josabi Mariées for making my wedding dress vision come to life. I felt beautiful and the dress was a dream. I came to them when my initial dress was a disaster and they rushed to make my gown 2 months before my wedding. The quality is amazing and the customer service was outstanding.

Dani

Married on 08/14/2022

Dream experience, dream dress

JoSabi Mariees made exactly the dress I requested! Dafra and the assigned Project Manager, Vanessa, were wonderful to work with. They were responsive to my requests and made the process simple. When I grew concerned with the approaching deadline, I was reassured and my nerves were calmed - I even received a beautiful bouquet of flowers! They came through, and all was well. I received many compliments on my dress and my day was perfect!! Thank you JoSabi Mariees! 💕

Yvanne M.

Married on 06/24/2022

Astonishing!

Wow!!! This lady's job and ethics are astonishing! I can't start to tell the whole story behind how I got in touch with Josabi Mariées… Long story short, we got in touch back in 2019. We start designing my royal-looking wedding dress for my Dec 2020 wedding. Then the phenomenal COVID-19 shows up, and the wedding gets postponed! JoSaBi Mariées' team was lovely enough to not only stay in touch and be supportive all through but preciously kept all the details of my dream wedding dress for whenever I'd be ready to move forward. 3 years later, with very short notice, Dafra was lovely enough to continue working on the project with me. She kept her word and made me an amazing dress with all the exact same details I had described back in 2019. My dream wedding dress came true, arrived way ahead of the wedding, no alterations needed, perfect royal fit! I promise you that this team is mind-blowing. I am more than satisfied, and so will you !!!
Thousand thanks for everything, Dafra ♥️♥️♥️

Oly

Married on 05/22/2022

Fully Remote Dream Dress Makers!

I'm still in awe of how this dress came together. I was a little skeptical of how a dress can be made from start to finish remotely with all the right measurements and touches, but Dafra and her team at JoSaBi Mariees made magic happen!

Our WhatsApp conversations were packed with different options, suggestions and recommendations as the JoSaBi team teased out my preferences, some of which I didn't even know myself! When it came to measurements, the team was so switched on, that they knew exactly which measurements to make me re-do given their expertise in remote dress making. From lace design to type of sleeves, I felt like I was in complete control and that the JoSaBi team were my partners in creating this perfect wedding dress.

To top it all off, Dafra suggested a unique mix of cultures and traditions with my veil. Being Filipino, I have great appreciation for Spanish details and Dafra suggested using a mantilla, a traditional Spanish lace veil. With my now-husband being from Calcutta, Dafra also suggested adding a Hindi phrase on my veil, a loving surprise for the groom and a nod to his heritage.

I got the dress 3 weeks before the wedding, and you know what? It fit perfectly. No alterations needed whatsoever! Working with JoSaBi was absolutely magical!

+ 2

photos

Genae J.

Married on 02/26/2022

Amazing Wedding Dress Designer!!!

What can I say about the amazing performance from the Josabi team?? Absolutely stellar. I came to them with a dream of an African Goddess Ceremony- adorned with plenty of gold ornate details and dramatic sleeves. She took that dream and turned it into a reality. The concept was molded and molded with a design talent that was unmatched. Very easy communication throughout the entire process. The team guided me through measurements, status reports, and photos of my dress throughout the journey. Even the delivery was top notch and very enjoyable. The reaction from my groom and the wedding audience when I walked down the aisle absolutely validated their amazing job. I would truly recommend Josabi to any bride-to be who wants a custom once-in-a-lifetime dress to create a memory that will last forever... 👰👰👰👰


Prisca O.

Married on 02/12/2022

Best experience ever

Dafra and her team are the best. They will bring the dress of your dreams to life, and to perfection. The quality is there, the kindness and attention to the little details for the brides are also there😊 I will always and again recommend Josabi Mariées. The best team!👌🏽❤️

Coretta M.

Married on 12/18/2021

"Crème de la crème" experience!!

My experience with JoSabi Mariées was awesome from start to finish! I wanted a classic and classy ball gown without it being boring. Dafra and her team were able to fully capture my wants, give me ideas and create the perfect classic yet unique dress! The process was enjoyable! JoSabi is always and I say ALWAYS available.
Through creating my dress, I also gained a big sis; she helped me in finding some of my vendors, gave me tips and tricks for the big day and wow...her mind is a bursting pot of ideas! I totally recommend JoSabi Mariées ❤️
I can't forget to mention how well organized and lovely is JoSabi's wedding day "prep team"!
DAFRA I love you!!

Serena K.

Married on 01/23/2021

Best Wedding Dress

I would have given them 100 stars if I could. There is nothing more to say than this is the best and most caring person I was lucky enough to meet. Dafra is more than my wedding dress stylist now. She is my sister. I would like to thank you guys so much for this beautiful dress that had everyone talking. I felt so special with my two JoSabBi dresses. what more to say. All I did was share my thoughts with her, and she designed it. Dafra have a gift and anyone that is looking to buy her dress should contact her. Not only she did do my two dresses but she helped with the whole planning experience of my wedding. She even talked with my photographer and videographer to tell them how to take pictures and capture moments. She also created a group with my bridesmaids and maid of honor to tell them how to pack my dress and everything. I'm so thankful, and I'm so happy. Please do not even think- hire her, and be the most beautiful at your wedding.

Arielle Y.

Married on 12/28/2019

Best experience ever

Thank you Josabi for exceeding my expectations. I really felt like a princess on my wedding dress and had such a blast wearing both of my dresses. Thank you for your patience during all the process of creating them, your assistance all way
to the day I was able to wear them, your advice, and for just being you. I have had the best experience ever and I would choose you again and again if I had to redo it all. I feel very
blessed that I know you and that my dress was created by my big sister. I am very thankful and hope that people will continue to see the talent in you and you will touch more lives and make
the happiness of many more brides, just like you did for me.

+ 2

photos

JoSaBi Mariées's reply:

Thank you so much JoSaBi Arielle! we had so much fun working with you. Your vision was amazing and detailed, and bringing dresses to life to match your style did not even feel like work. We appreciate you and wish you all the very best in love and also with your Ph.D.! Go get em!!!

Lauren

Married on 09/03/2017

Amazing from start to finish

The JoSaBi team was amazing from start to finish. They were able to help me identify all the elements of my dream dress without intruding their taste or vision on my big day. When I said details, they went out of their way to customize every element. From the beads to the veil to the embroidered design work on the lining. These ladies are obviously passionate about their work and dedicated to making sure your vision for your dress is manifested in reality. Add to that, they are some of the sweetest and most personable business owners I have had the pleasure work with in recent history. Do yourself a favor and at least check them out. Not everyone wants to look like a carbon copy of the that magazine bride or even that T.V. star. If what you want is a dress that screams YOU, this is the only place to go. Thanks ladies. You have my eternal love and appreciation.
Are you interested?
Send a message