Reviews
5.0 out of 5 rating
Quality of service

5 out of 5 rating

Average response time

5 out of 5 rating

Professionalism

5 out of 5 rating

Value

5 out of 5 rating

Flexibility

5 out of 5 rating
100%
Recommended by couples
154 User photos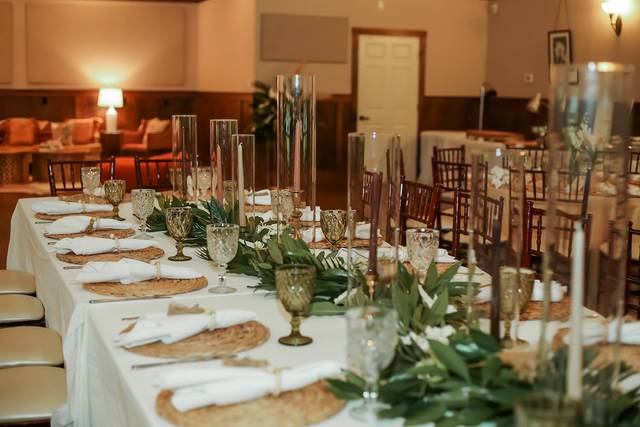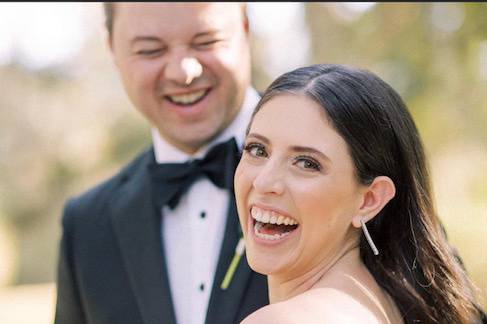 + 150

photos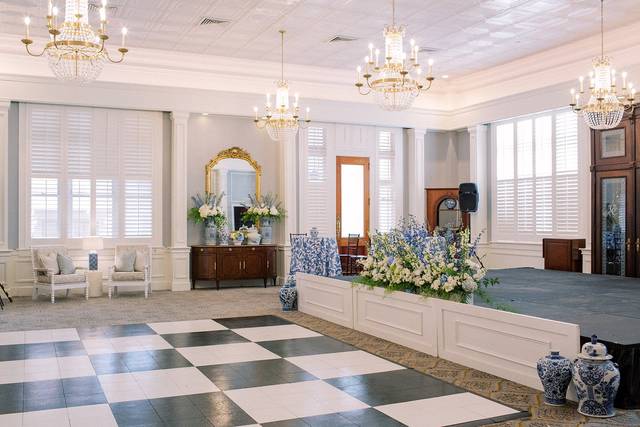 Jaynie S.

Married on 05/20/2023

Do yourself a favor - hire JGE!!!

John Gandy and the entire team were absolutely wonderful. They were there every step of the way and alleviated all stress. I knew that they would take care of everything, and they truly played an integral role in our day being the most magical day of our lives!

Meghan M.

Married on 04/29/2023

Life savers

I'm not the event planning type. Emily and John made sure everything was taken care of and that I didn't have to worry about a thing! I couldn't (and wouldn't) have done it without them!

Barrie J.

Married on 03/04/2023

John Gandy is my hero.

I honestly don't think the wedding would have happened with out Emily and John Gandy Events. From beginning to end they were prepared informative, and just plain there!! I really couldn't have pulled this off without them. I can't thank them enough nor can I say enough to recommend them!

Are you interested?

Send a message

Cay N.

Married on 03/02/2023

Absolute Perfection!

As parents of the Bride, the best decision we made was hiring John Gandy Events as our Wedding Planner! John and his entire team were nothing short of absolute perfection. Regardless of the questions, or multiple emails, they always made us feel as if we were their one and only client, which we knew too well, was not the case! Not one single detail was missed, and they made my daughter's wedding day the most perfect, stress free day we could have ever asked for. If you want a first class team to plan your special event, I highly recommend you hire John Gandy Events! Trust me, like us, it will be the best decision you'll make!

John Gandy Events's reply:

Thank you so much! Such a wonderful family, we loved working with you all. The weather, the design, the food PERFECTION! Again Congratulations!

Ken C.

Married on 11/15/2022

Absolutely flawless management

As parents, we could not be happier with the work of John Gandy Events. Our daughter's wedding day was a wonderful and stress-free experience thanks to the professionalism, care and creativity of this fabulous team. They are the rock stars of event management and created so many lifetime memories for our family. The best in the business!

Lauren S.

Married on 07/16/2022

Wonderful!!

John Gandy and his team were absolutely amazing! He and everyone on his team was so quick to respond during the planning process and they were there to keep everything moving the day of the wedding. He made my wedding an absolute dream and such an easy day. My parents, sisters and I had a nice fun day celebrating while his team was on it and took care of everything. If you needed anything or forgot something they had it. All of his vendors he recommend were amazing! I could not be more thankful that he helped me with my wedding, or I should say planned it. I didn't have to worry about anything. Just got to have fun and enjoy the day. I would highly recommend him for to anyone planning a wedding or any event. He's the best!

John Gandy Events's reply:

Thank you so much! We had so much fun with you and your family. So happy to be included - and the day was PERFECT!!

Richard G.

Married on 07/16/2022

Fabulous and Breathtaking

I would highly recommend John for your Wedding Planning needs. He is wonderful and his team is always there for any question or need that arises. Not only do you get his professional planning services, but he has an entire warehouse of furniture, decorations or anything else you could possibly need for the special day. You will not go wrong with John Gandy Events. Everyone knows who he is and he is very respected due to his reputation. You will not go wrong with John and his team who are always just a phone call away.

John Gandy Events's reply:

Thank you so much! What a joy to work with you and your family. It was such a beautiful day and we all lucked out with the crazy weather.

Bob A.

Married on 07/09/2022

John Gandy Events A Must For Your Wedding

On July 9th, 2022, we celebrated the marriage of our daughter to the love of her life. Alongside the birth of our daughters and our own wedding 30 years ago, it was the happiest day of our lives. A year ago, July 2021, we had just received a request from our now son in law, to meet for dinner in a small Georgia town nearby. Even before he asked permission to marry our daughter at dinner that night, and at the risk of "jumping ahead", I had my priority list already written for the day following. At the top of my list was one phone call- to our friend, John Gandy.
Knowing his level of expertise and decades long experience in event planning was only part of our reason for placing him at the top of our priority list. For years we had attended weddings and events John and his team had successfully planned and executed. We then experienced first hand working with him at our own business event in recent months. Everything we had heard about him was validated. He far surpassed our highest expectations.
His professionalism, eye for beauty, reading his audience, the incredible people he has chosen to surround himself with, and most importantly his integrity in all aspects of his business, are all key components to his success. The respect he has earned throughout our community, and far beyond, is undeniable.

On the day of our daughter's wedding, we were able to truly enjoy each moment from the very beginning early that morning all the way through the night …..to the happiest ending. He and his incredible team attended to each detail beautifully, flawlessly.
The day for the entire McClure/Shenker Family was perfect- knowing we were in such capable hands. We could not imagine any of it without JGE.
Bob and Julie McClure


John Gandy Events's reply:

Ahh thank you so much! What an amazing review, Team JGE could not be happier! Your entire family was so sweet and the day was beyond perfection! again, Congratulations!

Sarah H.

Married on 06/25/2022

Versitile, Incredible, Perfect Planners

JGE was not our first wedding planner. We had a really nightmare experience with another planner, and 5 months prior to the wedding, a week after attending a wedding on the other side of the state put on by JGE, my FIL called the team and they graciously took on our wedding, last minute with almost zero done (including a cancellation of our venue at the same time). We switched venues to the backyard of. my in-laws, and John Gandy Events made it into the honest-to-goodness wedding of my dreams. To be totally honest, I don't know what their fee was, but I bet the entire family would agree that they were worth every single penny. They gave us the freedom to be as involved or uninvolved as we wanted to be with any given aspect of the wedding. I sent them my vision "romantic, enchanted garden, whimsical, traditional," a photo of the bridesmaids dresses, and a general pinterest photo of a flower arrangement that I loved, and that was it. They made it happen. My MIL had a few preferences as well, and they were amazing to communicate with her and make those things happen as well.
With their warehouse at our disposal for the wedding, we felt like we got the absolute top of the line most modern, beautiful furniture, table settings, decor, etc. and we didn't have to pick and choose, because we could go directly to them for what we wanted/needed.
Their network and relationships in the wedding community in North and Central Florida and beyond is the best, so even though it's "the year of weddings," after a 2 year hold because of COVID, they were able to find us vendors that were the absolute best of the best. They also were happy to work with the vendors we chose that they weren't familiar with.
Troy, Emily, and John were great!! We live about 3 hours south of them, but they were willing to travel down here several time to meet with us, see the back yard, get details in place, etc. My fiance called them regularly and they were always able to answer his questions or take care of anything. They were great to answer my emails ASAP, as well.
On the day of the wedding, Janice was our "handler." She spent the day quietly fluttering around getting things in order with the bridesmaids. She was stern when she needed to be (about being on time, getting things going, getting things gathered), but oh so kind when I realized I'd forgotten about 10 things in the middle of the night before the wedding. She calmly took the list from me, asked me where they were and who she could talk to to get them, and took care of it all.
In the end, I appreciate that JGE can work with any style and make it come to life beautifully. They worked hard, but were fun. They made us laugh, were kind to listen to our stories, and were just a joy overall.
They are the best.

Drue C.

Married on 06/04/2022

The fairytale wedding I always dreamed of!

If you are looking for a stress free perfect wedding, John Gandy Events is the place to go!

John Gandy Events's reply:

Thank yo so much for sharing your thoughts! It was a beautiful day and we are so happy for you both! Congratulations!

Jane A.

Married on 05/28/2022

Excellent!

John Gandy and his team are the best when it comes to all things wedding. From start to finish they are with you along the way. I am so thankful for this because I wouldn't have known where to even start. They made my fairytale dreams of a wedding come true and I am truly thankful and will never forget the magical day. Even my guest were amazed how smoothly it went and how perfect the decor was!

John Gandy Events's reply:

Ahhhh!! Thank you so much! We loved working with both so much with and it was just a perfect day! Enjoy your honeymoon and can't wait to see all the pictures.

Kerri H.

Married on 05/14/2022

Professional, yet laid back feel, no pressure.

I could not have asked for better for my daughter's wedding. Anna Joy, Stephanie and the whole JGE team rocked! By far was the best money spent of the entire wedding cost.

John Gandy Events's reply:

Thank you so much! Kegan was gorgeous and it was a stunning day. We were so happy to be included! Congratulations!

Jessica B.

Married on 05/07/2022

The JGE team is simply the BEST!

The JGE team is THE BEST, hands down! They recommended the best vendors for us, listened to our dream ideas (while on a budget), and made it a reality (that looked as if there were no budget). I truly could not recommend a planner more. Every detail was so gorgeous and thoughtful! Our wedding couldn't have been more perfect and more "us" which meant a lot. We felt so supported by them the entire time. Thank you to the JGE team for giving us the best wedding day and gift of a lifetime. :) We are forever thankful!

Liz P.

Married on 05/07/2022

John Gandy's Team is Amazing!!

John Gandy's Team went above and beyond to ensure our wedding weekend was what we wanted and perfect. A wedding during covid was hard enough but his team made sure it went smoothly and we never had to worry about anything.

Michael

Married on 05/07/2022

John Gandy and his events team was an INVALUABLE resource for making my niece's wedding a TREMENDOUS success! From all the preplanning and collaborating with vendors, to the rehearsal dinner and wedding day, they worked tirelessly to ensure every detail was covered. We can't imagine what we would have done without their creativity, flexibility and professionalism. We are so grateful he was available and took us on as a client.

On the day of the wedding itself, there was no drama or stress for the family, we simply got to be in the moment and enjoy the day, PRICELESS. The events team had everything under control, they come armed with a full itinerary, everything is so well ORGANIZED. After all the beautiful comments about the bride and groom, everyone seemed to be talking about the incredible décor and all the special touches throughout the space. And that was no easy feat, as the venue only allowed for a small window of time for load-in and set-up. No other wedding planning team would have taken on that challenge, but it didn't even intimidate John Gandy. They are simply AMAZING and exceeded all our expectations.

If you are looking to make your wedding memorable and BREATHTAKING, settle for nothing less than John Gandy Events.

John Gandy Events's reply:

Thank you for such sweet words, we so loved everything about this wedding and the amazing family. We love our destination events!

Courtney K.

Married on 05/02/2022

Run, Don't Walk, to John Gandy Events

If you have an event like our daughter's recent wedding, you should run--not walk--to John Gandy Events. Highly professional in every respect. They have an incredible selection of everything you could conceivably need and a team that can and will do it all. And beyond all else, they were genuinely concerned that our only focus was to take in and enjoy every moment of this wonderful life event. When the inevitable curve ball happened during the evening (and they do happen), they reacted quickly and effectively so that we never missed a beat. We can't say enough good things about John Gandy and his entire team.

John Gandy Events's reply:

Thank you so much! We really loved working with you so much and were thrilled with the way it all came together! Congratulations!

Sherrie A.

Married on 04/22/2022

John Gandy Events

Our experience with John Gandy Events was fantastic! They did a wonderful job and were very easy to work with. Every team member is very professional and seem to love their job. The attention to detail is amazing! I really can't say enough good things about them. If you need to plan a wedding or any special event- be sure to use John Gandy! You will be so glad you did!

John Gandy Events's reply:

Thank you so much! It was a pleasure to work with you all, the day was beautiful and filled with love! Thanks for including us!

Mackenzie R.

Married on 04/09/2022

David and Mackenzie at Havana Springs

The JGE events team made our dream wedding come true. From picking out decor and furniture, to recommending vendors, several planning meetings, and the day of coordinating, they've got it all covered. Especially our assigned coordinator Caylin, was so amazing and on top of all the details! We truly wouldn't have had as of an amazing wedding without them. We were able to enjoy the day with our friends and family and not have to worry about anything.

+ 4

photos

John Gandy Events's reply:

Thank you so much for including us. We loved every detail and appreciate you trusting us with your special day! You two are the best!!

Julie H.

Married on 04/02/2022

John Gandy Events is the best !

John Gandy Events was such a good decision for my husband and I for our only daughters wedding. They did all the work for us and the wedding was beautiful. John's staff and his vendors were so easy to work with. I cannot say enough about how professional they all were.

Aaren G.

Married on 02/26/2022

Amazing team that thinks of every detail.

John and his team were awesome. He helped us secure vendors that would have otherwise told us no because they were already booked for another wedding. John is an expert in the industry and made the entire wedding planning process seamless.

John Gandy Events's reply:

Thank you so much! We loved working with you and making your special day so perfect! It was a stunning day!

Craig F.

Married on 01/29/2022

Don't Plan Your Wedding Without John Gandy Events

Last weekend, my son got married and it was a John Gandy Event! He and his team did a fabulous job from start to finish. Their attention to detail, coordination of vendors and event management was exceptional. They had a staff of 4 at wedding venue and had complete control - this allowed us to enjoy the wedding and our family and friends.

John Gandy Events's reply:

Thank you so much! Pebble was fabulous! What a great day, we loved coordinating and designing the day with your family!

Lilly H.

Married on 12/31/2021

John Gandy Events made my wedding dreams come true!

Hiring JGE was the best thing I did when planning my wedding! Not only did the team go above and beyond to assist me every step of the way, but they also made sure the night went off without a hitch!

John Gandy Events's reply:

Thank you so much! It was our pleasure to be a part of such a stunning event. Congratulations and Happy New Year!

Beth P.

Married on 12/31/2021

Nothing But The Best!

John Gandy Events exceeded our expectations for creating the wedding of our daughters dreams. They were quick to respond to any questions or issues we had and insisted that we not stress about anything. The day of the wedding was flawless and I must say we could not have done it without them. Thank you and beyond John and Troy!

John Gandy Events's reply:

Thank you so much! We loved working with you all, the design was as stunning as the bride! Happy new Year and Congratulations!

John C.

Married on 12/18/2021

Best in the business reputation, and for a reason

John Gandy has long had a reputation as the premier wedding planner in Tallahassee. It is well-deserved. Our daughter's wedding had to be postponed a year for Covid, and he graciously extended our contract. His recommendations for hair, makeup, transportation, flowers, and photography were excellent, and all vendors gave us a measure of respect for being associated with him. He was ALWAYS available and generally answered the phone himself. He told us that "something will go wrong, but rest assured, we have seen whatever it is before and you won't notice. Nothing went wrong. His advice was good and a pleasure to work with. I found his fee more than reasonable, given the level of stress that accompanies "father of the bride." We recommend him most highly and without reservation.

Myra C.

Married on 12/04/2021

Excellent! could not have been happier with John and his staff. The wedding turned out spectacular!

Highly recommend John Gandy and his staff.! They are so easy to work with and brought my daughter's wedding vision to life. It was a spectacular event and I got to enjoy every minute of the wedding day! They are the best and then some!
Are you interested?
Send a message